In any bathroom, one of the most necessary features is the bathroom sink, as they significantly contribute to the room's overall appeal while playing the practicality role too.
Sinks in the washroom offer grace and add flair and functionality to the design of your bathroom. If you want to renovate your bathroom and turn it into a sanctuary that encompasses both functionality and beauty, then this article is for you.
We've compiled a list of 18 best bathroom sink ideas that will turn your bathroom into heaven and motivate you to do your daily rituals more efficiently as they complement your particular style. These ideas have various styles, ranges, forms, and materials.
Whether you want a primary ceramic sink or the radiate timeless one to add charm to the cutting edge, we have several artistic designs that make a strong statement.
Basic Bathroom Sink Ideas to Renovate Your Space
1. Traditional Ceramic Sink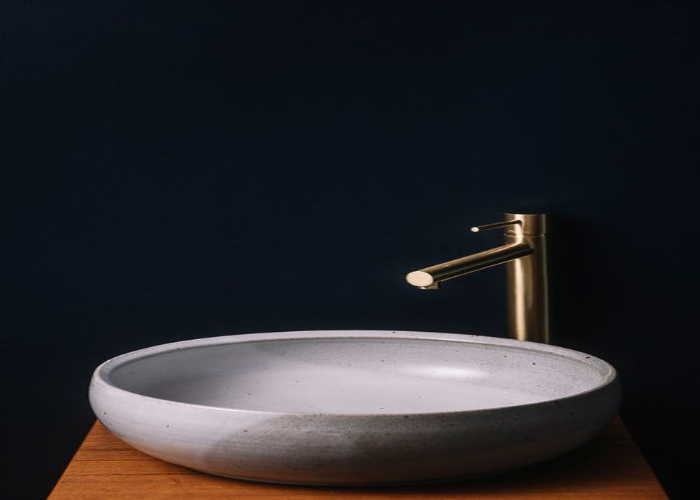 The traditional ceramic sink is always in style. Many designers and homeowners choose it because of its timeless appearance and toughness. A ceramic sink is available in several shapes, colors, and sizes for any bathroom design.
2. Classic Vessel Sink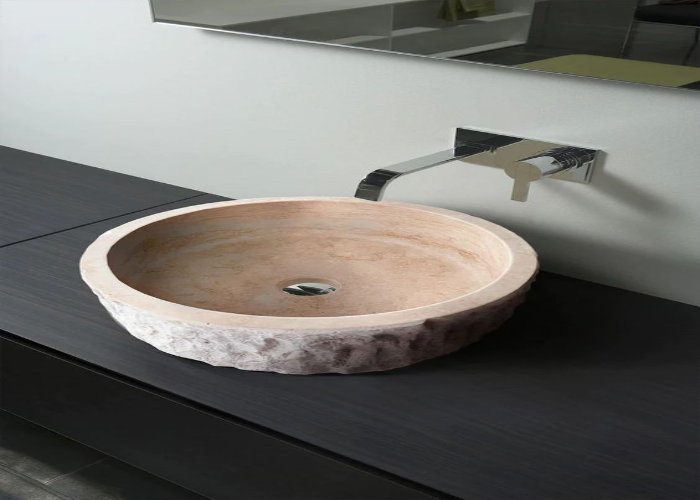 Opt vessel sinks is perfect for a distinctive and contemporary appearance. These sinks are appropriate for the bathroom's focal point by creating a top of the vanity countertop. These kinds of sinks are available in several materials like stone, glass, etc., so you can customize them as per your appearance.
3. Seamless Undermount Sink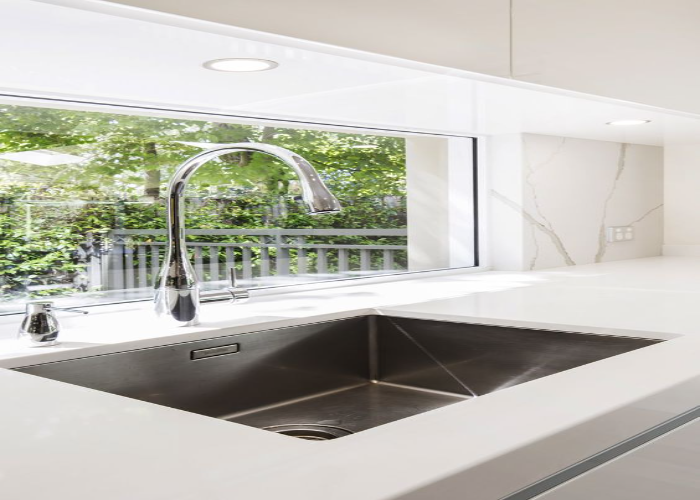 Currently, the undermount sink is an excellent option if you are looking for a sleek and seamless appearance. Sinks like these are positioned below the counter because the surface is smooth and easy to clean. These sinks work well with several materials like marble, quartz, and granite.
4. Ideal Pedestal Sink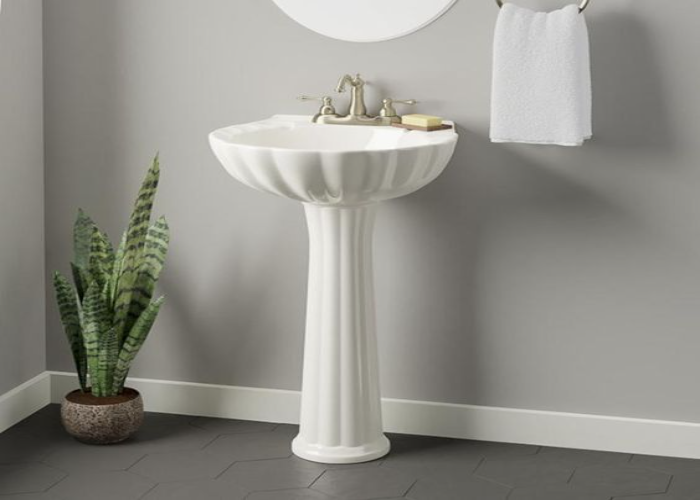 A pedestal sink is ideal for adding a dash of vintage appeal and class. A gorgeous pedestal supports the sink with its timeless bathroom design, giving it a touch of luxury. In transitional and traditional bathroom designs, this type of sink is excellent.
5. Wall Mounted Sink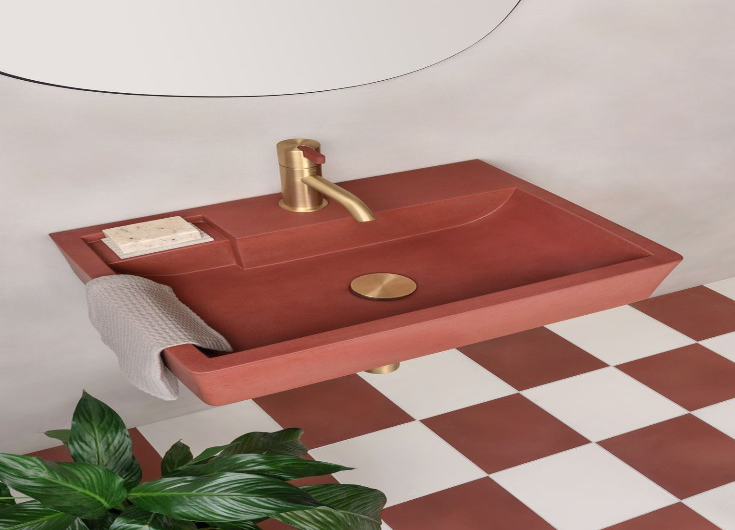 Wall-mounted sinks keep important space and are perfect for bathrooms with less and limited space. Sinks like these have a streamlined appearance since they are mounted directly on the wall. You can pair this sink with a wall-mounted faucet to create a contemporary look.
6. Chic Console Sink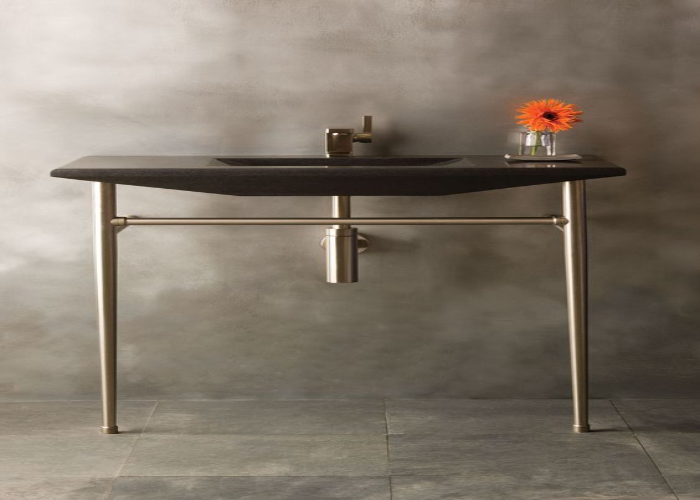 Bathroom sink ideas like this are perfect as they combine practicality with a chic look. It has two or four legs supported by the basin, and an open area for display and storage is below the bay. These sinks come in various materials like marble, metal, etc., allowing you to create a unique look.
7. Rustic Farmhouse Sink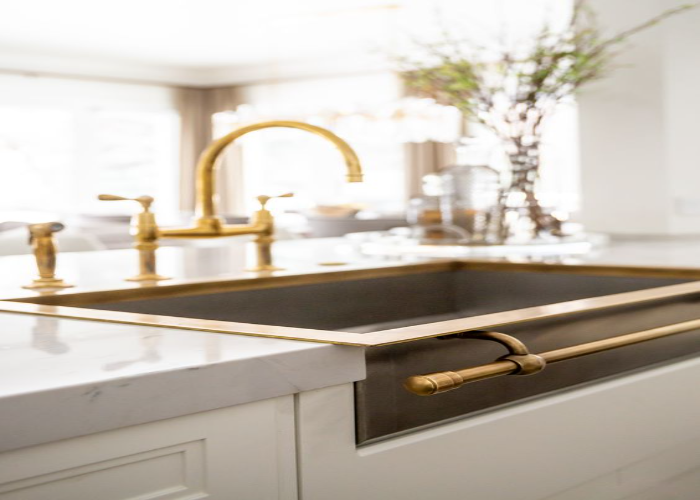 A Farmhouse sink is one of the best bathroom sink ideas because it gives your bathroom a rustic atmosphere and a homey feel. These sinks are mostly apron front sinks and front surfaces with a deep basin. These kinds of sinks bring the countryside into every room.
8. Clear Glass Sink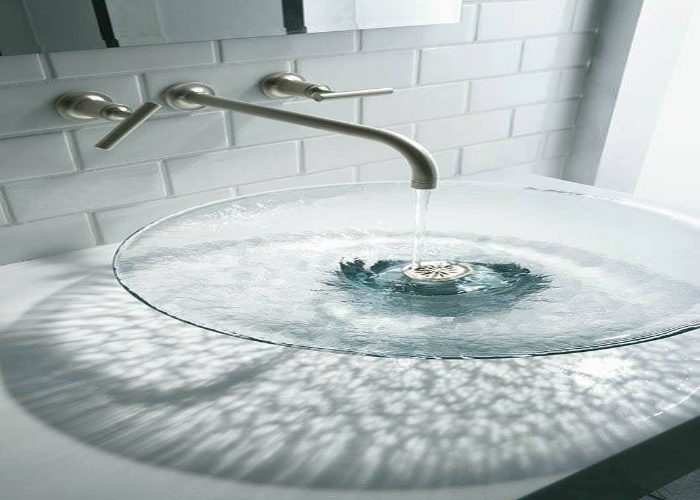 A glass sink is an ideal option for making a statement piece in your bathroom. Tempered glass is strong and resistant to scratches. Not just these sinks give your bathroom a contemporary feel, but they also give you a creative touch that is available in a variety of designs and shades.
9. Cozy Copper Sink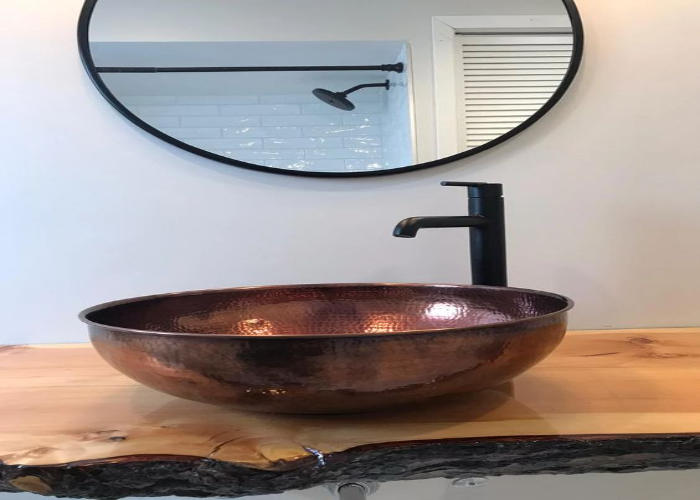 Add a cozy copper sink to your bathroom. These sinks are wonderfully distinctive and can acquire patina over time. Copper is a hygienic kind of material as it has inherent antibacterial qualities. It will make your bathroom look more chic and unified.
10. Exotic Marble Sink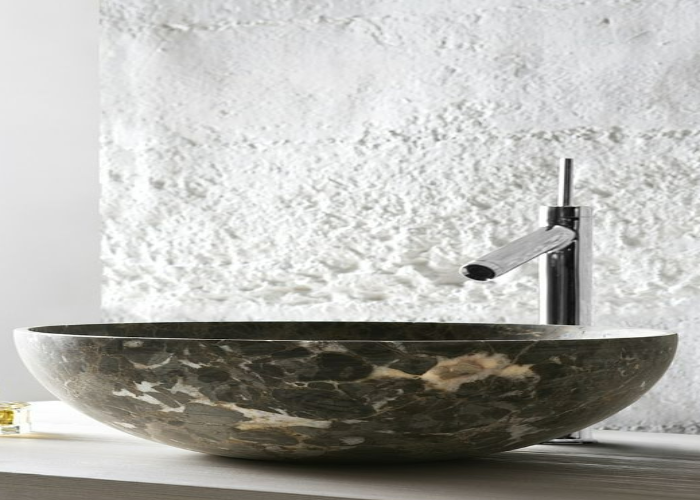 A great choice of sink or bathroom idea is an exotic marble sink. These kinds of sinks have sophistication and richness qualities. They can make your bathroom look more elegant and timeless. Whether you choose white marble or black, it will enhance the overall look of the space.
11. Industrial Concrete Sink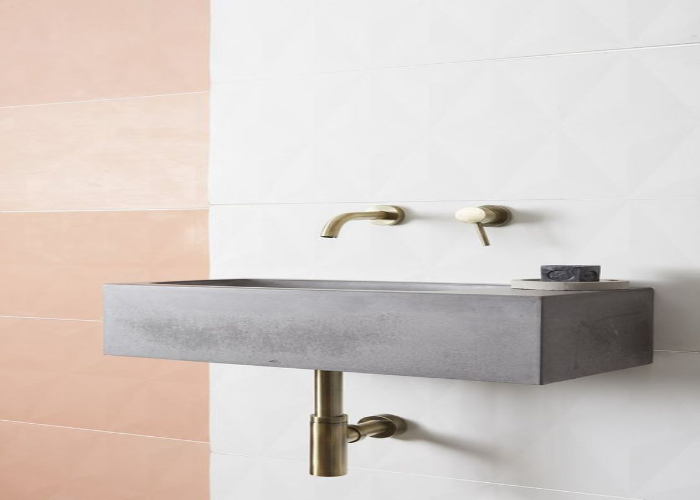 Concrete sinks are becoming more popular because of their sleek industrial look. These sinks can be made to order in various ways, dimensions, and according to the visual appearance. Sinks like these add a touch of intrigue and texture.
12. Stainless Steel Sink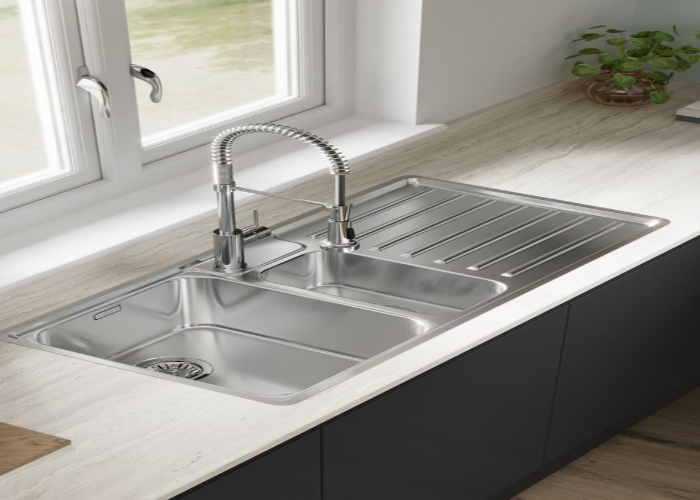 These sinks are famous for their practicality and dependability. Stainless steel sinks are an excellent option for primarily busy bathrooms as they are stain, scratch, and heat-resistant. Sinks like these go well with industrial and modern bathroom designs.
13. Sink Made with Stone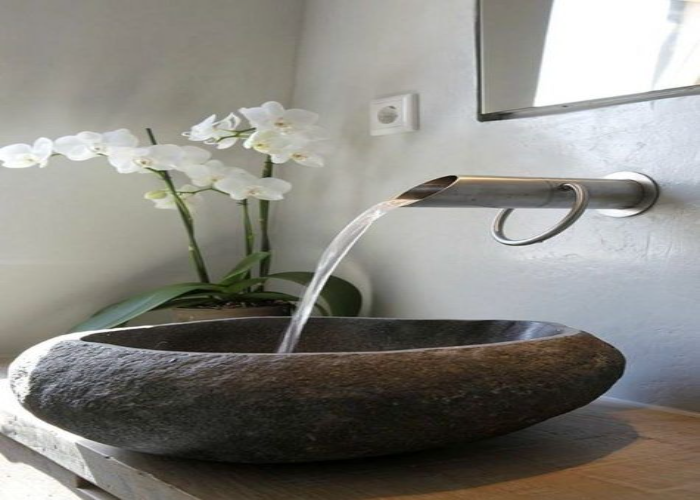 Natural stone sinks give a spa-like ambiance to the bathroom, and they are frequently made with granite, onyx, and travertine. These pieces of stone are distinctive, so you can create a kind of sink that gives your bathroom a touch of natural elegance and beauty.
14. Sink Made with Bamboo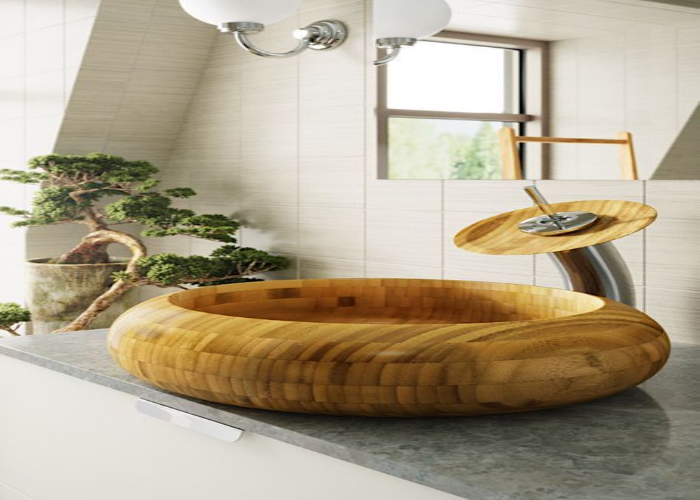 If you're looking for good sustainable sinks, this is the perfect option. Bamboo sink gives your bathroom a natural feel with the help of its renewable and ecological materials. Bamboo sinks are sealed with a waterproof coating, which ensures their durability and lifespan.
15. Antique Sink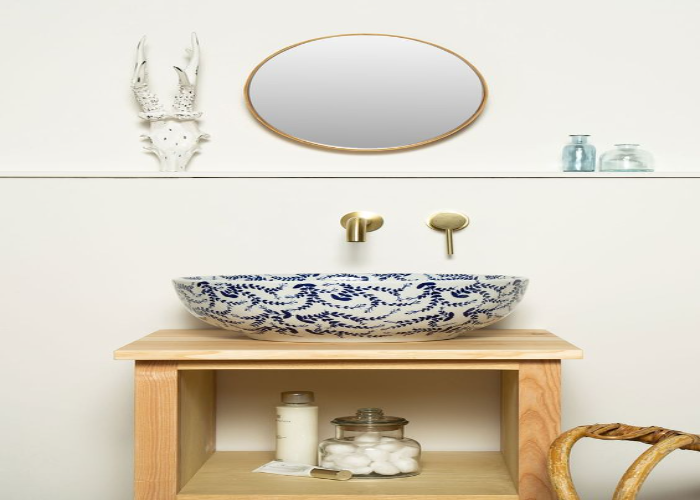 Consider placing a vintage sink in your bathroom to give it more charm and personality. These early 20th-century sinks can give you a salvaged look that perfectly represents the spirit of old times. These vintage sinks look great in both modern and traditional bathrooms.
16. Sleek Trough Sink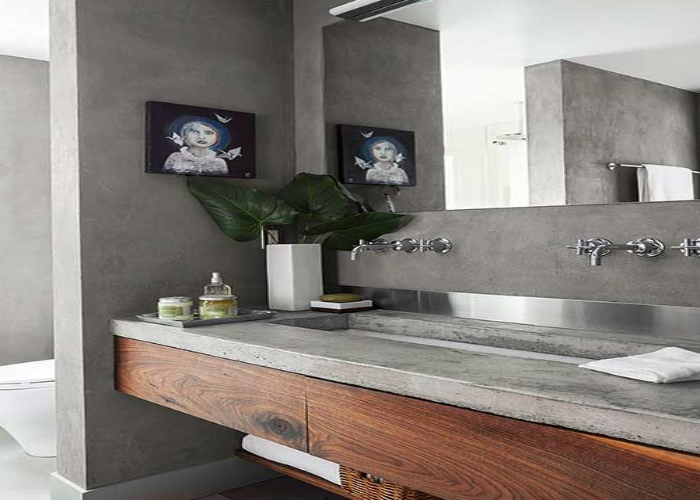 Trough sinks have numerous features like thin basins, long faucets, etc., making them ideal for more extensive and shared washrooms. These sinks give the countertop space a sleek look and modern aesthetics, making it more valuable and fashionable.
17. Modern Floating Sink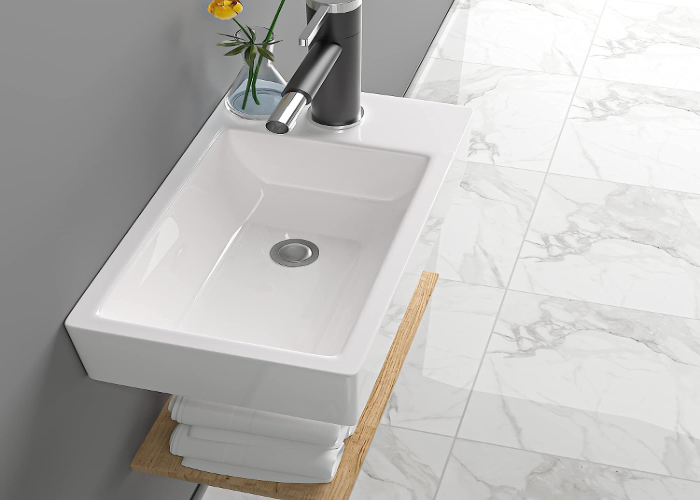 The floating sink can give your bathroom a sense of openness and modernism. These sinks are fixed straight into the wall, which makes the floor more visible. Sinks like these are created with various materials like ceramic and glass and can be placed in any part of the bathroom as per the aesthetic appeal.
18. Modern Geometric Sink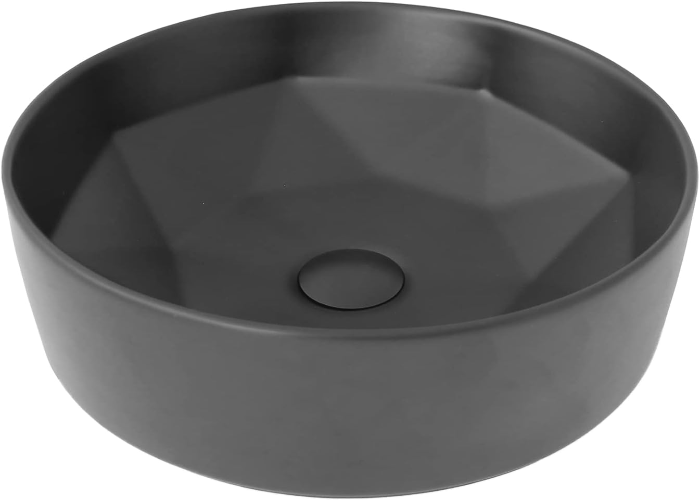 While choosing the bathroom sink ideas, remember to take advantage of this one; geometric sinks give your bathroom an artistic and modern touch. These sinks have modern shapes and angles that catch users' eye, and hence it is a design statement. It works as a focal point, whether it's the asymmetrical, rectangular, or triangular sink.
These were some of the bathroom sink ideas you can take inspiration from. To complement these, we have added 7 additional tip's ahead.
Additional Tips to Complement the Bathroom Sink Ideas
1. Consider Faucet Style
Remember to pick a faucet style that goes amazingly well with the chosen sink. These faucets can improve the overall aesthetic and functionality of your bathroom. By choosing a faucet style, you can complement the sink of your choice, whether a classic widespread faucet or wall mounted one; both go pretty well.
2. Stay Conscious About Storage
Try and choose a sink with integrated storage space if you have a limited bathroom storage area. With this additional storage, you can easily store conventional necessities, toiletries, towels, etc., on the shelves built into the sink.
3. Keep It Well Maintained
Before finalizing the sink, figure out how you will maintain it. Some particular sink materials like glass and copper need specialized cleaning agents and extra maintenance to keep them looking nice and maintained. So make sure to choose the sink you can preferably maintain with your lifestyle.
4. Lighting Plays a Great Role
When you're finalizing the sink, keep in mind that lighting is essential. You can provide natural lighting by placing the sink next to a window. You can also pass wall sconces and vanity lights placed strategically to improve visibility and create a welcoming space near the sink.
5. Focus on Mirror Placement
The placement of your bathroom mirror can significantly affect the usability and design of the sink area. Ensure the placing is correct and the mirror is appropriately sized to produce adequate reflection and blend with the all-over design. Correctly placed mirrors can make your bathroom look big and large.
6. Add Backsplash for Visual Appeal
Backsplash will improve the visual appeal of your sink. It shields the wall behind the sink and saves it from water damage. Backsplash not just helps but also beautifies the overall space. So opt for materials that go well with your preference for Sinka and the theme of your bathroom.
7. Consider Water Efficiency
If you want to conserve water, get a sink with water-saving features. Opt for sinks that use less water, sacrificing performance, and include low-flow faucets or aerators. You can reduce the impact on the environment by selecting a water-saving sink.
Remember your preferences, lifestyle, and all-over design in the account. Using these additional tips, you can design a beautiful and functional bathroom.
Conclusion
All in all, the bathroom sink is not just a functional component but a lot more than that. It is a design feature that equally affects the overall look and feel of the bathroom. These 18 bathroom sink ideas we looked at give us a variety of range and options to fit in different pockets, budgets, and tastes with various materials, designs, and styles.
Whether you want a modern undermount model, a classic ceramic glass sink, or a striking glass one, making the perfect decision can improve your bathroom's overall aesthetic and appeal. When choosing the right sink for your bathroom, consider that aspects like space, design, and taste play a considerable role.
Explore these 18 bathroom sink ideas to find the ideal one that matches and improves your bathroom's aesthetic and ambiance and turn it into a room that makes you happy to be in.
So use your creativity and usability in your bathroom design, and make your sink the focal point to enhance your overall experience.
Frequently Asked Questions
What Kind of Sinks Can We Put in Our Bathrooms?
There are several options available in the market, but a few factors we need to keep in mind while choosing the right one are the bathroom design, fitting, and plumbing. Some sink designs have different installation methods and might not look good in your bathroom. So if you're unsure, take help from a professional.
Can We Find Some Environmentally Friendly Sinks?
Yes, you can indeed find sinks that are environmentally friendly and are made with materials like bamboo and recycled glass. You can also install features like low-flow faucets and Dua flush toilets to reduce water consumption in your bathroom.
Can We Replace the Sink without Changing the New Vanity?
You can easily replace the sink by doing anything to the vanity. All you need to do is check that your new sink should fit in the dimensions of the sink you will replace and ensure the plumbing connections work well together. If required, get professional advice to measure precisely.
How to Maintain the Bathroom Sink Components?
There are other maintenance and cleaning procedures for different materials of the sink. For example, natural stone sinks need stone-safe cleaning chemicals, whereas ceramic sinks can be cleaned without the help of any cleaner. Consult the manufacturers for better maintenance and cleaning for your selected sink material.