Are you tired of the traditional enclosed showers with their outdated glass doors and curtains? Well, you're in luck! We have come up with some amazing doorless walk-in shower ideas in which elegance meets functionality and creates a truly refreshing bathing experience.
Doorless showers are also known as walk-in showers or open showers. They have become increasingly popular in modern interior design. They offer a seamless and spacious look, giving your bathroom a contemporary and sophisticated feel. Whether you have a small bathroom that needs a clever space-saving solution or a large bathroom that deserves a luxurious upgrade, doorless showers can cater to your needs.
In this article, we will dive into some doorless walk-in shower ideas that will inspire you to rethink your bathroom design. Get ready to explore the world of doorless showers and discover the ultimate blend of style, functionality, and relaxation.
Consider these Construction Constraints Before You Begin
As they don't come in conventional sizes and frames like shower pans and shower surround panels, walk-in showers often have higher design and construction expenses. Every bathroom often requires a walk-in shower, which is why they are typically more difficult to construct. Particularly curbless designs need to be appropriately slanted so that water drains into the drain rather than into the restroom. Few DIYers can undertake such a building; this is a job for a competent craftsperson.
While a talented DIYer may and frequently does construct a shower wall, the majority of individuals will pay experts to build a custom tile shower pan. Additionally, maintenance and repair may be a little more difficult than with a typical shower. These showers often use ceramic tile rather than a prefabricated shower pan, which needs periodic regrouting and sealing. However, you may design the walk-in shower of your dreams with limited spending, a little inspiration, and some imagination.
Top Doorless Walk-In Shower Ideas to Try Now
1. Direct Walk-In Design
To make a walk-in shower in a tiny bathroom appear even bigger, remove the door. This shower is separated from the rest of the bathroom by a permanent glass panel. Users may enter and exit freely thanks to the open-door design. Tile the surfaces of the shower stall to make it watertight. To prevent splashing, install the showerhead and controls on the wall across from the entrance.
2. Stone-Floored Doorless Shower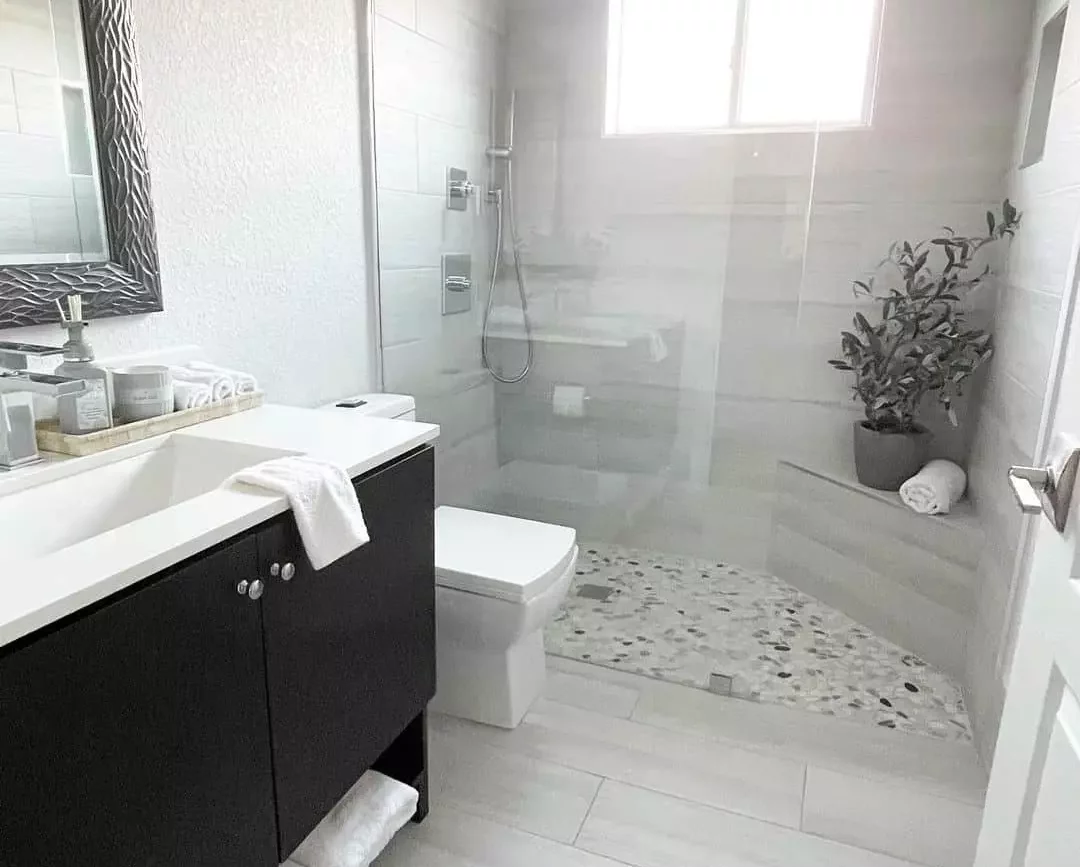 This white doorless shower has a greenery-accented built-in ledge, a seamless glass barrier, and a mosaic stone floor. There is a subway tile floor throughout. The neutral space is given a contemporary look by a black vanity with a white tabletop.
3. Mosiac Tile Design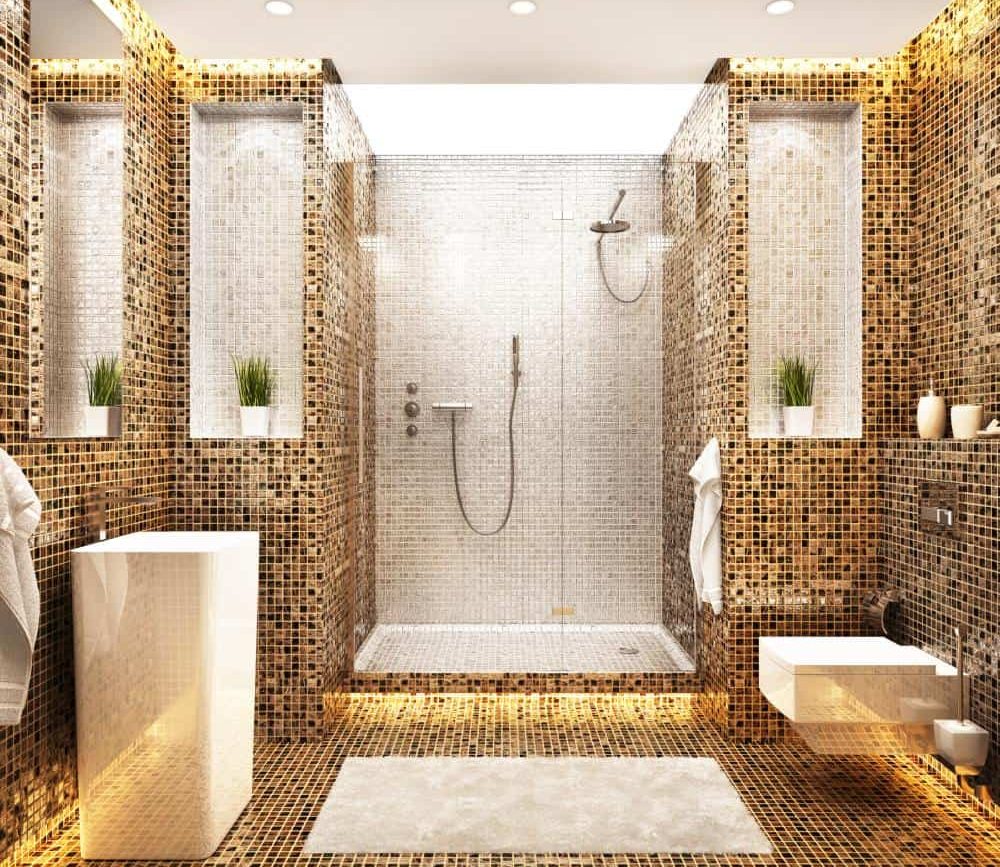 This doorless shower has a lot of colors thanks to the glass mosaic tiling. This bathroom has used mosaic tile fragments for its walls as well as floors, creating a continuous look. This walk-in shower design is timeless, affordable, and lovely. Using translucent glass will show off the stunning tile work even more. Here squared mosaic tiles are used. But you can also experiment with pencil tiles which are a type of mosaic tile that has long, thin pieces linked to a mesh backing.
4. Beaucoup Backlighting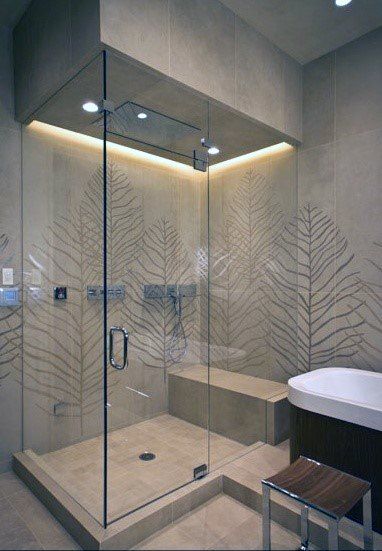 LED backlighting is your buddy whether you want a contemporary technique to light up your powder room or need to add light to a small, gloomy bathroom. The lovely illumination it casts across the bathroom makes it appear exquisite. However, you must admit that even without the lighting, this marble and long abstract leaf-walled bathroom would be stunning.
5. Graphic Tiles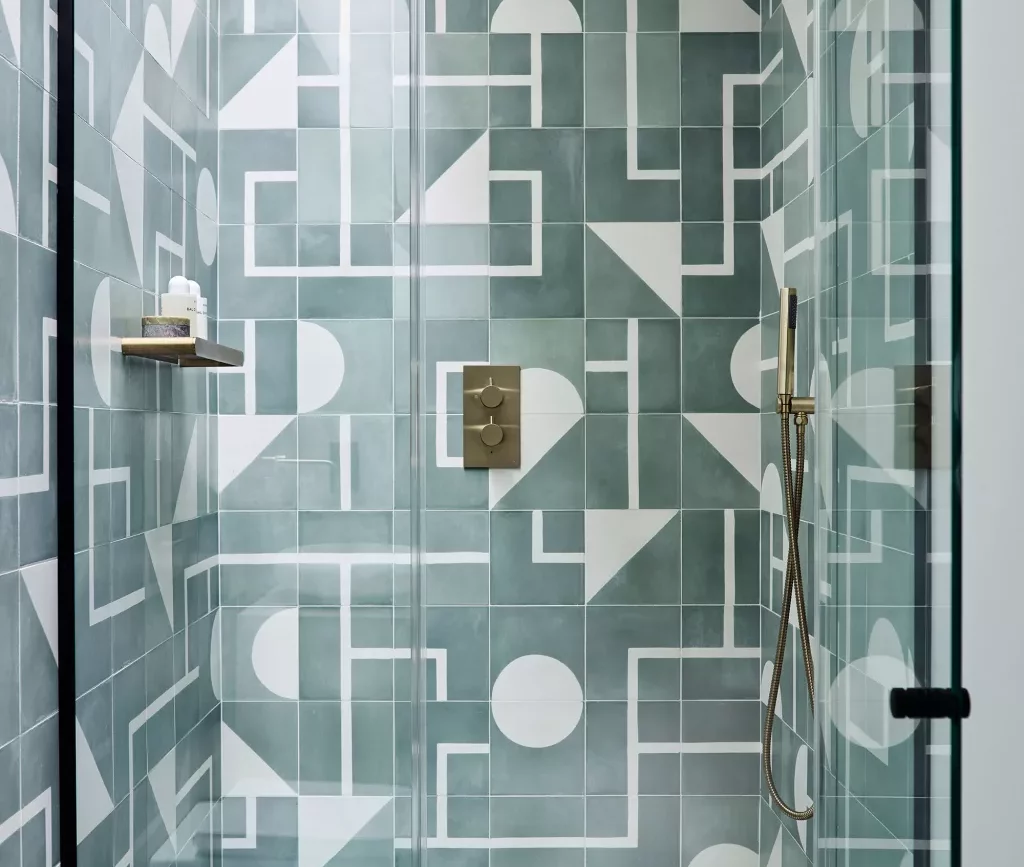 These lovely Popham decor tileswill capture your heart years ago since they fit well with contemporary decor. Amazing preliminary design for the bathroom with the skylight element! With graphic tiles, you can go easy with other decor elements in the bathroom. The tiles are enough to make the bathroom look edgy. The major pattern here is a lot of curves and circles, which soften the angles of a highly angular architectural structure.
6. Add Windows to Your Design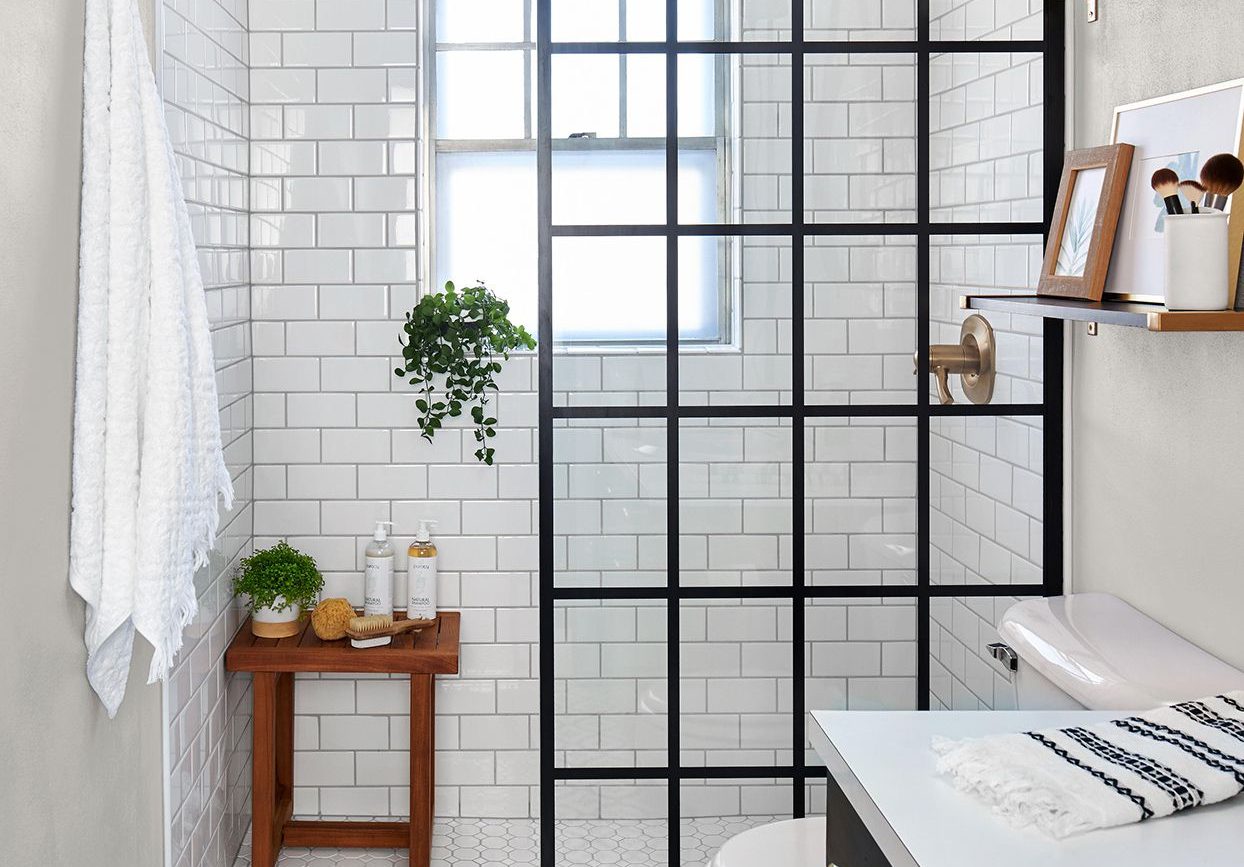 Add a tiny window to your master bathroom to make an airy walk-in shower. This is a natural solution for lighting a walk-in shower. For an interior design concept that feels just right, bring in all that lovely natural light. Instead of plain transparent glass, you can choose checkered black glass to make it look unique. You can also go with frosted glass that can provide seclusion while allowing light to reach the shower area.
7. Space-Savy Design
By creating a walk-in shower with wall space for vanities or sinks, you can maximize the use of a tiny bathroom. This knee wall, which appears to be an extension of the shiplap-covered bathroom walls, has a small vanity with a mirrored door. The walk-in shower's glass enclosure, white painted walls, and tiled walls, together with reflecting materials, promote light to circulate about the area, giving the small bathroom an airier appearance.
8. High Contrast Forest Green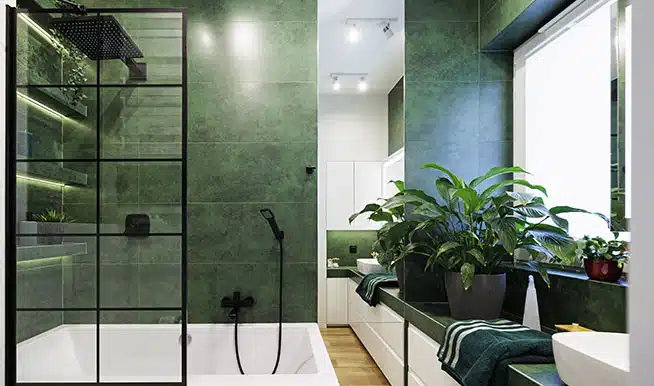 This walk-in shower design evokes a journey through a far-off jungle. We can't help but breathe in, breathe out, and immerse ourselves in a fresh place that seems like nature when deep green tiles are improved and combined with actual plants. Observe the open rack fitted on the side wall containing little pants. This tiny detail is not to be missed.
9. Classic Black and White Theme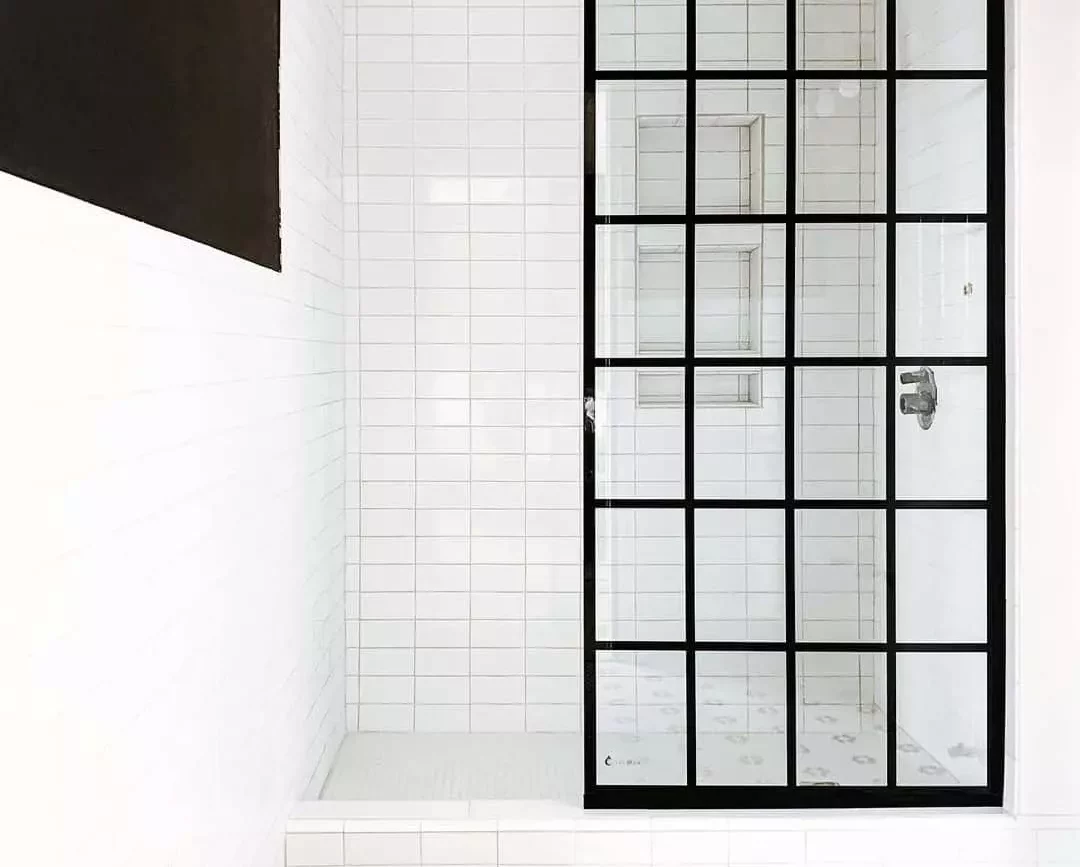 A black glass panel divides the walk-in shower's white tiled wall from the rest of the room. A wood floor mat is placed just beyond the shower curb, and the room's black and white penny tile floor gives it a vintage feel. This is the best example if you are looking to create more with less effort.
10. Doorless Bathroom with A Bench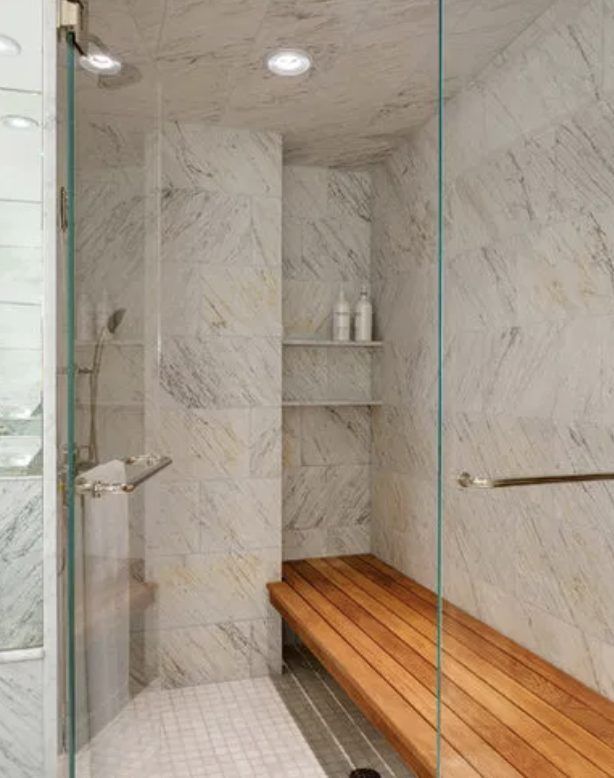 Your doorless walk-in shower would benefit greatly from a built-in bench since it offers a sturdy seating space. It might be soothing to be able to sit down in the shower. You can fit in a bench of any size you want. In addition to improving aesthetics, shower benches may be utilized to store bottles of body wash and shampoo. Having a shower seat in your shower room is a really practical addition. It may be used as a leg rest or a place to sit and unwind while taking a shower. If you suffer an injury, it could well save your life.
11. Hidden Shower with Arched Opening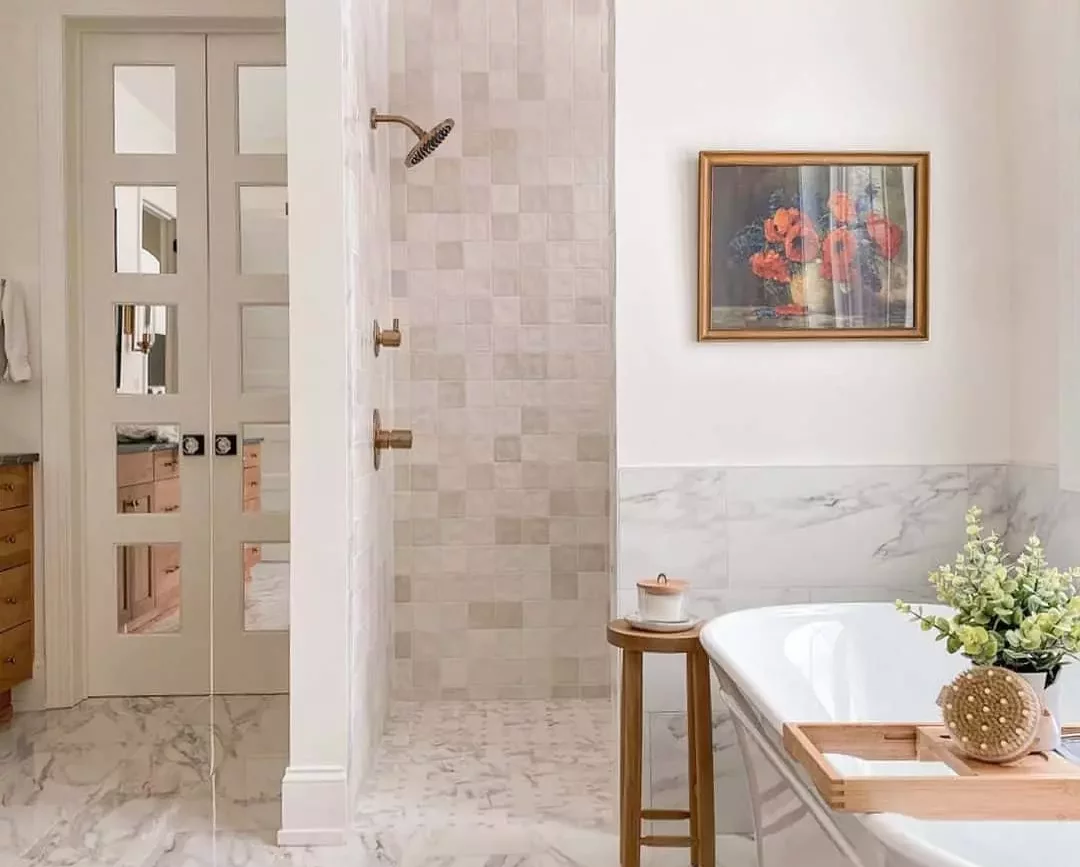 This bathroom in cream and white has marble floors, a white tub, and a doorless walk-in shower concealed behind a wall divider. I love how the shower is peeping through the wall divider. It creates the perfect space for a cozy and private shower. Near the tub is a tiny table with bath salts as decorations. Below the soaking tub, a typical dark runner runs the length of the floor.
12. Modern and Clean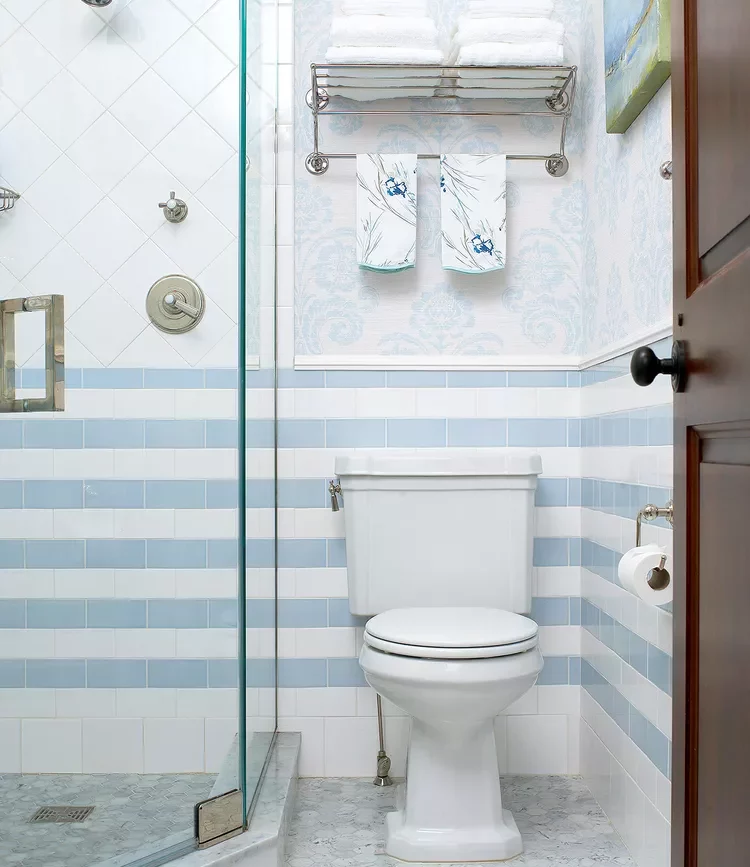 Bold and vibrant designs are fantastic, but a beautiful modern environment that can age gracefully is the safest choice (and terrific for your investment!). For instance, the clean lines of the frameless glass shower, the intriguing detail provided by the marble tiles, and the stylish matte black finishes all contribute to the bathroom's basic appearance and feel. Create a little walk-in shower that blends in with the surroundings. Despite being visible, the smooth glass enclosure of this shower is diminished in significance by the wainscoting that covers the bathroom's bottom walls in vibrantly colored, striped patterns.
13. Nature-Themed Doorless Design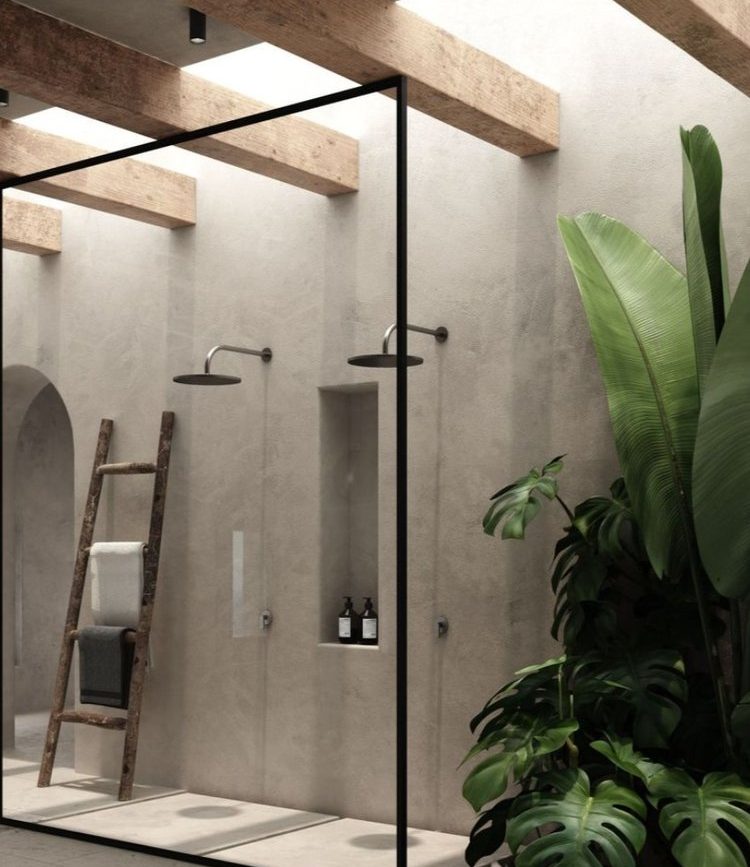 A vintage component incorporated into a shower design is always the best choice. A wooden towel ladder gives this shower a very upscale yet rustic appearance. The huge green plants add the right poop to the neutral look of this bathroom. Also, look at the wooden beams on the roof! They look exquisite. This spacious shower has space for two people and several showerheads for a luxurious experience.
14. Half-Panel Look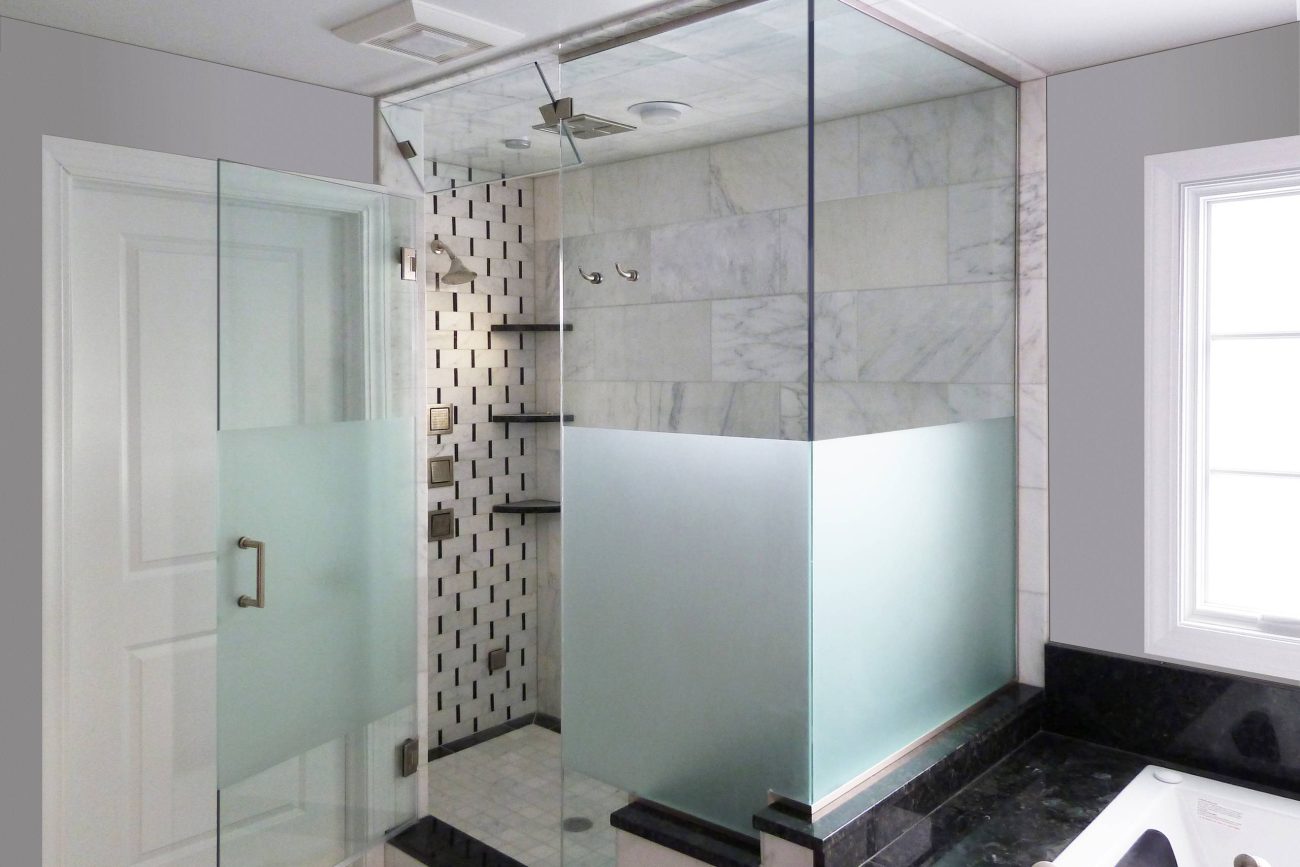 Installing a single glass panel in the shower area is one method of enhancing the practicality of your designs for doorless showers. The open doorway offers better accessibility and a feeling of being outside, while the glass panel prevents water from splashing into the bathroom. Additionally, the incoming natural light won't be blocked. That's like killing three birds with one stone, in my opinion! The half-transparent half-frosted glass gives both freedom and privacy at the same time.
15. Wall-Hung Space-Saving Toilet Seat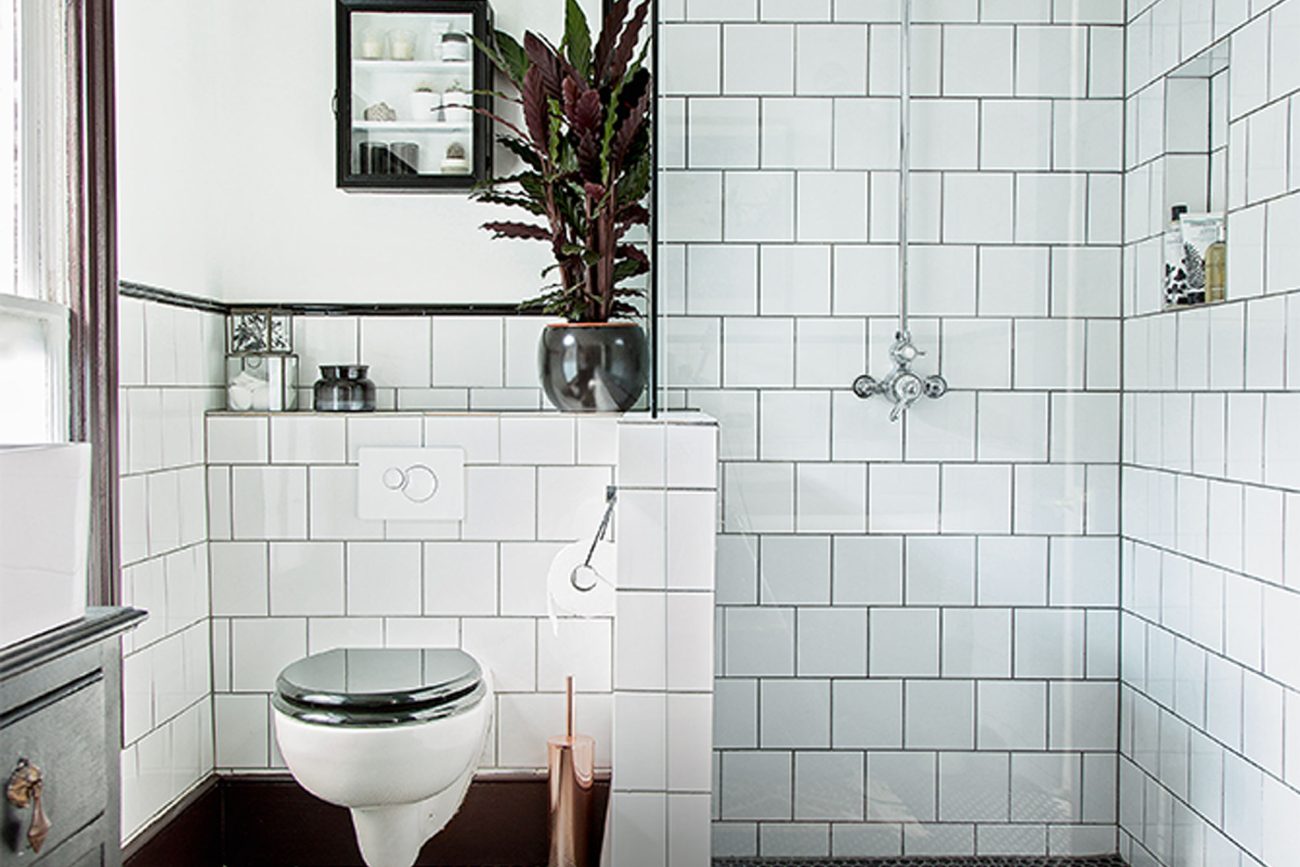 A wall-hung toilet is one of the simplest methods to reduce space in a small bathroom. In addition to being concealed behind the wall, the large tank, the bowl is elevated, creating extra floor space. A wall-hung toilet may save up to 12 inches of space over conventional floor-mount toilets, according to Kohler, the manufacturer of numerous models of these toilets. This can help your doorless bathroom look even more sleek.
16. Couple's Doorless Design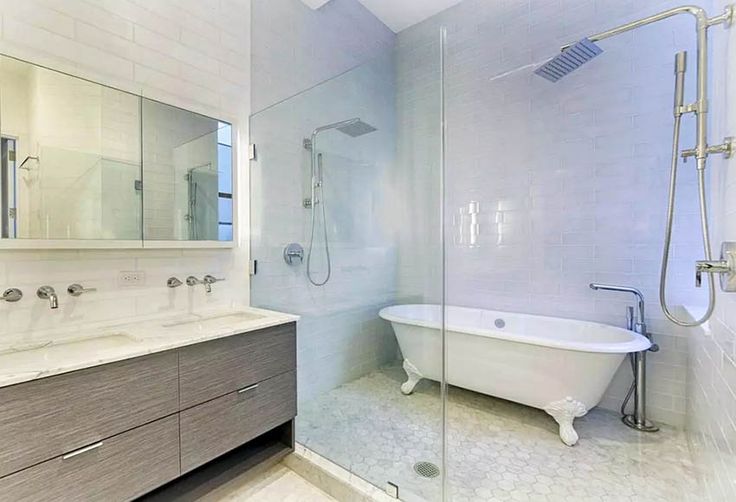 Dual shower heads fit perfectly in a walk-in shower; just because a space is small doesn't mean it can't serve many purposes. The ideal place to express your creativity with practical aspects and minimalist design is in a tiny walk-in shower. Here, white tiles guarantee that light can freely bounce about the small area, while gold accents give it a sense of grandeur. You can also consider adding a Tub-Shower combo. Making a wet room-style bathroom with a combined tub and shower space, like in the picture, is one of the most amazing walk-in doorless shower ideas.
17. Doorless Shower with Curtains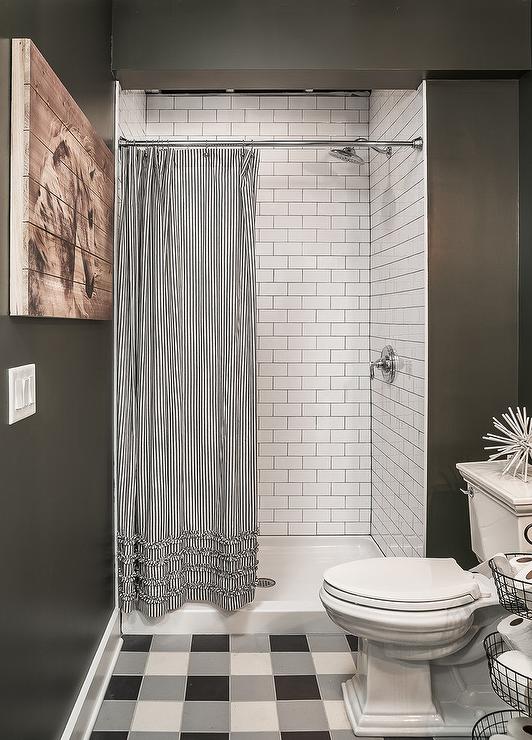 Shower curtain designs are ideal if you value your privacy. Shower curtains, as opposed to glass doors, block the view of the shower area so you may use the bathroom with a partner in comfort. Additionally, you can simply tuck them to the side when not in use to guarantee that they obstruct your view. The picture's printed draperies provide the bathroom with a lovely touch and make the shower area feel more welcoming.
18. Beautiful Veined Marble Doorless Design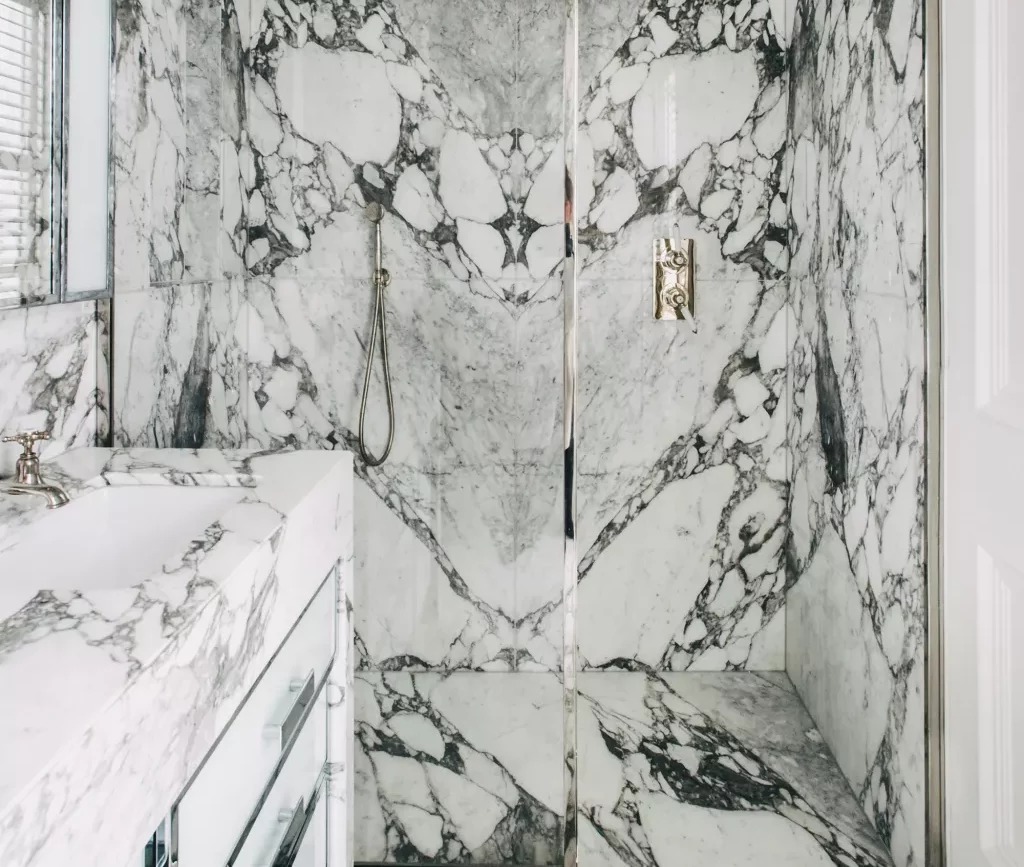 The magnificent marble's cloud-like design takes center stage in this little bathroom, thanks to simplicity and purity. The stunning fixtures with a traditional nickel finish go perfectly with Arabescato marble. These deliberate marble selections guarantee that the room stays neat and tidy and that the materials shine.
19. Built-In Shower Storage Design and Corner Shower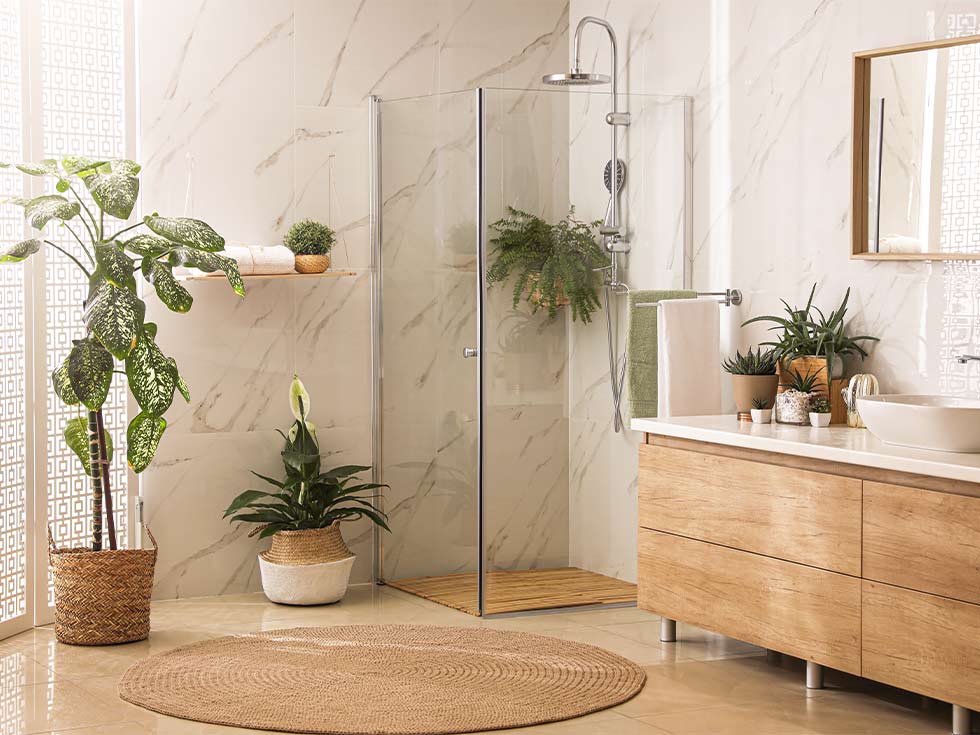 The typical square-style recessed shower shelf has been rethought, giving it a mouthwatering appearance that sets it apart from the competition. Check out the intricacies of the shower floor and rainfall showerhead; these wall niches resemble slots and run the whole width of the shower area. The layout of a walk-in shower in a tiny bathroom must be carefully considered. Place the shower in a corner, but make it larger by extending the glass enclosure and base into the bathroom's main space.
20. Small Walk-In Shower with Eaves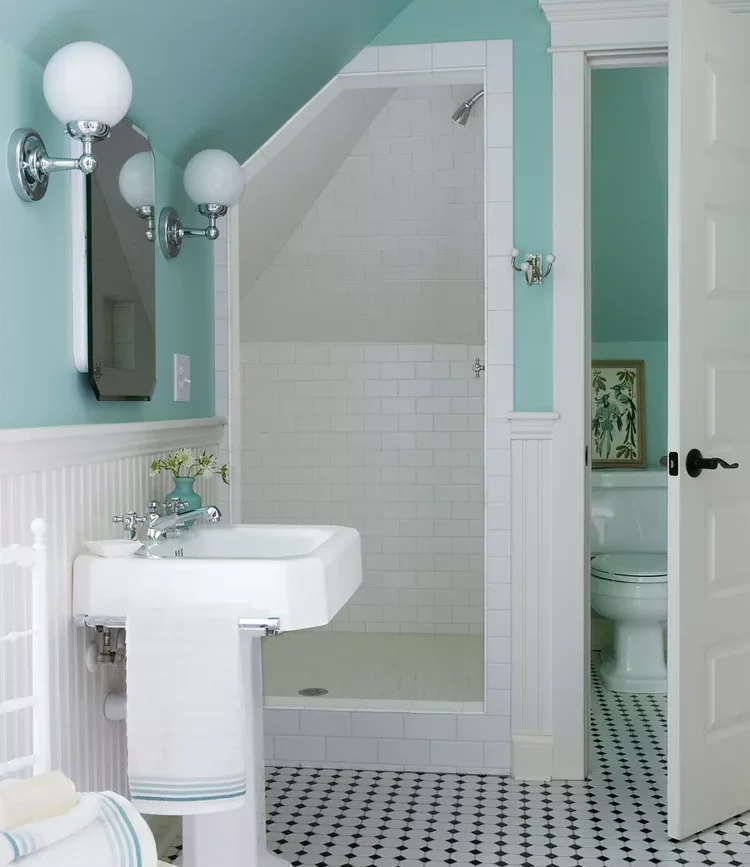 Create a doorless walk-in shower that makes use of the unique architectural features of your small bathroom. These homeowners were able to fit a walk-in shower into their little bathroom by tucking a shower beneath an eave. By making the most of this limited space, a separate toilet compartment—a luxury often reserved for bigger bathrooms—could be added.
Decor Tips for Small Bathrooms
Yes, it is possible to design a small bathroom without making it appear cluttered, and this bathroom serves as an example. A towel ladder is conveniently positioned in the limited area between the toilet and the wall radiator, where open shelves hold miniature plants and pitchers. Vessel sinks sit on top of a countertop as opposed to the more typical under-mount sinks, which are mounted beneath a bathroom vanity countertop.
Because they may sit on top of small cabinets or tables, they come in a variety of sizes and are particularly useful in bathrooms that are limited in space. Finding a tiny cabinet that matches your space and turning it into a vanity with the use of a few simple tools may be easier than installing a traditional vanity, which can take up a lot of space in bathrooms.
Why Do You Need a Doorless Shower?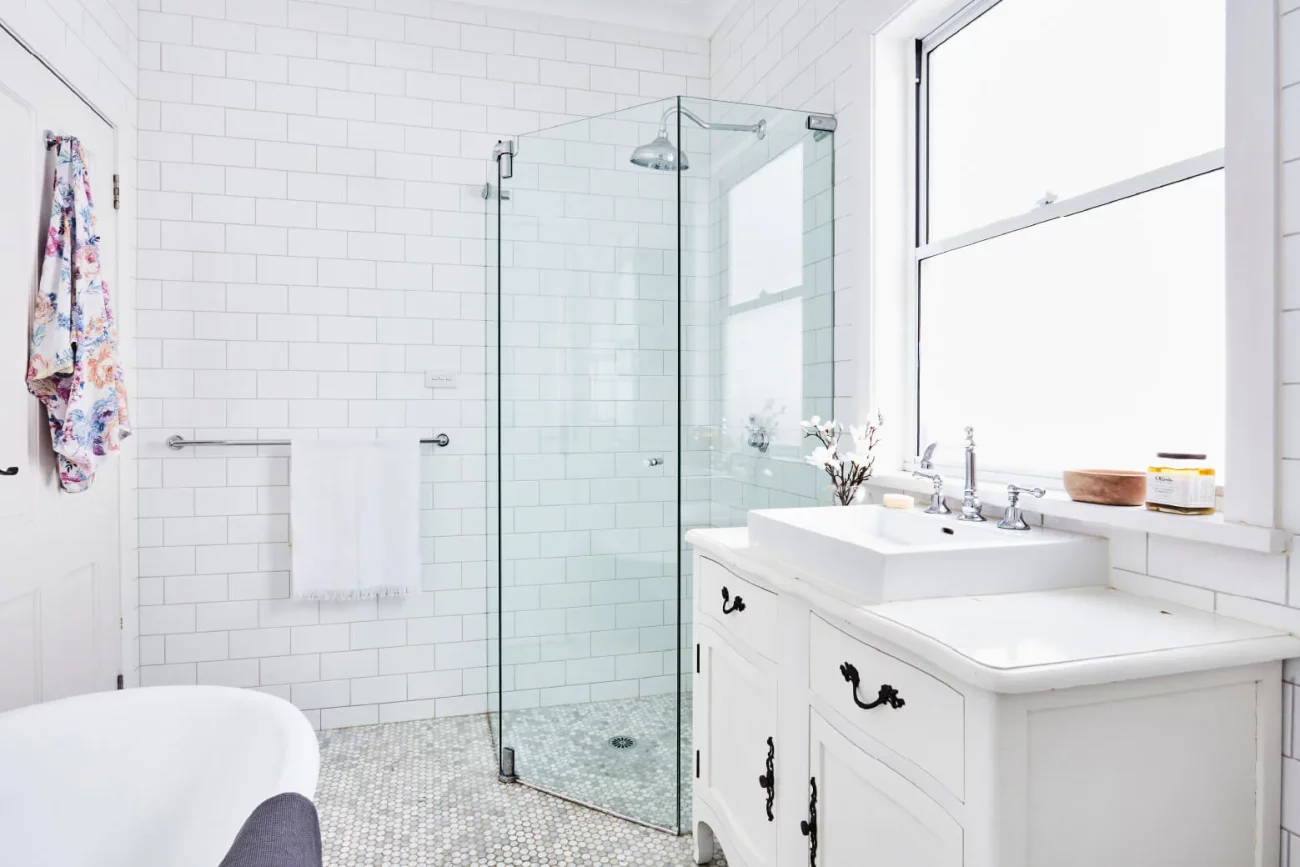 1. Elegance
There's a misconception that only spacious bathrooms may appear opulent. But these days, even little bathroom spaces in urban residences may appear just as wonderful as the expansive, opulent bathrooms we see online. With the correct design decisions, your little bathroom may be transformed into a designer masterpiece. Especially in Europe and some Asian nations, architects prefer showers without doors.
2. Looks Spacious
Pony walls or glass dividers may provide the appearance of a larger bathroom. It gives a clean, minimalist style and expands the space. The last thing you need is a door that swings open and takes up a lot of room in an already crowded shower. Your best bet for fooling your eyes into thinking your bathroom is visually larger than it is maybe a walk-in style.
3. Easy to Maintain
You may finally say goodbye to nasty shower curtains and shower doors that serve as a breeding ground for mildew and germs, thanks to a no-door shower barrier. While there is still a partition that has to be cleaned, doing so is much simpler and takes much less time if the door is removed. A glass wall with no frames is a nice illustration. It is considerably simpler to wash the borders clean without the frame.
Summing It Up
All in all, the doorless showers offer a refreshing and modern approach to bathroom design. With their elegant and functional characteristics, these showers have gained popularity for their ability to create a seamless and spacious look in any bathroom. By removing the need for bulky doors, doorless showers bring a sense of openness and freedom.
So why settle for a traditional enclosed shower when you can embrace the elegance and practicality of a doorless shower? Explore the possibilities, unleash your creativity, and embark on a journey to redefine your bathroom design.
With these inspiring doorless showers, ideas you can indulge in the ultimate bathing experience like never before.