If you have recently bought a table and are looking for a seat for your table, you usually go with chairs set with the table. But sometimes you must buy them separately. In a rare and unfortunate case, you might not find enough space in your house to buy and set chairs around it after purchasing a beautiful table.
This is a very annoying and disappointing situation. You should not feel devastated if that is the case because you can still use your skills and DIY a built-in seat for your table. Even if you have space for your chairs and are interested in having a built-in bench, this guide is for you.
Not entirely a guide to building a built-in bench, but we are focused on the appropriate dimensions and measurements of cushion and bench height. Those are the measurements you need to note when you are about to DIY a built-in bench. Built-in benches are called banquettes and are built attached to the walls.
They can be made during the making of your house, or you can do them yourself anytime. They should match your walls' color and texture to not look like an add-on but blend in the wall. Blending is the essential thing that you should make a note of.
One more trivial detail for both looks and comfort is height! If your cushion is higher than the tables, it is terrible to look at and primarily uncomfortable. It is essential to keep it noted that cushions are soft and get down when seated. So, it is better to take accurate measurements of the table, ground, and width to set them correctly and luxuriously
Factors Depending Upon
There are many factors dependent on measuring your perfect size. A banquette, the built-in bench, is not a fit-for-all and needs to be customized considering many things. One of the primary constraints to be considered is all the heights, weights, and seating comfortability of the people going to sit on it. If it is to be used by all the family members, it is better to rely on a single person's data.
You need to find that optimal size that will fit all sizes, at least for your family. It is a tough job if you have a growing kid because their measurements are unreliable. That is precisely why you need to build an average between all the sizes that get you all comfortable.
The next big thing is choosing the cushion! Of course, it is ideal to have a pillow because of its luxury. Then comes the deal of measuring the depth of cushion you use. It plays a crucial role in raising or destroying your level of comfort.
The Appropriate Dimensions!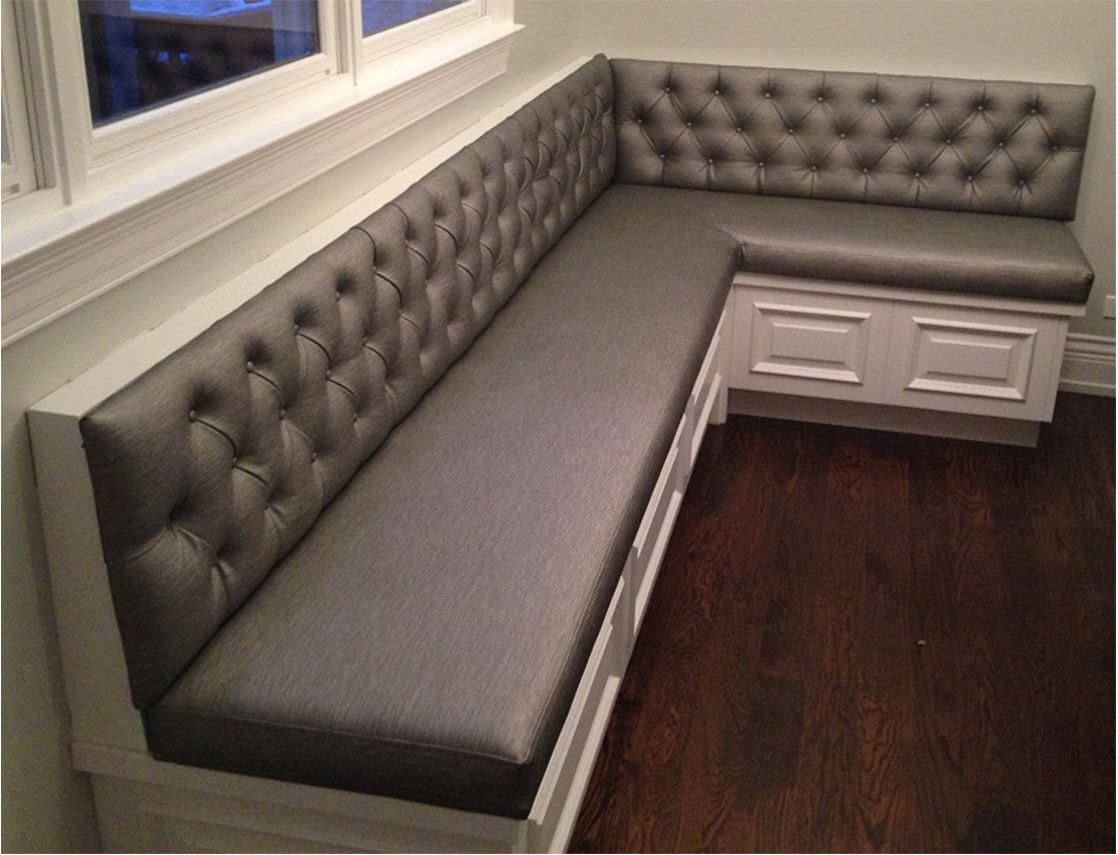 The below are appropriate and universal dimensions for the cushion depth, bench height, bench back depth, bench back height, and bench storage. These are just an average of universal figures used by most people.
These dimensions are considered optimal because it is most like the all-in-one size we can get to. Besides these numbers, the appropriate estimates that help us make no universal number that can be comfortable for everyone.
Cushion Depth
The most average and optimal depth for a cushion to suit most people are 18-20 inches, 20 being more optimal.
Remember that if you are using a cushion, you should build the bench height to elevate the cushion higher than the required height.
When we choose the depth of cushion to be 18-20 inches, it impacts and specifies the bench's other measurements.
Bench Height
While coming to the bench's height, it is to be considered as from ground to seat height. If you decided to use a cushion, the cushion's depth should be viewed as an add-on as the pillow sinks. 
The bench height from the ground to the seat is a two-inch difference from the cushion you choose. If you decide 18-20 inches deep, a cushion with a height of 2 inches, the optimal bench height is 16-18 inches. 
It makes perfect sense to leave 2 inches for the cushion to sink and if you choose a 3-4-inch pillow, make sure the bench height is 3-4 inches less.
Bench-Back Depth and Height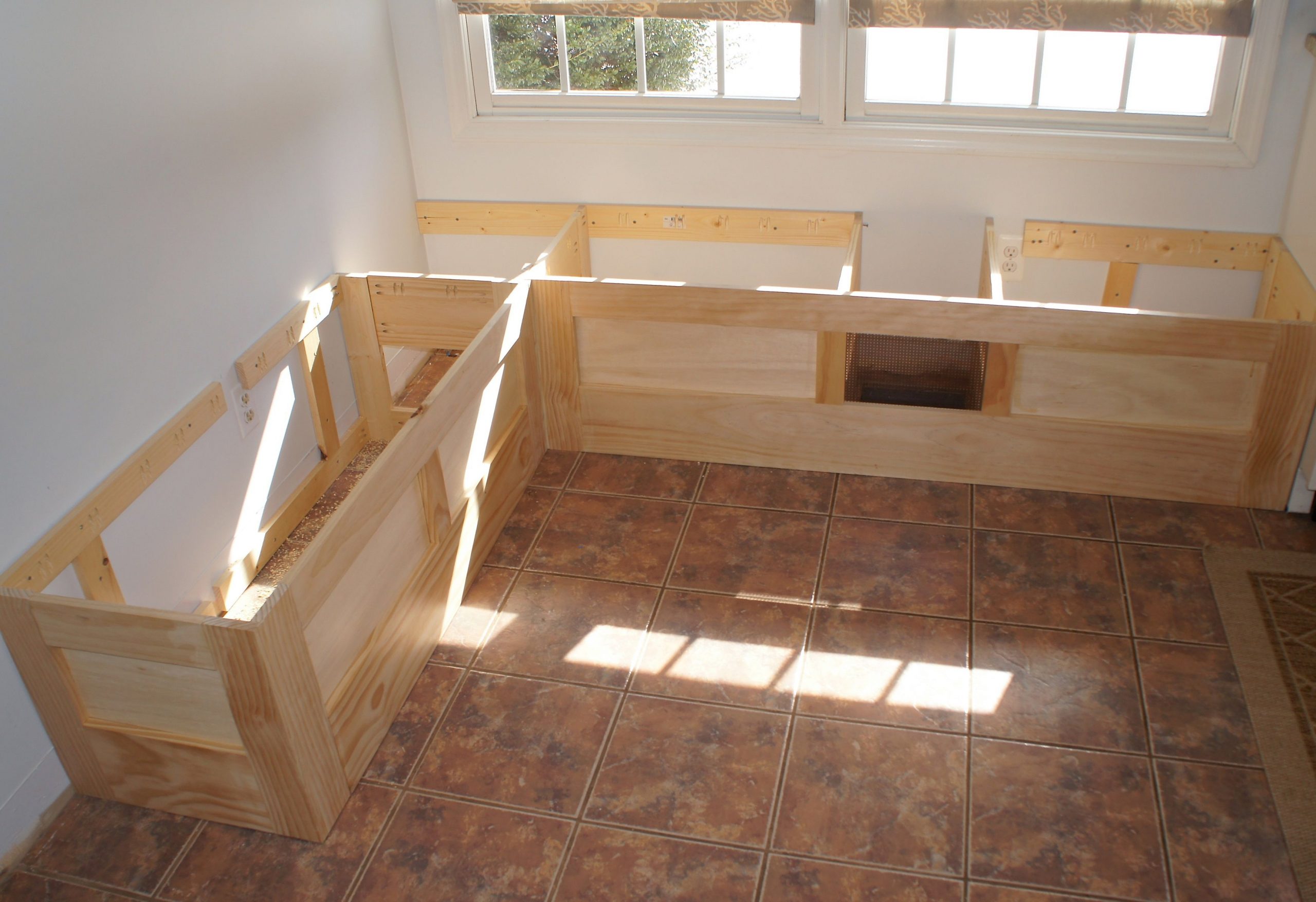 The backrest is essential, but you might feel it a bit obvious to judge. But no! No matter how obvious you think it is, it needs to be precise as it plays a minor role too. You do not sit straight and would love to lean back sometimes.
People like to bend a little and have some space to lean their heads back in a diagonal position. The straight back is a mere delusion, and at least a 2-inch space from the beginning of the seat to the wall is necessary for the seating position to be free and spacy.
Bench Storage
As these benches can store things too, it is ideal to have storage space below seating and the ground. This storage is closed but can be opened and used to use cutlery or dining items. It is smart to allow such storage, as it utilizes the space for something more substantial. Utilizing such innovative ideas saves a lot of space in many other areas.
As the cushion takes up 2 or 3 inches in the entire depth from the seat is 18-20 inches and the bench height till the cushion is 16-18 inches, it is ideal to leave some inches for the seating support. A two-inch gap is advised below the support to the seat. The remaining 14-16 inches can be used to store many things.
Table Height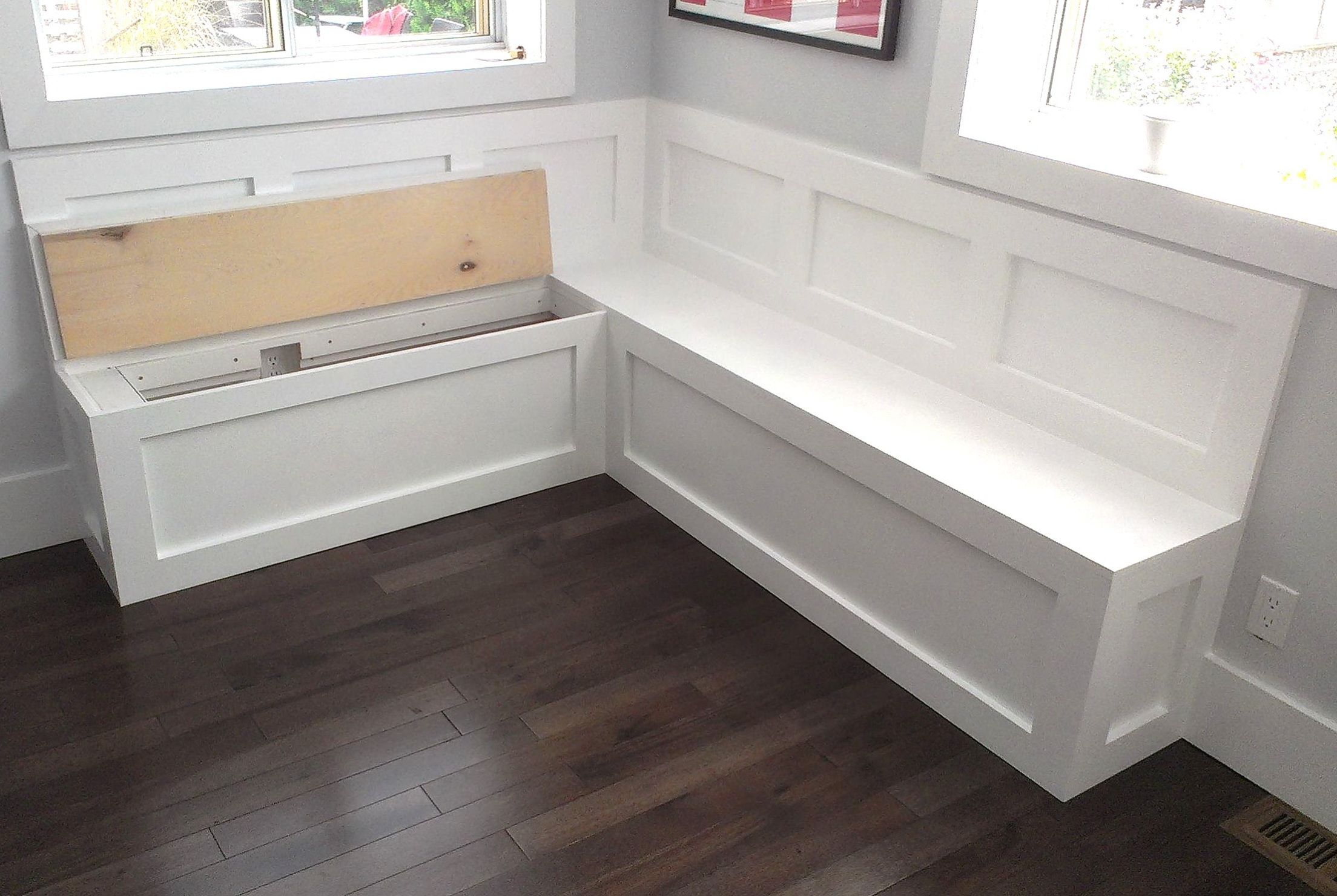 It is the first thing you must check if you bought a table first. But if you had built a bench first and table later, you should now choose the one that fits the bench. The height needs to be somewhat more prominent than the top of the cushion because it is the leg space when you sit down. 
A 5-inch gap is advised for the legs to have free space and move them down. A 5 inch from the top of the seat is suggested as the optimal solution available. Leg space is essential, and if it is messed even though the rest of all is perfect, it would still make a terrible bench to sit.
Conclusion
These inches are universal and would make a good bench generally. But if you are trying to make something more custom indeed for yourself, you should even guess and predict measurements from your family's optimal average.
You can use these numbers as a reference because they were tested and proved to be comfortable. They are not to be taken lightly but as a reference guide. But if you follow the tips above, you are assured of the functional dining space.
These built-in benches with cushions create a beautiful scenic image in our minds. It is aesthetically pleasing to have good custom built-in walls. It is always better to utilize any space that feels left out of all the other stuff.
Using the left-off area for something productive, the idea itself is productive and positive.