Are you looking for Flexsteel furniture reviews? If yes, then you are in the right place. Choosing the right furniture for yourself can be a challenging task, especially when you have a variety of choices available in the market.
Almost every company claims that their product is best but are they worth it. In this post, we are going to investigate one of the well-known furniture company names Flexsteel.
One of the eye-catching things I found in their furniture is that the core of upholsters furniture is a unique spring system. The Flexsteel patented blue Steel Spring System makes your sofa more comfortable and durable.
However, it may require repair if not used with care. On the advanced side, Flexsteel provides a lifetime warranty on their springs, cushions, and frames; it means you do not have to worry about these things.
Apart from design, Flexsteel also offers leather sofas by the name of Nuvo Leather, which is recycled leather, not genuine leather. Recycled leather causes many problems, and the delamination of the top layers is one of them.
If you are planning to buy a leather sofa, then make sure to stay away from composition leather, Bonded Leather, Reconstituted Leather, Blended Leather, and Coated Leather.  Recycled leather lacks the characteristics of genuine leather like flexibility, durability, and strength.
Variety of Products?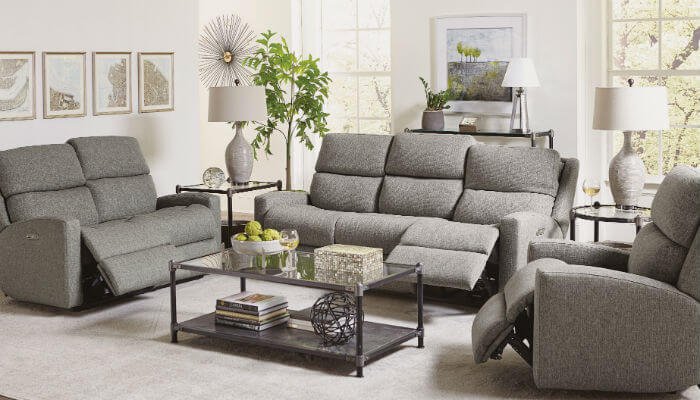 Flexsteel has a wide variety of products, and they are one of the leading furniture manufacturing company in America. They manufacture many products for Houses, Businesses, and customized motorhomes. Flex steel's most selling furniture includes cabinets, chairs, ottoman, sofas, and storage solutions.
What Is FlexSteel?
Flexsteel furniture is a branded and well-established furniture manufacturing brand within the United States. They are operating in over 50 countries all over the world, with over 1200+ dealership selling their furniture. Flexsteel is manufacturing quality leather and fabric furniture for over 100 years and still serving all over the world.
The first factory on Flexsteel was set up in 1893, and after that, they transferred into North home Furniture Industries in 1929. Finally, in 1958 the company reconsolidated as Flexsteel Industries Incorporate.
Flexsteel decided to go with a hands-on approach, and that is why they can create unique products with authentic designs. They use high-grade materials in their furniture so that they can last longer for decades without having any issues.
Flexsteel aims to satisfy all the user needs, and that's why quality controls precisely check all their product before sending out to the stores from the factory. All the Flexsteel furniture is delivered by their courier company, which allows you to track where your new furniture is comfortable.
Flexsteel Sofa Reviews
Flexsteel is offering a variety of sofas in different sizes and shapes. You can choose your choice of style and design according to your need. From the living area, bedroom, dining area to the home office, and gaming, Flexsteel will fulfill all your furniture needs.
Flexsteel offers a wide range of multiple customization options so that you can make full customizable furniture. You can choose from 6 different material options, including leather. You can also add extra features such as cup holders and storage drawers, which are like the cherry on the cake.
Not only this, but they can also add USB chargers to your desired furniture as well. It makes them up to date with modern-day needs.
Flexsteel Latitudes Reviews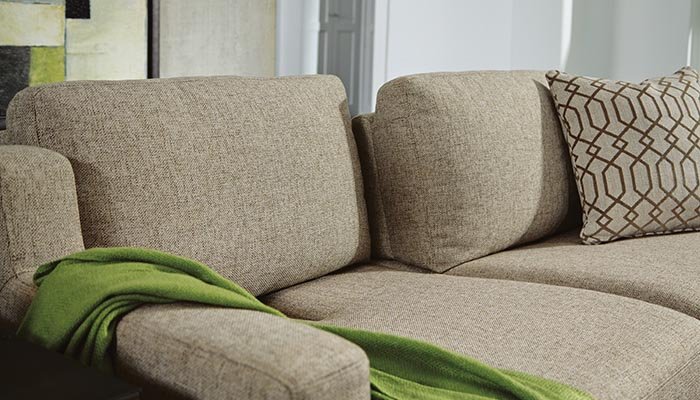 Flex latitudes collection is excellent for all your guests. It's bigger than regular sofas. The Flexsteel latitude collection is something different and unique that makes you comfortable all day long. The Latitude collection is manufactured with care, and it can handle everyday wear and tear from children and pets without having any issues for decades.
In this specific collection, you will get an extreme level of comfort. As it is a reclining sectional sofa, it will make you feel good all day long as it quickly finds the right position for you. It has an extra single full suppose chaise piece that allows precise comfort for anyone.
Unbiased Flexsteel Furniture Reviews
Almost all Flexsteel furniture reviews are optimistic about the finished product. However, some users have faced issues with leather durability. The customer service is not up to the mark, which makes the issues in dilemma whether to contact suppliers or dealers to claim a warranty. 
Upon checking flex steel furniture reviews, I found that Flexsteel furniture which is purchased today is not the same. People claim that new furniture is not as right as compared to Flexsteel furniture made 15 years ago.
So what makes the Flexsteel Company stand out in the crowd? The company holds a rich history, and that is why it gained so much popularity and growth. Flexsteel is spreading its business all over the over without compromising the quality.
All the Flexsteel furniture looks professionally crafted and lasts longer than you expect. You can find a modern feel in all their furniture. The prices of Flexsteel furniture are budget-friendly, and it will not make a hole in your wallet. Not only for home, but Flexsteel also offers furniture for the workspace as well.
Flexsteel Warranty Policy
Flexsteel offers a lifetime warranty on all the internal parts of their products, which makes them stand out in the crowd. The internal products, including wood frames, springs, metal base, seat, foam, reclining mechanism, and feathers, are covered by a lifetime warranty. So, in the future, if you found any issues with these mentioned internal parts, you can contact the Flexsteel Company to either repair or replace them.
Apart from this, Flexsteel offers five years of warranty on its electrical and mechanical components and mattresses. Flexsteel also offers a 1-year warranty on finished wood, metal components, plastic components, battery packs, pillow fiber filling, filling materials, and upholstery materials, etc.
So this is the basic warranty policy of Flexsteel furniture. However, we advised you to check with your retailer or dealer to reconfirm about warranty.
You can read in-depth about Flexsteel warranty on their official website
Flexsteel Social Media Presence
Flexsteel is pretty active on their social media accounts. You can follow them on social media to know more about the latest product launches and other important things related to Flexsteel.
You can subscribe to the Flexsteel YouTube account to know more about Flexsteel Industries and their products. 
Frequently Asked Questions
Does FlexSteel Use Genuine Leather For Sofas?
This question is hard to answer because Flexsteel did not provide and information about leather quality. According to some people says they used Nuvo Leather, which is and recycled leather and does not contain the durability and strength like Genuine leather.
Does Flexsteel make the right furniture?
Yes, Flexsteel makes the right furniture, and you can buy their furniture to fulfill all your home furnishing needs. The good thing is that you can customize the Flexsteel furniture according to your style such as leather, fabric, cup holder, power options, etc. Flexsteel manufacturing quality furniture for over 100 years and they are professional in their work.
Is flexsteel better than Lazy Boy?
Yes, when it comes to seat cushion durability and resilience, Flexsteel furniture is way better than Lazy boy furniture.
Is Flexsteel furniture going out of business?
People claim that new furniture is not as right as compared to Flexsteel furniture made 15 years ago. Recently Flexsteel Industries Inc said that they would close the Starkville plant along with other facilities situated in Dubuque, Lowa, as soon as June 2020.
What is the best quality sofa brand?
Ashley, La-Z-Boy, Flexsteel, England, Homestretch are some of the well-known brands in the furniture industry.
Is Flexsteel furniture made in China?
Flexsteel is an American brand that's selling budget-friendly upholstered seating for more than 100 years. Only the Flexsteel latitudes line is manufactured in China. It has many manufacturing plants all over the United States.
Conclusion
So it was the post about Flexsteel furniture reviews. We try our best to be as unbiased as possible. The Flexsteel latitude collection is perfect for those who are looking for extreme comfort options for you and your guests.
All the Flexsteel furniture lasts longer than your expectations. Overall I hope you liked our Flexsteel furniture reviews. If you have any queries or suggestions regarding Flexsteel then leave us a comment.