If you must pick a single element for your entire living room, you will probably pick your sofa. Sofas are one of the most expensive investments in your home after the electronics, and it makes sense to choose a quality brand.
Starting from your kids to your pets, your sofa witnesses a lot of traffic, and if the fabric used is cheap, it probably will not last. The entire decor of your living space is anchored on that one single highlight piece, and it must be the best one. One of the famous names among the sofa sellers is the lee industry.
LEE Industries claims that their mission has always been to create high-quality home furnishings which are innovatively styled, and yet sticking to the set of values that focus on their customers, the environment, and the community.
But several customer leeindustries sofa reviews tell a completely different story about them. The reviews are ample proof of why you should not consider purchasing from them, even in your dreams.
Customers had to Suffer a Lot Due to the Sub-Standard Quality of Their Sofas
One of the numerous customer reviews said that they purchased a Lee Industries with Barbara Barry fabric on it, which cost around 4 thousand dollars. Within one year, the ties broke down twice, and the review said it just seemed like an incredibly "junky piece of furniture."
Customers complain that even though the kids are not jumping around on the sofa, the foam still gets ruined, and the sofa twangs and squeaks every time a person gets up from it.  More than two people at a time cannot even sit beside each other on the sofa because the middle seat is extremely uncomfortable.
The fabric seems to be soiled from the outset, and the color gets faded and worn out in a few months, and the sofa looks nothing less than embarrassing. The cushions are squishy, and you must plump them regularly, and still, they do not retain their shape.
Also, a customer has complained about the delivery of the sofa; the slipcovers did not surge properly, which resulted in the threads hanging off everywhere. The threads were not even appropriately sewed. The review said that the seams were so bad that they did not even hold up to a few washes, especially in the case of denim.
The customer made a return request, and only after several phone calls, the sofa set was taken back. This review clearly shows why you should not purchase a Lee Industries Sofa, either recommend it to anyone else.
Yet another Lee Industry Sofa Review said that he bought a $12,000 leather sectional sofa, and he hates it. The reviewer said the "honey" leather weathered horribly, and it seems like that he is continually trying to wipe it down as it stains very easily with absolutely anything and especially body oils.
The reviewer further added that the back cushions have turned malformed and do not hold up. He said that only one side of both the seat and back cushions are leathered, so you cannot rotate after all that staining, which is hugely disappointing!
The Customer Service of Lee Industry Sofas is Shocking!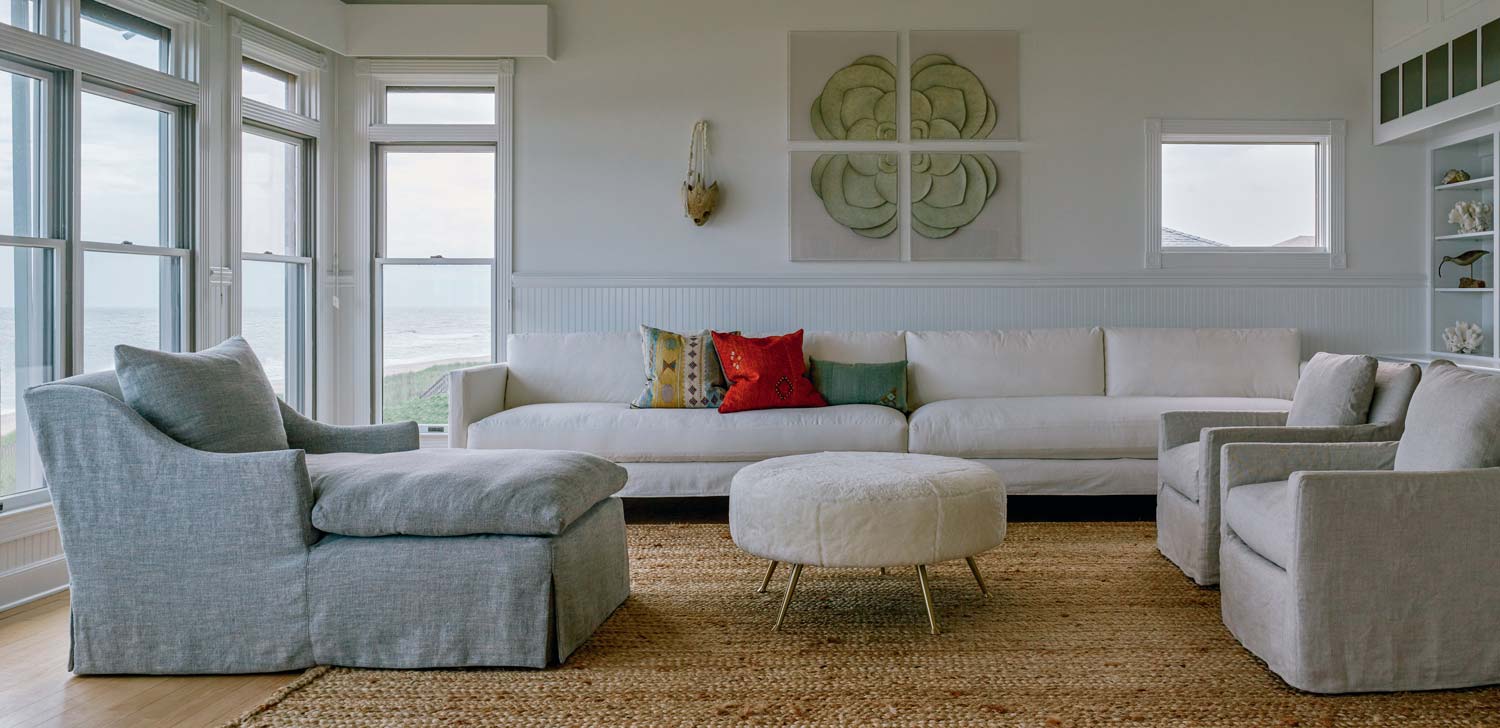 Lee Industries' mission statement about being customer and community-friendly is completely contradicting to the reviews on the internet. A reviewer said that even after spending a considerable amount of money on the Lee Industries Sofa, the delivery he received was not at all close to what was represented and caused him several problems.
The sales representative admitted himself that there was a problem with the sofa and said he would get back as soon as possible, but he never heard from them again. He then resubmitted the complaint on Lee Furniture's website, and yet his complaint was not paid any attention to.
Another Lee Industry Sofa review said that a fair amount of $3400 was spent on purchasing the sofa. However, still, ten months later, the cushions on the two-side cushion sofa got permanently dented on the sides and looked ugly.
When the reviewer called in to complain, he was told that he must fluff them each week, but just mere two days later, after sitting on the sofa, the same disfigurement happened, and the dent reappeared! When he asked for different composition cushions, they said it would cost him another $375. When they finally agreed to send him a replacement, they sent him the same inferior cushions.
Why Lee Industry Sofa Shouldn't Even Be the Last Name on Your List
Lee Industry sofas are insufficient in meeting the demands of a modern lifestyle and nothing close to what you would expect from a company that guarantees "premium" quality. The quality is not even standard.
The cushions do not even retain their shape for even a year and fall apart, even if taken proper care of, and the fabric gets discolored, which is absolutely a big spoiler to the beauty of your home.
The replacements that the company gives are even of a lower quality, and lame excuses are given for no refunds. Moreover, the upholstery requires regular maintenance, which adds on the expenses after buying a sofa at a reasonably higher price.
Lee industry sofa manufacturers lack integrity and basic courtesy, and it is tough as a customer to deal with such brands. Their customer service is frustrating, and it is a huge matter of concern after paying so many bucks.
Their gorgeous-looking sofas only after few months start looking dreadful. The Lee industries sofa review states that one can notice unsightly marks everywhere, and the chair sets look like they are ages old and need replacement terribly.
Sofas in living spaces, apart from decor, are mainly meant to provide comfort. But with Lee Industries sofas, the luxury of comfort is only a dream. Their sofas are not at all soft and cozy, and you cannot get an excellent overall experience with these sofas.
Why Other Premium Sofa Brands are Far Better than Lee Industries Sofa
Their shipping and delivery is yet another major setback. Even after placing a successful order, order cancellations take place multiple times, that too, without notifications. The delivery dates are delayed again and again, and even the processing of delivery and shipping takes equally long. No customer is that patient to wait for so long.
Lee Industry sofas lack the range of designs and options available. They are very much limited to the conventional designs and structures and do not experiment and renovate at all with the looks. Their sofa still has a very ancient look and feel and does not fit in modern homes.
The fabric quality you get after paying such huge prices is unexpected. The fabrics have no protection layers on them and get damaged quickly. The textures and layers are not intricate, and only after a few months, the fabric looks cheap and distasteful.
If a class is something that you are looking for in your sofas, just like your other pieces of furniture that can well complement and uplift your room decor, you should certainly stay away from the Lee Industries sofa. The sofas have no touch of elegance in them at all and can ruin the entire theme and decor of your living space.
Any quality sofa requires a well-constructed frame that has strong built to maintain the overall shape and integrity of the sofa. It is the skeleton that keeps the sofa robust. But Lee Industrysofareview makes it apparent that they have absolutely no knowledge about this fact. Their frames are fragile, weakly built, and cannot hold up the sofa even till few weeks.
The quality of material and methods used by their craftsmen is exceptionally sub-standard. Usually, premium brands that charge such a high amount from their customers either use hardwood or traditional timber frame methods and other expensive quality materials. But it seems like Lee Industries, just for the sake of profits, use anything and everything in their sofas, the hefty price of which the customer must pay later in terms of safety.
The right time of frame joinery and the skills of the craftsmen deploying for producing any piece of furniture are extremely crucial to ensure strength and durability. But Lee Industries has no expertise in this area, and it looks like they employ extremely low payable, unskilled workers under them for producing the sofa sets.
Good foam is a real identity of the right sofa. It provides a soft feel and inherent pliability to the sofas to help them recover to their original shape after someone sits on them. But leeindustry sofa review indicates that they use materials in the name of foam that is incredibly stiff with no air bubbles at all. Very naturally, the quality of the sofas is not retained.
So, we hope you have got the logic behind now that why we reviewed Lee Industry sofas as the worst. There are other good quality sofa brands that you can purchase from.