Acrylic Tub is a solid surface, and the whole tub is a single color. This color is not painted or sprayed, but this is the color of the Acrylic Sheet. So, even if the tub gets scratches or patches, it is possible to restore its color like before without worrying. Scratches and Patches can be removed very easily using any liquid gel or cleaning the surface with a sponge.
Can Scratched Acrylic Tub be Repaired?
Yes, Acrylic Tubs can be repaired very easily using fine-grit sandpaper and a damp sponge. If you do not want to use fine-grit sandpaper on the surface of your tub, you can use a liquid dishwasher to wash the scratch area. After applying this, you can wash it off with water and then apply white polish to the surface.
How to Remove Scratches or Patches from Acrylic Tub?
The scratches or patches present on the Acrylic tubs can easily be removed with the help of liquid gel cleaner or sponge. You can apply liquid polish such as gel gloss or anything like that to the surface and then clean it and wash it with water. Also, you can clean it by using a sponge and then rinsing off the water.
Tools and Materials Required for Removing Scratches
For removing any scratches, dulling, or patches from the surface of an Acrylic tub, you will be required to use these things, fine-grit sandpaper, a hard sponge, and liquid polish. We will now be discussing the steps to remove scratches or any dulling from the Acrylic tub's surface.
Step 1: Wash the area where there is any scratch on the surface of the tub with warm water and damp sponge. Use a liquid dishwasher for this purpose. Gently rub the area and clean it with warm water.
Step 2: Do not use any cleaning cloth or pad directly on the tub. It may lead the tub to damage itself. Use only smooth and soft cleaning pads for washing the area. Do this carefully.
Step 3: Apply circular strokes of fine-grit sandpaper on the scratched area evenly so that the damage does not occur anywhere else on the tub.
Step 4: Now, wipe the area thoroughly with the sponge and then rinse it off with warm water.
Step 5: Apply white polish carefully on the area which is cleaned. Distribute the polish equally so that it does not look uneven. An excellent way to approach this is to rub the white polish circularly to distribute the polish equally.
Step 6: After applying the white polish, leave the tub for some time. After this, wash the tub thoroughly to rinse off any residue or color left over there. Ripe it off with the help of a smooth and soft cloth.
What to Do When there is a Deep Scratch on the Surface of the Tub?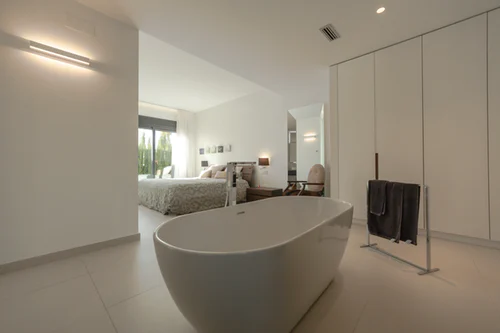 Any scratches on the tub's surface can either easily be washed off or filled with gel coating. If there is a deep scratch on the surface, it can be filled using a thick layer of liquid gel coating and then wash the residue with warm water. After this, you can apply white polish to give it back its original texture. This can be done to regain its texture and appearance.
Can Bathtub be Polished?
Yes, the bathtub can be polished. The polishing of a bathtub is done to regain its lost appearance and texture. If the bathtub has lost its texture, polishing is done to restore its luster and texture to make it shine again. Usually, the bathtub gets damaged due to scratches and wear and tear, so polishing is done to overcome these issues.
Is Acrylic Surface too Easy to be Scratched?
Acrylic Surface is too smooth and soft to be scratched easily. The Acrylic surface is made like this to shine. Acrylic surfaces possess a luster property, which is why the surface of these acrylic tubs is so smooth and soft.
These tubs are prone to scratches and dulling but restoring its appearance and texture is also accessible. The soft and smooth surface of acrylic tubs is prone to any damage.
Do Scratches lead to crack the Acrylic Tub?
Though the surface of Acrylic bathtubs is prone to scratches and even is too smooth to get scratches, it is not possible to crack the surface just because of scratches. If the scratch is light, then it can be removed by just using a sponge and liquid dishwasher. If the scratch is too deep, then it may need to be filled with a thick layer of gel coating. This would not let the scratch to crack the surface of the acrylic bathtub.
Is Magic Eraser safe on Acrylic Tubs?
The answer to this question is yes. Magic Eraser is entirely safe to use on the surface of Acrylic bathtubs. It is mainly used to remove any scratches and dulling on the bathtub. Magic Eraser is just like a gel coating that can remove any scratch on the surface. It is perfectly fine to be used on Acrylic Tub.
Can any Cleaner be Used on the Acrylic Tubs?
No, any abrasive cleaner cannot be directly used on the surface of Acrylic tubs. It can damage the whole tub. The only authentic liquid gel can be used on Acrylic tubs to prevent it from any damage. Moreover, the acrylic tub possesses a relatively smooth and soft surface, which cannot be handled by any abrasive cleaner.
Can Vinegar be used on Acrylic Tubs?
Though Vinegar is considered as a cleaning substance for any tubs, washbasins, and kitchen sinks, we will highly recommend you not to use Vinegar on the surface of acrylic Tubs. This is because Vinegar is too acidic for any acrylic surface as the surface of Acrylic products is soft and smooth and cannot tolerate Vinegar's acid.
Moreover, it will lead to damage to the whole product. It will leave its spot, which is not easy to remove from the surface of acrylic tubs. So, do not use Vinegar on Acrylic Surface.
How to Get Old Stains out of an Acrylic Bathtub?
For removing old stains from Acrylic bathtubs, you will be required to fill a bottle with a liquid dishwasher gel and warm water. Mix the liquid very well to produce a large foam. After this, you can apply this mixture on the surface of the Acrylic Tub, where there are old stains. Leave the mixture there for 15-20 minutes.
After this, thoroughly wash the area with the liquid and then wash it with warm water to remove any residue. After washing the area with warm water, you will be needed to clean the area with a piece of soft and cotton cloth so that there should not be any spots left.
Leave the bathtub for half an hour, and then it will regain its original texture.
Products which can be used to polish Acrylic Tubs
1. Rust-Oleum Synthetic Tub and Tile
Smooth, Glossy, Waterproof, fit for tubs, and tiles.
Durable, provide good adhesion properties.
It can survive extreme weather conditions.
Dries in almost 15 to 20 minutes.
It can cover 10 to 15 square feet per cane.
Provides color retention in high moisture areas.
It has convenient parking, easy to use.
Durable, intense white color.
Elegant fragrance reduces the typical paint-like smell.
Dries faster, take 10 to 12 minutes for drying.
Smooth and shiny texture, soft finishing, glossy.
Possess good adhesion properties.
3. Krylon K04502007 Tub & Tile Ultra Repair Finish Spray Paint
Easily applicable on any surface.
No paint-like smell.
They are specially used in home décor, bathtubs, washbasins, and kitchen sink.
Covers 10 to 12 square feet.
Durable, long-lasting, intense color.
Quick-dry, shiny texture.
Weather-resistant survives hot and cold weather.
4. Krylon K01309 Gallery Series Artist
Transparent, shiny, and glossy.
Possess quick drying capability.
Possess a flexible coating.
Prevent from Ozone depleting substances.
Tough Anti-Corrosion, water, and moisture resistant.
Good insulation properties.
Non-reactive to air, water, and heat.
Long term protection durable.
5. Ultimate Mirror Chrome Aerosol Paint
Pure acrylic paint, suitable for tubs and washbasins.
Long-lasting and durable.
Glossy, shiny, and bright.
Smooth and soft surface paint.
The coverage area is excellent.
Waterproof, weather-resistant.
Does not react to heat, moisture, air, and water.
What Do We Suggest?
Though Acrylic Tubs are very famous all over the world, it is still gaining its importance in the United States. These tubs are mainly famous because of their soft and smooth surface. But this soft and smooth surface often leads the whole tub to damage. However, it is effortless to repair the tub after damage. We will suggest you take extra precautions for your bathtub to prevent it from any damage.
However, if any damage has been done to the bathtub, you can always refer to the solutions which we have discussed in this guide. We are happy to assist the maintenance in case any damage has been done to the Acrylic tubes.