Are you wondering whether you can self-design a bathroom with ample space and everything according to your liking? Is a shower cum bathing tub a dream for you? Do you want to know whether this dream can come true or not? We're here to answer all your questions and give you the correct guidance to get yourself a soaking tub with a shower without spending a fortune
It is essential to make use of all the space that you have in your little home. The vision of having enough vanity space and a bathing spot in a small bathroom arena can become a reality. All you need to do is do some research and planning.
There's nothing in this world that a well-functioning human cannot conceive. This article is written primarily for people with such a vision and will be of great help for future purposes too.
Choosing The Correct Type of Shower Tub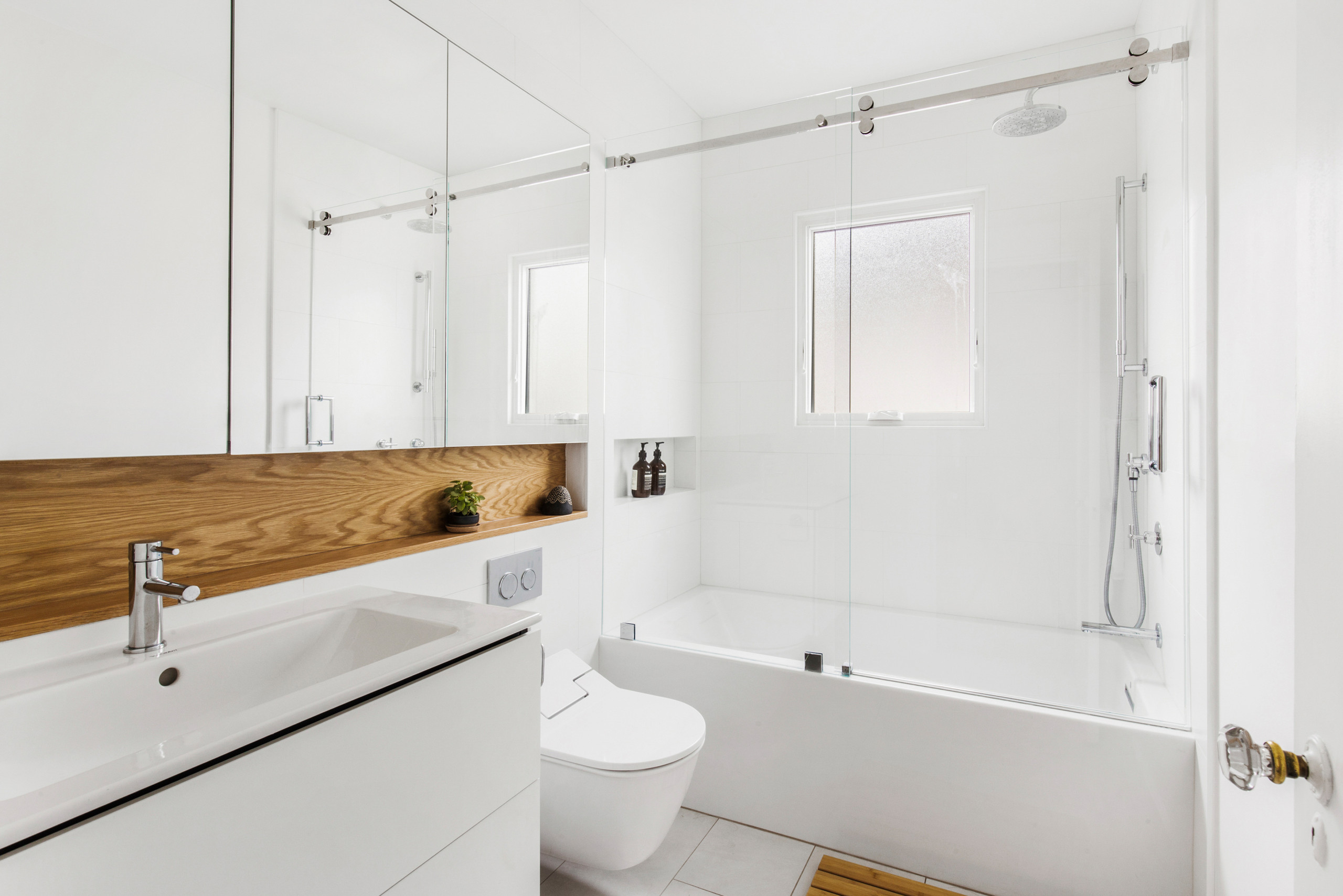 We are well aware that bathtubs come in various sizes and installation options. They are Ranging from standard American baths to air tubs, whirlpool tubs, and whatnot! The installation type also varies on multiple bases. Since we're talking about a relatively smaller space for accommodating a bathtub, aka soaking tub with shower, we'll focus strictly on that.
The standard bathing tubs are traditionally designed for more significant areas with ample space. However, manufacturers realized that not all of their potential customers have access to bigger bathing spaces, and now, we have options for confined spaces too.
Among the various types of tubs, soaking tubs have a relatively deeper interior. This justifies the name because it allows you to soak in the water thoroughly. They come in various sizes, but the standard size would be 5 feet long and thirteen inches wide.
If you're keen on fitting your soaking tub in an area smaller than the standard tubs available, the market has plenty of options ready for you. What comes next is the installation type. Since you're rooting for a soaking tub with shower, we understand that it's for utilizing less space in your bathroom.
Again, there are different types of installation methods available. Keeping the save space motto in mind, we've narrowed it down to two types of fittings.
Corner Tub
As the name suggests, corner tubs are fitted at the corner of any room. They're three-sided with one finished side. The other two unfinished sides are provided to the corner walls of the bathroom.
These tubs are perfect for compact areas, and considering that you also want a shower installed with it, we guess it's a great option.
While looking for corner tubs in showrooms, make sure that you ask the staff for a corner soaking tub with shower head installation available. That would filter your search criteria. You can subsequently choose from soaking tubs that can be installed at the corner of your bathroom with an option to get a shower head fitted.
Alcove Tub
Alcove tubs are tubs installed in the alcove of a bathroom. In layman's terms, the tub is fitted at a space that has three walls. Three sides of the tub are attached to the walls, and one side remains open.
You can get the installation done according to your preferences. If you have a three-walled space available for customizations, this one's an excellent choice! Alcove tubs often come with a combination of tap and shower fittings. If your seller isn't providing those, you can always ask them to add them to the purchase.
Let's Talk About Shower Heads for Bathtubs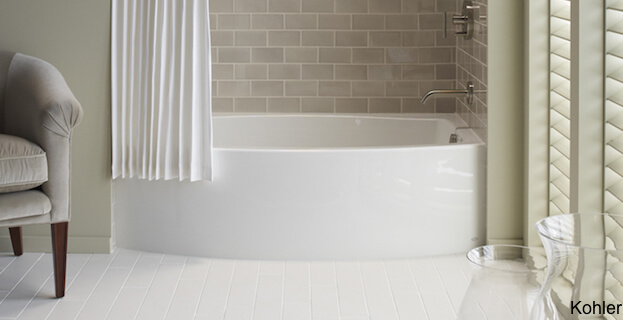 You must be wondering why did we keep this section separate? For starters, we thought you'd like to know some crucial factors that need to be considered to design a soaking tub with a shower.
Waterproofing of walls.
The best part about installing a soaking tub with shower is the reduced cost of various finishing aspects. If you were to get both these fittings separately, the price for waterproofing the floor and walls would double up.
Since that's not the case here, you can simply get the waterproofing of the joining walls in that specific area. You can either have tiles fitted till the roof or simply go for contemporary waterproof wall barriers.
Waterproof wall barriers are conventional and easy to maintain. You don't need to use harsh cleaning solutions or worry about unhygienic buildup on the walls. These wall protectors can easily be cleaned with a simple soap solution. Since they're nonporous, they won't harbor any fungus or bacteria. You will have multiple contemporary designs to choose from.
Waterproofed walls tend to last longer and give a modern, edgy look to your bathing space. They provide to be an excellent choice in the long run and cost leaner than traditional tiles.
If you're still not sure about the former option, you can go for the traditional bathroom tiles. There are many beautiful designs and patterns available in the market that will prove to give an aesthetic appeal to your bathing area.
Since the cost is significantly reduced due to both the fixtures being at the same place, going for a pricier option won't make much of a difference.
Additional Fixture
Having a soaking tub with shower calls for the installation of other additional fixtures in the same space.
You need to have taps installed for use when you feel like soaking off your stress in a hot soak. If you're not a fan of hot showers, you can simply get one-tap installed to serve the purpose.
Moving on to the OTT fixtures, you can get a hand shower installed in the same space. For days when you don't feel like putting much effort into bathing, you can use the benefits of having a soaking tub with a shower. Use a hand shower to experience exceptional service during lazy days.
Simply sit in your soaking tub for as long as you want and wash off the soap with the handheld shower; all this at the convenience of sitting in your bathtub.
Other additional fittings can consist of lighting setup, built-in speakers, etc. These are your prerogative and are not an absolute necessity.
Accessories.
Adding accessories to your bathing space can amp up the whole feel to another level.
Candles
Scented candles are perfect for decoration as well as usage purposes. You can light up your compact space with the help of aromatic scented candles.
After a tiring day at work, you can light up your lavender-scented candles, make yourself a hot bubble bath, and soak in for as long as you desire. The soothing properties of lavender will calm your mind and give you a relaxing bathing experience.
For other days, candles look super cute as decoration items in bathrooms. You can always skip out on this and choose what you like accordingly.
Flowers
Flowers add to the collective feeling of being in a space all by yourself. You can put fresh flowers in a vase and keep it near your soaking tub.
Flowers make us happy, and that's precisely what they'd do when you have them around your bath. If it's too much of an effort to get fresh flowers, simply collect artificial ones and decorate them in your vanity. They won't cost you much, would fit in a small space, and provide to be an excellent decorative item.
Bath Bombs
Bath bombs are currently in trend for their beautiful pastel shades, aroma, and skin cleansing properties.
If you like the idea of soaking in a tub full of pastel-colored water with an enticing and soothing smell that would also be beneficial for your skin, then bathing bombs are an excellent choice for you.
When not in use, you can keep them on display alongside your beautiful flower decorations to give you bathroom an aesthetic sense.
Foldable Stool
This one's a multi-purpose addition. It will prove to be beneficial for times when you wish to have an extravagant bathing session. The foldable stool can be used for sitting while doing makeup or as a platform to keep your beverages and edibles.
Some people might not be comfortable with the idea of it, but if you're up for some extreme relaxation, give it a try. Since it's foldable, you can easily store it at a corner after usage.
Conclusion
We gave you in-depth research on whether a soaking tub with shower a possibility is or not. You might not have a massive array of options if your bathing space is small. But the horizon widens with bigger spaces.
The article primarily focuses on answering whether a tub cum shower is a possibility for small bathrooms. We have provided comprehensive details about the types of tubs, installations, fittings, and accessories that can add up to an excellent bathing experience.
Always remember to do an in-depth analysis before purchasing any home improvement products.