Hallways (or corridors) are long spatial passages usually found in buildings, built to enable circulation and access to many rooms. Hallways are functional or decorative spaces that set the tone for the property, so there is no escaping the fact that they are essential. Characteristically, Hallways can be narrow or broad, depending upon the spatial need. However, to comply with the requirements of ADA, the standard hallway width is 36 inches.
Hallways can be categorized as singe-loaded, which allows entry from one side and double-loaded with doors on both sides. In buildings with a higher density, a hallway is shared by many residential spaces. In the extreme ends, they connect to vertical modes of pathways such as stairs and elevators. The width of the hallway depends significantly on the nature of the building or apartment.
Hallways are ignored even by enthusiastic and passionate architects or decorators because they do not know what to do with them. Since they are used numerous times every day, they can be utilized to display artworks, lights, and other decorative items.
A small family living in a private house may require a narrow hallway, while a public space like a school or hospital would demand a wider one. Layout designers keep this in mind while designing and deciding the location and size of the hallway.
What is the Standard Width of a Hallway?
The standard width of a hallway is set to 36 inches, i.e., 91.44 cm. The reason for this particular magnitude is the width of a standard wheelchair. It ranges from 21 to 30 inches. The Americans predetermine the standard width of a hallway with Disability Act (ADA).
However, 36 inches is not wide enough to accommodate furniture. More generous hallways are needed with more extensive scaled details for the smooth movement of furniture. A 48-inch hall is warm and can contain an in the capacious table. For larger furniture, a width of 54 inches to 72 inches is preferred.
Ceiling: The standard ceiling height is 8 ft. Most people prefer 9 ft because it facilitates better decoration and design opportunities.
The Average Width of a Hallway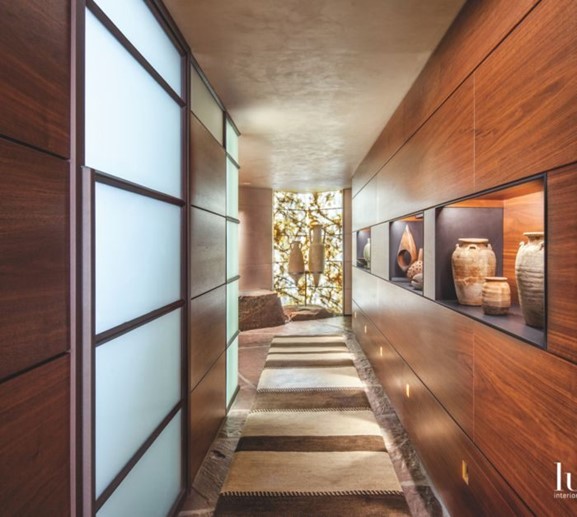 The average width is believed to be sufficient in space for accommodation and flow of human occupants. It can range between 42 to 48 inches (106 to 120 inches approximately). Although not commonly found, a hallway of 60 inches is ideal for two people to walk comfortably.
How Wide Should the Hallway in Your House Be?
Naturally, the wider the hallway is, the easier it is to circulate furniture such as pushchairs and play with decorative details and finishes. According to specialists, a square-shaped hallway should be preferred as it allows more breathing space and the inclusion of storage units. It should not be too large, as it may look disproportionate concerning the rest of the house. Narrower hallways require wider doorways in their sidewalls.
What if your house has a slim passageway? There are ways you can make your hallway feel bigger and inviting even in a narrow space. Use pale tones, and they make any room feel more significant than it is. Do not incorporate storage units as clutter will make it look smaller. Include strikingly attractive floor tiles or ceiling lights for distraction.
You can also create a focal point at the end of the hallway. This is a smart technique to bring the wall nearer, visually. A wall painting or any piece of art would work just fine. Another intelligent addition can be wall paneling. Try to find ways to create a path for sunlight to enter using internal windows.
The hallway is the first part of the property that is noticed by anybody who enters it. Therefore, avoid creating a maze. It should be designed in such a way that it gives an unobstructed view of the property.
Remember, there is nothing more tragic than plain, boring, and under-decorated hallways. A transitional place like that should not be neglected. So, get your creative juices out and DECORATE!
Factors that Should be Considered While Deciding the Width of a Hallway:
Consideration of standard and required measurements
A minimum hallway width of 900mm is mandatory as per Building Regulations. Your home should be accessible to all ages and specifically all abilities, so you should aim for at least a standard hallway width.
Nature and Environment of the Building
Hallway width varies according to the type of property it is built-in. In public spaces like hospitals, corridors have to be wide enough for 3/4 people to walk comfortably. Passages in apartments can be narrower, but a width of more than 36 inches is preferred. For private spaces like houses, the width can be decreased following the availability.
Storage Unit Implementation
In small households, you do not have the opportunity of leaving your hallway free of storage. Floating cabinets, which are usually used in bathrooms, can be a good furniture option. While looking stylish, they also make it easier to move wheeled items in and out. Storage units below staircases are also in trend these days.
Shoe shelves or slim cabinets work well in narrow hallways. If you have a standard width hallway, ladder shelves are another excellent storage solution. They have practical benefits and look stylish. The 'ladder-style design also makes the space feel less closed. Art rails can be used to place small items.
How to Utilize a Wide Hallway?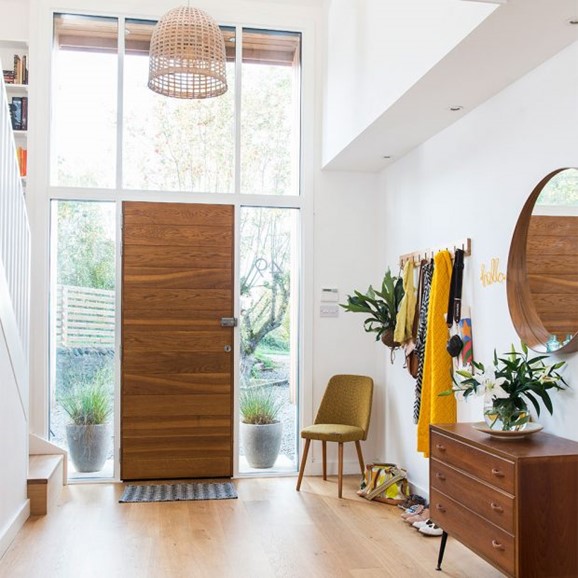 We value the spaciousness that comes with wide hallways a lot. But even wide hallways can be incorporated and decorated with the house without losing the breathing space. Most people do not have the luxury of wide hallways. But if you do, you must do full justice to the area.
If you have a hallway greater than the standard hallway width, you can consider putting in furniture. However, this may result in limiting the walking space. Pay close attention to the dimensions and measurements before including any piece of furniture.
Big and strikingly attractive floor vases can add adornment in the hallway. A bench can also be counted as a shelf, a seat, or only a storage space. For an elegant touch, you can add ornamental elements such as baseboards and moldings. You can also choose other decorative elements like carpets and mirrors that complement your walls and floor. Keep in mind, and space should not be overloaded with too many objects. Furniture and accessories should be strategically placed. Interior designers usually advise putting them on the same side of the hallway.
If you are a book lover, converting your hallway into a mini library can be your pick. Install floor-to-ceiling built-in bookcases with a small bench. There should be at least 36 inches of unobstructed width between your bookcase and the opposite wall. Bookcases can be installed on both sides of the passages too.
A wide hallway can be a substitute for an entry hall too. Place a small chest against one wall, install a mirror above the piece, and include some decorative accessories. Hooks can be added to hang jackets and a tray to keep your car keys.
If putting furniture makes your hallway too narrow to walk, you can consider converting it into an art gallery. Hanging paintings and photographs will give the space a focal emphasis and make it look sophisticated. Make sure you turn artworks to the eye level, i.e., 57 to 61 inches from the floor. The centerpiece of a multitiered art grouping should be at the eye level.
Being a color enthusiast, you may want to paint your walls with bold and attractive colors. But you could not because they are too aggressive for living spaces. That is when you can use your hallway as a design lab! You can paint the walls with intense colors or consider a large-scale wallpaper pattern. Various bold flooring options can be incorporated.