If you are going to add a two-car garage to your home or expanding an existing one, you want to make sure that you get enough space for your vehicles. Garages are like highways, no matter how big you make them, they get filled up after a time.
Before knowing the perfect two-car garage dimensions, ask yourself what you're going to do with it. You don't want garages bigger than the house itself.
You may have a question in your mind that, Will the average garage size be enough for you? Well, it can vary from person to person. Remember, there is a difference between the minimum size and average size of the two-car garage. No one fits in the typical mold, and you may require less than average or above average.
In this post, we are going to talk about the two-car garage dimensions that fit your two cars easily. We'll cover all the essential aspects which require in choosing the best dimension for a two-car garage.
Attached vs. Detached – Which One Is Good
Ask yourself whether you want an attached garage or detached garage. An attached garage comes with the house, and you can share the same heating or cooling system with it. It also gives easy access to your cars from inside the home.
You can also store outdoor equipment such as a lawnmower and snowblower. The attached garage also doubles as another room for your friends and family. You can play pool tables, create a home gym, or complete any DIY project there.
On the other side, detached garages are good for privacy because they are in a separate building. Overall both attached and detached garage is good. Its depends on person to person and space availability.
What Is The Average Car Garage Dimension?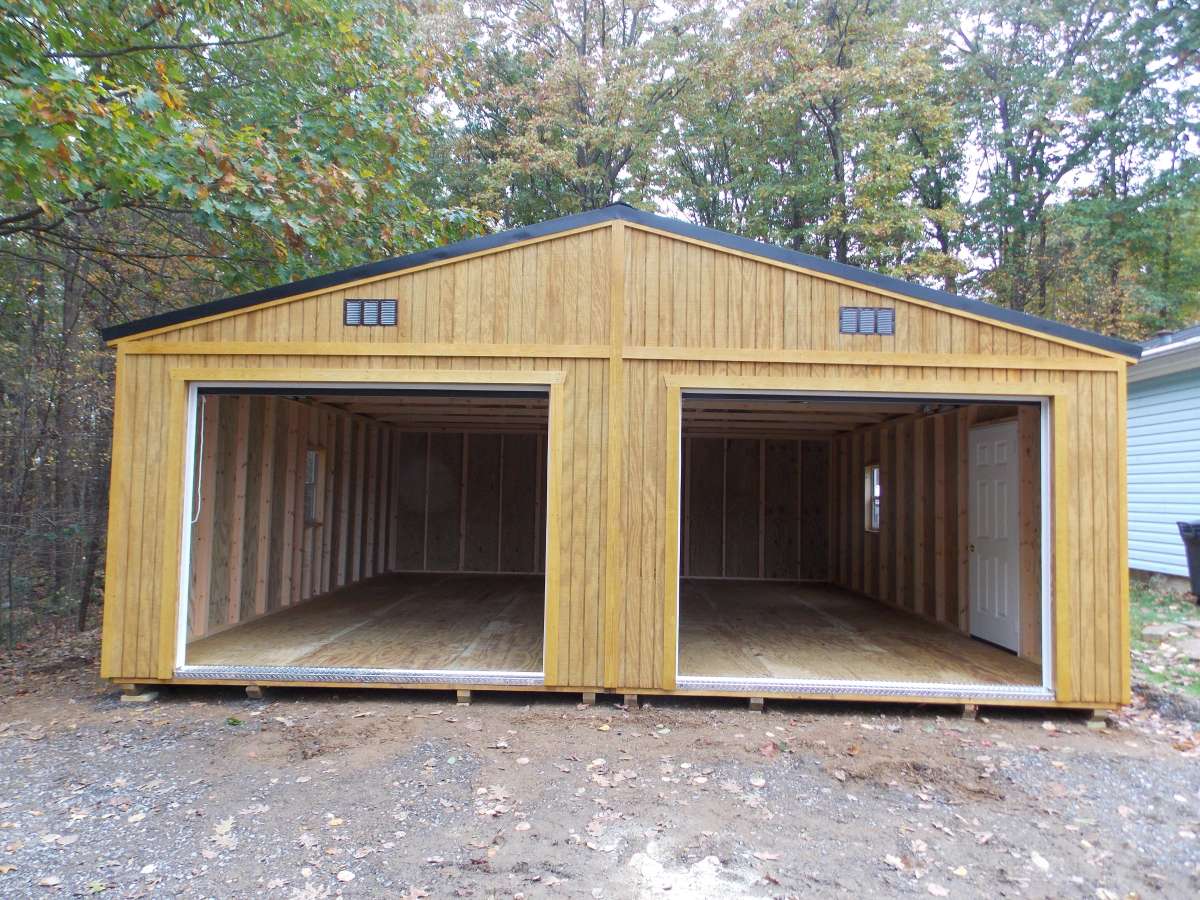 If you are going to add a new vehicle to your house in the future, then its good to go with a bigger one. In my research, I found most people commented that they wish their garage were bigger. No one says their garage is too big for them. So its always a good idea to go with a larger than a standard car garage.
Note: Before going with any garage size, make sure to add additional 4-6 feet to the Width of a vehicle so that you can open the car doors from both sides easily. Usually, sports cars, heavy-duty trucks have more full doors compared to economy cars, sedans, and standard pickup trucks.
Average One Car Garage Dimension
One car garage is made to park one car. They also can be used as a small bedroom or storeroom. The average one-car garage dimension is 12 x 22 feet. However, if you want a little larger than average, then you can go with 14 x 22, 16 x 24, and 14 x 24 sizes. These sizes allow you to store outdoor equipment such as a lawnmower or other tools.
If you have extra space left or if you want to buy another vehicle in the future, then its good to go with a two-car garage.
Average 2 Car Garage Dimensions
Two car garage dimensions require more space than one car garage. The first thing to ask yourself whether you need a double garage with one door or a double garage with two doors. Aesthetically two single doors are right, but if you want more benefit in less price, then go for a double door garage. A double door garage is less expensive, and if you want to make your garage door motorized, then you can save money in it because you required a single motor.
Apart from this, if you want to add Chamberlain MyQ with your garage, then you also save money there because you will need only one MyQ instead of two to control your garage door smartly.
The most common dimension for the two-car garage is 20 or 24 feet. These dimensions are ideal for parking two-vehicle along with enough extra space for storage, and other activities. You can use these two car garage dimensions to create an ideal garage for yourself.
If your garage dimension measures less than the dimension mentioned above, you'll be able to park two cars, but you will not get extra space for storage.
Note: The dimension mentioned above is the inner dimension of the garage.
Average Three Car Garage Dimension
Three car garage doors are ideal for families with children who have driving privileges. There is no doubt that they may need a car to get to work. They also work as an additional family room.
People who own several cars, trucks, recreational vehicles, motorcycles, ATVs, boats, or outdoor equipment such as lawnmowers, snowblowers then Three car garage door will be perfect for them. It will not only safeguard them from the harsh effects of the weather but also protect them from theft.
The average dimension for a three-car garage is 32 feet wide and 28 feet deep. You can also add 4 feet to the Width and depth so that you can get easy access around the vehicles. It will also give some extra space to store bicycles and sporting equipment.
Which Garage Door Opener is best For You?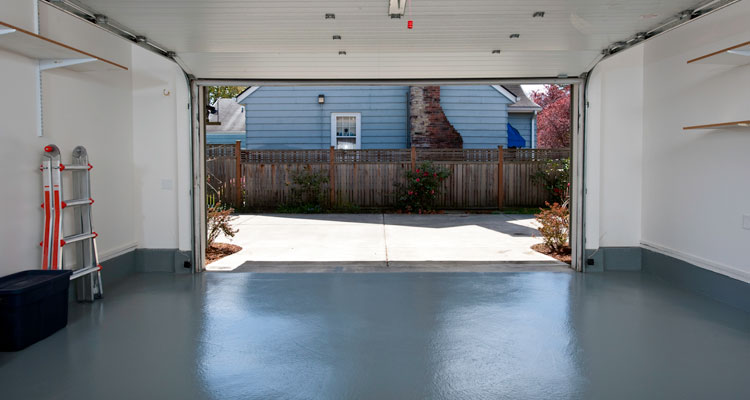 Choosing a Garage door can be a difficult task for anyone—their many types of garage doors available in the market with different features. We listed three types of Garage Doors Below.
Manual Garage Door
The Most basic Garage Garage door is Manual Garage Door. It is the cheapest garage door that you will find in the market. It is powered by your two strong-arm with the help of a lever.
You have to rotate the liver for opening your garage door, then take out the car, then close the garage door with lever again, and this process goes again and again whenever you have to park the car in the garage or take it out from the garage—this the most time-consuming process for you.
Motorized Garage Door Opener
After Manual Garage doors here comes Motorized Garage Door, which is powered by a motor and controlled by a Button. It is almost the same as the manual garage door but comes with a button instead of a lever.
Most garage owners use motorized doors to open or close the door quickly. It saves a lot of time and energy as well. However, motorized doors require power connections all the time so that they can work.
This garage door is the same as any manual garage door without a lever. You have to push a button for opening and closing the garage door, which consumes less time and row power compared to the Manual Garage door.
Smart Garage Door
The smart garage door is nothing but an external device that is connected with your motorized garage door for opening/closing while sitting in your car. You can connect it with your smartphone and control it from anywhere around the world. Not only this, but you can also connect them with voice assistants devices such as Amazon Alexa and Google Home to open or close it with your voice.
The high-end door openers come with geolocation and proximity sensors that open/close the garage door when the car goes to a certain distance from the garage. Some of the smart door openers store the timing when the garage door opened by you or someone else. If you want one for yourself, then Chamberlain MyQ smart garage opener is a perfect choice.
On the downside, you need a working internet connection or Wi-Fi in your home to use the smart garage door openers.
Frequently Asked Question
How Long is a Car in Feet?
The average length of a car is about 13 to 20 feet. Most of the car comes in this range if you add something in front or rear port. Then your car length tends to be 21 to 26 feet.
How Wide is a Car in Feet?
The Width of any car is about 6 to 7 feet with the door closed. If you want to open your all doors in the garage, then add 5 feet more to its Width. It means you need a 12 feet garage for your standard car.
What Is the Ideal Garage Height?
Usually, garage height is less than the interior room. The average garage height is 7 feet, or 8 feet is good. However, if you are looking for plenty of clearance and the option or lighting, then 12 feet is ideal. It is also suitable for extra-large vehicles because they required a higher roof.
Conclusion
So, it was the post about two car garage dimensions. We have mentioned the average size for one car, two-car, or three-car garages. However, a custom garage is an excellent option for you. You can create it with a size that fits your needs. It is also useful if you want to store something other than vehicles.
If you have any queries or suggestions related to this post, tell us in the comment section, and I would love to help you as soon as possible.