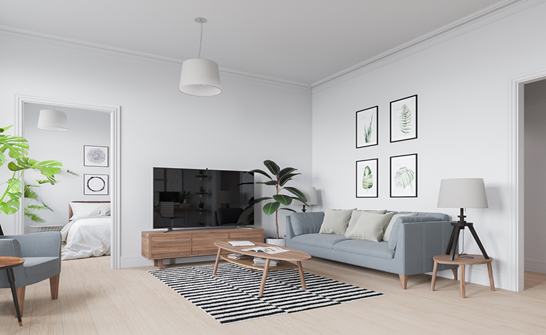 Welcome to ApartmentLovers.com, your ultimate destination for all things related to homes, apartments, and the art of creating a comfortable and stylish living space. Whether you're a homeowner, renter, or simply someone with a passion for interior design and home improvement, we are here to inspire and guide you on your journey to creating a space you love to call home.
At ApartmentLovers.com, we understand the importance of having a place that truly reflects your personality, taste, and lifestyle. Our mission is to provide you with a wealth of information, ideas, and inspiration to transform your dwelling into a haven that brings joy, comfort, and a sense of belonging.
Our team of dedicated writers and contributors consists of experienced home enthusiasts, interior designers, architects, and DIY experts who are passionate about sharing their knowledge and expertise. We believe that everyone, regardless of budget or living situation, deserves to have a home that feels like a sanctuary.
What You'll Find on ApartmentLovers.com
Inspiring Home Tours: Explore breathtaking home tours that showcase a wide range of design styles, from modern and minimalist to cosy and rustic. Our articles provide a glimpse into real homes and apartments, highlighting unique features, clever storage solutions, and creative design ideas.
Interior Design Tips and Ideas: Discover practical tips and creative ideas to elevate your interior design game. Whether you're looking to revamp a specific room or transform your entire living space, our articles offer expert advice on colour schemes, furniture arrangement, lighting techniques, and more.
Home Improvement Projects: Get your hands dirty with our extensive collection of DIY projects and home improvement tips. From simple weekend makeovers to ambitious renovations, we provide step-by-step guides, budget-friendly ideas, and product recommendations to help you achieve professional-looking results.
Organisation and Decluttering: A clutter-free home is a peaceful home. Learn effective organisation strategies, storage hacks, and decluttering methods to maximise your space and create a harmonious environment. We believe that an organised home can enhance your overall well-being and reduce stress.
Lifestyle and Decor: Your home is a reflection of your lifestyle and personal taste. Explore articles that delve into the world of home decor trends, unique accessories, and stylish design elements. We aim to inspire you to curate a space that speaks to your individuality and brings you joy every day.
Expert Advice and Interviews: Gain valuable insights from industry professionals through interviews, Q&A sessions, and expert articles. We collaborate with renowned interior designers, architects, and home decor experts to bring you their expertise and guidance, helping you make informed decisions about your own space.
Community and Engagement: ApartmentLovers.com is more than just a blog; it's a community of like-minded individuals who share a passion for all things home-related. Join our discussions, leave comments, and interact with fellow apartment lovers from around the world. We believe in fostering a positive and supportive community that inspires and empowers.
Whether you're a first-time renter, a seasoned homeowner, or someone dreaming of their future home, ApartmentLovers.com is here to guide and inspire you on your journey. We are committed to providing you with a rich and diverse content experience that celebrates the beauty of home and encourages you to create a space that truly reflects your unique personality and lifestyle.
Thank you for joining us on this exciting adventure of exploring, creating, and falling in love with homes. Welcome to the ApartmentLovers.com family!