If you have ever found yourself in a situation where you need to seal leaks or cracks or gaps in your home or some furniture and other materials, then you can use a product called Flex Seal.
Flex seal has gained significant popularity as a versatile and effective solution for various home repairs.
Flex Seal claims to provide a quick and reliable solution. It also creates a waterproof and flexible barrier that can help address various household problems. But one common question that arises is whether you can paint over a flex seal.
In this blog, we will explore what Flex Seal is, how it works, and whether you can paint over it or not.
What is Flex Seal?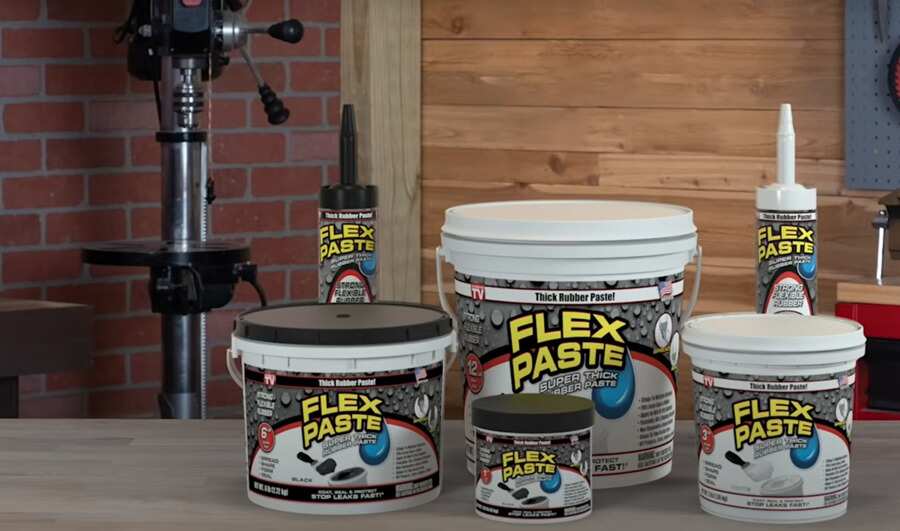 Flex seal is a liquid rubber sealant that comes in a spray can or a liquid form that can be brushed or rolled onto surfaces.
It is manufactured by a company called Flex Seal Products and is marketed as a versatile and easy-to-use solution for various household repairs.
It is like magic glue, but it is not sticky, apart from that, it has a liquid that turns into a strong, rubbery seal when it dries.
You can use it to patch up holes in your roof or use it to stop leakages in pipes, or even repair a broken bucket.
Similar Post: How to Paint a Vase: 9 Quick Steps Guide
It is really handy because it can stick to all sorts of surfaces. That includes metal, wood, and plastic.
You need to spray on the area you want to fix, and as it dries, it changes to a waterproof barrier that helps keep things dry and secure.
Some people also use it for different kinds of DIY (Do It Yourself) tasks because it is very simple and easy to use and can save you a lot of money on expensive repairs.
So, Flex Seal can be your go-to solution to help fix things quickly and easily.
Sealing Properties of Flex Seal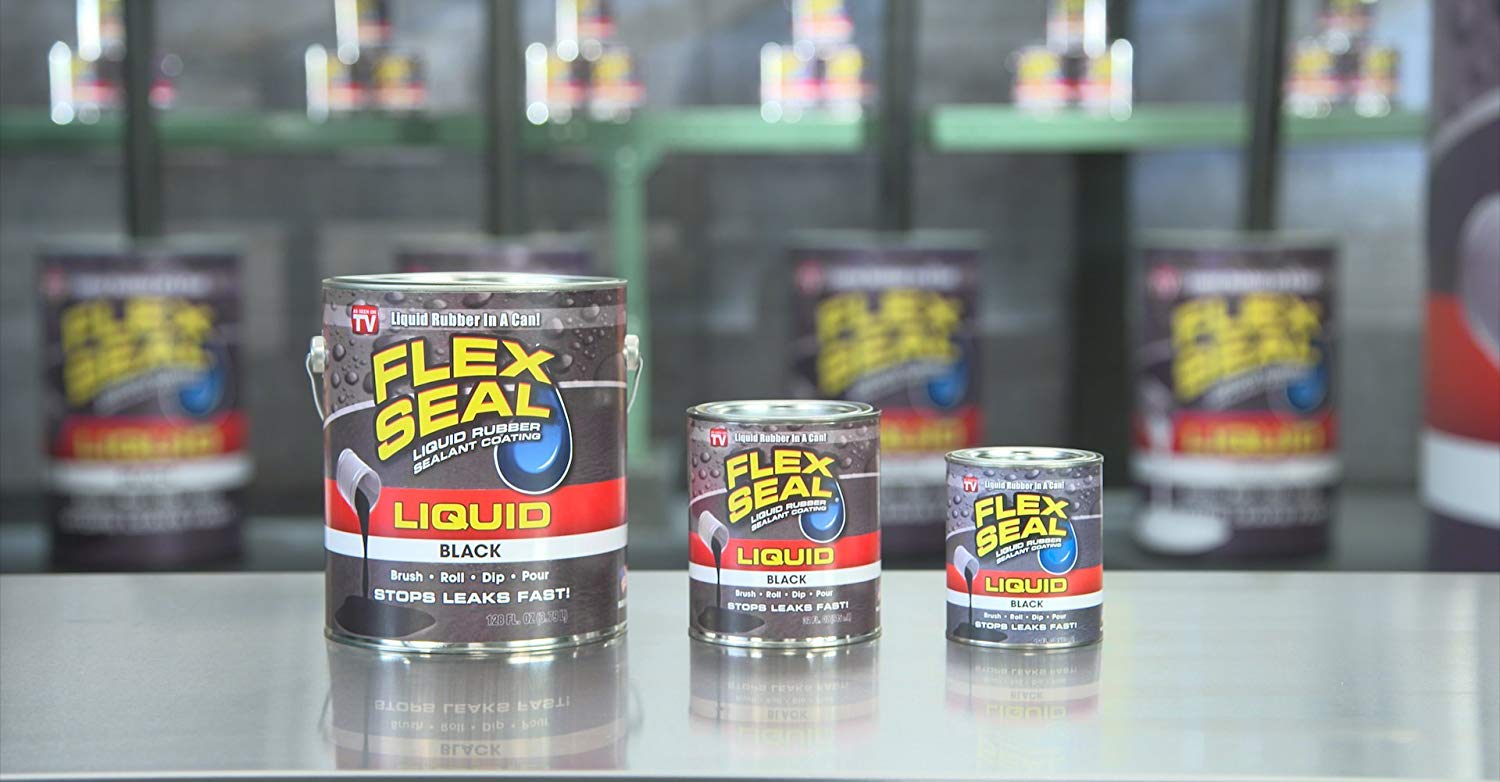 Flex Seal is a popular brand of liquid rubber sealant products that are known for their sealing properties. These products are commonly used for various DIY projects and repairs. Here are some of the sealing properties of Flex Seal
Waterproofing– Flex Seal is designed to create a flexible, waterproof barrier when applied to a surface. It can effectively seal leaks and cracks in various materials like metal, wood, and plastic.
Weather Resistance– Flex Seal is known for its durability and ability to withstand various weather conditions. It can resist rain, snow, heat, and cold, making it suitable for outdoor applications. It is also commonly used to repair outdoor items like tents, boat surfaces, etc.
Flexibility– One of the key features of flex seal is its flexibility. Once it dries, it remains pliable and can expand and contract with temperature changes and movement, which helps prevent further cracking and splitting. This flexibility makes it ideal for sealing joints and things that need movement.
Adhesion– Flex Seal products have good adhesion properties, allowing them to bond well with various surfaces. Proper surface preparation is necessary to ensure a strong adhesion.
Versatility– Flex Seal comes in various forms, including liquid spray, sealant paste, and tape. This versatility allows it to be used for different applications and surfaces.
Paintable– In many cases, a flex seal can be painted over once it has dried. This allows you to match the sealant to the surface color you are repairing or sealing.
Also Read: 14 Black Quartz Countertop Design Ideas to Adorn Your Kitchen
How Does Flex Seal Work?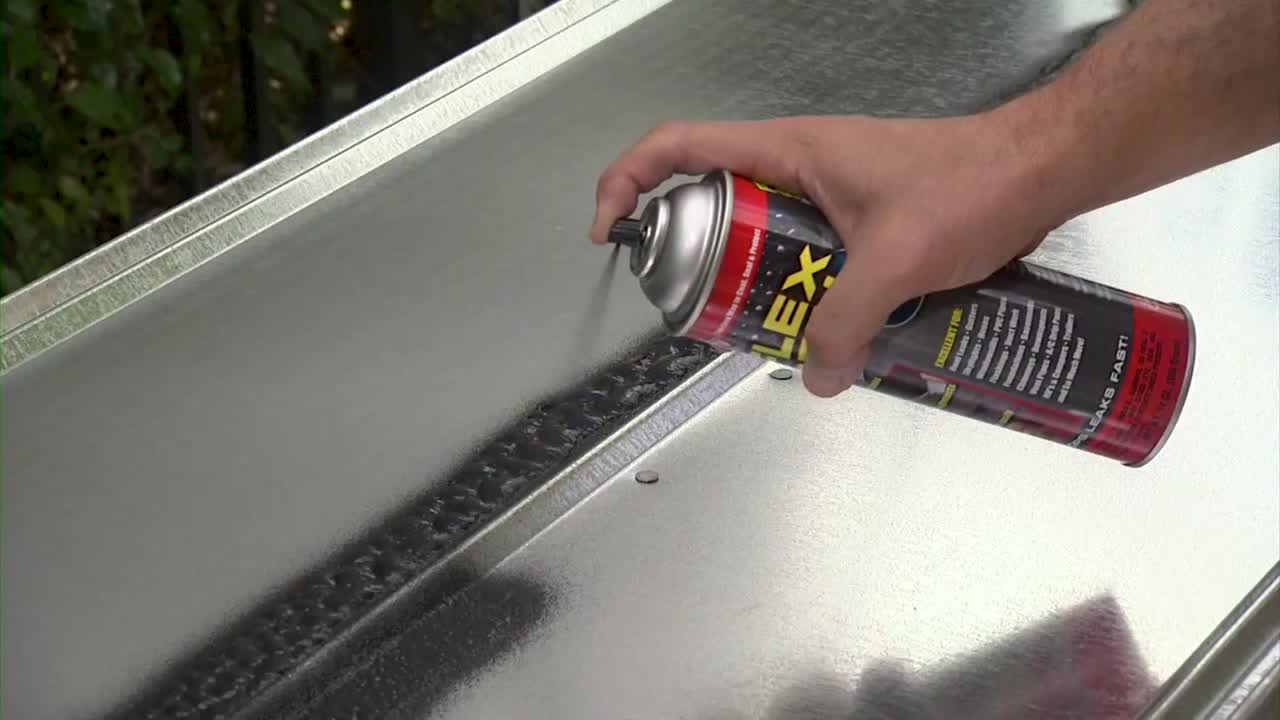 Flex seal applies a thick, rubberized coating to the surface you want to seal, fix or protect.
When it dries, it forms a flexible and durable seal to prevent leaks, corrosion, and damage. Here is a step-by-step guide on how Flex Seal work
1. Surface Preparation– Before applying Flex Seal, you should clean and dry the surface thoroughly. Remove any dirt, dust, or loose materials that might interfere with the sealant's adhesion. The surface should be completely dry also. If there is any moisture, then moisture can interfere with the bonding process. This may lead to an ineffective seal.
2. Application– Depending on what type of Flex Seal you are using- whether it is a spray brush or liquid, apply the product evenly over the area you want to seal. Multiple coats may be required for thicker applications or larger repairs.
3. Drying Time– Flex Seal typically dries to the touch within 2-3 hours. During this initial drying phase, the surface may feel dry to your fingers, but it may not be fully dried. But complete drying can take up to 24 hours. The drying time may vary depending on certain factors. This includes temperature or humidity. It is essential to allow Flex Seal to cure completely before subjecting it to moisture.
4. Testing– After it is completely dry, it is a good idea to test the seal by applying water or other liquids to the treated area to ensure it is waterproof and secure.
To test the waterproofing capabilities of Flex Seal, you can pour water or other liquids onto the area where Flex Seal is applied. Observe whether the liquid pools or penetrates the seal.
If the surface remains dry, it indicates that Flex Seal has effectively created a waterproof barrier. Also, check the secure adhesion of the Flex Seal.
It should firmly adhere to the surface without easily coming off. This test helps ensure that Flex Seal will provide a durable and long-lasting seal or protection.
By following these steps and considerations, you can maximize the effectiveness of Flex Seal in sealing leaks, gaps, and many more.
Proper surface preparation, even application, patience during the drying process, and thorough testing are the key factors in achieving the desired results with Flex Seal.
Can You Paint Over Flex Seal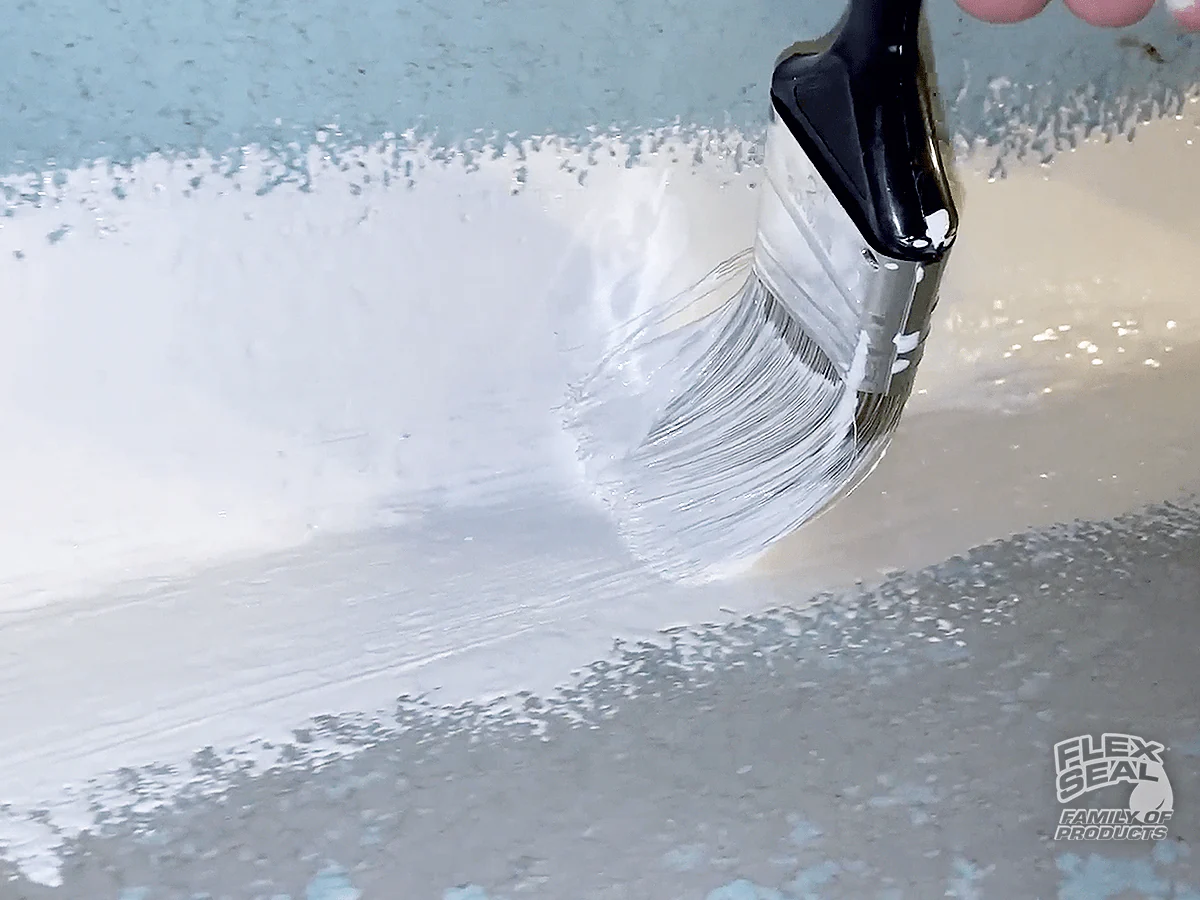 Now that we know what Flex Seal is and how it works, let us conclude: can you paint over Flex Seal? The answer is Yes. But there are some important points to note before painting over Flex Seal.
See More: Can You Use Spackling on Wood: A Basic Guide
1. Flex Seal as A Primer or Base Coat
Flex Seal is a special rubbery sealant, but if you plan to paint it with smooth, regular paint, you might face a challenge because Flex Seal has a rubbery texture and is a little bumpy. So you can use it as a primer or a base coat.
Surface Texture– The surface of Flex Seal feels like rubber when it dries. And this can be a problem if you want a very smooth paint finish to be done. To make it smooth, you can use sandpaper to make it less bumpy. Sansing helps to create a more even and flat surface so that your paint can look really nice.
Paint Compatibility- When it comes to painting over Flex Seal, not all paints are the same. Some paints get along better with Flex Seal than others. So, it is essential to choose the right type of paint for your project. There is a type of paint called "acrylic paint," which is a good friend to Flex Seal. They stick together really well. This way, your paint finish will look good and stay put on the Flex Seal surface.
Primer– When you are painting over something like Flex Seal, which has a rubbery surface, using a primer designed just for that kind of surface can save the day. The primer's job is to make sure that the paint sticks really well to the Flex Seal. It is like giving the paint a strong and sticky base to hold onto. And the final look of your painted surface is much smoother and more polished.
Surface Cleanliness- Before you start painting over Flex Seal, it is essential to ensure that the surface is super clean and has no dirt or stuff that can mess up your paint finish. To clean the Flex Seal surface, you can use rubbing alcohol or a gentle soap like mild detergent. Cleaning the surface ensures nothing that could spoil the paint or make it not stick well. So, keep the surface, and your paint will turn out much better.
2. Painting Over Large Flex Seal Areas

If you have used Flex Seal to cover a substantial area, like sealing a roof or a boat, and you plan to give added protection, then the process is a little bit tricky.
Flexibility- One of the key benefits of Flex Seal is its flexibility. Painting over it using a rigid paint may not be an ideal solution as the surface will continue to flex. You don't want the paint to peel off or get stiff. In such cases, use a paint that is specifically made for the Flex Seal surfaces.
Compatibility Testing– Before you start painting over a large area treated with a flex seal, try painting a small, hidden part of the flex seal. Kt helps you to check if the paint sticks well to the flex seal and if it still stays flexible, which is really important. By doing this small test, you can avoid any big problems and make sure your large-scale painting project turns out just the way you want it to.
Surface Preparation– Proper surface preparation becomes even more critical when dealing with larger-scale areas. Ensure that the Flex Seal surface is clean, dry, and free from any defects or irregularities. This is because if the surface is not clean, wet, or not smooth, then the paint may not stick properly.
3. Painting for Aesthetic Reasons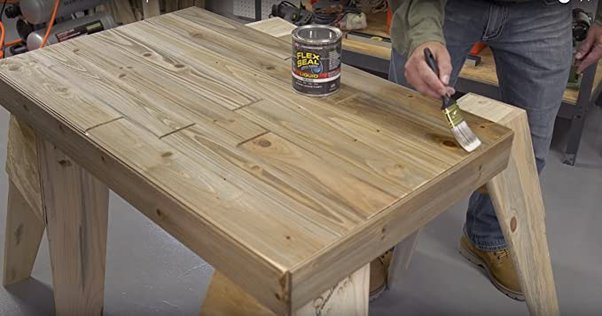 If you have used Flex Seal for a functional repair and are now looking to paint for aesthetic purposes, then follow the previously mentioned steps.
You must keep in mind the texture of the flex seal, as it may impact the final appearance of the painted surface. Using a primer and selecting the right type of paint will be the major aspect of achieving a satisfactory result.
Over time, painted flex seal surfaces may require touch-ups or repainting, especially if they are exposed to harsh weather conditions or physical wear and tear.
Do a regular maintenance. It is always recommended to work in a well-ventilated area for painting over flex seal. Consider wearing appropriate safety gear, such as a mask and gloves, while painting.
Keep in mind that while painting over a flex seal can improve its appearance, it may still retain some flexibility. Avoid using heavy or sharp objects that could scratch or damage the painted surface.
Related: How to Fix a Bathroom Faucet Leaking at Base
Conclusion
Flex Seal is a versatile product that can provide effective solutions for various home repairs and projects.
There arises a question: can you paint over the flex seal? While its paintability may vary depending on the formulation, following the recommended surface preparation and priming steps can help you achieve the desired finish when painting over Flex Seal.
The original Flex Seal, when in its rubberized nature, may not be ideal for painting, as it can result in poor adhesion and uneven finish.
Whether you are sealing leaks or adding a protective layer to surfaces, Flex Seal offers a flexible and reliable option for DIY enthusiasts and homeowners alike and makes it a versatile tool in your home repair and improvement journey.
Frequently Asked Questions
What Types of Paint Are Suitable for Use Over Flex Seal?
When painting over Flex Seal, it is essential to choose a paint compatible with the specific Flex Seal formulation you have used and the surface you are working on.
Acrylic and latex paints are good choices for Flex Seal and its variants. But before using paint over Flex Seal, it is advised to follow the paint manufacturer's recommendations for best results.
While acrylic and latex paints are often recommended for painting over Flex Sea, you can also use oil-based paints if they are compatible with the specific product and surface.
Should I Prepare the Surface Before Painting Over the Flex Seal?
Yes, proper surface preparation is crucial for successful painting over Flex Seal. Flex Seal can be used to create a paintable surface for various creative projects.
Clean the surface thoroughly, and remove all the dirt or any other particles. Ensure that the Flex Seal has fully dried up. It may take 2-3 hours to partially dry and 24-48 hours for complete drying. It depends on the environmental conditions.
Can You Paint Over the Flex Seal to Change Its Color?
Yes, you can paint over Flex Seal to change its color or match it to your desired aesthetic. Be sure to follow the steps to ensure that the paint adheres and provides a durable and attractive finish.
Can I Use Flex Seal to Repair and Paint Outdoor Surfaces?
Flex Seal is suitable for outdoor use and can effectively seal and protect surfaces outside the house. Be sure to select a paint that is designed for exterior use and can withstand weather conditions.
Can I Apply Multiple Coats of Paint Over the Flex Seal?
Yes, you can apply multiple coats of paint over Flex Seal if needed. Ensure that each coat is dry thoroughly before applying the next one.
Be sure of the specific drying time and recommendations provided by the paint manufacturer to achieve the best results. However, it is essential to ensure that the paint is applied evenly and that there are no gaps or areas left unpainted
Check This Next: Sherwin Williams Rainwashed SW 6211: A Thorough Review