Do you want to make your house look completely different from others? Well, then, choose the best paint for your interiors. Different color palettes, including dark, light, pale, and mild shades, don't grab your attention unless you get to know the reviews of that shade. October Mist Benjamin Moore is one such shade that garnered fascinating reviews in the year 2022. Yet still holds a firm position in making your home look comely and inviting.
Artificial decor and furniture do not complete the look unless you give your walls a classic finish with paint. October Mist Benjamin Moore has two undertones of green and grey that give your wall the classic finesse that boasts your taste and creativity.
To clear your doubts while choosing the best shade, just scroll down and get through the paint color reviews now.
Benjamin Moore October Mist 1495: Paint Color Review
Now that we know how paints add a decorative charm to the walls, let's compare October Mist Benjamin Moore with other shades.
1. October Mist v/s Sea Salt
October Mist is a warm tone, whereas sea salt is lighter in the shade. The basic undertones of sea salt are green and blue. And October Mist has a greenish-grey undertone, and eventually, when painted on the walls, it slightly gives a beige finish.
The best part about both shades is you can play with these shades on different walls. Paint October Mist in your living room and paint the sea salt on your bedroom wall. Try to add some melange wall decor and top it up with a white or haint blue ceiling.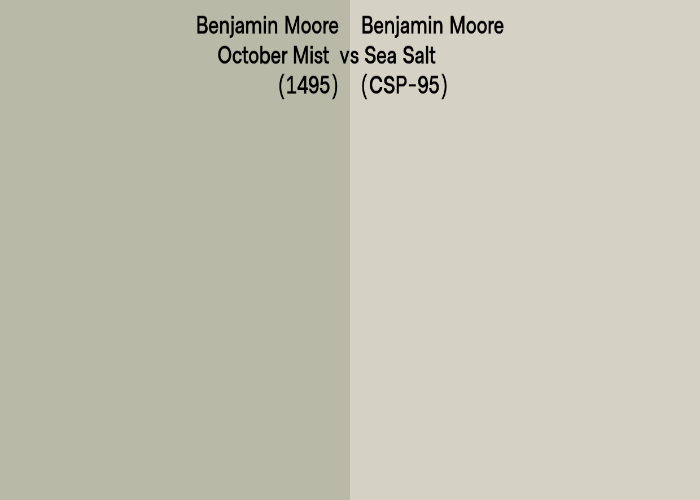 2. October Mist v/s Olive Sprig
If the lush green effect is what you are looking for, then Olive Sprig is for you. It has a neutral mid-tone organic green undertone. At the same time, October Mist Benjamin Moore is a warm tone with a greenish finish. Although it gives a beige finish, it still has a warmer tone than Olive Sprig.
Designers prefer having Olive Sprig in the kitchen area and October Mist in the living area. The effects of both these tones are different and distinctive. The greenish effect on the kitchen walls looks pleasing and blends well with the cabinet color.
Whereas, October Mist looks promising in the living room area as you can add decorative pieces that blend well with the beige finish of this shade. Dark marble flooring in the living area with October Mist will enhance the room's artistic features.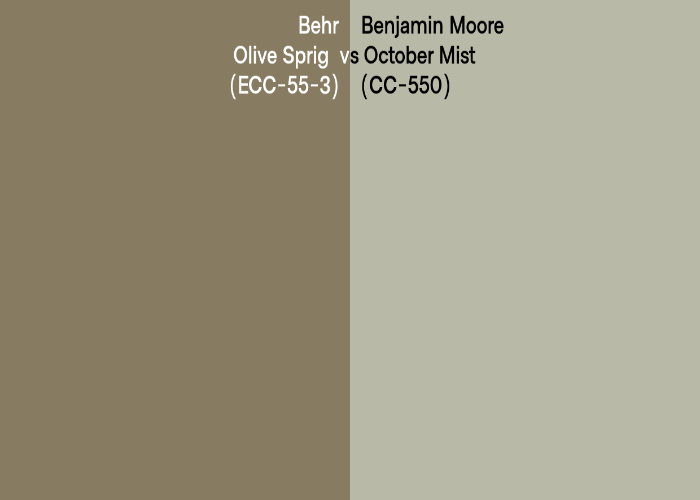 Similar Post: Benjamin Moore Balboa Mist OC – 27 Review [With Pictures]
3. October Mist v/s Evergreen Fog
The color palettes must be in line with the shades you decide to do your walls. If you like pastel shades and prefer blending them with the other room's decor, then October Mist Benjamin Moore is your shade. That's because October Mist is the pastel version of Evergreen Fog.
If you observe closely, both these shades have a similar blend of hues. Evergreen Fog is a bit darker than October Mist, so can use it on the bedroom walls and get some mood lighting. October Mist can go on the alternate walls with Evergreen Fog for a gradient effect.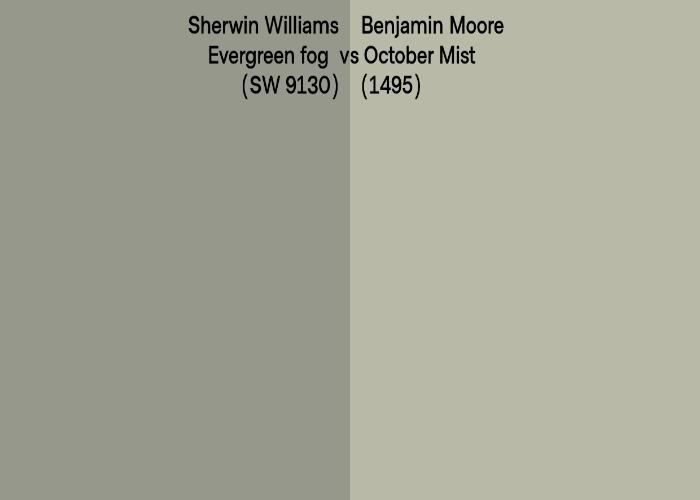 4. October Mist v/s Soft Fern
The yellowish touch of Soft Fern makes it an ideal paint for the porch and living room walls. Also, October Mist Benjamin Moore paint can blend well with Soft Fern if you add some lighter shades of yellow to the paint.
It is all about mixing and matching; some white paint in October Mist can lighten the warm tone. Soft Fern, which is softened by gray and brown undertones, can make a perfect match for the porch decor.
Add some planters, artificial garlands, and leaves to the columns, and see how magical your porch appears. October Mist can also go on columns with white beams to make Soft Fern appear brighter. That's how you play with shades. The lighter tone on the walls and the darker tone on the columns look fantastic.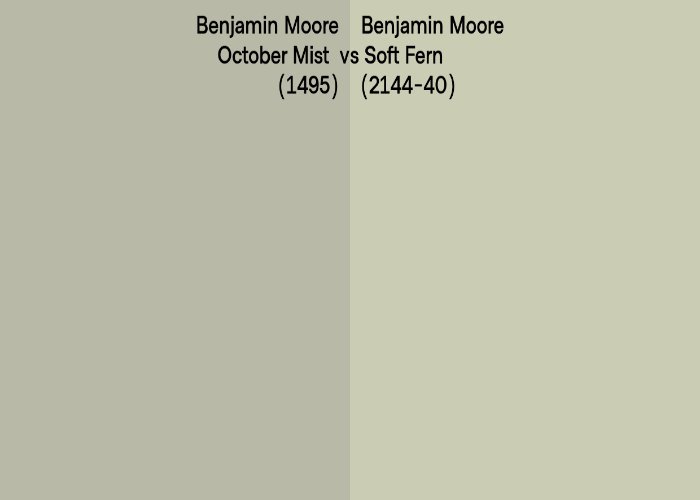 5. October Mist v/s Pigeon
Unlike October Mist Benjamin Moore, Pigeon has a neutral greyish undertone. It is a bit darker shade as compared to October Mist. However, if you like to play with two similar undertones with a neutral grey tone, then these two paints are for you.
Both shades may seem similar, but upon drying up, they will have a unique effect on the walls. Pigeon shade can go well with bright white lights, and October Mist will amplify the decor with dim yellowish lights.
Having light wall sconces with these paints will add a sad yet elegant look to your decor. If you like to have two moderately dark and light shades together, then these two shades could be the most suitable choices for you.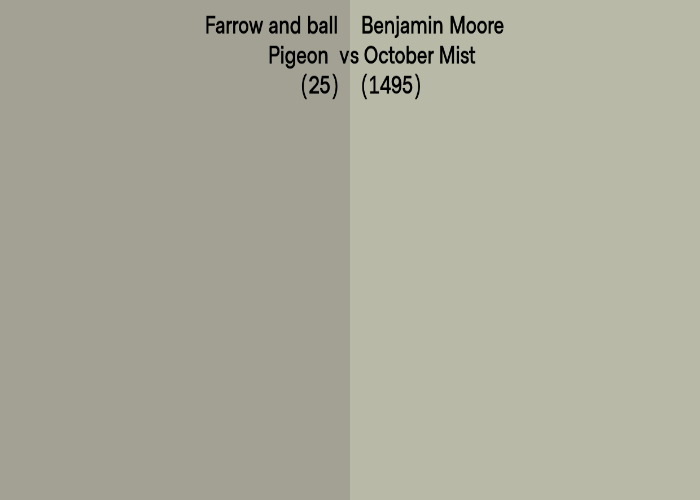 Also Read: 12 Prepossessing Shades of Haint Blue Paint for Porch Ceiling
How to Make Your Room Look Couthy with October Mist?
1. Let Tapestry Flaunt Your Artistry
Tapestry is a form of art that talks volumes about the artwork incorporated on the canvas. You can either get the hand-made prints done on a cloth or the wall.
A wall-sized canvas will work wonders if you get October Mist Benjamin Moore on one part and a tapestry installed on the primary wall. That could be the focal point of your room, and you will be able to blend the wall paint with the artwork well.
Make sure the tapestry has lighter hues and darker mid-zones. You can also get the tapestry in mandala artwork or depict a beautiful historical event. The tapestry's job would be to throw the light on your wall decor and bring out the essence of your wall paint.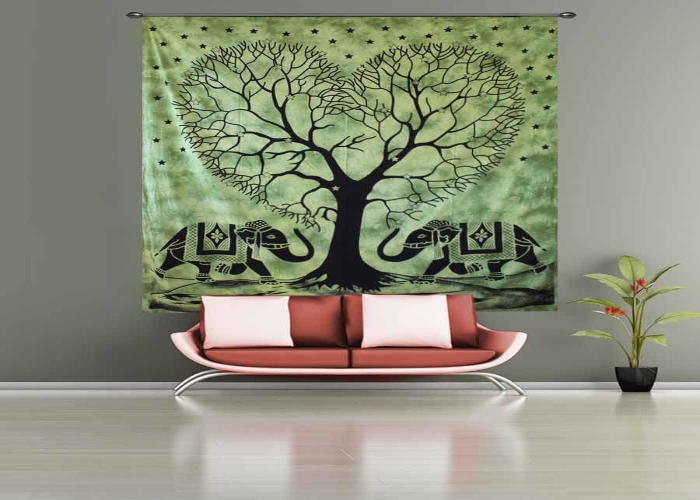 2. The Couch and Wall Gel Well
Warmer tones on the wall often go hand in hand with multicolored couches. Get the couch upholstered in shades of green and yellow or blue and pink. Why?
That's because October Mist Benjamin Moore is a warm shade, and when you get bright-colored upholstery, your walls will stand out. Furniture is always the main attention; why can't the wall do the talking?
October Mist was chosen as the color of the year for a reason, and you must use this paint to redefine your decor. Let your couch be in the center, but let the paint on your walls be the delightful aspect of your decor.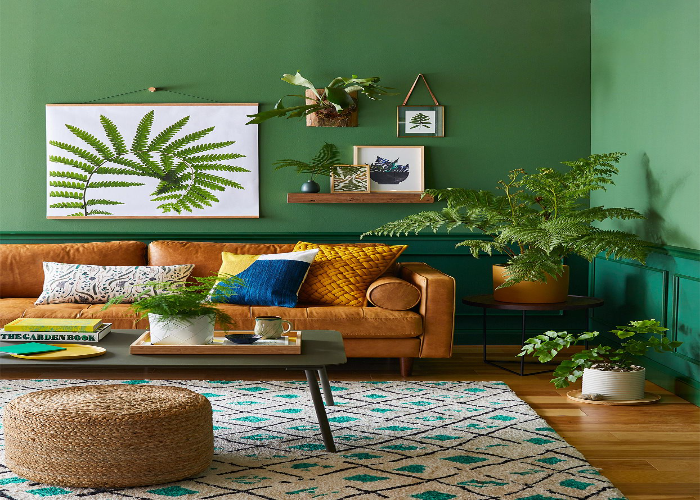 3. Fine Flooring Let the Wall Shine
Yes, delicately designed flooring with fine and smooth surfaces can make your wall look graceful. For instance, if you have white marble flooring and you get walls painted with October Mist Benjamin Moore, you can make your room come alive.
Subtlety is the key, so set some recessed LED lights on the ceiling and keep your walls minimally decorated. Even if your flooring doesn't complement the wall, you can redo it with some blended paints with October mist. It is all about creativity, you do it, and people will talk about it.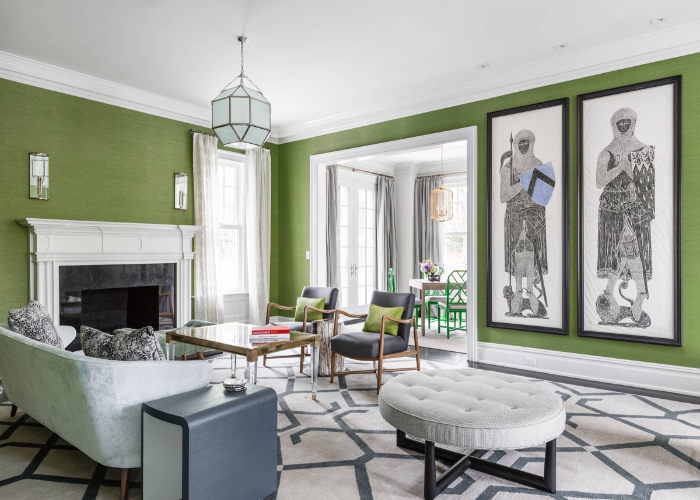 See More: 21 Paint Colors for Living Room: Expert-Approved Color Picks
4. Torch the Porch
Illuminate the porch with October Mist Benjamin Moore and some fancy rustic chandelier. Since this paint is neutral and has a subtle warm tone, you can paint it on the porch walls.
To let the charm of your decor manifold, you can keep the columns white. If the columns are made from wood, keep them untouched; just hang flower pots and vines. You can either keep the flowers real or artificial, which would work fine.
Also, some shrubbery gardens and home-grown herbs on the porch can blend well with October Mist. That's the magic of this paint, simple yet magnificent.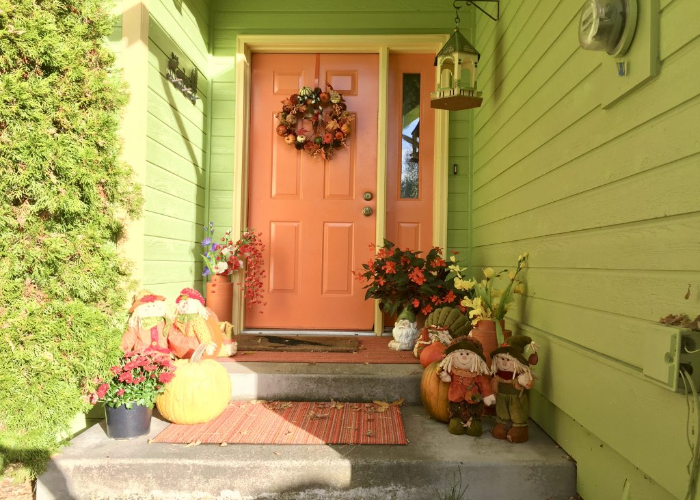 5. Tryst with October Mist
The living room and porch will look pretty with this sage color, but why can't a bedroom be decorated in October Mist Benjamin Moore? Yes, this paint can give a refined look to your bedroom decor as well.
Some nice dark hardwood furniture and colorful geometrical comforters on the bed will look exhilarating.
Additionally, you can also give a natural feel to your bedroom with some real plants on the deck. And keep a collapsible loveseat on the patio to enjoy the naturally defined bedroom decor.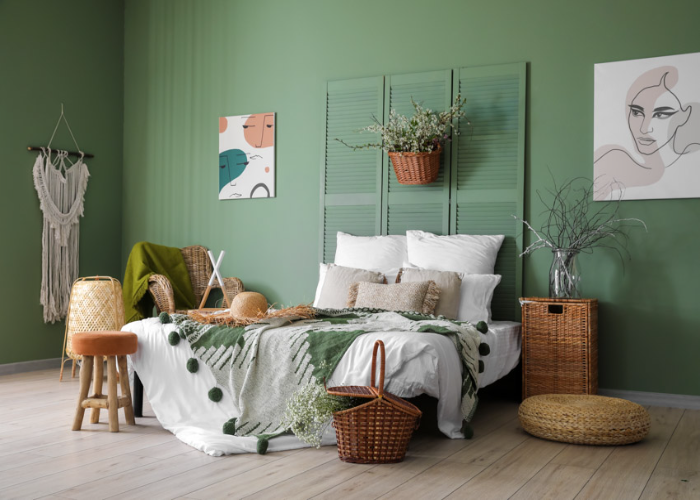 Related: 30 Farmhouse Porch Columns to Create an Impressive Entryway
6. Can't Overlook the Zones of Cook
Now that the living room, porch, and bedroom are covered, how can the kitchen be left out? Many designers prefer the kitchen walls in green. And October Mist has topped the list of green shades.
Kitchen walls are limited because half of the walls are fitted either with tiles or marble. And the other half is covered behind the cabinets and appliances. But if you have an open kitchen and untouched walls, you can go for October Mist Benjamin Moore.
The kitchen garden will complete the look of the decor, and you can have an elegantly designed kitchen to cook your delicious meals.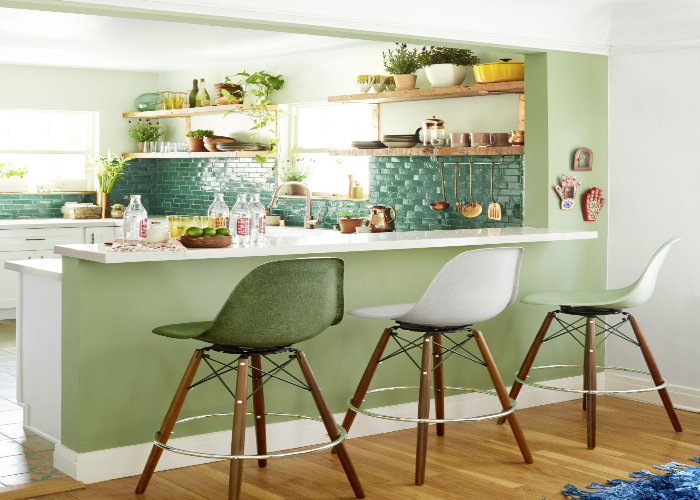 Final Words
All in all, some thorough research on decor products and redesigning of homes will guide you in choosing the wall paints.
October Mist is specifically spoken about because this shade has the charm of uplifting the space. Furthermore, your creativity and choice of decor artifacts will create a space where you will love to spend time.
Also, including tips and suggestions from your loved ones and friends can add some spark to your decor. It is not about having a green look; it should be about having a peaceful look at your home.
Change your taste, experiment with some shades, and you will be delighted.
Check This Next: 12 Stunning Farmhouse Fall Porch Decor Ideas