Are you seeking classic aesthetics for your kitchen space? Here you go! Opt for white oak cabinets to get your dream kitchen look.
Do you know a stunning kitchen is built on the robust construction and beautiful grain pattern of wood, which provides a touch of natural beauty?
White oak cabinets offer a neutral background that may match a variety of designs and color schemes because of their warm and versatile appeal.
Whether you want a traditional, modern, or transitional style, the white oak kitchens are a perfect solution for all your needs.
We will look into 13 white oak cabinets, highlighting their distinctive qualities, design features, and material choices to help you imagine the endless possibilities for your kitchen area.
Together let's explore the wonder of white oak cabinets and learn how to design a space that is both attractive and practical.
Similar Post: 12 Quick Ideas to Update Oak Kitchen Cabinets without Paint
1. Material of White Oak Cabinets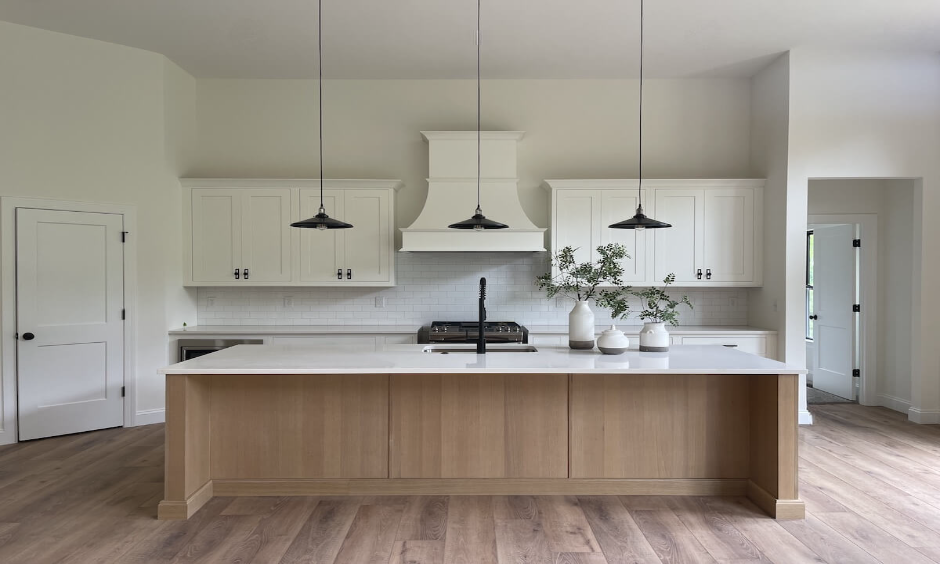 White Oak is a sturdy and durable hardwood often utilized for kitchen cabinets. White oak is popular and everyone's choice because of its robust strength and durability.
This hardwood can easily withstand wear and tear in daily kitchen chores. This makes it a long-lasting preference and first choice when selecting cabinet materials.
For white oak to endure its structural integrity, it must be kept well-maintained and shielded from moisture, of course.
What makes it a preferred option for the manufacturers is that it is easy to work with. You can effortlessly cut, mold, and join it, which enables fine workmanship and individualization.
2. Cabinet Style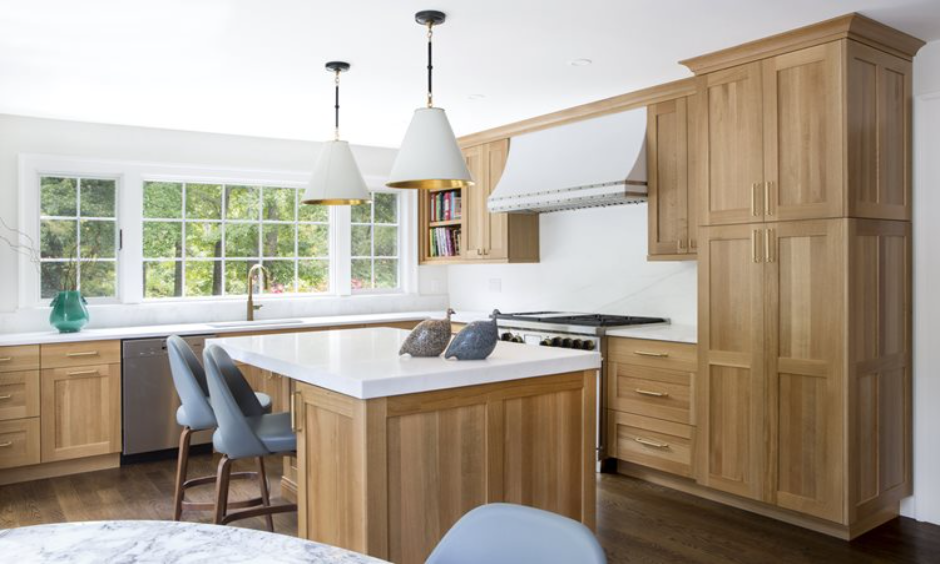 For people who are looking to give their kitchens a classic and clean look, white oak cabinets are a practical and stylish option. There are several cabinet styles to choose from.
The cabinet style you choose will surely influence the overall look and feel of your space. To name a few of the styles are shaker, raised panel, flat panel, and slab.
Where the raised panel has a center panel with an elevated classical elegance, the slab style comes with smooth and flat doors that are sleek and modern.
While choosing an ideal kitchen cabinet for your white oak kitchen, consider the overall theme, existing elements, and your taste. Experiment with different styles to get your kitchen a unique look.
3. Finishing Options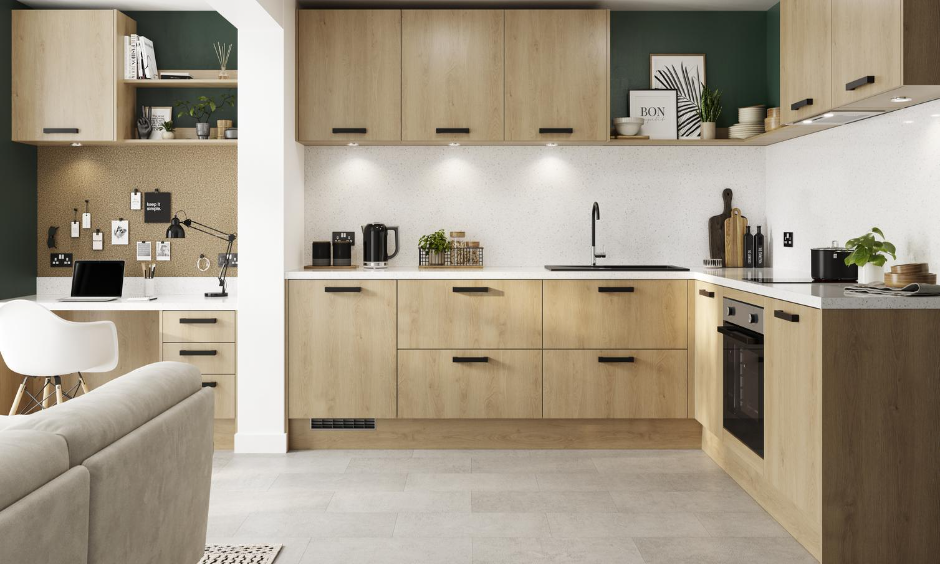 Well, for varied tastes and preferences, white oak kitchen cabinets come in various finishing options.
To start with a natural finish that highlights the natural beauty of wood, there comes a stained finish for color customization and a painted finish for solid colors.
To add to these looks, there is a glazed finish if you want an aged effect and a distressed finish or a vintage-style kitchen. All of these finishes come in different sheen levels of satin, semi-gloss, and gloss.
Keeping in mind the overall design of your kitchen, the desired look in your mindset, and the maintenance required, the ideal finish for a white oak kitchen should be selected.
However, it is always advisable to consult the experts who can guide you with the best finish options and methods that suit your requirements.
4. Hardware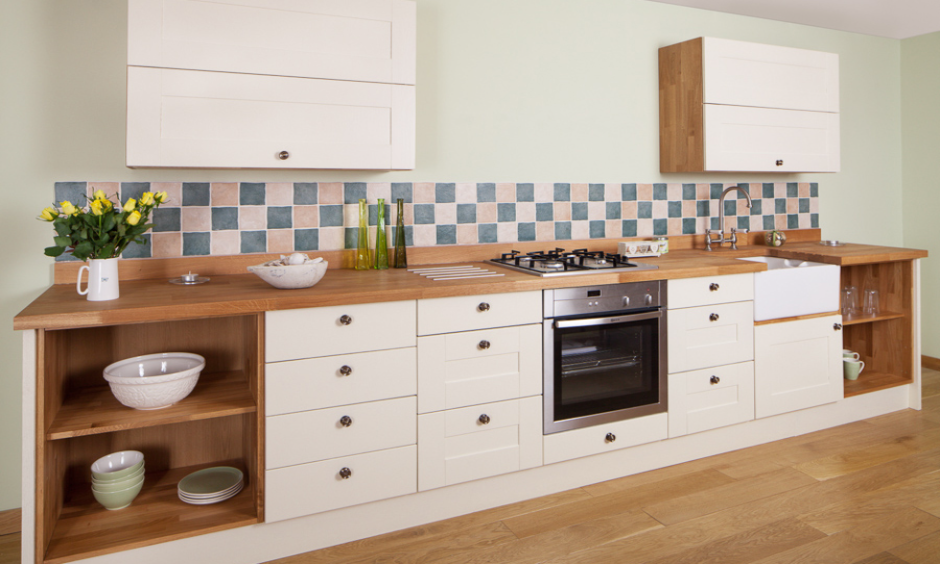 The practicality and appearance of the white oak kitchens can be improved by pairing them with a variety of hardware alternatives. For example, hinges, drawer slides, cabinet knobs, pulls, and cup pulls.
To blend with the white oak kitchen cabinets and overall aesthetics of the kitchen, these hardware are available in a variety of finishes, coatings, and designs.
Backplates, escutcheons, and ornate corners are some other decorative hardware choices that are available in addition to knobs and pull.
These accentuate the overall design of white oak cabinets by adding these decorative accents.
Think about the cabinet's style, overall design, and utility of your kitchen while choosing the hardware for the white oak kitchen cabinets.
Also Read: Transform Your Kitchen with Amazing Black Appliances
5. Contrasting Colours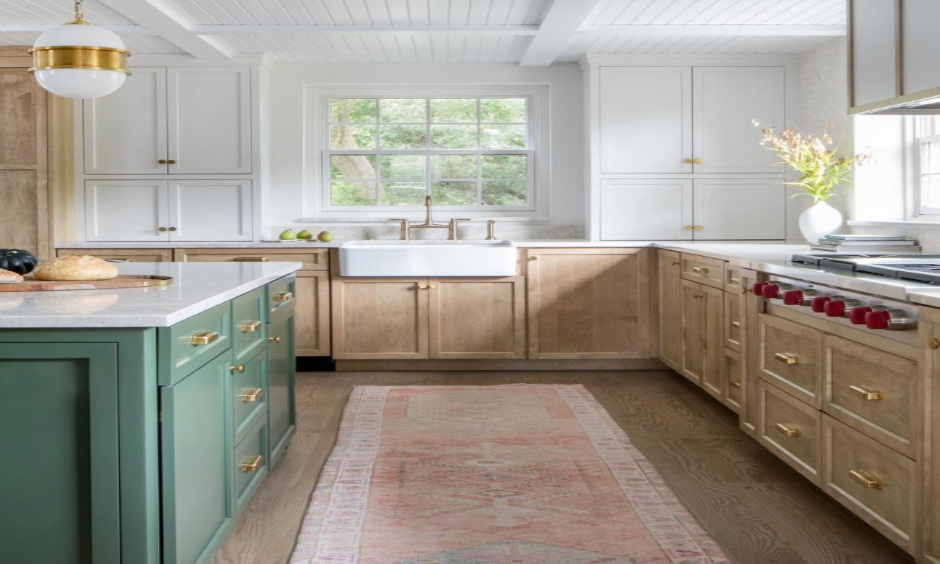 To create a dramatic and aesthetically pleasing kitchen, white oak cabinets offer a flexible and neutral base that can be paired with an array of contrasting color shades.
Popular choices include dark grey, navy blue, black, and olive green. You can even try your hands at contrasting white oak with light and pastel hues like pale blue, mint green, or soft blush pink.
To make it more contrasting, the white oak is in an elegant and relaxing way. You can use warm neutral shades like tan, beige, or creamy white.
The mix and match of these shades with warm tones of white oak creates visual interest and makes your kitchen more appealing and distinctive.
Keep in mind the ambiance you want to create, and choose the best color combinations.
6. Backsplash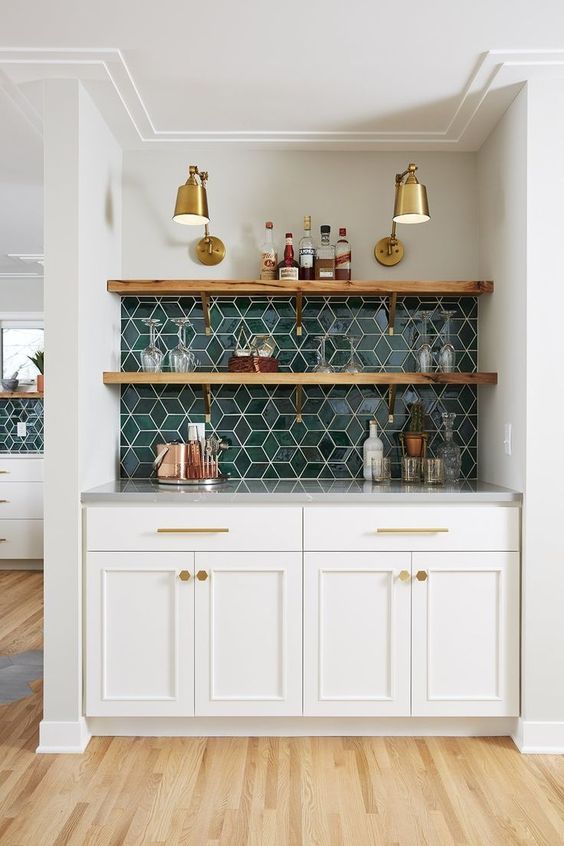 A huge range of backsplash choices goes well with the white oak cabinets. On the other hand, natural stone adds elegance, and the subway tiles on the other side give a more traditional look.
You can opt for mosaic and glass tiles, too, as they both offer distinctive patterns and give a contemporary feel.
You can even go for soft backgrounds, which are created with subtly framed neutral ceramic or porcelain tiles.
Along with design and color, you must consider the look you have imagined and the degree of contrast with your backsplash and white oak cabinets.
For a backsplash that enhances and complements the beauty of white oak kitchen cabinets, you need to cleverly balance the overall texture, color scheme, and patterns.
7. Lighting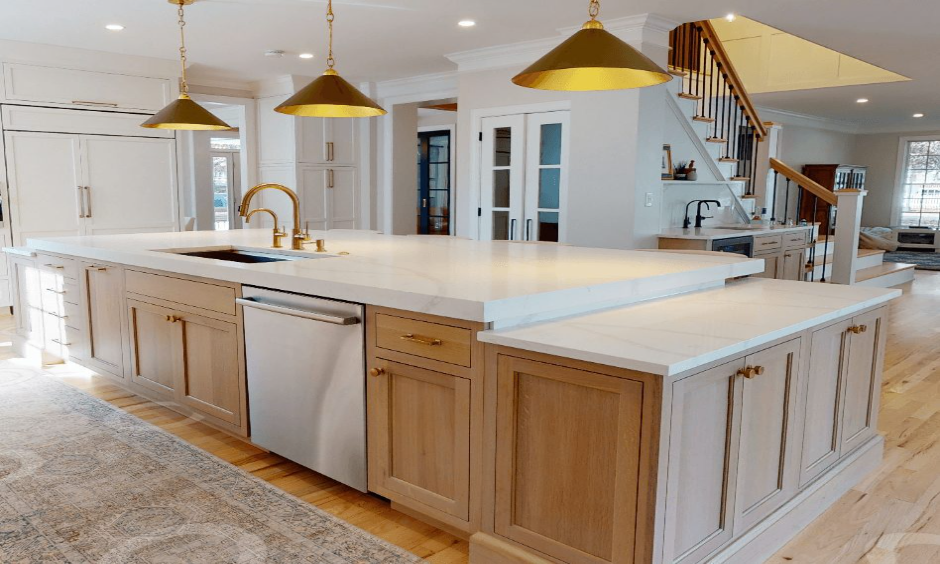 There are various options to think about when it comes to lighting the white oak cabinets. Pendant lights offer elegance and often act like ornamental accents, while recessed lighting gives a graceful and minimalist effect.
In addition to performing the task of illumination, the under-cabinet lights can also be used to highlight the cabinets. Flexible light direction is possible with track lighting.
You can elevate the aesthetic value of the white oak cabinets by utilizing the natural sunlight from the windows. A healthy, balanced environment is produced by adding dimmers and overlaying different lighting.
8. Flooring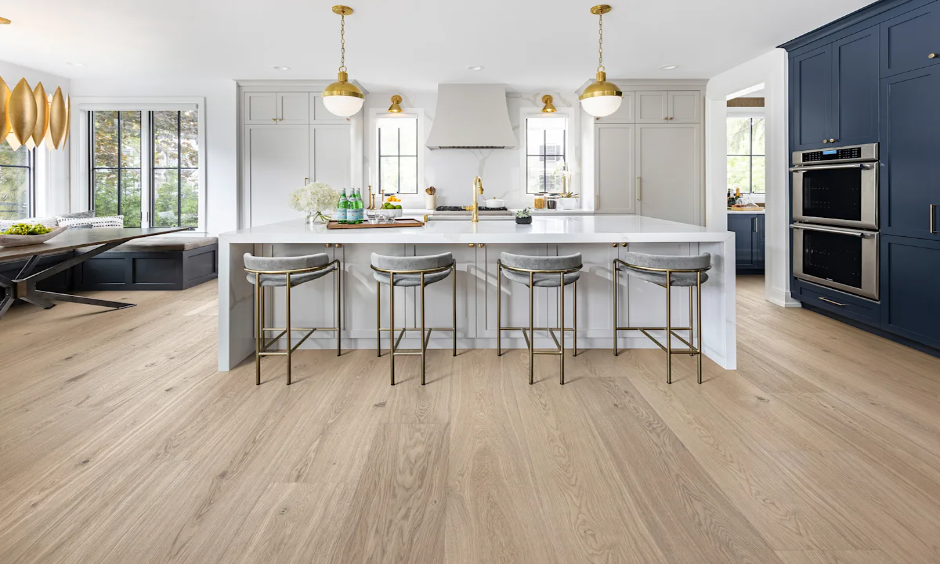 Another important point to consider while working with a white oak kitchen is the flooring. There are several options in floorings, too, that need to be considered.
The cabinet's natural beauty is enhanced by using hardwood flooring that is made of comparable or related wood species.
On the other side, natural stone flooring provides beauty, whereas light-colored flooring gives the impression of being airy.
You can opt for ceramic and porcelain tiles, too, as there are several color and texture options available to choose from.
You can even simulate stone or wood flooring using vinyl or laminate flooring, which will give you the same look and feel.
See More: 17 Black Kitchen Cabinets Ideas for Small Kitchen
9. Appliances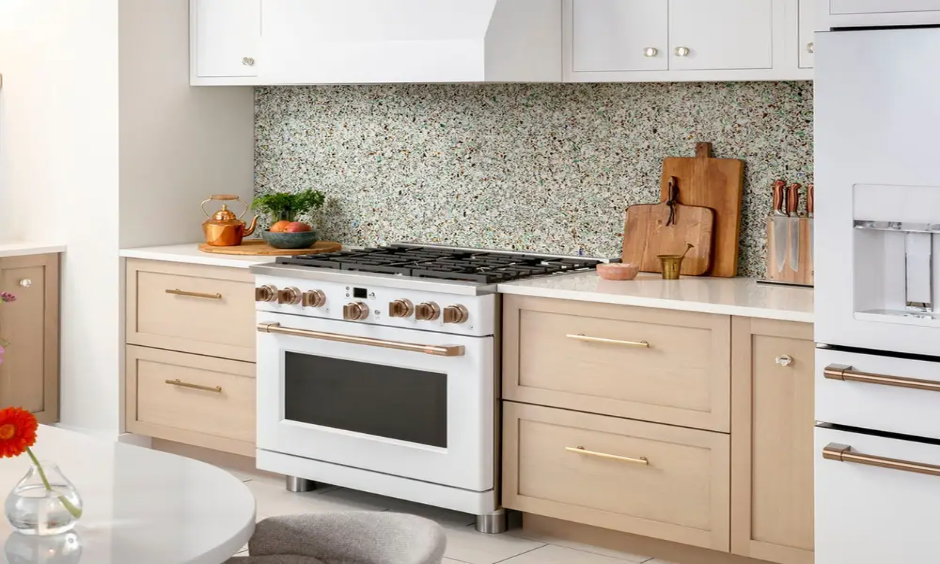 How can a kitchen be complete without appliances? Of course not! It's, therefore, crucial to make provisions in your white oak kitchen for the appliances you wish to install.
Make room for appliances like refrigerator, hob, oven, dishwasher, and microwave. Don't forget the ventilation system.
Apart from these, there are some small appliances too, like toasters, coffee makers, mixers, and blenders, for which you need to plan out the space in your kitchen.
These appliances are used daily and hence require a designated place that allows easy and quick access. You can either designate a cabinet area for them or include appliance garages or shelves.
You need to make sure that your white oak cabinets effortlessly integrate and improve the functionality of these appliances by taking these considerations into account during the design and installation process.
10. Countertops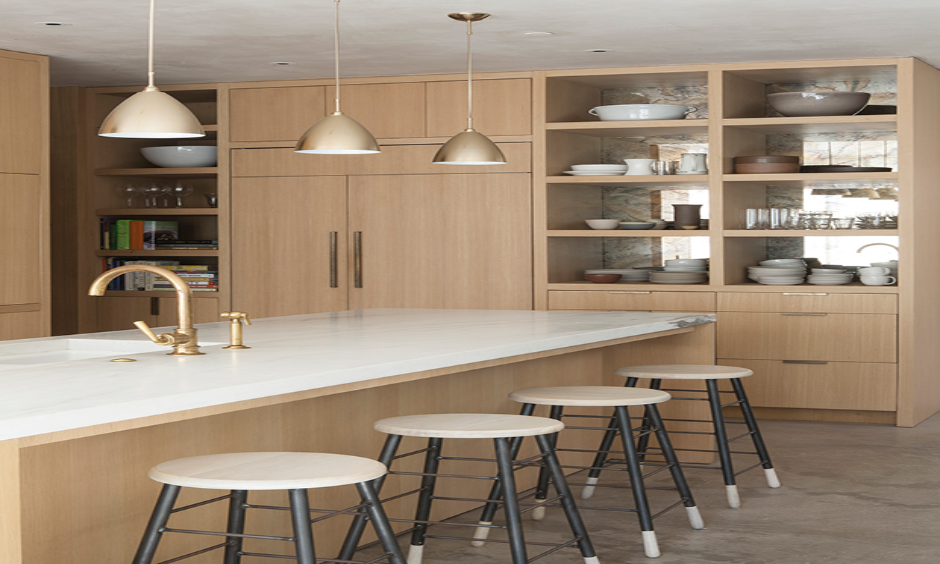 Let's jump on to another vital feature. And it's none other than countertops. Countertops are very vital and attractive part of any kitchen, and if you are talking about the white oak cabinets, then this has to be a must.
There are a variety of countertop alternatives that blend well with white oak cabinets. To begin with, quartz is available in a variety of hues and offers durability and versatility.
Then comes granite, whose speckled or grained characteristics give it a natural look. The warmth and utility of butcher blocks are offered too.
The color and design options available with solid surface materials are diverse. If you wish for a modern and industrial vibe for your kitchen, then go for concrete.
With expert advice, you can achieve your ideal kitchen look.
11. Open Shelving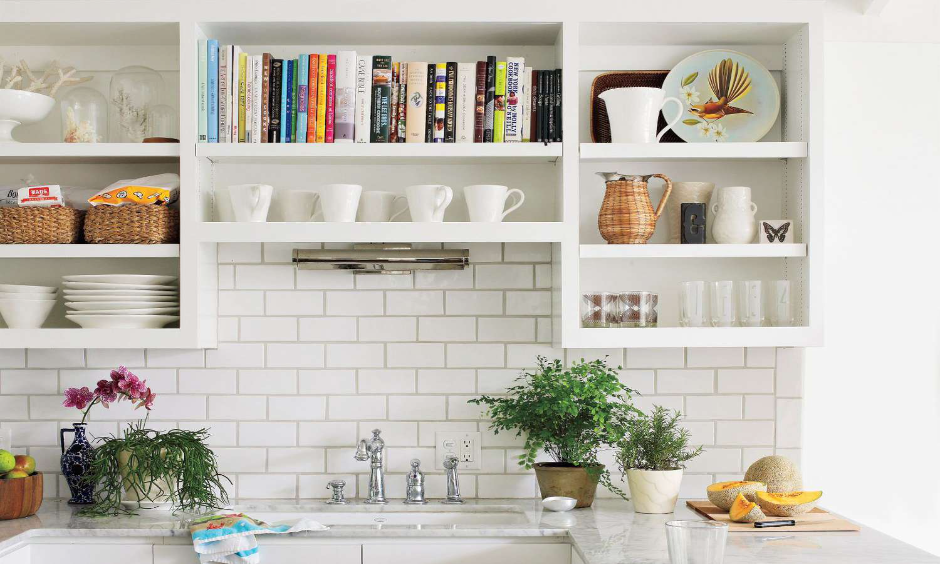 Floating shelves, wood shelving, metal shelving, glass shelves, and various other types are available as open-shelf options with white oak kitchen cabinets.
In contrast to wood shelves which give warmth and a natural appearance, the floating shelves offer a more streamlined look.
Glass shelves give off a sleek, airy vibe, while the metal shelves provide a modern and industrial edge. It will be visually appealing to mix and match various shelving options.
Think about the design and theme of your kitchen that you want to display and the accessibility you want while combining the open shelving with white oak cabinets.
12. Glass Cabinets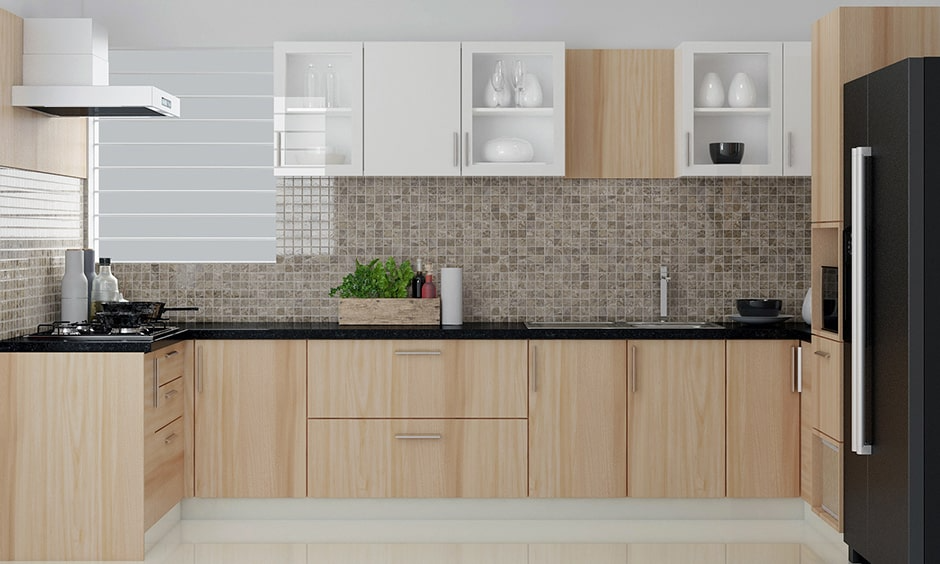 Another element to highlight the beauty of the white oak kitchen is the glass cabinets. White oak cabinets can be amazingly enhanced with glass cabinets. There are, again, an array of options you can explore and experiment with.
For displaying dishes, glassware, and exquisite crockery, there are glass front upper cabinets, leaded glass cabinets, etched glass cabinets, colored glass cabinets, and glass display shelves.
For a flash of colors, you can even go for colored glass cabinets. Installation under professional guidance assures durability and the correct support.
Alongside offering a useful and stylish space to store and display glassware, the glass cabinets also enhance the attractiveness of white oak cabinets.
Related: 15 Best Kitchen Cabinet Colours
13. Kitchen Islands And Peninsula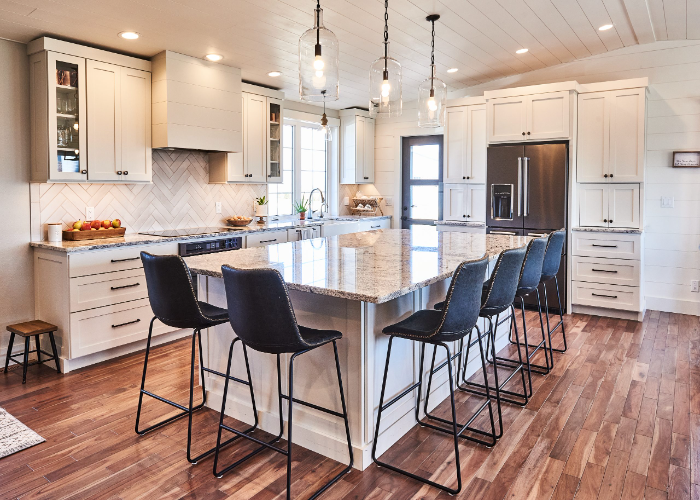 A kitchen island is another point that needs to be considered while planning a white oak kitchen. For a distinctive appearance, you can go for white oak islands.
Choose islands in contrasting colors for a striking and elegant look. There are many more kitchen islands and peninsulas that are good matches with white oak kitchen cabinets.
Do consider incorporating extra amenities like a built-in hob, sink, or seating space to compliment the white oak cabinets and improve functionality while facilitating support.
Remember, take the overall design, practicality, and size of the kitchen into account while choosing the kitchen island or peninsula.
Summing It Up
All in all, white oak cabinets for kitchen offer a world of imagination and limitless possibilities.
White oak cabinets can produce classic aesthetics while serving as a neutral backdrop for a variety of design styles, as you have seen throughout this article.
You all are well versed in how to use small spaces, improve natural lighting, add statement lighting, and blend different materials for eye-catching appearances.
By blending white oak with various finishes, adding appliances, and embracing open shelves, you have also examined the adaptability of various materials.
Just keep in mind to modify the concepts and options you have looked at that fit your tastes, needs, and financial constraints.
Create your white oak kitchen uniquely by adding your special finishing touch, thoughtful storage options, and a personalized touch.
The options are unlimited, and the beauty of white oak will endure for many years to come.
Check This Next: 32 Stunning Kitchen Layout Ideas to Design Your Dream Space