Modular sofa is a versatile and practical piece of furniture to accommodate a variety of settings.
They are available in a wide array of configurations and settings to suit your spaces and requirements. Modular sofas are certainly the go-to pick for modern-day living.
They have become an ultimate staple for urban homes where space management is a key priority.
If you are looking for sofas that feature the perfect blend of style, aesthetics, and functionality, modular sofas are surely the answer.
They offer the freedom to customize them in multiple ways as per your liking and space layout. They are an ideal choice for small apartments and spaces.
Let's dive into some common factors that one should consider before buying modular sofas.
Similar Post: 13 Small Couches to Consider for Smaller Spaces in 2023
Factors to Consider Before Buying Modular Sofas
While, of course, you would want something comfy and stylish, space is certainly a big contender. Once you've decided that you want a modular couch for your space, it is time to think about the size and shape that you want to go for.
Are you looking for something sleek and elegant, something plush for cloud-like comfort, or something with oversized pillows? The height of the sofa is a key bet.
Whether you are looking for low-profile or elevated silhouettes, the possibilities are endless. You need to make a mental checklist of the fabric options that you'd want to go for. Comfy cotton upholstery or something glam like velvet-laden, it is your decision.
There are infinite options available for you to choose from affordable furniture retailers to designer pieces and everything in between.
If you live in a cozy apartment or have a 3-story duplex, this year is all about embracing modular sofas as a major furniture trend for 2023.
They became popular a decade ago, and it is highly evident that their functionality has brought them into the limelight all over again.
If you have been wondering about which styles suit best for your spaces and requirements, this is your ultimate guide to help you understand the best modular sofas along with their benefits.
Best Modular Sofas of 2023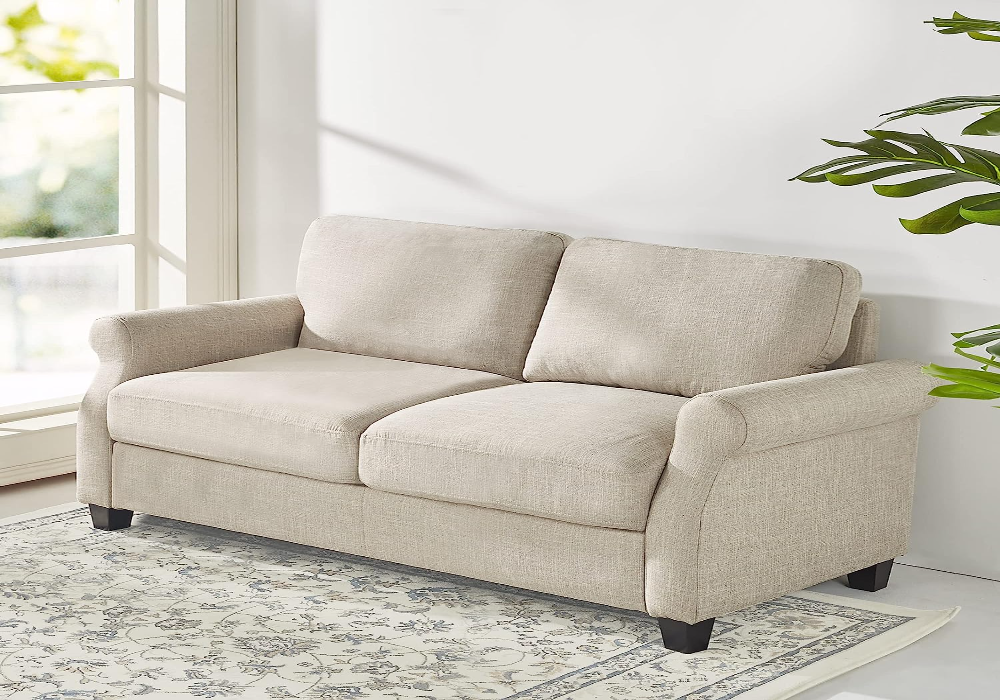 This modular sofa is ideal for a tiny apartment. These sofas have gathered popularity amongst couples who have just moved in together.
As the name suggests, this sofa set is the perfect choice for couples to snuggle up and have a cozy time. It is also a perfect pick if you live alone and are looking for a space-saving piece of furniture.
Alternatively, if you are looking to create a space inspired by Cottagecore, this minimal and comfy piece will make a chic addition to your space.
Also Read: 18 Best Modern Couch Designs to Try in 2023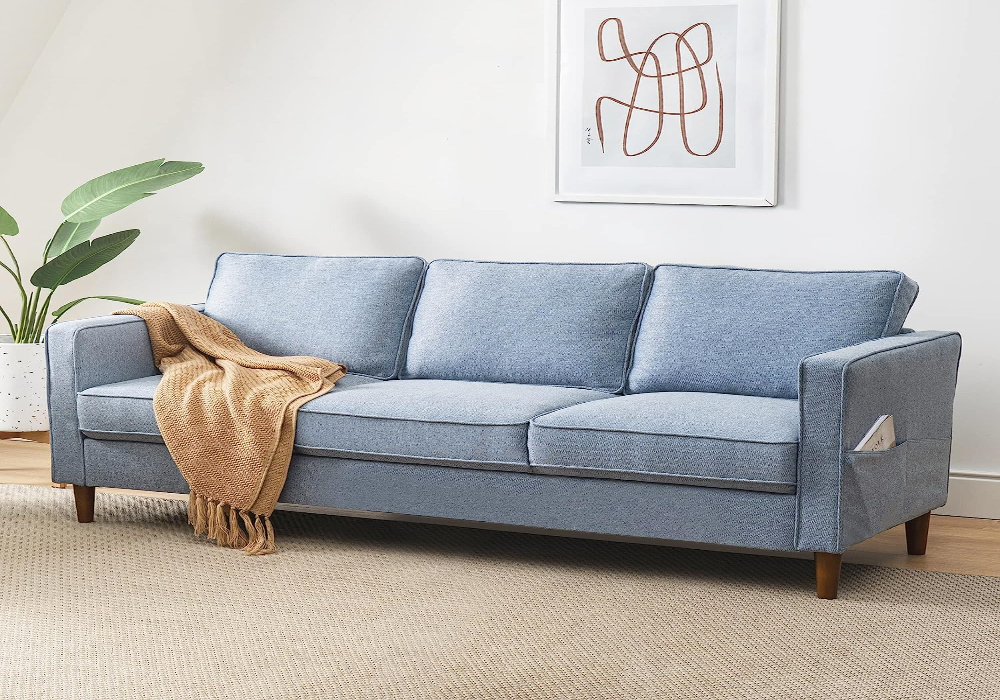 If you are looking for something more spacious, this sofa is the right pick.
If you have two or more people staying in your apartment or to have some extra space to snuggle up with your fur buddy, the 3 Seater Modular Sofa can be customized to your liking.
Just add a lounge chaise, and you're all set. You can go for options that allow you to customize the layout by placing the chaise either on the left or the right.
This will ensure that you get more lounging space without having cluttered floor space. These sofas are relatively less bulky and are easy to transport.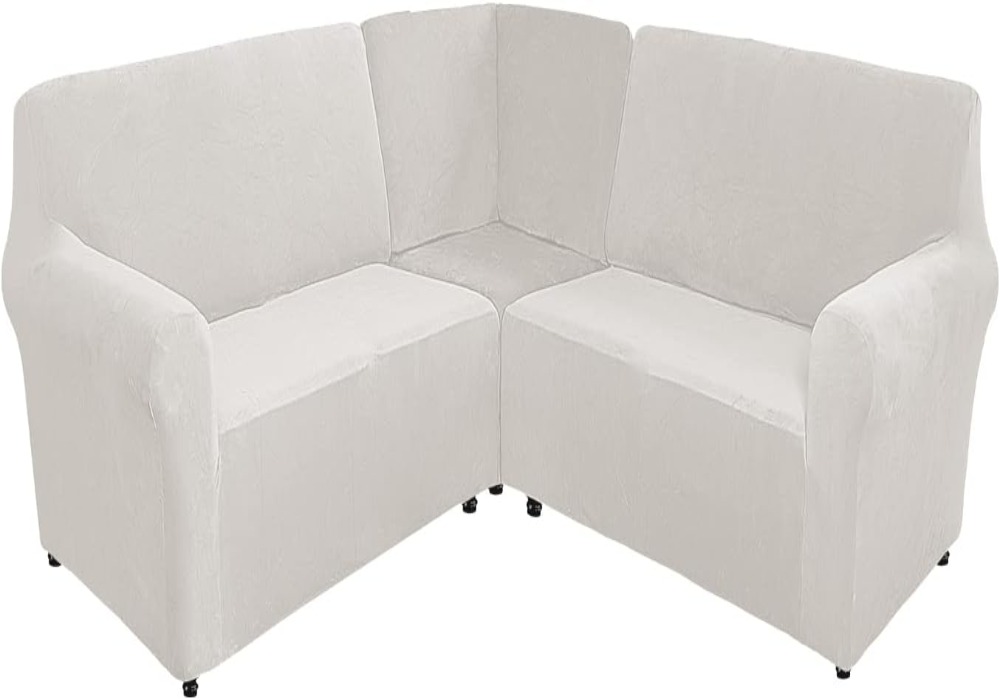 Corner modular sofa style is just the right choice for maximum floor space saving. They make the perfect pick for a relaxed day at home.
These sofas are available in a wide array of layouts which you can choose based on your space and requirements. They are usually available in L and U-shaped settings.
Corner modular sofas are a smart choice for smaller spaces. You can get these sofas to create a cozy setting for your living room.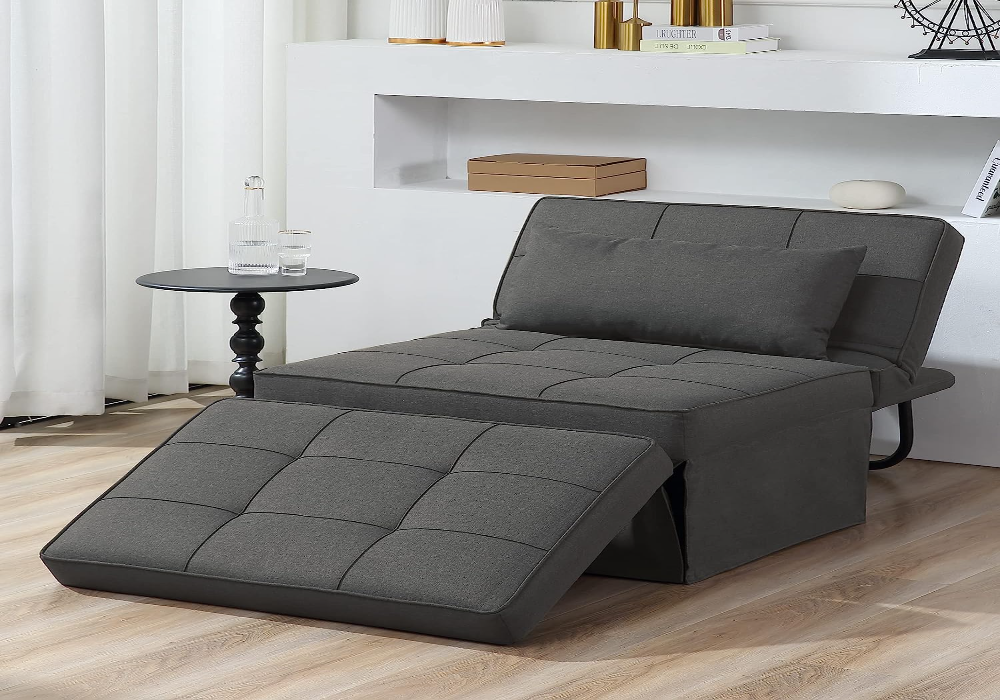 These modular sofas are highly practical and versatile. If you live in a small apartment or a PG setting, these modular sofas will surely be your go-to option.
They are ideal if you do not have a separate room. If you have guests and friends coming over, this is just the right piece of furniture for your space.
They are 3 or 4-seater modular sofas that can be elongated to form a bed-like setting to sleep in comfortably.
Sofa beds are a smart pick if you do not have extra space to accommodate a double bed.
See More: 13 Best Modular Sectionals in 2023 to Transform Your Space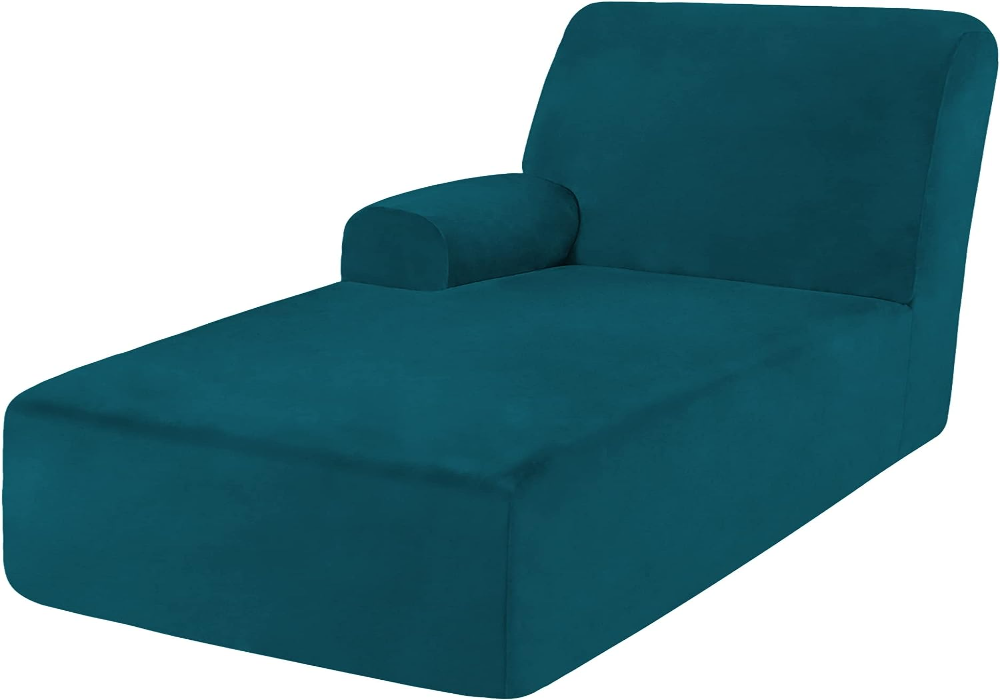 These modular sofas are the ones that can be used as stand-free options or as additions to the existing modular sofas. They come with concealed storage and make a great lounge-worthy choice.
Modular chaise sofas are just the right pick for relatively awkward and uneven layouts, as you can place them anywhere as per your liking.
They are a smart pick if you want to liven up any corner of your space. Just place it against the wall and layer up with some fluffy cushions to create a cozy setting.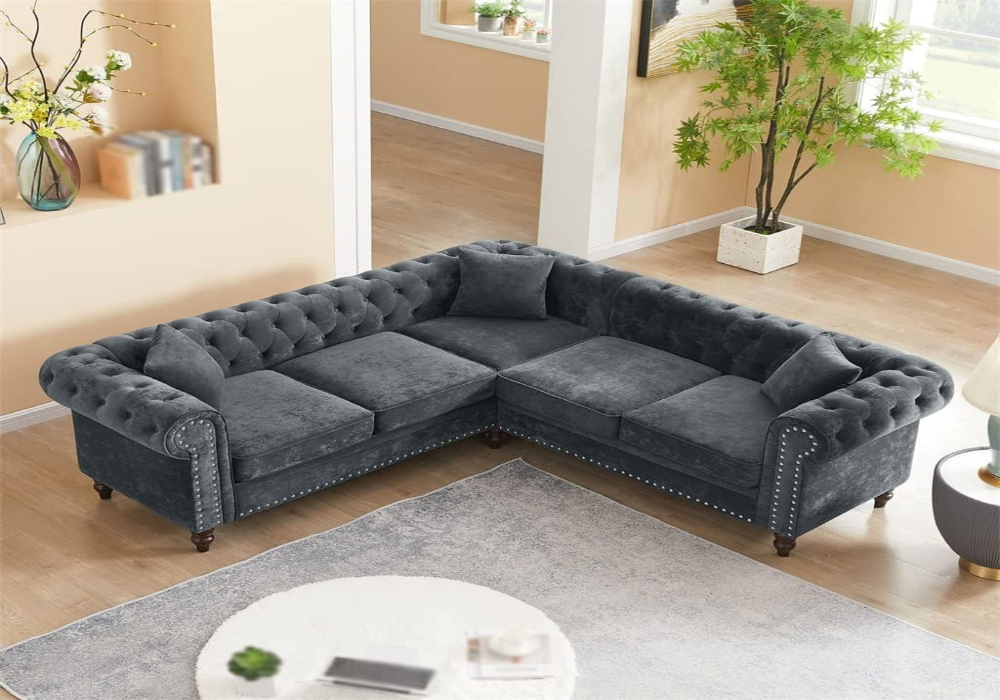 These sofas have been on the wishlist of many. They are highly functional, featuring the perfect blend of style and aesthetics.
They are typically the largest in modular sofas. The "L" shape of these sofas offers ample seating space. They are ideal for larger spaces and entertaining guests.
You can go for the ones with velvet upholstery or the ones with jewel tones to glam it up.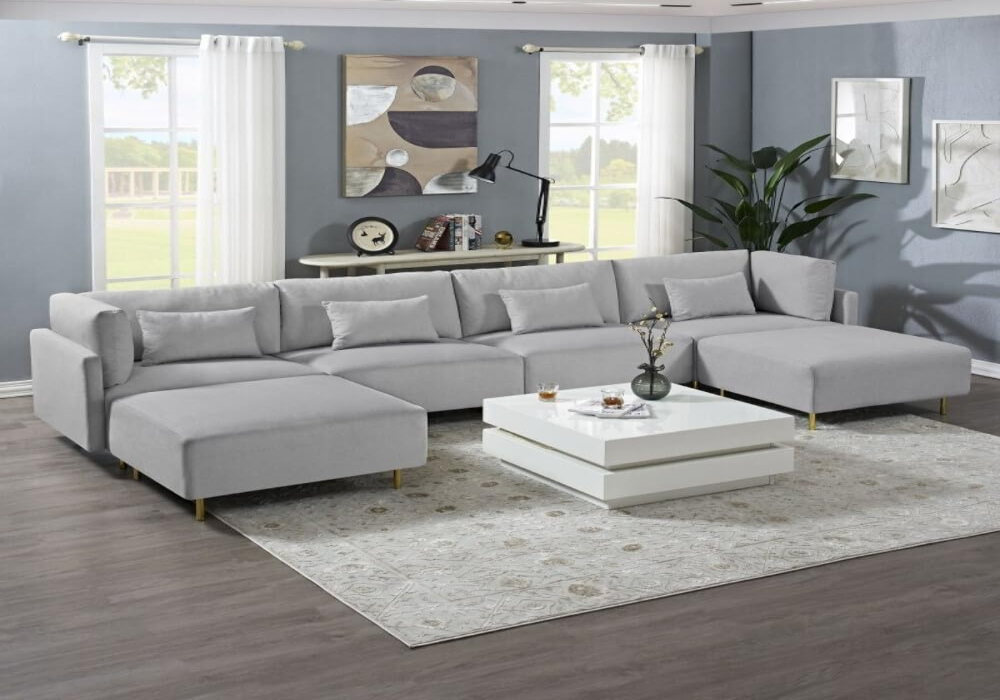 One of the most striking features of these sofas is that they can be configured according to the space and the layout.
However, not all shapes and sizes of sofas could make it through the front door and might not be suitable for certain spaces.
So, it becomes imperative to be mindful of the dimensions of the sofa as well as your living space. These modular sofas allow you to place ottomans or additional chaises for more room and comfort.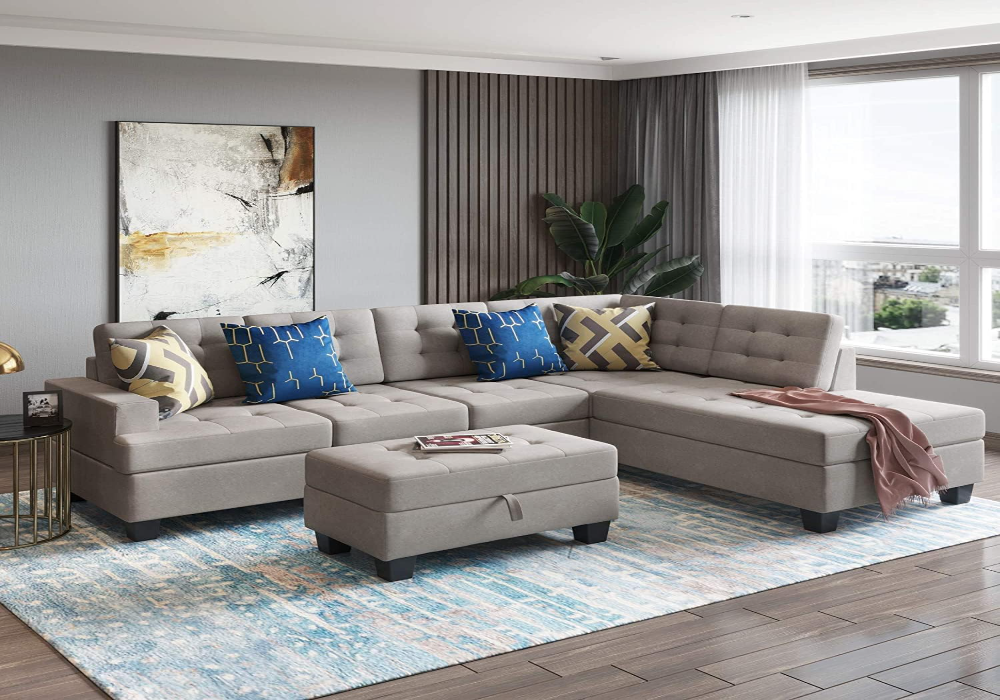 These sofas are ideal for larger spaces for people to sit across and next to each other.
They make a practical choice for spacious living rooms for everyone to sit together and watch TV with ease and comfort.
These U-shaped sofas are a brilliant option for large families or for those who have friends and relatives coming over.
Simply place a rectangular coffee table as the centerpiece to serve your beverages and snacks in style for a movie gathering or while hosting a game evening at your space.
Related: 10 Stylish and Functional Couch with Storage in 2023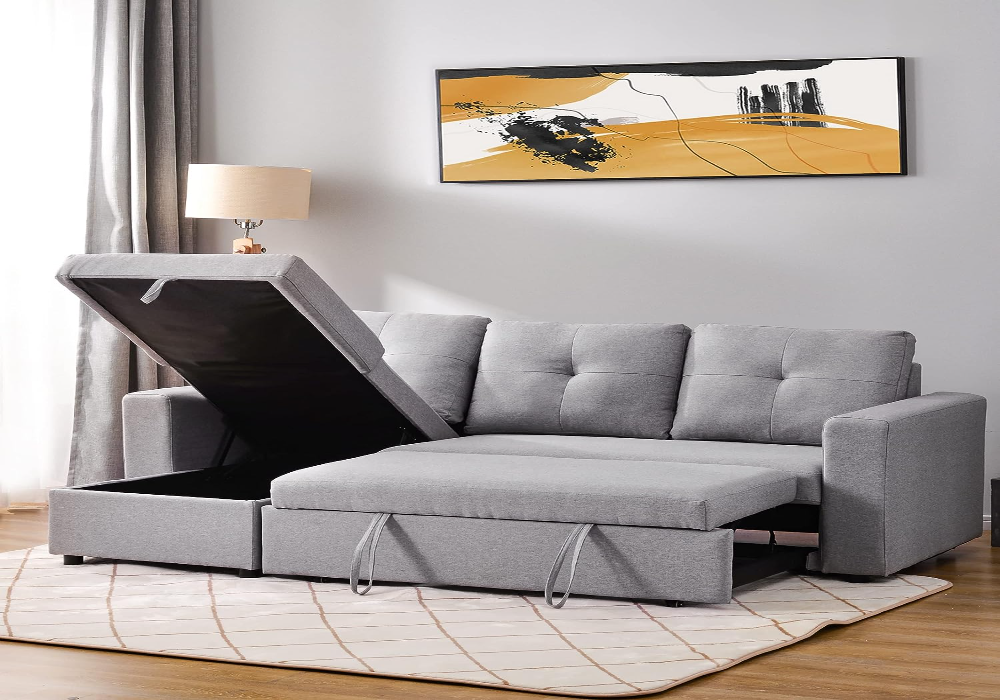 If you do not have limited options to store your knick-knacks and essentials, sectional sofas that come with concealed storage will certainly be the right pick.
Many modular sofas feature drawers at the bottom and ones with underneath storage.
The sofas that you choose to go for should depend on what you exactly want to keep considering your space layout and dimensions.
You can also add a lounge chaise which comes with an internal storage option for extra benefit. This can accommodate toys, extra cushions, and much more.
If you love experimenting with decor and layouts, this sofa set is the ideal choice for you. They offer ample flexibility to choose the configuration to seat multiple people.
Reinvent your couch every time you want to! You can choose the L-shaped or U-shaped sectional sofas for this feature.
Having a movie night planned or wanting to lounge around, simply add ottomans and lounge chaise sofas to these functional pieces for enhanced practicality and innovation.
Summing It Up
All in all, modular sofas are made of individual modules and sections that can be rearranged to suit your space and your mood.
They can be arranged to seat 2 people, or they can be extended to accommodate 10 or more people as per the size and the layout of the sofa.
The type of modular sofas you choose should be ideal for your living space, requirements, and budget.
They feature the perfect combination of versatility, comfort, and style, thereby allowing you to customize these sofas for you and your home.
They will make a timeless addition to your space as they are simply more than a furniture piece. Contemporary modular units have been a big hit for modern homes.
You can choose the upholstery fabric to complement the color palette for your space. The true essence of modular sofas lies in their adaptability.
There are multiple furniture retailers and designers that allow you varied customization options to create the modular sofa of your dreams!
Thus, we hope this article serves as a guide to help you through your modular sofa shopping journey. These top 10 modular sofa options will surely have you covered to seal the best deal.
Check This Next: Allform Modular Sofa Reviews 2023: Are They Worth the Hype?