The kitchen is where we cook yummy meals for our loved ones, a site that is not just for cooking meals but also for making cute memories with your family. Nowadays, the craze for colorful kitchens has got a lot of hype, but if you are one of those who want to have a sleek black kitchen for your home, then this blog is definitely for you!
Some people prefer to have an all-white kitchen, whereas some people love to keep it colorful, like an all-red or a mix of all colors. But black has its special place, especially for those who are admirers of the beauty of black color. A black kitchen can set a very strong and bold statement in your house, and this place of your house can become a site worth stopping and admiring!
Here are the top 17 awesome black kitchen ideas for your house to set a very strong quotient in your house:
1. Ravishing Black Kitchen with a Gorgeous View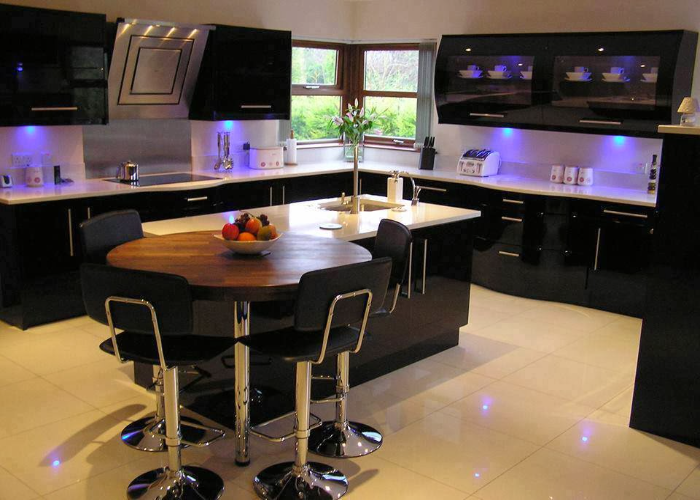 Black kitchens look bold and beautiful, and if you are one of those who are planning to have an awesome black kitchen, then it is going to be an awesome experience for you!
You can have black kitchen cabinets, black slabs, black sinks, black tiling, and even black flooring for your kitchen. What's better than having a small kitchen with a gorgeous view?
Cooking a meal with an awesome view feels like a fairytale dream, and if you have windows in your kitchen, then your black kitchen is going to be the spotlight and even more beautiful with the view.
2. The Mix of Black and Brown Coffee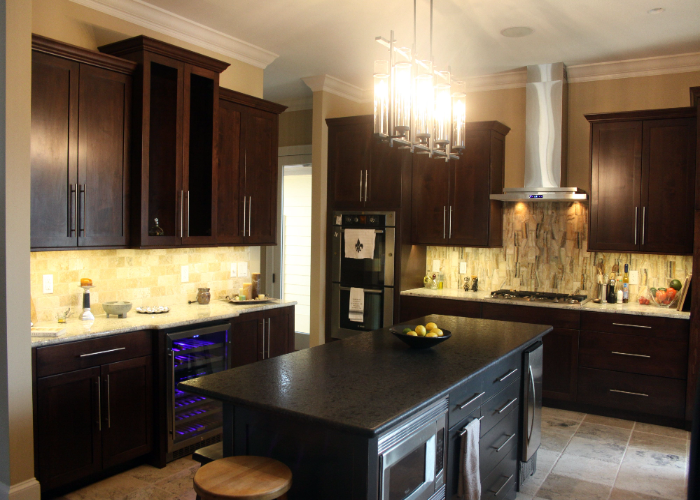 Who would have thought the odd mix could make the most beautiful look? Well, one such weird yet beautiful mix is the black and coffee brown colors.
You can go for an all-black kitchen with brown coffee seating chairs, or you can even go for an all-black kitchen with brown coffee cabinets.
Black kitchen cabinets with coffee brown flooring is also a good idea, and if you can have some other spots for having coffee brown and black color together in your kitchen, then it is surely going to look amazing.
3. Modern Black Kitchen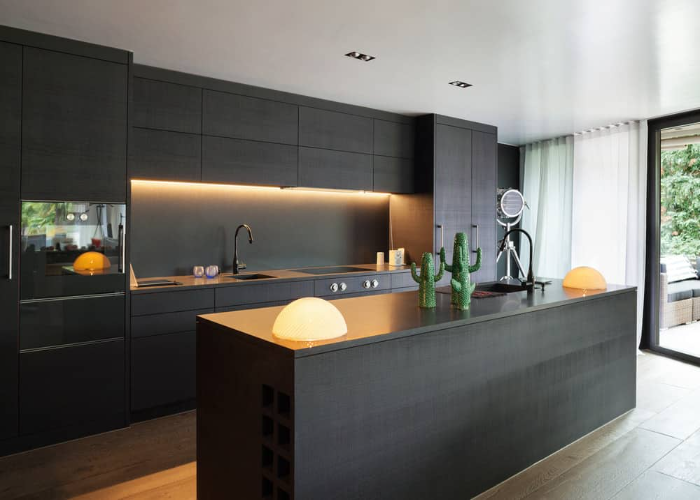 Modular kitchens are total fun as they make your day-to-day work way easier than you ever thought it could be! You can also have a modern black kitchen at your home.
If you have a small kitchen, then you can style it in a way to looks spacious, bold, and beautiful. Adding black color in your kitchen can bring a huge difference in the view of your kitchen.
You can have sleek black kitchen cabinets for your small kitchen and even go for black drawers and black flooring or tiling, and it can also make your kitchen stand out loud in your house.
4. Budget-Friendly Black Kitchen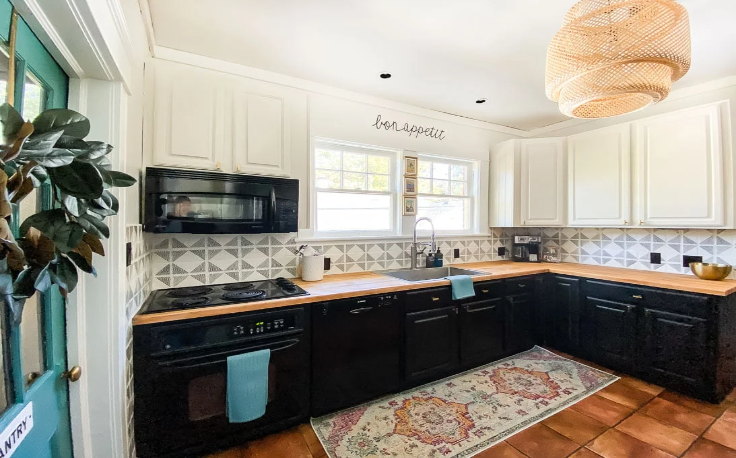 Do you want a sleek black kitchen for your home but don't want to spend much in changing the all-over look? If yes, then here we have a pocket-friendly way for you to get your kitchen transformed in a snap!
We all are aware of DIYs and how amazing and budget-friendly they are! You can get black kitchen cabinets easily by painting your kitchen cabinets with black color rather than getting the whole work done.
Along with that, add black-colored appliances in your kitchen, including the crockery and utensils, and it will surely make it work perfectly for your small kitchen. Just try this!
Similar Post: 21 Stunning Black Couch Living Room Inspirations
5. Mixed Textures of Black and Grey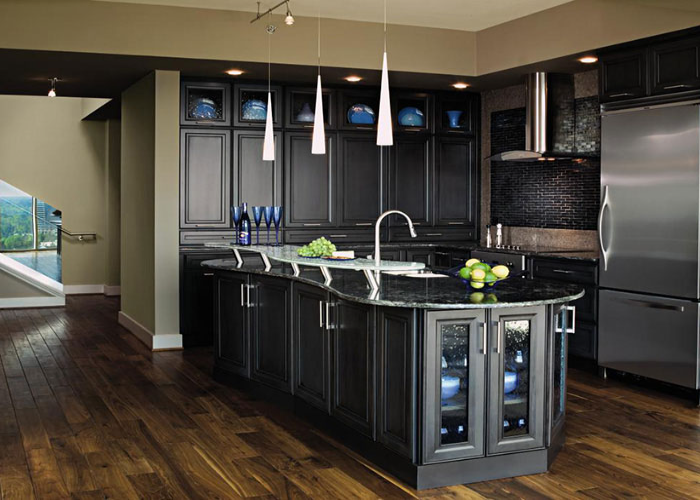 You can have an amazing mix of black and grey for your small kitchen. You all know how amazing the mix of black and grey looks; one can also get this look for your small kitchen or big kitchen.
This mix is surely going to be a hit, getting black flooring and tiling done and even dividing the colors for the different things in your kitchen.
Well, either switch for a black slab and grey utensils or black appliances with the sleek grey crockery, or else you can either have grey or black kitchen cabinets. This mix is a perfect idea, but where and how to get it is totally on your personal.
6. Black and Wood Mix Kitchen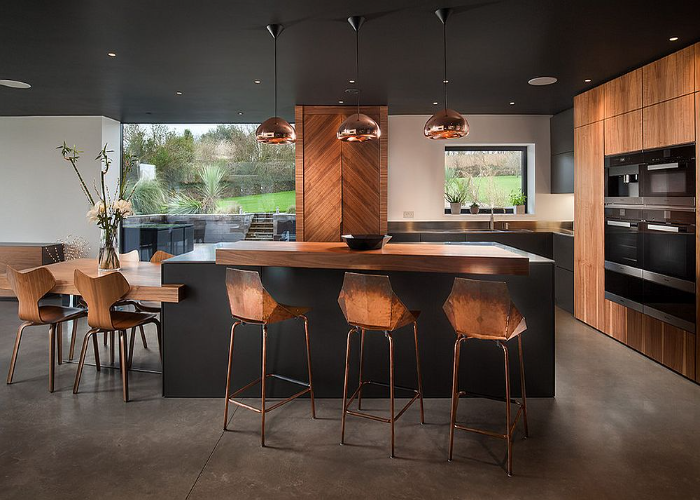 Having a black kitchen with wood flooring is pure bliss. This idea will work for your big as well as small kitchen and will be a superhit one for both of them!
You can have this duo of black and wood mix either by making black kitchen cabinets paired up with wood flooring, which is surely going to look amazing.
Or else, prefer an all-black kitchen with a wooden slab or wooden color tiling in your kitchen. Any style will suit your kitchen and enhance its overall look of it. Try incorporating this!
7. Black Matte Kitchen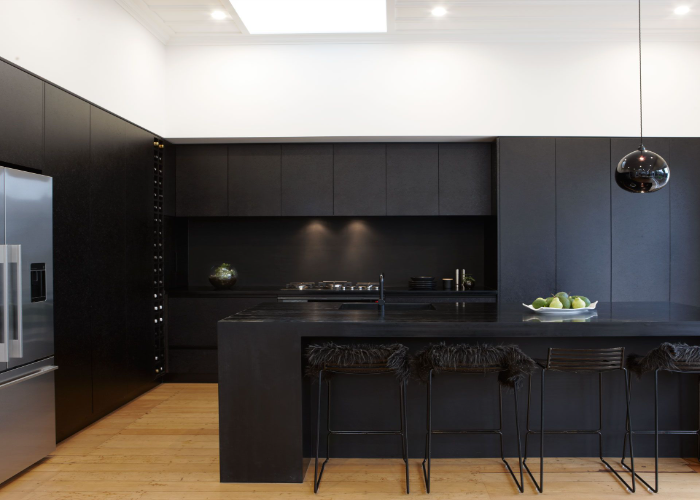 The matte finish is all you need to make anything look amazingly beautiful. Especially the black matte finish, which blows up the mind with its utter boldness and beauty.
You can also transform your small kitchen with the bold black color that comes with a matte finish. A beautiful kitchen black slab, black kitchen cabinets, black flooring, black appliances, and all this with the perfect matte finish is all you need for your perfect kitchen.
The best part about the matte finish is that it lets your kitchen look purely clean, bold, and mesmerizing.
8. Glossy Black Kitchen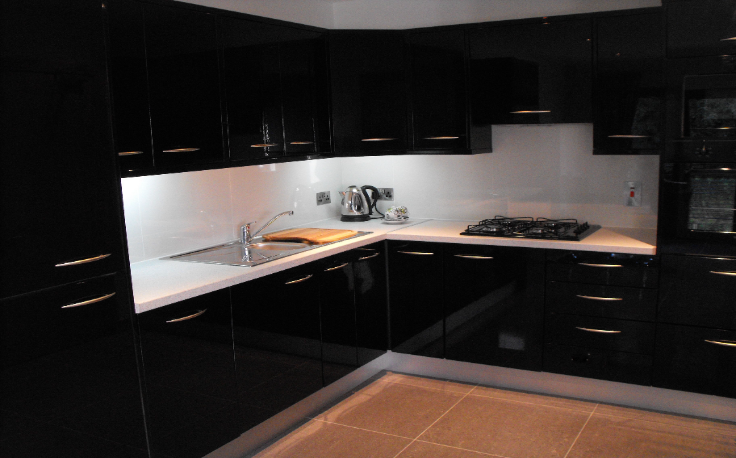 If you are one of those who love glossy spaces and colors, then this kitchen décor idea is definitely an ideal pick. You can have an awesome transformation for your small kitchen by just adding gloss to it.
Black color is itself a complete blockbuster that doesn't need anything else to complete it, and on top of it, it looks awesome with the glossy shine in the kitchen.
You all love a clean and shiny kitchen, and after cooking, you try to keep your kitchen super clean because, for all those who love cooking, the kitchen feels like paradise. So, to add more beauty to your small kitchen, you can get a glossy black kitchen for your home.
Also Read: Transform Your Kitchen with Amazing Black Appliances
9. Black and Red Sizzling Combo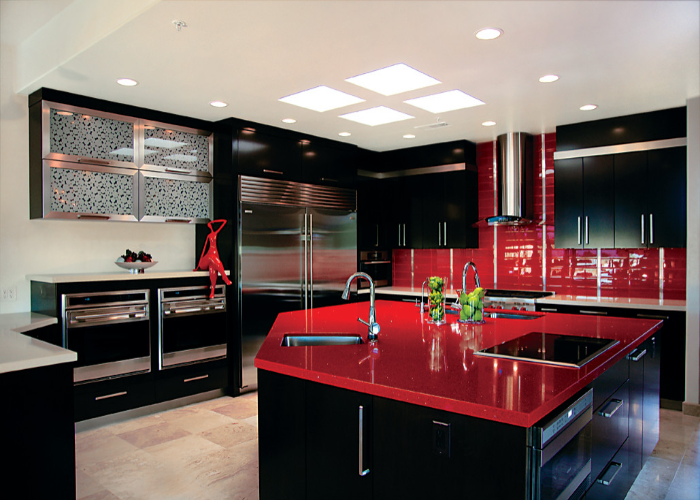 The combination of black color with other colors always fits perfectly, but there is something very different about the iconic combination of black and red color.
This combination is fit for all, no matter what category it is being used in! Take an example of a dress.
The combination of black and red color looks awesome everywhere, be it a bedroom, dining room, drawing room, an outfit, or anything! This combination can also be used in your kitchen, and it is surely going to look amazing and elegant.
10. Welcome the Black with Blues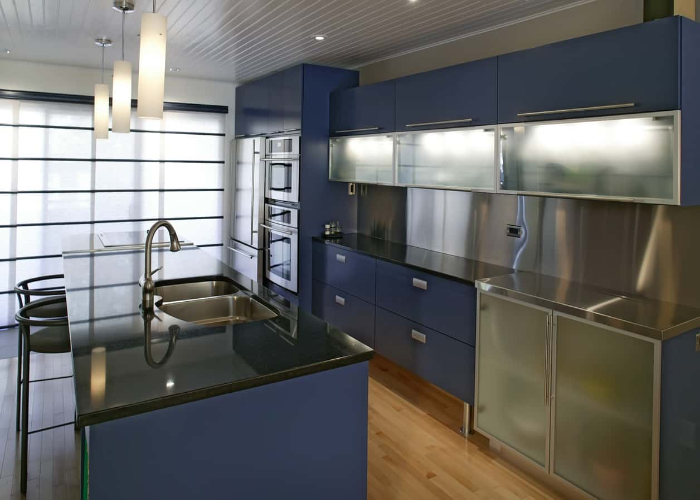 Having the black and blue mixed is something that might sound new and unique but weird to some. This combination is going to feel like a fresh breeze of boldness in your kitchen.
You can pair up the dark shade of blue with black; for instance, you can get the black kitchen cabinets for your small kitchen with the dark blue slab tiling.
And how about getting black color in your whole kitchen? You can use the appliances and utensils of dark blue color to pair both of the colors amazingly. Lastly, you can get the flooring of your kitchen done with black color with the kitchen slab and the rest of the things with blue color.
11. The Unforgettable Black and White
How can you miss the iconic combination of black and white? One of the best combinations you have ever had is black and white.
You can get the combination of these colors done perfectly for your big or small kitchen by getting your kitchen painted completely with black color but by leaving the tiling white color.
Along with that, you can use all the utensils, crockery, and appliances of white color by keeping the black kitchen cabinets, flooring, and tiling or vice versa. And you can also opt for chessboard flooring and tiling, having black and white boxes that can add fun to your big or small kitchen.
12. Colorful Cabinets, Black Tiled Kitchen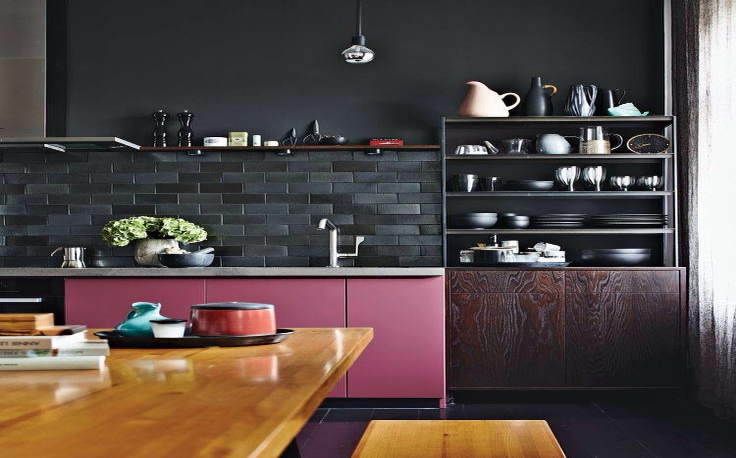 Well, who doesn't love the colorful breeze in their house, especially when it comes to the kitchen?
Then it definitely should look pure and fresh because it is the place where our meals for the day get cooked, and for those too who really love cooking, not as a duty but as their interest, the kitchen needs to feel relaxing and fresh.
You can get your cabinets colored with different solid colors, plain and sleek with the flooring, slab, and other things to be of black color; this idea is surely going to make your big or small kitchen look beautiful and fresh.
See More: 15 Best Kitchen Cabinet Colours
13. Patterned Black Flooring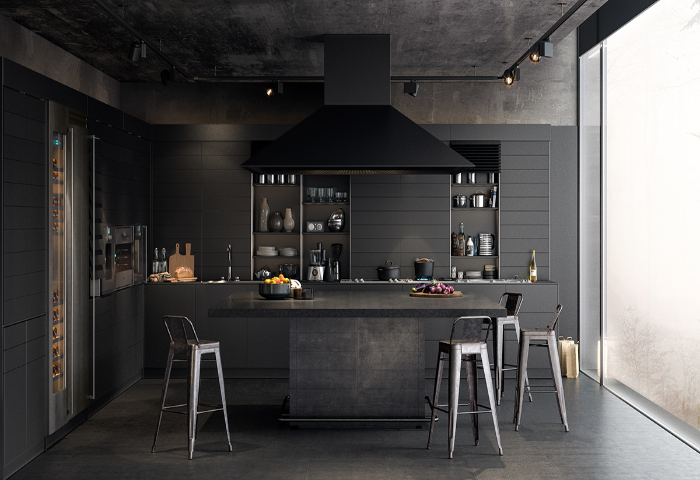 Colors with patterns are a true blast of beauty. You can mix colors and patterns in many ways for your big or small kitchen.
Either you can choose the alternative method, by painting solid colors and adding patterns to the alternative cabinets, like painting the first cabinet plain red or else the second one as black with white patterns on it, then the third one again with some plain color like yellow and so on.
And more than that, you can even keep your black kitchen cabinet plain in the first one and patterned in the second one with white or any other color of your choice.
14. Black Kitchen with Rustic Accent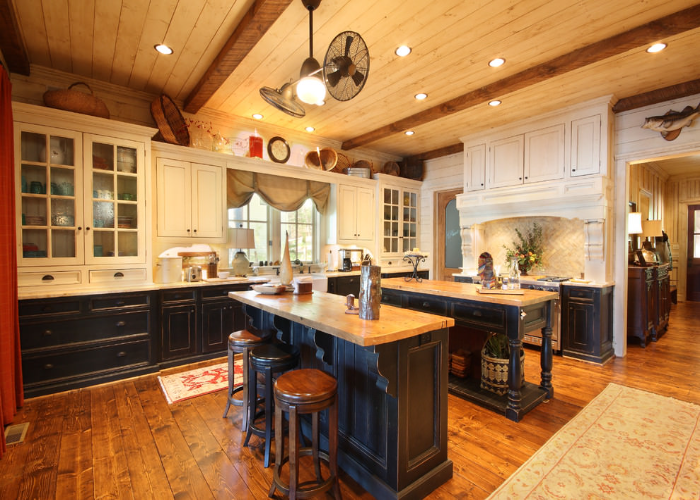 If you are a fan of vintage setups and designs, the kitchen decor idea is for you! The combination of black color with the rustic accent will be an awesome one!
You can get your big or small kitchen painted in all-black and add rustic chairs for sitting opposite the kitchen slab.
You can even add the rustic accent in your black kitchen in other ways, like adding rustic patterns in your black kitchen cabinets; you can also add a window frame in your black kitchen to make it look a vintage beauty!
15. The All-Black Kitchen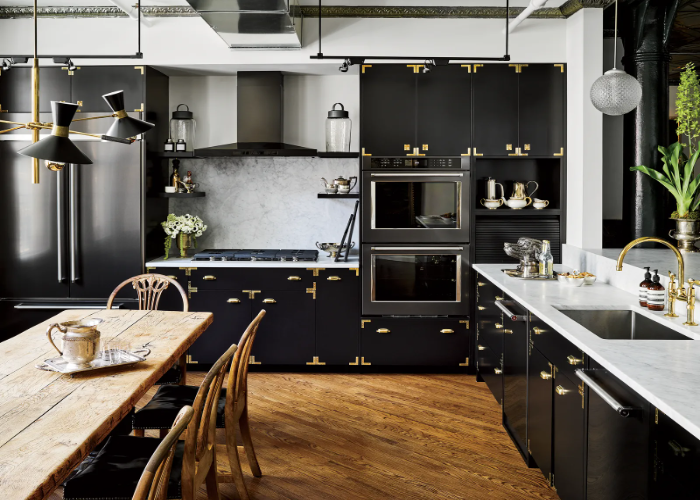 Well, you might be a minimalist in terms of different colors but a maximalist when it comes to that one favorite color of yours! If black is your favorite color and there is no limit for you when it comes to using it somewhere, then this kitchen idea is good to go for you!
You can transform your normal kitchen cabinets into black kitchen cabinets, and not just this. Still, you can also get the flooring of your kitchen done with black color, even the kitchen slab and sink with black color, and if this is also not enough, then you can switch to all black crockery, appliances, and utensils.
16. Black and Orange Combo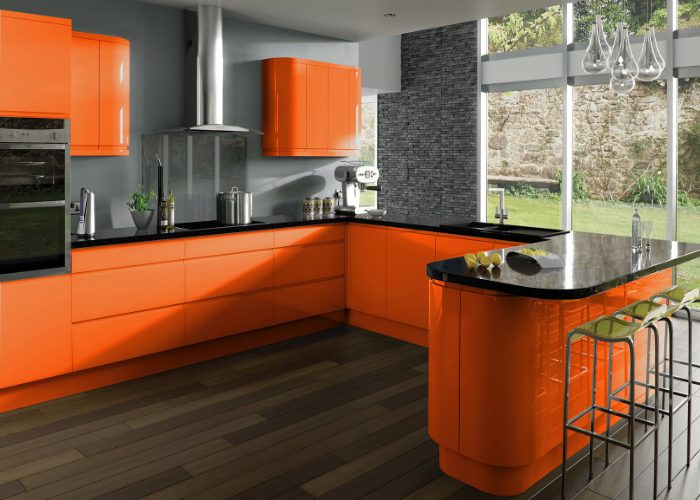 The unusual combos might seem weird sometimes, but some of them really become the hit ones! Like the combination of orange and black, it can really do wonders for the interiors of your kitchen if you are a lover of both vibrant and bold colors and love to keep it interesting yet bold!
You can color your kitchen cabinets with orange color or can even keep them black kitchen cabinets. Or else you can keep your kitchen slab orange and the flooring and tiling black. You can use all orange utensils by keeping the interiors all-black or vice versa for your big or small kitchen decor.
Related: 13 Stunning White Oak Cabinets for Your Dream Home
17. Add a Silver Lining to Your Black Kitchen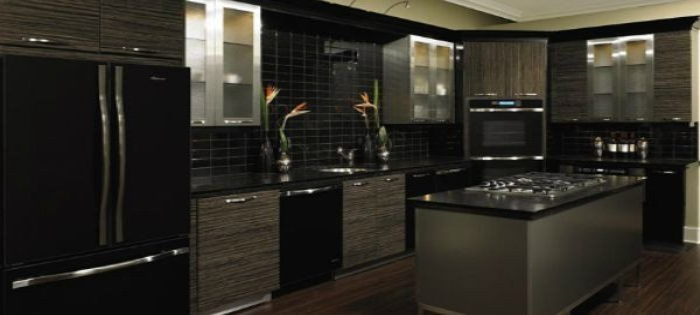 Just like adding a silver lining to everything is important, you can also see the silver lining in your all-black kitchen. How would you do that?
Well, in many ways, you can get it done by adding silver patterns to your black kitchen cabinets to make them look beautiful. Or you can add the silver linings to your black kitchen slabs or even sprinkle the silver color on the black flooring of the kitchen.
Summing It Up
All in all, these black kitchen décor ideas will surely give you new and unique views to transform your kitchen beautifully with less effort and time. With that, you also have a budget-friendly hack to decorate your kitchen in all-black.
Having an all-black kitchen is a bold decision but beautiful in its way, too! So, if you have made up your mind to have an all-black kitchen, be it a big or small kitchen, then we have summed up the top 17 ways in which you can do so!
Some of them can be the best fit for you, and some can not be of your type, but we promise that we specially pick all of them to help you have the best of the best ideas without much hassle.
Check This Next: 14 Black Quartz Countertop Design Ideas to Adorn Your Kitchen