Are you looking for that perfect modular sofa to complement your requirements along with your living space? Allform has it all. Furniture is a key consideration for any living space.
While speaking particularly about sofas, you should go for modular sofas as against the traditional ones to make the most of your space as well as the sofa.
They are available in multiple configurations to customize as per your preference. Finding the perfect modular sofa that checks all the boxes right is surely tricky.
However, if you are in search of versatile, timeless, and functional choices, you can certainly go for Allform modular sofas.
They feature the perfect union of form and function.
Everything About Allform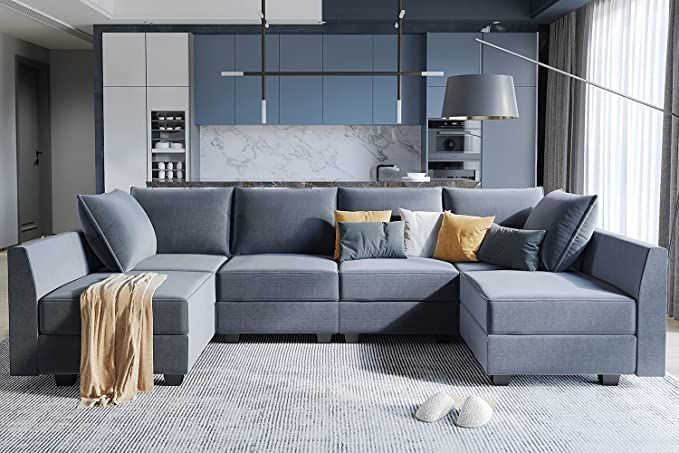 Allform is a leading furniture brand that is obsessed with providing high-quality modular sofas that are designed for real life.
Backed by advanced methods of production, these modular units are crafted keeping in mind modern-day living. If you are planning to get your dream modular sofa online, you can simply rely on Allform.
While quality, handling, and shipping, along with getting the right price, are crucial considerations, rest assured that you get the best deal with Allform.
We have summarized the key aspects of Allform modular sofas as a detailed review to guide you through your purchase journey and to help you make an informed decision.
Similar Post: The Ultimate Allform Sofa Review: Make the Best Purchase
Key Features of The Allform Modular Sofa
1. Functionality with Aesthetics
All form modular sofas are available with custom finish selections. Each Allform sofa reflects a chic modern aesthetic and is manufactured to be an ideal choice for contemporary living.
2. Premium Quality Fabrics
All modular sofas are crafted using performance fabrics, which are heavy-duty stain, scratch, and pill-resistant, without any compromise on comfort.
3. Hardwood Frame
Each sofa frame is made using laminated hardwood ethically sourced from Sustainable Forest Initiative (SFI) certified vendors.
Complete Breakdown of The Allform Modular Sofa Collection
Allform has endless options of modular sofas to choose from.
However, if you are looking for the perfect pieces to suit your spaces and lifestyle, here is a cheat sheet to get crystal clear clarity on some popular choices you should consider before making your final purchase.
One thing to keep in mind is that you can get customization for these modular units in terms of the fabrics, leg color, and other additional options.
Custom Loveseats
Custom Armchairs
3-Seat Sofas
3-Seat Sofa With Chaise
Custom Sectionals
Custom Leather Sofas
8-Seat Sectional Sofas
U-Shaped Modular Sofas
Also Read: 10 Versatile Modular Sofas You Need in 2023
What Does the Allform Sofa Comprise Of?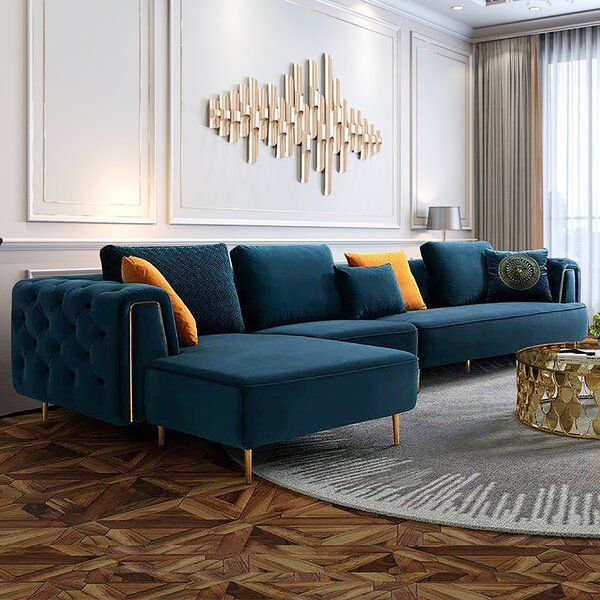 All form sofas are modular, and the parts and finishes are different for each sofa and model. All the parts are sourced globally and manufactured in the USA.
The components of the sofa include the frame, support, cushions, legs, and arms. Let's get into detail about each of these parts to help you understand better.
1. The Frame
The sofa frame is crafted from kiln-dried laminated hardwood, which is sourced sustainably from certified vendors globally. The frame is a key aspect of Allform sofas.
An engineered blend of maple and poplar hardwoods is used to create the frame, to serve as the base for the entire construction.
2. Support
This serves as the foundation to maintain the sturdiness of the sofas.
The support of Allform modular sofas features a tempered steel suspension grid system to withstand the weight and overall pressure.
3. The Cushions
All form seating cushions are crafted from CertiPur-US certified foam and fiber. These high-grade foam cushions feature channels and anti-shift encasement to avoid sagging and maintain shape retention.
The support foam is approximately 5 inches thick with an approximate 1-inch fiber wrapper around the foam for comfort. The back cushions are made of looser foam and fiber.
They are evenly channeled to keep the foam equally distributed across the cushion.
4. The Legs
Allform sofas allow you to choose a leg finish as per your preference. These are available in 3 options- Natural, Walnut, and Espresso.
You can go for your preferred color that aligns well with the fabric as well the color that you go for. These hardwood legs are sturdy and engineered for enhanced support.
They feature a small plastic cap on the bottom to resist scratches while transporting and moving.
See More: 13 Small Couches to Consider for Smaller Spaces in 2023
5. The Arms
Allform sofas have straight, supportive arms that feature slight padding, and they are covered in the same foam/fiber and fabric as the rest of the sofa.
6. Finishing Touches
The customization options that you can go for are the same for every Allform sofa. There are 7 different performance fabrics with 2 leather fabric options and 3 hardwood choices for the legs.
7. The Fabrics and The Leather
Each of these performance fabrics is available in 7 color options. They are eco-friendly and feature stain and scratch protection. You can choose between 2 colors for leather fabrics.
They are semi-aniline protected and are sourced from North and South America. They are tanned in Mexico.
8. Accessories for Further Customization
If you are looking for additional accessories to complement your Allform modular sofa, you can choose ottomans and pillows.
The fabric of each of these items can be selected as per the color coordination of your sofa. You can also choose the leg finish for the ottoman.
These 2 items are a default customization option available during your final checkout. You can also choose to add other accessories like blankets and more to complement the final look.
This customization is offered to serve as a complete set for your living space. It is optional whether you want to avail of this customization for an additional cost or give it a pass.
Are Allform Sofas Comfortable?
Allform sofas offer a great degree of balance and support, along with being highly comfortable.
The fabric and the foam used for the construction of the seat and back cushions won't envelop your skin as they are firm and sturdy, which would otherwise give you a warmer feel.
You will experience a good amount of bounce and response without the sofa being saggy and crumpled.
If we speak specifically about the 33-seaterSofa, it is surprisingly long, which makes it a great choice to sit and lie on comfortably.
How to Purchase an Allform Modular Sofa?
Below is the procedure listed for how to purchase an Allform Modular Sofa.
Browse through the available modular sofas to suit your space, requirements, and budget.
Select the sofa model you want to go for.
Pick the upholstery fabric out of the 7 performance fabric options or 2 leather options.
Choose the leg finish.
Add your optional customizations.
Related: 13 Leather Sectional Couches for Your Space of 2023
Pros and Cons of Allform Sofas
Pros
Each Allform sofa comes with an "1100-day Trial Period. Thus, you can get the sofa of your choice with no strings attached. If you are dissatisfied with the modular sofa by Allform, you can simply return it and get a refund for your purchase.
The sofas offer ample flexibility along with being easy to assemble.
If sustainability is a concern for you, rest assured that all the materials are ethically sourced, and the furniture is manufactured in the US.
Allform sofas come with a lifetime warranty on wooden sofa frames.
You will get a 100% hassle-free delivery of the sofa.
Cons
You need to assemble the sofa by yourself.
Since Allform is an exclusive online store, the sofa's actual feel might vary from what you're expecting.
Final Words
All in all, Allform is a leading sofa brand designed by the same team behind Helix Sleep, which is one of the most innovative companies offering mattresses in a box.
Allform presents a brilliant range of highly customizable modular sofas designed to suit contemporary homes and living.
The New York-based company has a broad assortment of modular sofas available exclusively online to adapt to your needs.
While buying the perfect sofa would feel like a stressful chore, Allform is here to make your sofa purchase experience a delightful one.
It allows you to choose from around 500 possible configurations that work best for your budget and space. The possibilities are truly endless.
We can truly say that the pros have a greater inclination than the cons.
Thus, we would highly suggest you go for an Allform modular sofa to avail the best customization facilities and seamless furniture shopping.
Frequently Asked Questions
How Long Do the Shipping and Delivery Take?
Allform sofas are manufactured in the US, which keeps their delivery time down.
They are usually delivered within 10 weeks, and you can get the actual timelines while you place the order through their website.
What Are Allform's Warranty and Return Policies?
Allform offers a 100-day window to try out the sofa, and if you do not like it, you can return the same and get your refund. It offers a lifetime warranty on sofa frames.
Check This Next: 18 Best Modern Couch Designs to Try in 2023