Taking a step forward and making a decision about painting your house is one thing, but deciding on what colors to use is an elaborate assignment. Each color has a vibe that it brings along, so you have to pick a color according to the theme, look, and feel you want to create for your space.
Whatever color scheme or shades you choose, we think we all would agree that white plays a very important role in any house painting project.
You will need some kind of white or off-white every time you want to redesign or update the look of your house. White comes in a wide range of schemes, and they are not only used on your walls but also on your trims, moldings, window frames, and doors. White very well complements and uplifts the look of other colors you are using beside it.
Let's learn all about Eider White Sherwin Williams to find out if it is a perfect fit for your painting project.
Which Color is Eider White Sherwin Williams?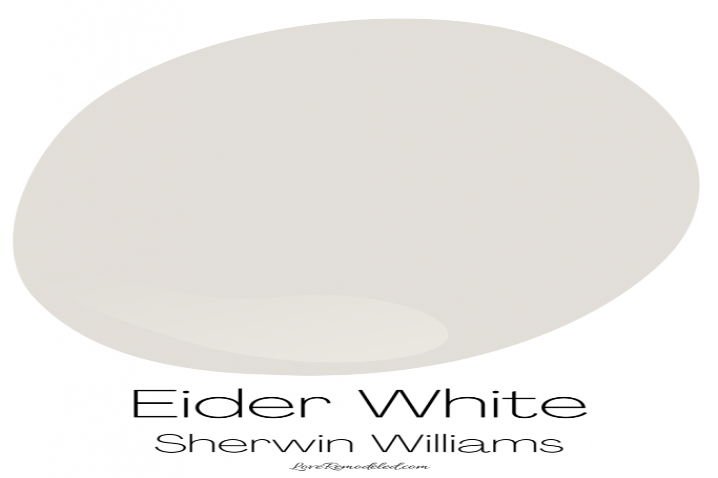 Similar Post: Best Neutral Paint Colors (15+ Colors to Choose from)
Sherwin Williams Eider white is a very light gray paint, but it is nothing like the usual gray paint because of its depth, temperature, and undertones.
You won't be able to identify it as gray by looking at the paint swatches online, but when you get your hands on paint strips, you will find that it groups with the gray shades of paint.
It is an interesting color because of the different shades of undertone it portrays under different lighting.
Sherwin Williams Eider White Undertones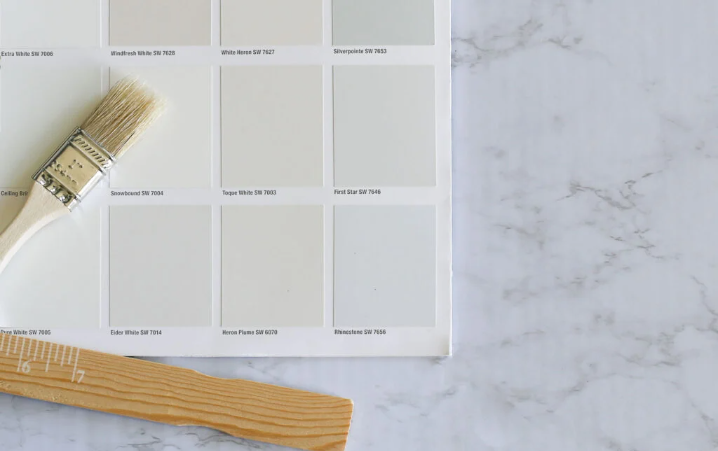 Undertones are the colors that peek through the paint colors. They are usually the secondary colors that are used while making that particular paint color.
When one or more colors are blended, the dominant color is the color you perceive, and the colors that are not as intensely visible are called undertones.
You can often witness a hint of blue, pink, or green reflecting through your gray or white walls, and that is called undertones. Warm paint colors with low LRV usually have orange, yellow, or red undertones, while cool colors have green, blue, or purple undertones.
Eider White Sherwin Williams has a complex undertone. It is a light gray color with warm undertones; usually, gray color can have a blue and purple undertone which makes it cool, or a red and brown and red undertone which makes it warm.
Eider white has a slightly pink/purple undertone which shows up under certain lights. This undertone is less visible in bright natural lighting and more in a darker room.
That is why it is highly recommended to paint a sample swatch on your wall to make sure you like this color with its undertone in all kinds of lighting you have in your room; see it with lights on and off day and night to see the exact undertones.
Also Read: The Ultimate Sherwin Williams Antique White Paint Color Guide
Is Eider White Warm or Cool?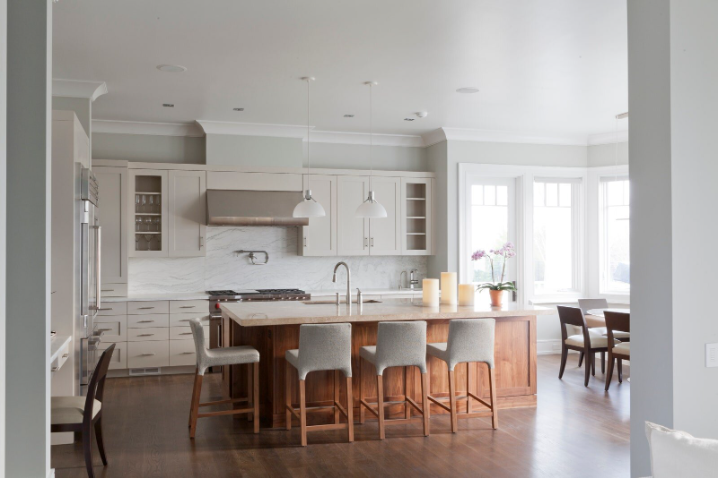 It gets quite difficult to tell if Eider White Sherwin Williams is a warm or cool color because of its tricky undertones. But it inclines slightly more toward being a warm color.
When SW 7014 is used in an area that has a south-facing window, the gray undertones appear so light that it looks almost white or a light greige color.
But, in case your room does not get a lot of light or if there is a cast of shadow from trees or other buildings on your wall, the color looks warmer, and its pink undertone can be noticed under room lights.
Make sure to have proper lighting fixtures when using this painting in a dark room, as it may look flat and muddy without the lights.
Light Reflective Value of SW 7014
Light Reflective value is an indicator that measures the amount of light that is reflected by a color when light falls on it. It is measured on a scale of 0 to 100, where 0 is pure black, and 100 is pure white; a higher value means the color will reflect more light at you.
A lower value closer to 0, indicates that the color is dark and absorbs more light. The higher the value, the brighter the color, and vice versa.
Sherwin Williams Eider White has an LRV of 73, which makes it a light, bright color that classifies it in the family of off-white to white. It is on the edge of looking white by itself, but you will be able to spot contrast when you pair it with a white paint trim.
Paint Examples for Eider white Sherwin Williams
Sherwin Williams Eider White can be used in your bedroom, living or kitchen. This color is also highly used on the exterior of the house.
Different areas of your house may get distinct lighting, and in each kind of lighting, this color may look different. That is why it is not suggested to use Eider White as the whole house paint color.
Here are some examples of how Sherwin Williams Eider white looks in real homes. This will give you an idea of the looks the color can create and will help you pick the right color
1. A Brightly Lit Living Room in Eider White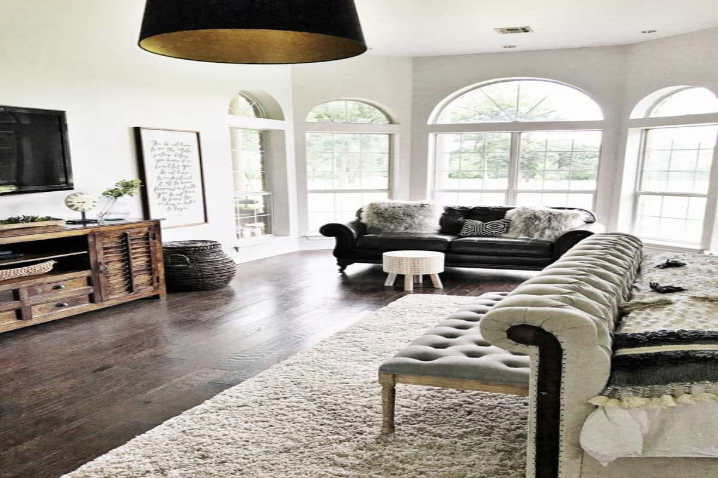 Here, the color is paired with gray and black accent pieces, which contrasts the Eider white very well. You can notice that on the left side, where the lights hit, it looks off-white, but the color looks a shade of light gray on the left side of the room.
See More: A Complete Review of Sherwin Williams Modern Gray Paint Color
2. Eider White in Low Light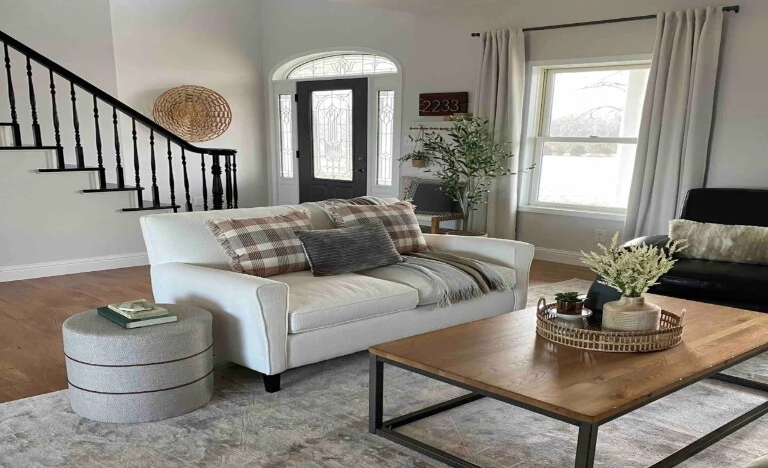 Low natural light will bring out the gray undertone of eider white, and you can spot a little poking of purple undertone in this lovely neutral-colored living room. The color matches the theme and looks amazing with its highlighted undertones.
3. Gray Bedroom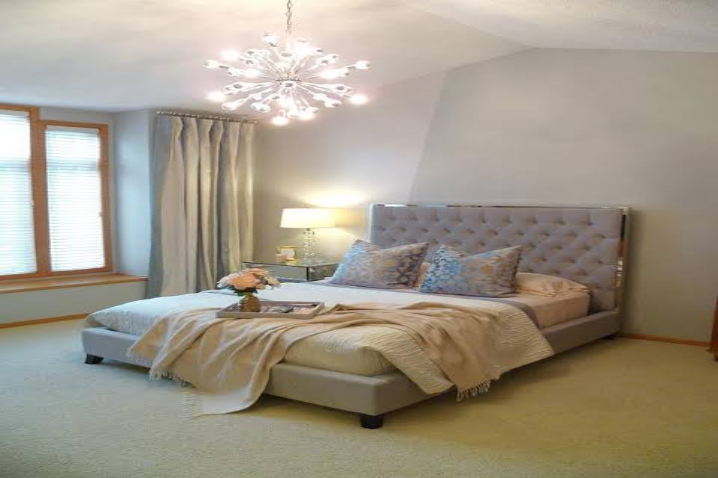 The color in this room is interesting with its cool gray accent. An interesting shade of blue can be spotted, but that is because of the light reflecting through the blue dresser. The color of other elements in your room also adds to the whole look.
4. Farmhouse Bedroom in Eider White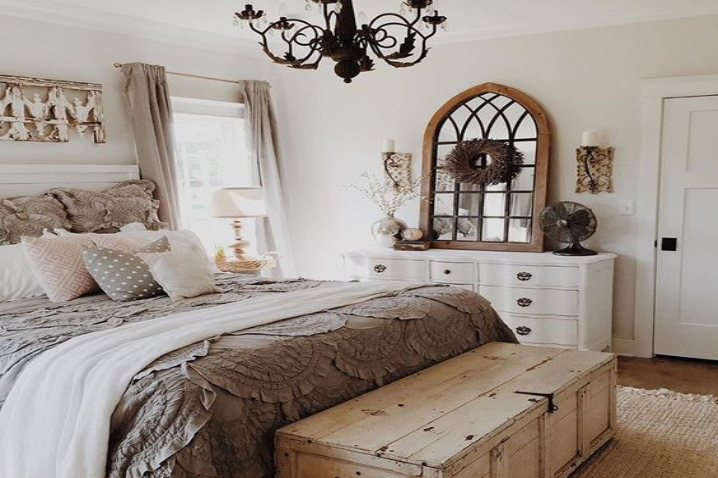 All the beige used to decorate this farmhouse bedroom complements the eider white very well by making it look less gray and a little beige. The color pairing looks gorgeous because of a very neutral scheme.
5. Kitchen Cabinets in Eider White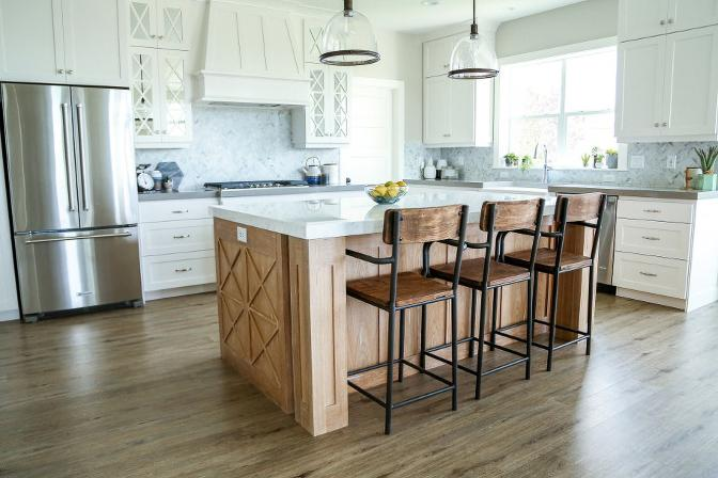 Eider white works very well as a cabinet color, especially in a well-lit area like the kitchen. The cabinets will look gorgeous if the other elements in the room are of primarily cool colors like black, chrome, and gray.
6. Exterior in Eider White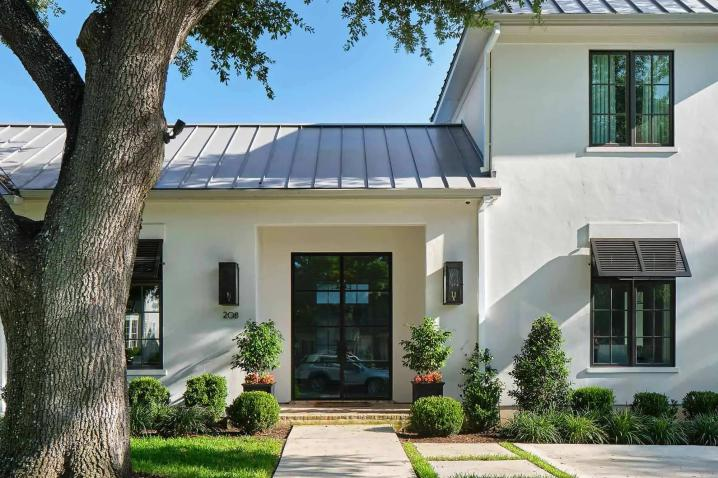 A True white can sometimes look extra bright when painted on the outside, and that is where Eider White works very well. This color looks soft white rather than dark under the bright sun.
Coordinating Colors for Eider White Sherwin Williams
This color looks stunning with various colors, but if you are looking for something classic and timeless, pair Eider white with black or bright white.
It also highly depends on the look you want to create; for example, if you want to create a farmhouse look, Eider white and taupe is an unbeatable combination.
Since the tone of Eider white Sherwin Williams is quite neutral, it often goes well with both warm and cool colors.
Related: The Ultimate Review of Sherwin Williams Repose Gray
What Color to Use for The Trim when Using Eider White Sherwin William on The Walls?
With eider white, you have two options. You can use this same color for trim and walls but in a different sheen to get a soft, tone-on-tone look. If you wish to create a contrast, bright white trim looks the best with Eider Sherwin.
Do not use a creamy shade of white because it may not provide enough contrast if you want to make a bold statement; charcoal black looks quite dramatic against Eider White.
Benjamin Moore is simply white, Sherwin Williams extra white, and Behr ultra pure white are some bright whites that can be used as trim colors with Eider white Sherwin Williams.
Eider White when Compared to Similar Paint Shades
By comparing similar colors side by side, you can get a very precise picture of accurate undertones.
Let's compare it to the other top three popular paint colors.
1. Sherwin Williams Eider White VS Alabaster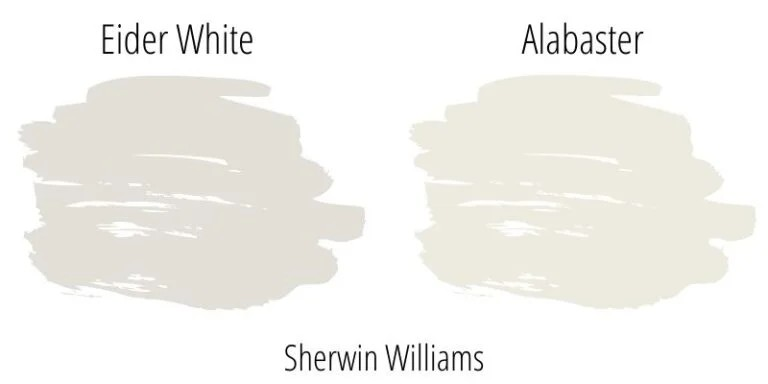 They may look quite similar, but when placed side by side, you will notice that Eider white looks gray with a purple undertone, whereas alabaster looks a little grayer than it with a beige undertone. With an LRV of 82, Alabaster is also a little brighter.
2. Sherwin Williams Eider White VS Egret White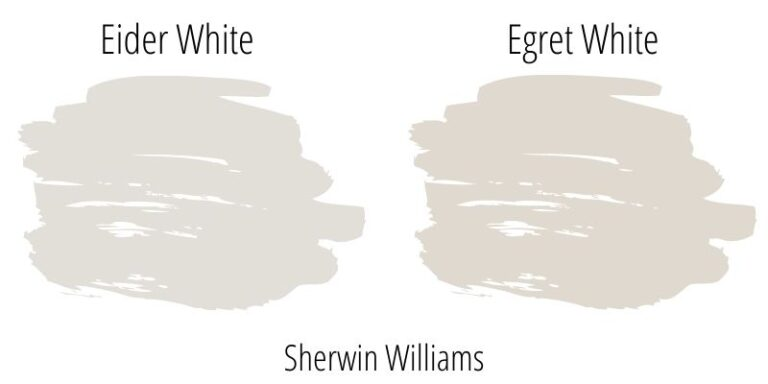 Both these paint colors have gray and purple undertones, but Egret looks a little darker and warmer when compared side by side with a defined beige undertone making it greige than gray. With an LRV of 69.92, Egret White has a darker tone than Eider White.
3. Sherwin Williams Eider White VS Crushed Ice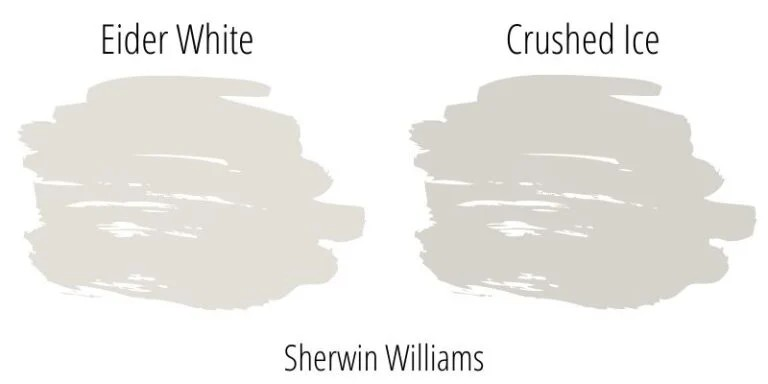 Crushed ice has a stronger gray undertone than Eider white. Crushed ice also has a hint of a blue undertone, which makes it a bit cooler. With an LRV of 66, Crushed Ice has a darker tone of gray with a hint of blue.
Conclusion
All in all, white colors are hard to pick because you must consider many factors like natural lighting, undertone, surrounding decor, and theme. They may all look a little alike on small swatch cards, but they are all different; Sherwin Williams Eider White is no different.
We hope this eider white Sherwin Williams guide helps you make an informed decision. It is advisable to get sample paints and try them out on the wall you want to paint in different lights before going all out because sometimes you cannot judge the effect of paint on your walls through tiny swatch cards.
Eider white is quite a color for a very specific taste. It may not work in every room or wall, but it may just work perfectly in your setting with its beautiful pink undertone!
Check This Next: The Ultimate Review of Sherwin Williams Repose Gray