Your kitchen area or the dining area looks incomplete if you do not have a curated piece of dining table. Are you looking for an epic piece of dining table that will blend with the decor of your house? Then you must choose the mid-century modern dining tables that go with the latest interior trend.
The mid-century modern designs have a fine touch of wood and metal blend.
To make your home look lively and appealing, expert designers choose to go for abstract wood designs and team it up with metal or other solid materials like glass or acrylic.
If you like to go for an upscale and classy dining table design that can accommodate more than four or six members, then go ahead and check out the latest dining table designs of 2023.
Mid Century Modern Dining Tables Designs That Are Timeless
Dark wood, oak wood, and walnut wood are the most preferred mid-century modern dining table base foundation.
Let's have a look at some of the finest and latest designs of mid-century modern dining tables.
Similar Post: Choosing Perfect Dining Room Paint Colors – A Complete Guide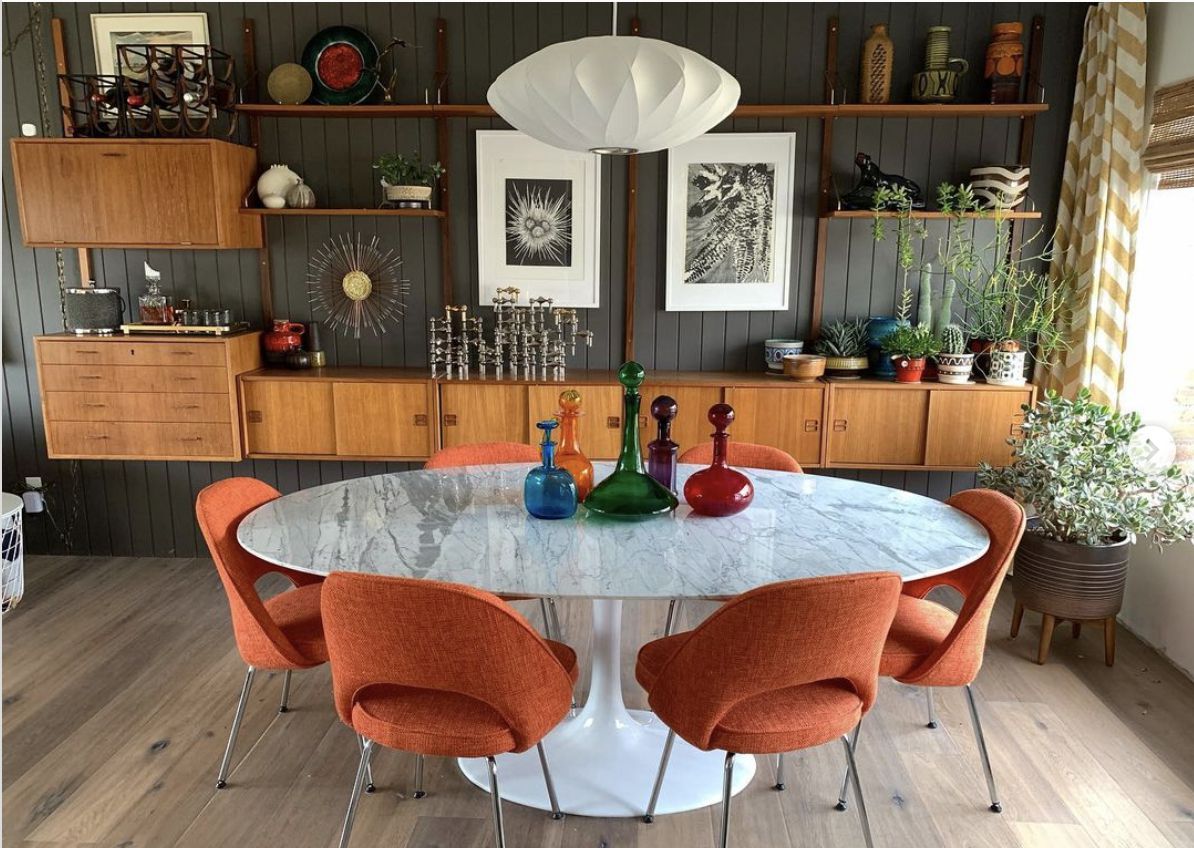 Most interior experts mention this design to replicate the idea of mid-century modern dining tables. The basic shape is round to depict the tulip bud.
The stem on which the upper base stands, also called the tabletop, comes in a sleek and polished finish.
People prefer this tulip dining table in white color, but black also stands out in the furnishing belt.
It is a quintessential retro dining table that comes in different sizes, but the most basic ones come in 105 cm x 70 cm.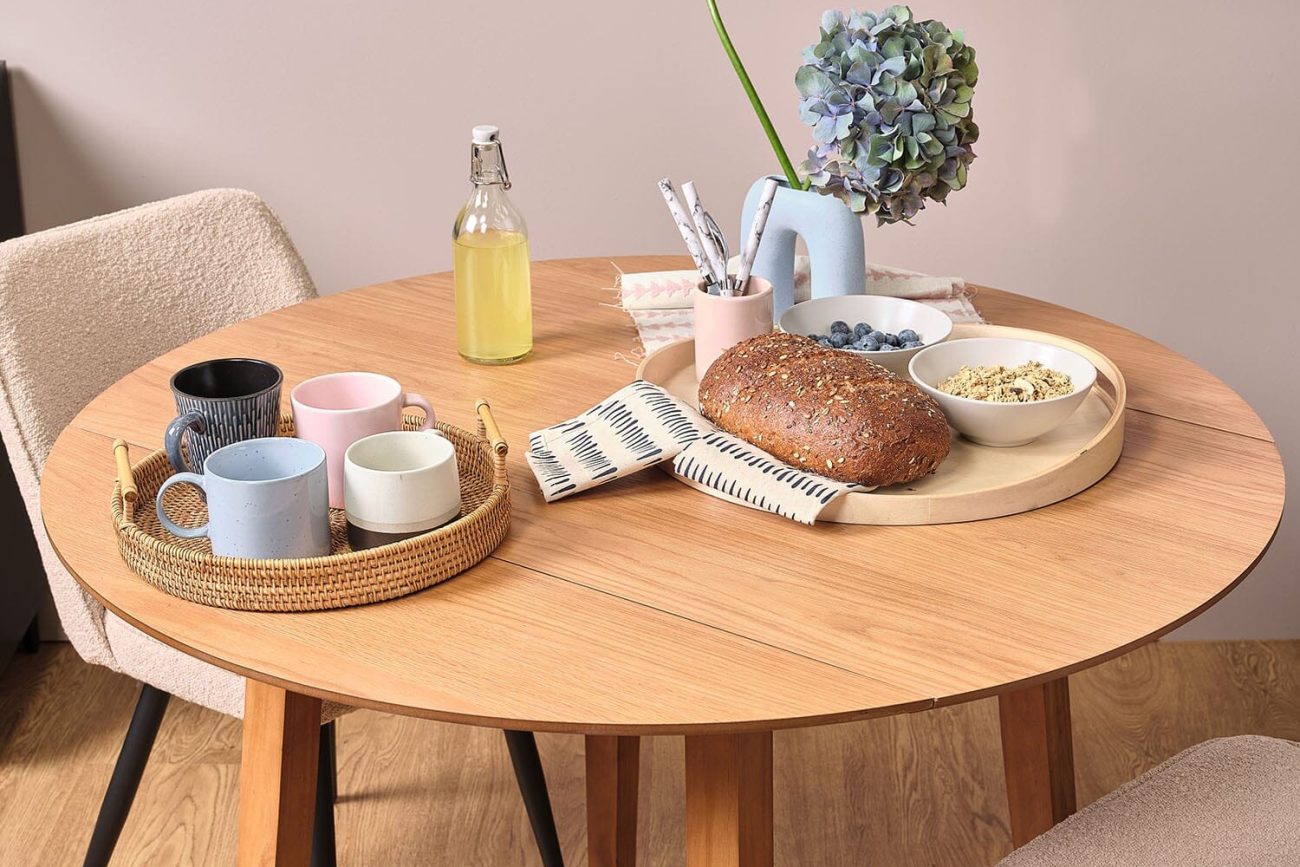 Oakwood was considered to be the most durable wood material. It had attractive wood grain-like finish and was less likely to warp if exposed to sunlight.
Additionally, it was highly resistant to wear and tear and was considered ideal for liming.
Also, oakwood has water-resistant properties that make it the most sought-after wood to design a mid-century modern dining table.
Even today, because of its competent qualities, oakwood is used in making enduring pieces of furniture.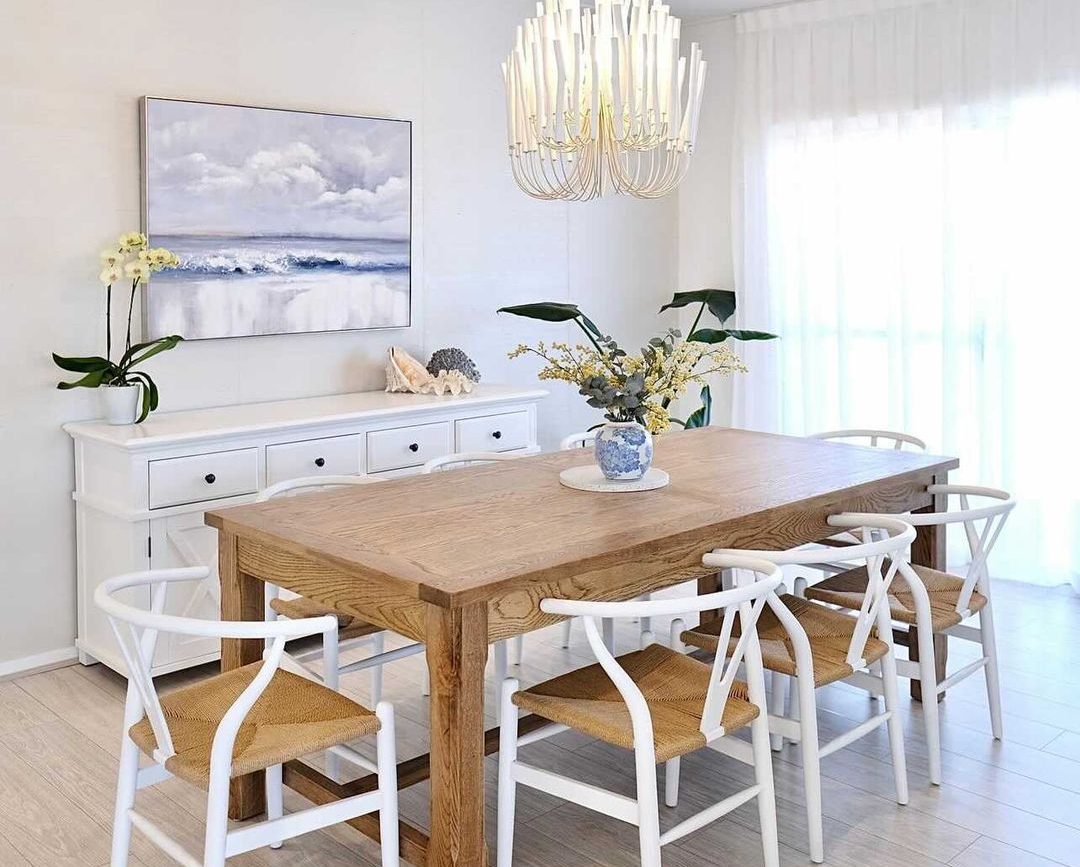 Mid-century modern dining tables had a pleasant feeling as they had a perfect finish. The inner corners of the table top had a support bar that gave a sleek look.
And the base had one more support bar to connect the legs of the table. It made the table sturdy and hefty enough to prevent wobbling while dining.
Additionally, this mid-century modern dining table, when coupled with white chairs,complements the smooth finish of the table and the decor.
People who prefer having minimal designs and a classic look for their interiors opt for such dining table designs.
Also, it is a customizable design that comes in various sizes depending on the requirement of the chairs and dining members.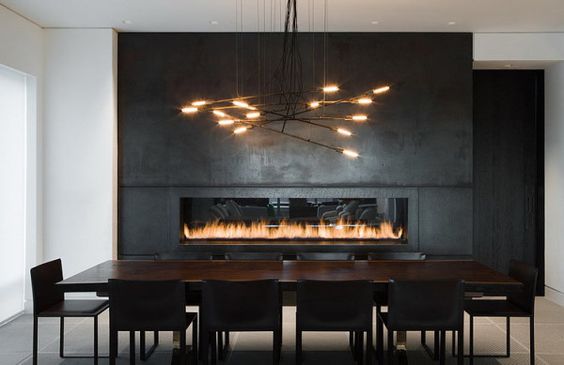 The properties of wallnut wood are well known to the ones who have dealt with the furnishing business. Walnut wood is hard, strong, and resilient that prevents shrinking and splits.
The mid-century modern dining tables made from walnut wood had a dark finish. It is ideally dark and dense with a close-grained finish that makes it easy for curving and profiling.
Yet, a walnut wood dining table looked elegant and royal. Today, if your interiors have an off-white wall, a walnut wood dining table would add charm to your decor.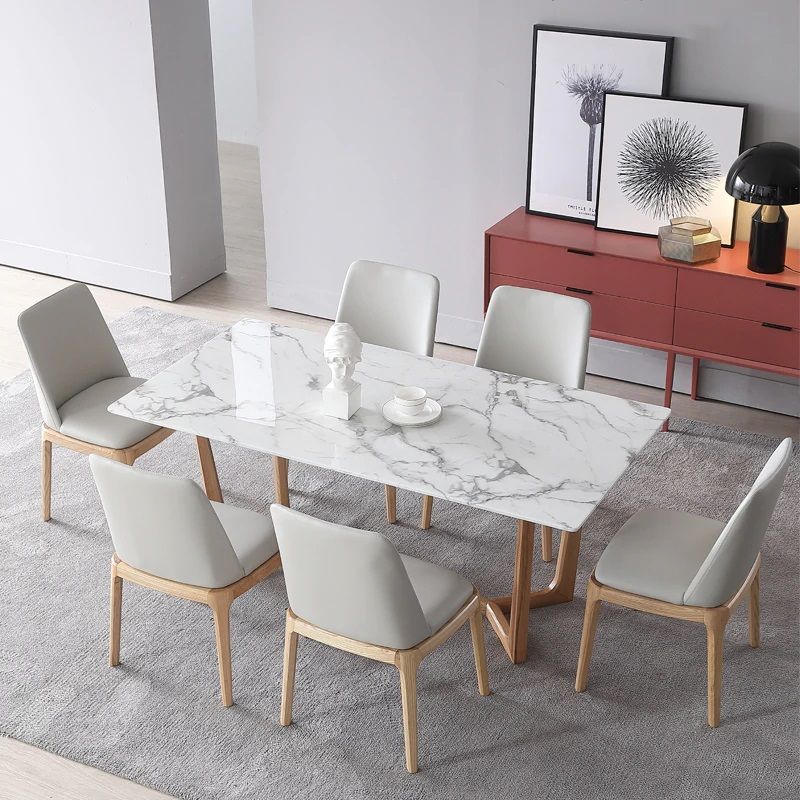 To be specific, the marble dining tables were built from vintage Italian marble. The Italian marble was placed on the leg bars made from either wood or industrial metal.
The sizes and shapes came in varied dimensions. However, the most acceptable ones always had four seats or six seats. Some even designed the chairs in marble, but it did not complement the table.
So, cushioned seats and a golden finish to the base gave a dreamy look to the dining table.
Also Read: 22 Stunning Extendable Dining Table Designs for Every Home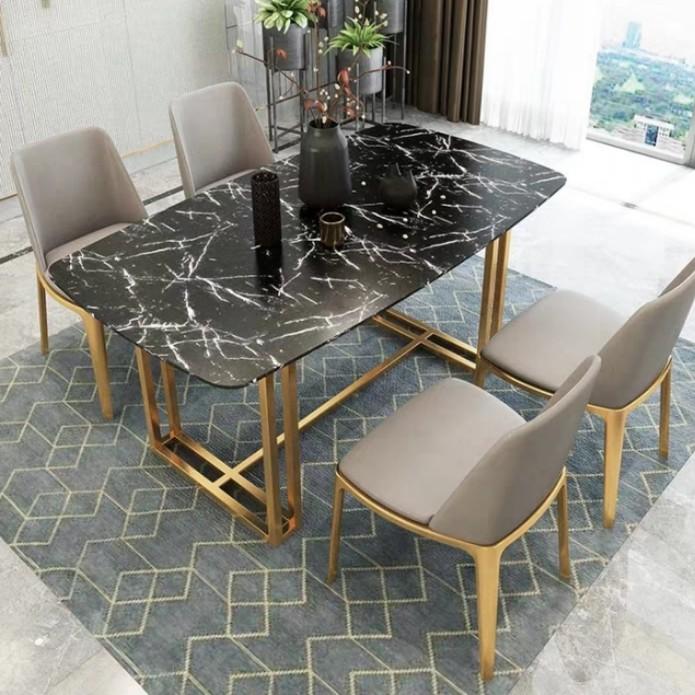 The focus was implied majorly on the table tops, but the base was also considered later in the 1990s to change the appearance of the mid-century modern dining tables.
Metal legs picked up the spot to bring fine-tuning to the look of the dining tables. Elegantly polished metal bars and legs topped with a marble upper base bring a sophisticated look.
Now that table had metal polish then, the chairs looked whimsical. Hence, the chairs were also given a metal finish to make them look like a part of a set.
The dining table set with a metal finish also has some durable qualities. It has to be treated with anti-rusting agents, and maybe that often kills the glossy appearance of the metallic dining table.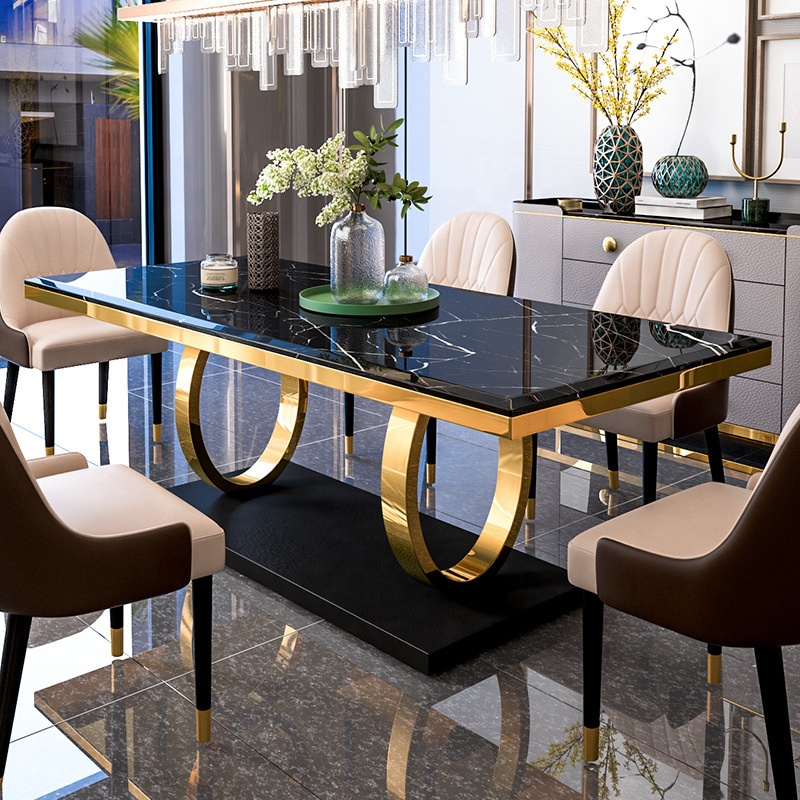 The mid-century modern dining tables had uniform designs, but the wheels brought a captivating look to the dining table sets.
Indeed, the round wheels add a unique appeal to the dining table. So, metal was their main tool as it was ductile, malleable, and fusible.
They made rods and designed large furnaces, railway wheels, and other industrial machinery. That is where the idea of having a round metal base for the dining table surfaced.
Give it a try!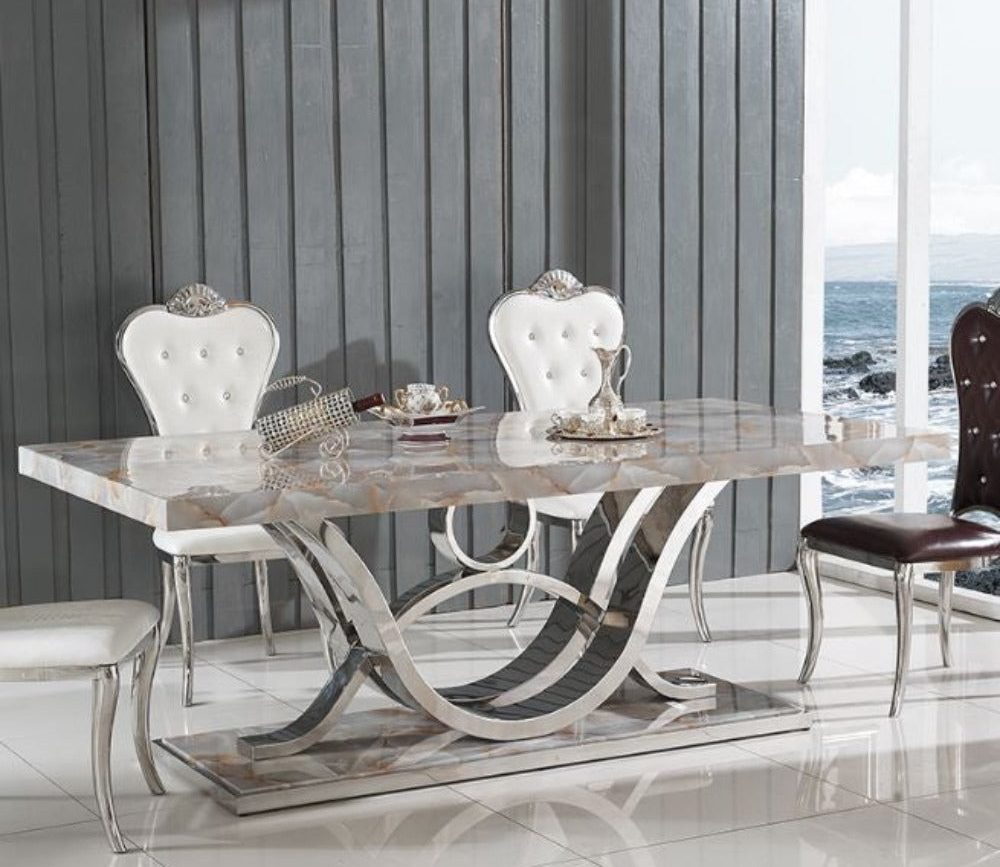 It is a contemporary design derived from the idea of the metal base. But a U-shaped base is often a delicately designed dining table.
It is sturdy, no doubt, but since the base is stylish, the table may lack some tensile strength.
So, it is exotic and royal by all means, just that you need to be cautious while cleaning and handling the chairs.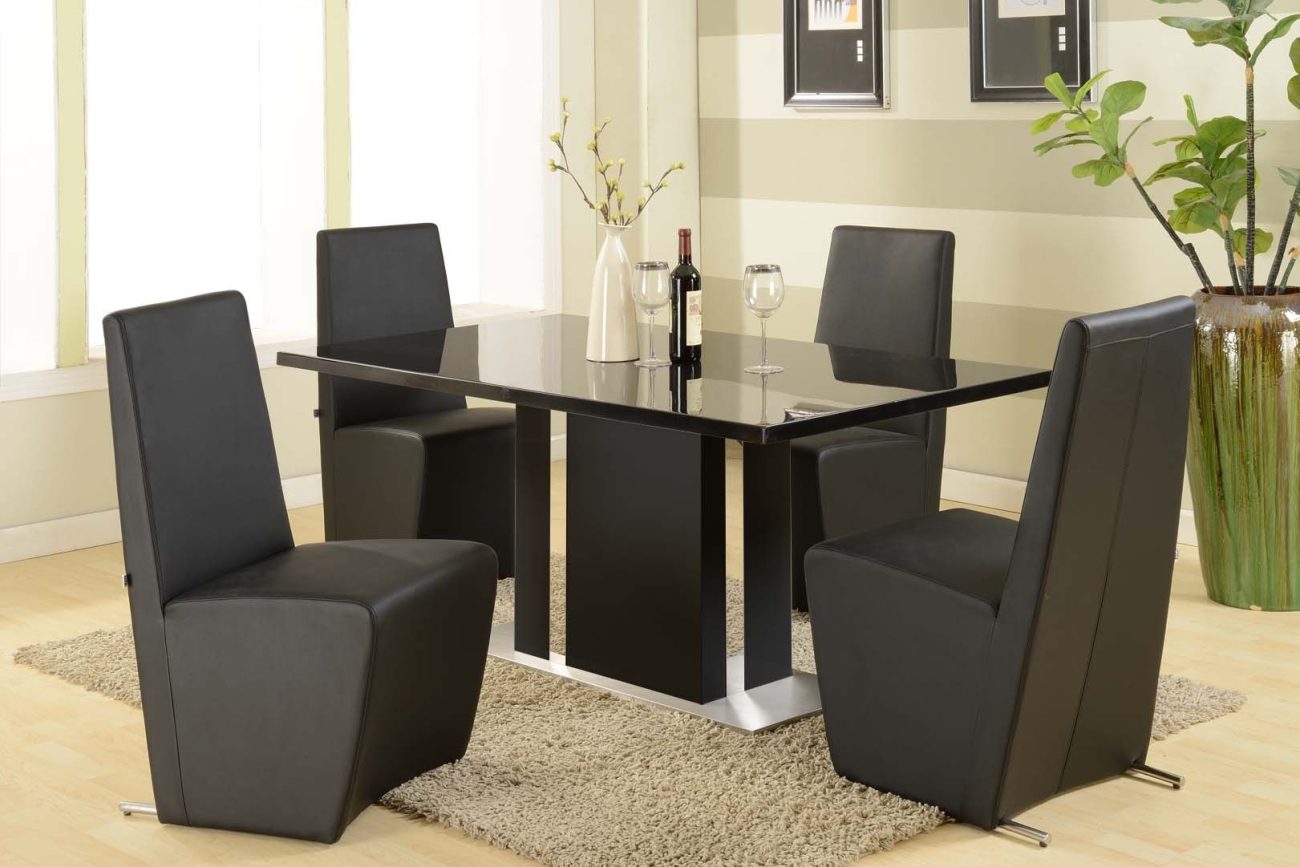 The mid-century modern dining tables came with unconventional designs with a distinct touch to the chairs.
The dimensions of boxed chairs were 18" inches in width, 15" inches in length (back and front), and depth usually 16" inches.
Even today, the standard size of a chair is around the same as boxed chairs.
These types of chairs and dining tables were preferred at places with oversized users.
There was nothing to brag about these dining tables, but they were extremely durable than other types of dining sets.
The offices and museums in France and Spain still use these dining sets to give a vintage feel to their spaces.
See More: 13 Best and Unique Drop Leaf Tables for The Year 2023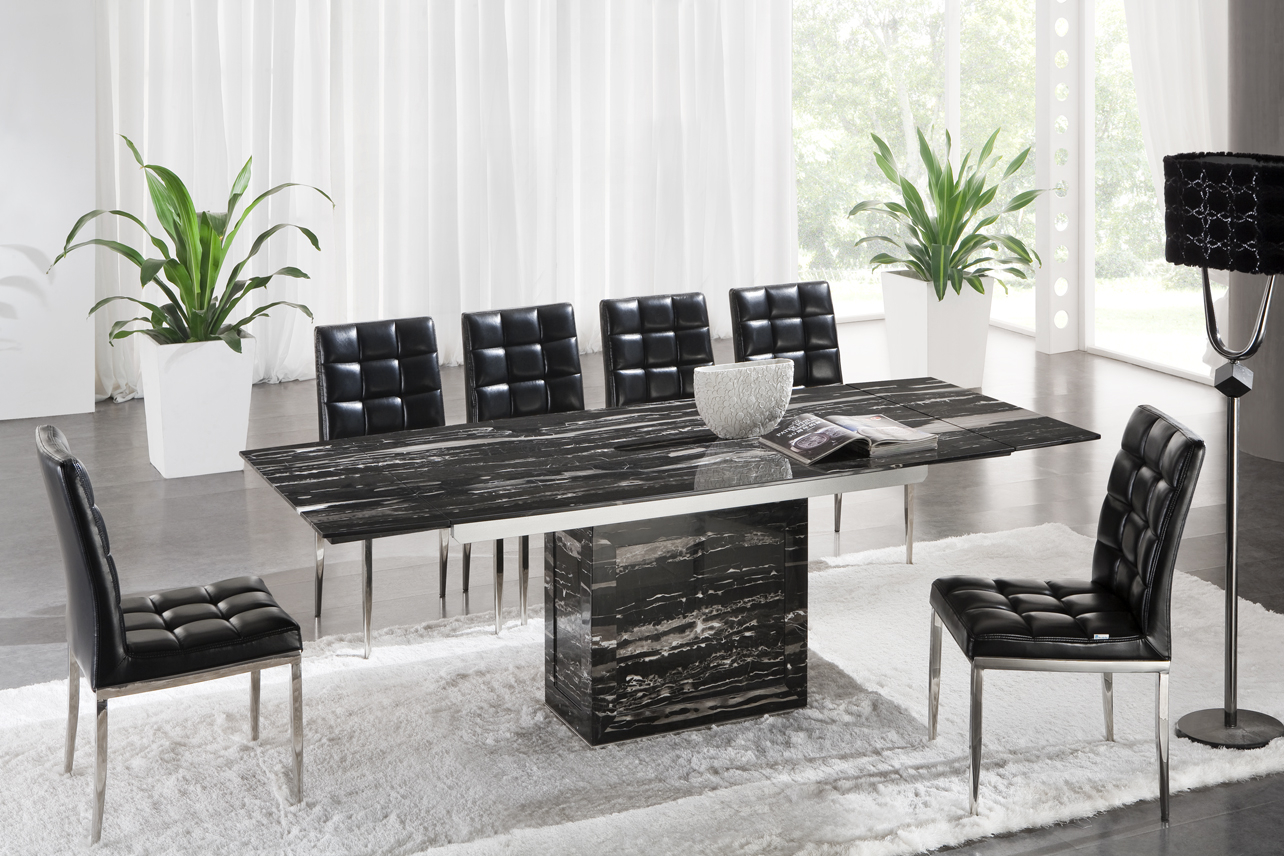 Columns and beams were the indispensable part of constructing buildings and houses. Maybe that is what triggered the designers from the 1960s to develop a one-beam dining table.
If you observe, the table stands on a single column-like figure that supports the tabletop.
It is also evident that a heavy material like marble or solid wood may not be a feasible option for the upper base.
So, faux marble or light wood material could be used to design this mid-century modern dining table.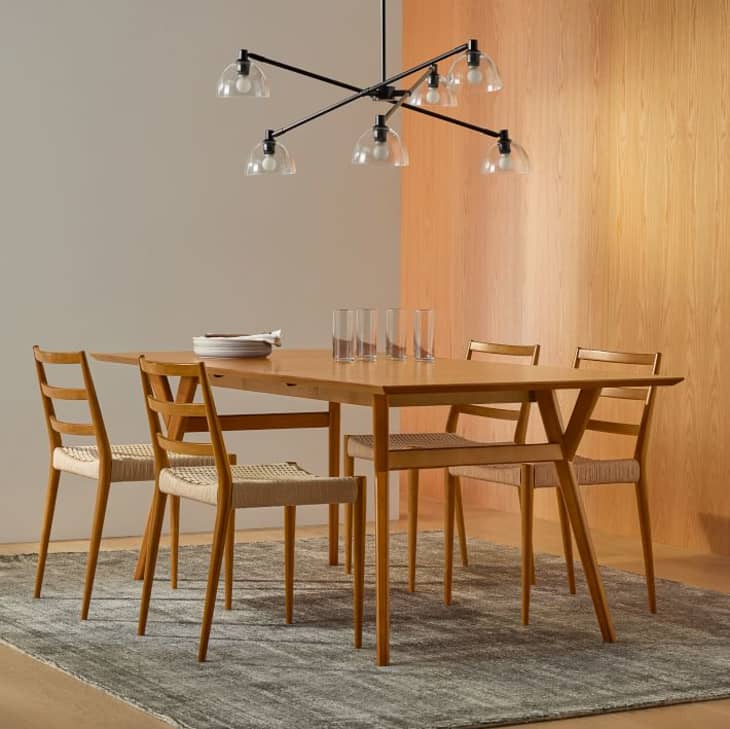 Sleek and slender-looking dining tables bring grace to your decor. The trend of having rectangular and long dining tables emerged in Egypt and Greece.
The royal families preferred to dine together, and hence, the concept of an oblong dining area came to light.
Many long dining tables have a pleasant structure with willowy legs and aprons. The final touch of paint or polish completes the look of the dining set.
The ancient tables had some delicate carvings on the sides and the aprons, but mid-century modern dining tables are not elaborately decorated.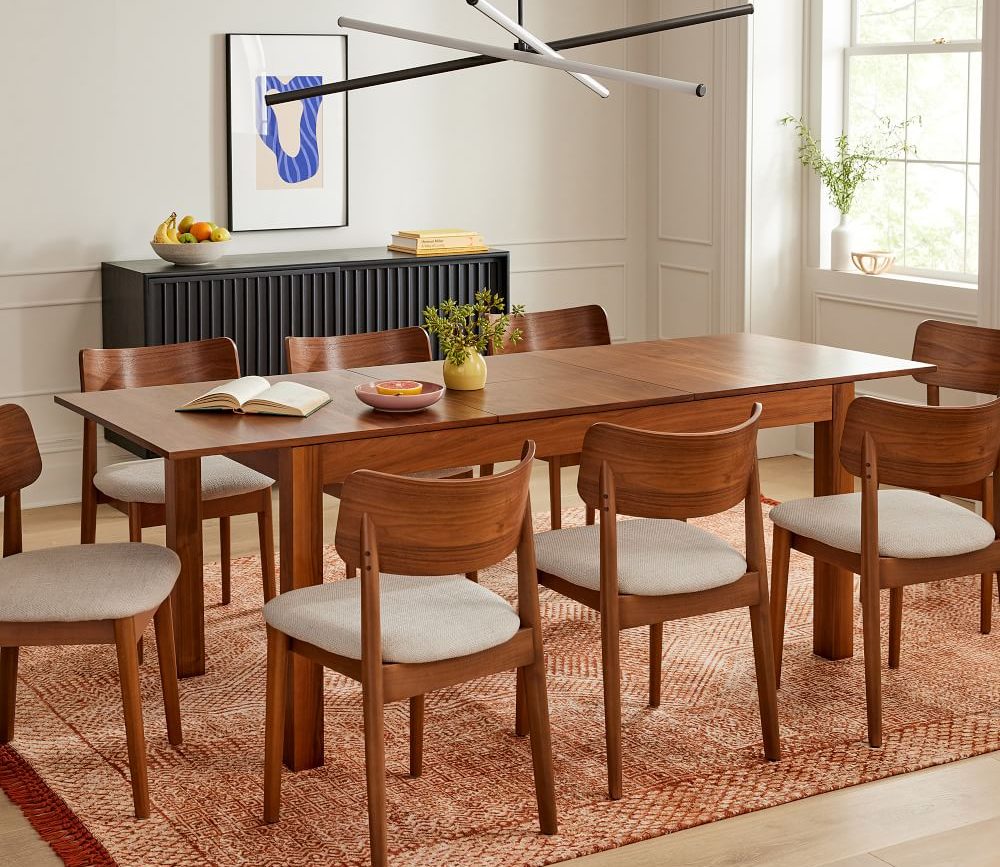 Teak is a deciduous tree that has natural oils that makes it water-resistant. After oak and walnut wood, teak was considered the third best durable wood to build furniture in the post-war era.
The other plus point about teakwood furniture was it didn't contract or expand due to changes in humidity.
That made it a desirable wood to design mid-century modern dining tables. It has a light and soft finish that blends well with a minimally decorated apartment.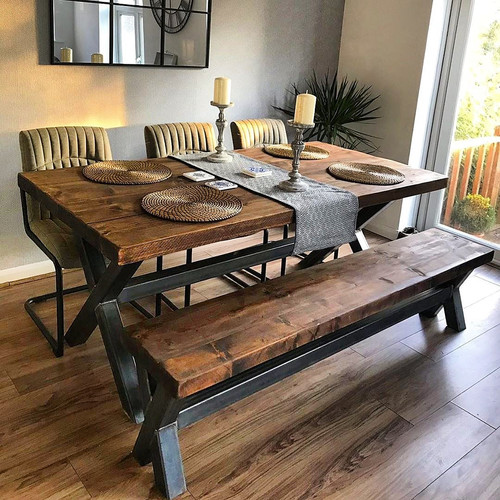 The previously used wood is referred to as reclaimed wood. You can also call it recycled wood.
It is said that reclaimed wood furniture withstands tough weather because it goes through the process of building and carving way before it is used as functional furniture.
A reclaimed wood dining table has been in existence for a long because people used unclaimed furniture material to build new furniture economically.
It is also an eco-friendly option instead of buying a new piece of furniture.
Related: How to Fix a Bathroom Faucet Leaking at Base
People have been using maple wood to design dining tables. It is mostly chosen in building kitchen furniture.
Maple wood dining table is ideally pretty affordable as it mimics expensive wood. The light and creamy texture of the maple wood makes your dining table look fabulous.
Lawn seats, coffee tables, and kitchen islands are also designed in maple wood more than any other solid wood. The mid-century modern dining tables also look alluring in maple wood.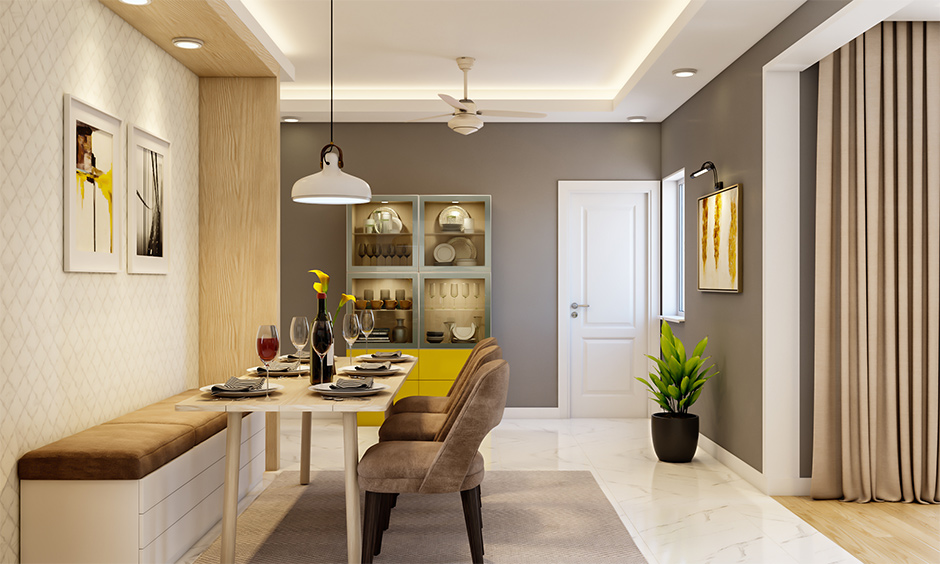 There were no condos and penthouses in the mid-century years. Castles, museums, and royal homes were the only properties that had larger dining areas.
So, smaller row houses and tiny apartments preferred compact dining tables.
Even in 2023, people place a dining table attached to a wall. Compact dining tables are easy to design and are affordable as well.
A small family of three can share a great dining experience on such compact dining tables.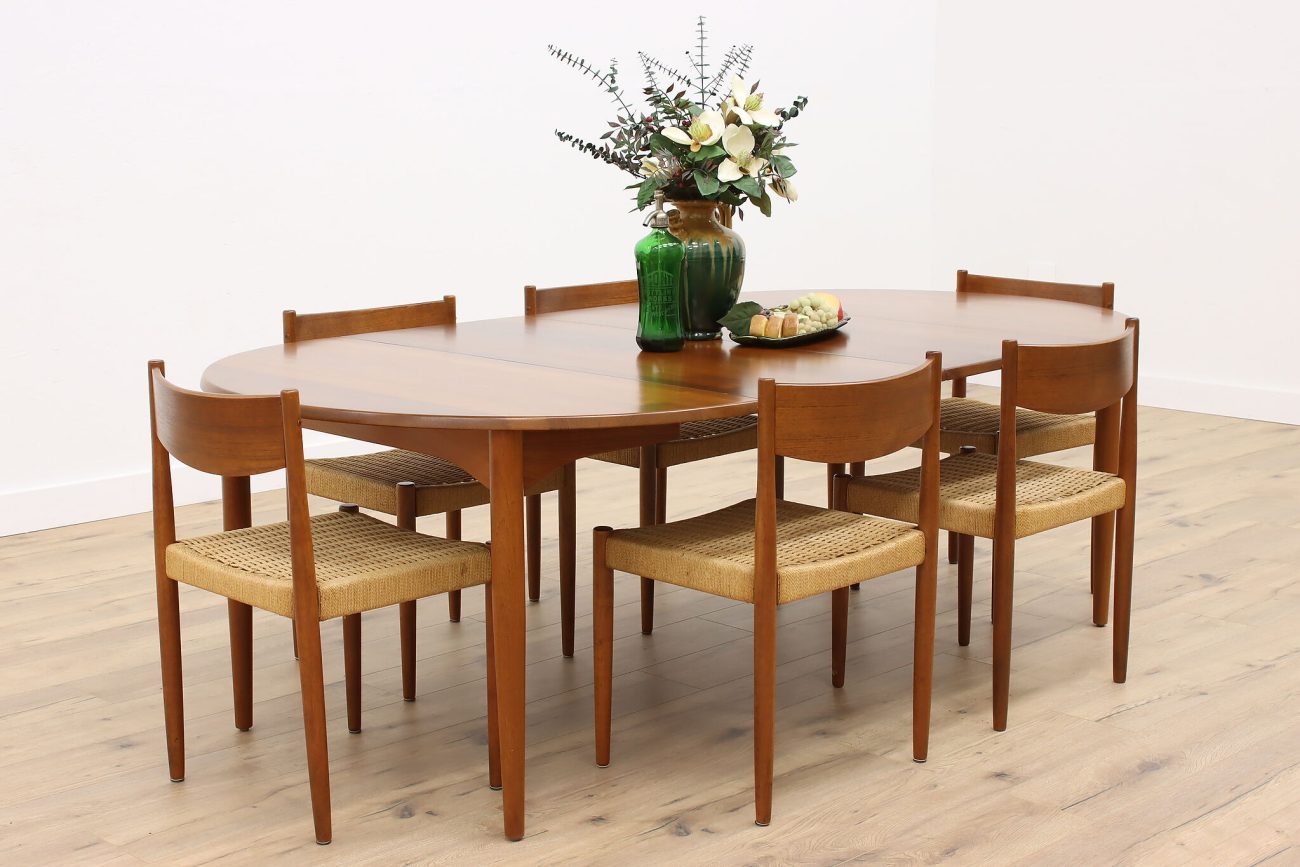 Mahogany trees release a sulfur compound that reduces atmospheric warming.
And the people working in the chemical industry and infrastructural development sectors captured the idea of using mahogany wood in scientific developments.
But they discovered that mahogany is a solid wood and is not as hard as other types of wood.
So, people started making dining tables, chairs, and utensils from mahogany wood.
It has a red brick-like color and straight-grain-like texture that makes it the best wood material for designing a mid-century modern dining table.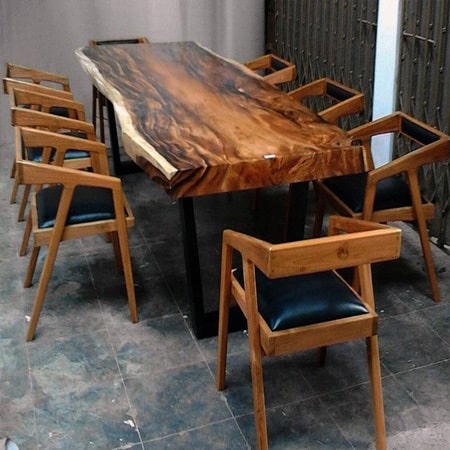 Creativity and design, if they do not go hand-in-hand, may ruin the architecture of a space. Likewise, an abstract idea of dining table design must blend with your interiors.
The Bali design of a dining table is odd-shaped yet looks promising if you create an attractive focal point near it.
You can customize the dimensions of the table and make it suitable for your decor. It is one of the most trending mid-century modern dining table designs.
It is similar to an odd-shaped dining table, also a kind of DIY table that many love to have at their homes. A handcrafted dining table is elegantly designed to make your interior look aesthetically pleasing.
Not all handcrafted dining tables have an abstract look, so before you get one, make sure it suits your decor. Also, if you want, you can get a log of wood and design it as per your choice.
Check This Next: Home
Summing It Up
All in all, the artwork and furniture pieces were incredibly beautiful in those years. If you want to start designing your home aesthetically, get a mid-century modern dining table.
You will be delighted to have one made in this traditional style. Also, after thorough research online, you will discover that dining tables come in different sizes and shapes.
The wood material also differs according to the customized requirements. Study what type of wood and dining table pattern will suit your decor and get it designed accordingly.
Furthermore, take the number of members into account before you get one.
The regular dining tables are available in four-seater, six-seater, and eight-seater formats.