Looking for an eye-catchy Sofa/Couch for your home? Then you are at the right place. The sofa or couch is an essential part of any modern household.
A perfect sofa/couch can light up your room and create a beautiful, comfortable, and cozy corner.
You can rest after a long and tiring WFH day or binge-watch your favorite Netflix drama at night. You can also curl up and read your favorite book on a lazy weekend afternoon on a couch.
A sofa or couch is more than just a piece of furniture. It can be a functional yet beautiful room decor. A perfect sofa or couch will be inviting and cozy.
Also, when you choose the right type of sofa, it lifts the environment of your home and impresses your guests at first sight. Today you can find plenty of excellent options for sofas and couches.
Here we have listed 18 best modern couch and sofa ideas to brighten up your home.
Best Eye-Catching Couches
Sofas and couches must be cozy and comfortable and must match your room environment. You can have thousands of options from mid-century, modern, convertible, and so on.
So that you can match or contrast your room's interior color scheme to create a mesmerizing effect. Below is a list of modern couch and sofa ideas for your house.
Similar Post: 13 Trendy Curved Sofas to Transform Your Living Space in 2023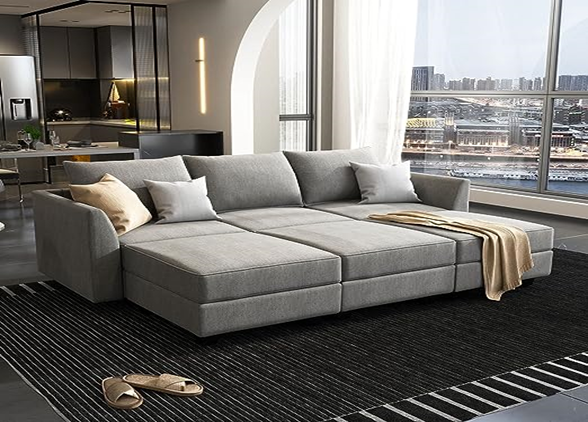 4-piece Modular Sectional Sofa is an excellent option for any modern house setup. They have a cozy, warm, and inviting look.
Also, 4-piece modular sofas go well with various interior designs and create a cozy corner for families and friends. They can accommodate a large number of people and are ideal for living room spaces.
The best part of using 4-piece modular sectional sofas is they come in various colors and materials.
So, you have numerous options to choose from (in terms of color or materials) and create the right match for your room interior.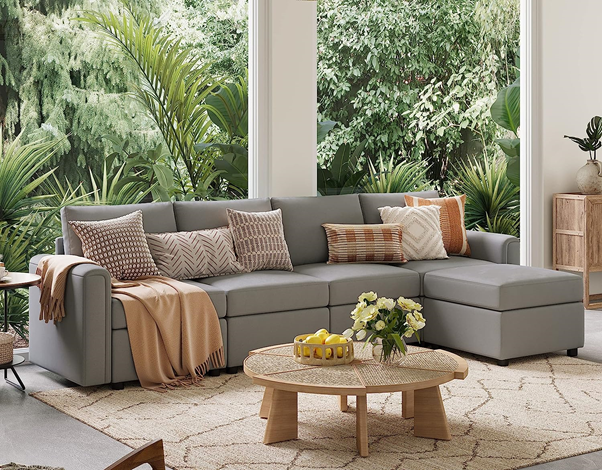 Another interesting and popular modern couch/sofa idea that can help you redesign your room interior is the 5-Seater sofa or couch set.
It is also a versatile and functional piece like a 4-piece modular sectional sofa. A 5-seater sofa or couch set is a casual and clean-cut piece that can fit in various home decor.
Also, a 5- seater sofa or couch set is available in various colors and materials, making them suitable for different room setups.
They can even come with heat and water-resistant materials for outdoor placement.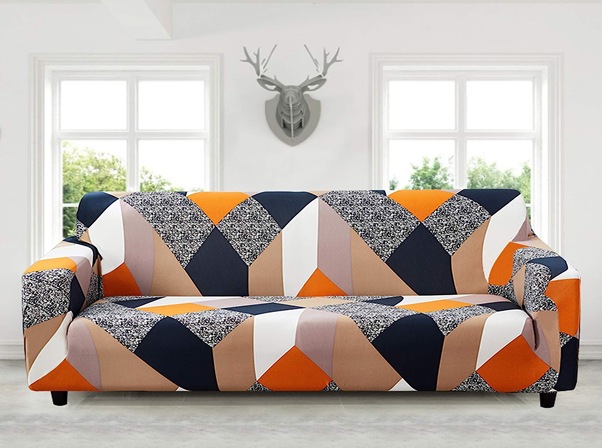 Geometric couch sofas are also easy to incorporate into different types of rooms and look stunning with modern room decorations.
The Geo-metric couches have an edgy look and create a beautiful minimalist look. You can incorporate them into a modern and minimalist room setup to add a new dimension to the space.
The clean and structural shape of Geo-metric couches looks dynamic and creates a beautiful eye-catchy effect for your room interior.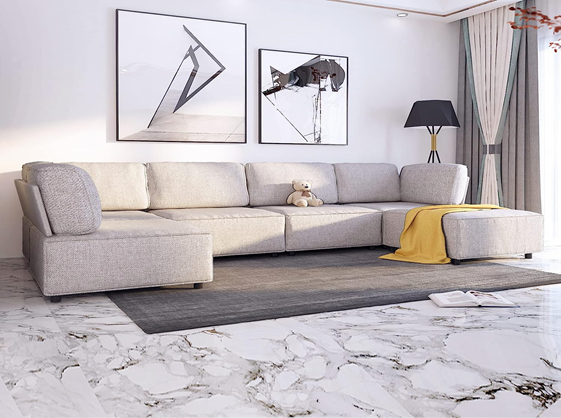 White Curved Sofas and couches look stunning and give a classy and elegant vibe to your room interior.
If you are searching for some modern couch ideas that look natural yet sophisticated, you must try the white curved sofa/couch.
They have a natural texture and create a perfect look for boho, minimalist, or modern room decor.
Also, the white shade adds an elegant touch to your space and brings life and vibrance to a dark room interior. You can add contrasting shades or incorporate plants to make the most of this beautiful white curved sofa.
Also Read: 13 Small Couches to Consider for Smaller Spaces in 2023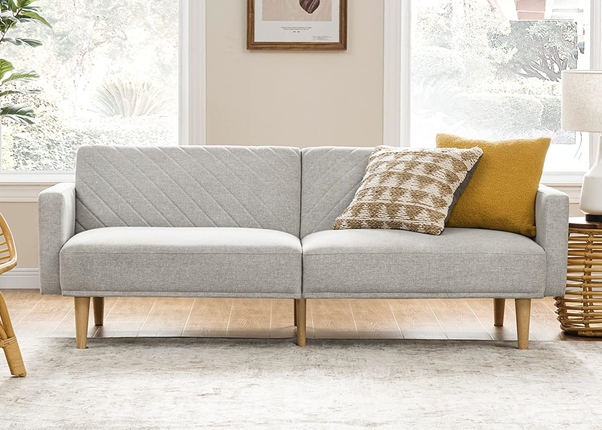 A sleeper sofa is one of the widely-used sofas that come in different types. You can select any sleeper sofas from futons and daybeds to bunk-bed and pull-out.
All of them are mostly well-designed and offer great comfort and coziness. You can select a sleeper sofa with breathable fabrics, clean lines, and supportive cushions.
It is ideal for those who welcome guests more frequently, as the sofa can convert into a bed where people can rest.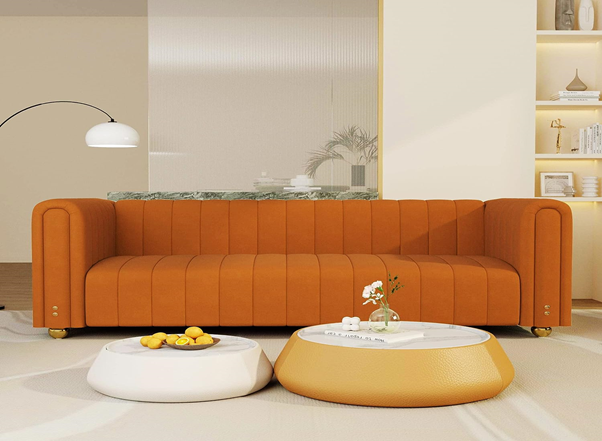 Low-back couches and sofas are excellent for modern home decor. The Low-back velvet couch and sofas have huge popularity, and many people prefer to install them in their modern living rooms to add a vibrant and elegant touch.
The low-back velvet couch also has a textured look and adds texture to your room interior. You can add a black low-back velvet couch in a minimalist modern room setup.
Or choose a multicolor low-back velvet couch for a dynamic and colorful room environment. Both of them will look amazing and eye-catchy. Try this Blue Low-back Velvet Sofa from Jennifer Taylor Home.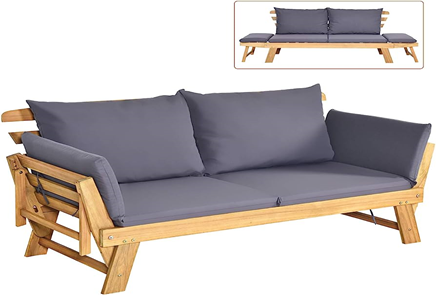 If you are looking for some modern couch or sofa ideas that include a woody or natural texture, you can try sofas with wooden arms.
Sofas with wooden arms look elegant in both modern and farmhouse-style room setups. The wooden arms add a rustic and earthy touch to the environment.
They bring a natural texture to the interior and are easy to install in bedrooms, living, or even outdoor patios.
If you have wooden furniture in your living space, what can be better than a wooden arm sofa to complement the look?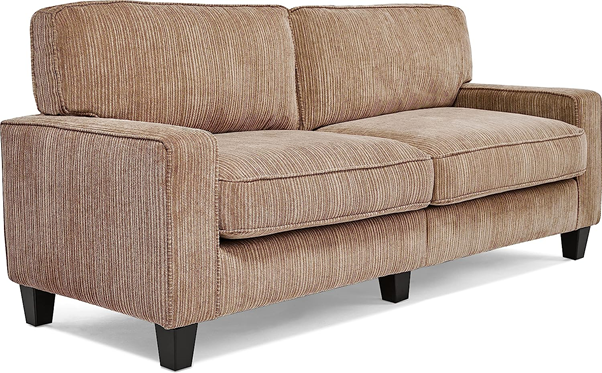 Straight-back sofas are also popular, like low-back sofas or couches. They are stunning and classy and look incredible in modern interiors.
If you are not a fan of low-backs, you might find solace in straight-back sofas. The straight-back sofas come in various colors and materials to fit different types of room decorations.
Also, they can help you sit back and relax after a long tiring day with their cozy, comfortable, and straight-back style.
Plus, the straight-back sofas have a clean and neat look which is appropriate for modern home decor. Try this amazing Straight Back Black Sofa by Lifestyle Solutions.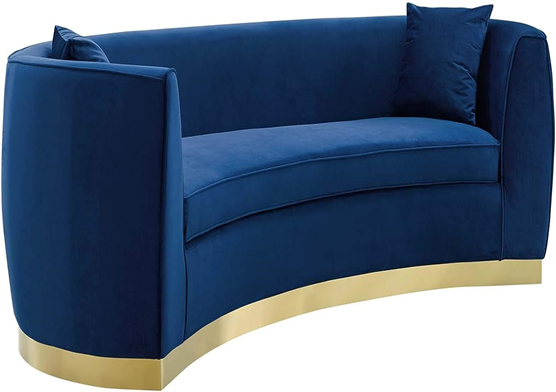 The round-back sofa is another comfortable sofa design that you can pick for your home. It comes with a sturdy and classy design that combines modernity and comfort.
You can combine a black-colored round-back sofa with white or beige decorative throws and pillows.
On the other hand, if you choose the light-colored sofa, you can decorate it with more colorful items and offer it a more vibrant look.
See More: 21 Stunning Black Couch Living Room Inspirations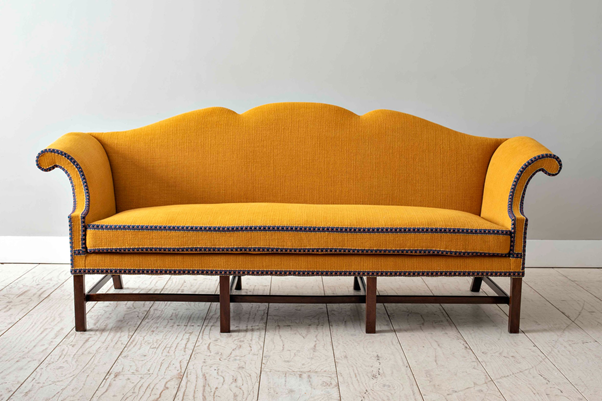 Camelback sofas are also a great option for modern home decor. They have an artistic touch with a sense of elegance.
Camelback sofas have a distinctive feature that makes them different from other types of sofas.
They have high backs that slowly decline toward the arms and often come with exposed legs and back broader or frame edges.
The camelback sofas also come in different styles with various colors and materials. The classic one can bring a dramatic touch to your interior.
Also, the modern ones give a contemporary vibe to the space.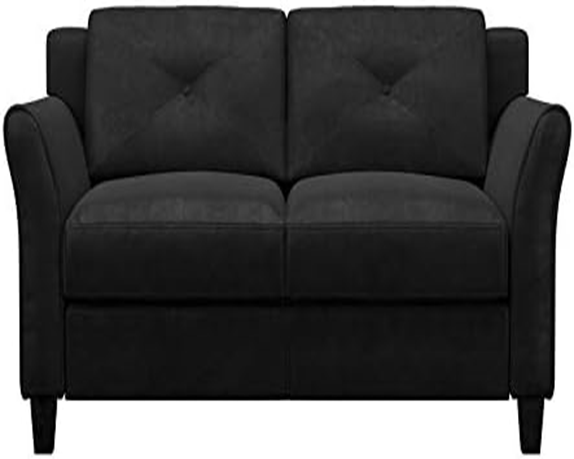 A loveseat sofa is a sofa type that can accommodate only two people at once. It is an umbrella term for all two-seater sofas.
Loveseat sofas come in different styles and designs like, low-back, camelback, curved, cabriole, etc.
This modern couch or sofa also comes in various materials and shades, which makes it easy to install them in different styles of rooms and interior designs.
Also, loveseats are smaller than many other sofas and couches so that you can place them in bedrooms, living or even outdoor patios or balconies.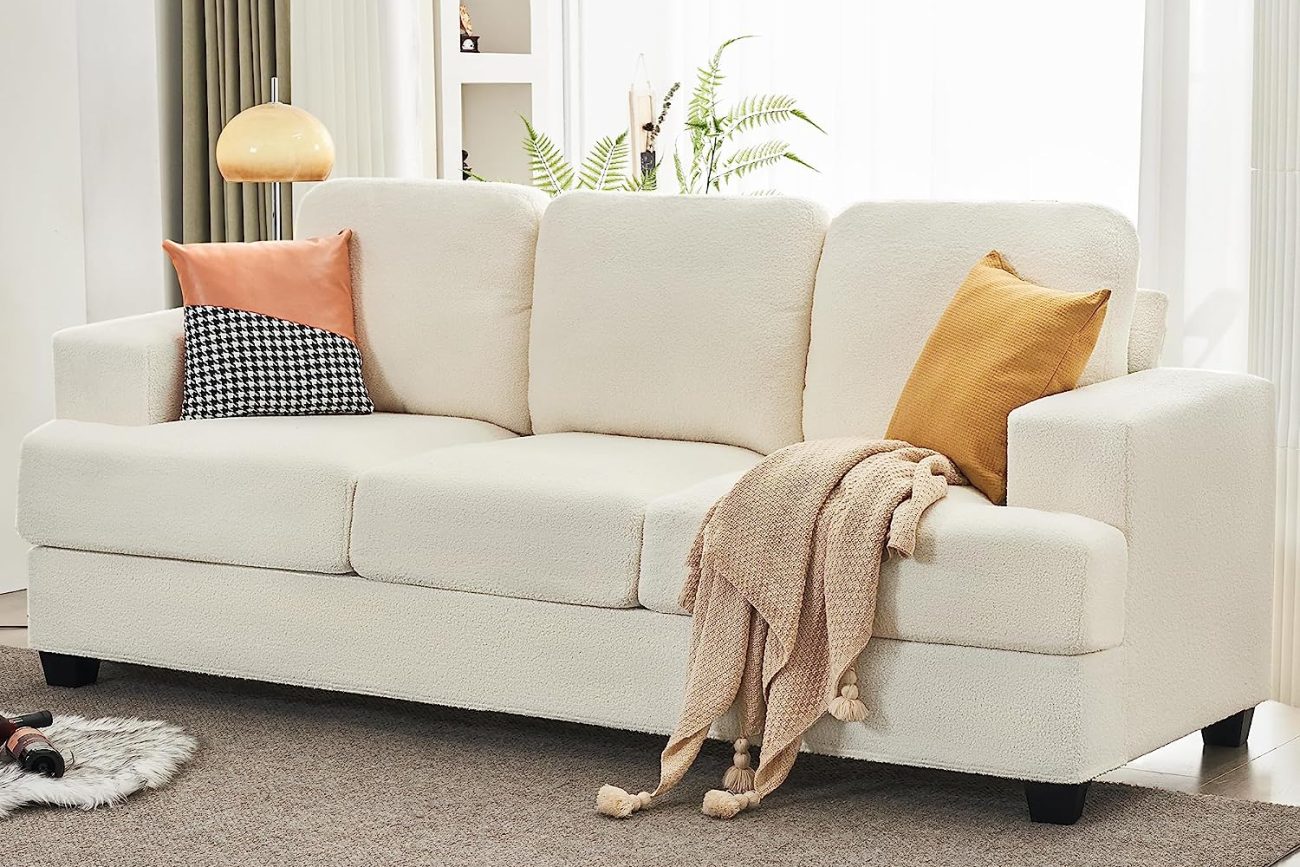 The recliner couch is a stylish, comfortable, modern couch with a hidden feature. The users can easily tilt their couch back and elevate the footrest using a button.
So, if you are searching for a comfortable yet luxurious-looking sofa for your home, this is an ideal choice. But, it is not a great pick for your formal living room as it is for big private rooms.
The features of the recliner sofa are unmatchable, making it one of the most expensive couches on the list.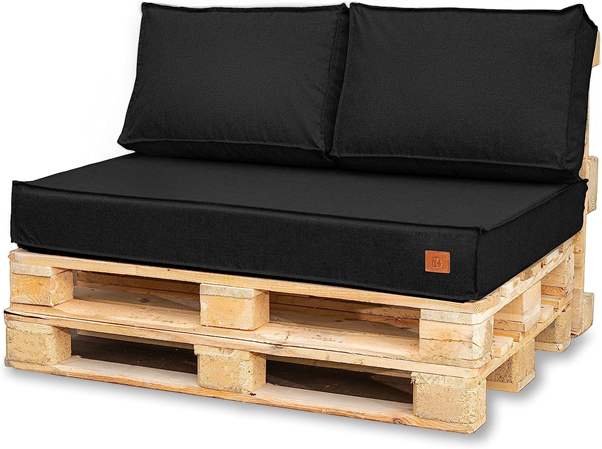 Pallet Couches are one of the top modern couch styles that can fit in any modern house setup and create a minimalistic look for the room.
Pallet couches are made from wooden pallets used for commercial purposes like transporting goods and other items. Pallet couches are low-cost and easy to set up.
They do not cost much money but bring an expensive look to your home interior. You can place them in your living room, patio, or extended part of the bedroom.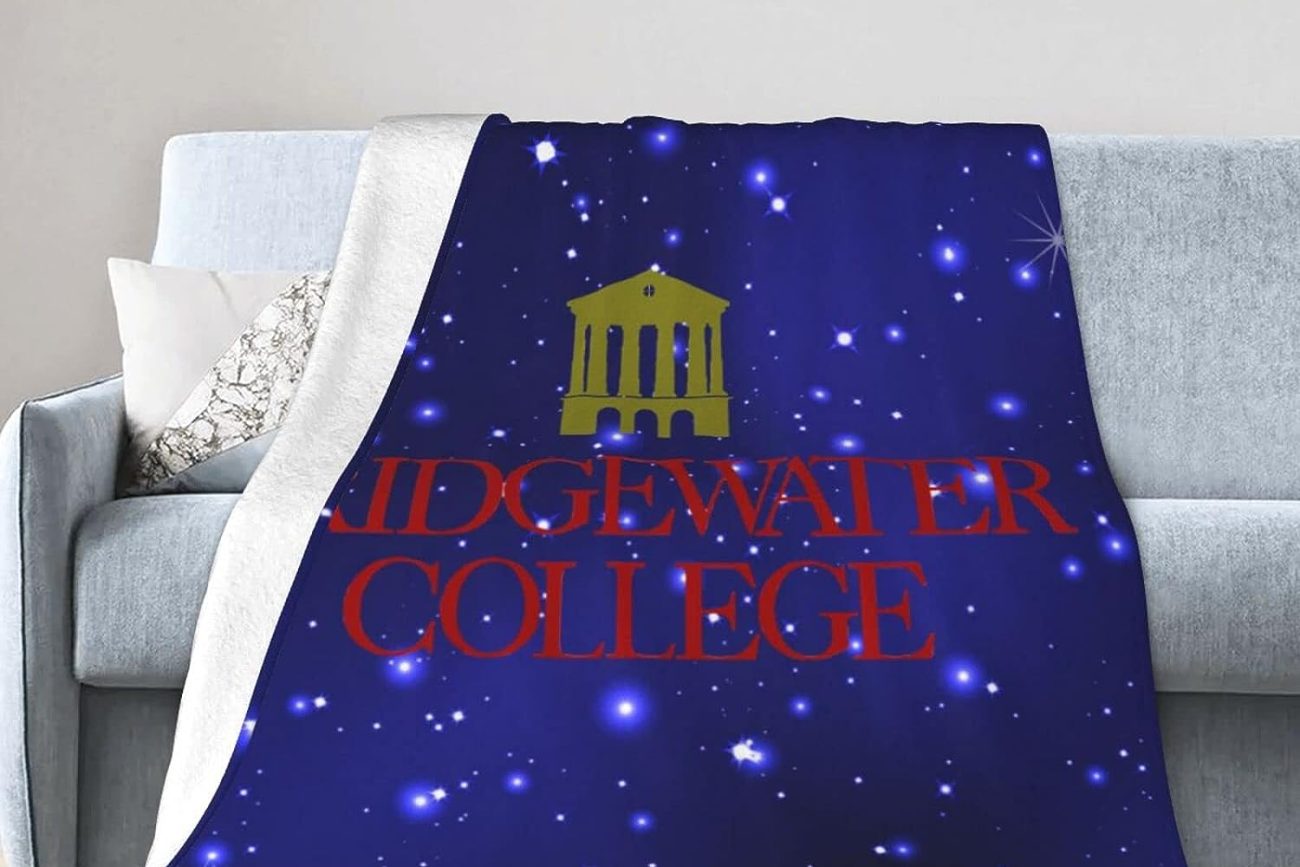 The Bridgewater sofa or couch is a modern couch yet more casual and relaxed than other conventional varieties. This type of couch can never be outdated due to its amazing luxurious design.
You can pick the Bridgewater couches in light or neutral shades to make your living area look more gorgeous and royal.
These types of sofas or couches mostly have back cushions and loose seats with arms lower than the back of the couch.
However, depending on the size and the design, you can welcome two or three people to the couch.
Related: 9 Affordable Couches You Can Buy Under $1000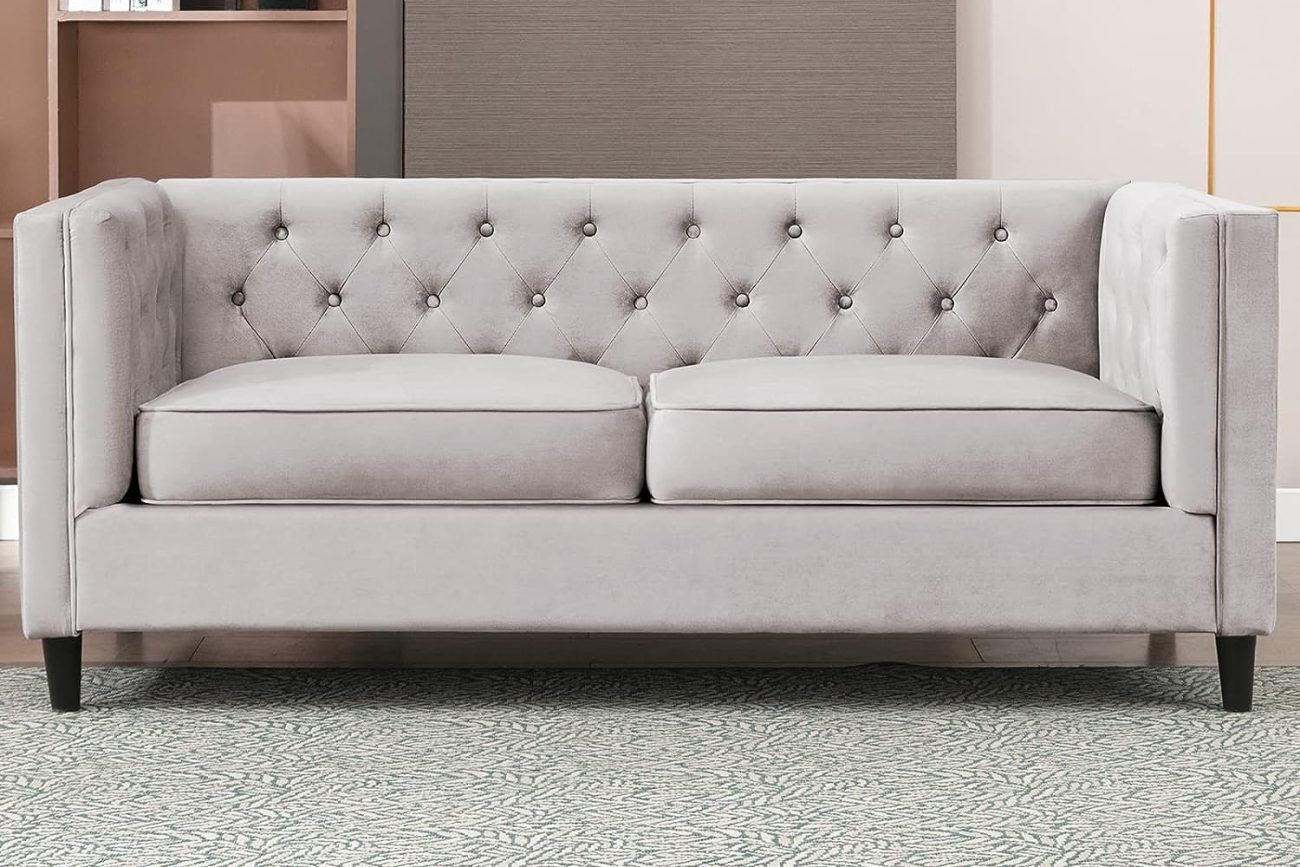 Cabriole Couches and sofas can be a great match for your modern home setups. This modern couch style has some unique features that make them interesting.
Cabriole sofas and couches come with an equal backline that goes straight to the arms and often creates an inward curve.
Like the camelback sofas, cabriole sofas and couches also come with various designs, from classic exposed wooden trims to curved and contemporary ones.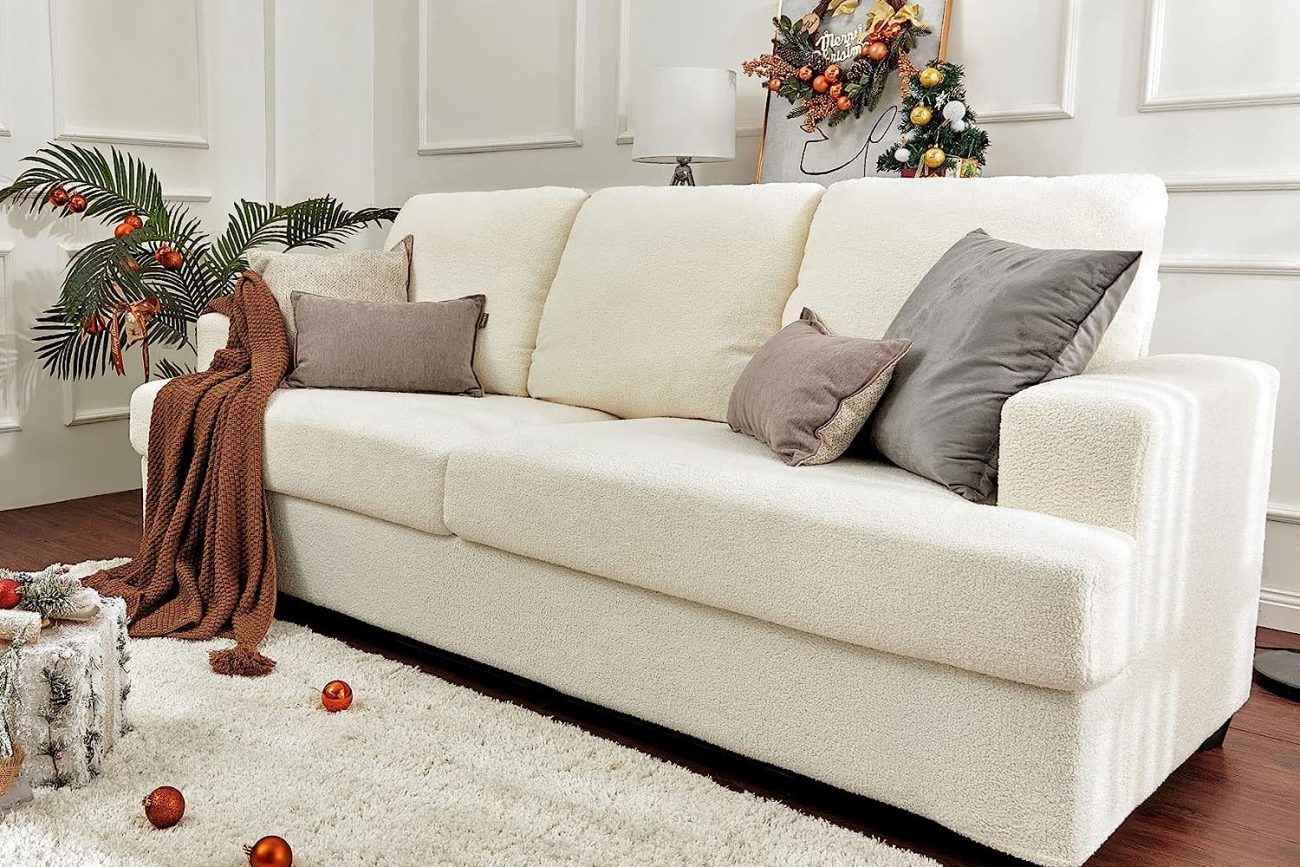 Over the past years, deep-seated couches have become very famous because of their interesting and unique design. It is a modern couch with a normal seating depth of 34 inches.
One of the most significant advantages of choosing this type of sofa is that it offers an upright seating position. So, you can rest your back and keep your feet on the floor.
You can easily customize the couch according to your needs, from size to color.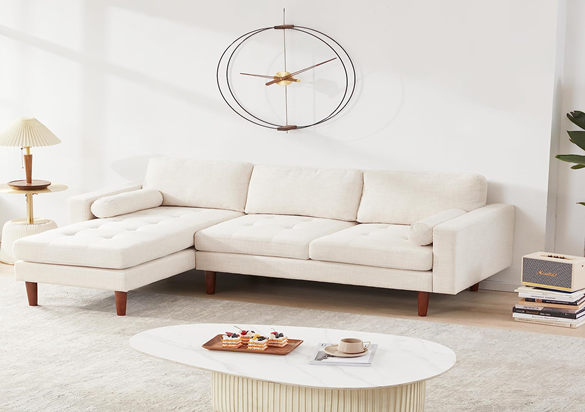 The mid-century couch is another excellent option, as you can combine it with any furniture in your home. It has tapered legs, a curved line, a square arm set, and a cushioned seat with a clean finish.
This type of couch is available in different materials and colors as well. If you have a modern home, the mid-century couch can be a great addition.
It is minimalistic, sleek, and has many clean and straight lines. As it requires less space, you can even buy it if you have a small space in your home.
A convertible couch is a modern multifunctional couch you can buy for your home. The best part is that you can keep it as a sofa and even convert it into a bed to rest.
As it comes with a compact design, you can keep this couch either in the bedroom or in the living room.
So, if you do not have spacious rooms, you can still use them as the couch does not cover much area of your room.
Conclusion
All in all, investing in a luxury and modern couch is one of the huge investments for you. Therefore, you must conduct rigorous research when selecting any of them.
First, you must look closely at the wall print and paintings of the living area of your home.
It is an effective way to choose the color of your sofa and couch that will match your style and perfectly goes with the living room's walls.
Choose something that will be stylish and functional at the same time to enhance the overall appearance of your living room.
Buying a chic, luxurious sofa can be an excellent addition if you wish to update your living room decoration without making major changes.
With the help of this guide, you will be able to find the perfect modern sofa and couch under your budget and requirements.
All the sofas and couches mentioned here will surely elevate the look of your living room.
Check This Next: 10 Versatile Modular Sofas You Need in 2023
Frequently Asked Questions
Is There Any Way to Make a Couch Look More Luxurious?
Yes, of course. There are several ways to change the look of your modern couch and make it more interesting, eye-catching, and luxurious.
You can add textures and colors to enhance its coziness and offer more depth. You can also add a soft fabric to your couch or sofa to make it more comfortable.
Linen or fur can be a great option. Adding an overstuffed or oversized pillow can also make it look more luxurious.
What Is the Most Expensive Fabric for a Sofa?
Linen is the most expensive, finest, and softest fabric for a sofa. It is one of the tough textiles that is widely used to make a modern couch.
This specific fabric is most suitable for sofas and couches specifically used in homes. But, it is not an ideal choice for homes with pets and young children.
What Is the Best Corner to Place Your Couch or Sofa in Your Home?
The living room is the best corner to keep your sofa or couch in your home. It is so because it is the place where you will welcome your guests first.
However, before selecting a corner to keep your sofa, you must consider the shape and size of your sofa.
But remember that you should keep the couch at least 18 inches away from the wall to ensure hassle-free walking space.