Searching for dining room paint colors? Picking the right shades for your dining spaces need not be daunting anymore.
Dining spaces have to be bright and cheerful as you spend most of your quality moments when you relish food with friends and family.
Choosing the colors that suit your style and attitude goes a long way in helping you design your dining spaces the way you have always wanted to.
For example, friends and family members get invited to gather at the dining spaces after all. This way, you allow them to share delicious meals with one another.
Sometimes dining spaces are also utilized as recreational spaces to play a game of cards or a round of 'Monopoly.'
Guest rooms can be repainted periodically, and this remains the same with bathrooms too. However, living rooms or dining halls are spaces wherein you unwind or lounge.
Choosing the right colors for your dining spaces, therefore, remains an important aspect, as you cannot keep repainting the spaces again and again.
Helping you unveil different styling tips and techniques on how you choose dining room paint colors fabulously.
Similar Post: 18 Timeless Mid Century Modern Dining Tables
1. Bold Shades Look Eye-Catching Indeed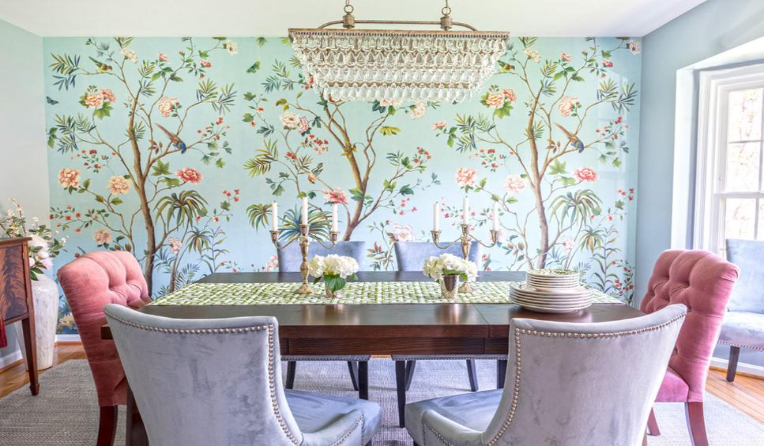 Choose trendy hues that are unique and great to work with. You do not have to go with super flashy colors, but at the same time, you must let the colors do the talking of your room decor.
Including blue, green, or turquoise hues can reveal the moody attitudes you have in life.
Mixing multiple shades can also help you recreate something that is truly spectacular. In fact, moody tones are in trend for recreating bedroom and dining spaces.
Adding greys with brows, blacks with whites, and other contrasting combinations can provide ravishing vibes across your dining halls.
2. Check for The Natural Lighting Semantics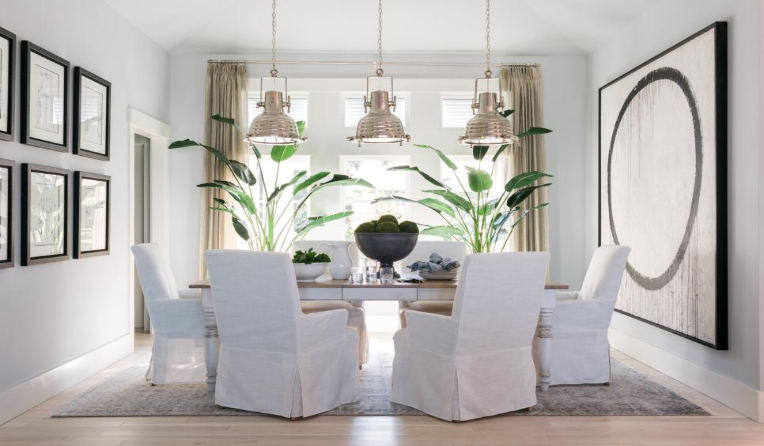 Do you know that the amount of natural lighting you give to your dining rooms can revive your living spaces in a fabulous manner?
Avoiding dark colors for your dining halls can be a practical idea. When you think of using heavy colors like navy blue or dark red, invariably, more of heat gets absorbed into your living or dining areas.
As a matter of fact, dark shades absorb more amount of heat into your spaces. Dark shades like grays or browns also absorb lesser light and can therefore keep your spaces less ventilated.
On the contrary, when you use lighter shades like creme or white, you bring natural light into your spaces. Lighter colors help keep your dining bays more spacious, airy, and cheerful.
If you are unsure of how to choose the correct color combinations, you can allow an interior designer or experienced architect to help you decide.
3. Spruced up The Rest of Your Rooms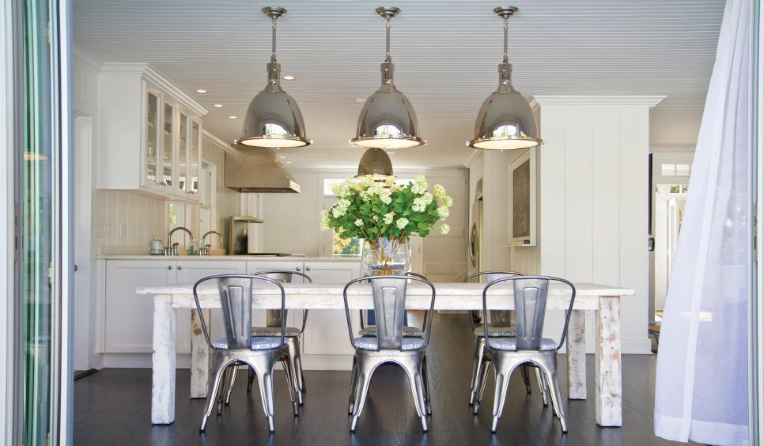 Deciding on the right color to paint the walls of your dining cabinets also depend on how you have the rest of your rooms spruced up.
This is because, once you have your dining area painted, you cannot keep repainting over the foam again and again.
Therefore, it is important you take a little extra time to decide what the right shades are for your dining halls.
Suppose you have more wooden artifacts inside your living decor; a more neutral shade of paint can be done for your dining rooms.
Neutral shades complement better with natural accents. Do you have oranges or yellows inside your kitchens or bathrooms?
Then, you would not want the painted areas of your dining room to clash with any of these colors.
Also Read: 22 Stunning Extendable Dining Table Designs for Every Home
4. Pay Attention to The Smaller Details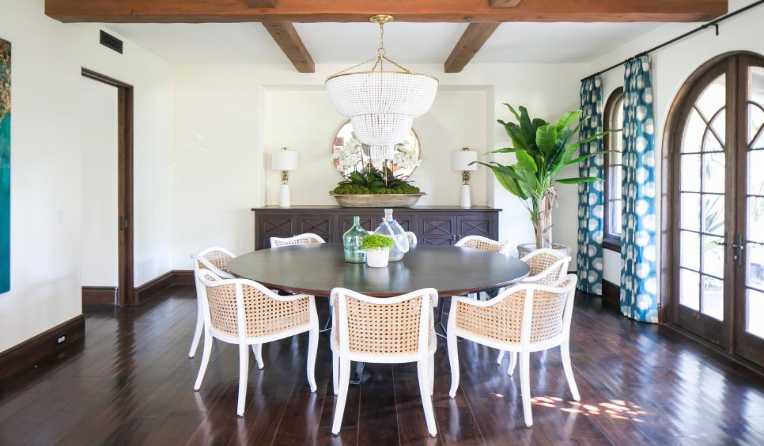 Giving attention to smaller details available in your room spaces can save you time. Look at how the trims or baseboards are painted.
Try accommodating moldings in the same color you paint your dining walls. Paint colors contrasting the moldings can also be considered. Have a look at the trim areas of your doors or windows.
Choosing contrasting shades for your dining area against the hues of the trims can be a wonderful styling option.
Do you intend to paint the main walls of your dining areas using white paint? Then you get to choose contrasting shades for your baseboards.
5. Neutral Tones Add to a Classy Appeal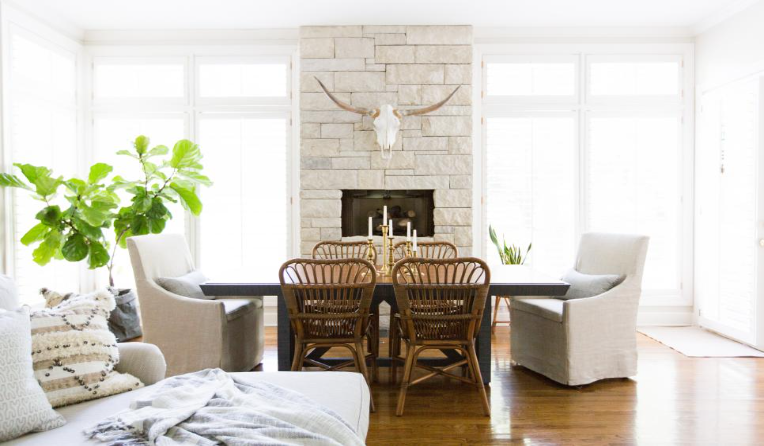 When you have pieces of furniture that are bright and colorful, you can add neutral shades for the wall paint of your dining area.
This way, the accessories are allowed to complement precisely the neutral decor of the painted area. You allow the grains to stand out through the neutral shades the walls are painted with.
Say, for instance, the furniture pieces may look yellow and green, and an ash gray wall paint puts all of the accessories together.
Alongside, when you paint dining areas using neutral shade wall paints, you lend classy vibes to your dining spaces indeed. Therefore neutral shade paints for your dining decor make way for great styling.
6. Use Colorful Hues to Make a Statement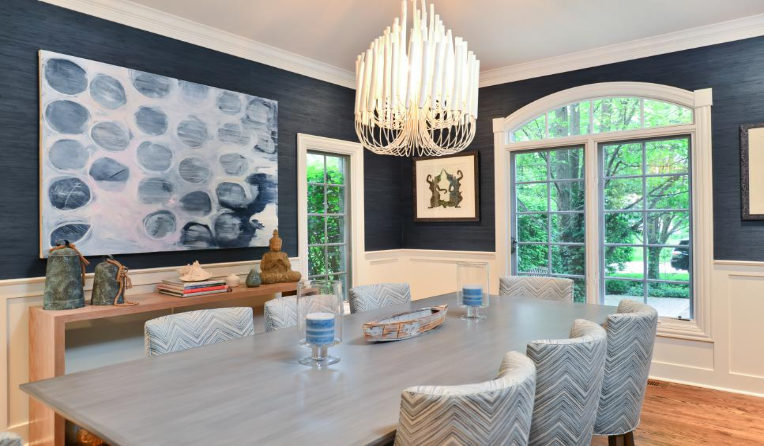 Do you love inviting friends for get-togethers or parties quite often? Then, adding a colorful array of hues can be a cool idea.
You can feel free to include striking shades like oceanic blues, reds, corals, oranges, or yellows. Make sure you use water-soluble paints so that the spaces are kept airy and ventilated.
Pops of color can stimulate social interactions, improve appetite and encourage conversations among people.
Again, those of you who love creating statement decors can go for the idea of painting your dining area with colorful hues.
7. Recreate Modern Dining Spaces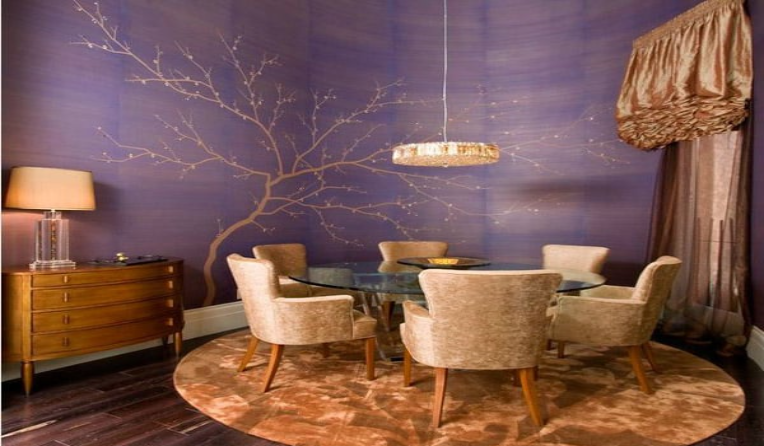 In order to create modern semantics for dining spaces, you can use some of the most irresistible color combinations you can think of.
Think of charcoal greys, deep purples, or different variations of blues paving the way for fabulous paint areas of your dining halls.
When you create memorable wall decor for the spaces wherein you would relish great dinners for friends and family, modern ways of styling spaces can be thematic.
There remains the presence of a perfectly poised backdrop for promoting party events, business get-togethers, or even savvy kitty parties while you use modern semantics of painting dining spaces.
See More: 13 Best and Unique Drop Leaf Tables for The Year 2023
8. Creation of a Zen Atmosphere for Your Dining Spaces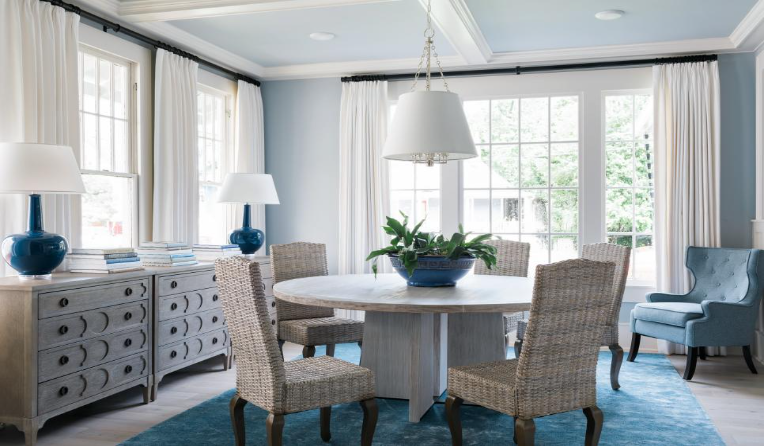 Harmony and tranquillity are attributes that bring meaning into families and relationships. For a zen-kind of theme, you must include relaxing shades for your dining halls.
The inclusion of colors like beige, creme, off-white, baby pink, and pastel blues can create a relaxing atmosphere for those of you who want to relish those lunches and dinners with family and friends.
These colors also promote plenty of lighting and natural ventilation in the spaces keeping your dining rooms airy, spacious, and voluminous.
Choosing warm and relaxing dining room paint colors can therefore be a stupendous styling theme indeed.
9. Painted Ceilings Unveil Magic for Dining Spaces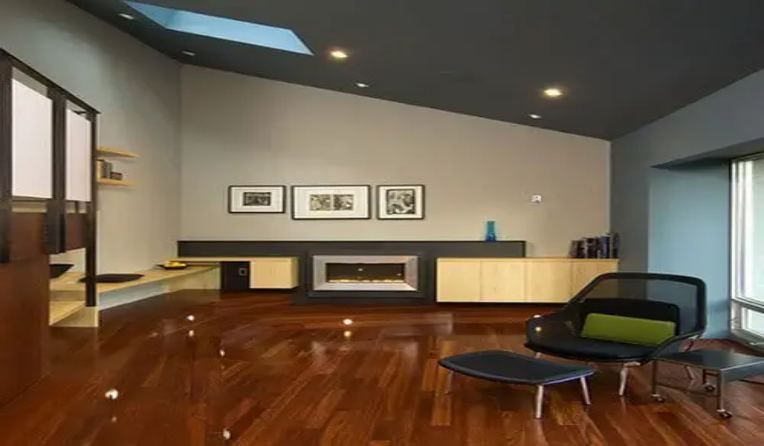 Out-of-the-box ideas and styling techniques, when used in the right proportion for your room decor, always give a magical outcome.
Ceilings are often the forgotten accessory across dining spaces. As homeowners, you may just want to paint the four sides of the wall.
On the contrary, when you paint ceiling walls, you can accentuate the overall personality of the room decor.
Here, a highlighting tint is effortlessly added to raised vaults, chandeliers, or hanging pillars. Ceiling walls can be painted in shades like burgundy, turquoise green, or sky blue.
Aqua or oceanic blues for the ceiling can also lend dramatic vibes to your dining spaces.
10. Try Accent Walls for Your Dinner Areas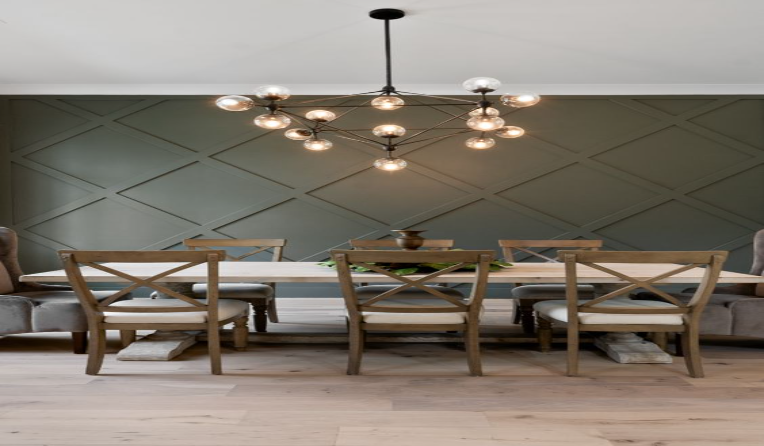 Get thoroughly creative with accent walls you can include for your dining decor.
Part of the walls is painted using vibrant or colorful hues, while the remaining portion of the walls is left untouched with the neutral shades you had initially painted the dining spaces with.
By allowing accent walls, stylish effects are recreated for your dining bays, as a matter of fact. Homeowners are able to infuse tremendous volume into the room decor on the whole.
Accent walls can also provide a highlighting tint for other props or accessories that are used for your dining cabinets.
These include paintings, china portraits, or other stylish accessories that are kept inside your dining halls for display.
Related: Best Neutral Paint Colors (15+ Colors to Choose from)
11. Adding Chequered Looks for Your Dining Spaces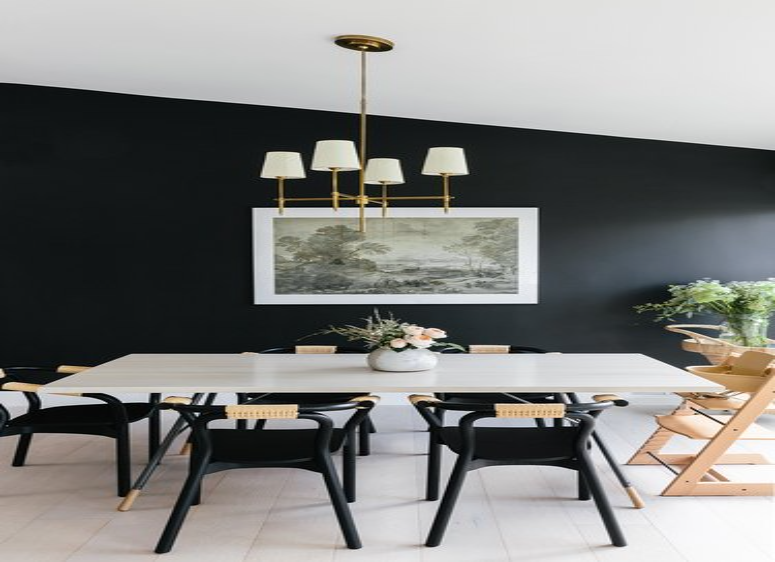 In order to add a stylish and posh appeal to your dining spaces, try adding a chequered effect to your spaces.
By painting one wall black and the other side of the wall using white, you add a terrific black-and-white look to your dining spaces.
Accessories can be spaced out in a manner that suits the color combination of the painted room decor.
Adding exotic flower vases, cane fruit baskets, or intricate-looking wind chimes adds volume and depth to painted dining rooms.
Summing It Up
All in all, have you discovered 11 invigorating dining room paint colors and styling combinations that can be incorporated into your spaces?
Include stand-alone shades or a spectrum of colors to add dynamism and personality to your dining spaces.
Accessories must complement the wall-painted areas in a perfectly positioned manner. A perfect backdrop must be worked into.
This way, your friends and colleagues can appreciate you for your posh outlook in life.
For creating those magical get-togethers in the form of parties, family dinners, or New Year Eves, you must set the right tone for socializing.
Stylish props can be arranged to create statements and style. DIY styles or simple painting projects can enhance the entire looks of your dining spaces.
Choosing something affordable makes sure you do not go beyond the budget you have in mind.
So which is the most exciting painting technique you are going to incorporate for your dining areas?
Check This Next: Home