Did you eventually give your bedroom a beautiful makeover? But you skipped changing the closet doors. It is fascinating to boost the entire look of a room with these easy and fun closet door ideas.
Closet doors are vital to creating a clean and organized look in the interior of any space.
Whether you're concealing a cluttered wardrobe after an international trip or piling up the mess after a busy, stressful week, closet doors are your secret keepers. Truly essential! Isn't it?
Here is a list of striking closet door ideas to help you amp up the interior of your bedroom.
Top Designer Closet Door Ideas
Storage space is integral in every home. Wardrobes to store clothes, cutlery, toiletries, and collective art pieces add to the overall organized appearance of a room.
Let's begin!
Similar Post: 31 Unique and Fascinating Bathroom Door Ideas
1. Minimalist Makeover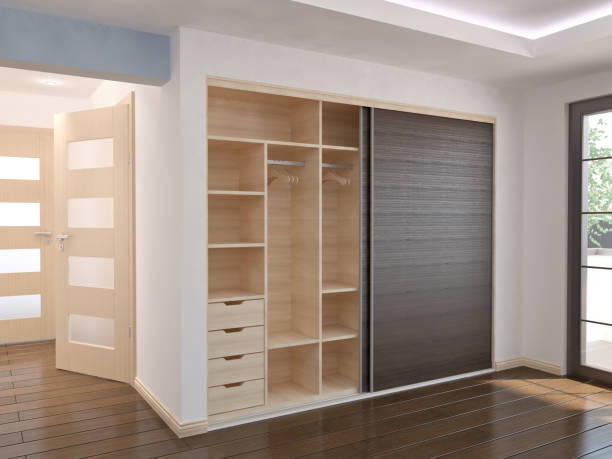 Neutral minimalism is the current trend and an interior designer's favorite. Neutral shades are everywhere. Wallpapers, false ceilings, bedding, and rugs, every décor piece can add a minimalist look.
A sleek and neutral-colored closet door matching the minimalist aesthetic of your room completes the overall appearance.
This closet door idea is best suited for those who crave a minimalist aesthetic in their space. One can try simple, neutral folding closet doors.
However, replace your boring old bifold doors with sliding doors to make the interior look more sleek and stylish.
2. Paint It White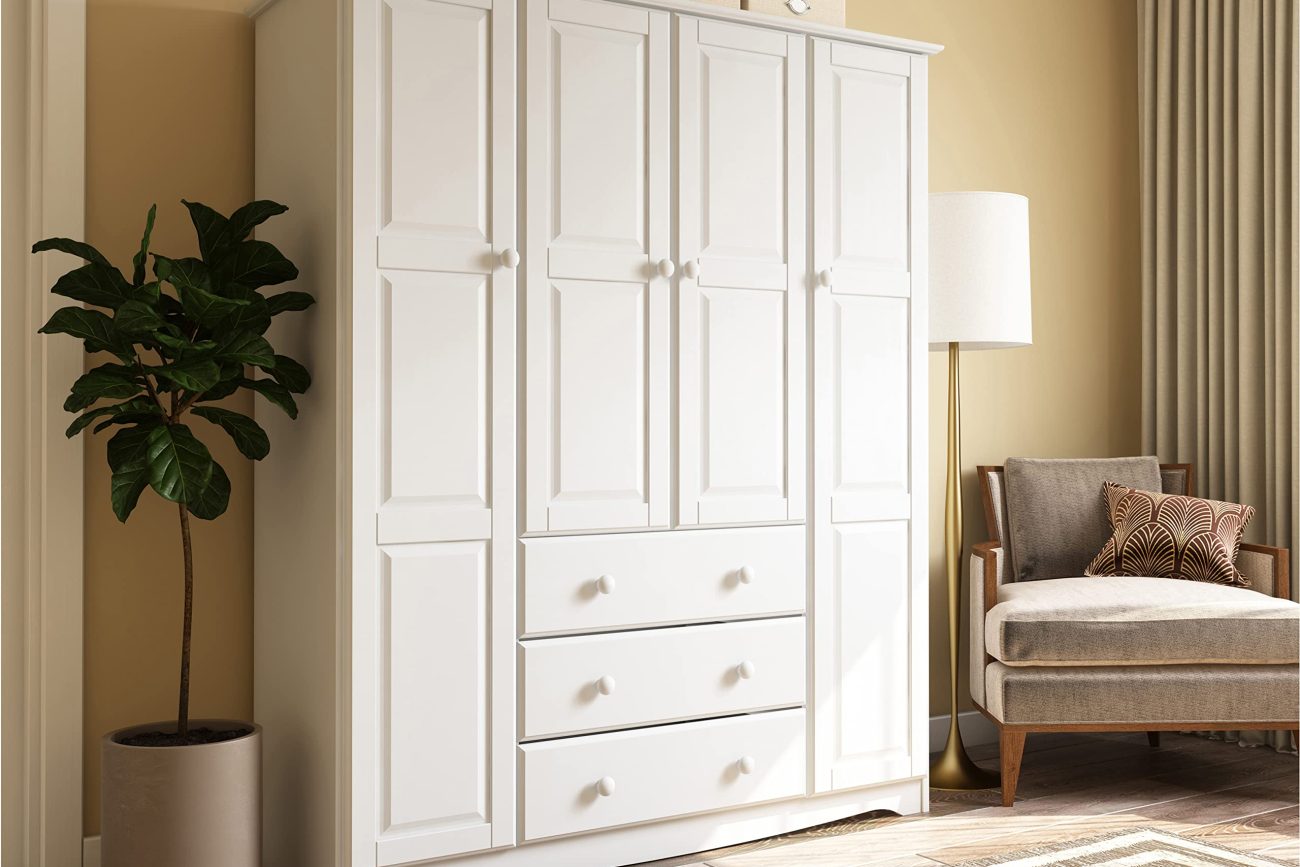 The classic white closet doors are never going out of style. Paint your bedroom closet all white. You can add touches of gold to highlight the knobs, frames, and carving details to add a touch of grandeur.
White closet door ideas are versatile. Irrespective of the design and theme of your bedroom, paint your closet door white and see the magic.
Whether you want to create a contrast to the dark aesthetic of your room, make your space look clean and minimal, or blend with warm, earthy tones, the choice is yours.
White closet doors will help amplify elegance in your bedroom.
3. Monochrome Closet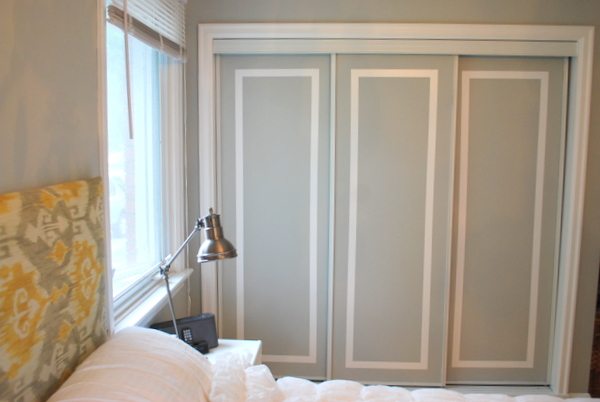 Monochrome interior decoration is a mood. It is beautiful to witness the simplicity and cleanliness created with different shades of a single color.
If you have opted for monochrome magic in your bedroom or living area, extend the same theme to your closet doors.
Whatever color you have chosen for your walls, bedding, and curtains, select a lighter or darker tone of that color to balance the playfulness in your space.
Monochrome closet doors also help add a minimalist and sleek look to the overall appearance of your living area.
4. Keep It Dark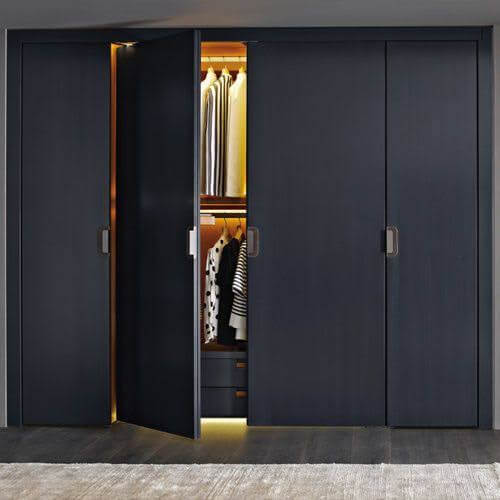 Dark interior decorations are enchanting. The dark theme in academic bedrooms and living rooms is a personal favorite. Darkness adds mysterious, gothic, and fantasy vibes to the interiors of a room.
Did the gothic theme of Wednesday Addams inspire you? Then try painting your closet door in dark shades like navy blue, jet black, burgundy, deep purple, emerald green, or dark brown.
Another creative closet door idea is to use chalkboard paint. Transform your closet doors into black chalkboards and easily add an academic vibe. Write, draw, and scribble on these closet doors as you please.
Also Read: The Ultimate Guide to How to Organize Closets
5. Sliding Glass Door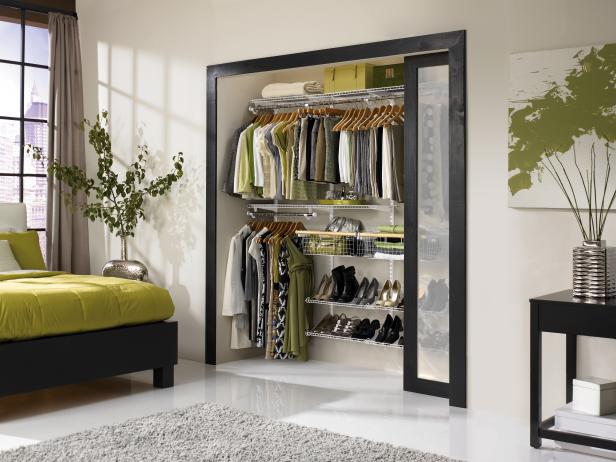 Modern, updated living has inspired us to make the most of small indoor spaces. The tiny house revolution has resulted in increased functionality, correct space usage, and a lot of creative interior architecture and decorations.
Sliding closet doors are not a new concept. However, this closet door idea is a boon for smaller living spaces and bedrooms.
If you live in a tiny house or apartment, try replacing bifold closet doors with sliding ones. Make the most of your living area with trendy glass sliders and save space.
6. Frosted Glass Door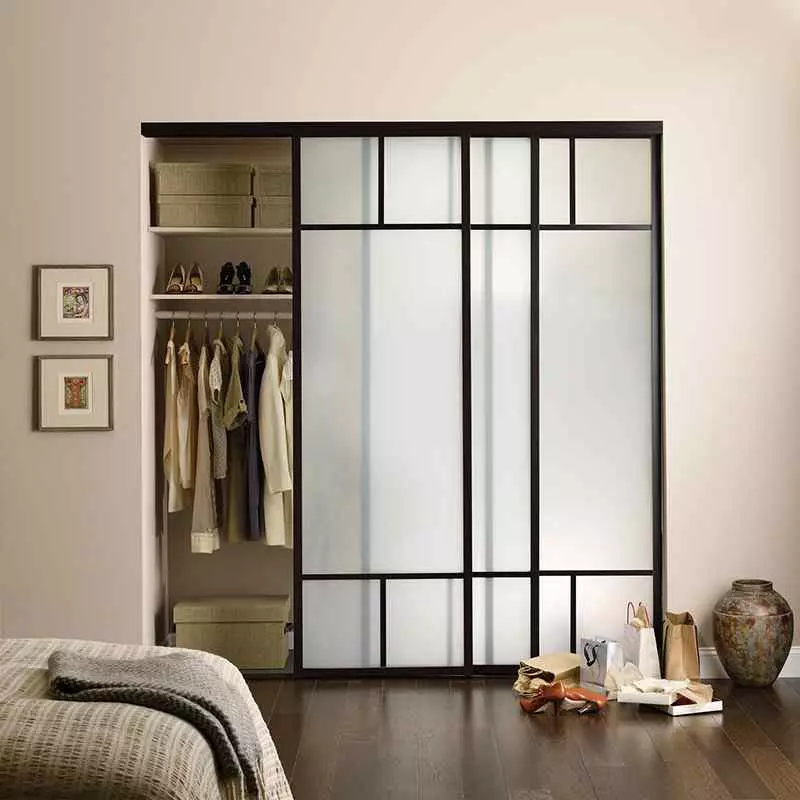 Clear glass closet doors require you to keep apparel, cutlery, and toiletries all organized. Therefore, to conceal the inner clutter or form a rather clever glass door look, frosted glass is your best friend.
The frosted glass has a grainy texture which helps add a translucent cover for your wardrobes. They add a perfect hide-and-seek vibe that shows the colors yet successfully hides the details.
You can also cut wooden trim to line the borders of a frosted glass door and complete a defined look.
7. Polished Wooden Closet
Do you enjoy decorating your bedroom or kitchen interiors with a coastal color palette? If so, then white, sandy beige and soft blues are the colors you need.
The polished sandy beige wooden closet door ideas will complete any coastal-inspired interior decoration. This simple and soothing cupboard door is the best for bedrooms and bathrooms.
Hang your favorite apparel and arrange your exclusive toiletries inside. Style these polished wooden closets with an indoor plant right by the side and add a splash of freshness.
8. Hide in Plain Sight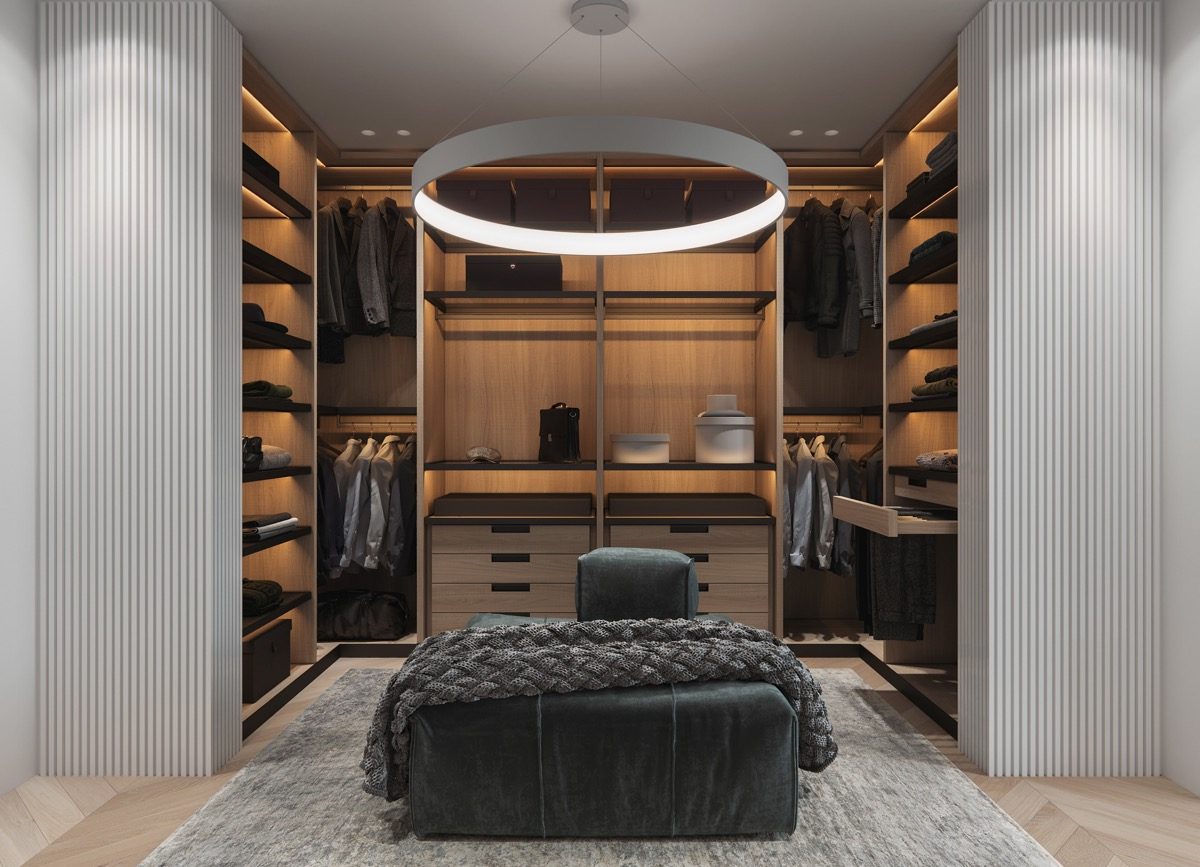 Among all the closet door ideas, this one is the simplest. Ditch the idea of a physical door for your wardrobe and be creative. Go for a grand, open wooden closet with a minimalist chandelier to light it up.
The key to this stylish interior is to keep the wardrobe clean and organized. The extended wall pillars from both sides create an illusion of partition. This feature adds to the overall look of a closed cupboard.
9. Mirror Magic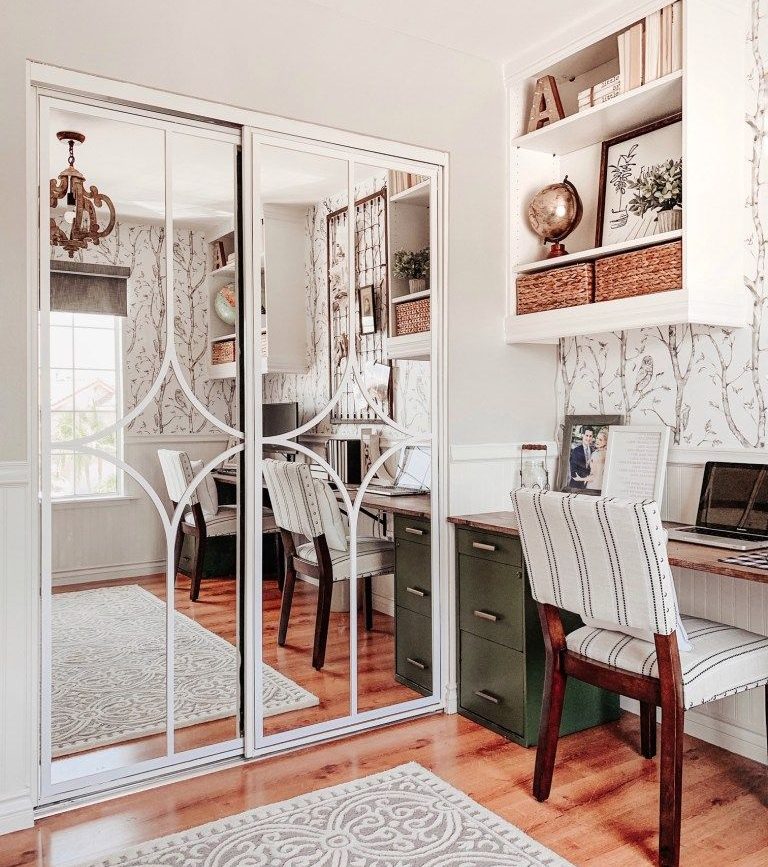 Give the conventional glass door in your closet a complete makeover with these full-length designer mirror doors.
These curved mirror panels, adjusted to assemble a distinguished look, split the monotony of standard square and rectangle frames.
These full-length mirror closet door ideas create the illusion of a bigger space, reflect more natural light in the room, and allow you to take a quick full-length look before you head out for a party or work.
10. Neutral Nuance
A partitioned closet in your bedroom is a beautiful, well-used space accent. Two neutral-colored wooden panels sliding along the wall open a portal into a dream wardrobe.
Whitewashed drawers, cream-toned fine flooring, and a framed mirror set the tone for a classy interior.
The dark wooden shiplap wall running up to the ceiling contrasts the light shades of white and beige yet keeps it earthy and warm. Use these neutral closet door ideas and let your room scream elegance.
See More: How to Make No Sew DIY Drop Cloth Curtains [Complete Guide]
11. Contemporary Barn Door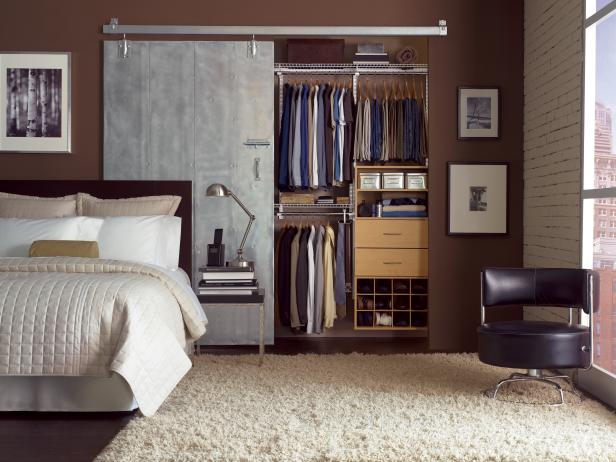 We are aware that the traditional barn doors for a closet often add a rustic look. However, interior designer experts are successful with their innovation in using barn door styles for contemporary interiors.
The above example shows how a beautiful sliding barn closet door blends in to project a minimalist, modern, and earthy vibe. The grey paint stands out against the brown wall backdrop.
A unique transformation from rustic to contemporary indeed!
12. Rustic Barn Door Closet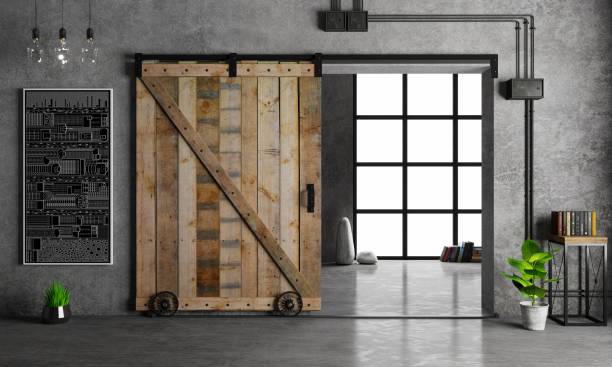 The contemporary barn door is elegant, but this idea is for those who still like it rustic. Keep the traditional theme intact, yet be experimental.
A wooden sliding barn door for your monochrome living room closet is a game changer. This closet door idea is an unexpected and distinctive way to show off your interior innovation.
This stylish idea breaks the monotony of a single color and tickles the concept of contrast in any space. Adding fresh indoor plants adds much-needed freshness to the overall vibe of the living room.
13. Creative Crafting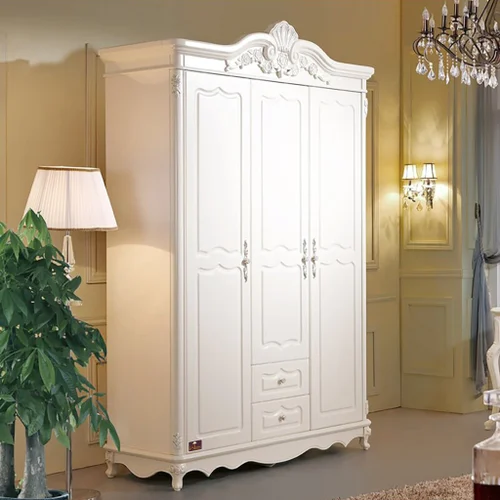 Crafted wooden closets are a projection of grandeur. Intricate carvings used to create elaborate details are timeless classics. Replace the boring, plain closet doors with carved wooden ones.
Choose from heavy, elaborate designs and minimalistic modern carvings according to the overall character of your interior decoration. The color you pick for these closet door ideas will make a lot of difference.
Lighter shades with golden details keep the look simple. However, dark shades will act on the contrary.
14. Ventilated Closet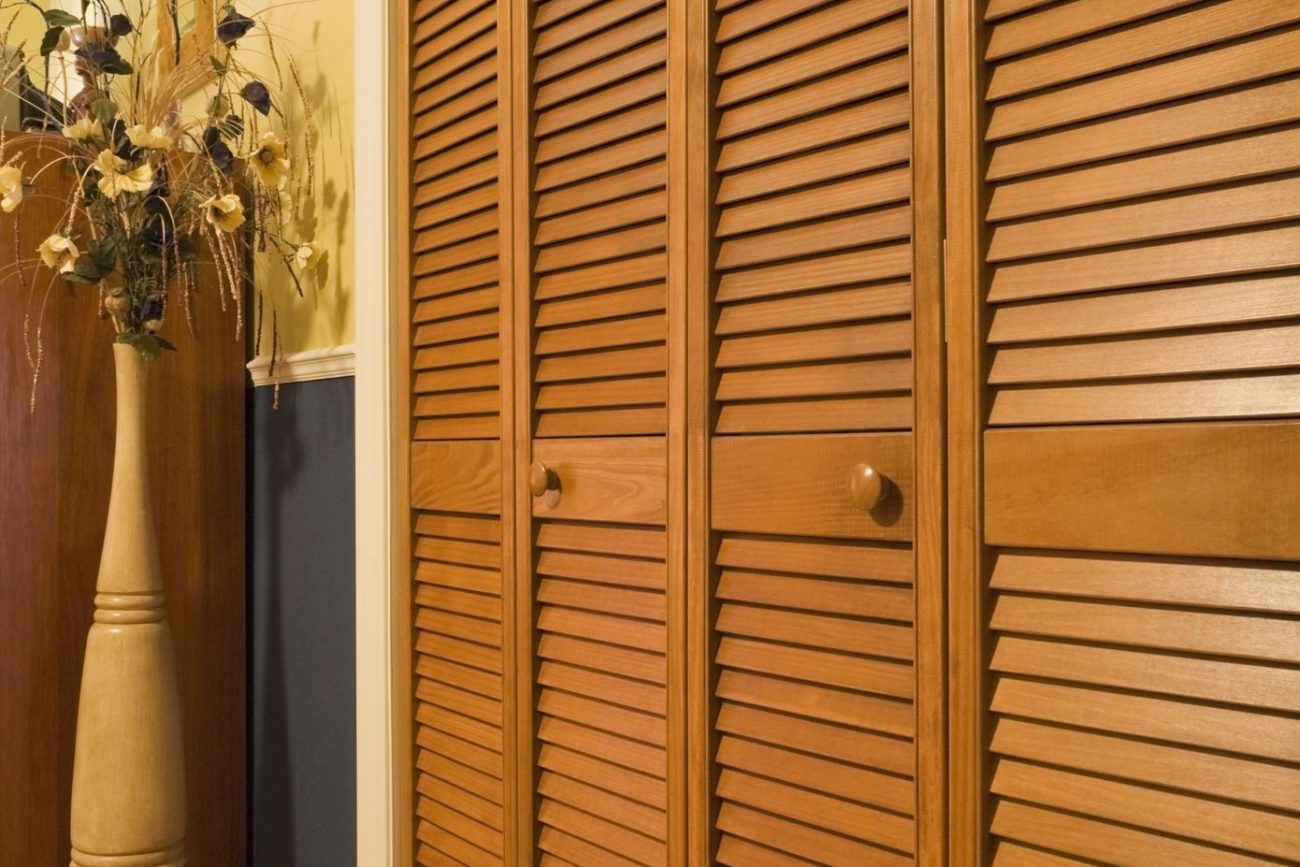 Ventilated closet doors are also known as louvered doors. These doors are best suited for all bathroom and kitchen cabinets.
This traditional-style closet door idea allows proper air circulation in closed cabinets. Avoid the stuffiness of a packed closet with these ventilated doors.
These earthy brown wooden panels also create a minimal, organized, and aesthetically pleasing look for your bathroom interiors.
15. Cover with Curtains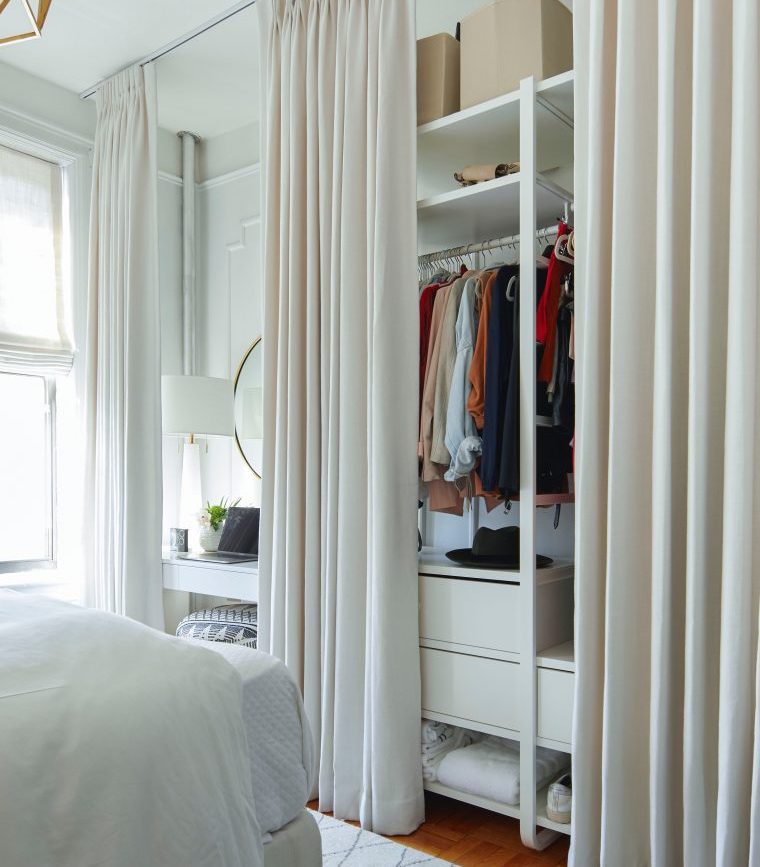 Want an affordable and easy way to cover your closet? Use curtains to hide the clutter in your bedroom. One has endless options to choose from.
Curtains are versatile as they make room for countless choices, from colors, textures, and fabrics to prints and patterns.
Pick cotton or sheer curtains to keep a light, airy, and soft vibe in your bedroom. Or select a heavy material or silk curtains to specify the grandeur of your living space.
16. Seamless Shiplap Closet
Whether you want a coastal look for your living room or love the classic white closet, use Shiplap for some innovation. Shiplap closet door ideas are affordable, easy to make, and seamless.
Highlight the little details on the knobs and handles on the closet door using jet black or golden paint. Try this wardrobe cover as a DIY project and add a personal touch to your room.
Related: 12 Stunning Modern Farmhouse Exterior Designs
17. Luxury Prints
Did you ever consider adding a touch of luxury to your interior décor? If you have not yet opted for grandeur, this is your perfect chance to do so!
As mentioned earlier, the old closet door in your bedroom is a blank canvas. So why not make it grand? Replace the boring, dull wooden closet doors with gold paint.
Gold is a luxurious color and is a perfect choice for any beginner. Paint the sliding closet doors all gold, add details of white floral, and add a new personality to your room.
18. Built In Closet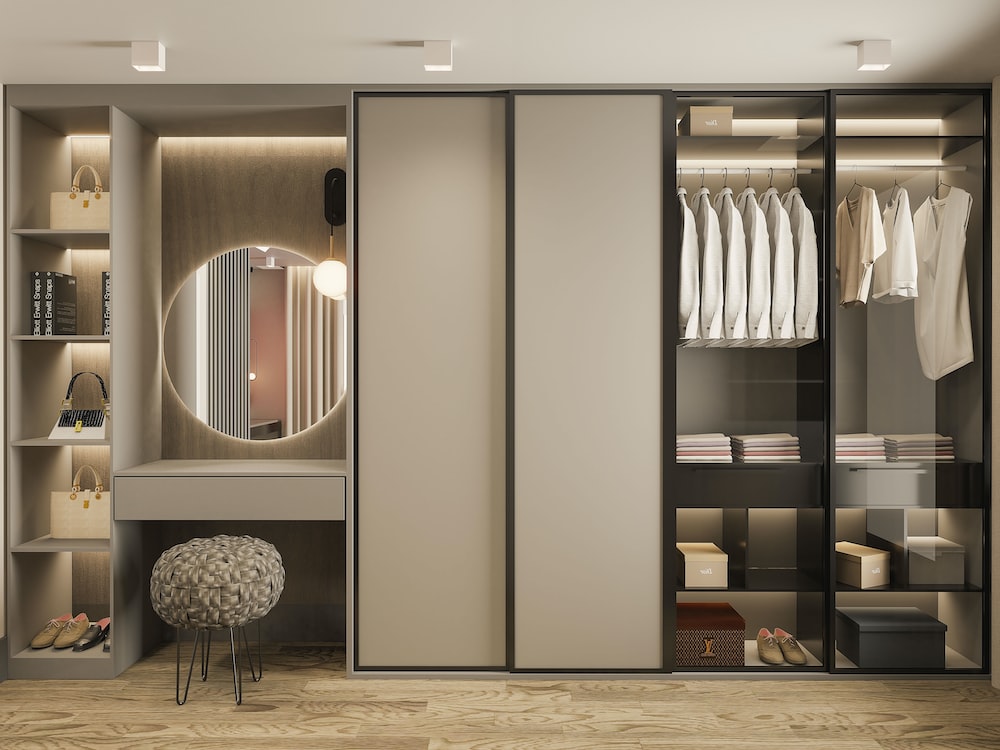 A built-in closet in your bedroom deserves special attention. It takes effort to bring this luxurious built-in closet to life. Ditch covering it all up with a closet door and try something new.
Mix and match with glass sliders to show off your best apparel. Use a wooden door where it is necessary to hide the clutter or a series of drawers.
Leave the wall-mounted mirror area and a side shelve panel open to show off your bag collection. This built-in closet door idea is an elegant way of upgrading your interior.
19. Vibrant Tribe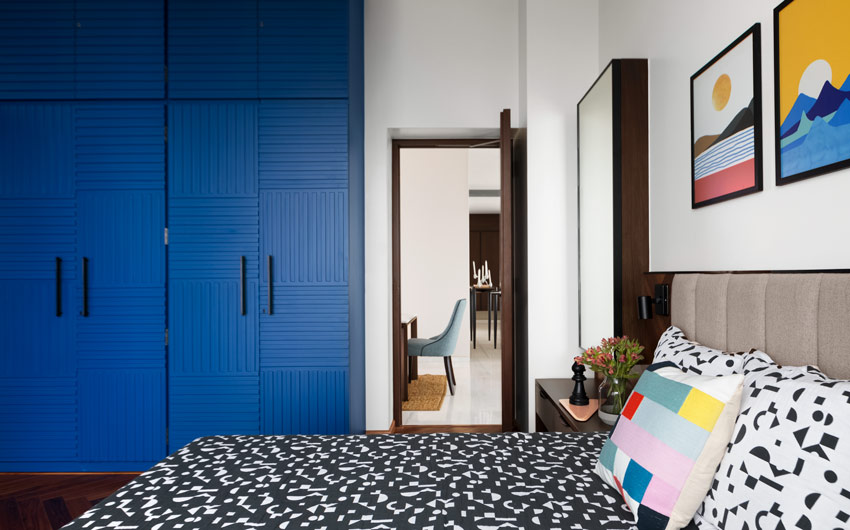 The idea behind upgrading the look of this closet door was to paint it bright. Glam up any current wooden closet with a bright color of your choice.
Select from wooden trims, customize the texture, and construct easy patterns to break the smoothness of a plain exterior.
Here, the bright shade of blue on the closet perfectly contrasts the white-washed walls. Select shades like bright yellow, tangy orange. It is fascinating to boost the entire look of a room with these easy and fun closet door ideas./a>, crimson red, lilac, and Fuchsia pink to give your cabinet door its ultimate makeover.
20. Experimental Aesthetic Closet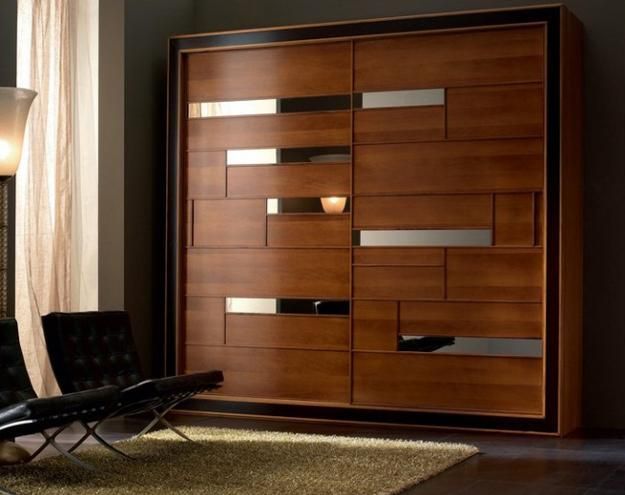 Designers often allow their creativity to run wild while experimenting with your interior decorations. It is sometimes confusing to pick from a wooden or a mirror closet door.
However, this super stylish closet door idea is here to bring you clarity. Wooden panels adjusted with reflective, clear mirror glass panels give shape to a beautiful and unique door for your wardrobe.
Finely shaped and polished mirror panels create a sleek, organized, warm, and contemporary touch to the boring plain wardrobe covers.
21. Nature Lover Wallpaper Closet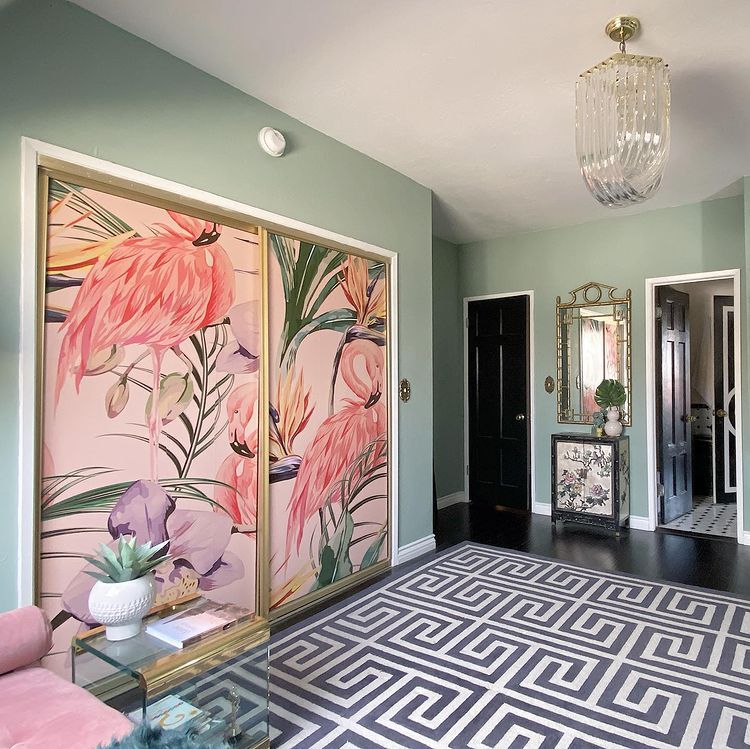 Do you love the abundance of flora and fauna? Here is a closet door idea to help you bring home a nature-inspired interior.
Try decorating your living space with beautiful animal prints, floral prints, and jungle print wallpapers on the closet doors.
The above closet door wallpaper has a beautiful flush pink flamingo with a big purple flower and long green leaves. The natural color palette compliments the room and upgrades it to the next level.
These closet door ideas include countless nature-inspired patterns in your interior decoration.
22. Gloss It Up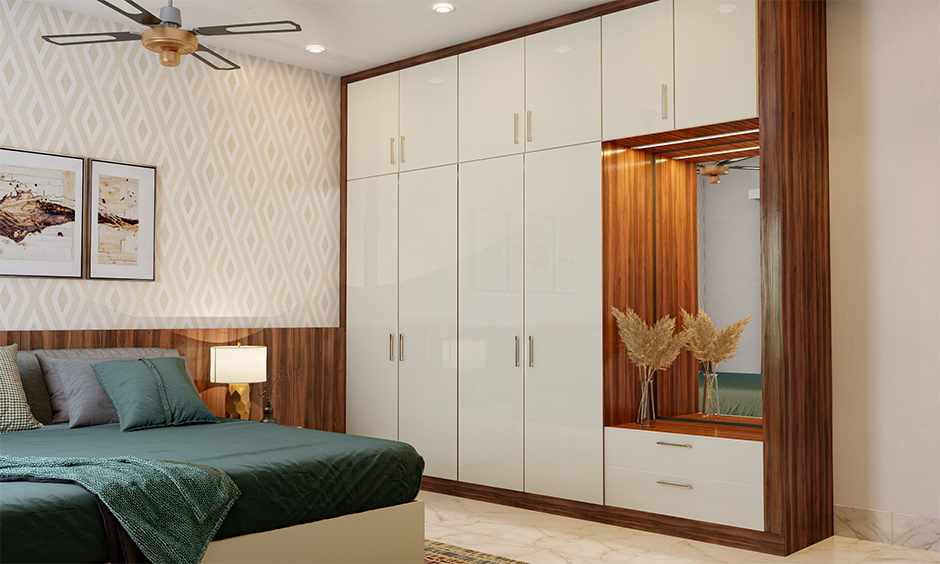 The dramatic glamour created by the whites reflects ample light in the room, making it look bigger. The beige handles of the closet door match the beige geometric designs on the wallpaper.
The golden vibe created by the yellow lights completes the romantic mood of the interior. This interior decoration is one of the moodiest closet door ideas.
Check This Next: Home
Summing It Up
All in all, closets form a crucial part of a household as they provide storage space. The closet door decorations thus make or break the mood of your bedroom interiors.
Upgrade your basic closet doors with this plethora of ideas and add the final zing of decoration. Seek inspiration from various materials like wood, glass, fabrics, and metals, or create the illusion of a closet door.
The choice of being creative or picking a rather proven design rests in your hands.
Hide your clutter with traditional barn doors, bi-fold wooden cabinet covers, clear glass sliders framed with wooden trims, or frosted glass sliders.
Do you want to dodge the idea of a physical door? Pick from lightweight cotton and lace fabrics to create a breezy coastal vibe.
A heavy silk curtain, on the contrary, will help you add grandeur to your space.
Don't forget to comment on which one you choose to give your room the last hint of an interior makeover!