Home aesthetics encompasses various aspects, from choosing the right design to placing furniture; everything has to be in sync, ensuring that the room looks like a perfect mix of aesthetics and functionalities.
Allform sofas are known for their unique look and appeal. The brand has market sovereignty. Besides, the designs are contemporary and ergonomic, thus ensuring complete comfort. Moreover, you will find several options that will simplify your purchase decision.
The brand holds a reputable position and is loved by homeowners for its competitive pricing, unique styles, and designs. Buying a sofa can be an overwhelming experience, especially if it is your first purchase. Hence, to ease your task, we have cumulated the best Allform sofa options and a detailed review to aid the purchase decision.
About Allform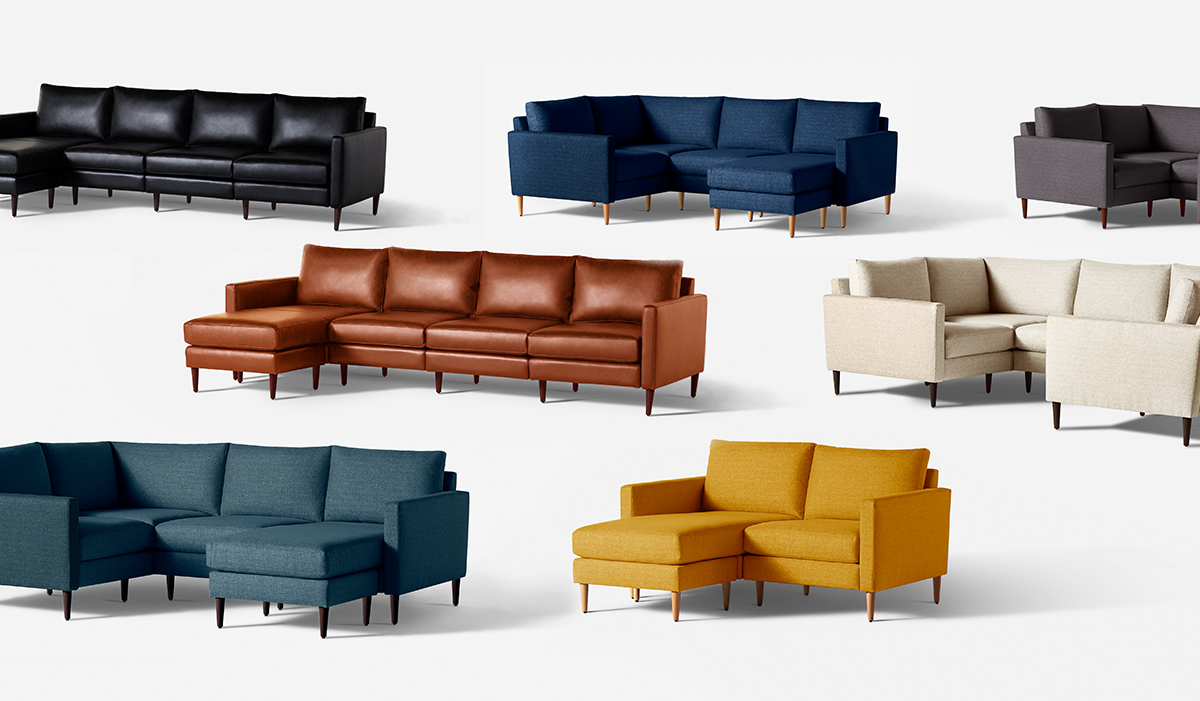 Allform is a renowned brand in sofa manufacturing. The company has expertise in manufacturing the most stylish and contemporary sofas.
The brand is new in the market, yet it has been able to stir a wave. It claims to use the best material for manufacturing sofas. It also focuses on sustainable manufacturing practices.
Allform sofas have an ensemble of product lines and include sectionals, loveseats, and armchairs designed for every space. The sofas are handcrafted from the best quality material that enhances their strength and longevity.
Another unique proposition of Allform sofas is that they can be custom-made per the requirements.
Pricing of Allform Sofas
Allform offers a range of sofas and loveseats. It is one of the best sofa-in-a-box options available in the market. The price range of Allform sofas ranges between $1,145 to $6,500. These are made from the best quality materials, which add strength and durability.
While these may not be the cheapest sofa options available in the market, it is one of the best because of its remarkable traits. The following sections take you through a detailed review of Allform sofas.
Traits that Make Allform Sofas the Best in The Market
Similar Post: Allform Modular Sofa Reviews 2023: Are They Worth the Hype?
Here are some of the key features of Allform sofas that make it a popular sofa brand:
1. Best Quality Material
One of the defining features of Allform sofas is that they are made from the best quality materials. This adds to the durability and strength of the sofa. The brand claims to use scratch-resistant materials, spill and stain-resistant. This keeps the sofa appear fresh and new.
Allform uses 55,000 double rub count fabric. It gives it strength and durability. The fabric above 15000 is considered to be highly durable. Allform sofa fabric has a rating of 50,000, which makes it better than the best. The usual weave pattern that you can find in Allform sofa is Panama weave, which gives it a checkered look.
2. Grain-Protected Leather
Another unique proposition that you will find in Allform sofa is the leather finish. All the sofas manufactured under the umbrella of this brand are made from superior-quality materials and have a fine-grain leather covering. This further gives the sofa a natural finish.
Allform sources all the leather from North and South America and is tanned in Mexico. Moreover, the leather has a natural finish, giving it a refined appeal. The thickness of leather used by Allform is around 1.2 mm to 1.4 mm, which is 20% more than the leather used by its competitors.
3. Comfy Cushions
When it comes to its comfort, Allform sofas offer a comfy cushion that lets you sink into the world of coziness and solace. The sofas are made from high-quality fiber and foam that gives them loftiness. The brand offers channeling that ensures an even distribution of foam, creating a perfect balance and giving the cushion an even texture. The sofa has an anti-shifting encasement.
The high-grade polyfoam used as fillers maintains its texture and has anti-sagging properties. So you don't have to worry about sagged or sunken cushions. Allform claims to adopt sustainable practices. The foam is free of heavy metals, ozone depleters, and retardants. The CetiPur-US certified foam stamps their claims.
4. Hardwood Framework
The sofa's framework plays a physical role in refining its strength, all from claims to have a strength and Framework as to the longevity of the sofas. So say goodbye to your worries and get ready to sink in the pleasure of tranquillity with all phones soccer. The brand planes to use for manufacturing its framework. It uses pinewood that brings with it the features of durability and sustenance.
Each sofa piece is carefully grafted and meticulously designed, ensuring that there is no loophole. The Orient Strand Board made from pinewood gives the sofa's frame added strength. Moreover, the brand claims to source wood legally. They only have Sustainable Forest Initiative-certified vendors on their list. Enjoy a lifetime warranty on the frame of the sofa.
5. Steel Strength
Now, let's shift our focus to one of the major aspects of the sofa, and that is the seating part. We have already mentioned that Allform sofas offer the plushiest cushions, but what adds to its strength is the underlying support of a steel frame. The uniquely designed seats contour as per your body and also add a touch of bounce.
Say goodbye to sagging issues and embrace the comfort of Allform sofa's tempered steel suspicion system that wards off the sagging of the sofa. The 11 gauge helical coils give the necessary bounce to the sofa while maintaining complete balance. All the metals that go into making the sofa's framework are recycled.
Also Read: 10 Versatile Modular Sofas You Need in 2023
Summary of The Features of Allform Sofas
Feature

Description

Quality

It is made from the best quality material that adds to its strength and durability.

The fabric is scratch-resistant and stain resistant.

It is a double rub count of 55,000

Grain Protected Leather

The leather used for sofa covers is sourced from North and South America.

The covering is 1.2 mm to 1.4 mm which gives it added strength.

Comfy Cushions

The CertiPur-US Certified cushions are strong.

They have anti-sagging properties.

Hardwood Structure

The inner framework is made from hardwood, thus making giving it incredible strength.

Steel and Aluminium Body

The company claims to use recycled material.

The 11 gauge helical coil gives the necessary bounce.
Prominent Allform Sofa Options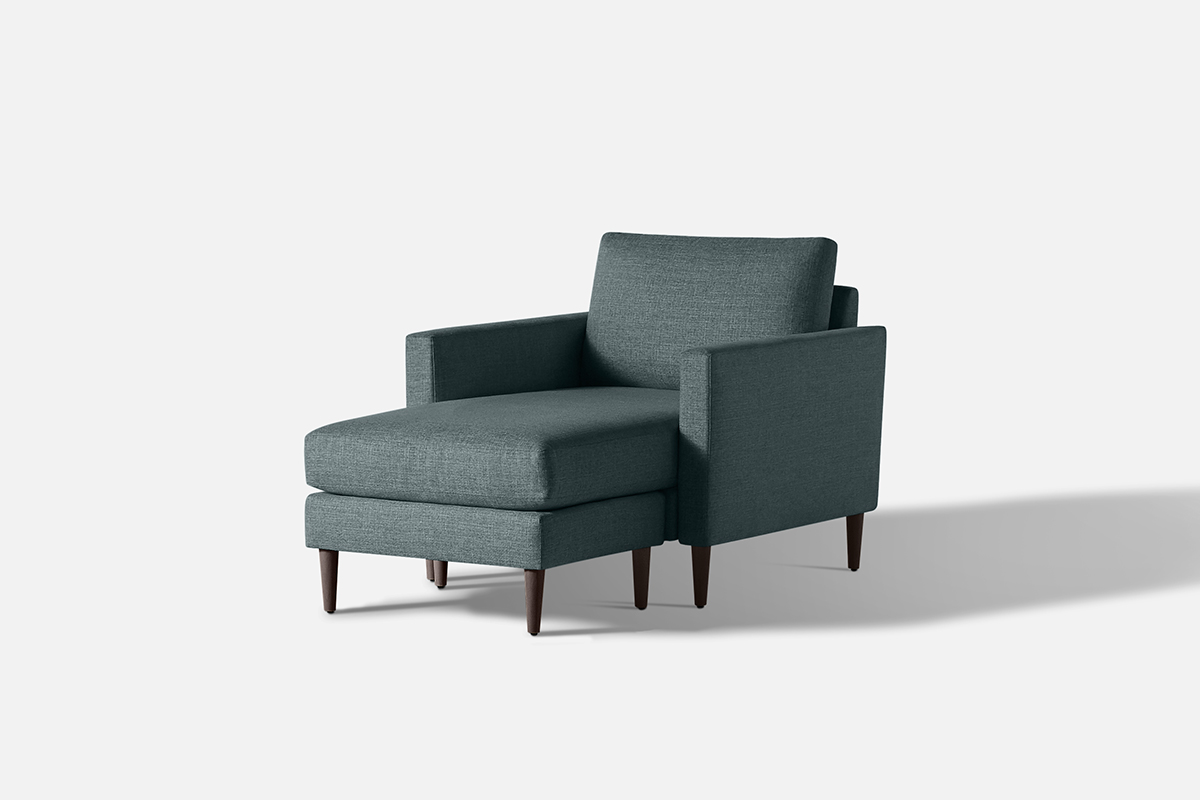 Allform armchairs are popular for their unique build and comfort. It is also available with the chaise, which enhances the coziness by providing added support to your body.
It is available in performance fabric and top-grained protected leather. Moreover, Allform also provides a 100-day trial feature. So you can check the quality, test it, and be assured of the purchase that you are making.
The tempered steel flexplate grid system adds to the inner strength of the sofa. This provides additional strength to it. You can find it in an ensemble of color options.
Allform offers faster delivery and financing options giving you complete peace of mind regarding your purchase decisions.
See More: 13 Small Couches to Consider for Smaller Spaces
Pros
Optimal cushion core density for complete comfort
100 days trial period
CertiPUR-US certified foam
Cons
The seat length is 2 – 3 inches lower than most American-style seating
Only solid color options are available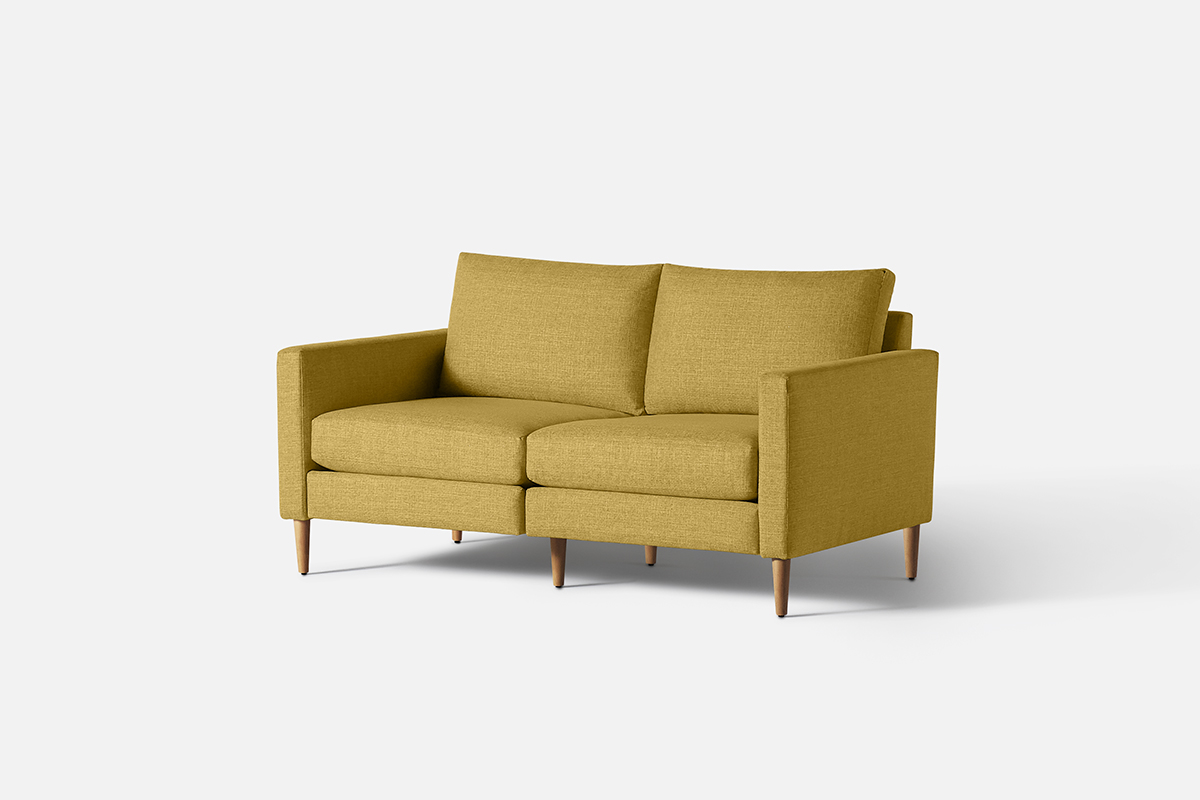 Another popular product line in the league of Allform sofas is their custom loveseats. If you plan to create a room with added comfort and a touch of character, these loveseats would perfectly fit in your space.
Aesthetically designed, these loveseats ooze comfort, tranquillity, and style, making them a perfect fit for your space. You can also find this sofa with a chaise.
This sofa's modular design and superior construction give it a timeless elegance. The brand offers a 100-day trial and financing facility to enjoy the luxury of comfort without any hassle.
Pros
100 days trial facility
Financing option
Options available with chaise for extra comfort
Cons
Color limitation can be a drawback
Stiff cushions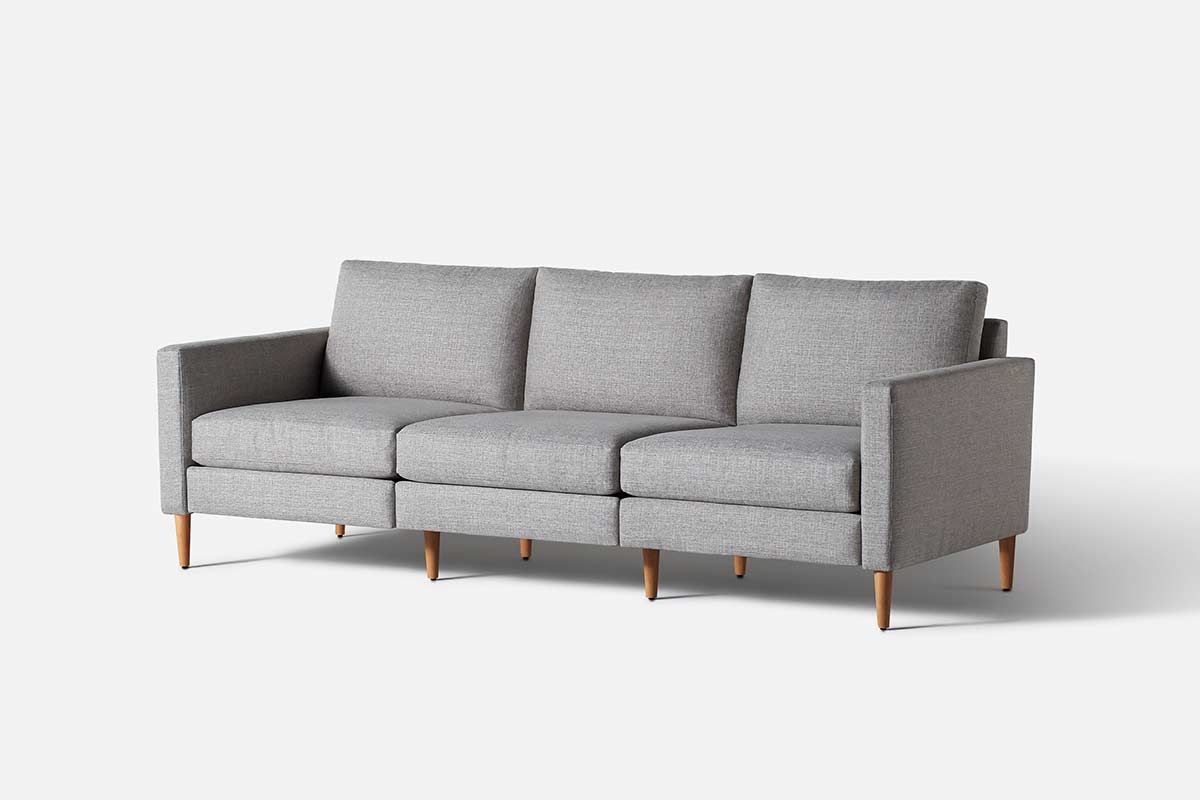 Experience comfort, style, and strength with Allform custom sofas. These sofas are designed to provide unmatched comfort. The high-quality foam contours, per the body shape, ensure a blissful seating experience. Custom sofas are also available in sectional designs, which are perfect for those looking for space-saving options.
The custom sofas are ergonomically designed to provide optimal lumbar support, thus making them perfect for longer sitting hours, ensuring complete relaxation.
Allform's commitment to sustainable practices makes it different from its contemporaries. These sofas are an emblem of luxury and comfort. With Allform, you can create a perfect seating arrangement that embodies quality and sustainability.
Related: 13 Leather Sectional Couches for Your Space
Pros
100 days trial option
Modular design
Stain-resistant
Durable fabric
Cons
Limited color options
Assembling it can be challenging for a few
Wrapping It Up
All in all, we can say that all forms so far are a perfect Union of comfort, quality, and sustainability. The impeccable design and timeless elegance of these sofas offer unparalleled relaxation and support. Its high-quality foam and construction contour your body. Thus cradling you in comfort.
Moreover, all form promises environmentally conscious customer luxury. All the sofas are designed meticulously and share high-quality construction and longevity. Allform also promises its customers 100-day trials that assure you of the quality of the product.
It also comes with a lifetime warranty, thus giving customers complete peace of mind. In addition, Allform also offers a range of accessories like ottomans, pillows, and blankets. All this makes it a trusted brand for sofas.
Frequently Asked Questions
Where is Allform Sofa Manufactured?
Allform practices ethical quality manufacturing standards. The company has collaborated with a multi-generation family-owned manufacturing company in North Carolina. All the sofas are made in the USA.
How Does the 100-day Trial Work with Allform Sofas?
To ensure maximum customer satisfaction, Allform offers a 100-day trial. If, in 100 days, you don't feel that the sofas are up to your expectations or you find any issues with the sofa, you can ask for a return. The return in a 100-day trial period is completely refunded without any hassle.
Can Allform Sofas Stand with The Pets?
Allform sofas are made with premium quality fabric. These are designed to withstand pets in your house. It is made from 55000 rub test fabric, which makes it scratch-resistant, and stain-resistant. The heavy-duty fabric lasts longer.
Check This Next: 18 Best Modern Couch Designs to Try in 2023