We all want our living rooms to be aesthetically pleasing, roomy, and gorgeous. Isn't it? Looking for best modular sectional ideas?
Imagine coming home from a long day and relaxing on the sofa relieves all of your stress.
If you are on the hunt for both comfort and elegance, then you will be delighted to know that the market is swamped with a diverse choice of the best modular sectionals in 2023.
In this blog, we have compiled a list of the best modular sectionals to enhance the beauty of your living space.
Our carefully selected 13 modular sectionals will elevate the look and comfort of your home.
Join us as we dive into the world of the best modular sectionals and discover the best choices for your living room.
1. Beckham Modular Pit Sectional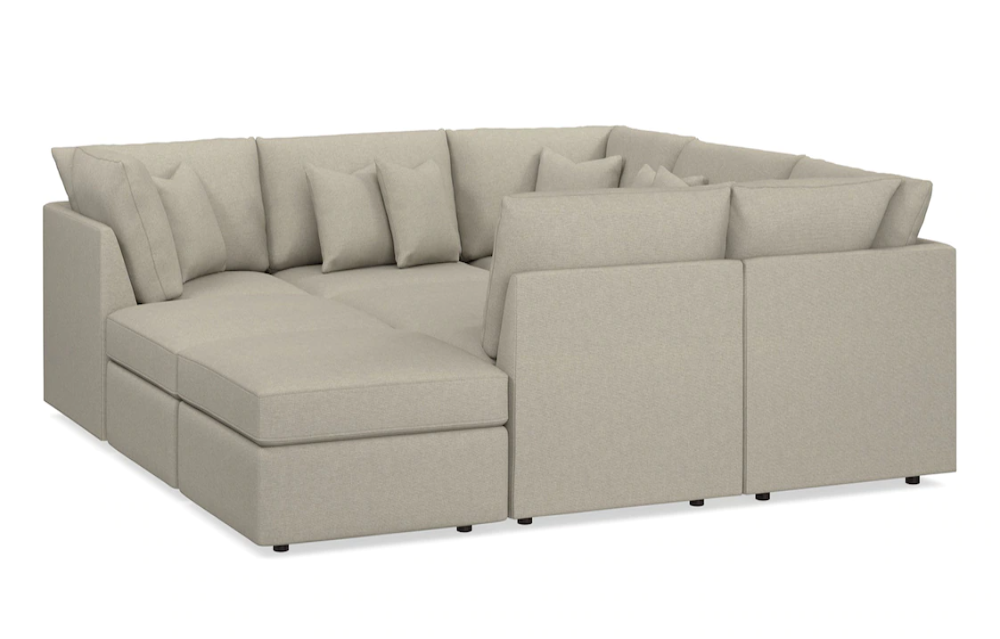 Known for its exceptional comfort and stylish design, Beckham modular has been reputed as one of the best modular sectionals available in the market in 2023.
The stand-out feature of the Beckham modular is its deep and plush seating which allows you to sink in and unwind after a long day.
In terms of aesthetics, it boasts a sleek and contemporary design with its clean lines and tailored upholstery. Beckham Modular Pit Sectional is popular for its endless qualities of comfort.
You may check out more features of Beckham Modular Pit to make an informed decision on what you want for your living room.
Similar Post: 15 Modular Pit Couch Sectional Sofas at Home for Chilling
2. Albany Park Kova Corner Sectional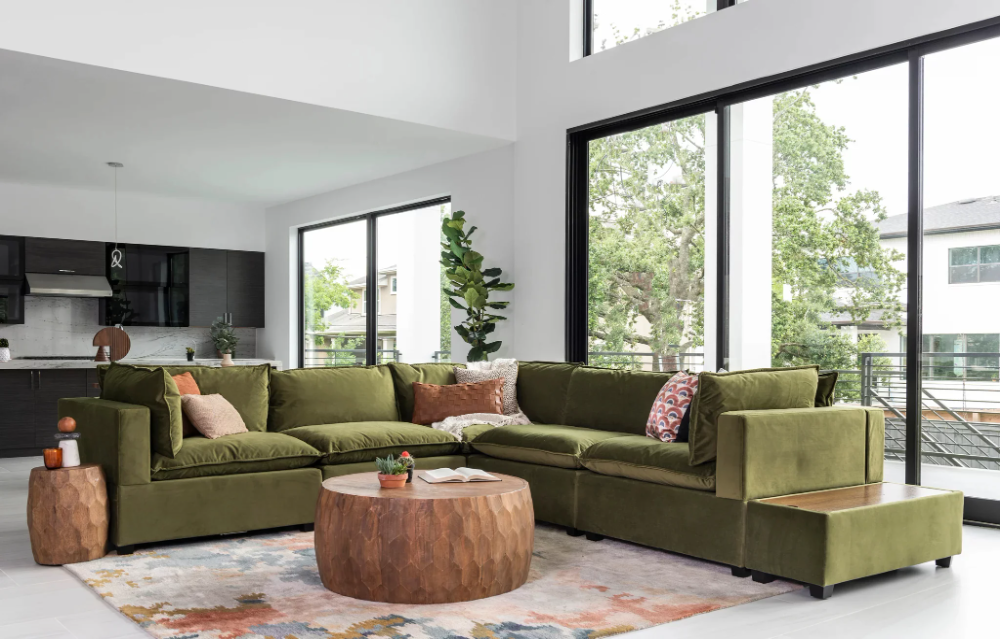 Completely modular and easy to arrange. It consists of individual pieces that can be arranged and reconfigured to fit different room layouts and preferences.
Prepared to match your specific needs, the Kova allows you to have either a classic L-shaped sectional or a unique setup as you like for your home decor.
But what makes it the best modular sectional? Kova arrives at your home in a collection of boxes and gets together in less than a minute.
You can opt to purchase its other equipment, like corner pieces and attachable ottomans, later at your convenience, which makes it an even smarter choice.
So if you want to start with a basic sofa and then expand it later, you can also do that with the Kova.
3. Lumin Modular Sectional from CB2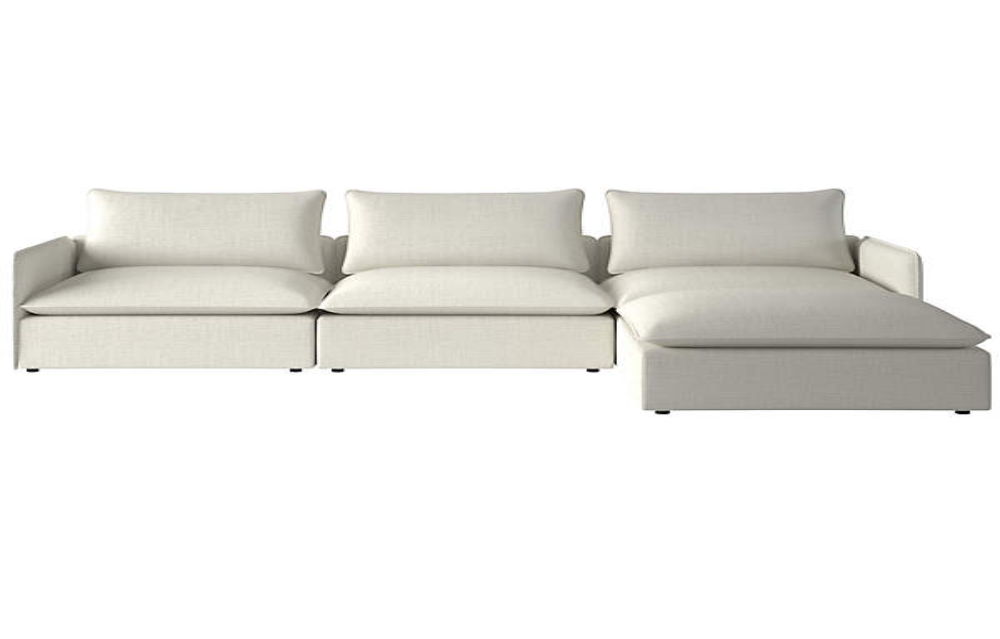 In 2023, Lumin modular is the most convenient one to add a touch of modern elegance to your living space.
With its sleek design, modular components, and high-quality construction, the Lumin sectional has become the favorite amongst the bachelors.
The Lumin Modular Sectional does not sacrifice comfort. The deep and well-padded seating is elegant to look at and comfortable to sit on.
Support and comfort are provided by both the high-density foam used in the couch and the material used in the back cushions that feathers down.
4. Ivory Pit Sectional Sofa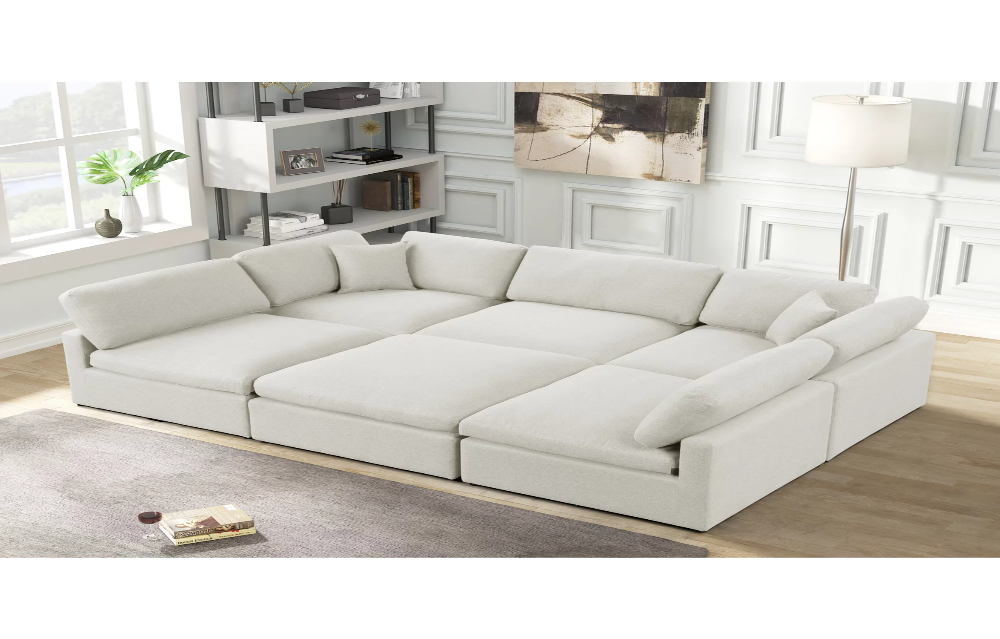 Durability and quality are the main features of the best modular sectionals. Your home decor will look as aesthetic as the view from the mountain peak.
When it comes to styling, the ivory color of the sectional sofa offers versatility and adaptability. It can seamlessly blend with various decor styles, whether you prefer a modern, traditional, or eclectic look.
Whether you're relaxing, entertaining, or spending quality time with loved ones, Ivory Pit Sectional Sofa provides a comfortable and visually appealing seating option for your living space.
5. Burrow Nomad Modular Sectional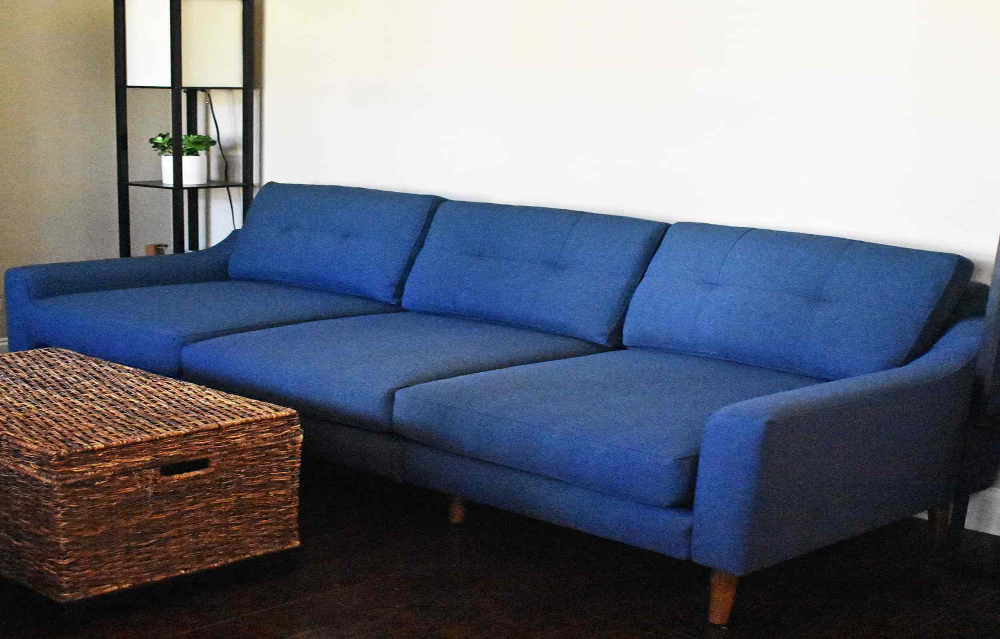 If nothing excites you more than your comfort and innovative design, then Burrow Nomad Modular Sectionals are the best choice for you.
Overall, the Burrow Nomad Modular Sectional combines style, convenience, and comfort to create a highly functional seating option for modern homes.
Its modular design, tool-free assembly, and customizable configurations make it a flexible choice that can adapt to your changing needs.
With its durable construction and range of fabric options, the Burrow Nomad Modular Sectional offers a long-lasting and stylish addition to your living space.
Also Read: 13 Leather Sectional Couches for Your Space of 2023
6. Big Sur Sofa Pit from Pottery Barn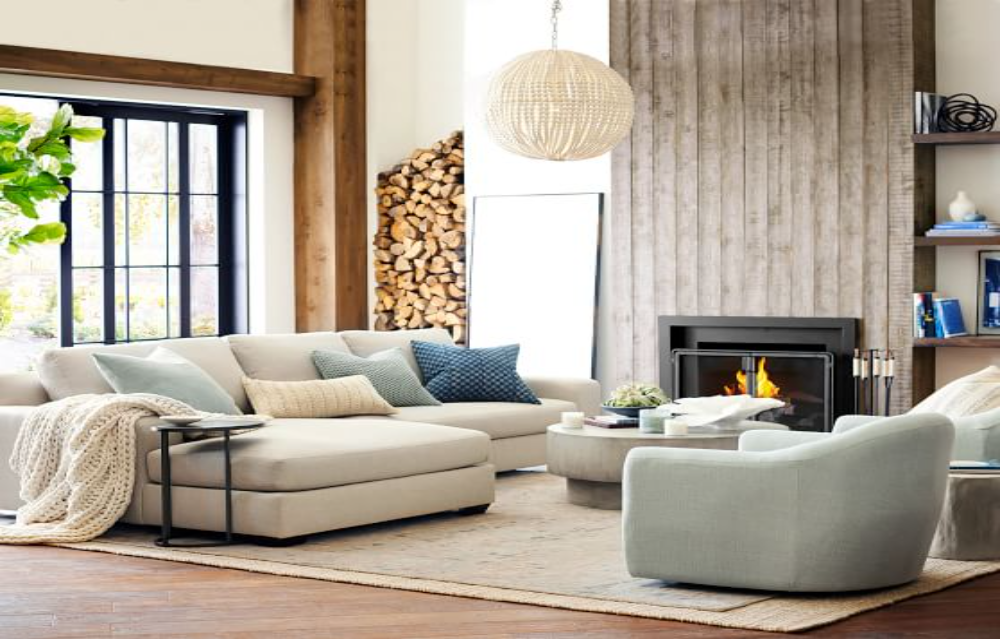 This beauty is designed for our social animals who like to host parties and invite their friends and family over. It never gets out of fashion, and its comfort makes you fall in love with it.
Comfort and convenience is the top priority with the Big Sur Sofa Pit. Feather-filled cousins with a Large seating area are what makes it the best modular sectional available in the market.
Guess what? It does not stop only here, and these are specially designed o be highly soft, so you can sit as long as you like, which makes it easier to even work on these sectionals.
So be it a party or your office work, they are always going to be your perfect partner.
It is also among the most popular sectionals in the list of fans who like to live luxurious lives.
7. Remi Modular 5-Piece Sectional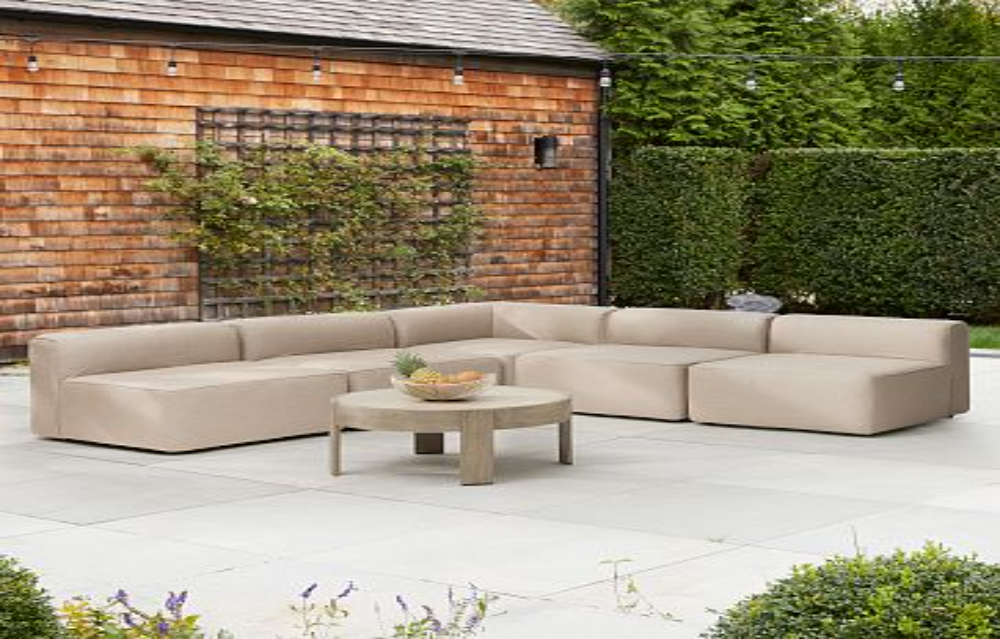 Want your living room to look aesthetic? Then why not take the help of leather? If you like leather, then you can't go with the Remi Modular 5-Piece Sectional.
Comfort is a top priority with the Remi Modular 5-Piece Sectional. It features plush cushions and deep seats, providing a cozy and inviting seating experience.
The cushions are usually filled with high-density foam for optimal support and comfort. In terms of style as well, the Remi Modular 5-Piece Sectional offers a contemporary and sleek aesthetic.
8. Inside Weather Modular Bondi 3-Seater Sofa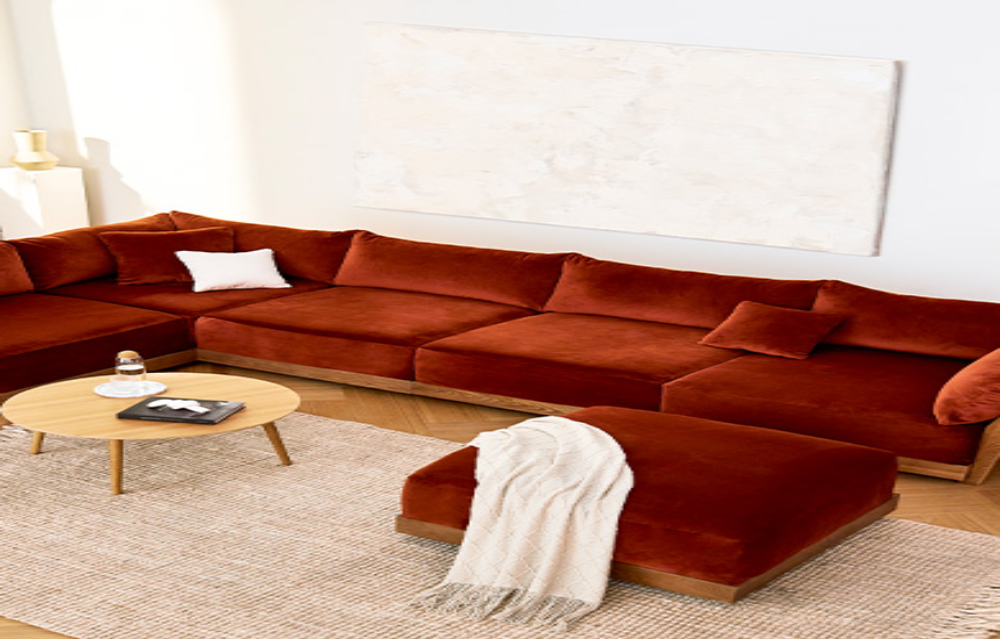 Unlike the ordinary sofa, the Bondi collection provides a conveniently modular couch system that can be rearranged to accommodate your needs.
With 36-inch-deep seats and soft yet supportive cushions, the Bondi Sofa is welcoming, spacious, and oh-so-plush.
Overall, the Inside Weather Modular Bondi 3-Seater Sofa offers comfort, customization, and contemporary style. It is a flexible and adjustable seating solution for any living room.
Whether it is your small apartment or a huge living room with a Modular sofa, you can always enjoy it with your loved ones as it offers elegance and comfort and provides an inviting environment for you.
So, next time you think about inviting your friends over, don't hesitate.
9. Joybird Bryant Modular Sectional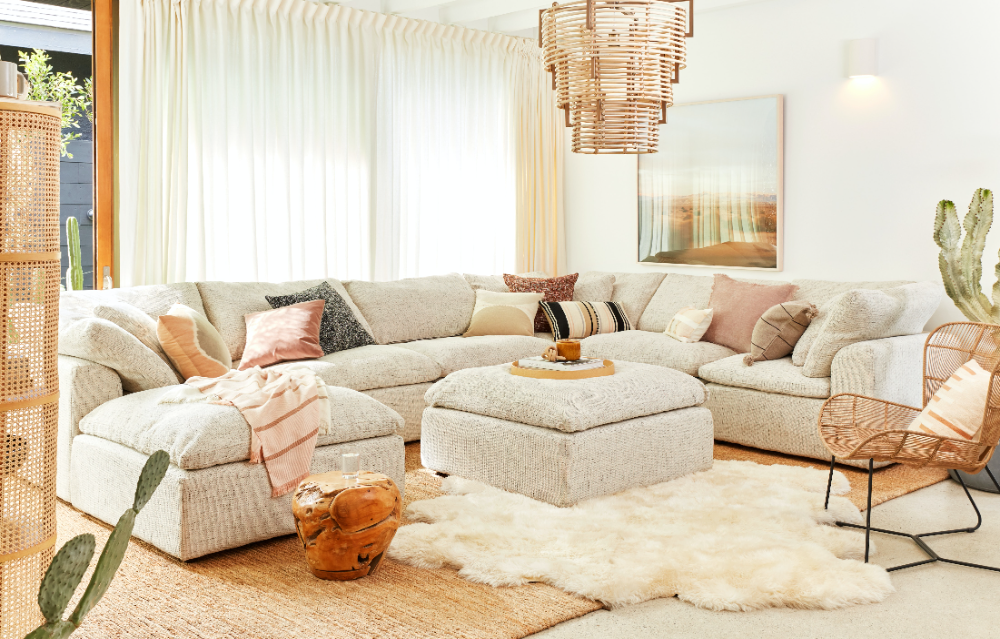 If you are looking for a relaxation spot in your living room, then look no further; get your eyes on Joybird Bryant, which is specially made for you.
While there are some pre-designed patterns available, you can also create your own sectional using corner, armless chair, and ottoman components.
You can also customize your design with more than 80 upholstery choices, ranging from traditional weaves to performance Sunbrella fabrics.
The Bryant Modular Sectional is often crafted with responsibly sourced materials and manufactured using eco-friendly practices and is considered the best modular sectional of 2023.
Related: 10 Versatile Modular Sofas You Need in 2023
10. Piazza Modular Sofa from CB2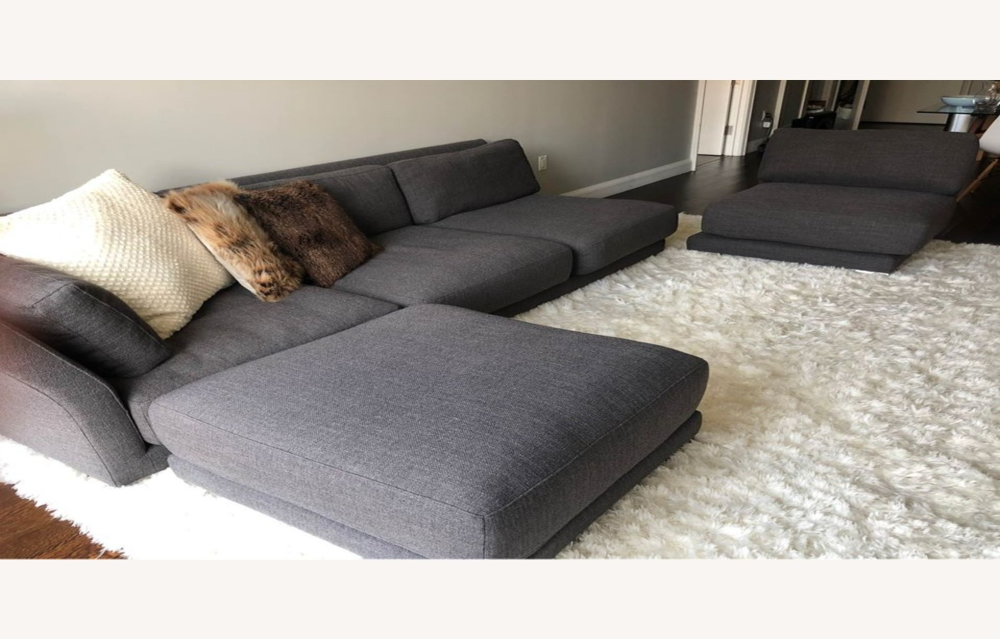 Are you ready to sink into the comfort ocean? If so, the Piazza modular sofa is something you can not miss. Long, lean, and low to the floor makes it unique and give a European appeal.
Piazza Sofa has a modern silhouette with straighter lines. The nicest thing about CB2 is that it is dedicated to offering top-notch goods with a focus on contemporary design.
No exemption applies to the Piazza Modular Sofa. These are made with the perfect formula to take care of your comfort, also ensuring that they are durable and strong for sitting in your living area.
11. Bob's Furniture Dream Navy Modular Sectional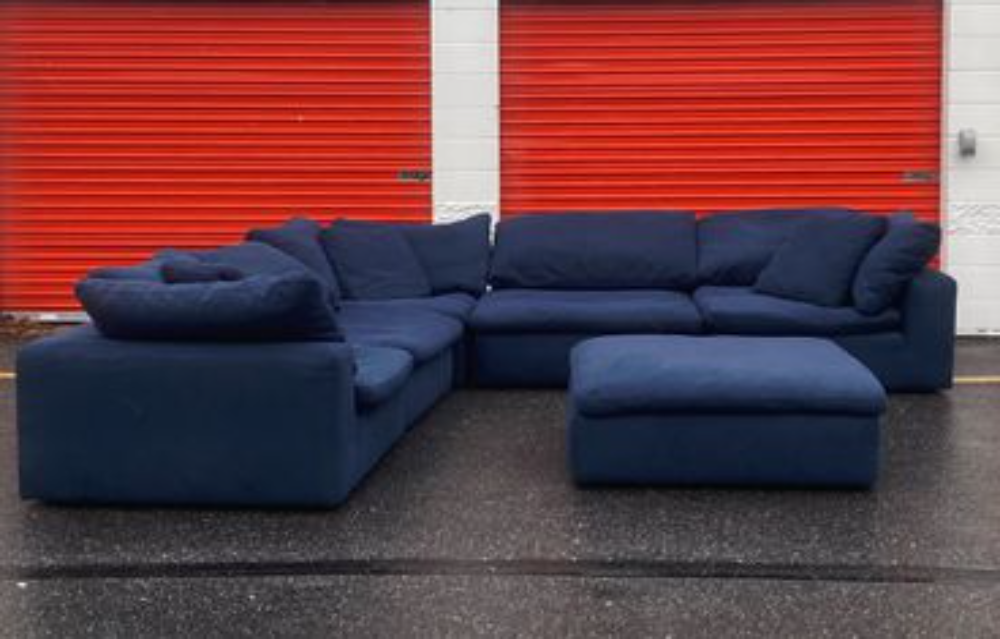 When there are hundreds of best modular sectional options available in the market, there's one sectional that stands out from every category.
Yes, you guessed it right, we are talking about—the Bob's Furniture Dream Navy Modular Sectional.
With its appealing navy color and fancy design, this sectional is a tour of comfort, customization, and affordability.
This sectional is designed with jersey fabric; you may find it in either grey or navy blue furnishing.
The cushions are versatile, making it easy to hide accidental stains, and the base is made with memory foam for the perfect balance of support and comfort.
12. Dawnelle Sectional Pit Sofa from Wayfair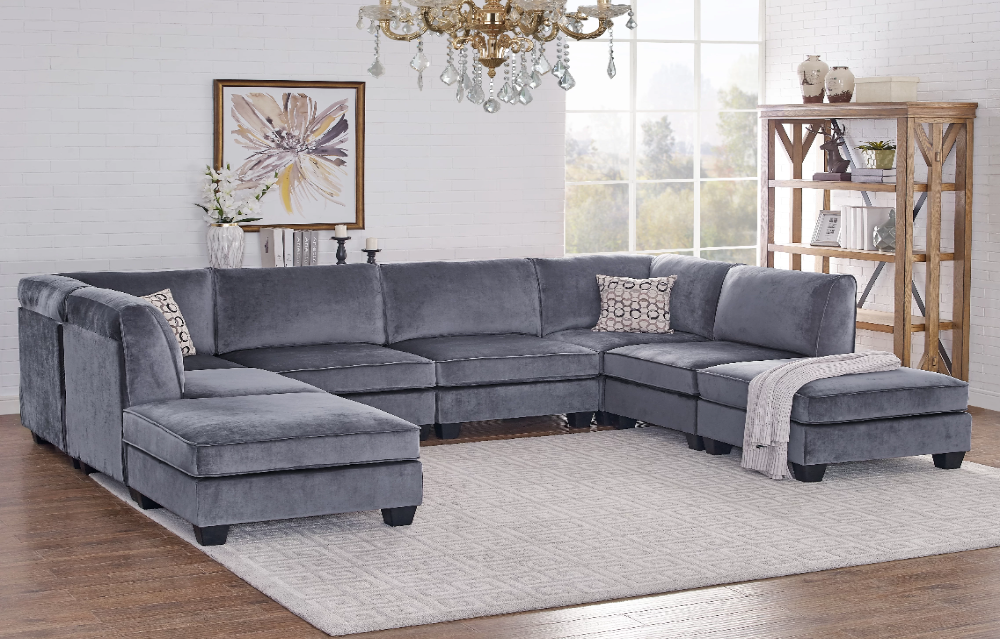 You can't take your eyes off its luxurious design and unparalleled coziness. Behold the beauty and comfort of the Dawnelle Sectional Pit Sofa from Wayfair.
It provides absolute flexibility and gives an elegant look to your living area.
Like the first rays of the sun breaking through the roof, the Dawnelle Sectional Pit Sofa brings a sense of calmness and serenity to your living space.
Its smooth lines and contemporary silhouette effortlessly mix with any living room decor style, whether you're drawn to pure simplicity or prefer a more modern aesthetic.
This sectional is a true statement piece, elevating your home with its sophisticated charm.
13. Owen Pit Sectional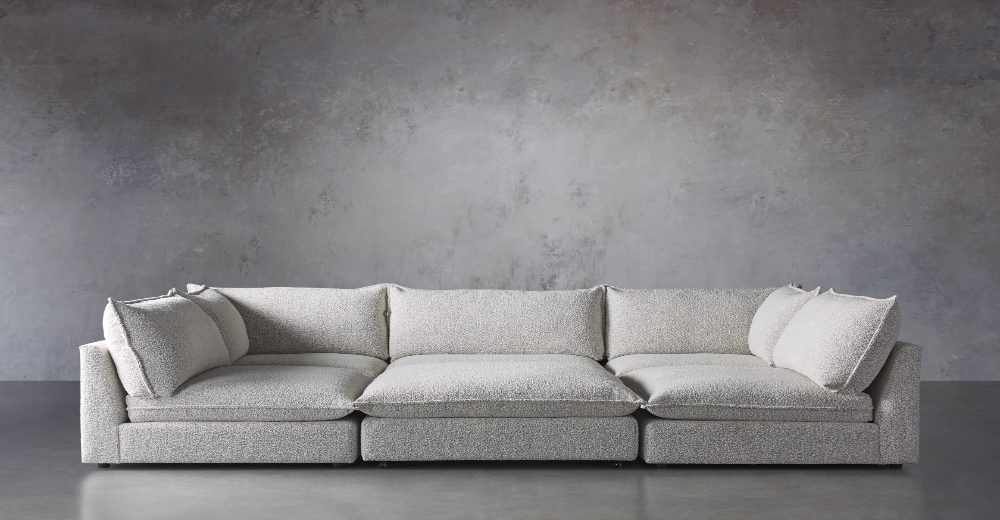 With a true expression of comfort and style, we introduce you to the best modular sectional – The Owen Pit Sectional.
With its inviting design and luxurious features, the Owen Pit Sectional is a stunning addition to any living space, creating a cozy and welcoming atmosphere for you and your loved ones.
You will fall in love with this huge sectional couch. These are made with sustainable wood and recyclable steel, which makes them environmentally friendly.
The Owen Pit Sectional makes a cozy and inviting place that you won't want to leave, whether you're hosting friends or just relaxing at home alone.
Check This Next: Allform Modular Sofa Reviews 2023: Are They Worth the Hype?
Summing It Up
All in all, where everyone is looking for aesthetics and comfort, there is a wide range of modular sectionals available in the market.
However, here we have compiled the best modular sectionals for you that you can choose according to your lifestyle, budget, and preferences.
Think about things like comfort, price, durability, and design aesthetics when choosing the best modular sectional for your home.
Selecting a sectional that not only fits in with your current design but also offers the desired level of comfort and durability is crucial.
You may select the ideal modular sectional to make your home into a practical and welcoming retreat by looking through the 13 alternatives described above in the blog.