Well, there is no better way to paint your walls than choosing an eclectic form of blue or green. However, when you take a look at it, not all blues or greens are created to blend equally. The blue shades are a little over-empowered over the greens or vice-versa. So then, how do you find a perfect blend of blue-green tones for painting your homes with?
This is where Sherwin Williams's Rainwashed array of colors and blends gives you a perfect fit for painting your homes or villa apartments. The Sherwin Williams Paint Color 6211 is the most obvious choice for you to select when you have your hands-on painting farmhouses or coastal homes in a fabulous manner.
The soft shades blend so well that when you paint your interiors using Sherwin Williams Rainwashed hues, the light reflects through the walls.
Come on, let us take a product review of this lovely grade of paint shade:
Details of What Sherwin Williams SW 6211 Is All About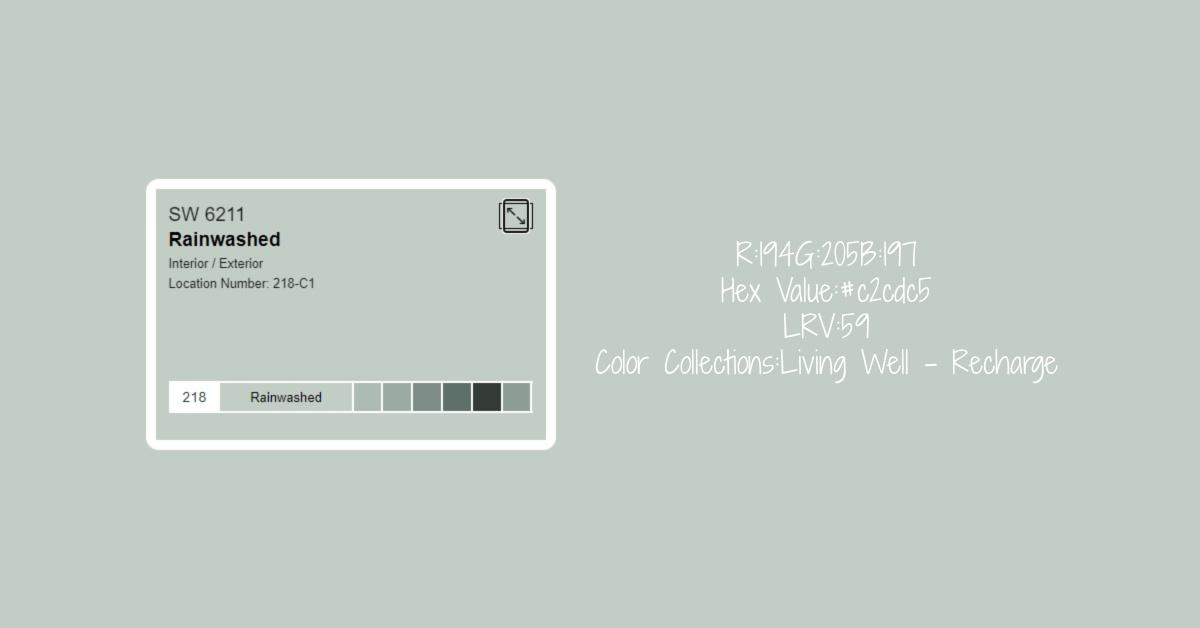 The SW 6211 is a bluish-green tinge that is lightweight and gives an airy feel when the rooms get this blend of shades painted. The painted rooms give out a lovely ambiance for your room decor.
The natural vibes these shades give out can have a spellbound effect on your rooms or interiors that have been painted using this variety of paint colors.
The room decor gets a serene feel within the living spaces. Try giving this cool bluish-green for your bedrooms or bathrooms. The lovely teal color reflects a cool persona for the interiors or living spaces of your homes.
Similar Post: A Complete Review of Sherwin Williams Modern Gray Paint Color
How Do You Measure the Brightness of Rainwashed Shades?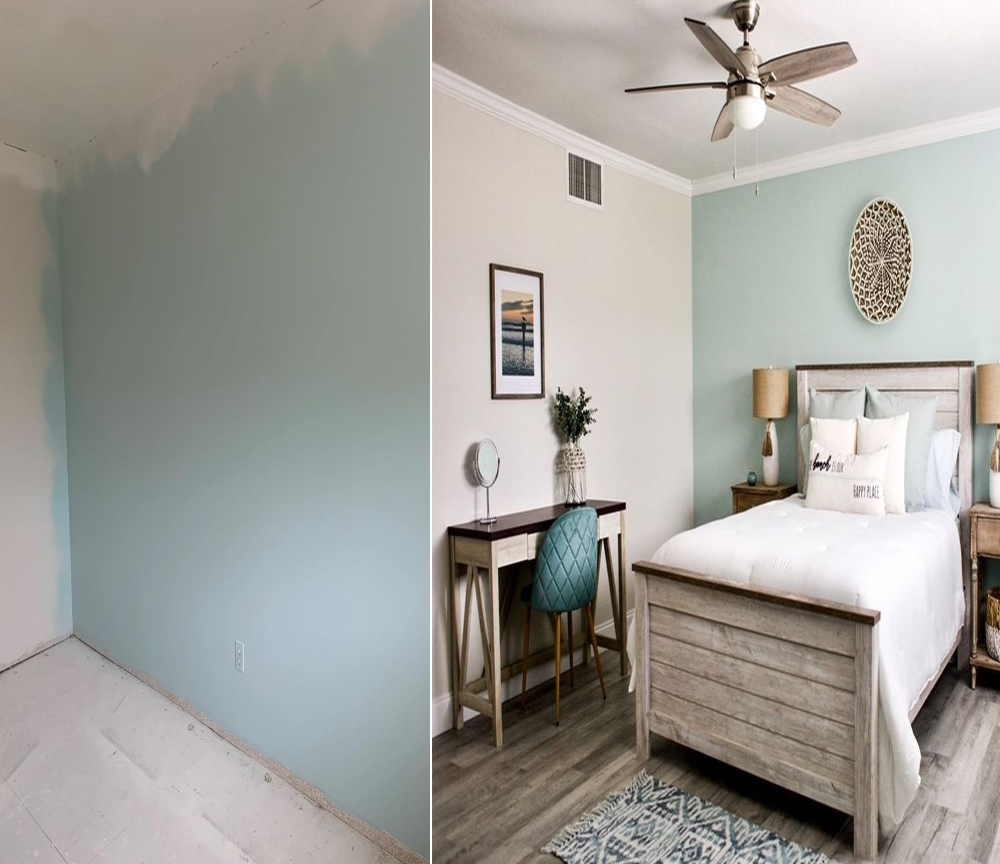 You can measure the brightness of Sherwin Williams Rainwashed colors by using the LRV method. LRV typically stands for Light Reflectance Value, and this is the main acronym that tells you how much light a paint color reflects through its walls.
This means when you paint your walls with bright and vibrant hues, the color can stay on over a longer duration of time. On the other hand, when you paint the walls using lighter shades, say, for instance, creme or off-white, then the color tends to fade out.
You may have to whitewash your walls every now and then. For dark rooms, brighter colors are a tad better than lighter grays. When you paint a faint shade of gray, a dark room can look flat or dingy. Henceforth, it is the LRV that measures the brightness of Rainwashed shades.
Helping You Discover the Undertones of Rainwashed Colors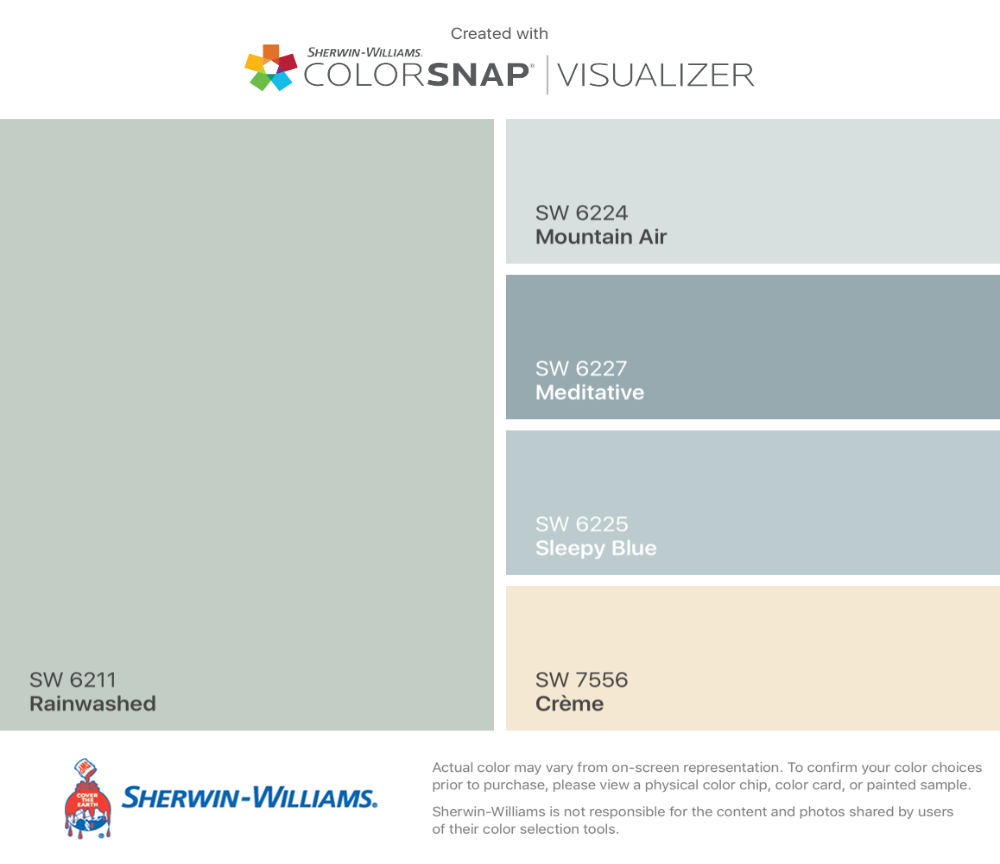 Rainwashed shade 6211 is a mix of blue and green. You can opt for blue shades that empower the green. Or, you can opt for a shade wherein the green is more than the blue.
Your interior paint designers will help you pick the right type of shades depending on the customized requirements you have in mind. The Sherwin Williams Rainwashed range of hues can be picked for your bedrooms, bathrooms, kitchens, and for exteriors, too.
This rainwashed shade gives more teal green shade when you have a north-facing window. The bright sunlight helps you discover better undertones of warm green.
For green lovers, this teal or turquoise blend of paint color looks posh and appealing as you get a natural blend or flavor to the overall room decor. The near sea-salt shade provides warm and inviting vibes to your living spaces. Darker rooms reflect more of the blue color as the tinge reflects in the dingy atmosphere.
Also Read: 12 Easy Blue Couch Living Room Ideas to Transform Your Space
Will You Be Able to Sample Paint Colors?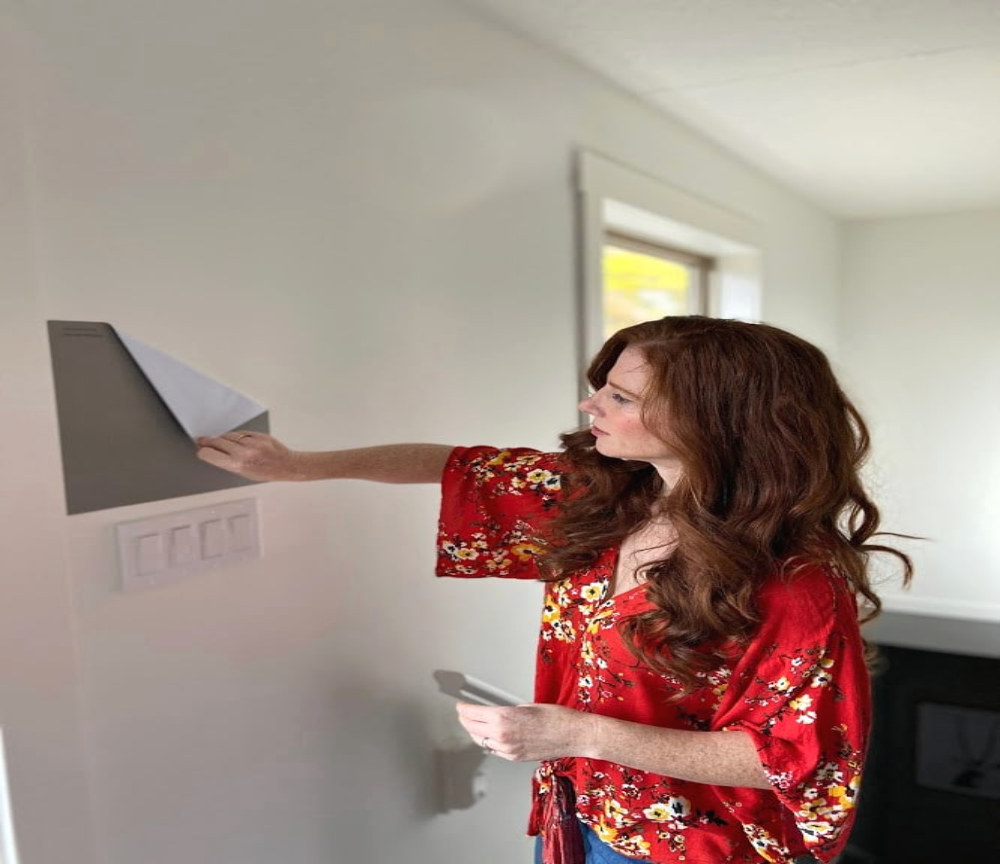 To make things easy and simple, you can try sample kits of the paint shades you are looking for. A few painting companies provide peel-and-use paint kits for the customers to have hands-on, too. These sampler stickers can be peeled off immediately post-use.
The sample stickers are way better to use than your regular painting cans. Here are three reasons letting you know why:
1. Quick and Timely Arrival
The sampler paint kits are relatively convenient, and you can order these sachet kits through an online paint merchandiser, too. The kits can reach you sooner, depending on the location you stay in. You can probably receive your 'Paint sampler' kits within a day or two.
2. Easier on Your Wallet
The peel-stick-peel-off sampler paints are more affordable than buying traditional painting pots. You may have to buy paint brushes, rollers, and foam boards to get you started with a traditional form of painting. The traditional paint kits, therefore, are more expensive as compared to easy-to-use peelable stickers.
3. Do You Want to Use Them Across Rooms
The easy-to-peel-off stickers can be utilized for all the rooms you intend to paint your walls with. Be it a living room, dining area, kitchen, or bathroom closet.
Plus, you can look for the color shades just by placing them on white cardboard. You would be able to analyze whether this is the shade you will go with. Accordingly, you can move the peel stickers across all rooms of your homes or villa spaces.
See More: Choosing Perfect Dining Room Paint Colors – A Complete Guide
Would You Want to Use Rainwashed Colors for Your Trims?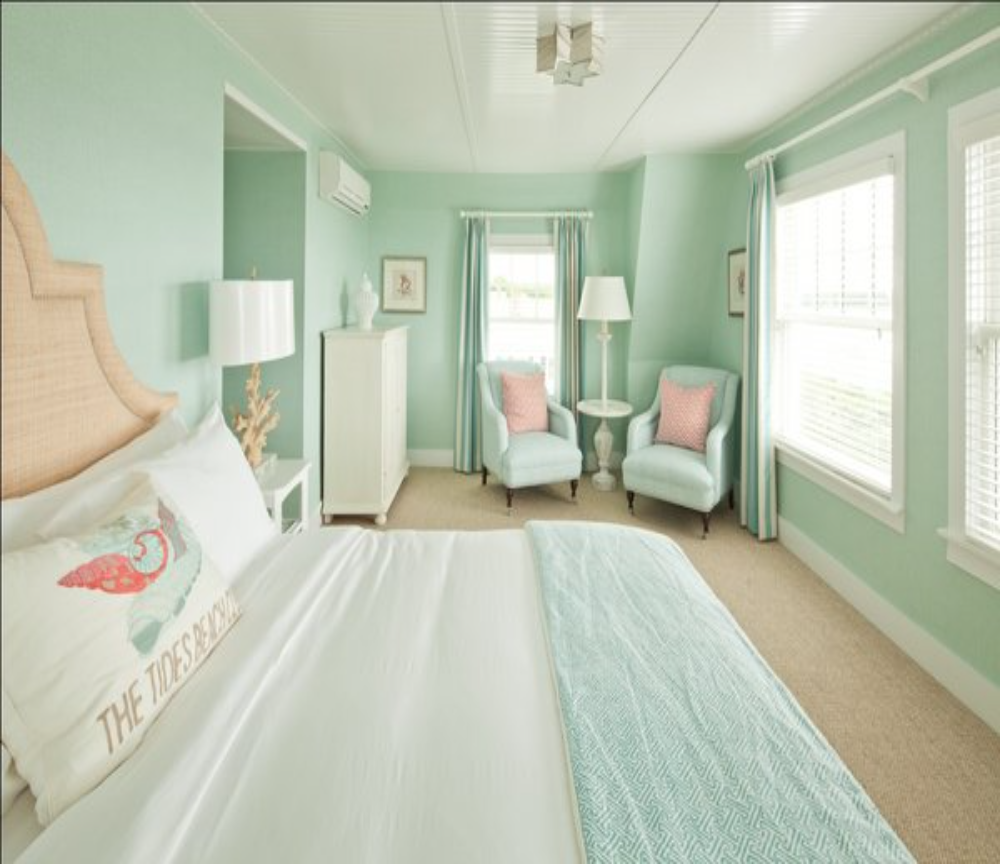 With the flexible array of colors the Rainwashed series can get you with, painting your trims can be a cakewalk. It would be best if you chose undertones of white that go well for the trimming areas of your furniture closets, doors, or windows. Choosing two shades can be ideal for you as:
Sherwin Williams High Reflective White and
Sherwin Williams Pure White
The trim areas usually take the contrasting hues from the original shades the textures are painted with. Hence, you must choose the colors accordingly.
Is Sherwin Williams Rainwashed SW 6211 Good for Your Exteriors?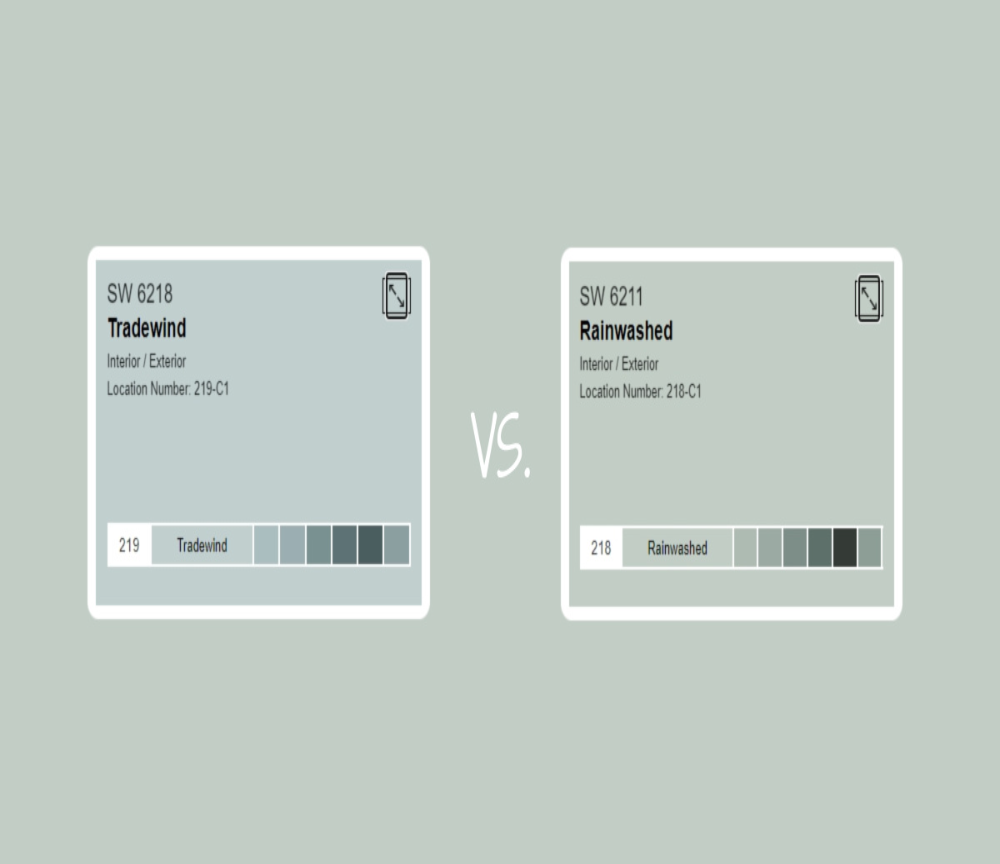 The Sherwin Williams Rainwashed series of colors are usually soft and muted. These colors are understated for those who want a bright and colorful exterior. The typical Sea green shade is more aptly suited for interiors of the home decor. Say for your living rooms, bedrooms, or bathrooms.
When you paint your exteriors with lighter shades, you would have to whitewash the exterior walls now and then. So, going in for soft colors is not ideally suited for a color-protect schema. And repainting the walls every 2-3 years can be cumbersome and time-consuming.
Different Color Ranges You Can Choose Apart from SW 6211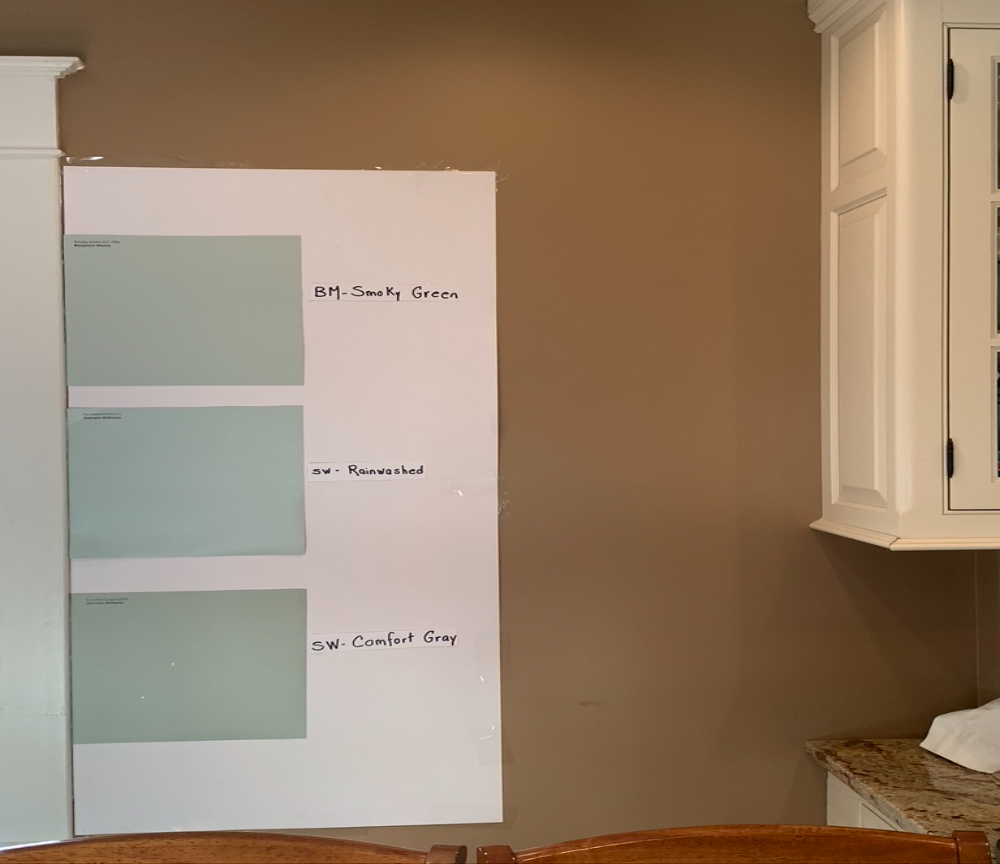 Apart from the typical sea salt color, there are three other shades you can ideally choose for your color palette. These are:
Smoky green
Rainwashed SW6211 or the Sea Salt version and
Comfort Gray
You can choose to paint your walls from any one of the above. The Sherwin Williams Rainwashed hues have enough color and blend to fit into the premises you plan painting your walls with. The shades do not turn Icy cold, especially when you plan to have South or West facing rooms painted.
Related: 21 Paint Colors for Living Room: Expert-Approved Color Picks
How Does SW 6211 Look Good During the Daytime?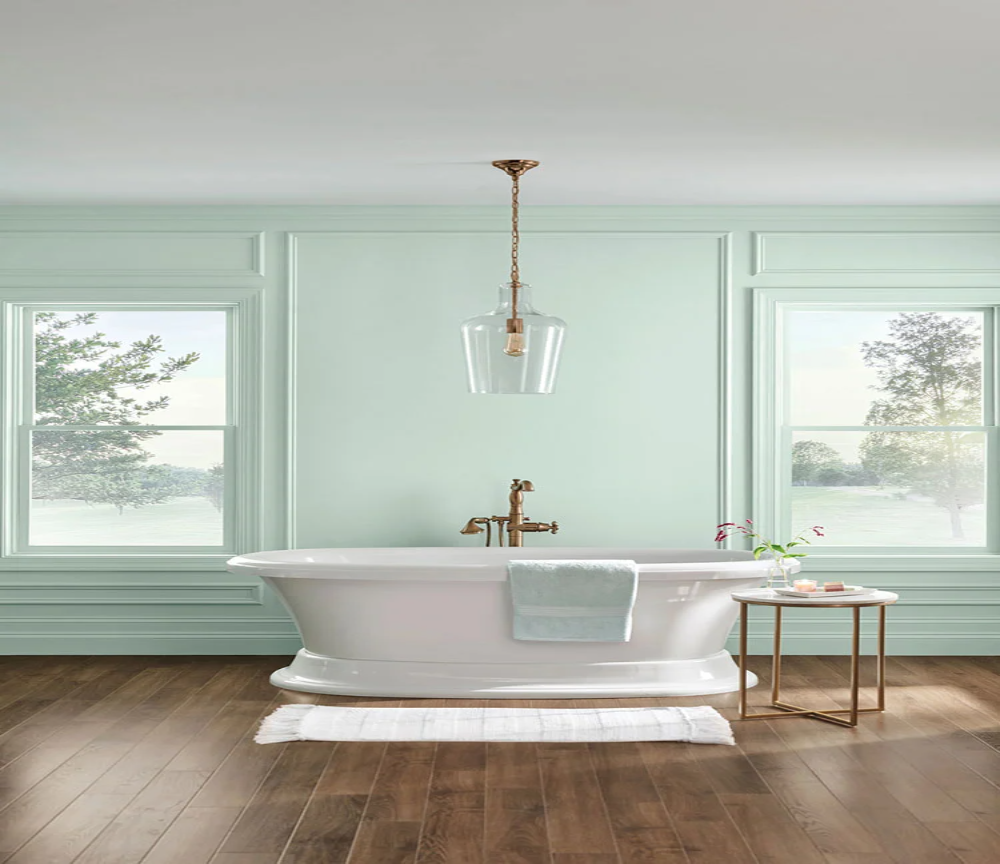 The SW 6211 has an LRV of 59. As discussed earlier, the LRV is a direct indication of how much sunlight or natural light a paint shade can reflect. The higher the LRV, the more reflective a shade can be.
As the SW 6211 has an LRV of 59, it is reflective. The shade also brings more depth and volume to the painted areas of your home decor, even as compared to the brightest colors you aim to choose for your home or interiors.
Therefore, when you have plenty of natural lighting or ventilation inside the Rainwashed painted area, the color looks lighter. On the other hand, when you paint the shade for darker rooms, the bluish-green undertones can look darker. This is the flexibility you get from the Sherwin Williams Rainwashed SW 6211 color palette.
Are Rainwashed Hues Warm or Cool?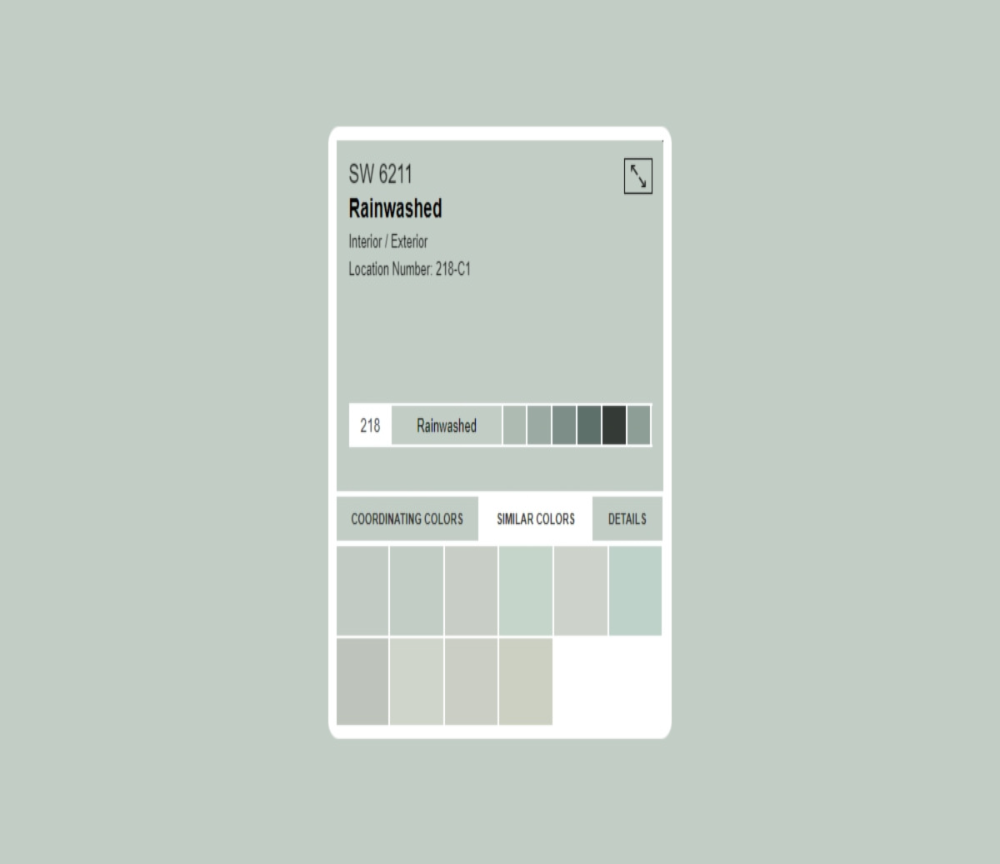 Rainwashed Colors are cool colors. These shades are extremely serene and calming. The shades make rooms look more spacious and airy.
You also add depth and volume to the painted areas of your home decor. This way, you lend spacious vibes to the rooms, even if they are compact or of a lower square footage area. The bluish greens lend plenty of organic vibes to the same living rooms, enhancing your moods or productivity for the day.
Rainwashed blue-green has gray undertones, although the gray shade is muted and does not look over-empowering. The shade tends to pop out against natural grains or textures, say, like the trims or corner edges of your furniture set or other home decor cabinets.
Summing It Up
As you have all seen, we have highlighted several aspects of how the SW 6211 matches your rooms and adds volume to your living spaces. The color match, undertones, brightness, and organic aspects of the color palette have been discussed with you at length.
Rather than going in for brighter hues, the look of Rainwashed colors can be a tad different after all. The blue-green undertones with muted gray lend a soothing atmosphere to the overall ambiance of your homes or villas. Try sampler kits to see what is the right Rainwashed color palette you will go in for, and then there is no looking back.
The multi-faceted aspects of the Sherwin Williams Rainwashed SW 6211 series have clearly been illustrated throughout.
So, when are you going to place your order for these paint cans? Do place your orders right away!
Check This Next: The Ultimate Sherwin Williams Antique White Paint Color Guide