Are you a lover of comfort and looking for the coziest sofa for your living room? Do you also wish to have a super-comfy yet stylish living room? Well, who doesn't want to? And if you are also curious about creating an aesthetic place at home, this blog is definitely for you.
Floor couches have become people's choice nowadays. Why? Because they are the coziest, comfiest, yet aesthetic way for you to make your living room feel like a home place for everyone. You can also have such beautiful space in your home by brainstorming unique ideas and creating magic.
You can have many reasons to choose a floor couch over the traditional sofa couch. Firstly, they are very easy to assemble, and you can keep them anywhere effortlessly. Second, they give beautiful soft aesthetic vibes, which makes you feel comfortable. Third, there is nothing better than being connected to the earth by having this setup on the floor and chilling carelessly.
Best Floor Couches of 2023 for Your Living Room
A floor couch is a lazy sofa. Sounds funny yet interesting right? Yes, it is known as a lazy sofa because a floor couch is a sofa without legs. It is directly kept on the floor as a seating area that feels super comfy.
Here are the top 9 best-picked floor couches for you to have in your living room.
The beautiful floor couch is going to be an absolute sweetheart for your little munchkins. The Jela Kids Couch for kids and adults is surely going to make its way to your house with its beautiful aesthetics. This sofa couch can also be converted into a playhouse for your kids and toddler babies. This modular foam indoor play couch comes with the dimensions 66" X 33" X 22".
It comes in eleven color variants: burn orange, charcoal grey, green, brown, lake blue, light blue, light grey, light pink, navy blue, purple, and yellow. It has a weight limit of 330 pounds. This item weighs 30 pounds. This premium floor couch is purely eco-friendly and promotes sustainability. These 8 pcs can free combined and can be reconfigured according to your imagination which can unleash your little munchkin's creativity.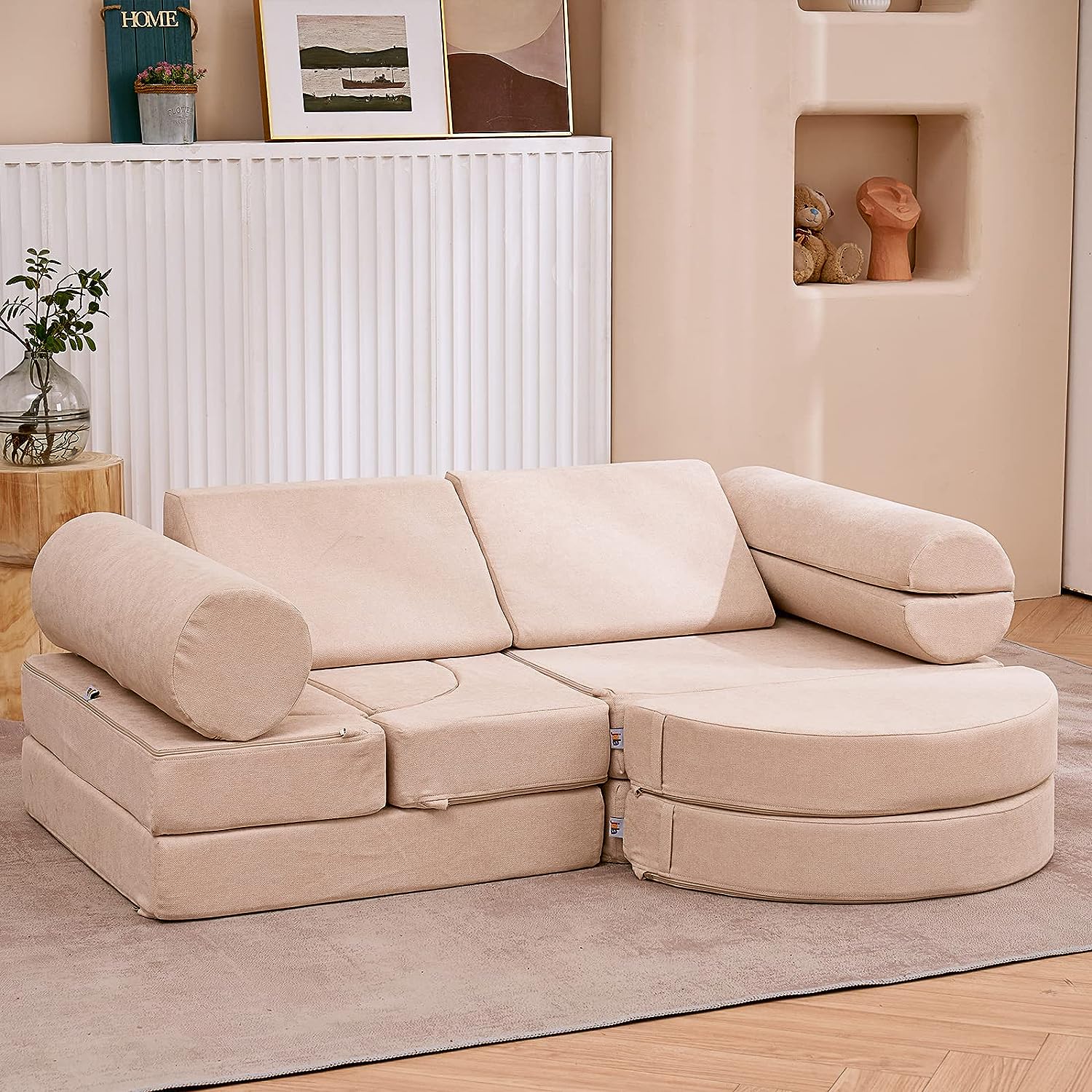 This Jela Kids Floor Couch for Adults is a 14-pcs set to make it a cool space in your living room or bedroom. It comes with dimensions 57" X 28" X 18". Its seat height is 8.5 inches, whereas it has a seating capacity of 2 people. The above-showcased color is moonlight grey. This floor couch set includes 4 basic cushion parts, 2 armrest parts, 2 trapezoid pillows, and 2 round seat cushion parts for your free reconfigurations with this item.
The fabric used by them is purely non-toxic and eco-friendly hence ensuring sustainable development. This 14 pieces sofa couch is an awesome way to have a family activity by making different things out of it for your home as furniture with your creativity. It has three different color variants charcoal, sand beige, and teal.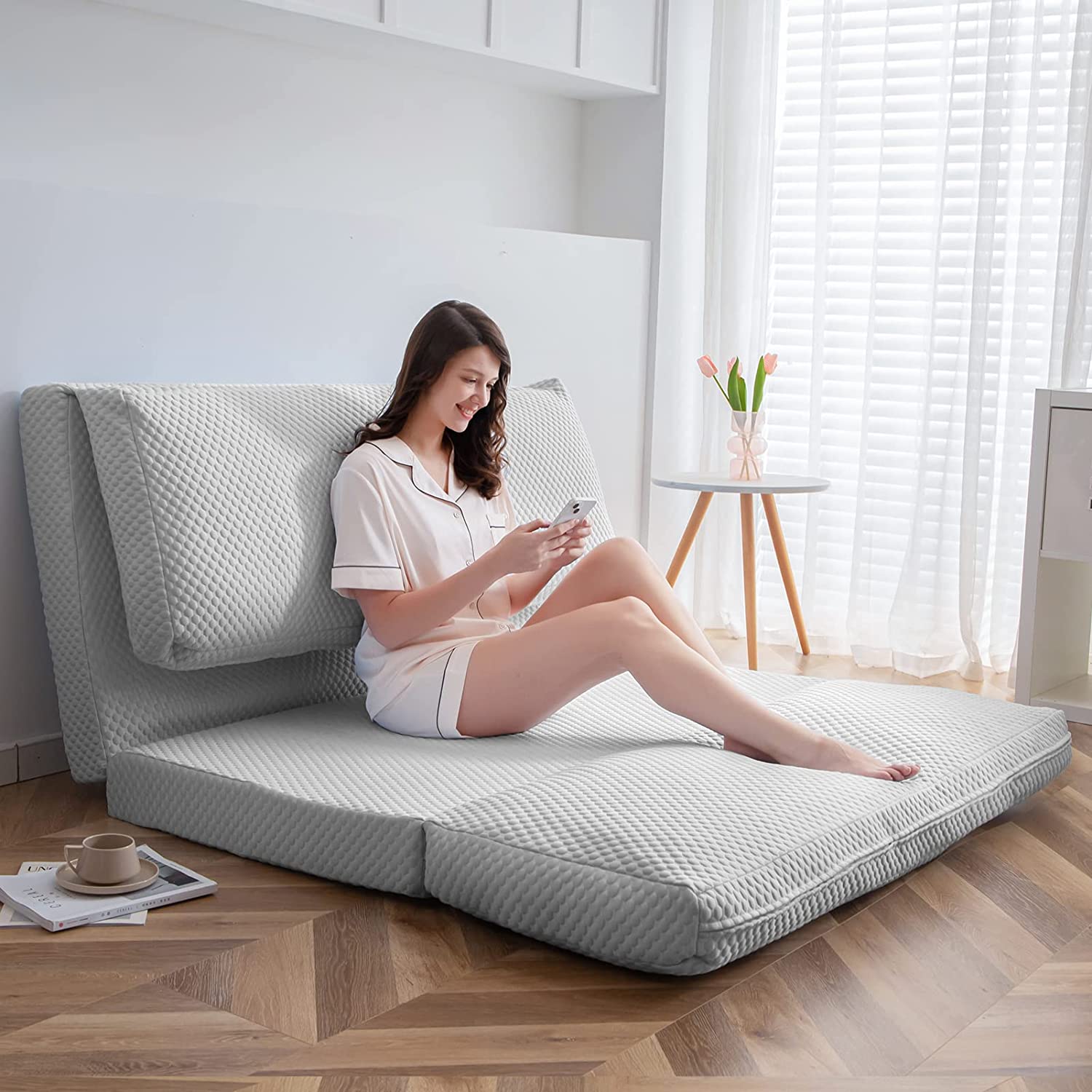 Cooling is all you need after a long hectic day but with some hint of warmth of love in it. Well, you are going to get this feeling from the MAXYOYO Cooling Bean Bag Bed Folding Sofa Bed, which is an absolutely multifunctional floor sofa couch. This long-floor couch absorbs body heat. It is the best choice for summer to provide your body with super-cooling and comfort. The above-shown color is a cooling grey color. This item comes in 10 different color variants that are beige, black, cooling blue, cooling green, dark grey, grey, khaki, olive green, and pink.
This amazing floor sofa bed comes with the cooling cover that we listed above. It has high-density base support foam that is absolutely impressive. You can wash the covers easily in the washing machine and can keep it clean and beautiful. The size of such a single sofa bed is 30×95 Inches.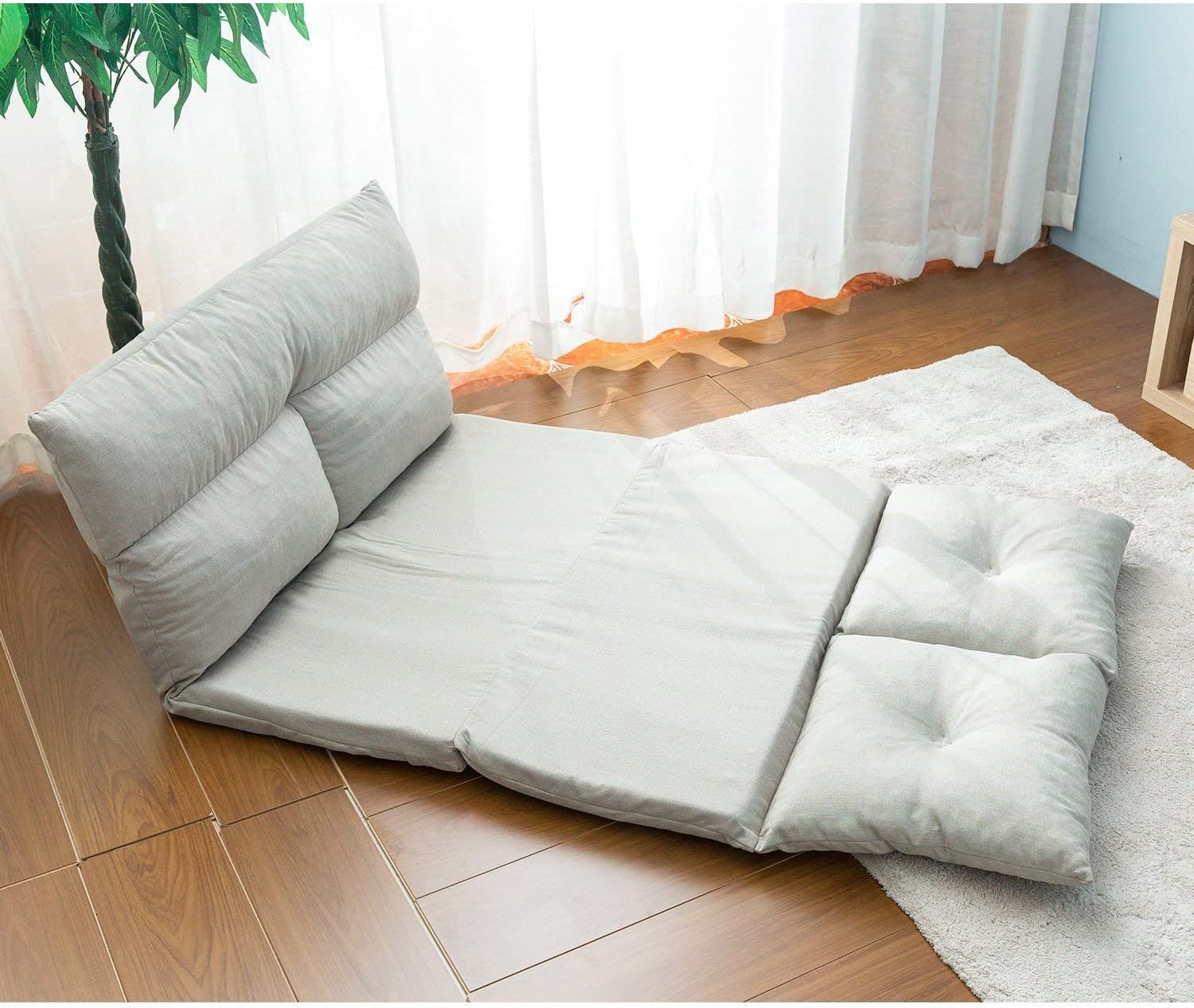 Floor couches are super-fun and comfortable, and to have one stylish one for your house is what you want. Have a look at EMKK Fabric Floor Couch Lounge, which comes with 5 adjustable reclining positions. It has a foldable Japanese futon. It is a Tatami-style floor sofa bed for sitting, sleep naps, or playing twins. It comes in cool gray color and 19 other different colors as well.
It comes with a seat height of 16.5 Inches and has a seating capacity of 2 people. This item weighs 10 pounds. The material is wood. This modern-designed sofa bed is best for the living room, bedroom, playroom, dorm room, balcony, game room, outer space, etc. It is a multipurpose floor couch that can be converted into a sleeping bed and chaise lounge space. It has a weight capacity of 220 lbs.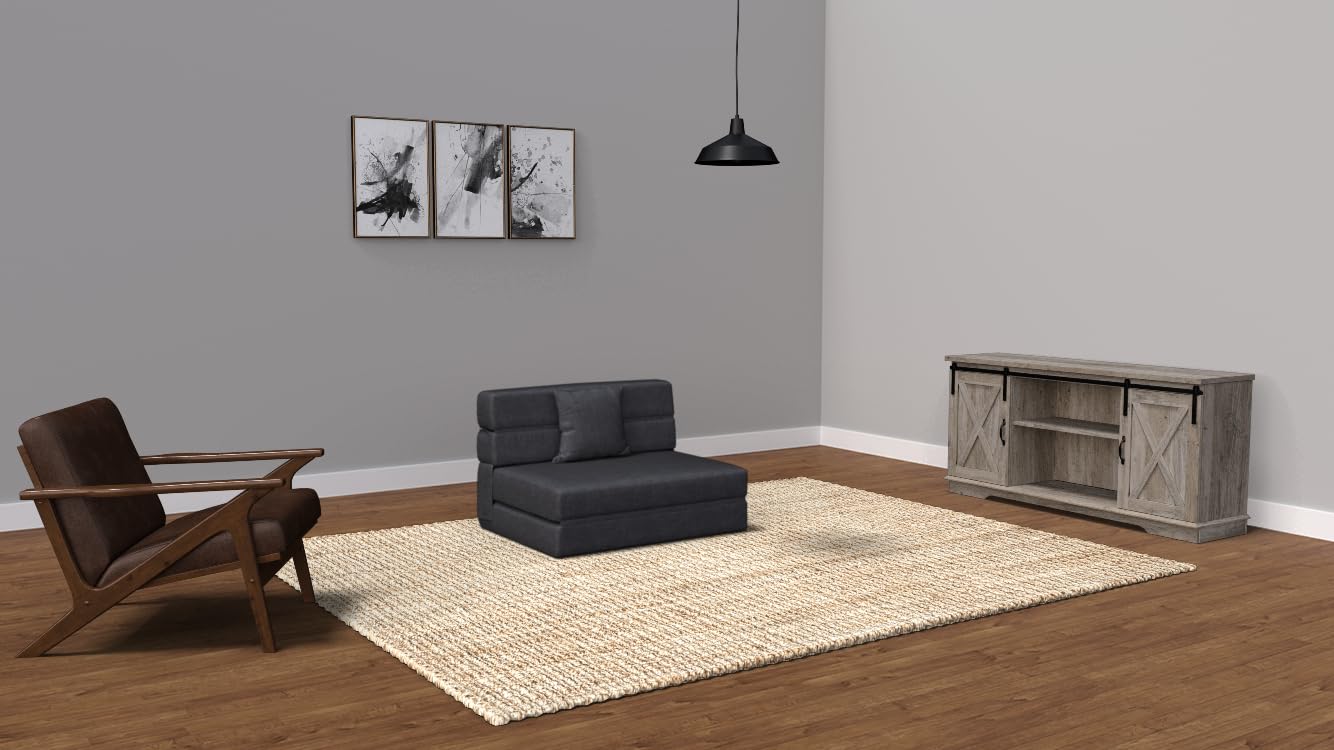 This washable twin-size grey floor couch is very easy to be loved as it has all the qualities you want. ANONER Fold Sofa Bed Couch is proof that big things can come in small packets as well. This floor couch comes with a seat depth of 20 inches, a seat height of 15 inches, and a seating capacity of 2 people. The product dimensions are 39" D x 76" W x 6" H. The displayed variant is of Dark grey color, and it has many more color variants that you can check out through the link on the website.
It has a special feature of storage and folding. It is best suited to be kept in the living room and bedroom. However, it is made up of premium fabric of the best quality. It is very special because of its multiple uses and also is a super space saver for your house. Having an ergonomic design, it sets apart from the other floor couches.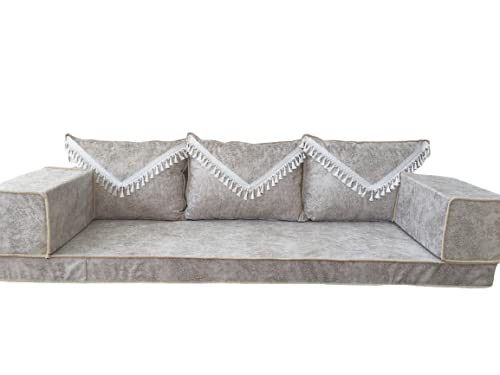 Who doesn't love to be aesthetic in terms of showcasing the best pieces of furniture and art pieces of your house? Well, most of the people! This floor couch is going to be one of the centers of focus in your house for your visitors. The Arabic Floor, Seating Floor couch is surely a beautiful choice for your living room. This is a traditional middle eastern oriental floor couch with an authentic design of the culture of the middle east.
Some of the best parts of this floor couch are that all the parts of this couch are detachable and washable. With that, all parts of these seating include the inner filling inserts. It is absolutely perfect for the ethnic or bohemian home interior. It is very easy to assemble with the help of the module provided with it. You will be mesmerized to know that this piece of furniture is entirely handcrafted, hand-designed, and hand-altered with love.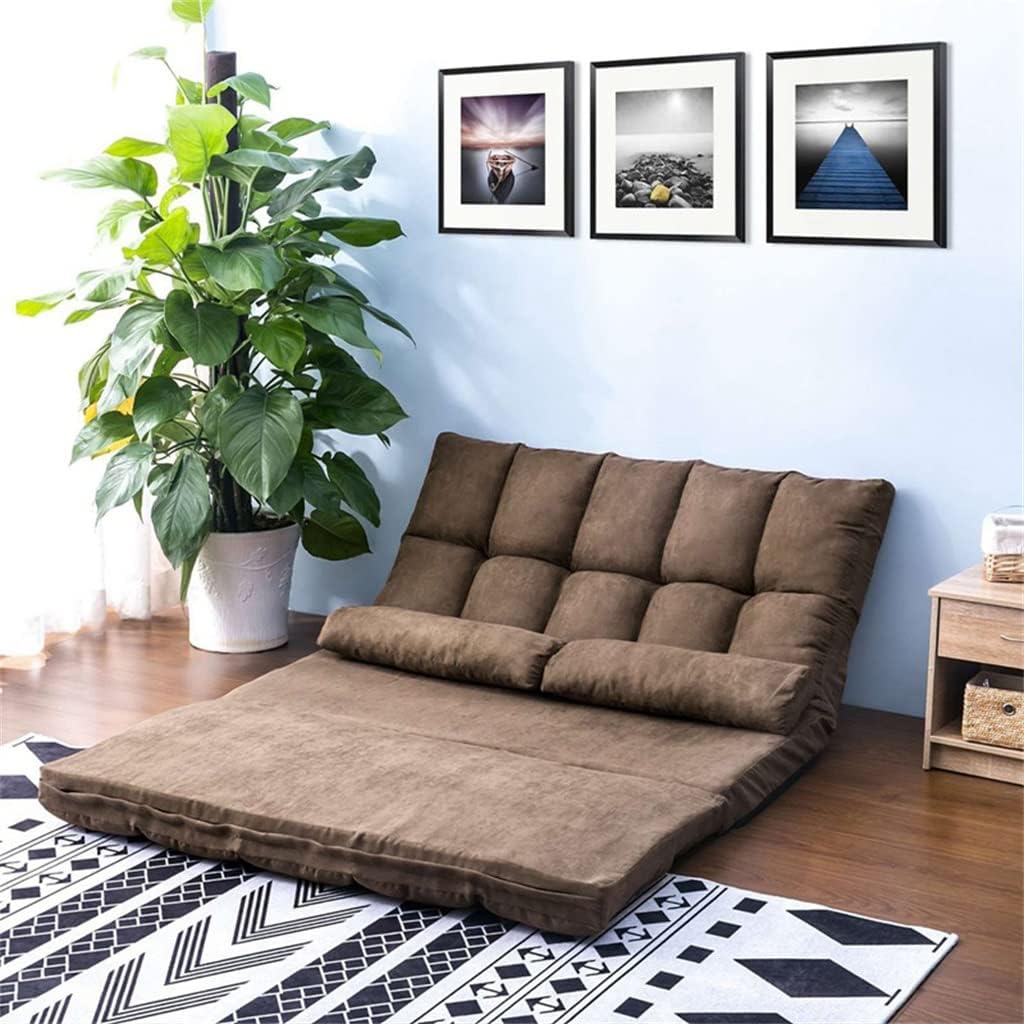 A floor couch is a new statement piece of furniture for modern houses. Well, the SLNFXC sofa bed double chaise floor couch is one of the best choices for your living room. It is an adjustable sofa with two pillows. It has a seat height of 45.67 Inches. This item weighs 1 gram. It has the special feature of folding. It is an armless floor couch with an alloy steel framework and has a universal size.
Its inner material is sponge + steel. The overall dimensions of this floor couch are L70.86" x W45.67". The weight capacity of this item is 300LBS. It is a foreign-style, elegant floor couch to highlight your modern and decent taste. It can be used in apartments, studios, dormitories, living rooms, bedrooms, and many other places.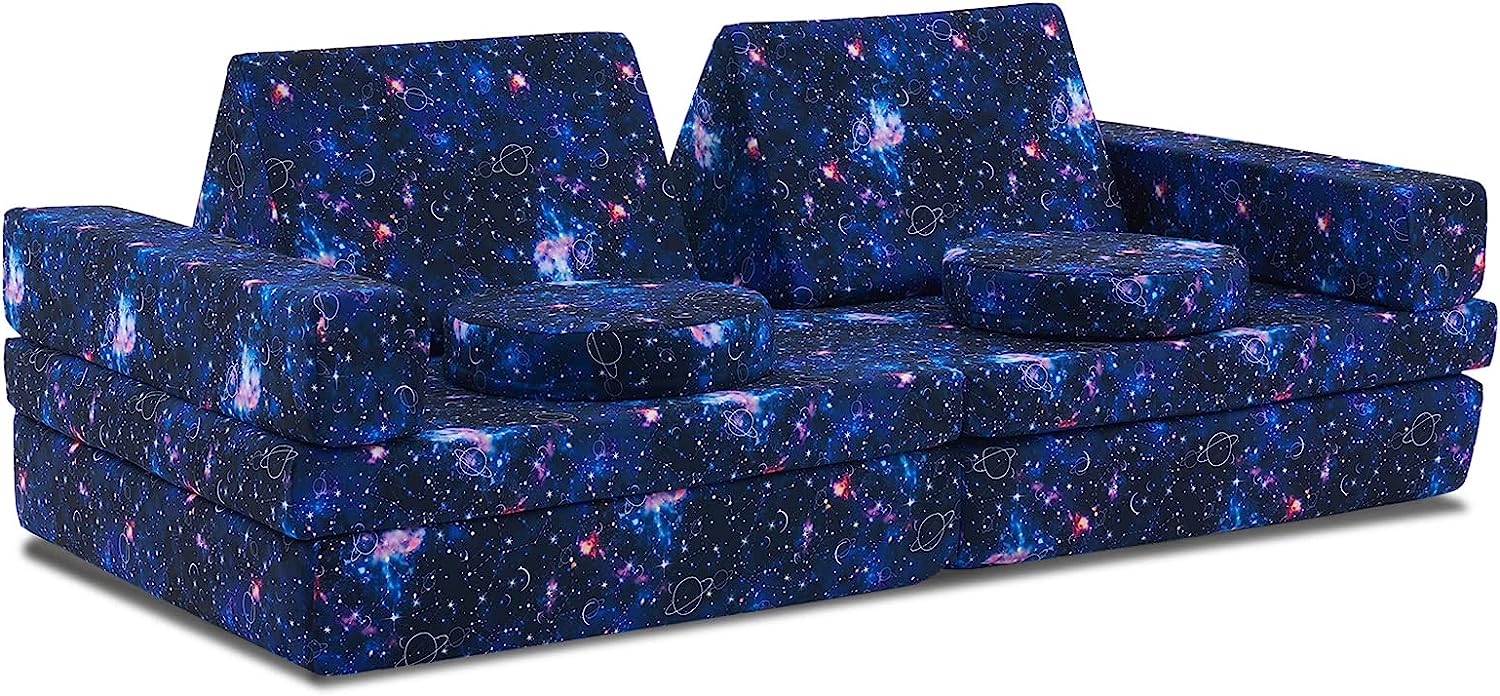 The Jela Kids and Adults Designer Floor couch is a perfect match for all those kids and adults who love to have dreamy prints and designs. You can also have this amazing floor couch for your living room, kid's playroom, or even your bedroom. It comes with 10pcs with futons. This modular play couch that has been displayed has the Galaxy print, which is totally magical.
It comes in 6 variants of different designs that give you many choices to choose the one for you. It has a seat height of 8.5 Inches and a seating capacity of 2 people. The product dimensions are 33" D x 66" W x 22" D. It has detachable and machine washable covers, which again is an amazing feature. You can unleash a magical moment and your kid's creativity with this floor couch.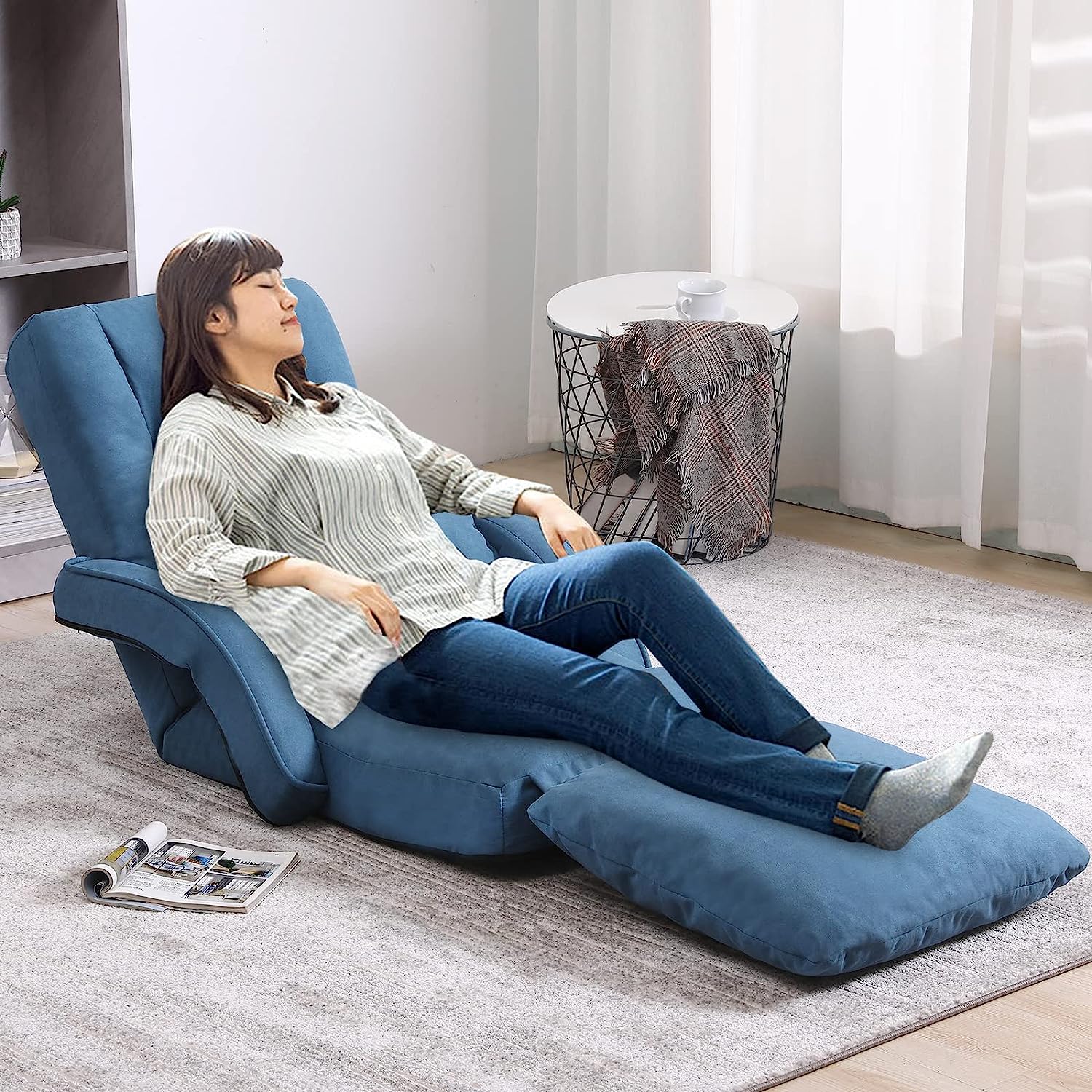 A massively adjustable lazy sofa bed does exist. The best of them is FLOGUOR Foldable Lazy Sofa Bed that can be adjusted in 14 different positions. This adjustable comfy floor chair chaise lounge with armrests and pillow is the best choice for adults. This gaming recliner with footrest futon is the most comforting floor sofa that you can have for yourself.
It comes in cool blue color. The material used includes alloy steel and cotton. The product dimensions are 25.59" D x 27.55" W x 26.37" H. This foldable floor chair provides superior comfort. Its pillow and footrest are the best things that you can have in a recliner. It comes in an amazing ergonomic design.
Summing It Up
All in all, now that you have seen our top 9 picks for floor couches, we are sure you would have chosen the one for your house till now. These floor couches are surely going to upgrade the aesthetics of your house.
Be it the living room, bedroom, playroom, or any other room, you can have the floor couch for that place. These floor sofa couches are absolutely stunning piece of furniture that adds a lot to the space without occupying that much space.
So, now that you are aware of the things you need to remember before buying a floor couch. We are sure you will be able to buy the best floor sofa couch for your house.
Frequently Asked Questions
Are Floor Couches Comfortable?
The most comfortable furniture that you can get is the floor couches. Why? Because they have the simplest design that comes with folding and adjusting features which makes them user-friendly. But still, even in the floor couches, the quality and the material used determines the scale of the comfort of that item.
Can I Use Floor Couches for Outdoor Furniture?
You can definitely use a floor couch both outdoors and indoors. You must buy a good quality floor sofa in order to have one made with the best material. Depending upon the material, if it is of good quality, then it can definitely be used as outdoor furniture as well.
When is a Sofa Too Close to The Floor?
There is no definite height of the floor sofas as they all have different designs and seating frameworks. Some floor sofas are recliners, while some can be hugged by the floor. So, the size and the height of the floor couches vary from one to another.