Plank vinyl flooring is a modern flooring option that's gaining popularity for its durability and attractive appearance.
It's a type of floor covering that copies the look of wood planks, but it's made from vinyl. Think of having the beauty of hardwood floors without worrying about scratches, stains, or high maintenance. We'll check the plank vinyl flooring pros and cons.
These vinyl planks come in various sizes and styles that suit your taste and home decor. If you prefer the classic look or a trendy finish, there's a plank vinyl design for you.
We'll see what things we must consider while buying plank vinyl flooring.
Many plank vinyl flooring options feature a click-and-lock system, making it simple for even beginners to installing without professional help. We'll know about plank vinyl flooring in detail.
So, let's find the plank vinyl flooring pros and cons and check how it can upgrade your space!
What is Vinyl Plank Flooring?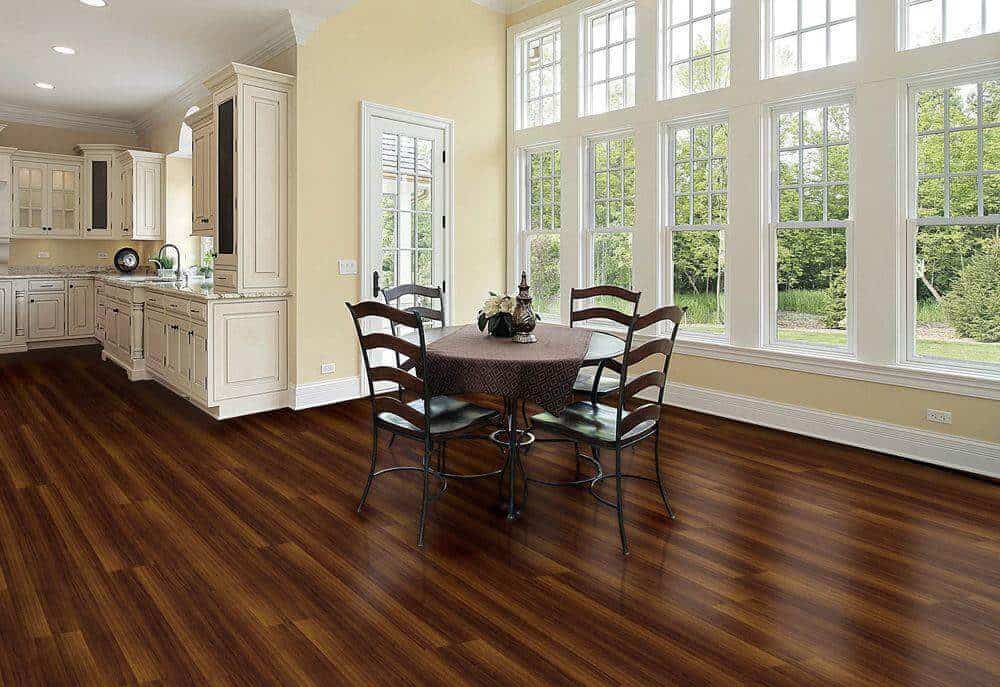 Vinyl plank flooring, commonly known as Luxury Vinyl Plank or Luxury Vinyl Tile, is a popular choice for floors that copy the appearance of hardwood, stone, or tile.
It's flexible and comes with several layers, including one that resists wear, another with a printed design, and a strong core layer.
These layers team up to make a long-lasting and good-looking flooring option.
Let's see the plank vinyl flooring pros and cons.
Similar Post: Allform Modular Sofa Reviews 2023: Are They Worth the Hype?
The Pros of Vinyl Flooring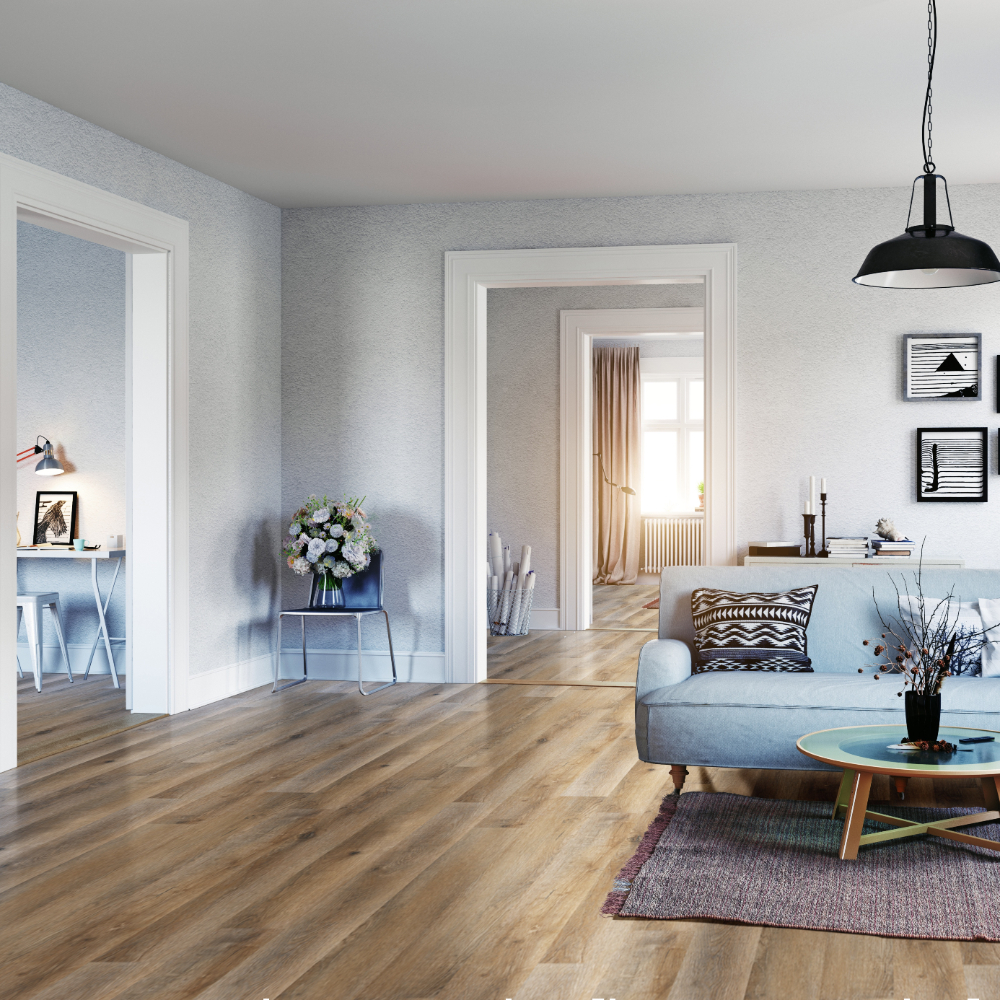 1. Resilient
When it comes to plank vinyl flooring, there are pros and cons. The pro is that Vinyl plank flooring is known for being incredibly durable.
It's made to handle areas where many people walk, so it's great for homes and businesses. This durability comes from how it's put together.
The top layer is usually made of a substance called urethane. Keeps it safe from things such as scratches, stains, and just regular wear and tear.
This means vinyl plank flooring can stay looking nice for a long time with only a little upkeep.
Vinyl can handle water so you can use it in places such as kitchens, bathrooms, and basements. Even if you spill coffee on it, it won't get ruined or change shape, unlike real wood floors.
2. Comfortable
Vinyl plank flooring is famous for its exceptional toughness. It's designed to withstand high foot traffic, making it a superb choice for both homes and businesses.
The top layer is typically composed of a material called urethane. That provides protection against scratches, stains, and regular wear and tear.
When it comes to plank vinyl flooring, there are pros and cons. The pro is that vinyl plank flooring can maintain its attractive appearance for an extended period with minimal maintenance required.
Moreover, vinyl is water-resistant, making it suitable for use in areas such as kitchens, bathrooms, and basements.
Even if you accidentally spill something on it, it won't get damaged or warp, which sets it apart from genuine wood floors.
3. Cost
When it comes to choosing affordable flooring, vinyl plank flooring stands out as a great choice. It gives a perfect balance between quality and affordability.
If you're decorating a single room or redoing your entire home, vinyl plank flooring helps you manage your expenses without sacrificing looks.
Unlike natural hardwood, which can be pricey because of the wood itself and installation costs, vinyl plank flooring offers a wallet-friendly alternative.
It comes in various price ranges, allowing you to pick styles and qualities that match your budget. When it comes to plank vinyl flooring, there are pros and cons.
The good part is that Its simple installation can cut down on labor expenses, as many homeowners choose to install it themselves.
4. Affordable
Vinyl plank flooring is a budget-friendly choice for your floors. It's cheaper to buy initially compared to many other flooring options, and it saves you money in the long run.
Vinyl is easy to take care of; sweep it regularly and mop it occasionally to keep it looking great.
With vinyl, you won't need to spend extra on expensive floor treatments or refinishing like you might with hardwood floors. When it comes to plank vinyl flooring, there are pros and cons.
The pro is that Vinyl is excellent at resisting moisture and stains, which means you won't have to worry about spending a lot on replacing damaged flooring.
Unlike some other types of flooring that can be easily ruined by spills or moisture, vinyl can handle these challenges without costing you a fortune in repairs.
Also Read: 17 Best Black Cabinets Ideas for Your Small Kitchen Area
5. Flexible
Vinyl plank flooring is famous for its flexibility, making it a great option for all kinds of interior design styles and uses.
If you want a classic, old-fashioned vibe or a smooth appearance, vinyl plank flooring can match your idea.
One of the main reasons it's so flexible is that it can copy different natural materials such as wood, marble stone, or tile.
Vinyl planks come in many textures and patterns that look a lot like these materials. When it comes to plank vinyl flooring, there are pros and cons.
The benefit is that you can get the look you want without having to pay a lot or do a lot of maintenance like you would with real materials.
6. Various Range of Colors & Styles
Vinyl plank flooring comes in many colors and styles, so you can easily find the perfect fit for your home decor.
If you love the classic look of oak, the modern feel of gray tones, or the classic attraction of stone. When it comes to plank vinyl flooring, there are pros and cons.
The pro is that vinyl plank flooring has choices to match your preferences. Not only that, but you can also choose from various sizes and plank widths to customize the look of your floors to fit your room size and design ideas.
The styles range from homely and weathered to plain and modern, making it easy to find something that matches your unique design theme.
The Cons of Vinyl Flooring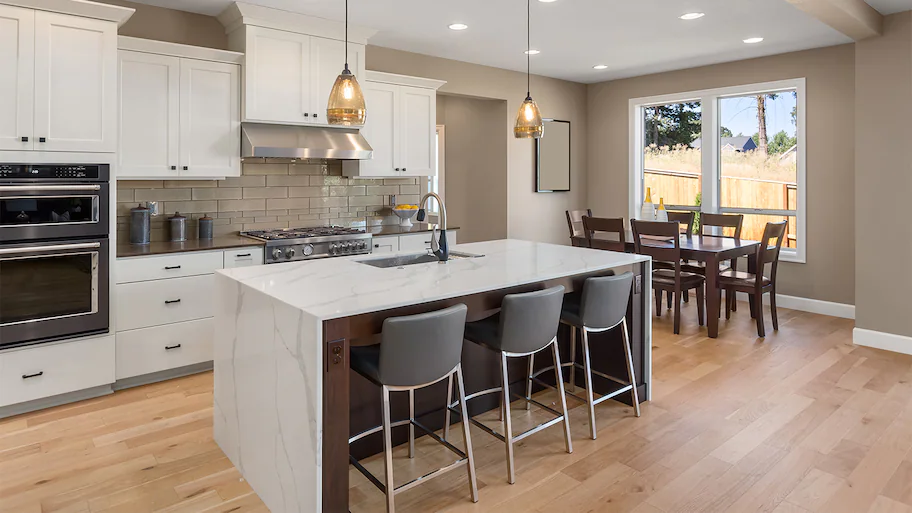 1. Cannot Be Refinished
Vinyl flooring has an important drawback. It can't be fixed up like hardwood floors can.
Hardwood floors can be sanded down and refinished to eliminate scratches, scuffs, or wear and tear, but vinyl flooring can't be restored in the same way when it comes to plank vinyl flooring, pros, and cons.
The con is that vinyl planks get seriously damaged or start showing signs of wear and tear; the only fix is to replace them.
This limitation can make long-term maintenance more expensive because you might have to replace the entire floor instead of just giving it a touch-up.
2. Does Not Always Add to Resale Value
Vinyl flooring is affordable and long-lasting, but it might not boost your home's resale value as much as other fancier options, such as hardwood or ceramic tile.
People looking to buy a house often find hardwood or tile floors more attractive because they seem more genuine.
They might even be ready to spend extra money on a house with these materials. So, if you go with vinyl flooring, don't expect it to increase your home's selling price greatly.
3. Not Biodegradable
Environmental concerns are becoming more important when picking flooring, and vinyl flooring has a downside.
It doesn't naturally break down because it's made from a synthetic material called PVC. When it comes to plank vinyl flooring, there are pros and cons.
The con is that when you toss out vinyl flooring at the end of its life, it can cause environmental problems if it's not handled correctly.
Some people prefer flooring that's good for the environment, like ones that break down naturally or are made from eco-friendly materials. So, vinyl may not match their environmental beliefs.
4. UV Fading
Vinyl flooring can lose its color and patterns when it's exposed to a lot of sunlight. This happens because the sun's UV rays can make it fade over time.
When it comes to plank vinyl flooring, there are pros and cons. The con is that getting a lot of sun might look different from the parts under furniture.
To stop this from happening, you can use things such as curtains or special films on your windows to block some of the sunlight.
Also, you can pick vinyl flooring that has built-in protection against UV rays to make sure the colors stay lively for longer.
5. Lifespan
Vinyl plank flooring is tough, but how long it lasts depends on a few things. The quality of the vinyl matters, as does how much you use it and how well you take care of it.
When it comes to plank vinyl flooring, there are pros and cons. The con is that vinyl floors might wear out sooner. If you want it to last longer, use high-quality vinyl with a thick top layer.
But even the best vinyl can get worn down if you walk on it a lot or have pets or kids running around. To make it last, clean gently and put rugs in busy spots.
That way, your vinyl flooring will keep looking good for a long time.
Related: 13 Stunning White Oak Cabinets for Your Dream Home
Considerations for Choosing Vinyl Flooring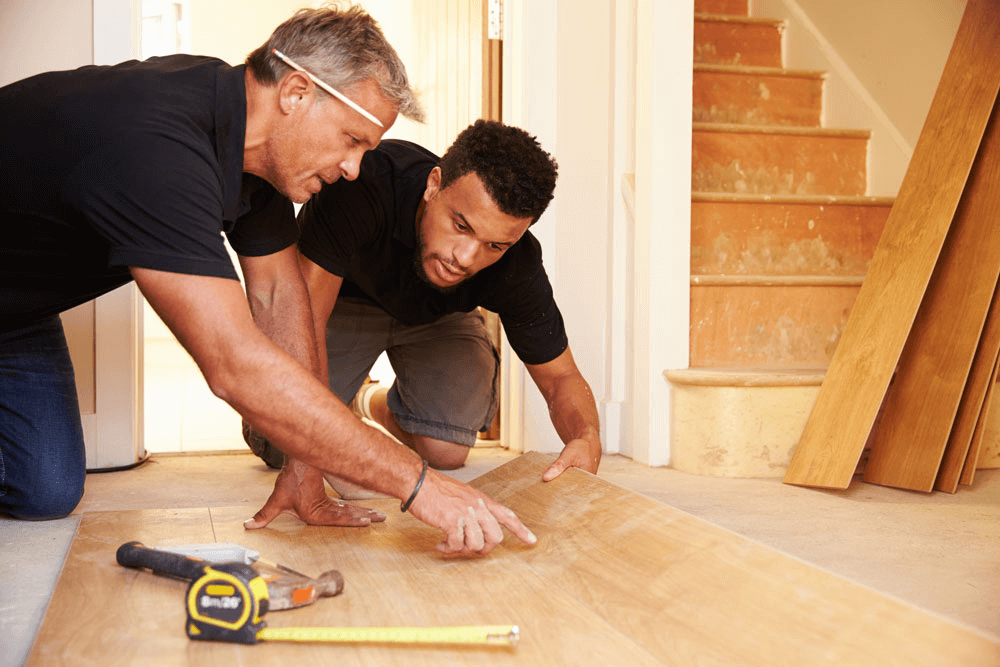 1. Thickness
When choosing vinyl flooring, consider its thickness because it affects how long it lasts, how comfy it feels, and how well it works.
Vinyl flooring comes in different thicknesses, from 2mm to 8mm or even thicker. When it's thicker, it usually has a tougher surface that makes it last longer and resists damage better.
Thicker flooring also helps keep your space warm and quiet. But you need to know it can cost more, and you might need to adjust your doors when installing it.
So, pick the thickness that matches what you need and what you can afford.
2. Maintenance and Repair
When you're considering getting vinyl flooring, it's important to consider how much work it will take to keep it in good shape.
Vinyl is usually pretty easy to take care of; you need to sweep it regularly and mop it with a damp cloth every once in a while to keep it clean.
But it's also important to know how to care for the specific kind of vinyl you pick. Some types might need extra things done, such as adding a new protective layer occasionally.
Also, find out how easy it is to fix if it gets damaged. Learning how to deal with problems such as scratches, cuts, or stains can make your flooring last longer.
3. Vinyl Plank Flooring Installation
When it comes to vinyl plank flooring, how you install it is really important to think about. You've got different ways to put down vinyl flooring, like.
1. Click-and-lock: This method lets you connect planks without needing glue, which makes it a popular option for do-it-yourself projects. It's quite simple to put in place and can be used on different types of subfloors.
2. Glue-down: This approach requires sticking the planks onto the subfloor using strong glue. While it results in a sturdy and durable setup, it may require more effort and time.
3. Loose lay: This method is easy to understand because it requires no glue or locks. Instead, you just put the planks on the floor, and their weight keeps them in position. This works well for temporary setups.
4. Peel-and-stick: These vinyl tiles come with sticky backing for simple installation, though they might not be as tough as some other options.
Conclusion
We've seen plank vinyl flooring pros and cons. On the plus side, it's easy to clean, lasts a long time, and comes in lots of styles. It's also not too hard on your wallet.
It's great for places that often get wet, such as bathrooms and kitchens. But there are some downsides. It can sometimes look a bit fake, and it's not as warm as the carpet.
It can get scratched, and it's not the best for our planet.
So, when picking plank vinyl flooring. Consider what matters most to you if you want something low-maintenance and affordable. It could be a great choice.
But if you are concerned about the environment. You might want to find other options, such as hardwood or tile. Your choice should match your needs and style.
So, check the plank vinyl flooring pros and cons carefully, and you'll find the perfect flooring for your space.
Check This Next: How to Build a Cabinet Box: Complete Guide