When it comes to furnishing your living room, selecting a fashionable and cozy couch is at the top. That's because a couch is a focal point that offers a cozy space for chilling, relaxing, and spending time with your loved ones.
However, couch shopping can quickly get challenging on a tight budget. The good part is, finding a high-quality couch that matches all your needs doesn't have to break the bank.
So here in this article, we've compiled a list of the top 9 affordable couches under $1000, so you can easily locate an ideal piece for your place.
So it's really important to find the couch that not only matches your pocket but also satisfies all your demands, which is extremely important. And it's surely not going to be easy as currently there are different options available in the market. But do not worry; we're here to help you; we have researched and picked the best 9 inexpensive options under $1000.
So what are we waiting for? Let's have a look at them.
List of Affordable Couches Under $1000
The couch is more than simply a piece of furniture; it's a window showcasing your style where thousands of memories are created. After a long, hectic day, you relax and chill while wrapping up with a nice book or hosting some family and friends of the family for a movie.
Each couch in this list has been chosen carefully based on its quality, fashionable appeal, and reasonable prices to help you furnish your home with a comfortable and cozy couch without extending the budget.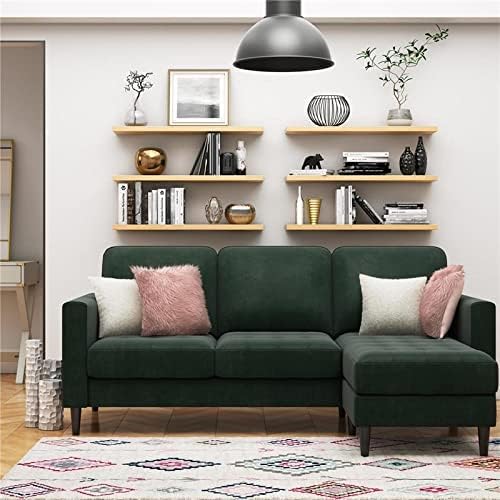 One of the most affordable couches is the Rivet Revolve Modern Upholstered Sofa. It delivers a look that is chic and modern at the same time.
This couch mainly brings a sense of elegance to any living space because it has tufted back cushions, an attractive design, and sleek lines. This couch offers a welcoming and cozy seating area to relax and host your family and friends.
Similar Post: 18 Best Modern Couch Designs to Try in 2023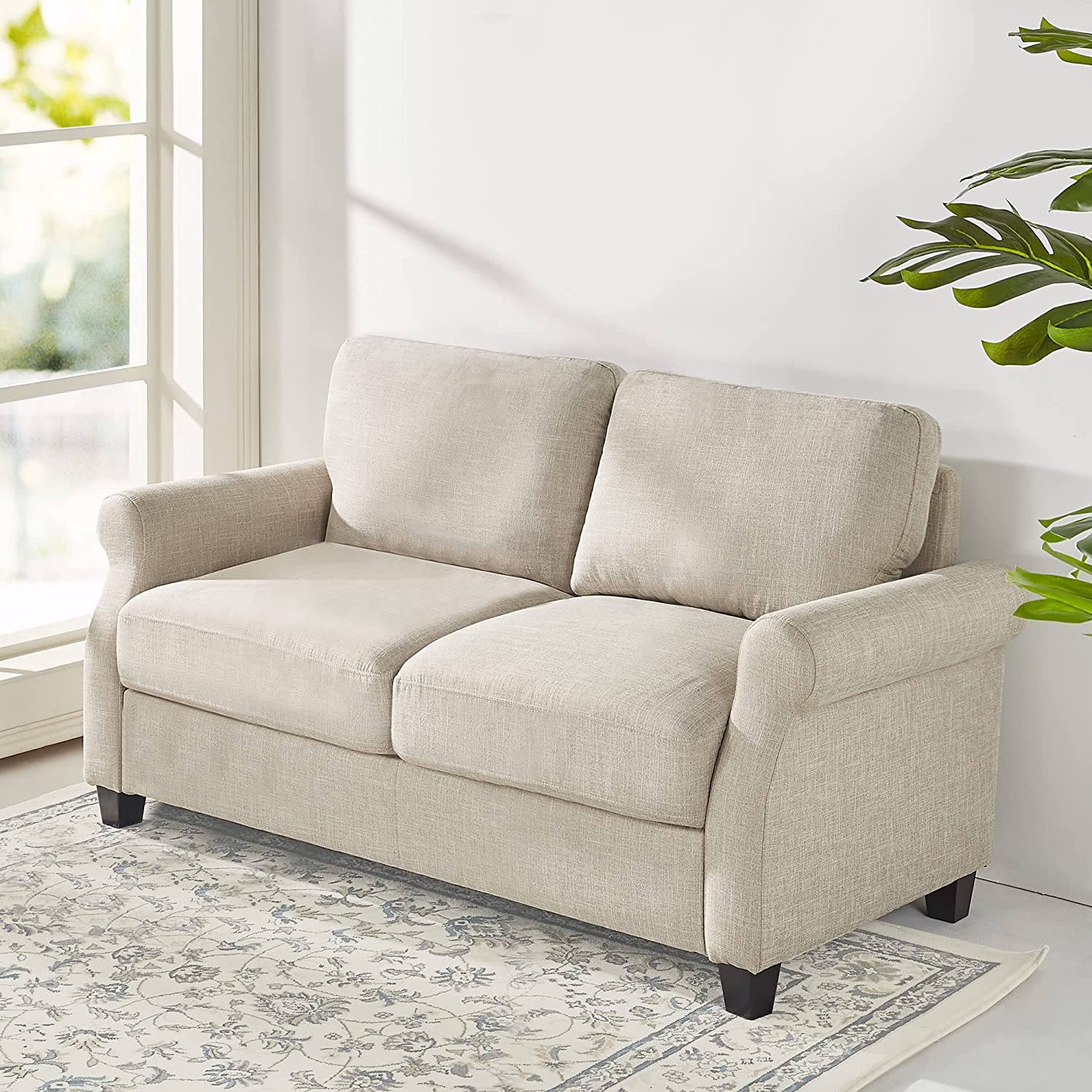 Another great affordable couch is Novogratz Leyla Loveseat, as it is the perfect pick for a smaller space or a pleasant accomplishment for a larger sofa.
It is special because it easily converts into a cozy sleeper sofa, making it a perfect choice for overnight friends and visitors. It also adds a sense of sophistication with its contemporary design, elegance, and tapering wooden legs.
Try and pick a couch that blends with your decor without revamping your living space aesthetics and serves as a focal point to upgrade the overall look of your space, thanks to the number of material options and color choices available in the market.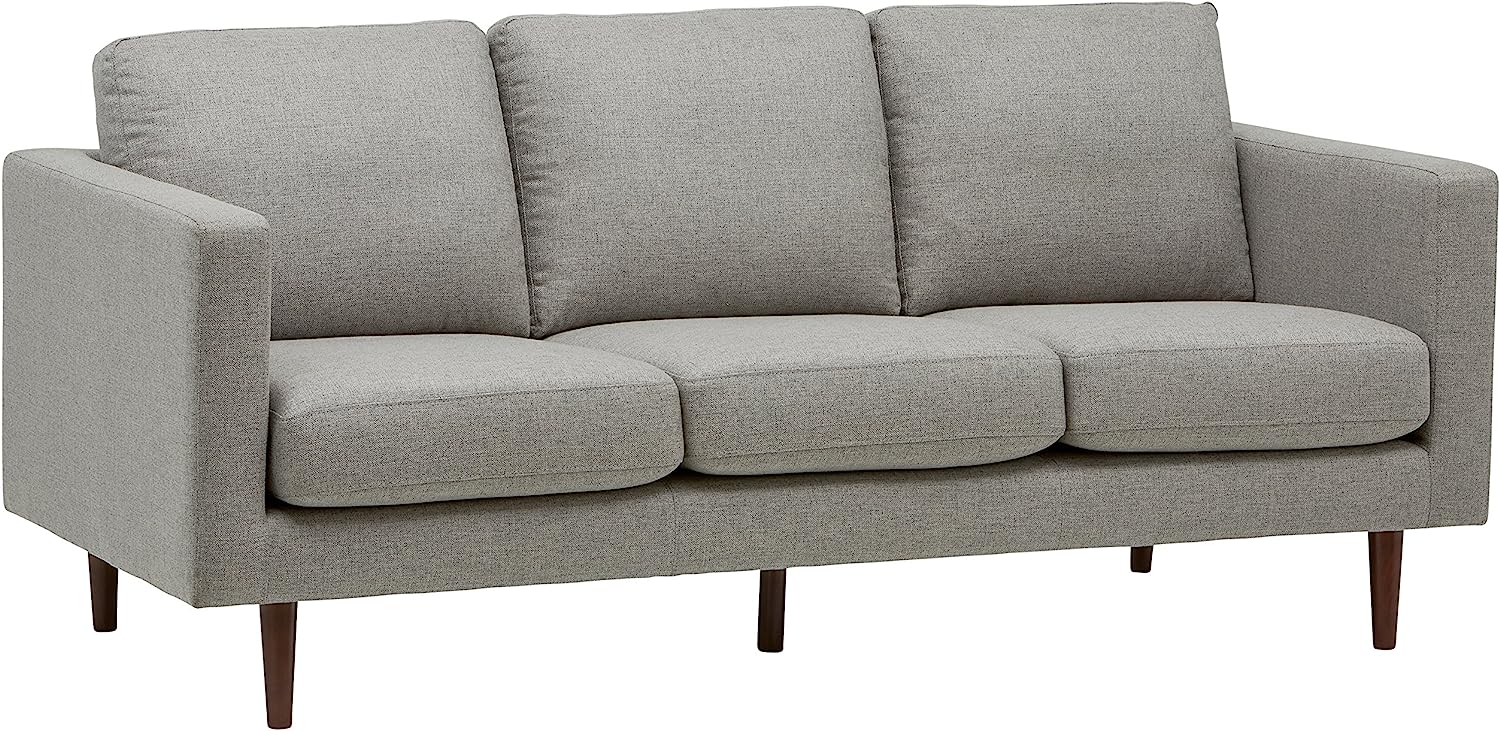 The Zinus Jackie Traditional Upholstered Sofa is another great affordable couch for people looking for under-budget options without sacrificing quality. It has luxurious foam cushions and a strong wood frame, providing great comfort and support.
You can easily choose the perfect one for your interior design as its fabric comes in several colors. This couch also offers a space for leisure with your loved ones. Not just this, these couches are made to last for many years, guaranteeing that you can spend half of your day with your family and friends.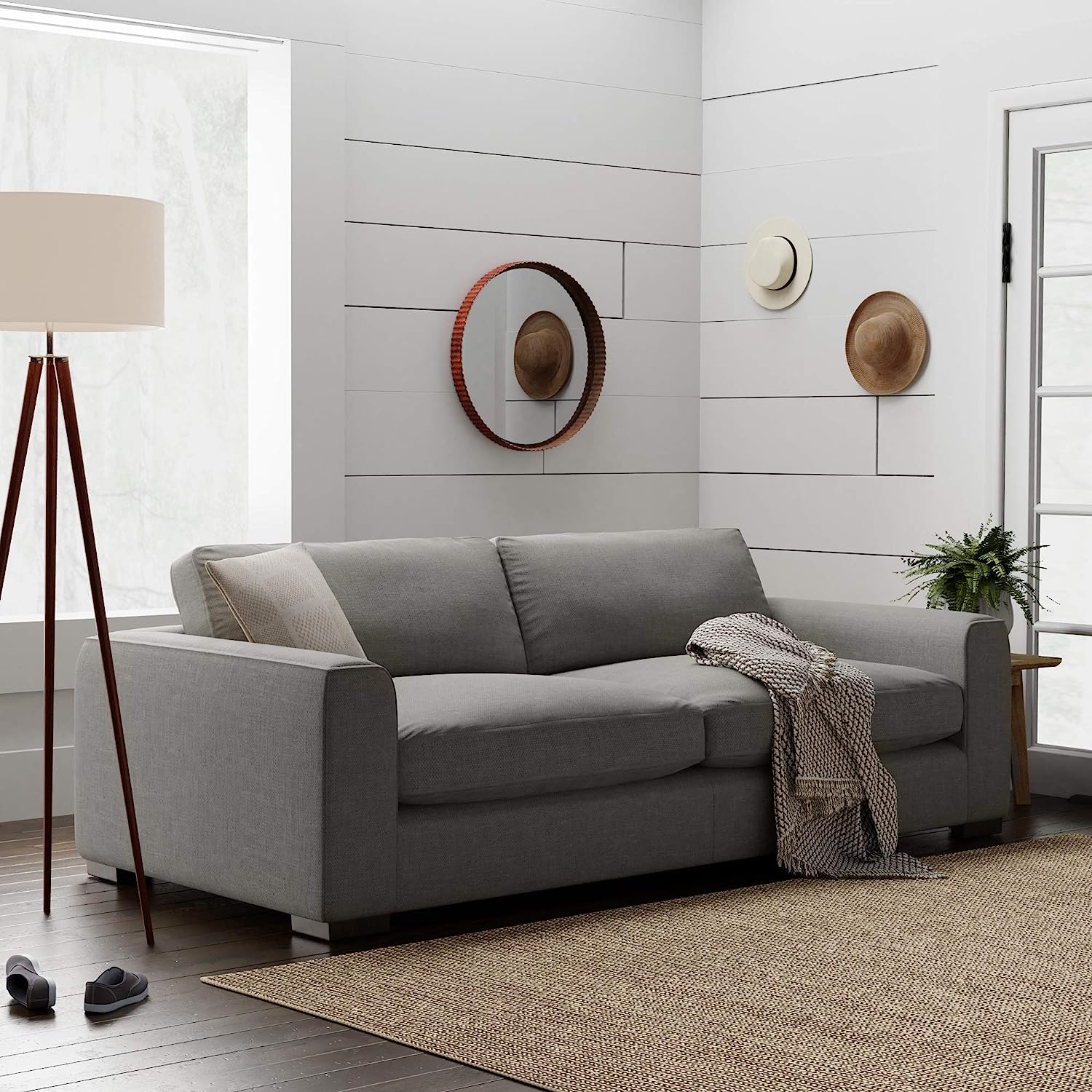 This sofa is a great option to add a luxurious touch to your space. It also offers unmatched support and comfort with the help of its luxurious down-filled cushions and deep seat.
If you're looking for affordable couches, this can be a wise investment as it has top-grain leather upholstery and oak frames, ensuring durability for many years. It also provides a focal point for your living space.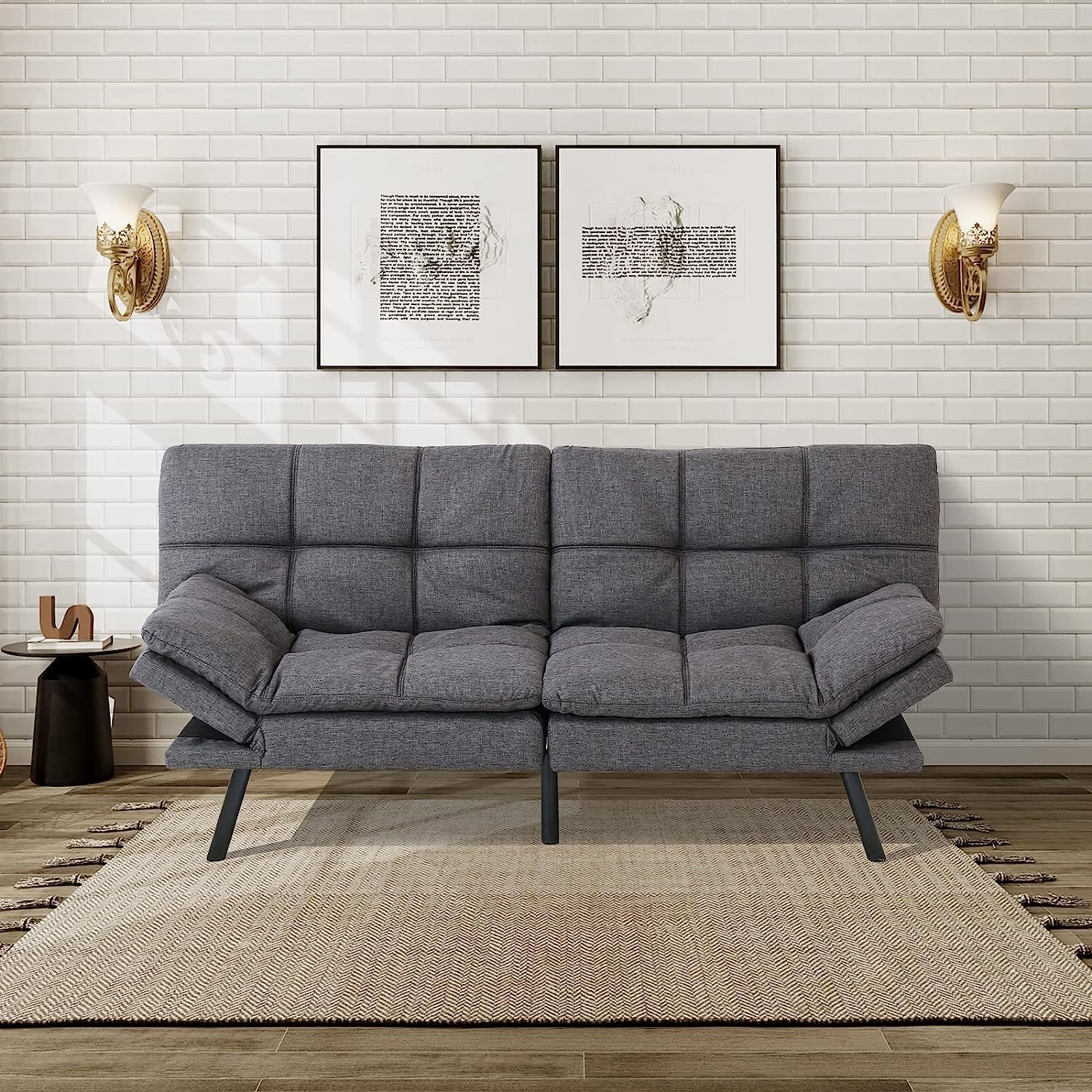 A perfect affordable option is a convertible sofa for people looking for utility and comfort. This couch is simple and can be transformed into a bed, making it ideal for apartments with limited space.
With this convertible design, this couch is the best of both worlds, whether hosting your friends or family or watching a movie alone.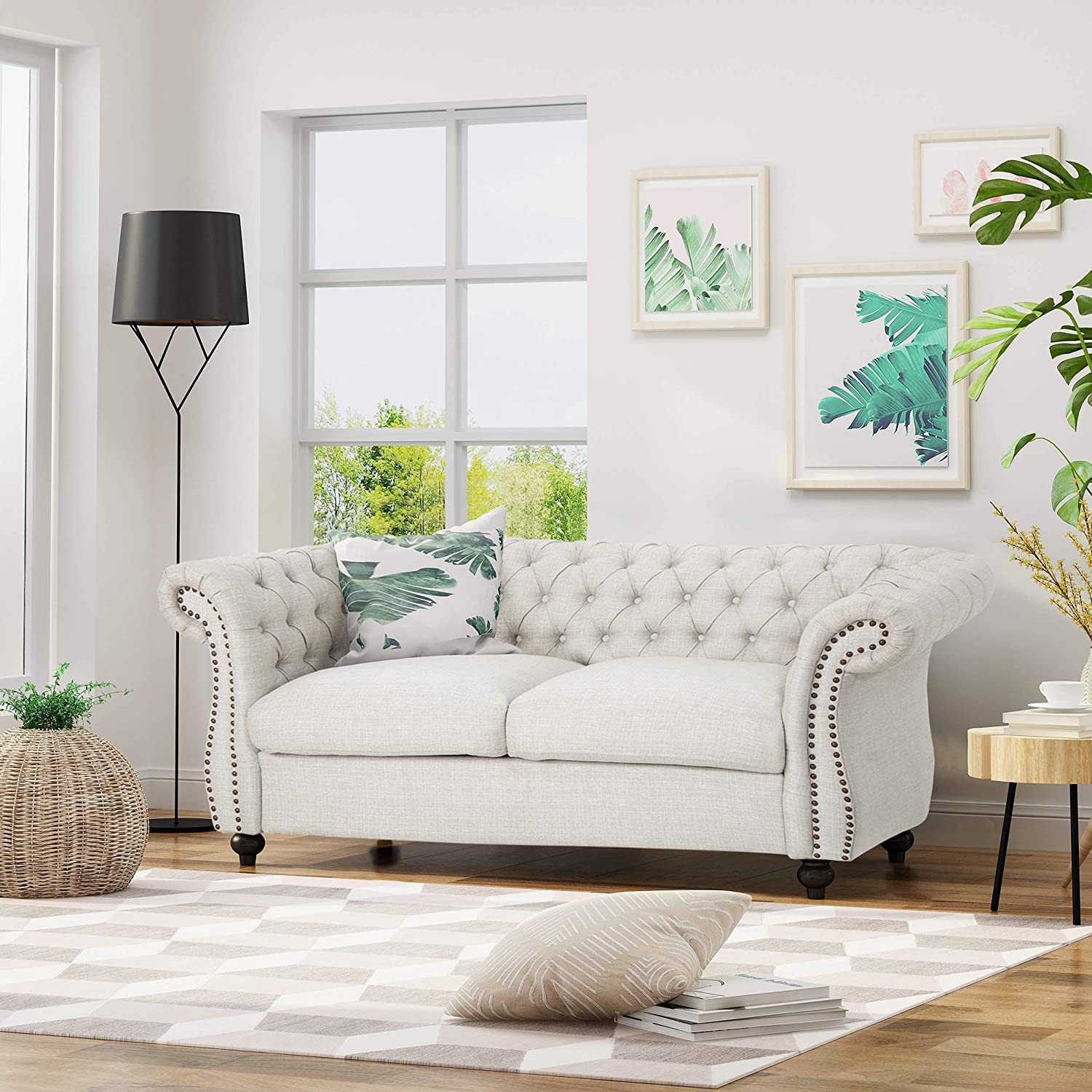 This couch option combines affordable prices with some amazing traditional designs. It gives a classic appeal to its rolled arms, nailhead trim, and imitation leather.
The cushions made with resiliency foam give pleasant seating and good support. This couch is ideal and readily available in neutral color pallets that easily combine with different aesthetics and styles, making it more flexible and a great budget-friendly option.
Also Read: 21 Stunning Black Couch Living Room Inspirations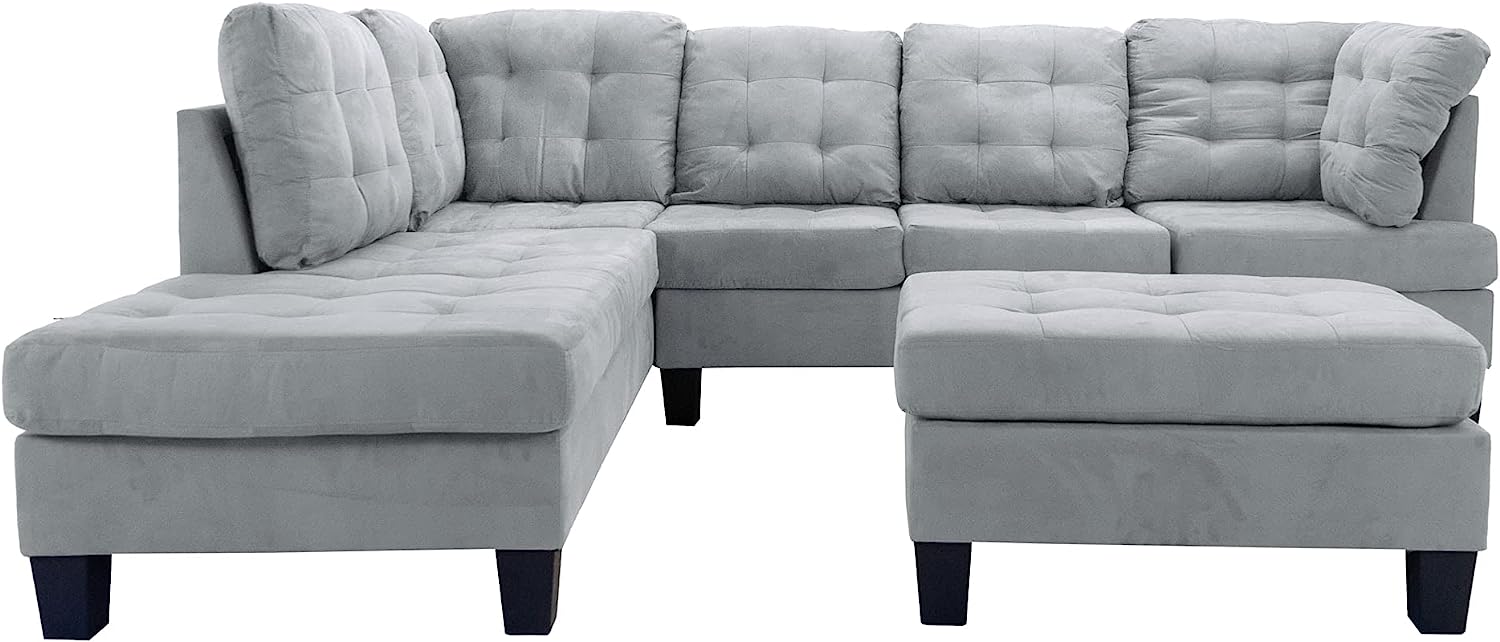 This affordable couch is another perfect option for those looking for a fashionable couch. It gives ample sitting space for friends and family as it is designed in an L shape, which lets everyone sit comfortably.
The velvet cushions and strong wood frames also add a luxury touch. By keeping this couch in your living space, you can make your space more welcoming and warm.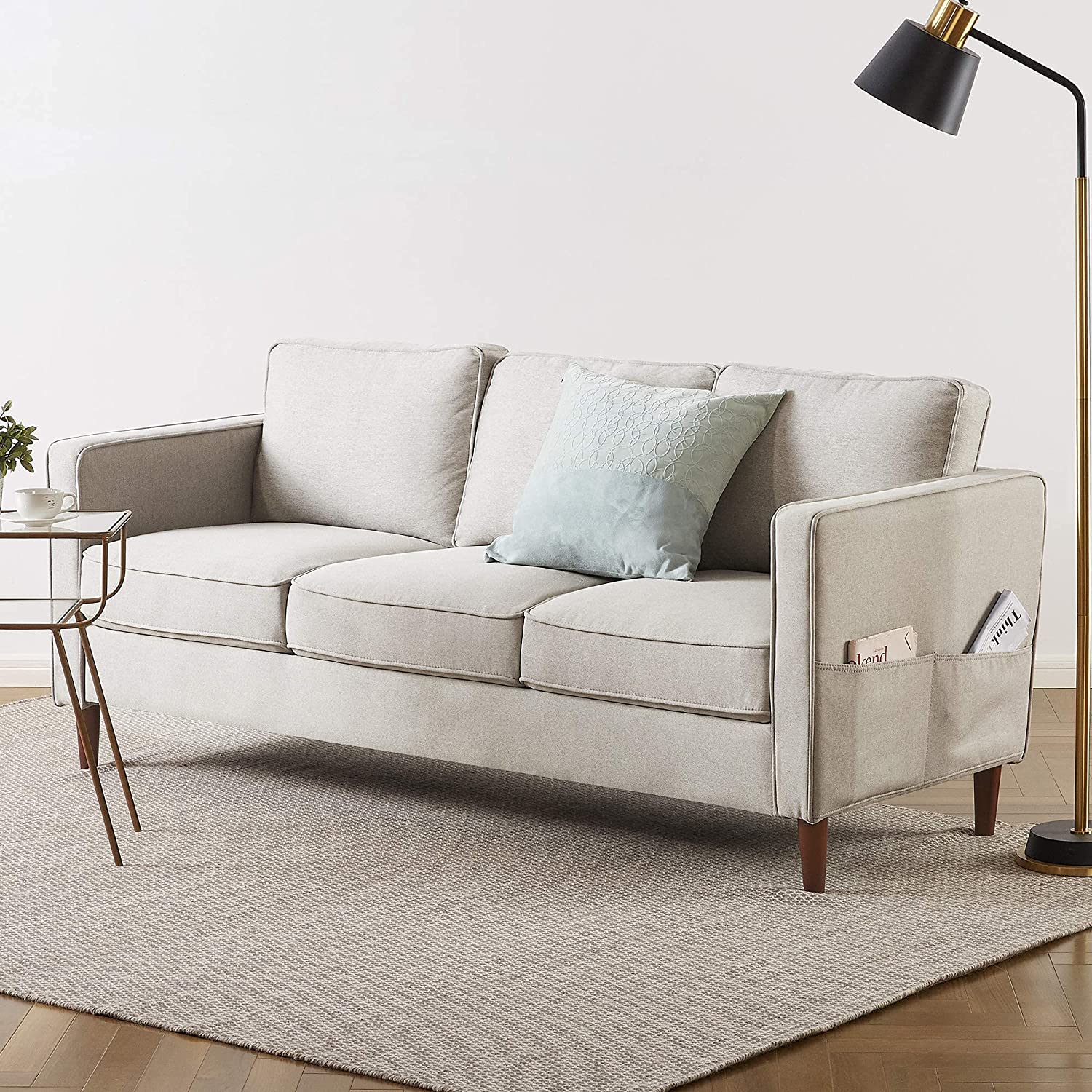 A stylish and affordable sitting alternative is this beautiful couch. It is ideal for small and cozy spaces and apartments as they have a compact design and a sleek profile.
Strong oak frames and plush microfiber upholstery provide maximum support and comfort. This couch can be easily tailored to fit your style, as it can be transformed into several color possibilities, which offers a touch of elegance.
These couches also offer exceptional prices and are value for money with all the necessary elements like style, construction, practicality, and material.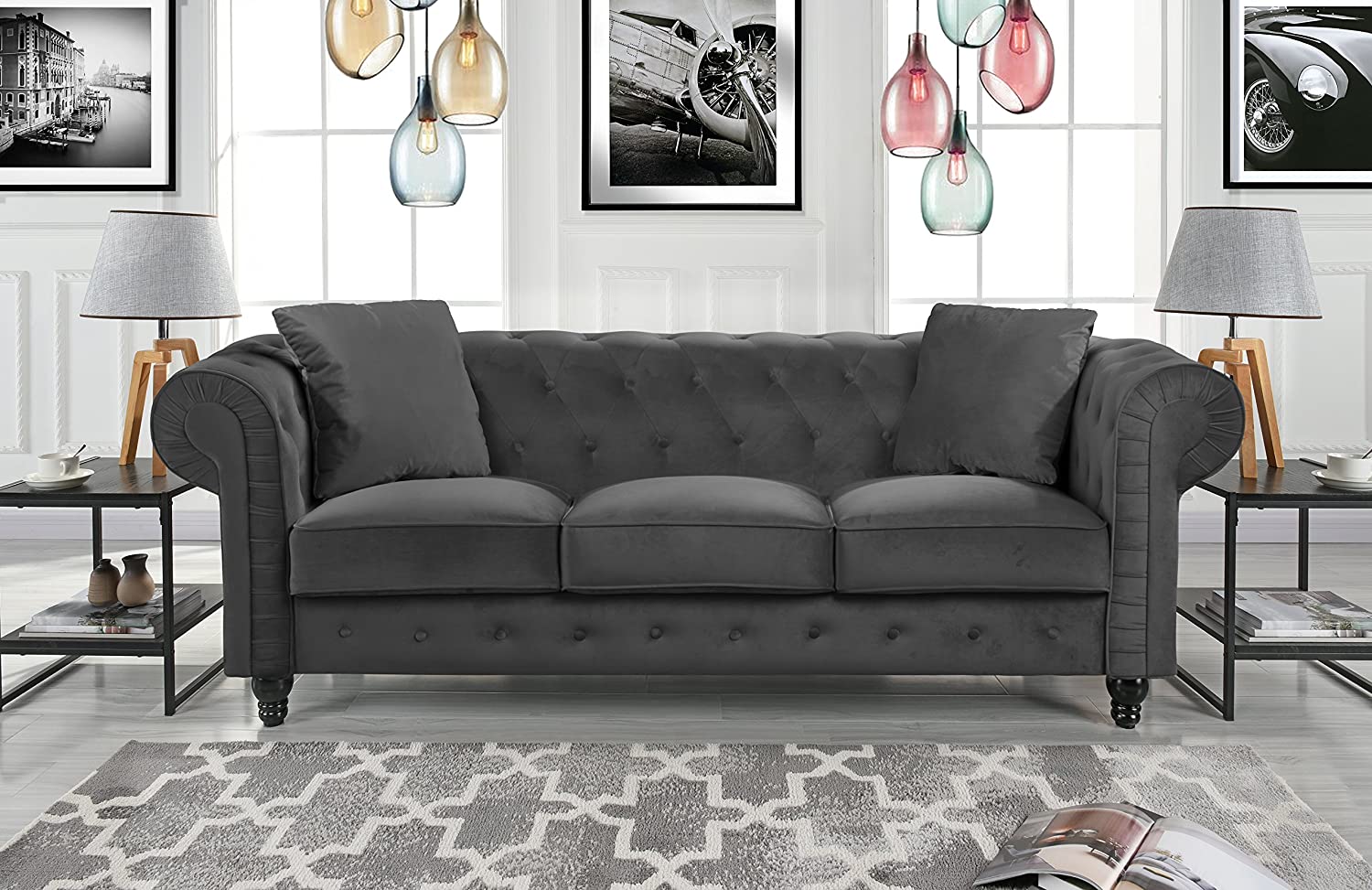 Again, it's a great option for affordable couches is this classic sofa by Divano Roma Furniture. It is fashionable and reasonably priced and can complement your living space.
Not just this, this couch effortlessly blends with a large variety of styles as it is made of modern design with tufted back cushions and linen material. It also ensures good support and a comfortable seating experience.
These are a few of the ideal affordable couch options that provide comfort and style without breaking the bank, whether you're spending for your own or evening parties with your friends and family.
Why Are Couches Necessary in The House?
Home decor and our daily lives depend heavily on couches. We need couches for several reasons, some of which are stated below.
1. Relaxation and Ease
A comfortable couch is a place to relax, unwind, and rejuvenate. A couch gives you a cozy seating option that encourages comfort and relaxation, whether hosting guests or enjoying a quiet evening alone.
See More: 9 Floor Couches to Elevate Your Living Room Decor in 2023
2. Forming Bonds and Interacting
Couches are essential for socializing with friends and connecting with family. They create a specific space where conversations flow, creating thousands of memories. A well-made couch facilitates people to come together and create some shared experiences.
3. Useful Seating Space
Couches provide valuable seating space for multiple activities. It offers a space that can adapt to your requirements, from reading to watching TV to having a meal and working on a laptop.
4. Aesthetic Focal Point
They contribute to the overall aesthetic appeal of your living space. It is the room's focal point, bringing charisma, style, and character. The perfect couch can make your space look unified, bring togetherness, and make it more welcoming.
What Do We Need to Consider While Buying a Couch?
1. Proportion and Size
Your couch space requirements and your living room size should be mainly considered. To avoid overwhelming the room or hindering traffic flow, you need to measure the size precisely and pick a proportionally sized couch.
2. Comfort and Support
Make sure to test the comfort of the couch by having a seat on it. Check for a sufficient backrest, right seat depth, and firm cushions. To guarantee a good seating experience, consider elements like stiffness, filling, and ergonomic design.
3. Quality and Durability
Search for couches that are well-built and made up of high-quality materials. Pay attention to cushioning, material, and structure, as these are the main elements. If the couch is made well and can resist regular usage without losing its comfort and shape, choose that.
4. Aesthetics and Style
Always consider your living space's style and existing furniture while selecting the right couch, as this increases the room's visual appeal and fits the overall design. Also, consider factors like pattern, color, and material to achieve the desired style.
Related: 14 Best Online Furniture Stores in 2023
5. Care and Maintenance
Make sure to consider the ease of maintenance and cleaning of the couch. If you have dogs or kids, look for textiles with covers or stain resistance that can be washed or removed. To extend the life span of the couch, keep it clean and maintained.
You can make an informed choice and pick the couch that suits your styles, preferences, and demands by considering these particular aspects. A well-chosen couch provides functionality and comfort and elevates the overall look and environment of the space. So give it some time.
Conclusion
All in all, you do not have to sacrifice quality, comfort, or elegance when looking for affordable couches under $1000. The nine couches in this article give you various options to accommodate several prices and tastes.
These couches range in designs from modern to timeless and then traditional, all durable and affordable in mind. Any of these affordable couches can turn your room into a comfortable space, regardless of whether you have less space or more to furnish it.
You can save much money by getting an affordable couch under $1000 and using the excess for interior designing or remodeling projects. You now have detailed information to decide and buy the ideal affordable couch that suits your style, taste, and requirements.
So, choose the best one that reflects your aesthetic and improves the environment of your space.
Frequently Asked Questions
Can We Find Some Good Couches with Good Quality for Under $1000?
Yes, surely! All the couches listed in this post have been carefully chosen based on their construction quality, materials, and positive customer reviews. They offer a balance between long-lasting performance and cost-effectiveness.
Can We Look for a Couch that Goes Well with The Room's Current Aesthetics?
Absolutely! The couches featured in this post come in various hues, ranges, and designs. So you can easily pick anyone that goes well with your current decor and perfectly stands out as a statement piece.
Are These Couches Comfortable for Long-Term Use?
Yes, the comfort of the couches is one of the main factors considered in their design. They offer a comfortable seating experience whether you're looking to spend hours or for a short while because of their ergonomic design, high-quality material, and supporting cushions.
Can We Find a Couch that Fits in a Tiny Space?
Absolutely! You can easily find one, as couches in this list are made with compact living areas, such as studio apartments. These couches are made in a way that they have a space-saving feature, and you don't need to sacrifice comfort and beauty.
Can I Anticipate These Couches Being Simple to Clean and Maintain?
Yes, many of the couches mentioned in the list are easy to maintain as they are made with materials that don't require much care. If you own a dog or have babies, these couches are extremely suitable. It is advised to review the manufacturer's care guidelines for better maintenance.
Check This Next: 13 Leather Sectional Couches for Your Space