Choosing kitchen cabinet colors might not be very easy for you. It is often stated as something that is not so important and requires a fair amount of time.
However, if we break it to you, then choosing the right kitchen cabinet color is equally important. If your whole house looks nice and up to the mark but not your kitchen, then it might put you on stakes.
Speaking of which, it is advised to put equal effort and thought while selecting the right kitchen cabinet color.
Whether you like a subtle white or grey shade or you want something as bold as green, yellow, or red, there is something for everyone.
We have created a list of the best kitchen cabinet ideas you can take inspiration from.
Popular Kitchen Cabinet Paint Colour Ideas
If you are planning to revamp your kitchen this year and don't know where to start, then we are here to give you some inspiration.
Before choosing any kitchen cabinet color, make sure you know if you want something minimalist or something eye-popping.
Here is a list of 15 popular kitchen cabinet ideas for you.
Similar Post: 17 Best Black Cabinets Ideas for Your Small Kitchen Area
1. White Colour and Wooden Kitchen Cabinets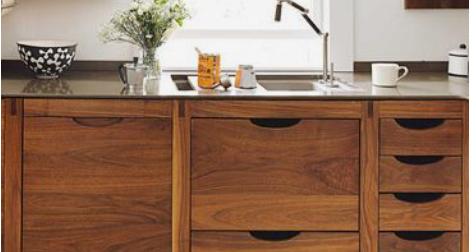 White color paired with wooden textures is nothing but a classic combination. It is safe to say that one can never go wrong with white-colored wooden kitchen cabinet idea.
This two-toned kitchen combination is minimalist and perfect for someone who doesn't want something too bold.
You can easily keep a combination of wooden cabinet doors and white exteriors. Or you can simply make a combination getting half of them in one color and half in the other.
2. Grey Coloured Kitchen Cabinet Idea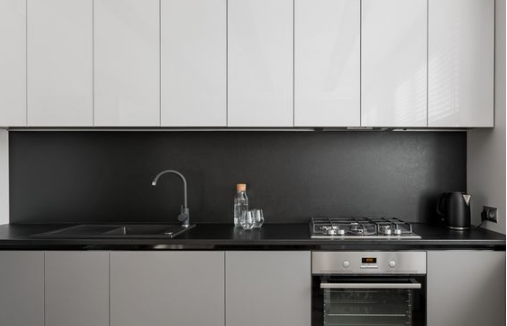 Grey is another subtle and smart choice when it comes to interior design. The kitchen is one of the most often-used spaces in the house and needs to look clean and subtle.
If you don't want to go for something over the top and looking for something basic, then grey can be your kitchen cabinet color.
Choose the right shade of grey for your kitchen; it can be a light shade of grey or something deep and dark. Paint your kitchen cabinets in the same color.
3. All White Kitchen Cabinet Idea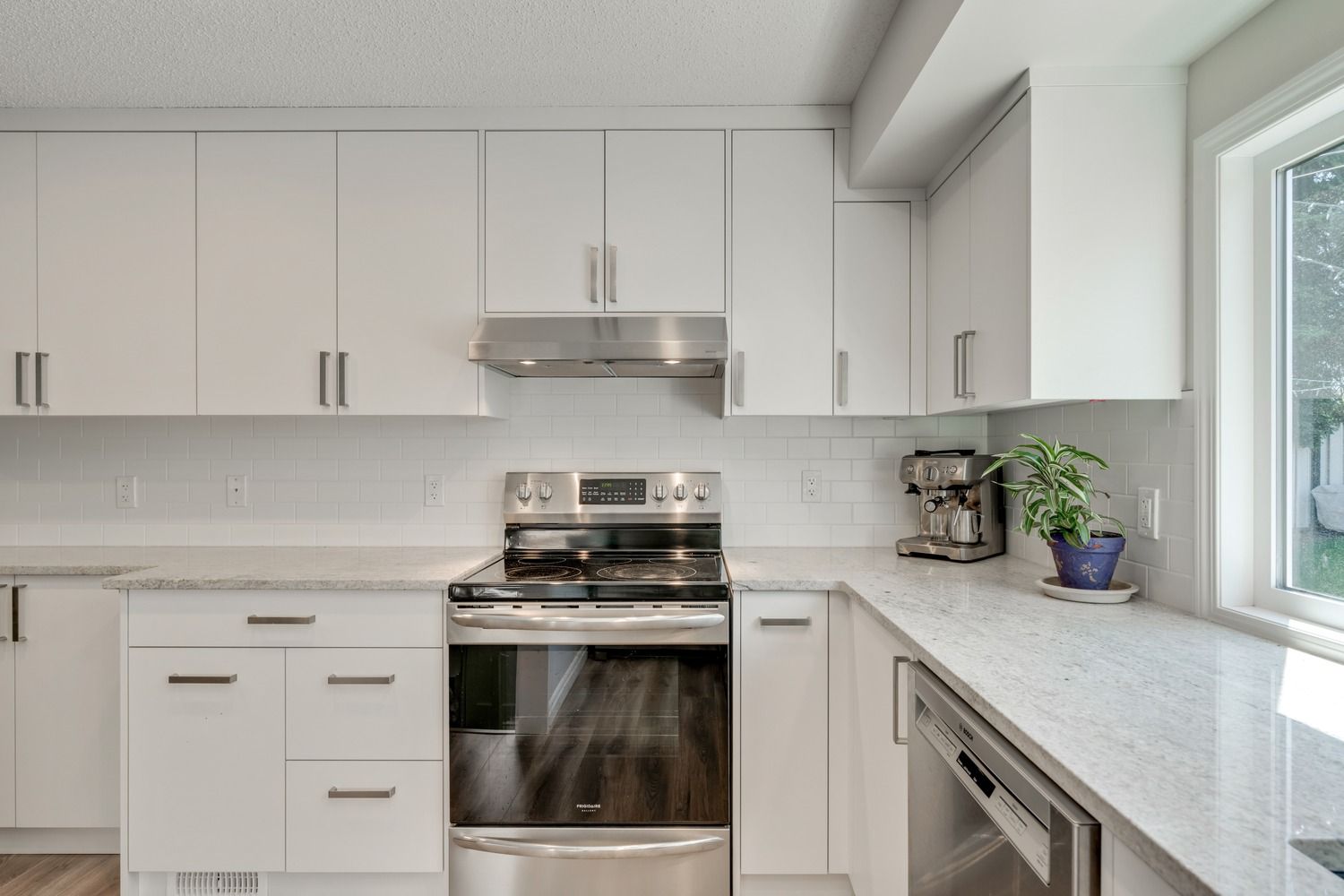 Who does not like an all-white kitchen? Everyone loves to have a space in their house that is all white because it makes the area look spacious and clean.
White kitchen is a risky bet because it is not so easy to maintain, but it is all worth it. It looks like nothing but heaven if you want to paint your kitchen cabinets white.
You can play with white color too, choose a different shade of white for your walls and different kitchen cabinet colors to add a transition.
4. Sunny Yellow Kitchen Cabinet Colour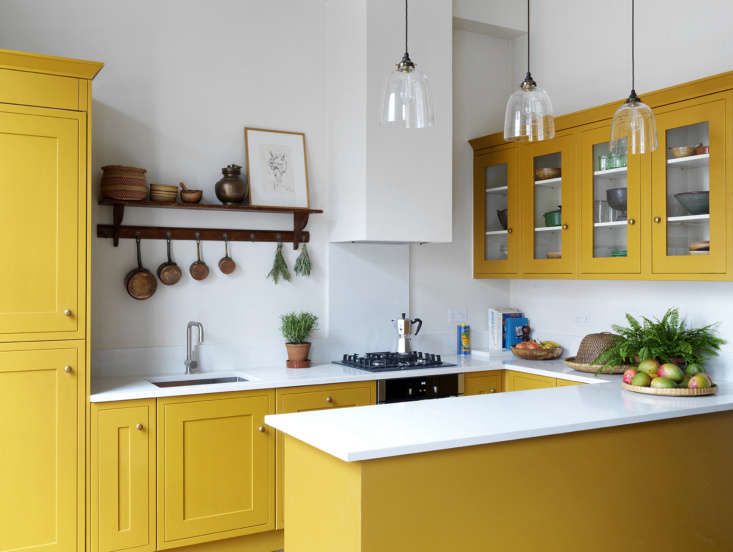 A good yellow kitchen adds the right amount of light and positivity to the kitchen. It is something that people with extroverted personalities choose to go for.
It brings positivity, color, and ambiance to your kitchen. Hence, you can opt for the yellow kitchen cabinet idea.
You can go a little neutral with the other paint of your kitchen and then add the right amount of pop with the yellow kitchen cabinet color.
5. Cream Coloured Kitchen Cabinet Idea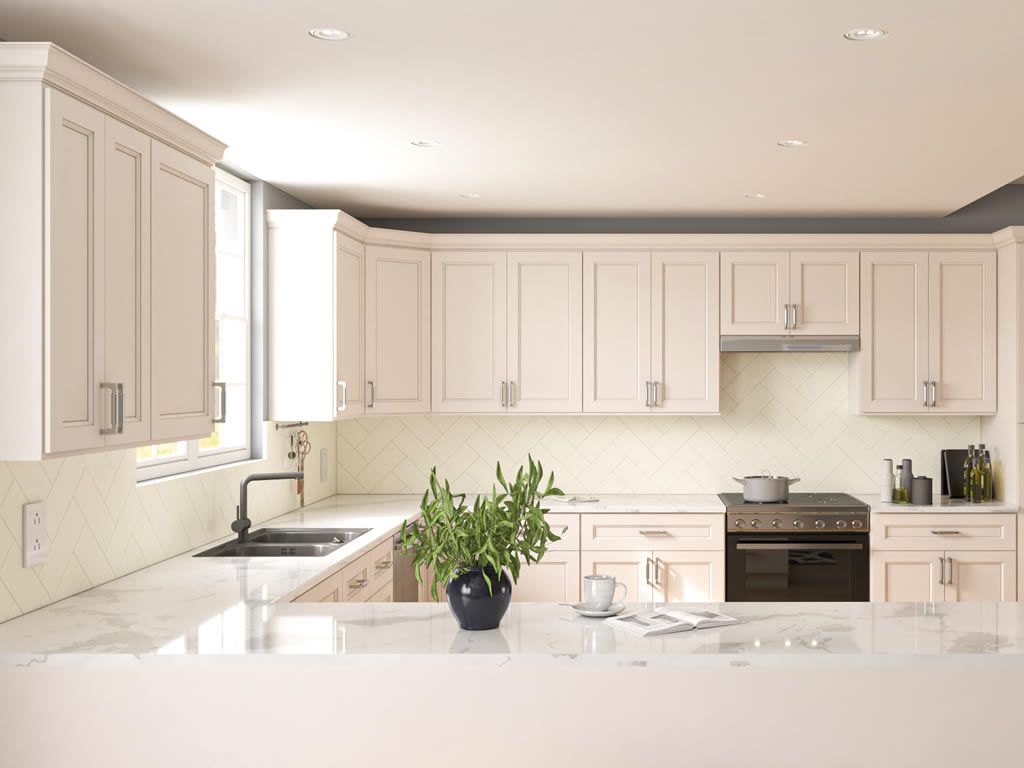 If you don't want to go for a white or grey tone color for your kitchen cabinet idea but want something smooth, then cream is your color.
Cream-colored kitchen cabinets are very subtle and minimal. They can be easily paired with other shades and add light and space.
It is a little difficult to maintain, too, as they get dirty very quickly, but you can choose something that has a shiny finish and is dust-stain resistant.
Also Read: 13 Stunning White Oak Cabinets for Your Dream Home
6. Mint Coloured Kitchen Cabinet Idea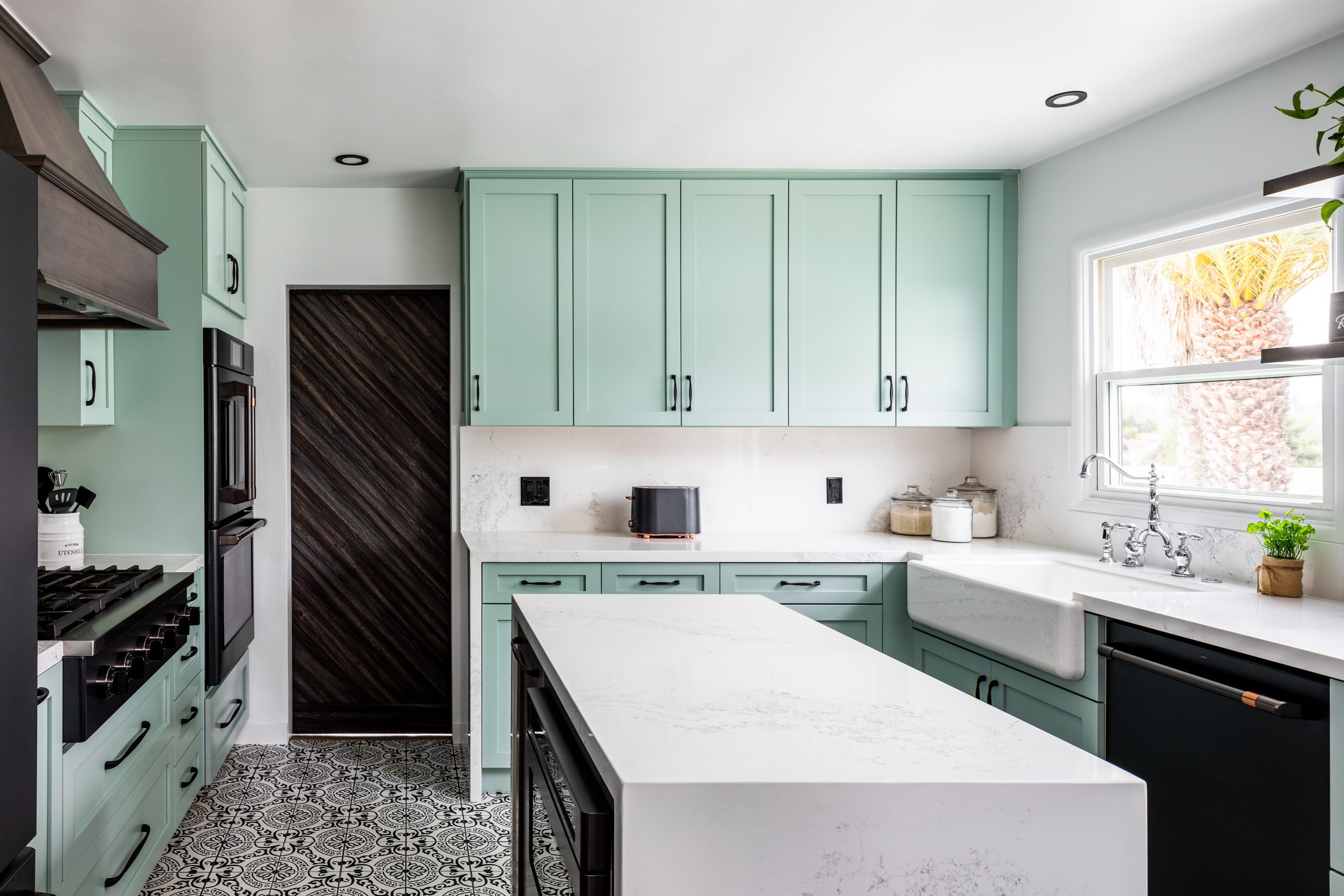 Next on our list is mint colored kitchen cabinet. The mint color is a cool tone shade that is not hurting to the eye. It is a soothing shade that looks perfect for a kitchen cabinet idea.
Mint-colored kitchen cabinets can be paired with white or grey-toned walls to make it look more appealing.
You can even get cabinet handles in wooden or metal textures for more visibility and style. If you don't want something basic or bold and want to settle in between, then this is your pick.
7. Light Grey Kitchen Cabinet Idea
Light grey colored kitchen cabinets are also very popular these days. People with subtle and modern choices usually pick this color more for their interiors.
Grey-colored kitchen cabinets look great with glass texture. You can get the outer frames painted in a light grey color and get glass enclosures in between.
It will be a great way to flaunt your crockery as well. You can definitely for this subtle yet modern combination for your kitchen.
8. Cool-Toned Blue Kitchen Cabinet Idea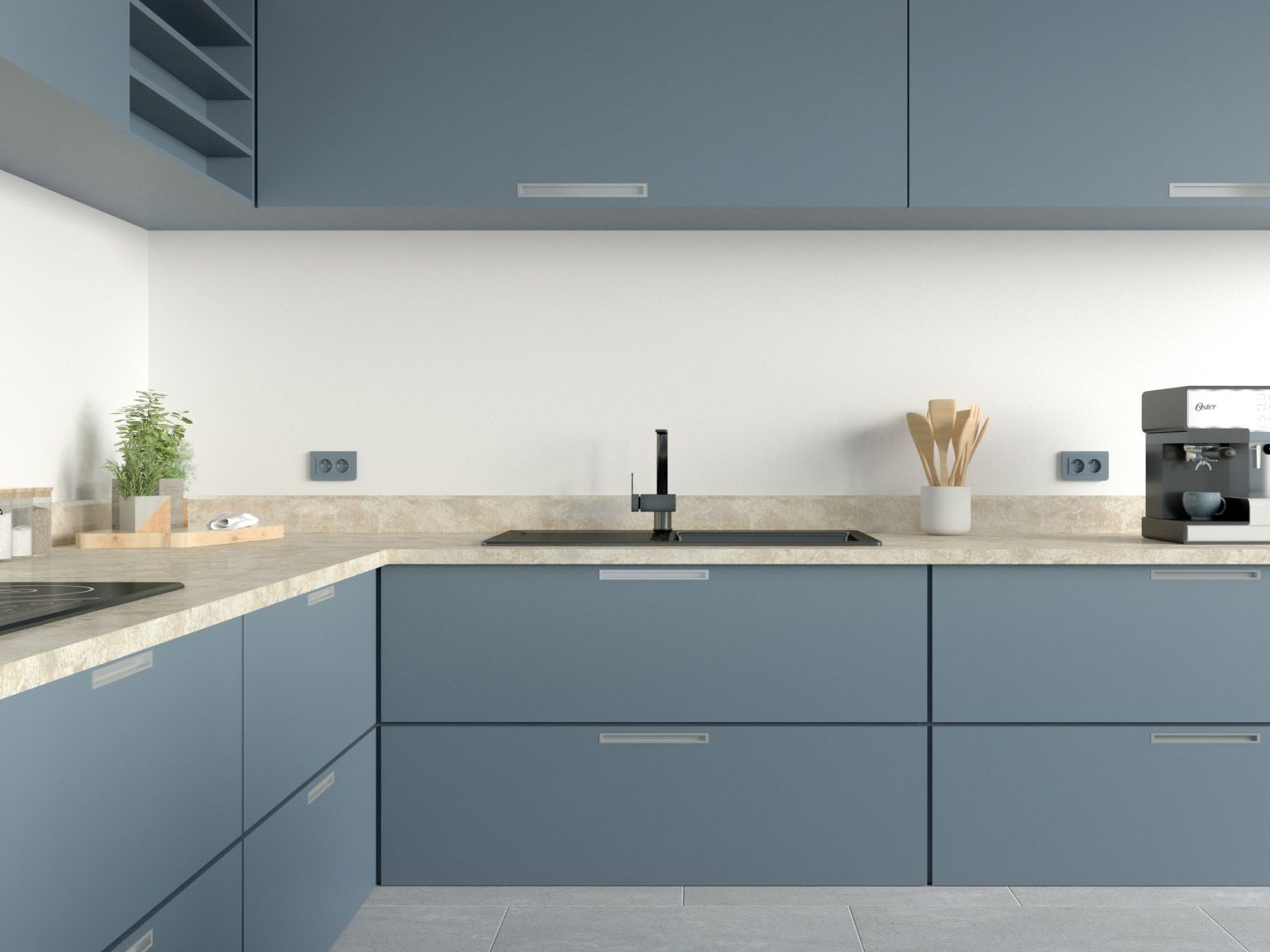 The blue color is very versatile on its own. There are various shades of blue ranging from light blue, sky blue, navy blue, cobalt blue, and so on.
It is officially the color of the season and looks nothing but stunning. You can pair the blue-toned kitchen cabinet idea with glass enclosures and white-grey walls.
It will add the right amount of color and neutrality to your kitchen. It is perfect for your house if you want to be a little safe around the colors.
9. Sage Green Kitchen Cabinet Colour
Sage Green is a beautiful shade to incorporate into your house. It comes on a neutral palette and looks divine when paired with wooden textures.
Sage Green kitchen cabinets have an authentic old-school vibe to them. You can easily pair it up with wooden handles or metal handles or a more rustic and vintage vibe.
Apart from this, you can keep your walls minimal with an off-white shade. Doing this combination will give your kitchen a vintage vibe and something different.
10. Orange Kitchen Cabinet Colour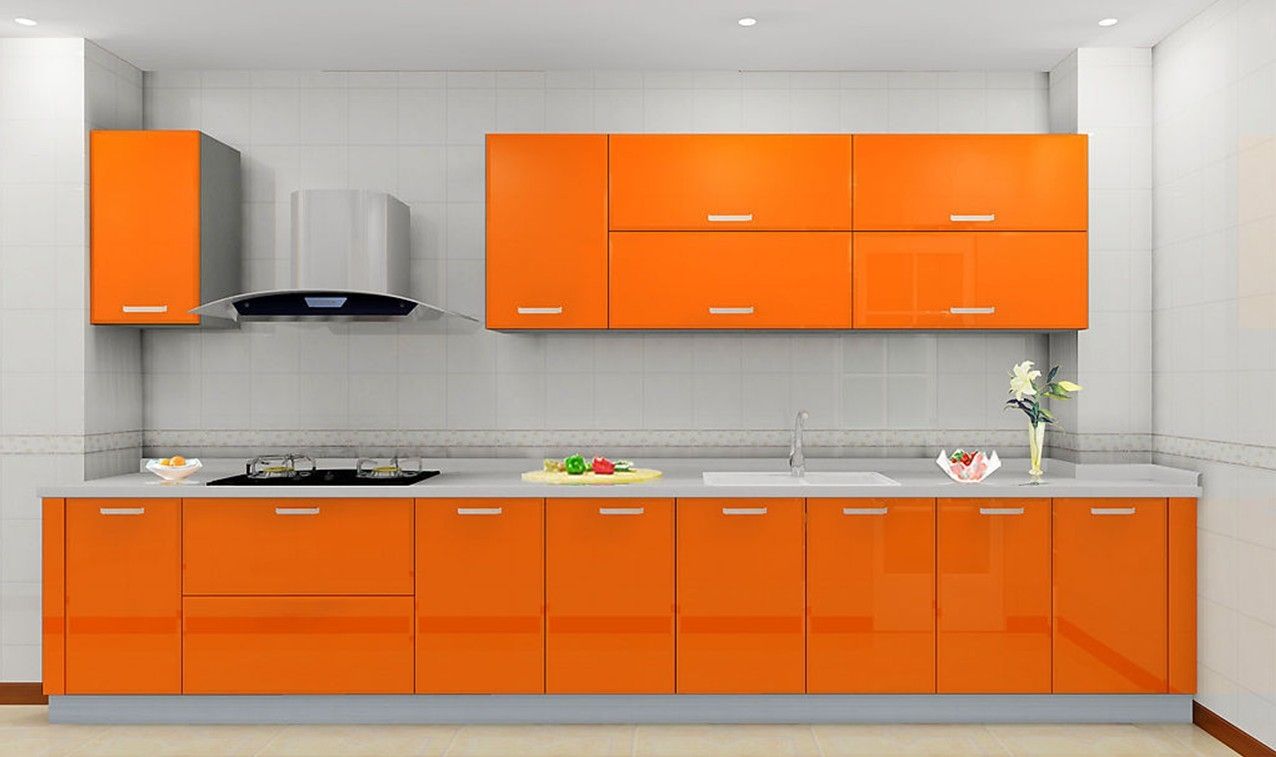 When we hear orange as an interior color, we often take a setback. Orange is a very bold color, and people often think it is too risky for interiors because it might hurt the eyes.
However, if we break it to you, then it is a very beautiful shade that can change your basic kitchen game to the next level.
If you plan to go for an orange-colored kitchen cabinet idea, then you should know other elements need to balance it out. Go for minimal and subtle colors for the exterior with this shade.
See More: 12 Quick Ideas to Update Oak Kitchen Cabinets without Paint
11. Creamy White Kitchen Cabinet Idea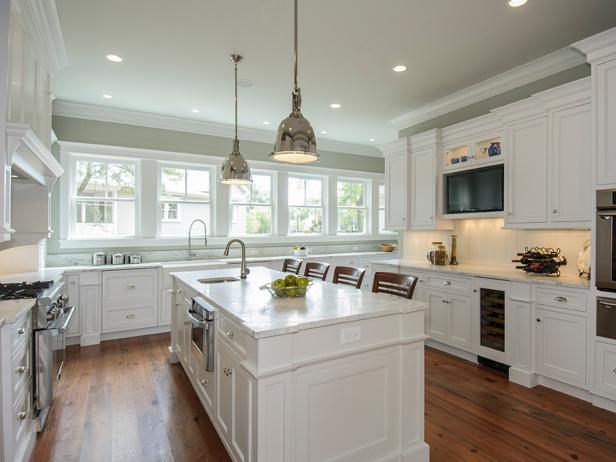 All white is not your thing but something similar to that only? Go for the creamy white kitchen cabinet idea. The cream color is a mix of white color and yellow undertones.
It is beautiful and can be paired easily with other shades in the kitchen. Opt for a creamy white kitchen color and then add a dark-colored marble top.
The combination of both will bring out the best in your kitchen and look nothing but stunning to the eyes.
12. Dark Green Kitchen Cabinet Idea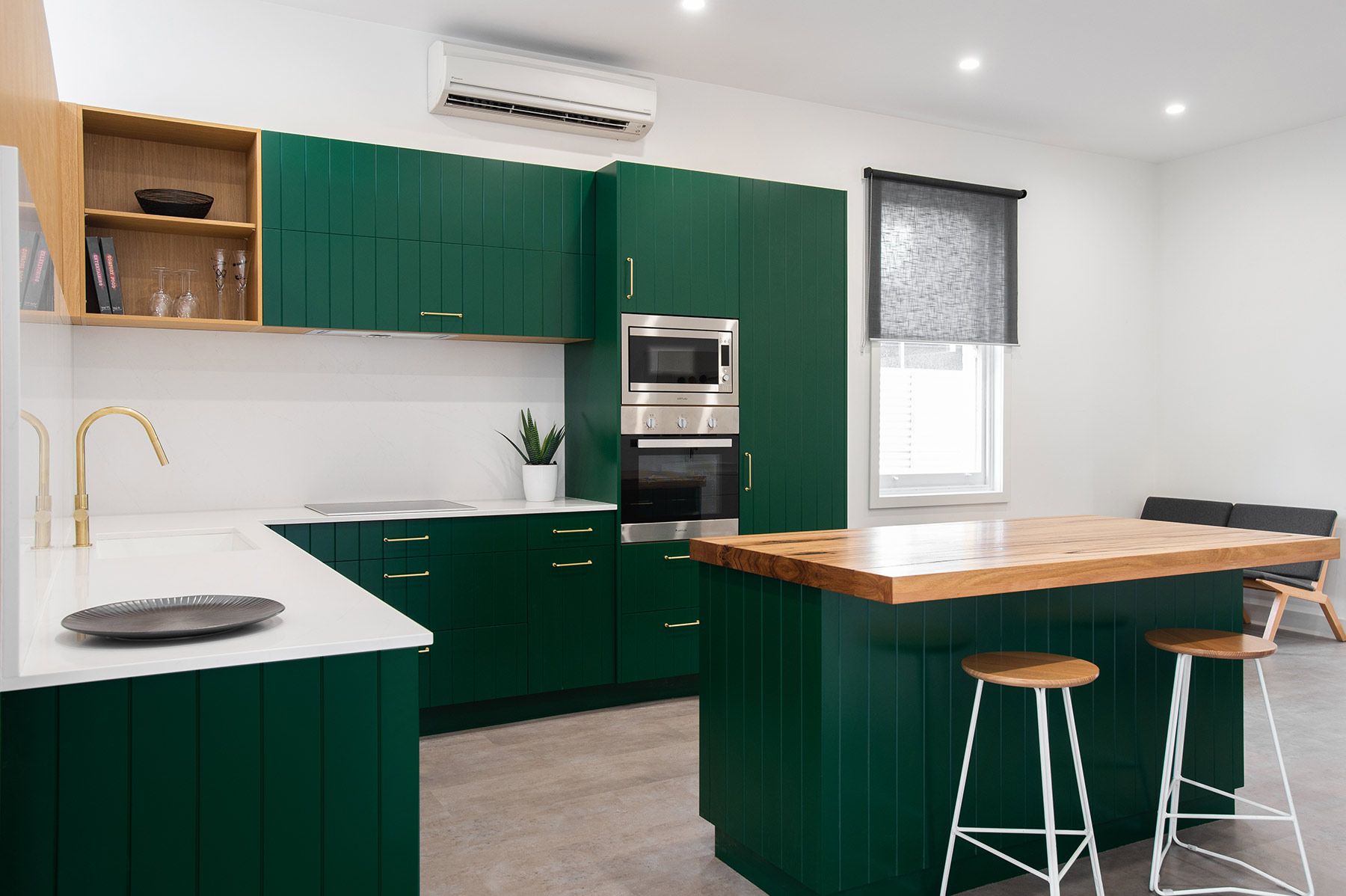 Do you like the colors of plants and want that freshness in your house? Choose a dark green colored kitchen cabinet idea for your house.
It is a beautiful dark-toned color that looks classy and chic. The best way to pair it in the kitchen is by adding minimum details of golden color.
You can get door and cabinet handles in gold tone, and trust us; it will be the best combination ever. It will add the right amount of color and freshness to your house.
Also, you can go for a white countertop to balance all the aspects together.
13. Red Kitchen Cabinet Idea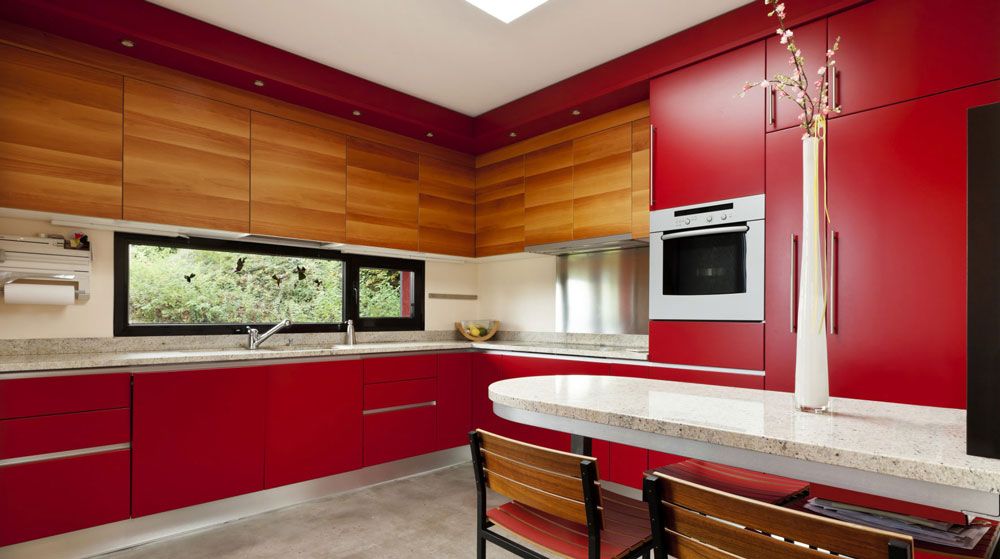 Red is a bold kitchen cabinet color, and it has been famous for a very long time. It is quite popular because it adds the right amount of pop to your kitchen and is very safe to play with.
Red kitchens are mostly paired with tones to balance the color shades. If you want to go for this shade as your kitchen cabinet color, then make sure to keep all other aspects in white color.
You can even add glass enclosures in a few of your cabinet doors so that some of your crockery can pop out.
14. Brown Kitchen Cabinet Idea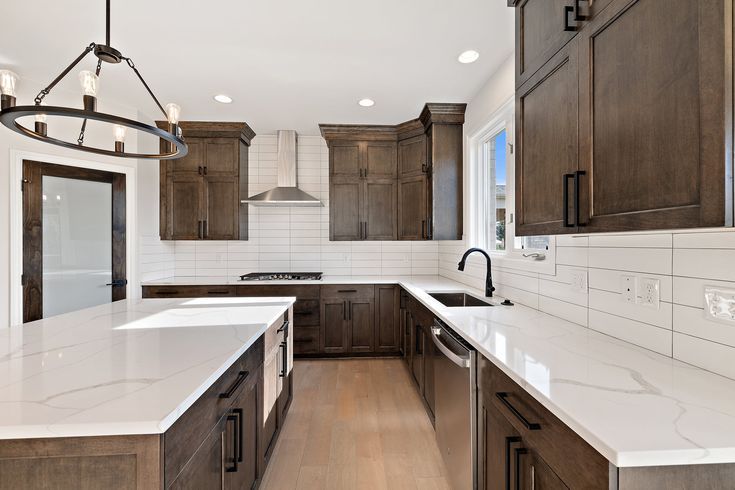 Brown kitchen cabinet color is usually seen in wooden texture. Wooden texture is quite common when it comes to the kitchen.
Since ancient times people have liked to keep it that way. Hence, it can be said that it is quite popular and looks stunning.
You can choose from the various wooden patterns and then get the one you most want.
You can also maintain the overall kitchen color by keeping the walls and other types of equipment in the kitchen white.
15. Pink Kitchen Cabinet Idea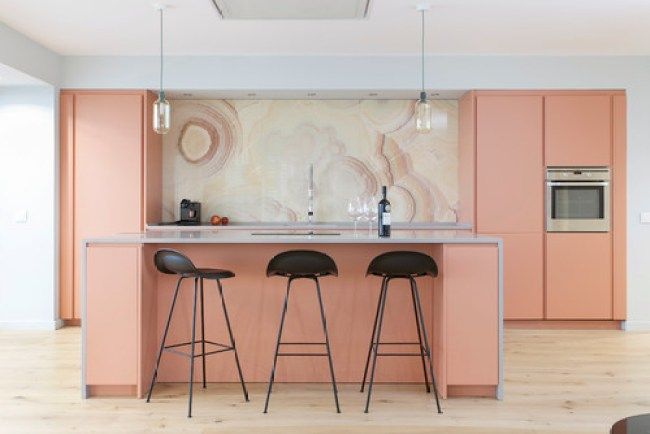 Most people think that choosing pink as a kitchen color is too feminine and will not look great.
However, if we break it to you, then it is one of the best colors to have for your kitchen cabinet idea if done in the right way.
Go ahead and get a combination of pink kitchen cabinets and some with glass enclosures. Keep the surroundings white and make it look stunning and classy at the same time.
Related: 32 Stunning Kitchen Layout Ideas to Elevate Your Cooking Space
How to Choose the Right Kitchen Cabinet Colour?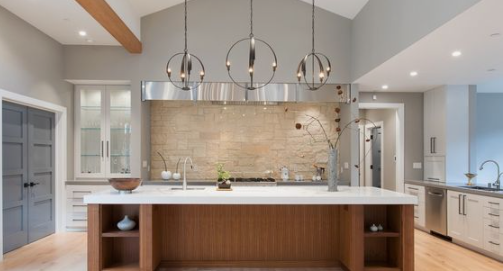 The first question that comes into one's mind is how to choose the right kitchen cabinet color. Well, it involves a whole lot of planning and execution to get the right color for your kitchen.
Whether you talk about cabinet color, countertop, accessories, or anything. Everything needs to come under a vibe and follow a similar pattern.
Speaking of which, we are here with some points that you should keep in mind while choosing the kitchen cabinet idea.
Planning- The first step in building a beautiful kitchen is to plan. You need to see various reference pictures and articles about what your style is and how you want your kitchen to look. Decide upon the texture and colors you want to choose.
Measurements- Once you have a picture in mind, it is important to check measurements. Take a measuring tape or ask for a carpenter and measure the area where you want to build cabinets.
Texture- Some kitchen cabinet ideas have hidden cabinets, whereas some have glass closures. When you are choosing your kitchen, see how you want it. Do you want it to be basic and not see-through? Or you want to have glass enclosures in your kitchen cabinets.
Decide a Budget- The next thing to keep in mind is the budget, which is very important. If you are tight on the pocket, choose affordable kitchen cabinet ideas, and if you have a good amount of money, then invest in something long-lasting.
Conclusion
All in all, building a beautiful kitchen involves various steps and observation. One needs to know what exactly they want for their kitchen cabinet idea and then execute it accordingly.
Always make sure to keep your mind open for ideas and then choose something that fits your palette.
It is not necessarily required to go all bold or basic; you can always experiment and then choose the right one.
Apart from this, always make sure to keep the right measurements because you don't want your kitchen to look too much clumsy.
Leave an ample amount of space as well, as it will make it look bigger and better.
Once you have a kitchen cabinet idea in mind, you should get a complimentary countertop and other elements.
Following all these steps will give you a beautiful kitchen.
Check This Next: Elevating Kitchens with Black Appliances: A Comprehensive Guide