Designing a compact bathroom of all rooms definitely takes much longer, as it is one such space that you want squeaky clean.
Successful bathroom planning will involve space constraints, natural lighting, width area, color scheme, and budget organization.
When planning smaller bathrooms, you must determine what you want to include.
For example, do you need a separate bathtub and shower, what designs do you want, or do you wish to rebuild the entire bathroom or do minor fixes to revamp it?
However, these thirty stylish and pocket-friendly small bathroom ideas will let you build an exquisite bathroom.
From adding lavish sinks to turning your bathroom into a nature-inspired theme, you'll definitely find one or many ideas in this article according to your liking.
Affordable Small Bathroom Ideas You'll Surely Want to Try
Similar Post: 18 Bathroom Sink Ideas: Revamp Your Style and Functionality
1. Sconces on Mirror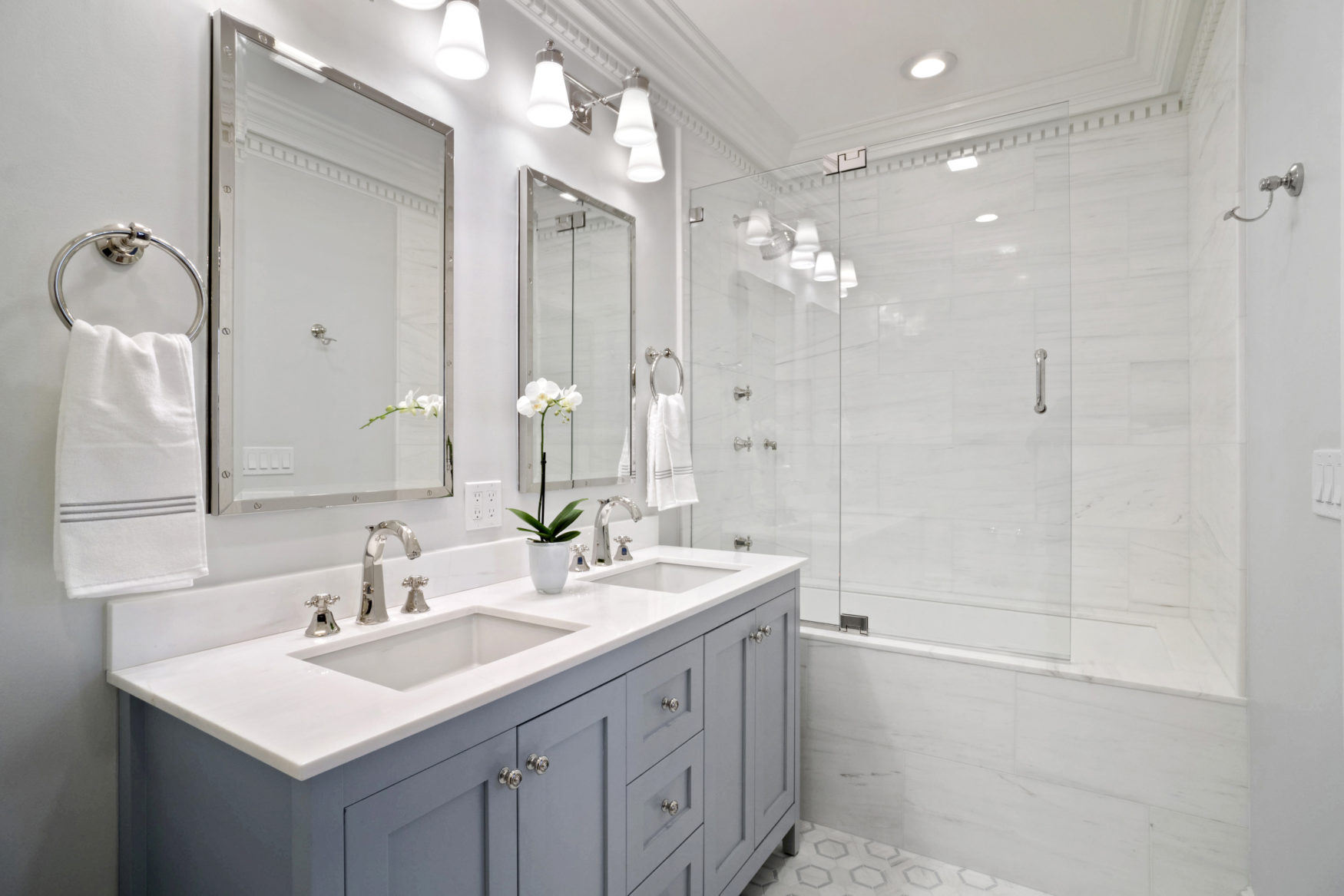 To make your bathroom space look symmetrical, setting up sconces on the mirrors will give an elegant and refreshed look.
Find an eye-catching pair and place each on the side of the mirror at equal distances, or simply put them close together on the mirror.
You can choose many sconces online or at a store, like traditional or contemporary ones.
If you don't have enough space on or around the mirror, you can always go for wall sconces, as they also look pretty great.
Simply pick the ones that suit your personality and the ambiance of your washroom.
2. Antique Statement Pieces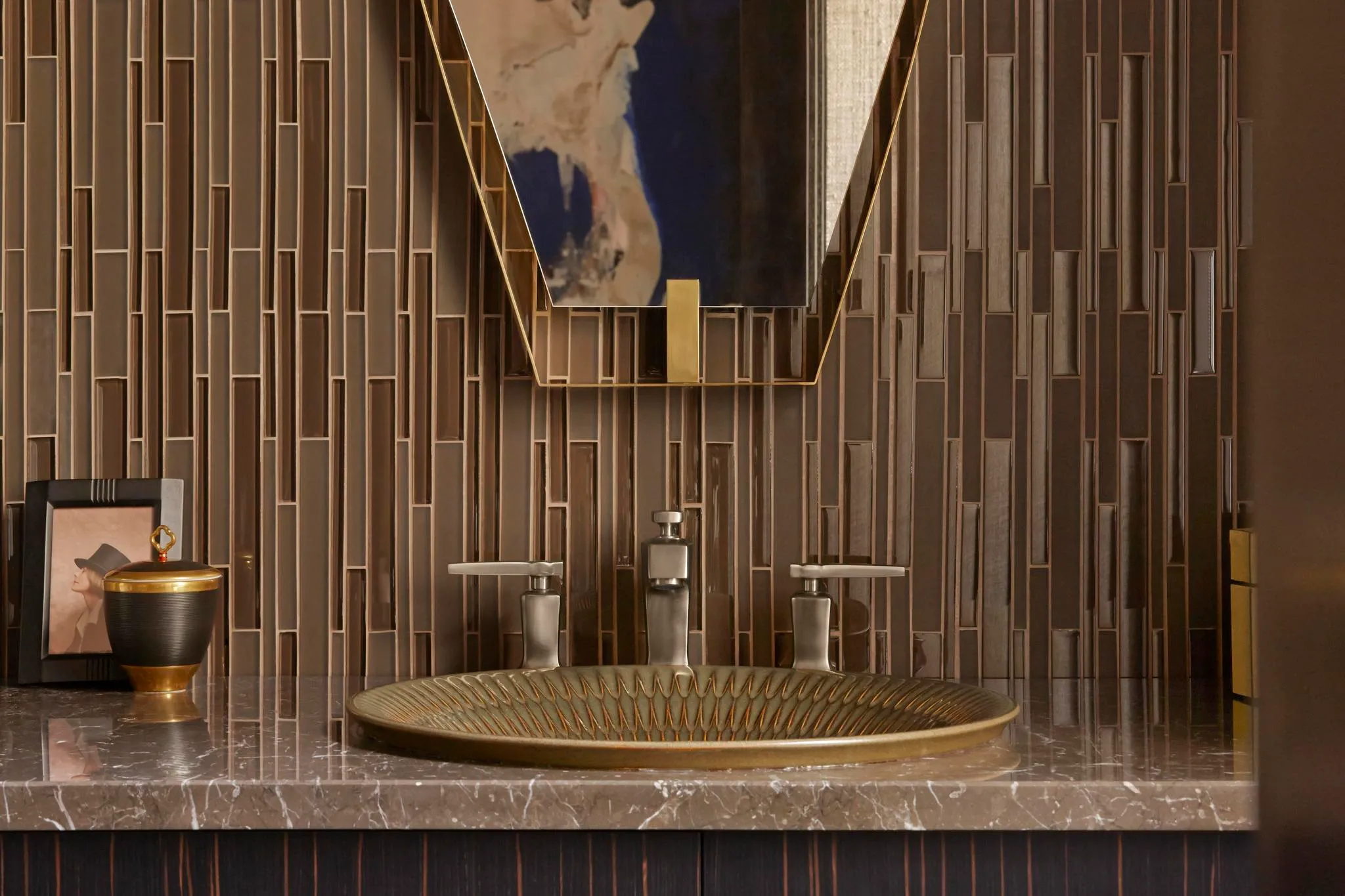 When it comes to decorating a compact bathroom, adding statement pieces could really uplift the area.
If you have a lower budget, visit local stores or search online for cute little accents like paintings or decorative vases to put on the window.
You can find vintage sconces to place in between mirrors or go for antique-looking wall mirrors.
Upcycling older wooden furniture pieces is also a sophisticated small bathroom idea to try. Build the piece into a storage space below the sink or wooden shelves for hygiene or cleaning items.
3. Nature-Inspired Small Bathroom Ideas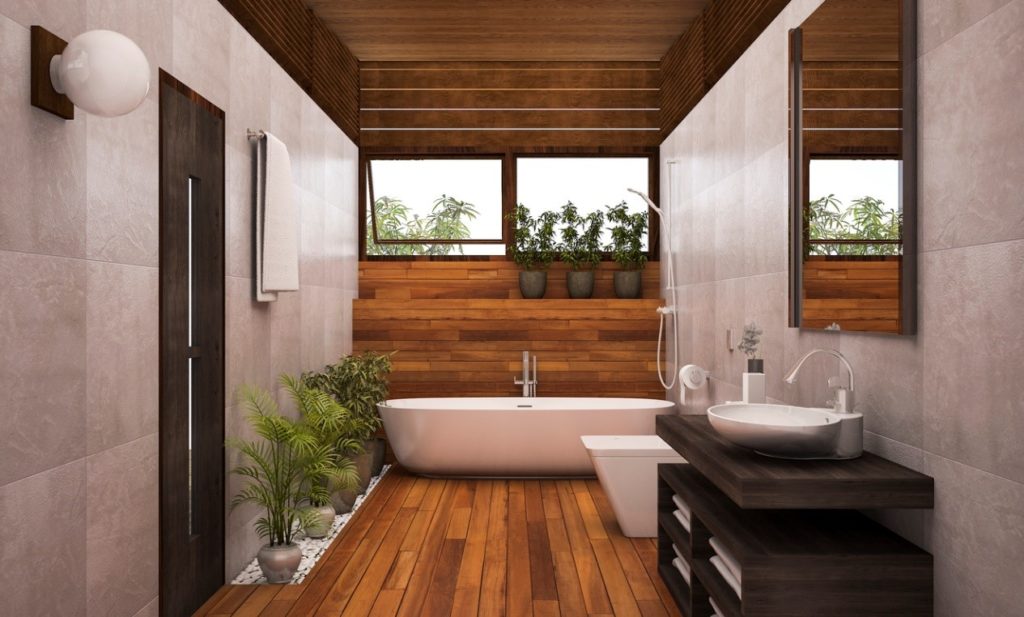 Building a nature-inspired room is one thing, but crafting a nature oasis to enjoy a relaxing bath is just incredible.
If your house is already made from natural elements like wood or stones, this bathroom will be like gaining an extra brownie point.
For a classical look, you can design the entire bathroom with stone textures, from ceiling to floors.
Pick a corner for your marble sink countertop, hang a simple mirror on the wall, and go for cute hooks or hangers to stick on the side.
Keep the place as neat as possible to get the most out of it.
4. Styling Windows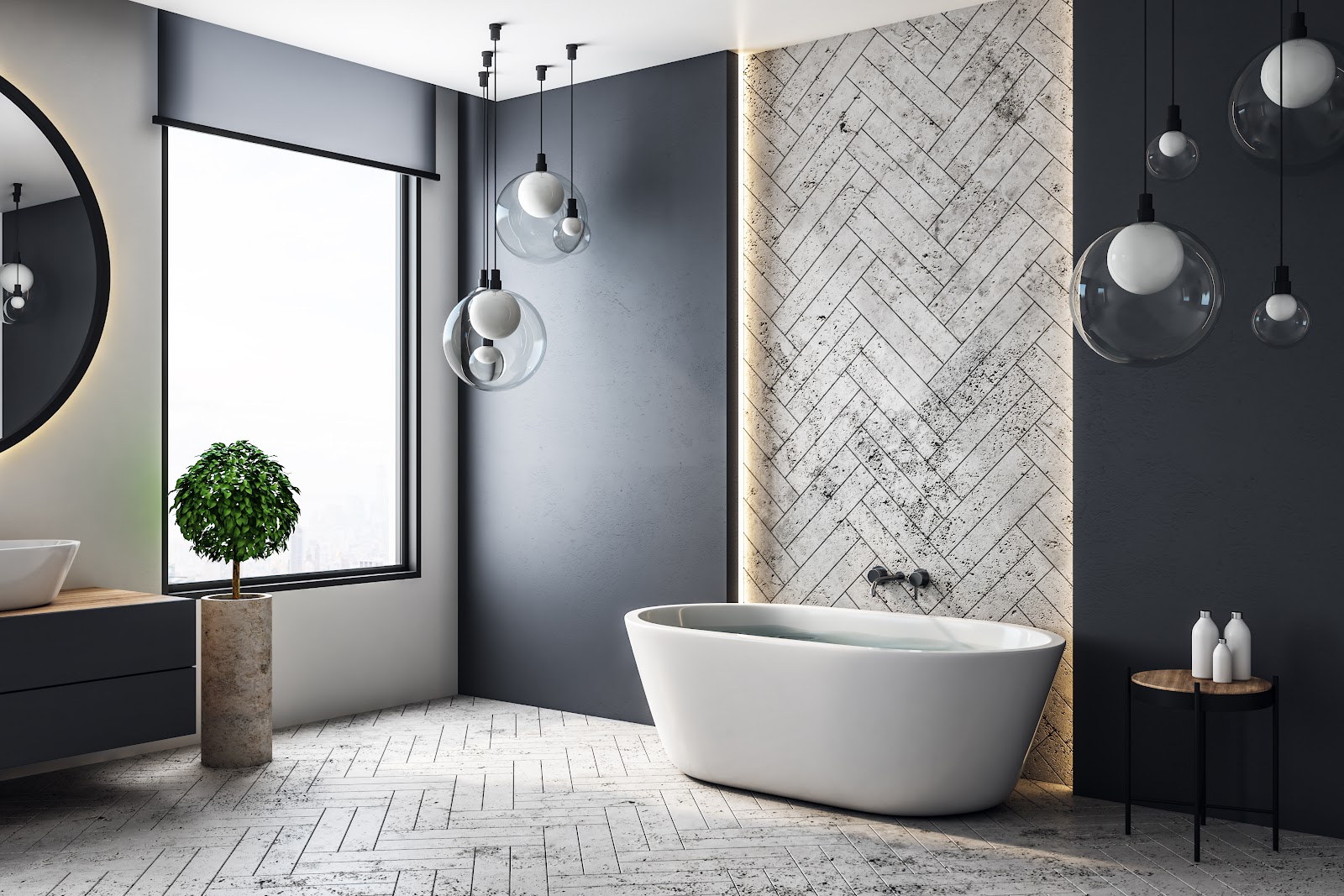 If you have natural bright lights coming in from windows inside your bathroom, then simply leave them be. The more natural light you'll get, the fewer lights you'll need to purchase for your space.
However, if you don't have direct light exposure or need privacy, use lightweight curtains to get enough light and protect yourself from the outside world.
When redecorating your bathroom, you can always build a cute little window on the side instead of cluttering the place with storage spaces or shelving units.
Style it with a tiny vase or a framed artwork leaning towards the window.
5. Minimalistic Approach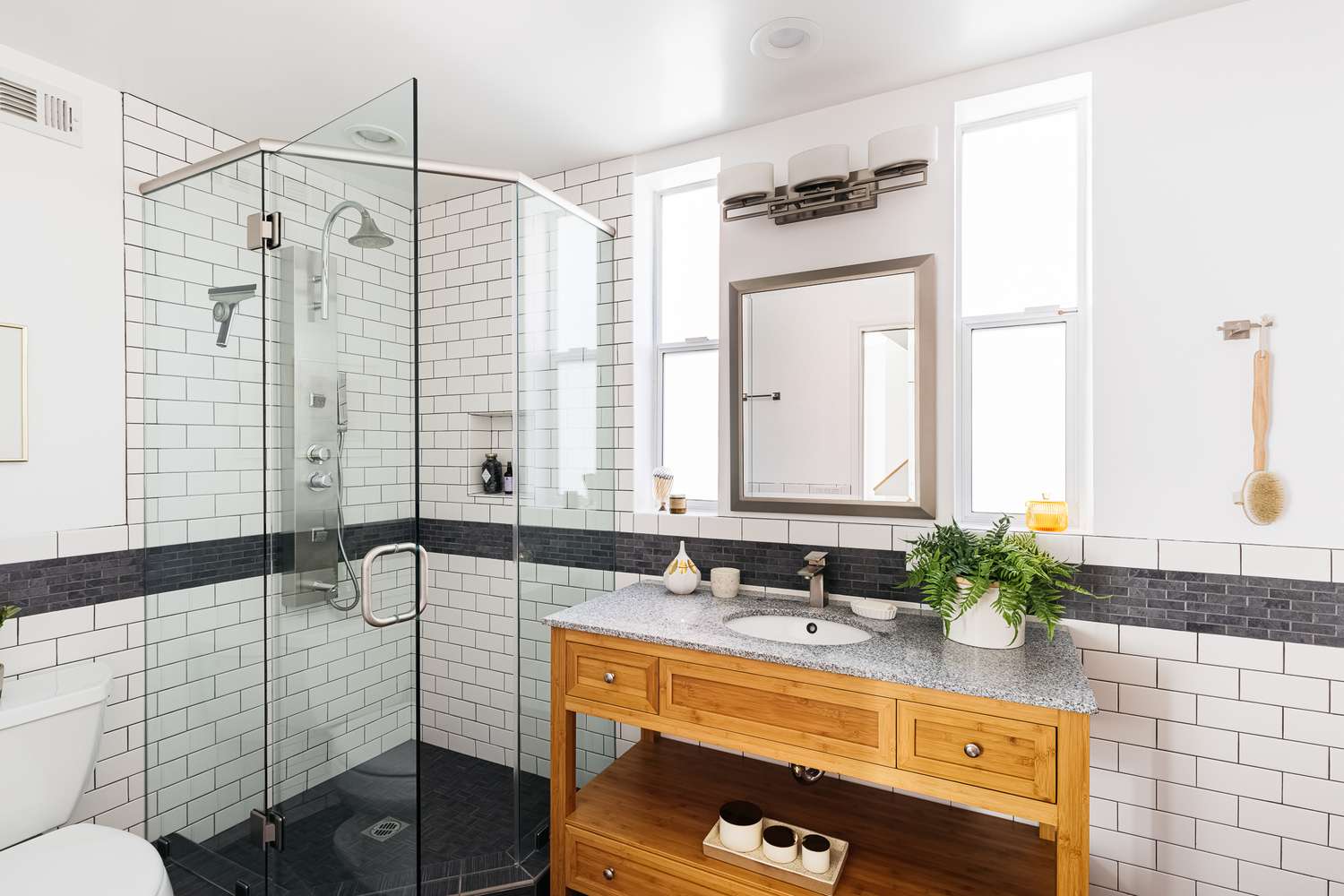 Minimalism is the latest trend that can be incorporated into anything, be it from the clothes you are wearing to the entire house you live in.
Invest in minimal finishes, don't swamp it with many items to give an illusion of a spacious bathroom, and use natural resources for a revamped look.
Instead of building separate storage spaces for small bathroom ideas, opt for sneaky storage that can hide under a floating sink.
You can also install an iron bar beneath it or just use hooks and hangers to hang towels and clothes.
6. Multiple Fancy Mirrors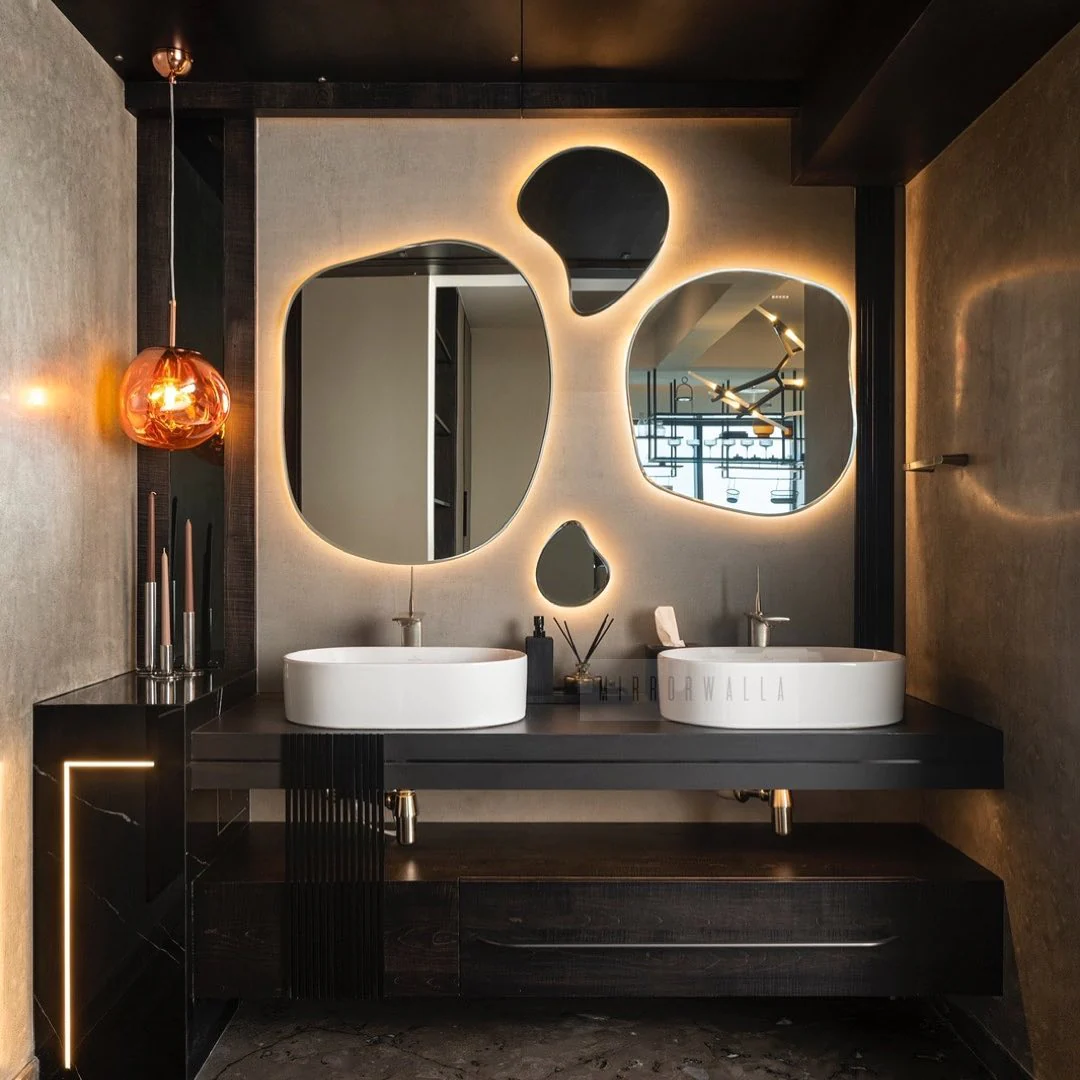 One of the best small bathroom ideas is to find various vintage mirrors of different lengths and sizes and make a mirror gallery wall.
You can either keep the back wall simple and hang the mirrors symmetrically or go bold with a fun background and place them randomly.
Keep the theme or the color palette similar, and pull off the look with distinctive-looking frames.
You can place little shelves underneath the mirrors to keep your stuff, or building small cabinets works, too, if there's any wall space left.
Opting for double-door or cabinet mirrors could also work efficiently as it will help you utilize the space more evenly.
7. Glossy Tiles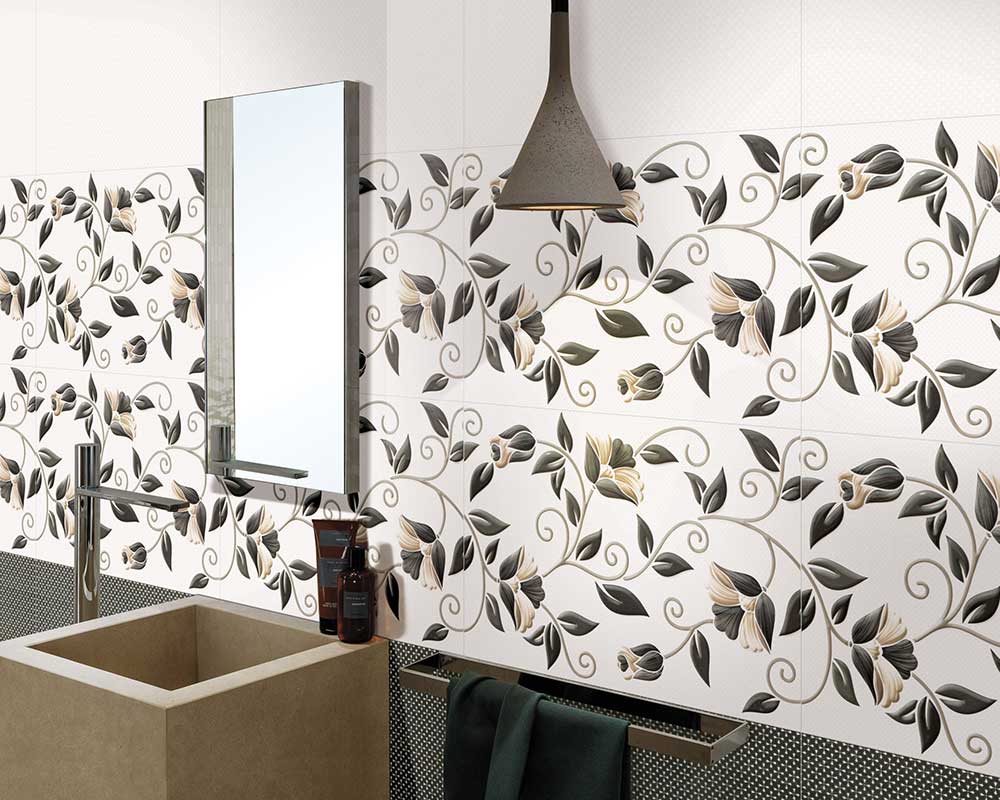 Constructing a shower is way more convenient, cost-effective, and efficient than choosing bathtubs.
The best part about having a shower is it takes significantly less space, and you can enhance it by adding glossy tiles on the floor.
It will help make the area appear more generous and relaxed as the gloss finish will reflect the natural light all over the bathroom.
If you have enough budget, why stay focused only on the floor? Go wide and build yourself a stylish bathroom with glossy tiles all over the walls too.
It will give a rich and satisfying look to your space.
8. Change Your Bathroom Doors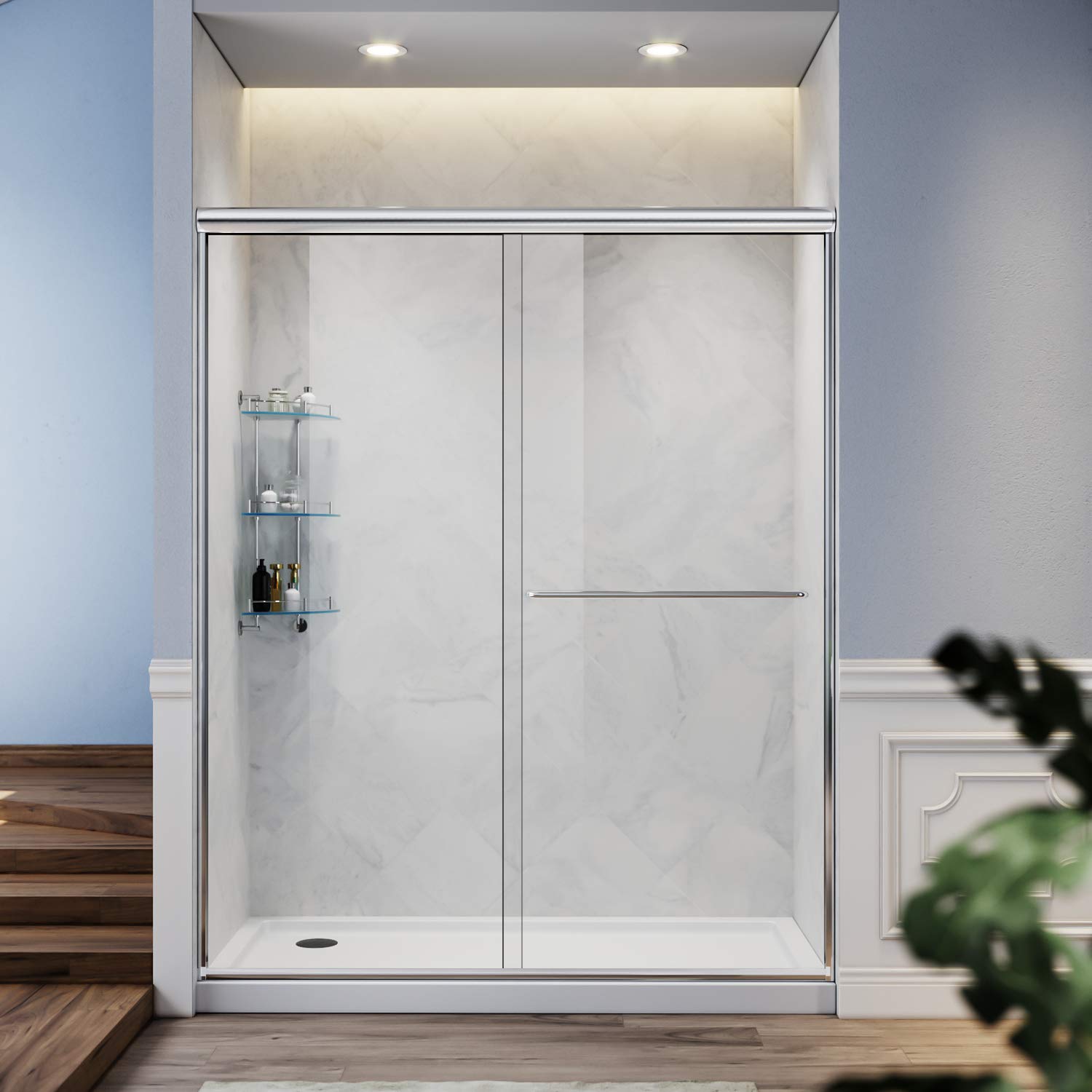 When you have limited space in your bathroom, select sliding doors instead of swinging ones.
Swinging doors takes up more area than needed, whereas you can very smoothly fit a sliding door in your bathroom.
With the extra space left, you can drill the walls for custom cabinetry or place wooden shelves.
In addition, installing a built-in vanity will keep your washroom much more organized. And going in with the floating vanity would be much preferred.
It will help keep the area clean as there will be room between the vanity and the floor, where you can easily place your laundry baskets.
9. Add a Towel Rack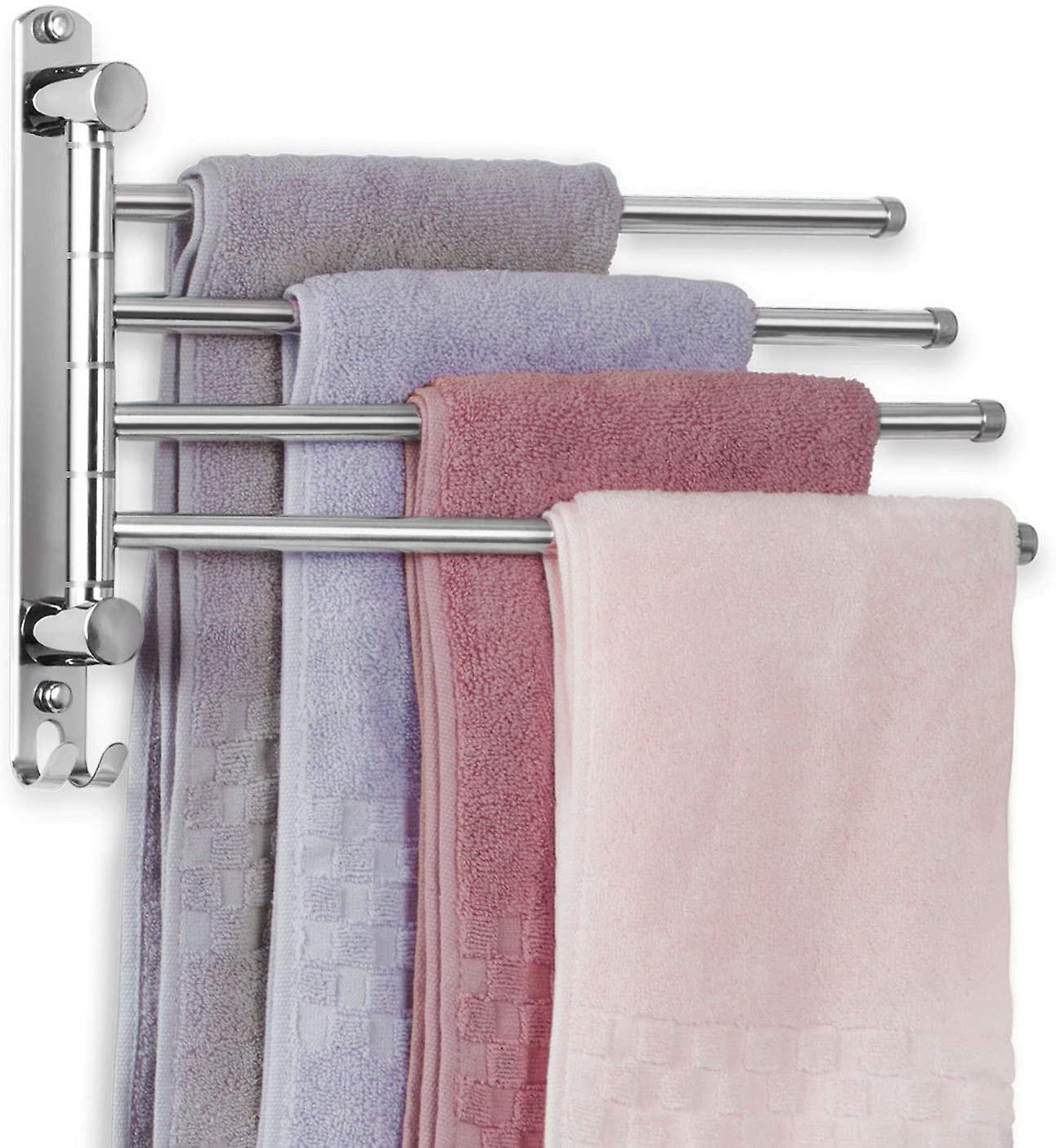 You can opt for tall, skinny towel racks if you don't want to incorporate a separate linen closet. It will help you save space and allows you quick access to fresh towels.
Not only will it give your washroom a luxurious outlook, but you can also use the area to keep other grooming articles too.
Putting out a wooden, antique-looking chair or stool for placing the towels and other toiletries is another affordable way.
If you have a bathtub in your washroom, you can set the seat nearby for easy reach.
Also Read: 22 Stunning Doorless Walk in Shower Ideas
10. Shower Cubicle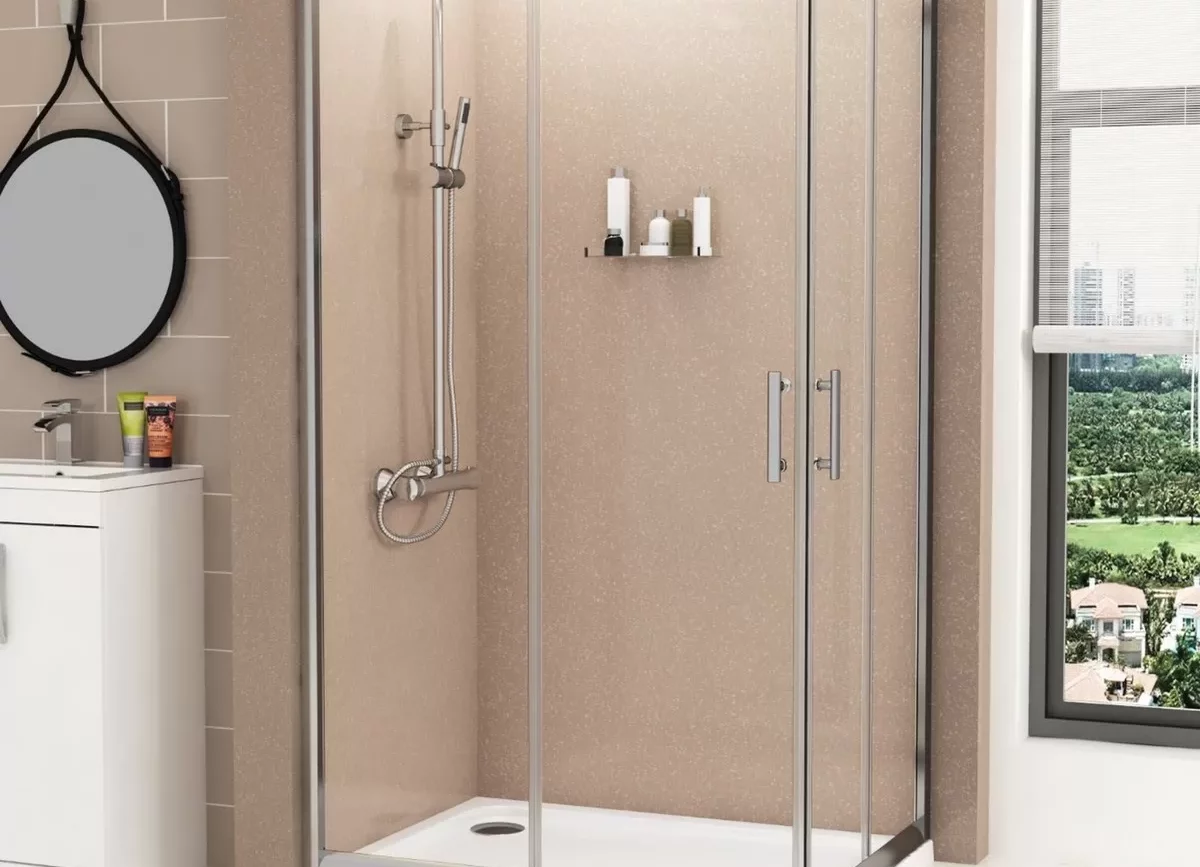 Opting for shower cubicles helps save water and money from drowning away. You can choose a quadrant or curved enclosure or simply go for sliding doors according to the space.
You can easily fit a shower cubicle in the bathroom, giving it a modernized look and separating it from the toilet area.
What's trending right now is shower niches. It's effortless to install them, gives you ample storage space, and allows you to pick from different materials and sizes.
Not only do these niches give you extra room for organizing your articles, but they are also a pretty great addition to your shower cubicle.
11. Handle Free Drawers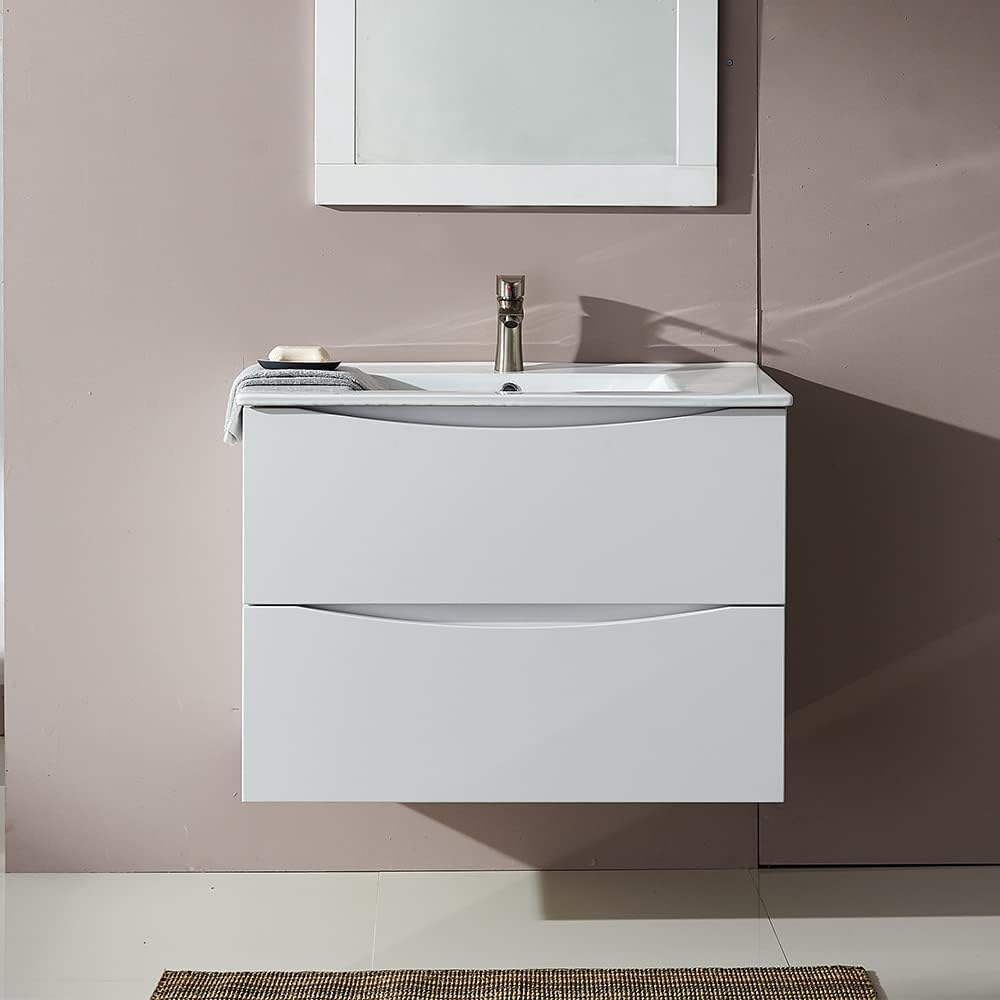 Considering minor details when restoring your bathroom can go a long way for you. Every piece is crucial, from picking out light bulbs to selecting handles for drawers.
These days, handle-free cabinets are in trend as they give away a much more modernized and elegant look to your bathroom. They basically are pull-out drawers you can open from beneath.
These drawers will help you save time and money by choosing fancy drawer knobs. So, just pick out a statement storage drawer to put beneath the sink and see its visual impact on your guests.
12. Hooks and Hangers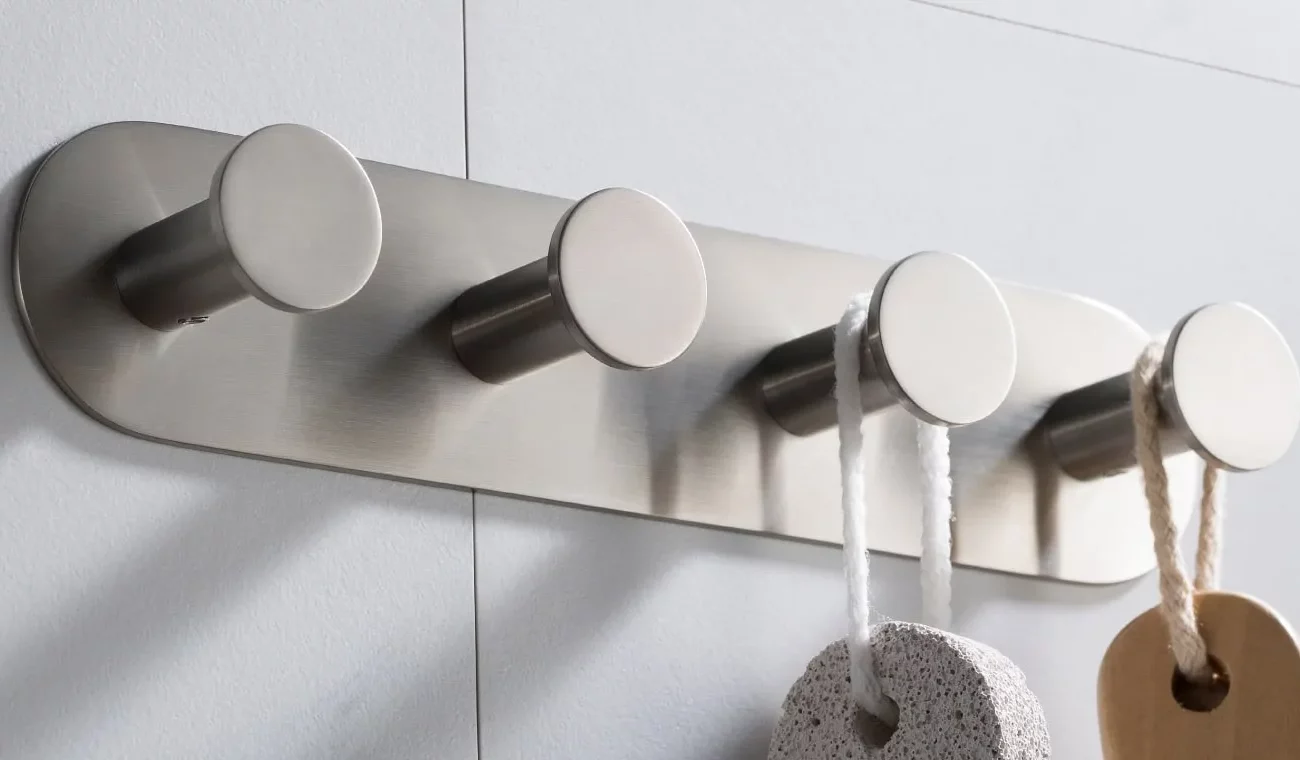 Sticking hooks and hangers on the bathroom walls is the best space-saving idea one can implement. Not only are they functional for tiny spaces, but they are also pretty affordable.
You can place them on the walls or inside your shower cubicles to hold towels or loofahs. Using hooks can even eliminate the need for a closet or shelves for keeping linens or towels.
You can place as many books as you like and can even replace them too very often. The glue hardly leaves a mark, and the best part is you can go as fancy as you'd like.
The fancier the knocks, the more stylish your restroom will look.
13. Calming Lights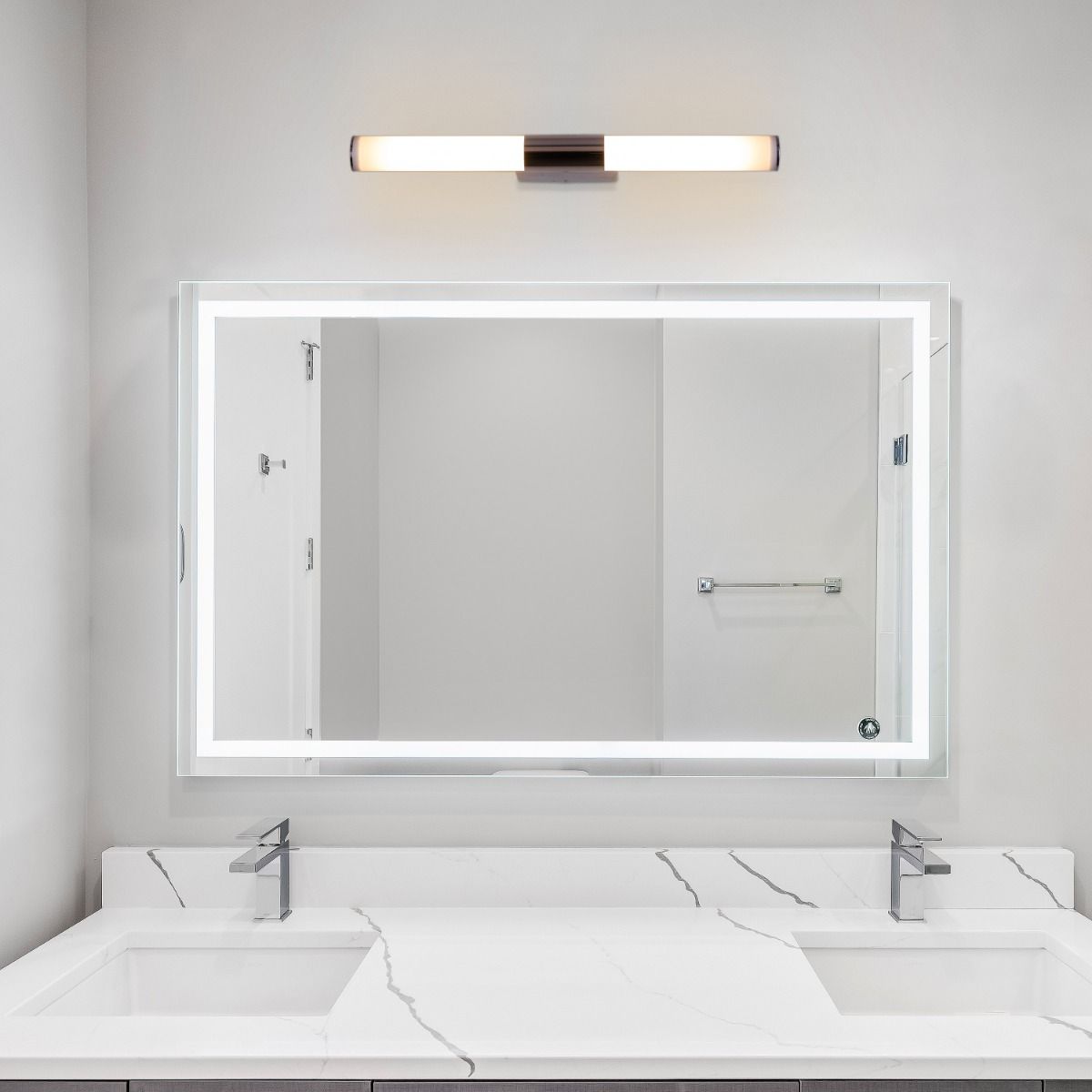 Lights can make or break any space, especially when it comes to small bathroom ideas.
However designer or elegant the bathroom may be, if the lighting is terrible, it can make the area look dull and closed. If there's natural light entering your space, let it shine.
Otherwise, opt for oversized pendant lights, as they will flood the room with bright lights.
What's impressive is that you can purchase an LED mirror with touch sensors. Generally, they give you 2-3 light options to choose from.
They are readily available online and are not that expensive to add to your list.
14. Faux Windows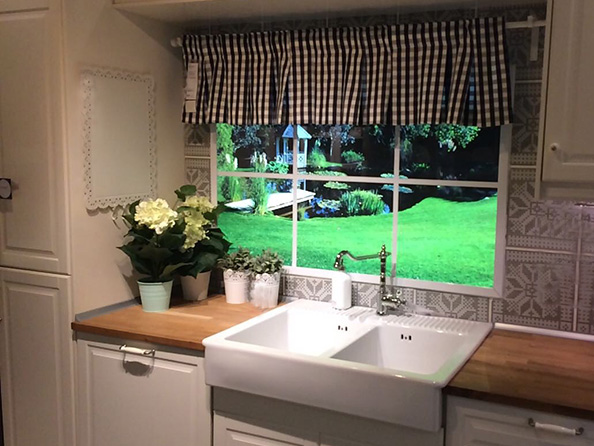 Now, if you don't have any space for windows in your compact bathroom, faux windows are an excellent way to go about it.
You can go for sunrise paintings or removable wall stickers that look pretty real. There are even artificial fake windows with LED lighting and several images you can select for a realistic window view.
You can use rectangular mirrors as faux windows for small bathroom ideas. They work efficiently in mimicking any windows or sliding glass doors you may have.
It will help bounce the natural lights around the area, lighting it up.
15. Patterned or Graphic Accents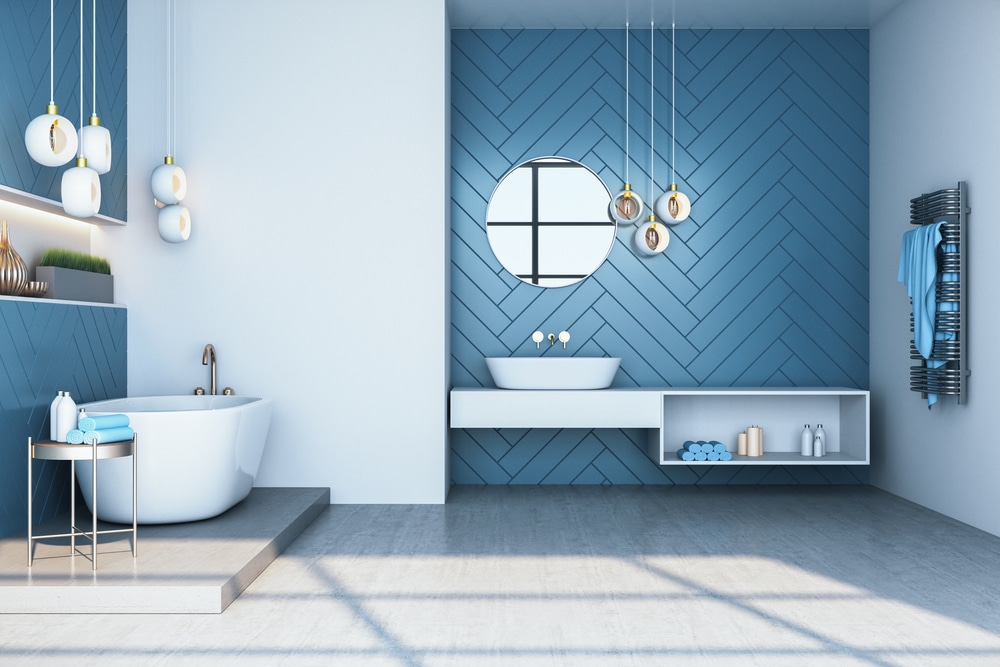 Not everyone is a fan of the minimalist approach. Some people like trying unique patterns or designs to accentuate their space. Going graphic accents is one such idea you can endeavor.
You won't need to knock down the whole bathroom, as you only need to pick out a dynamic tiles duo like black and white or blue and cream shades.
You can either accent your flooring with such tiles or a particular wall on the side of your bathtub or shower.
These patterns will help trick the eye into thinking of the space as broader and more significant than it actually is.
16. Divided Small Bathroom Ideas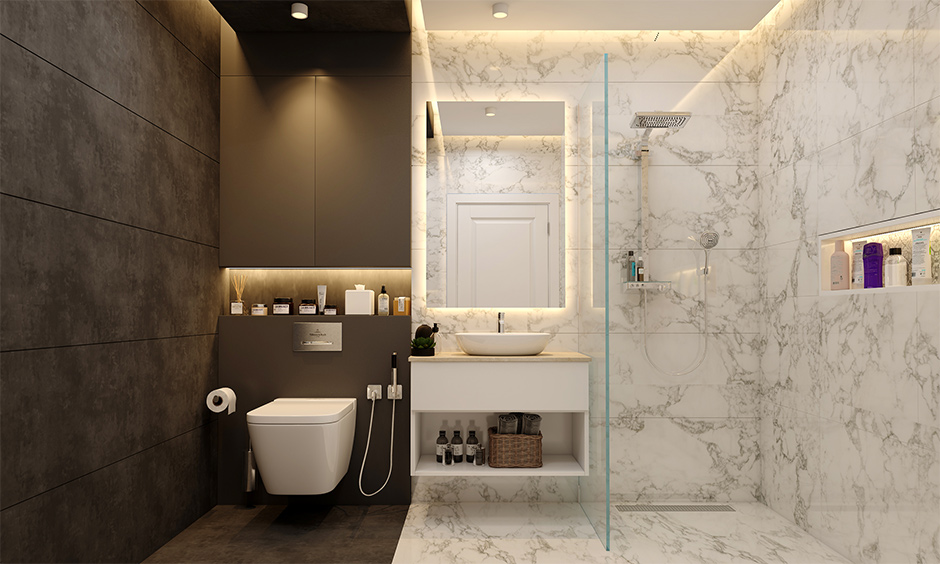 Whilst open bathrooms are in trend right now, having a perfectly divided bathroom that offers privacy is often a great choice.
And, if you appreciate and like privacy in their washroom, try building a divider wall between the shower and toilet area.
If your space doesn't have much room, you can buy a room or bathroom divider online and place it inside.
It's one of the easiest ways, as you wouldn't have to construct a wall or invest much money and time in it.
You can simply go online, pick a stylish one according to your liking, and will have it delivered in 2-3 days' time.
17. Lavish Sink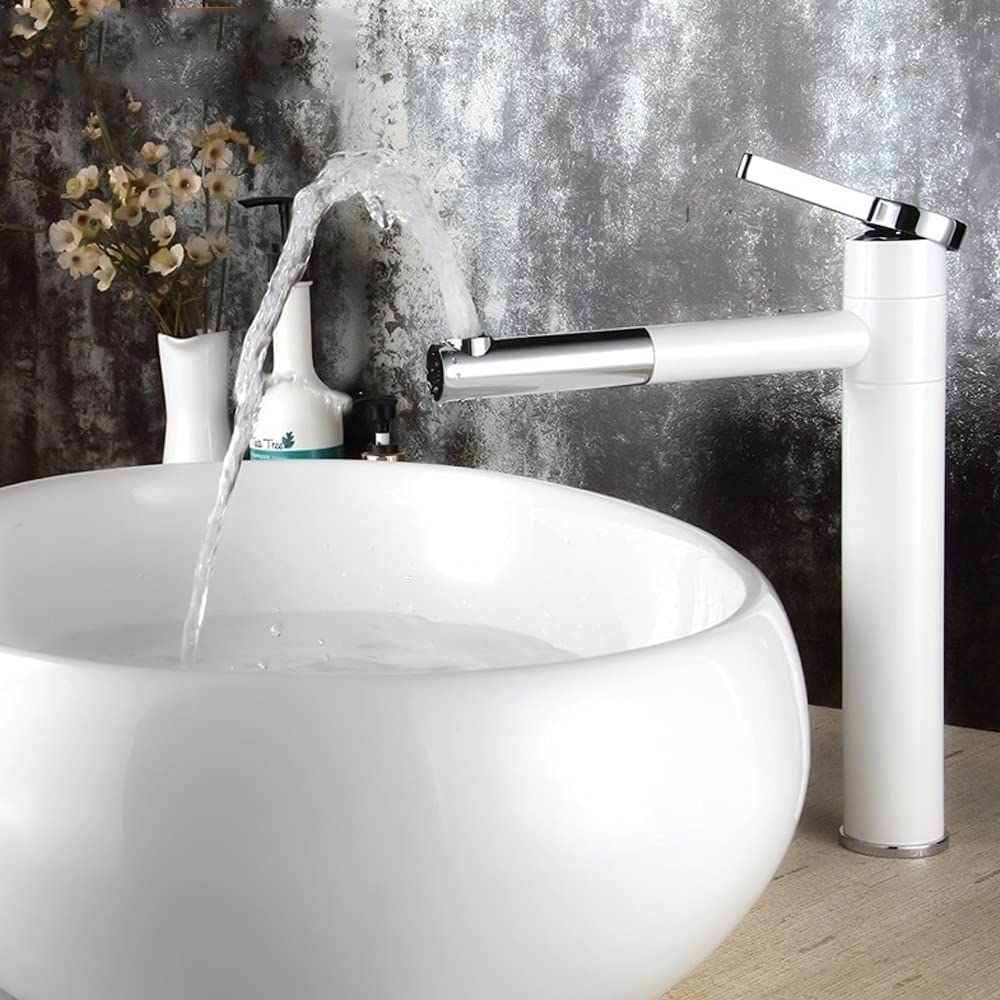 Save space in your bathroom with floating sink basins instead of full vanity ones. You can go with a sleek, stylish, compact sink contrasting the washroom walls.
The area underneath the sink can be used to place laundry baskets or wooden shelves to keep linens and toiletries. You can be as lavish as you'd want with the sinks or as minimalist as you'd prefer.
Installing a thin shelf over the sink for skincare or essential products helps optimize the bathroom space.
A toothbrush stand on the side and a mirror on top of the rack will complete the overlook outlook of your restroom.
18. Installing a Bathroom Tub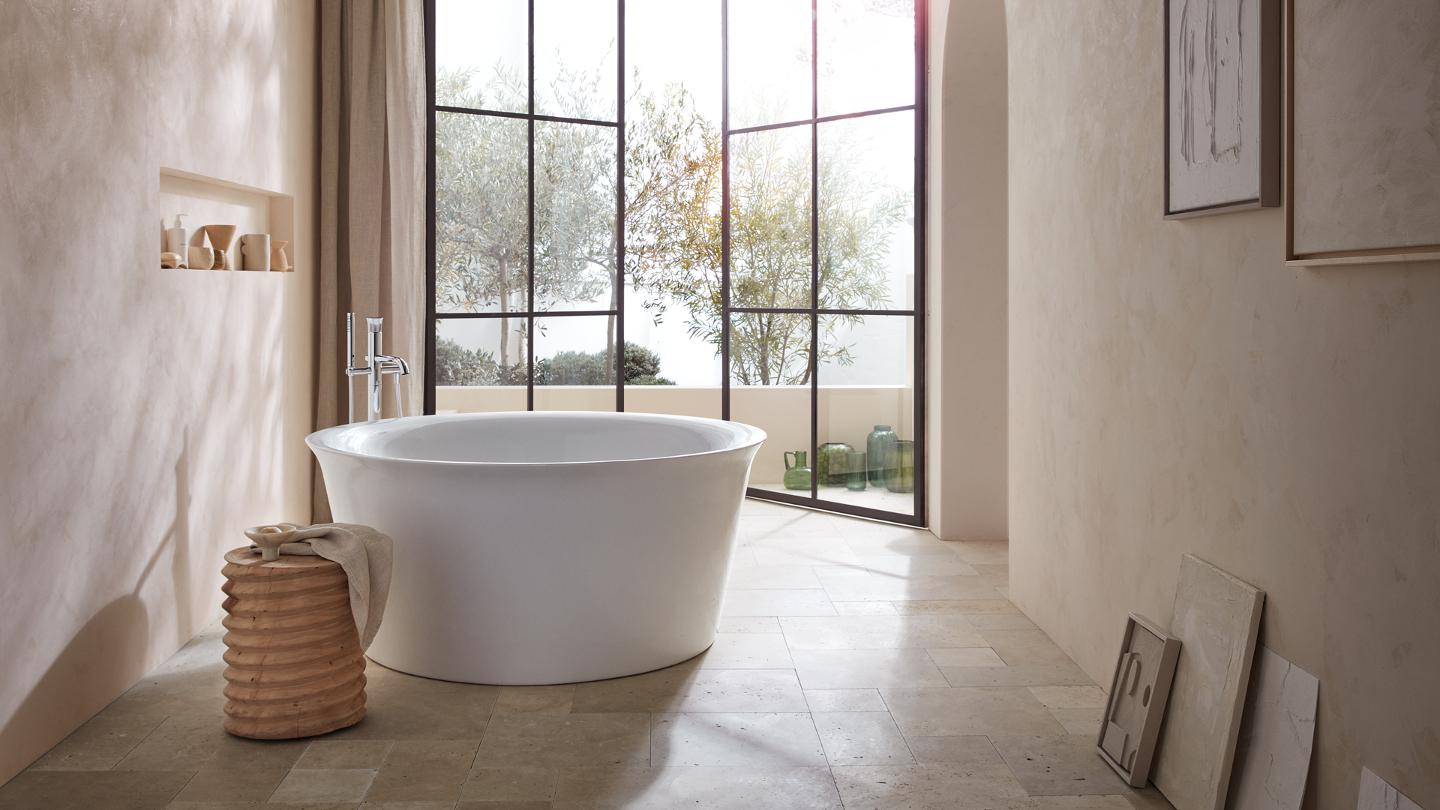 Free-standing slipper tubs go a long way if you have a tiny bathroom space. They are a great alternative to those oversized, chunky traditional bathtubs that costs a fortune.
There may be little to no room for stretching in these tiny tubs, but they are still reasonably practical and affordable.
Incorporating built-in shelves or shower niches into the wall will give you ample space to store towels or bathroom essentials.
If you'd want privacy, you can always place curtains around the tub or install a sliding door for solid footing.
See More: 31 Unique and Fascinating Bathroom Door Ideas
19. Luxurious Drapings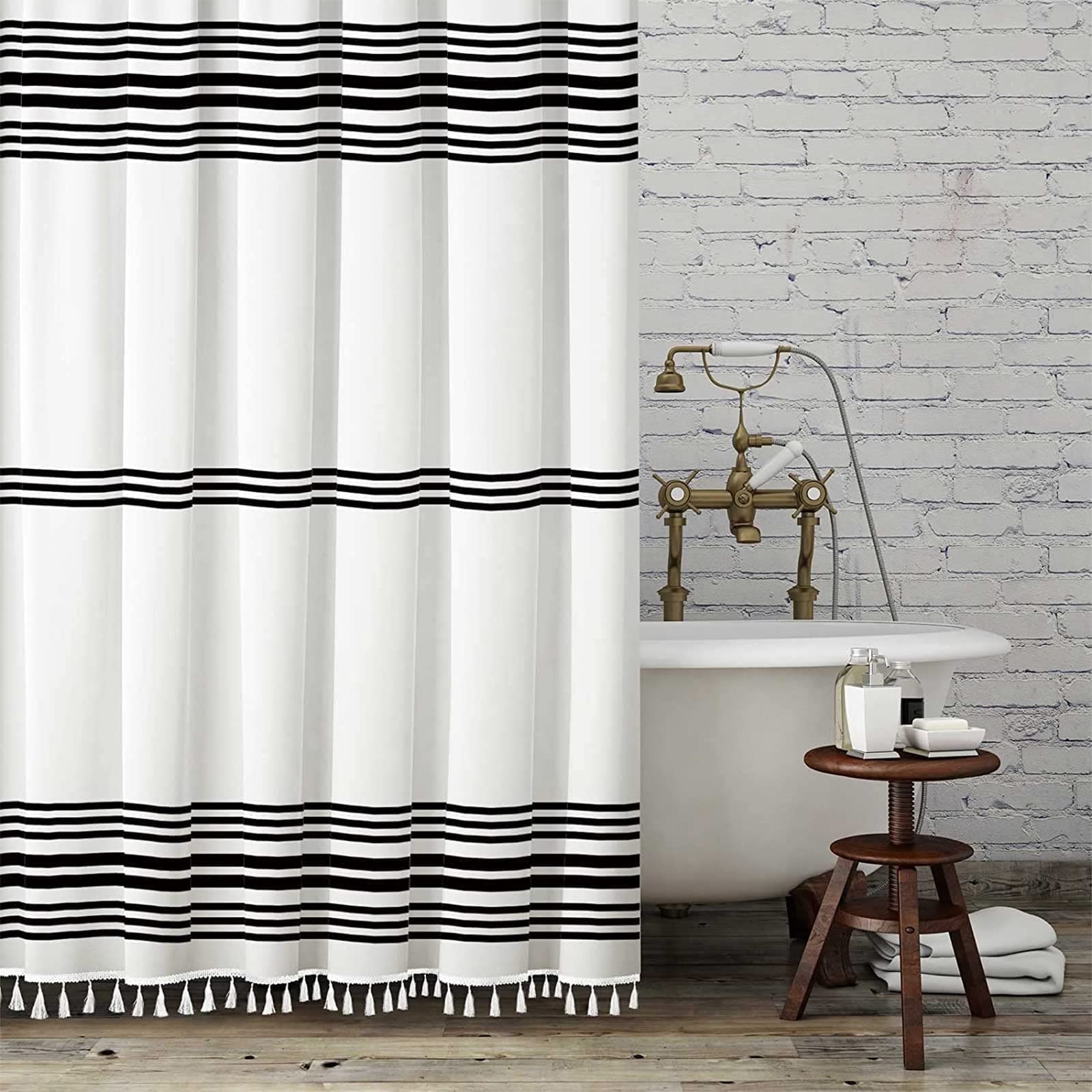 Whether you have a showerhead or a bathtub in your bathroom, hanging the curtains strategically looks more appealing.
You can purchase plastic shower curtains to keep the area dry and clean. They are water-repellant, so you don't have to worry about them getting soaked with water and drying them off after a bath.
Otherwise, you can hang two curtains on each side of the bathtub and drape them around for a more romantic setting.
You can opt for soft, silky, and solid-colored linens to add a certain warmth and luxuriousness to the place. So, you just open and tuck them away whenever you like.
20. Stylish Shower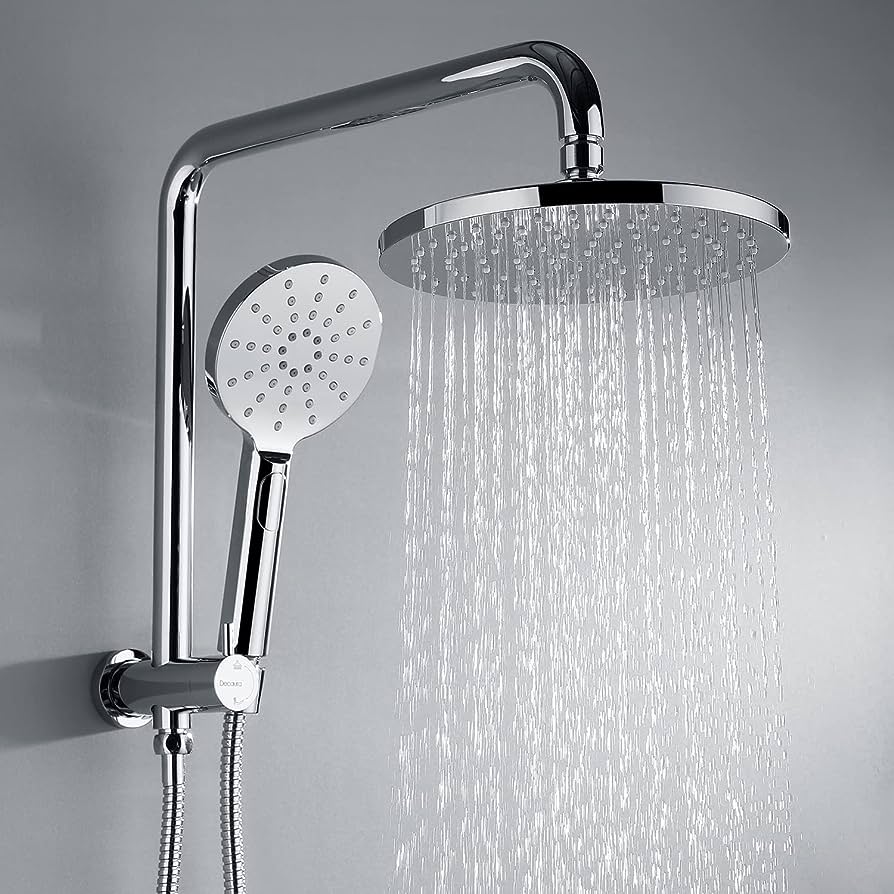 If you are looking out for small bathroom ideas, occupying a tiny portion for showers can work splendidly.
Bathtubs take up tons of space, so opting for a showerhead seems more reasonable and cost-effective.
You can have a rather soothing bathing experience by installing cubicles or sliding doors to make a separate area in your bathroom.
You can add glossy tiles, an elegant showerhead, a niche to keep your stuff, and a glass enclosure to the showering space.
To make it unique, add a floating bench that is both functional and graceful for your taste.
21. Color Palette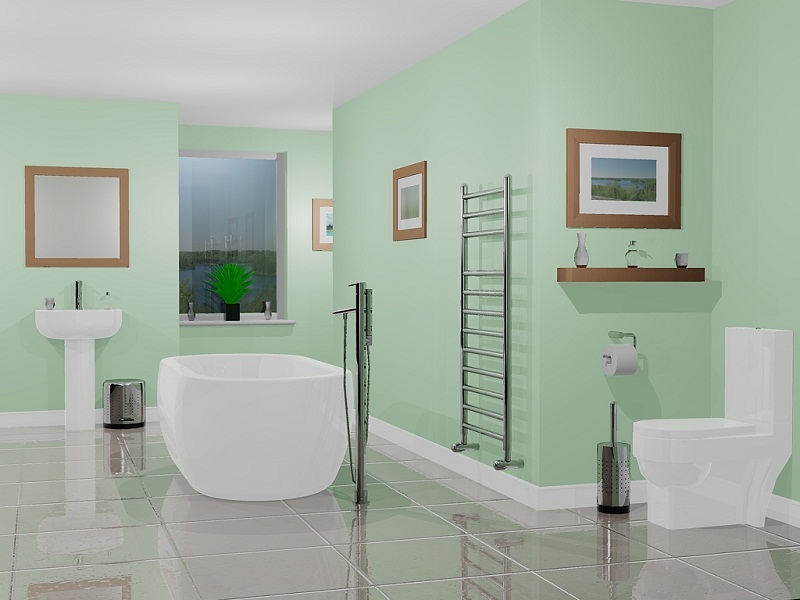 If you love going bold and risking new changes, going for a color-filled bathroom will pay homage to older cultural themes.
You can choose a light neutral tone for the background, like off-white, pale pink, or blue, and add a pop of rich colors to the mix.
For example, paint the entire bathroom off-white with boundaries or half a wall with a dark blue shade.
To make the small bathroom ideas even more dynamic, adding bright light fixtures and some glossy patterned tiles would do so.
A traditional bathtub and wooden storage shelves will complement the freshly painted space.
22. Gold Accents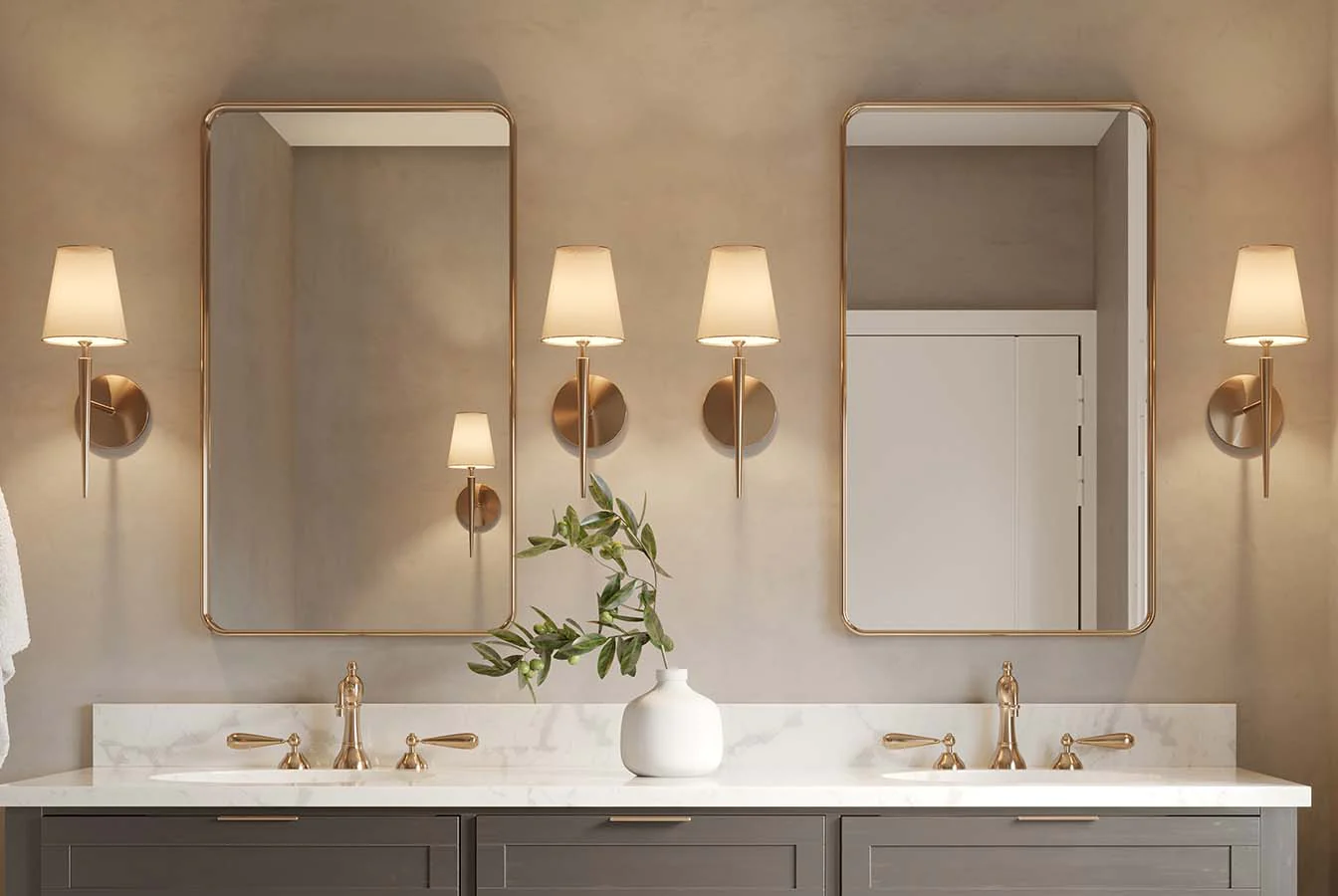 Adding metal accents is still quite popular in the interior designing sector. So, brighten up the space with gold-accented accessories.
Buy square or round mirrors with golden frames; opt for golden light fixtures and gold-accented taps and handles. If you coordinate the pieces well together, it will give your bathroom a rich, warm look.
Choosing a metal showerhead is also a good way of incorporating gold accents into small bathroom ideas.
Go with a sleek, white bathtub or a shower cubicle to finish off a decent yet vibrant washroom look.
23. Storage Space for Small Bathroom Ideas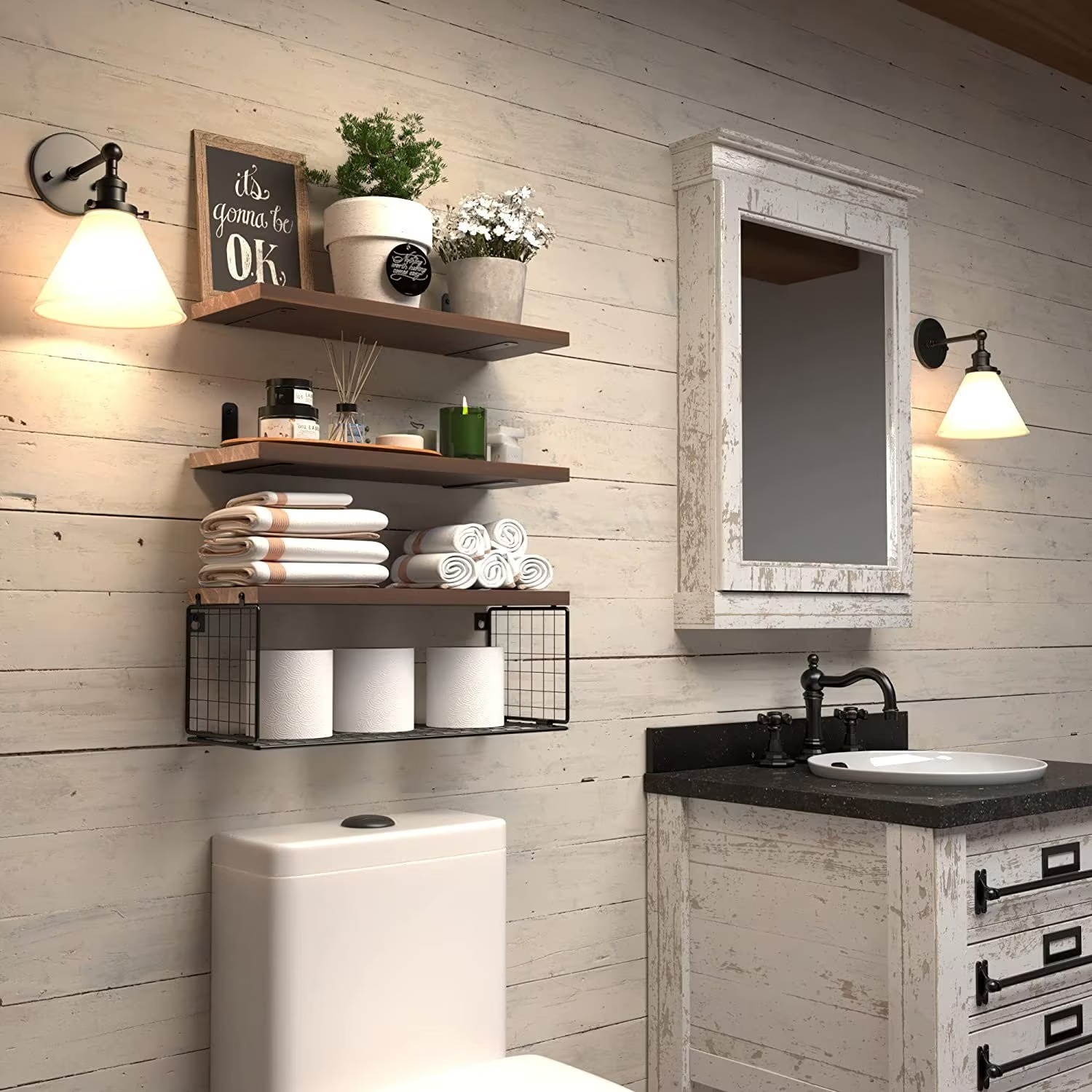 When it comes to building storage spaces for small bathroom ideas, you can get creative with the process. You can start by recycling the wooden furniture to make stylish cabinets or wall shelves.
If you have little to no space to spare, go for shower niches to store products or invest in floating sinks. You can build drawers or keep baskets beneath the sink.
If you have ample space in your bathroom, go for an open or closed storage cabinet and find a dedicated corner for it.
You can buy built-in almirahs or make a whole storage space according to your liking from scratch.
24. Artsy Small Bathroom Ideas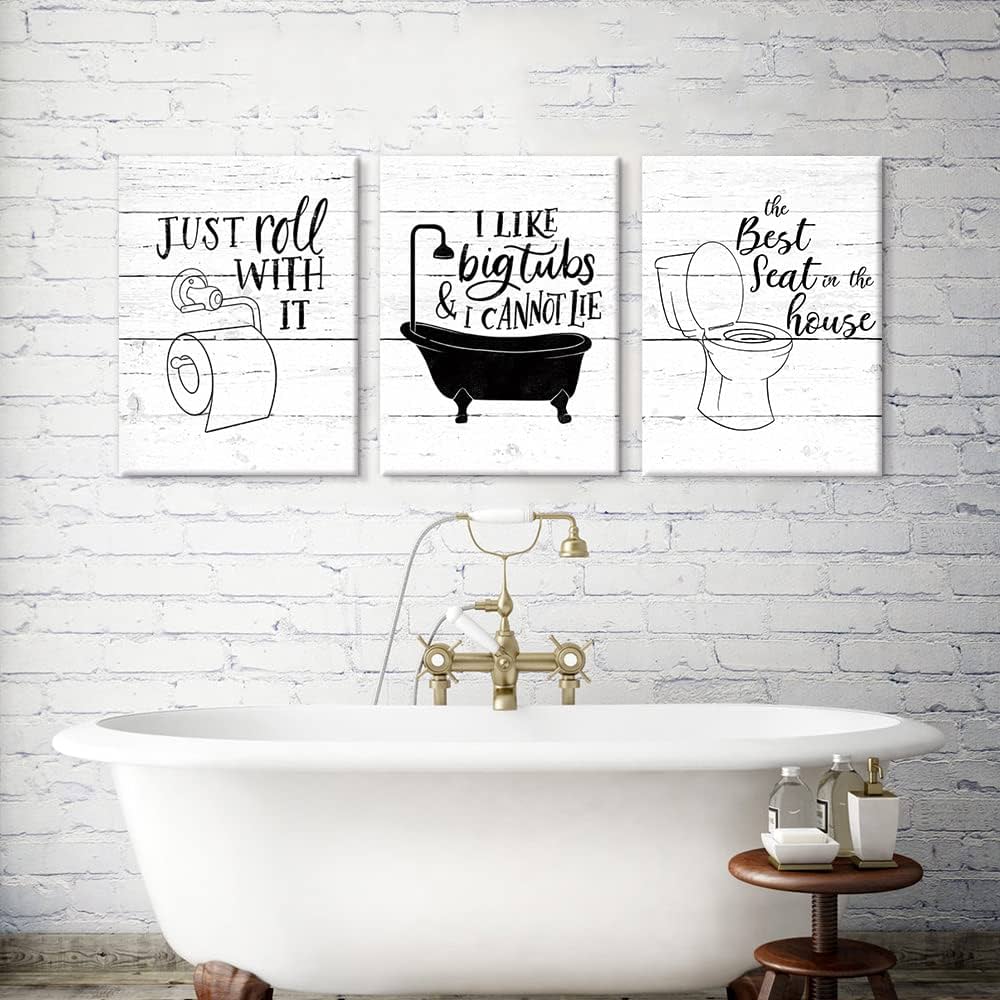 It might be an odd idea to hang art pieces around your washroom, but it is undoubtedly superb. You can pick a wall and turn it into a gallery wall with antique paintings or frames.
Place them in symmetry to keep them clean and elegant to look at. You can bombard the wall with bigger pictures or mix the theme with different-sized artworks
If you want to keep the theme more sweet and minimalistic, choose 2-3 paintings of the same size and place them vertically in a line.
Keep the background dark if your art pieces are neutral tones or vice-versa for an elevated effect.
25. Skylight for Your Bathroom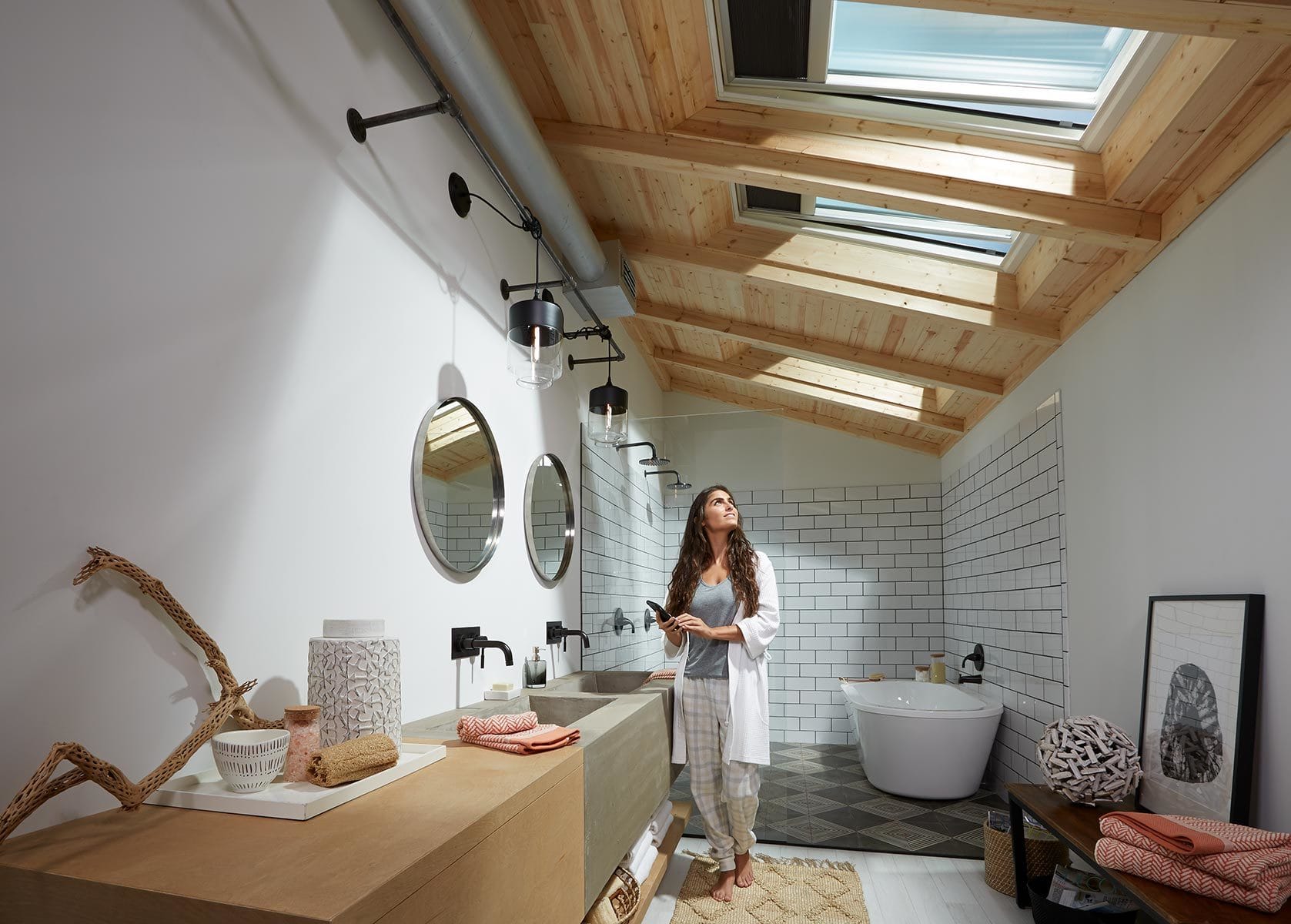 Does your small bathroom have no space for building windows or even hanging faux ones? Go for a skylight.
You can opt for a crystallite skylight that will flood the room with nature's light and keep your privacy intact as well.
They may require going over the budget, as they are pretty expensive to buy, and their installation cost is also higher.
Skylights are definitely a once-in-a-lifetime investment, as they keep the place warm in colder months.
And, in warmer weather, they help reduce artificial lighting and electricity usage, saving you electricity money.
26. Use Mixed Materials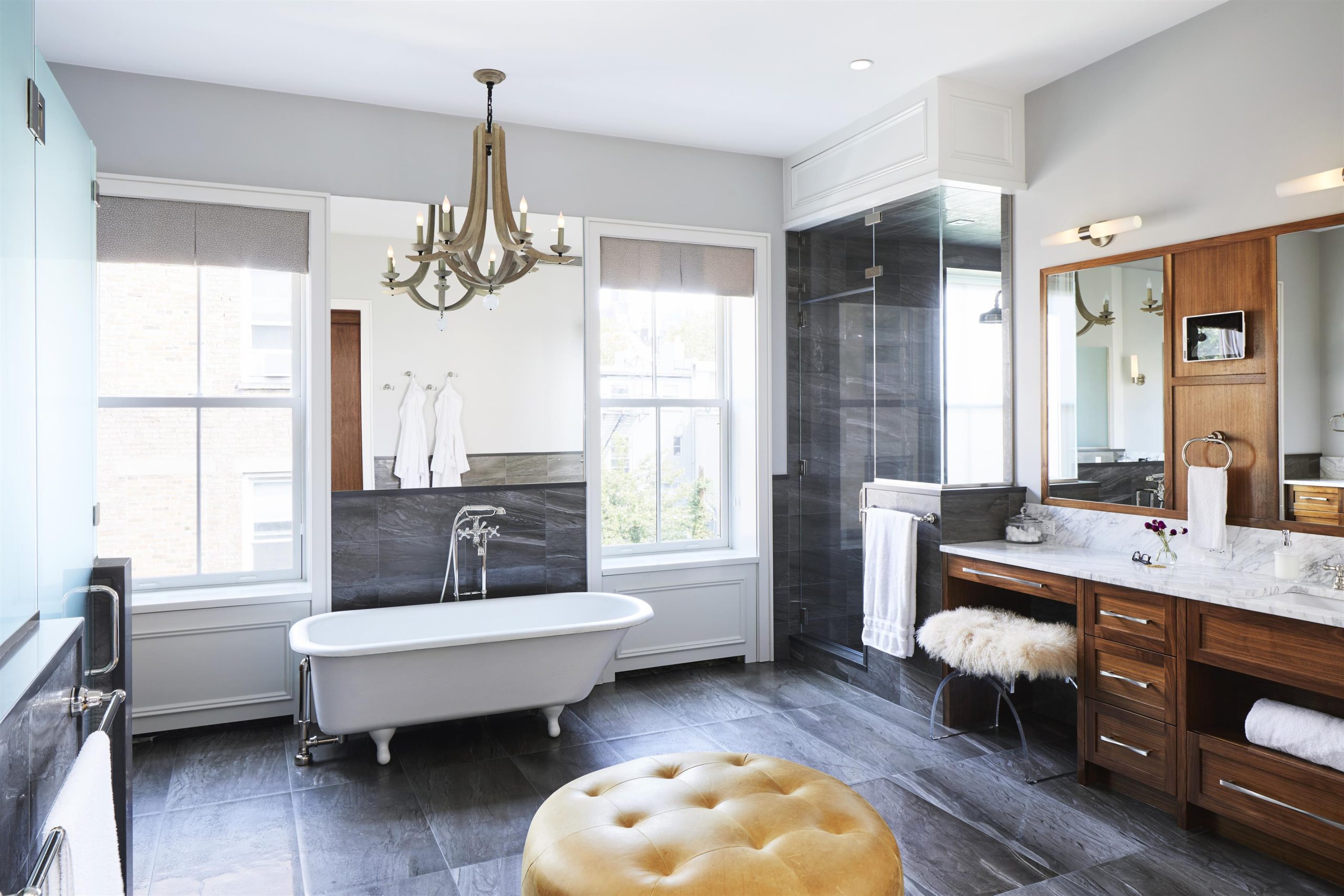 Keep your bathroom eclectic by spending money on unique materials. You can incorporate rustic wooden foundations for the bathroom and separate the bathing area with glass doors.
To give a modernized touch, build the showering space with marble for a contemporary and polished look.
Embrace the space with country-styled elements like vintage mirrors, traditional lighting, and wooden storage cabinets for clothes and towels.
The conventional side would give a retro look from the outside, while the stones would brighten it up.
Related: Shower Head Height: Complete Guide
27. Wooden Ceilings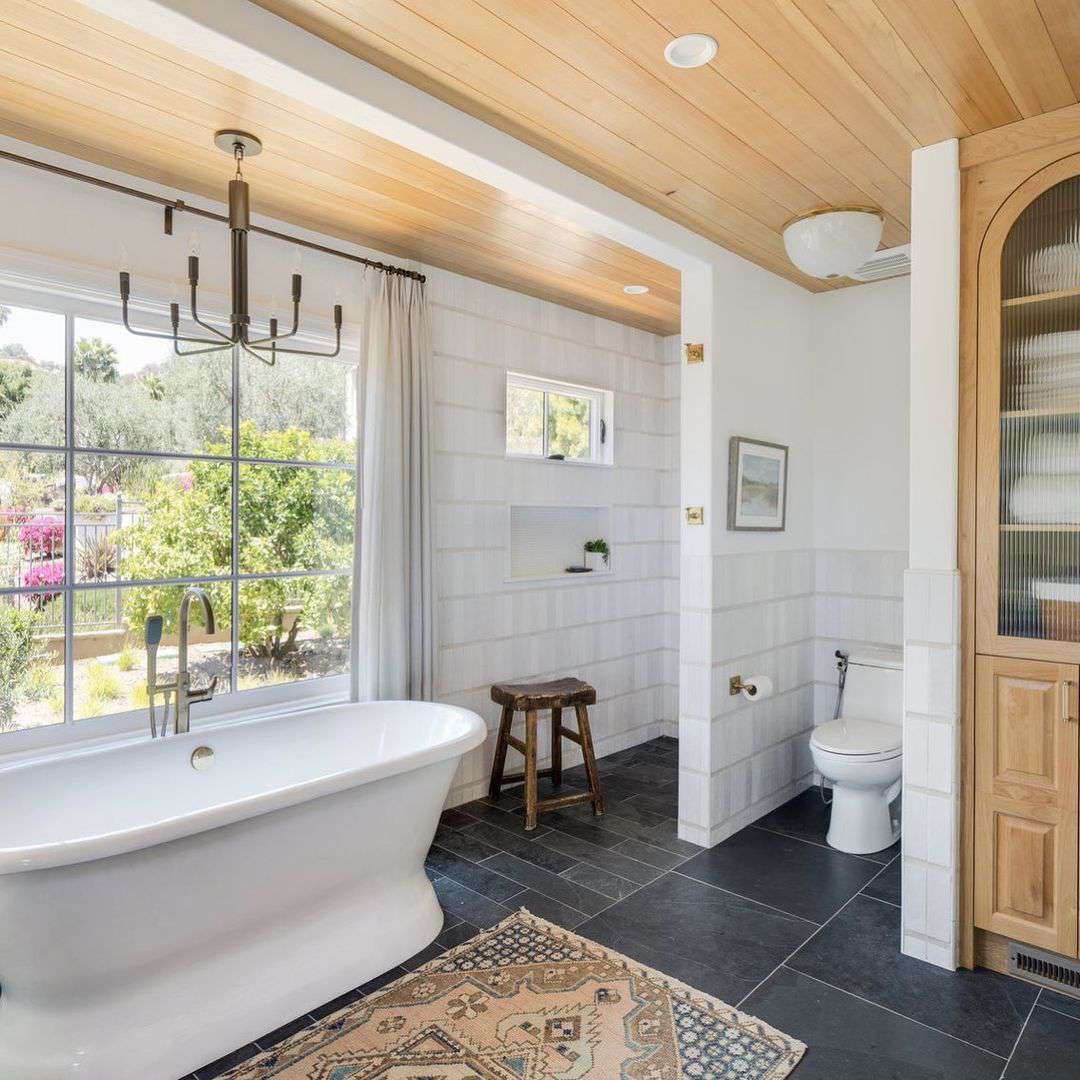 Exposed ceilings made with natural wood highlight all the angles of the space significantly. It gives an architectural interest and a high-ceiling illusion to the room.
To maintain an outstanding balance, go for all-white or pastel-colored walls along with marble flooring. The outcome will give a refreshed design with a touch of rejuvenation.
You can also opt for floor-to-ceiling windows for your restroom to provide an open view of nature. Add some plastic curtains or long, stylish drapings for a sense of vibrancy and a colored effect to the space.
28. Adding Floating Shelves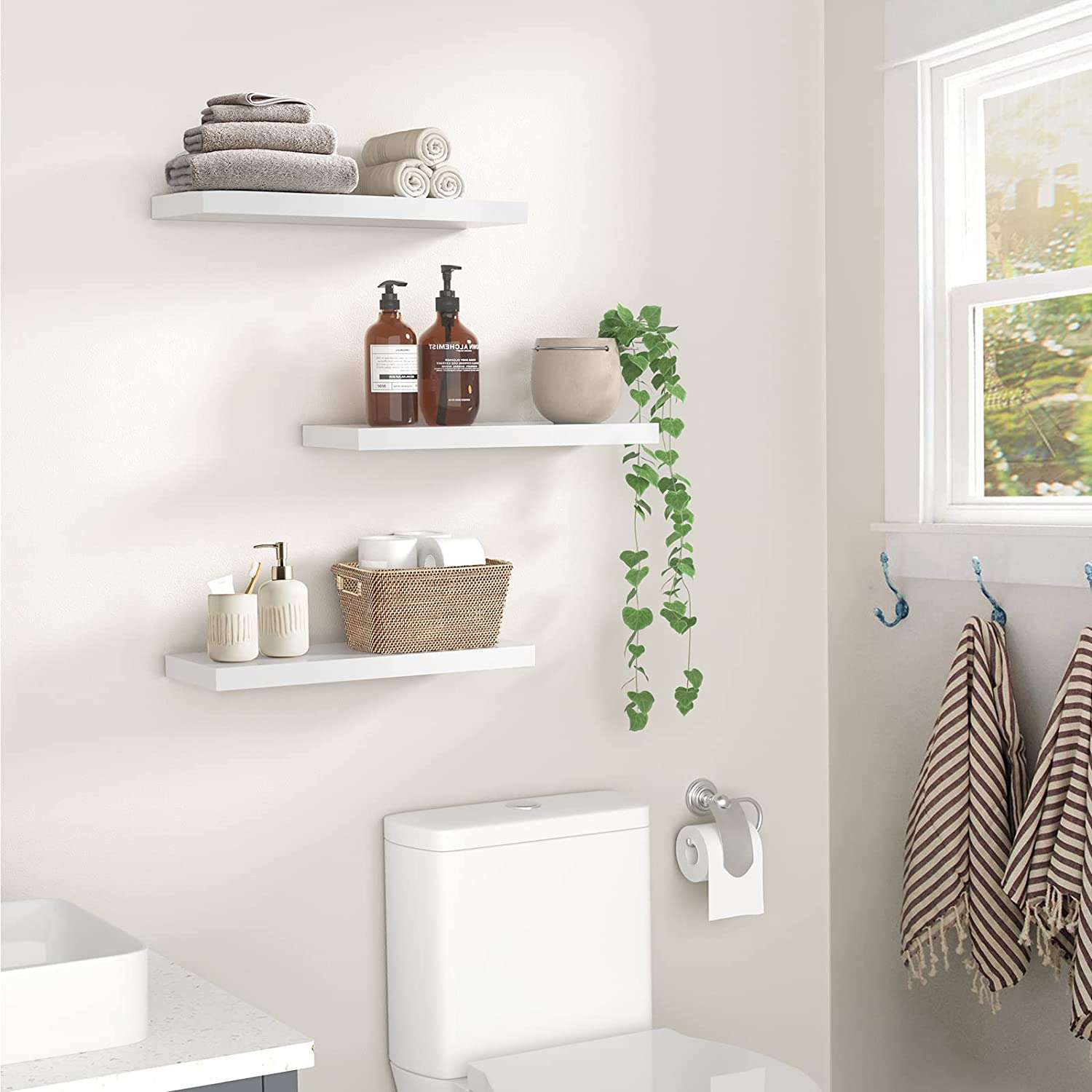 You have surely thought of adding floating sinks to the bathroom, but how about incorporating floating shelves?
Build a concrete floating vanity into the wall for an industrial flair to your small bathroom. You can keep all your belongings and grooming articles on the dedicated shelves.
If you don't want concrete shelving, you can always order the wooden shelves online and directly fix them on your walls.
They come in different sizes and designs, and you can decorate the space on a budget accordingly. If you have any leftover wooden pieces, you can easily build them from scratch.
29. Obscured Glass Screen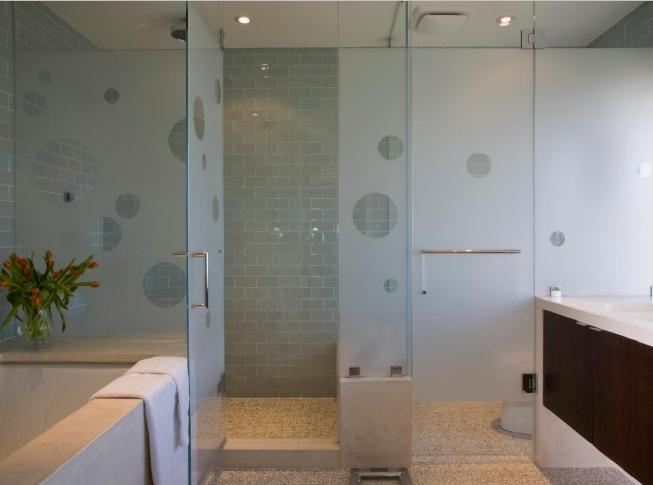 To get a secluded bathing area in your bathroom, and you don't want to opt for dividers, try glass screens.
You can install an obscured glass screen between your shower and toilet area to create a fragment of privacy. This opaque glass would be easily available in-store and online.
You can choose from various designs and sizes according to your space.
You don't need to spend much money to install the screen. Simply buy a glass door, apply a frosted window film, or spray it with frosted window paint.
And you'll get an obscured mirror screen at the price of a standard glass screen.
30. Marble Small Bathroom Ideas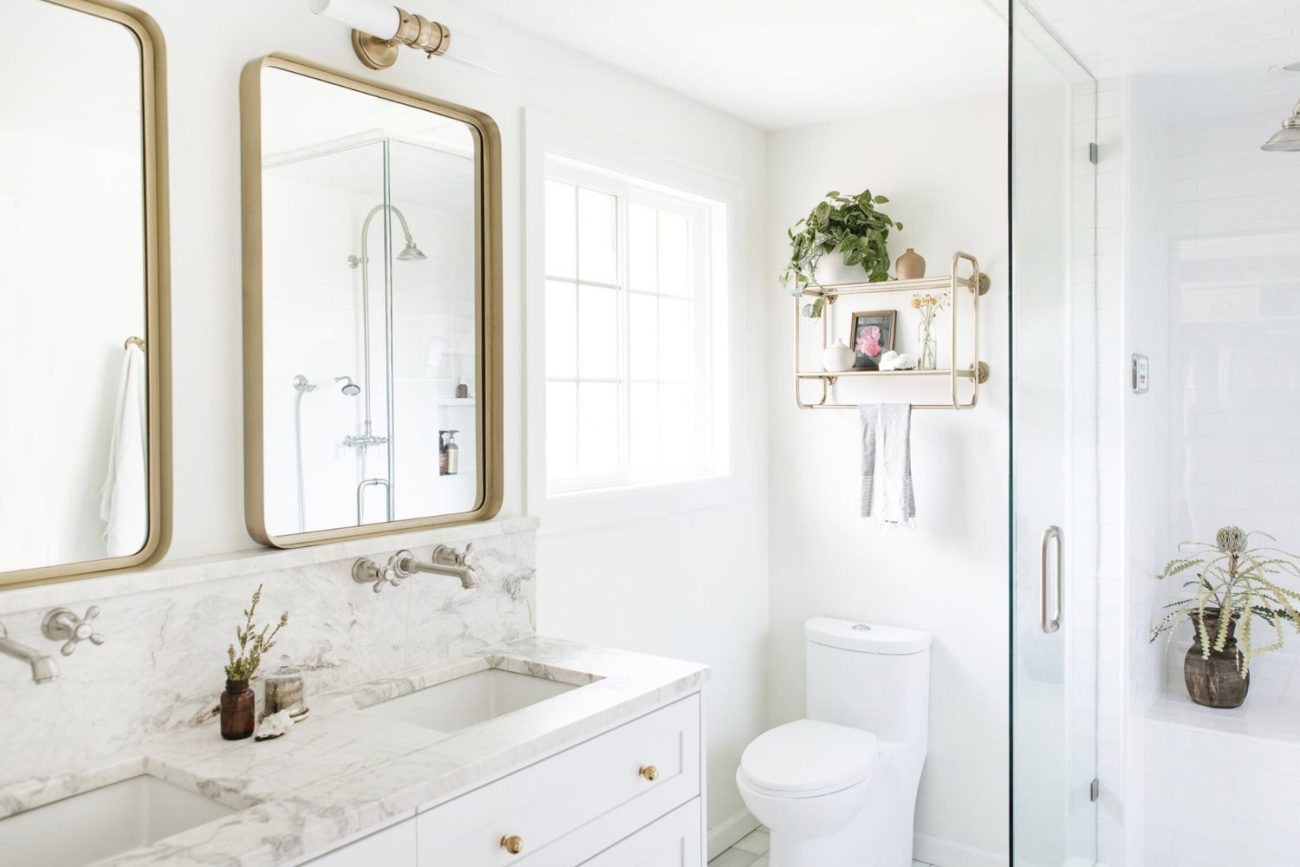 Marble makes any space looks lavish and sophisticated in no time. It reeks of glamour and is perfect for building an aesthetic, eye-pleasing bathroom.
Invest in a high-quality marble stone and make yourself a fantastic stone-filled bathroom. You can go for marble flooring or marble walls and countertops.
It may cost you a bit much when going for marble walls, but it will be worth spending the money. You can even go for stone-looking lights or stone-framed mirrors to take things up a notch.
Check This Next: 12 Stunning Modern Farmhouse Exterior Designs
Conclusion
All in all, renovating the older bathroom or building a new one gives you an excellent opportunity to try out fun ideas you always wanted to go for.
It's undoubtedly a big job, and if not done accurately, like choosing dull lights or low-quality products, it can result in redoing everything again.
So, it's always better to check the surroundings of your space and, accordingly, design it.
The list mentioned above can help you make a consistent decision and give you specific ideas you'd feel comfortable trying.
So, take on some inspiration for small bathroom ideas and design like a pro.
Tell us in the comments what your ideal small bathroom looks like.