Blue is the color of tranquility, and it is one of the most preferred hues when adding a sense of calm to any living space. With blue, its undertones as well as its darker shades, the possibilities are truly endless. You can create a soothing ambiance with lighter shades of blue, and you can go for darker blue hues to reflect a vibe of the deep blue water.
There are multiple ways to infuse this versatile shade into your home decor. You can add blue through pieces of furniture, decor accents, furnishings, and much more. Well, you can play smart by bringing in a blue couch for your living room to experiment with the overall theme of your space.
Below is the list of the 12 best ways to style a blue couch and how you could leverage the versatility of this calming hue.
1. A Living Room Essentially Inspired by The Ocean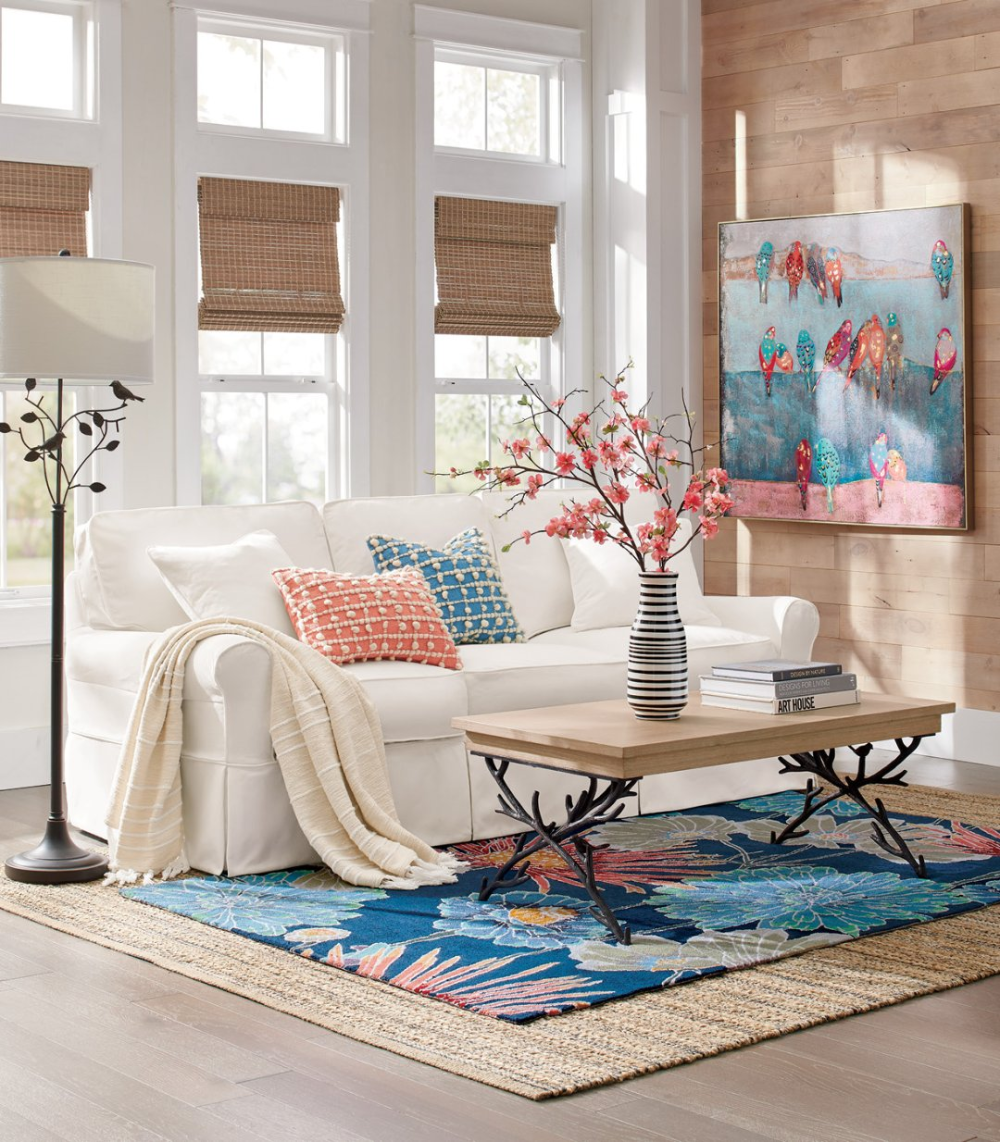 No doubt blue is the color of serenity, and what else could be better than creating a paradise within your home simply by incorporating some blue decor?
Bringing in a blue couch is one of the smartest ways to follow a blue color scheme for your space. However, the true essence lies in leveraging the softness of this mighty shade by blending it with other hues to create the desired effect.
A scalloped aqua wing chair will make a statement addition to your living room. This will surely bring in the ocean vibes. Dwell in the ecstasy of a beach-inspired theme for your living room as you complement the wing chair with a coral reef printed rug.
You can also add finishing touches with a seashell windchime and add some light brown textures through cushions and throw blankets to bring in the coastal feel right at your own abode!
2. Liven up Your Space with Splashes of Blue and Cheery Hues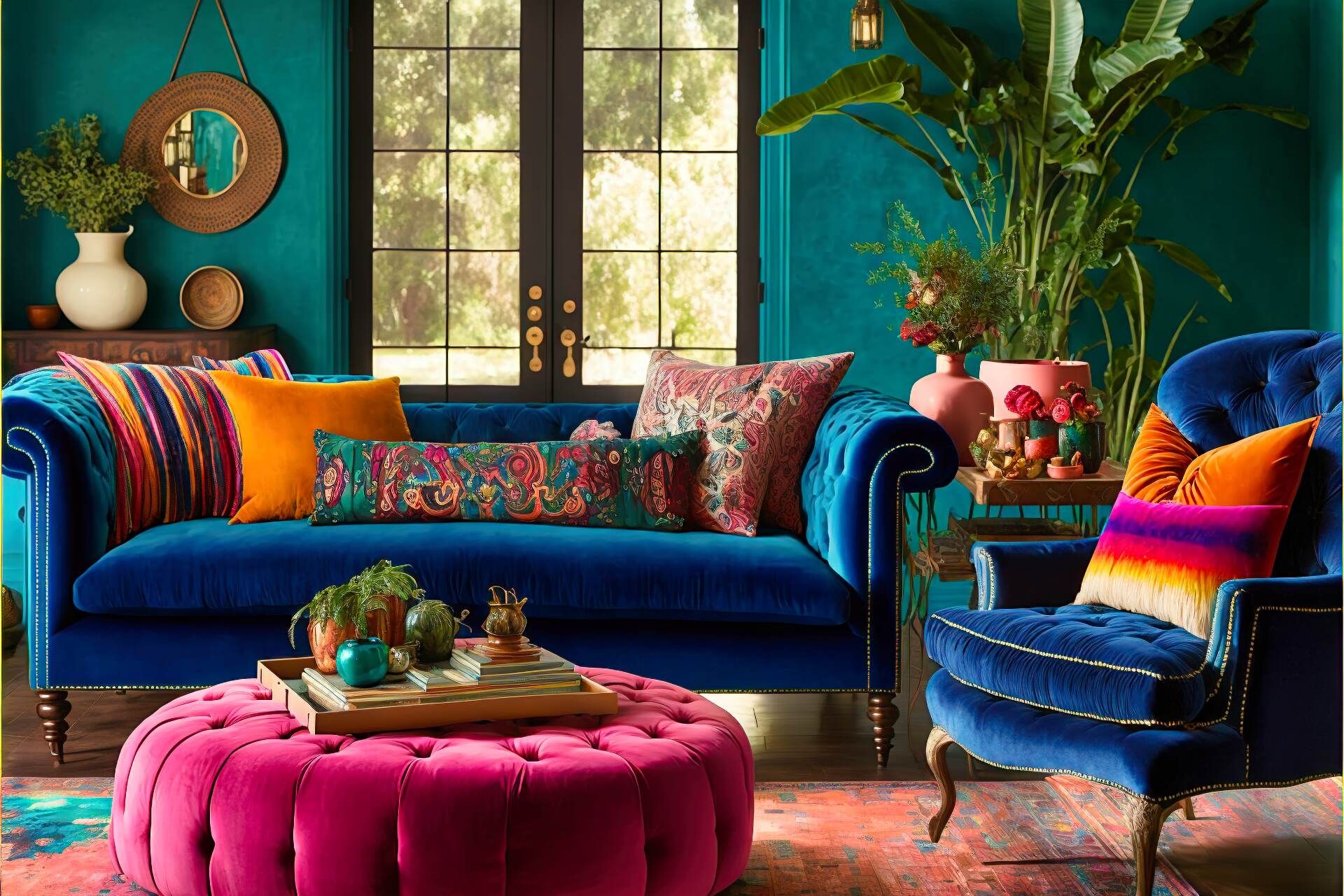 If you choose to go for a powder blue modular sofa for your living room, you can make a statement choice by bringing in a fuchsia pink wing chair.
This would be an ideal pick to create a cozy reading corner. You can add pops of color with printed cushions and a piece of artwork that will adorn your walls like nothing else.
You can add decor accents like figurines, statement rugs, and more to bring in some Boho-inspired vibes. Alternatively, you can also follow a set of 3-4 colors that work best for your interiors. If you go for a navy blue L-shaped couch, you can combine rust orange, whites, and neutrals to strike a perfect balance.
Similar Post: Top 16 Most Comfortable Couch to Relax on In 2023
3. Moroccan-Inspired Living Room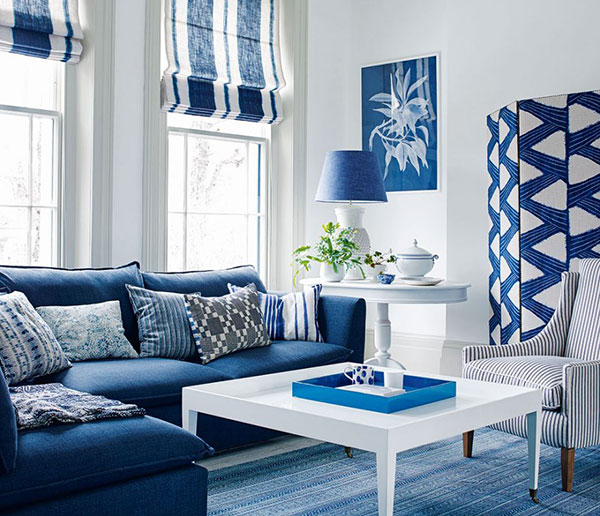 What could be better than having an impressive blend of indigos, turquoise, whites, and earthy neutrals? This magical combination will work wonders in having a Moroccan-inspired living room effortlessly.
This decor theme is all about textures and patterns, along with having a blank space through solid hues. You can go for a dark blue linen couch for your living room.
Complement the same with a geometric motif floor rug, which will be the centerpiece of your space. Go for sheer white curtains combined with ombre grey and turquoise sheer curtains. Place some macrame cushions, and you're all set!
4. Wallpapers to Complement Your Blue Couch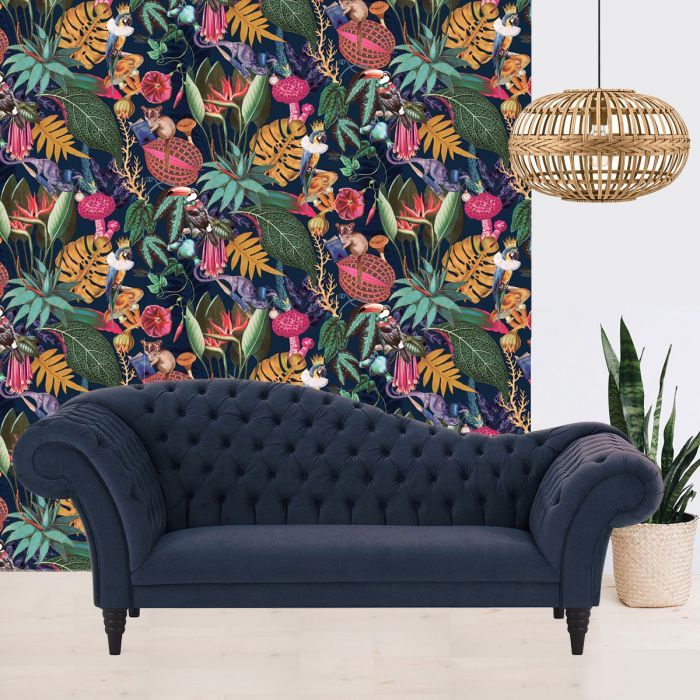 If you want your walls to create some magic, you can never go wrong with papered walls. There are abundant choices of wallpapers to choose from. Whether you are the minimalist type or wouldn't mind a pop of color and texture on your walls, the possibilities are limitless.
If you have gone for a baby blue couch, you can go for some pale pink textured wallpapers for a feminine vibe. Alternatively, you can also go for a botanical wallpaper to add a splash of color and print.
5. Layer up With Throw Pillows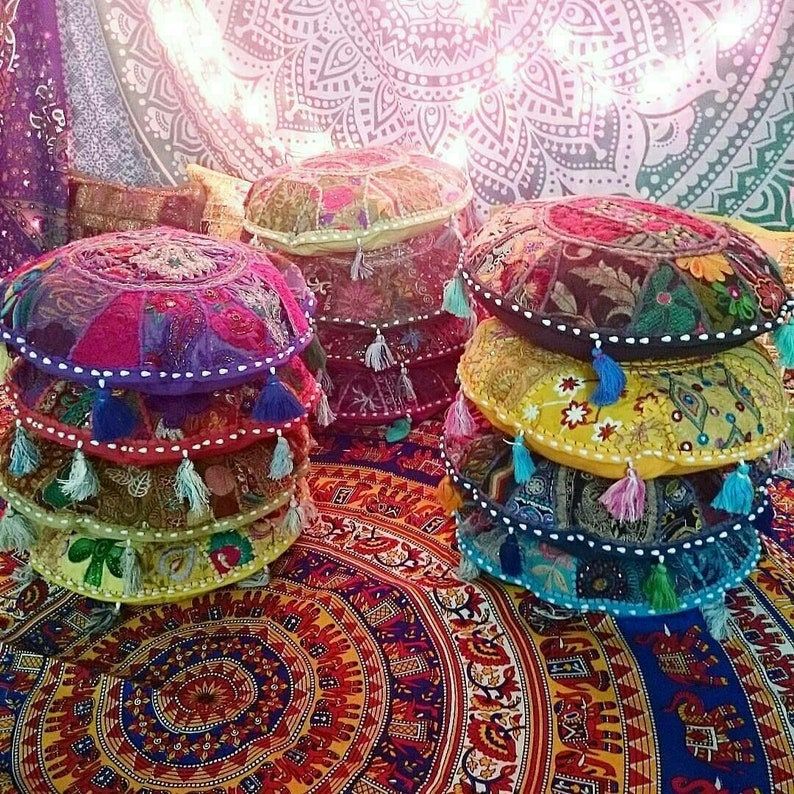 The versatility of cushions to alter the vibe of a space from basic to elevated knows no bounds. These decor elements add a cozy feel to the living room. If your couch is deep blue, you can add some white and pale pink faux fur cushions for a chic appeal.
For a more rustic and Bohemian look, you can go for macrame cushions featuring tassels and pom-poms. You will also find a variety of scalloped cushions in velvet to bring in the coastal vibes. Ikkat print cushions and Mandala patterned round cushions will add a pop of color to your space.
Also Read: 21 Paint Colors for Living Room: Expert-Approved Color Picks
6. Yellows and Blues Work Wonders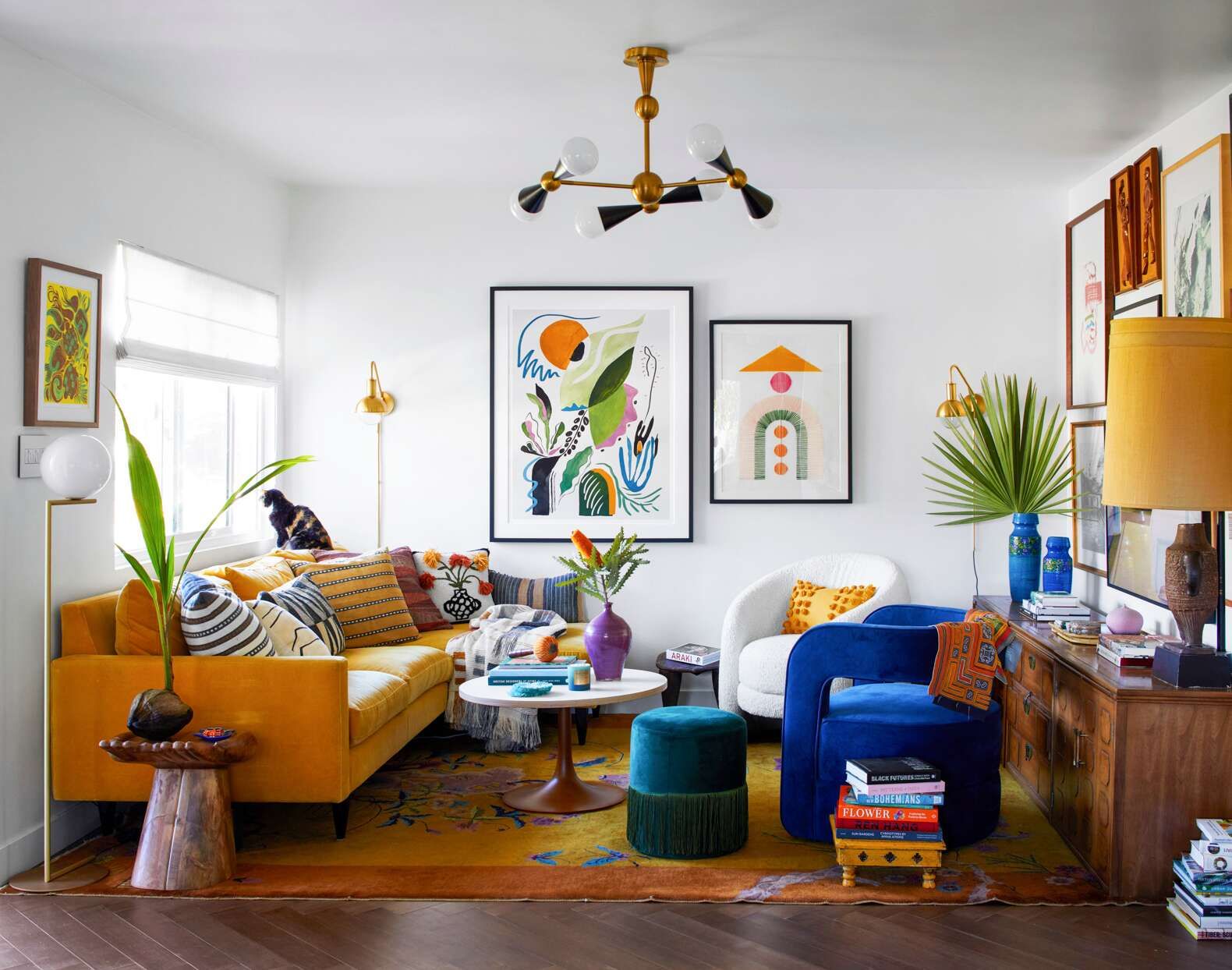 If your sofa is turquoise blue, you can complement the same with yellow painted walls. Balance the color scheme with some sandy hues, whites, and oranges.
Alternatively, take the simpler route by bringing in a navy blue velvet couch and layer up with some mustard yellow throw cushions.
Keep the walls muted and amp up your living space with some decor accents like a floor lamp having a yellow shade. Bring in some greys and whites to have a clean look.
7. Blue Couch with Nature-Inspired Tones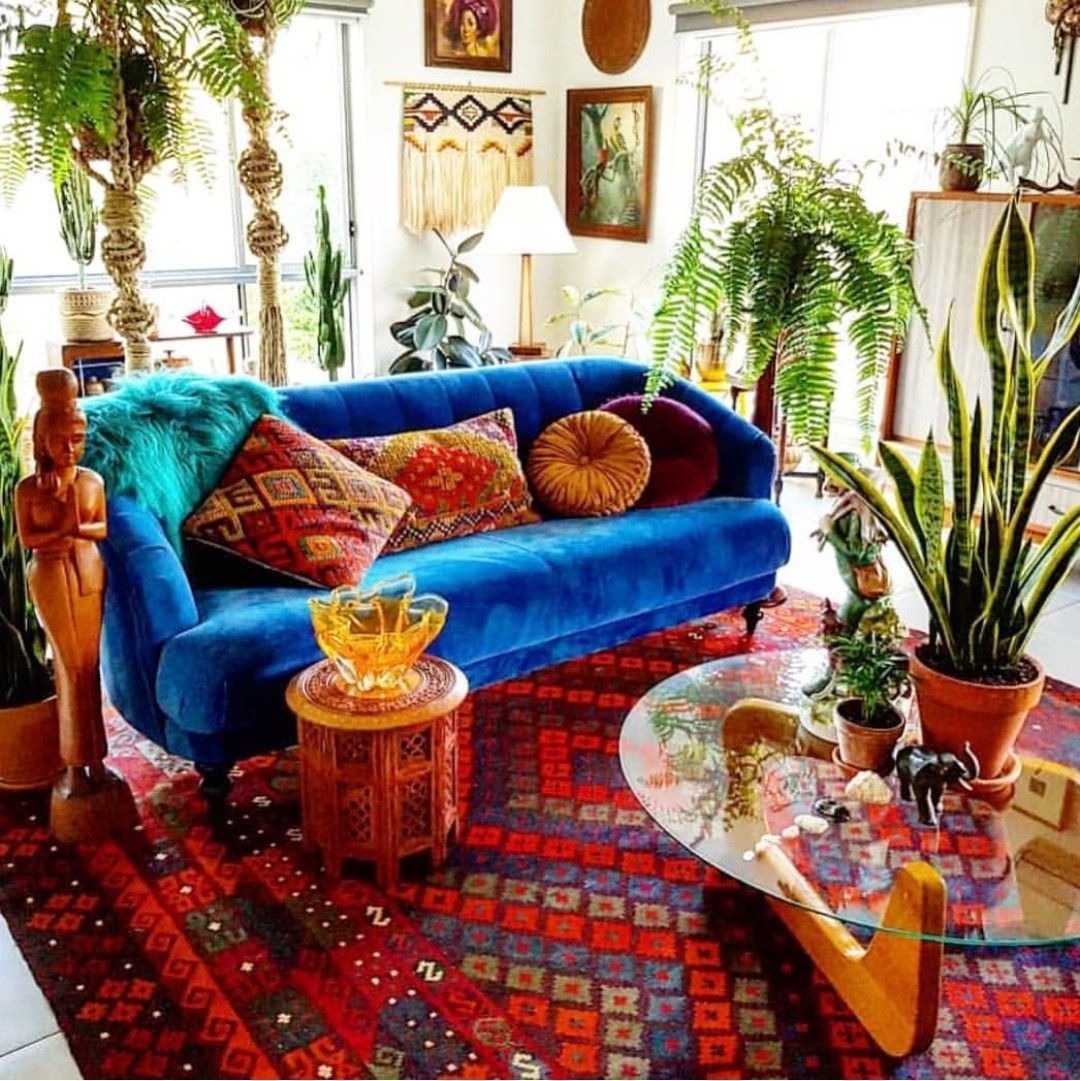 Create an earthy space as you bring in some greens and sandy tones. You can follow a jungle theme for your space, which must truly be the need of the hour.
What else could be better than adding some safe indoor plants and succulents for clean and fresh air? You can go for ceramic pots for all your plants featuring Moroccan-inspired motifs.
If your sofa is aqua blue, you can go for some teal green accents like frames and table lamps. Balance it out with a chevron-patterned light brown distressed rug for a rustic effect. Add a suncatcher to radiate the sun's magical rays in your entire living space.
8. Pastel Hues for A Soothing Ambience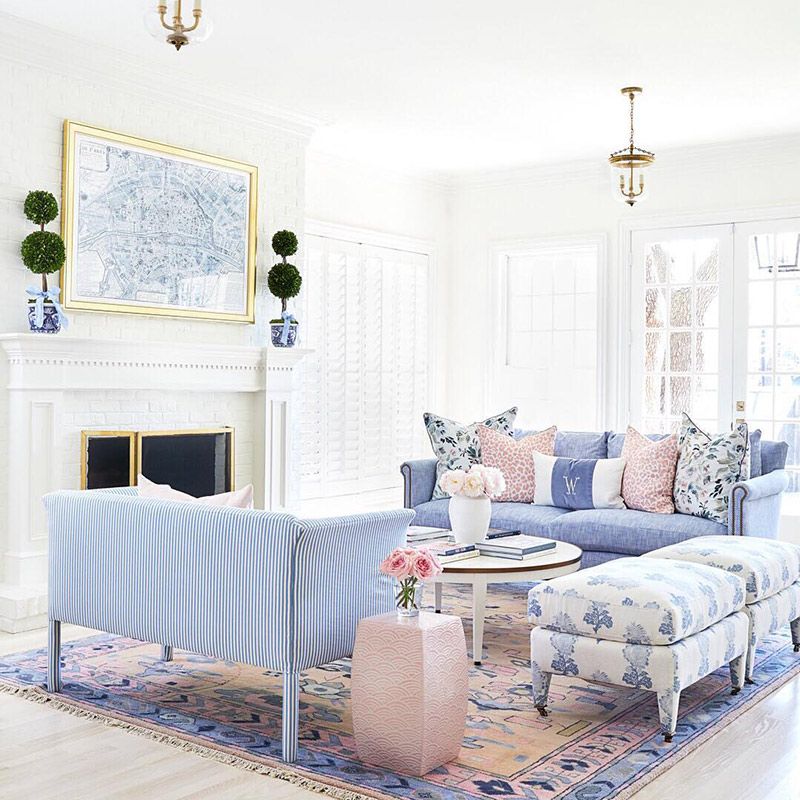 Infuse a sense of calm as you follow a pastel-themed decor for your living room. Alternatively, you can choose a Loveseat modular linen upholstery sofa and complement the same with a beige recliner. Go for ivory-hued walls or blush pink for a feminine vibe.
Greys, whites, and neutral tones will blend perfectly well to have a pastel living room decor. You can incorporate these colors through decor accents like lamps, cushions, rugs, and wall art.
One of the most striking features of pastel hues is that they are highly versatile, timeless, and elegant. So, if you want to create a soothing yet chic ambiance, this tip will surely win your heart!
9. Blend Multiple Shades of Blue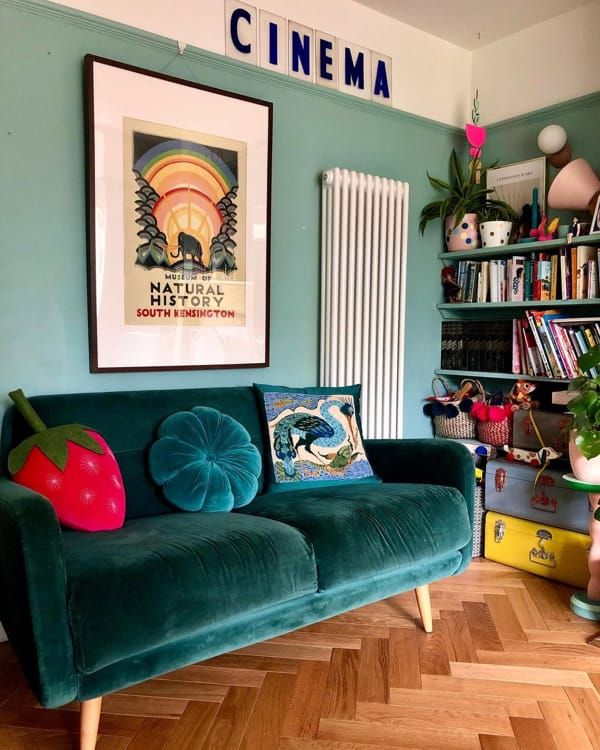 You need not restrict yourself to one shade of blue. From turquoise blue, powder blue, and aqua blue to navy blue, there are infinite undertones and darker shades of blue to choose from.
Apart from that you can go for a monochrome look or create a blue color scheme by combining different shades of blue. Besides, you can add hints of color to your decor through different decor elements to liven up your space.
Baby blues blend perfectly well with deeper tones of blue. White will just add a magical touch to the overall look. You can opt for shades of pink for a chic vibe.
See More: 21 Stunning Black Couch Living Room Inspirations
10. Velvet Fabric for Your Living Room Couch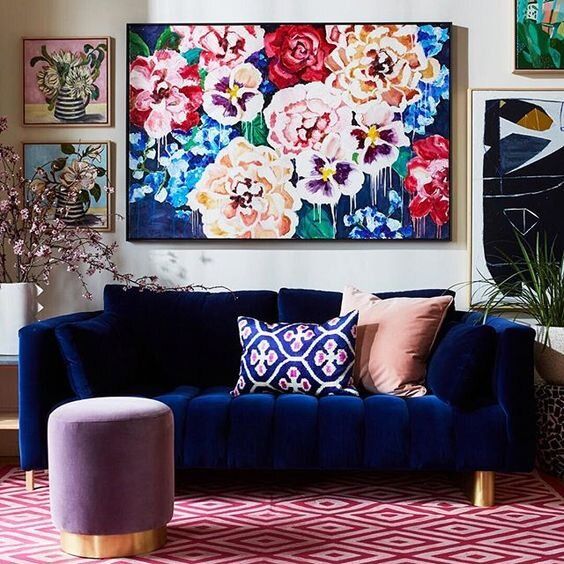 If you are looking for a plush fabric to go for your sofa upholstery, velvet is surely the answer. A blue velvet sofa will make an elegant addition to your living room.
A sapphire blue velvet L-shaped modular sofa will be the statement furniture piece in your space.
You can combine the same with some jewel tones like reds, emerald green, rose pink, and gold-tone accents for a regal look. This will add a royal feel to your living room.
11. Blue Upholstery Rattan Sofas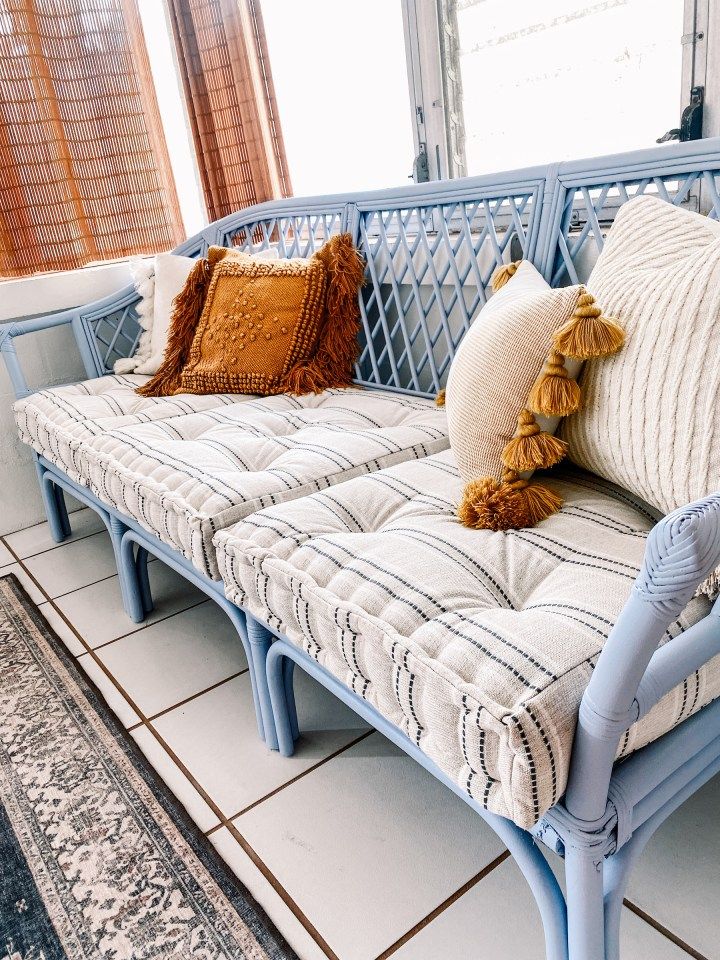 Bring home some rustic vibes as you go for some rattan furniture for your living room. There are abundant ways to play around with this trend. You can keep it minimal by choosing blue-hued linen upholstery for your sofas.
3-seater rattan sofas that come with 2 complementing sofa chairs will be the ideal pick. You can spruce up your living area with some throw pillows, rugs, and decor elements.
For an elegant appeal, you can go for velvet upholstery for your rattan sofas. This will be a modern take on this classic furniture piece.
12. Bling It on With Metallic Accents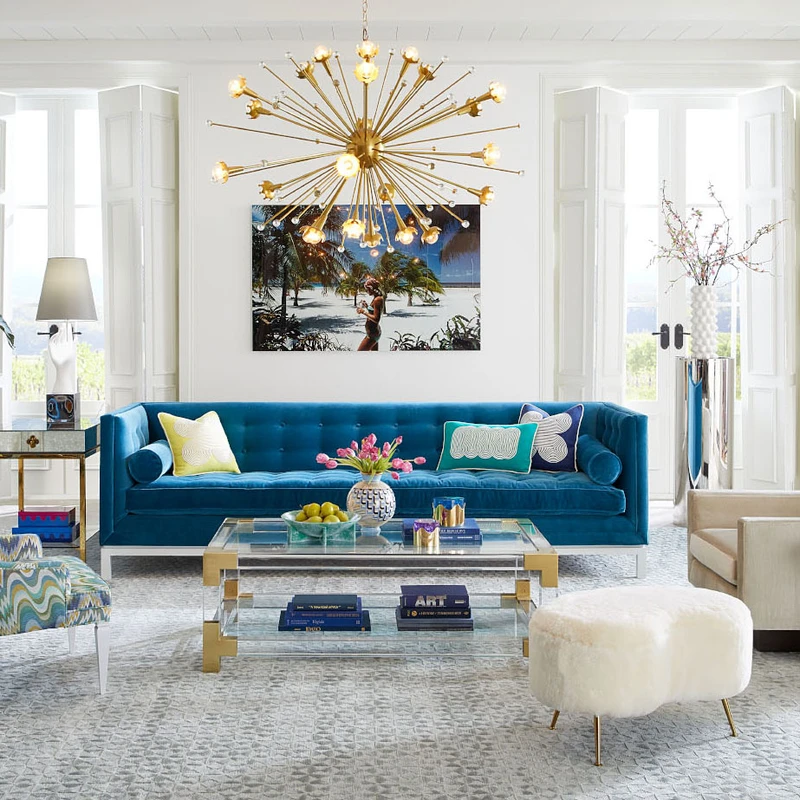 Add a hint of bling to your space as you complement your blue living room couch with some metallic decor accents. They are simply the spotlight-stealing elements that can elevate the entire vibe of your area with minimal effort.
All you need to have is a perfect combination of gold, silver, and metallics, as per the color scheme you choose.
You can incorporate these textures through table lamps, chandeliers, wallpapers with a metallic finish, or decor accents. If you are in love with wall decor, you can go for wall mirrors that feature a metallic frame.
Related: 11 Gray Blue Paint Shades for a Relaxing Room Decor
Wrapping Up
Choosing the right piece of furniture, especially the sofa, is a key consideration. It is a matter of fact that your sofas will be the focal point of your living room.
Thus, it would be best if you considered the aesthetics along with keeping practicality and functionality in mind. If there is one color that you should go for while making a final selection for your living room couch, blue is simply the answer.
There are infinite ways to mix and match the overall theme for your space with a blue couch. Whether you want to go for something minimal and neutral or something loud and bold, you will find exactly what you're looking for.
There are enough reasons to get a blue couch to keep changing your decor as per your preference. It is highly versatile and can blend almost effortlessly with different shades for outstanding living room decor.
Frequently Asked Questions
Which Paint Colors Will Go Well with a Blue Sofa?
If you are looking for something fail-proof, a navy blue couch with white painted walls is surely the trick. Looking for something pastel-hued? Blush pink or grey paint will easily complement your blue sofa. If you want something bold and cheery, you can wear orange-hued walls for a bright look.
Which Curtain Colors Should I Match My Blue Sofa?
Sheer white curtains will never fail to impress you. You can also complement these white ones with sheer grey and light brown tone curtains featuring some geometric motifs for a Moroccan look. You can go for multi-colored botanical printed curtains for a cheery vibe.
Which Fabrics Are Ideal for a Blue Sofa Upholstery?
If you are looking for something timeless and comfortable, you should go for cotton or linen upholstery. Consider going for scratch and stain-resistant fabrics.
This is ideal for those with kids as well as for pet parents. If you want something with an elegant appeal, velvet upholstery for your blue couch will be a perfect choice.
Check This Next: 18 Best Modern Couch Designs to Try in 2023