Want to give a complete color makeover to your living room? Then, how about seeking some expert advice?
Many top designers like Kerry Wearstler, Victoria Hagan, and Joana Gaines pinpoint that the house and its interiors must suit your taste.
You cannot live in a home where you can't feel connected. You can build a bond with your space by painting it with the right tone of living room paint colors.
It is the living room where you spend most of your time, so it should be the most bewitching space of your home.
Get a frenzy about redesigning your space and use the paints that most designers prefer in 2023.
Let's dive into some amazing 21 stylish color picks for your living room, advised by some expert designers.
Similar Post: Elevating Kitchens with Black Appliances: A Comprehensive Guide
1. Breezy Arctic Blue
It is a perfect blend of soft bay blue with a twilight blue undertone. You can imagine living in a space that is surrounded by ocean and covered in sky.
It is an ideal living room paint color for a casual living space. This paint color is for someone who likes a nice heavenly yet dramatic touch to their home.
Furthermore, you can also blend Arctic blue with white and green shades to make the room appear divine dwelling.
Some designer artifacts and an orange or azure blue upholstered couch will complete the decor of your space.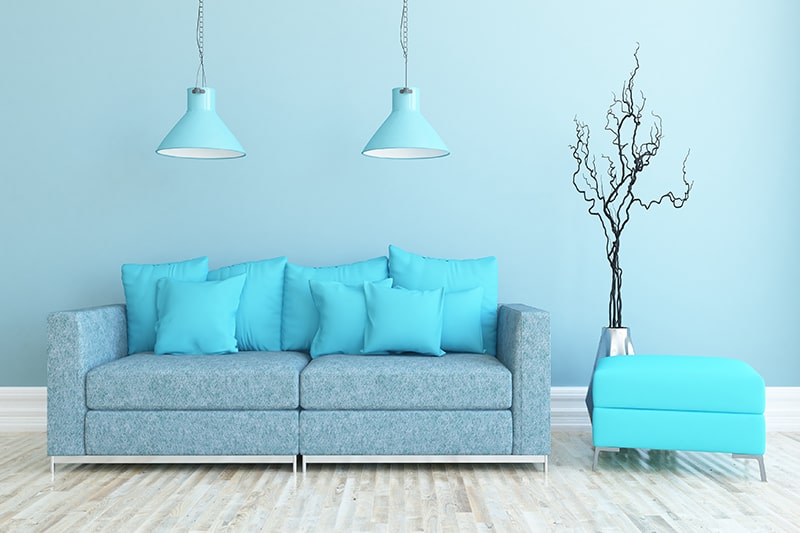 2. Jaunty Mint Green
It is a whitish green shade that suits many spaces irrespective of their sizes. Many designers prefer this shade as it gives a hint of a cool and calm atmosphere.
A living room in this shade can bring a joyous vibe with a slight hue of zest.
Mint green is one of the best living room paint colors that have a neutral tone and can set your living room's mood to a perfectly cool and cozy setup.
A pretty wall hanging and a shiny table lamp at the corner of the room will enliven the area. Get the couch and center tables in white, and let the room scream peace.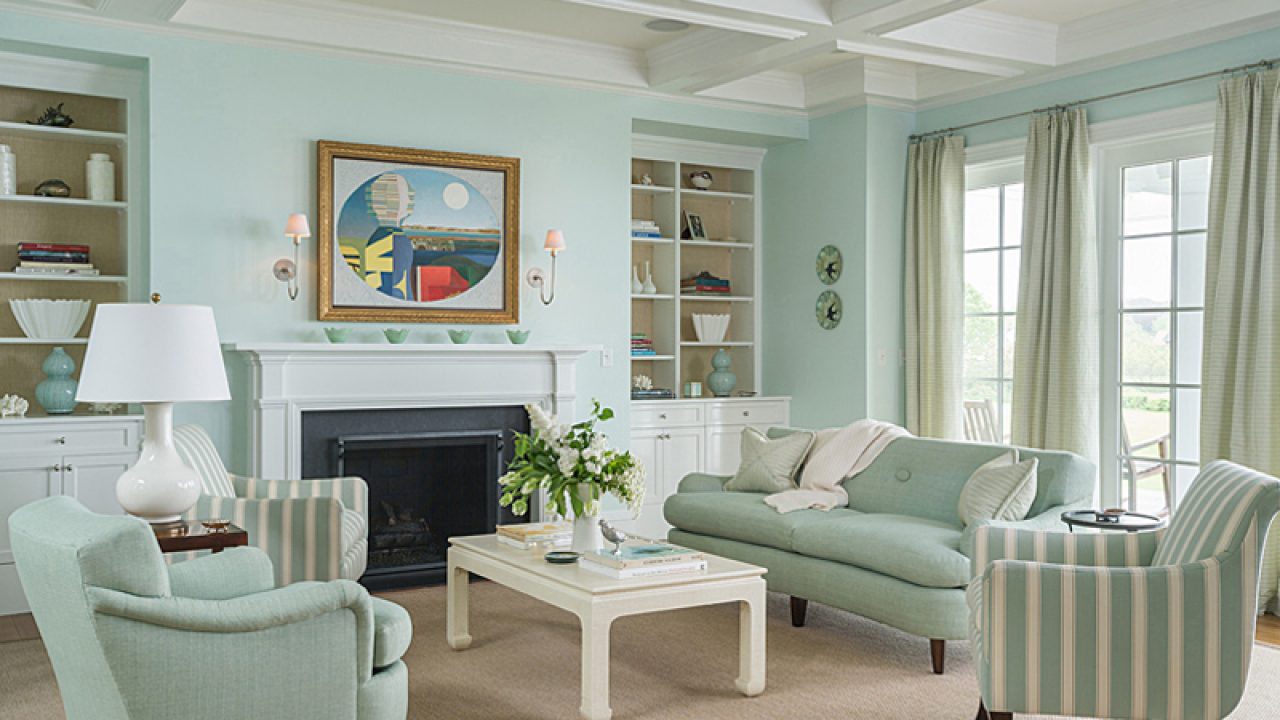 3. Smokey Refined Taupe
Taupe is well known in the elite classes as it is painted to give an elegant touch to a living room. It is a mix of red or black with green and yellow undertones.
The best part of this living room paint color is that it comes in both warmer and cooler tones. A darker shade in the mix will make it grey, and a cooler tone make this brilliant color taupe.
When designing your living room in this color, experts say you must get some artistic glasswork on your wall. It will redefine your space into a luxurious apartment if it is smaller in area.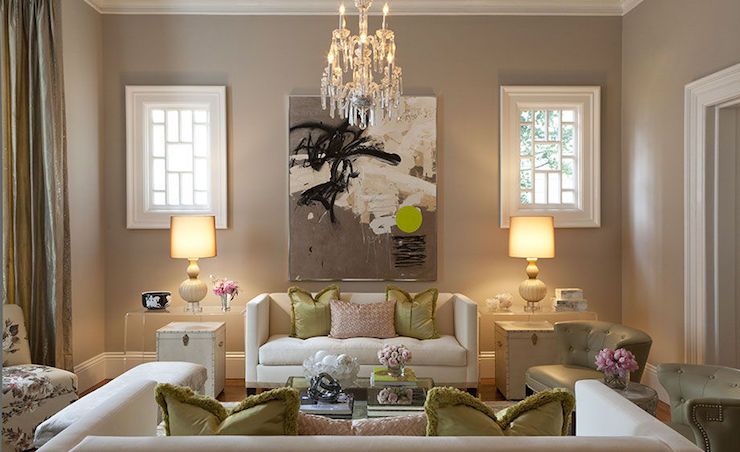 4. Warm Beige
Kylie. M. (An Expert Designer) recommends painting your space beige to give a brownish-golden finish to your living room.
Beige is a warmer shade than the rest of the paint palettes; you must choose this color to make your living room appear subtle.
Many designers also get POP walls in a beige color and paint the borders in a golden shade to make the room appear classy and sophisticated.
Darkwood furniture and a fireplace in white complement the beige living room paint color appealingly.
Some prefer a white couch and a rattan ottoman to complete the decor painted in beige.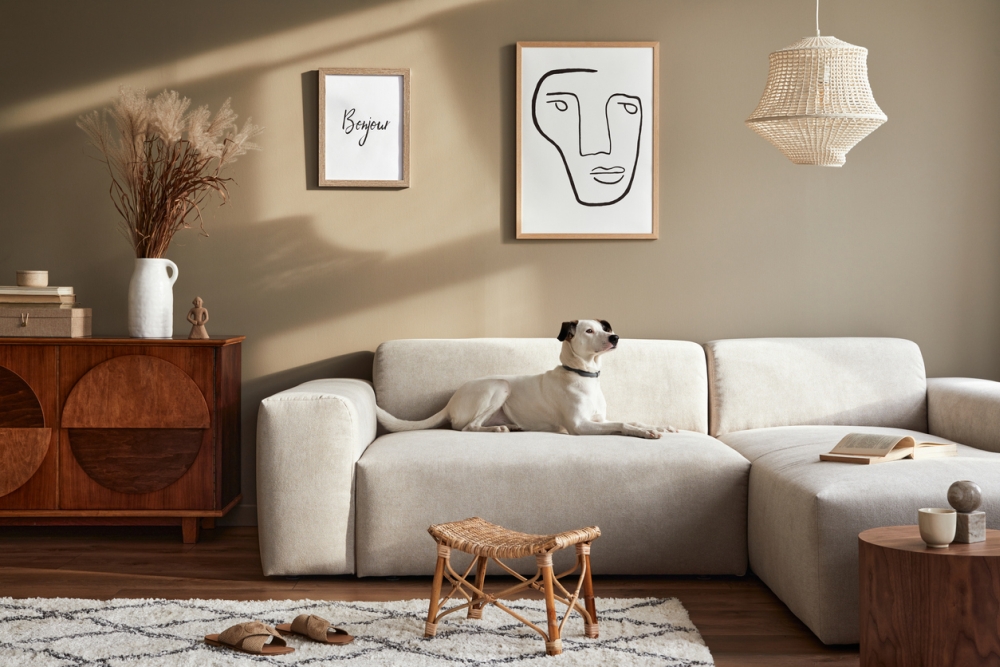 5. Fairy White
There are a couple more shades of white that make the living rooms appear like heavenly spaces. Pearly white, alabaster, and white duck are some of the alternate options to fairy white.
There are certain differences in the shade, but once you paint them on the walls, you will see the distinctiveness. Fairy white will give your walls a soft velvety touch.
It is one of the favorite living room paint colors of many expert designers. Many also blend it with other monochromatic shades to define pillars and a specific wall.
You can get a darker TV cabinet or centerpiece to bring the focus. A luxurious chandelier in the living area with a fairy white shade will also uplift the room's decor.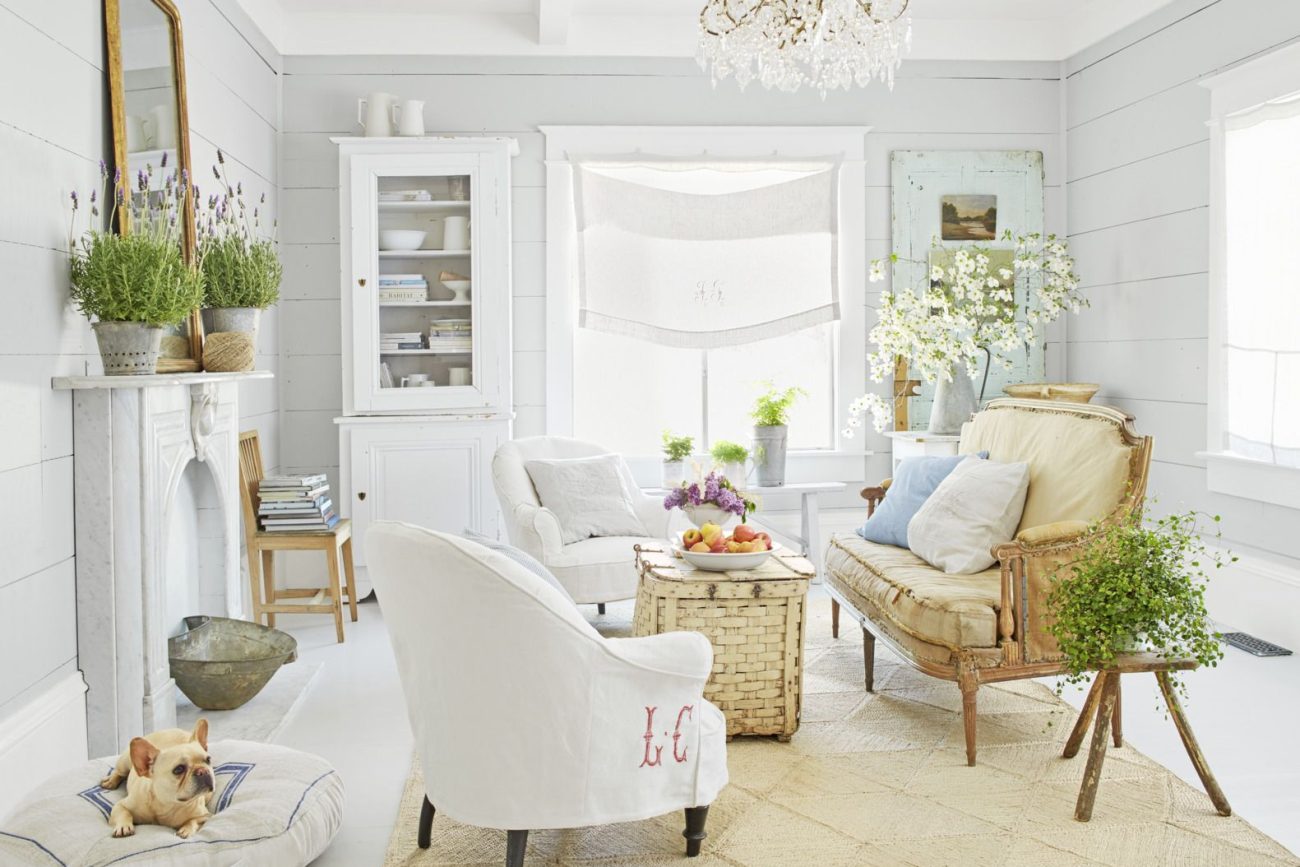 Also Read: The Ultimate Sherwin Williams Antique White Paint Color Guide
6. Scenic Forest Green
You can refer to the green shades with many names, like fern, olive, Kelly green, and moss.
But these are mainly warmer tones, whereas forest green is one of the cool living room paint colors. Even emerald, teal, bottle green, and mallard can be referred to as cool tones.
The best part about having forest green on your walls is that it will have a natural effect on your walls.
A picturesque wild painting on the wall with a forest green color will complete the decor. You can also add some lighter shades of green to give a contrasting effect on the walls.
Some prefer forest green on the porch areas as well.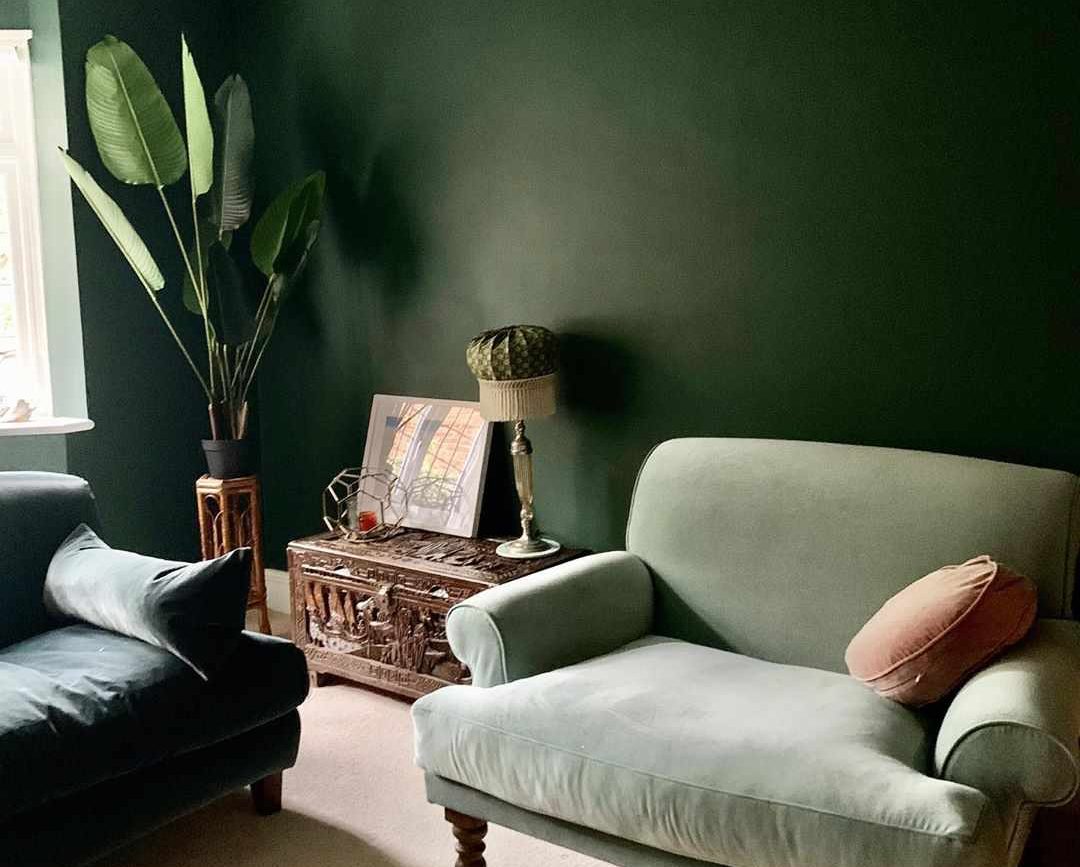 7. Sunny Yellow
The outcomes are magical when you blend the bright yellow shade with white paint. Just like depicted in the picture, paint one prominent wall in white and the columns in bright yellow.
Also, a yellow carpet and drapes will be the focal point of your room. The living room paint colors need not necessarily be solid; you can also make the walls have a gradient finish.
Along with the dual paints, get your artistic wand to do the work. Avoid too many flashy artifacts and place a simple Buddha statue at the entrance.
Some wind chimes at the entryway will also add charm to your space.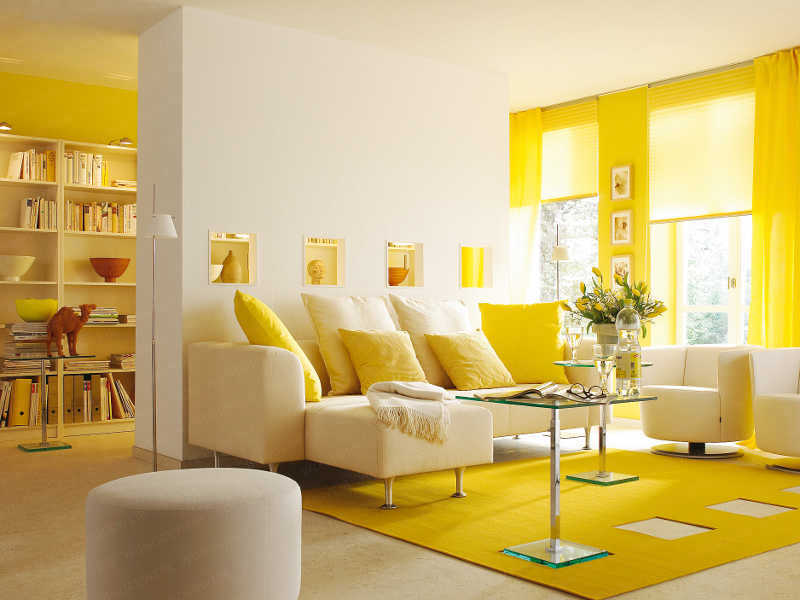 8. Ruddy Red
You may have seen people painting their bedrooms in red paint. But even a living room can look fascinating with a monochromatic shade.
Often red paint blends well with cyan and creamy white. The library looks inviting and warm with its stunning red walls.
The best part about reddish paints is you need not create a focal point; the wall itself turns into one.
Some classic room decor and artifacts with a rustic chandelier and lamps can turn your living room into a royal drawing area.
9. Suave Black
Another living room paint color that defines your class and eliteness is Suave Black.
Often people avoid doing their walls in dark shades like black, but the truth is it not only looks chic but also oozes charisma.
Posh and urbane localities prefer darker shades as it becomes easier to decorate the home with glass-made artifacts. Even mirror walls add charm to your space to the next level.
Some believe that black attracts negative energy, but it doesn't.
You need to keep your surroundings clean to keep the negativity at bay. Colors only enhance the power of your space, and so does black.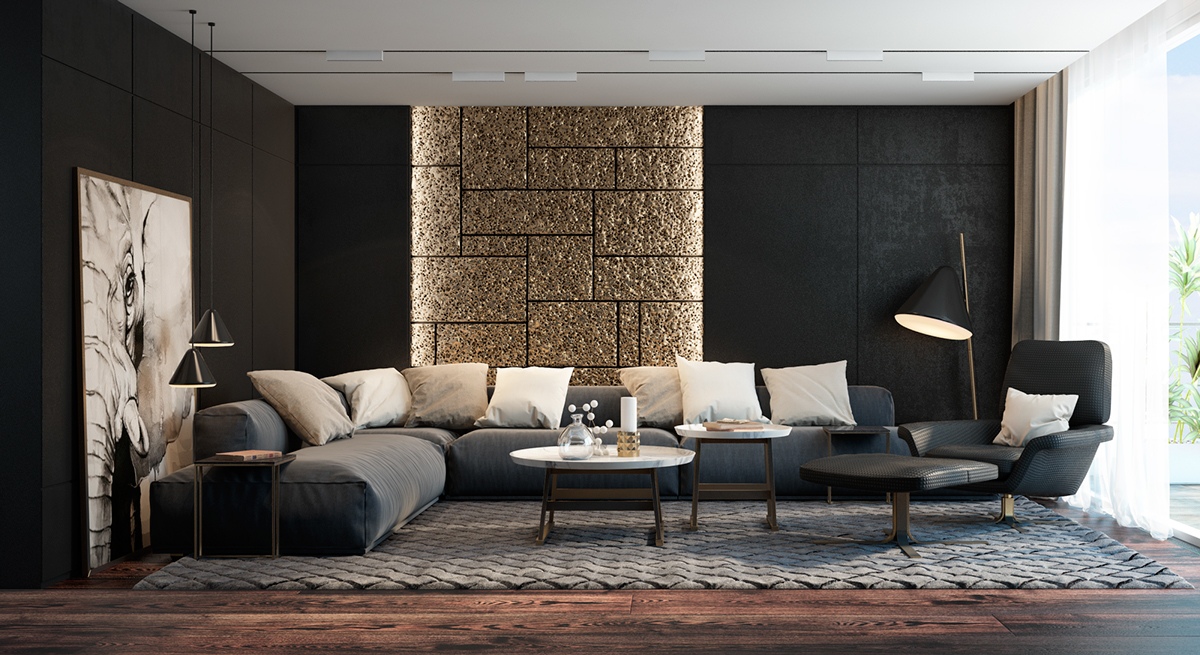 10. Frenetic Turquoise
The turquoise stone is known to have some magical energy that prevents harm to whoever adorns it.
Also, this living room paint color not only looks alluring in enclosed spaces, but you can paint it on your deck walls.
But a living room will be enlivened with this shade as it has yellow and blue undertones. Since yellow is a warmer shade, your home will glisten with warmth and harmony.
Additionally, a few home decor products and blissful lighting will complete the interiors.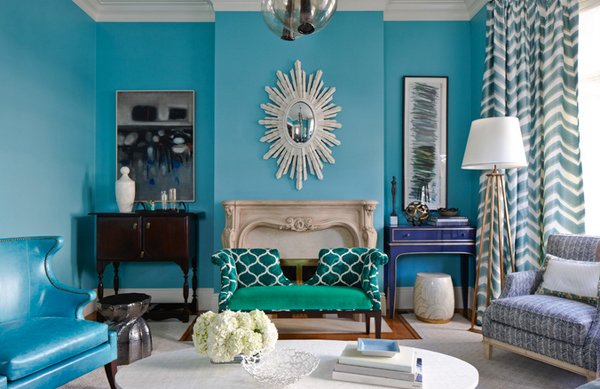 11. Zingy Lime Green
Green hues have a pleasant appeal. It gives a sense of reassurance and a peaceful vibe. Most of the living room paint colors are typical, and they come in similar shades like off-white, sky blue, and mango yellow.
A lime green paint color is unique and uplifting. It not only appears vibrant to your eyes but also gives a feeling that you are in the embrace of Mother Nature.
Bright recessed lights and medium-tone furniture can complement your room's decor with lime green walls. Try experimenting more with different shades that match the color combination of lime green.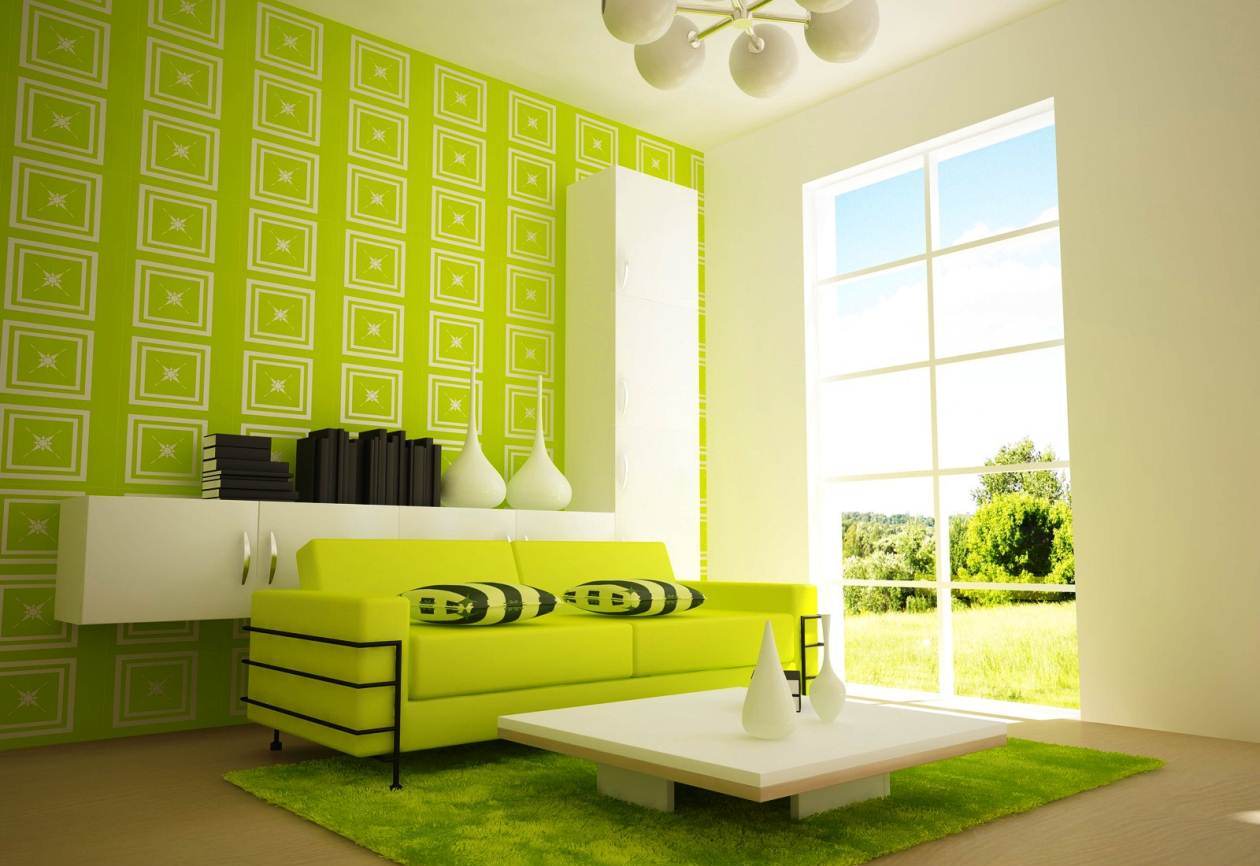 See More: 12 Easy Blue Couch Living Room Ideas to Transform Your Space
12. Gorgeous Baby Pink
Why only the kid's room should be illuminated with baby pink? Why can't a living room be redefined with pretty and appealing shades? Baby pink on the wall looks soft and promising.
Unlike darker hues, baby pink can blend with any living room paint color. You can paint a part of the room yellow and the other part baby pink, and you will get a colorful home.
Some cute and decorative wall hangings with a soft fluffy rug will enhance the decor. Also, warm LED lights and columns with candle sconces will make your room appear fun and zazzy.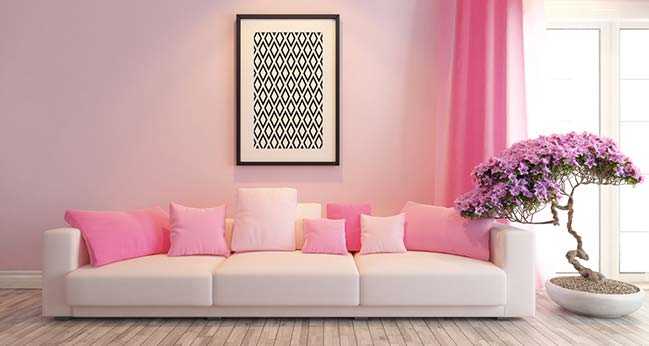 13. Graceful Purple
There are too many variations in the purple shade. For instance, red-purple is warm and blue-purple shades are cool, and only purple shade is neutral.
Now, depending on the undertones of the purple shade, you may either go for warmer or cooler paint. So, if you want to add this purple hue to your living room, then try this.
Now, purple living room paint color is available in different shades; try the one that fits your color palette.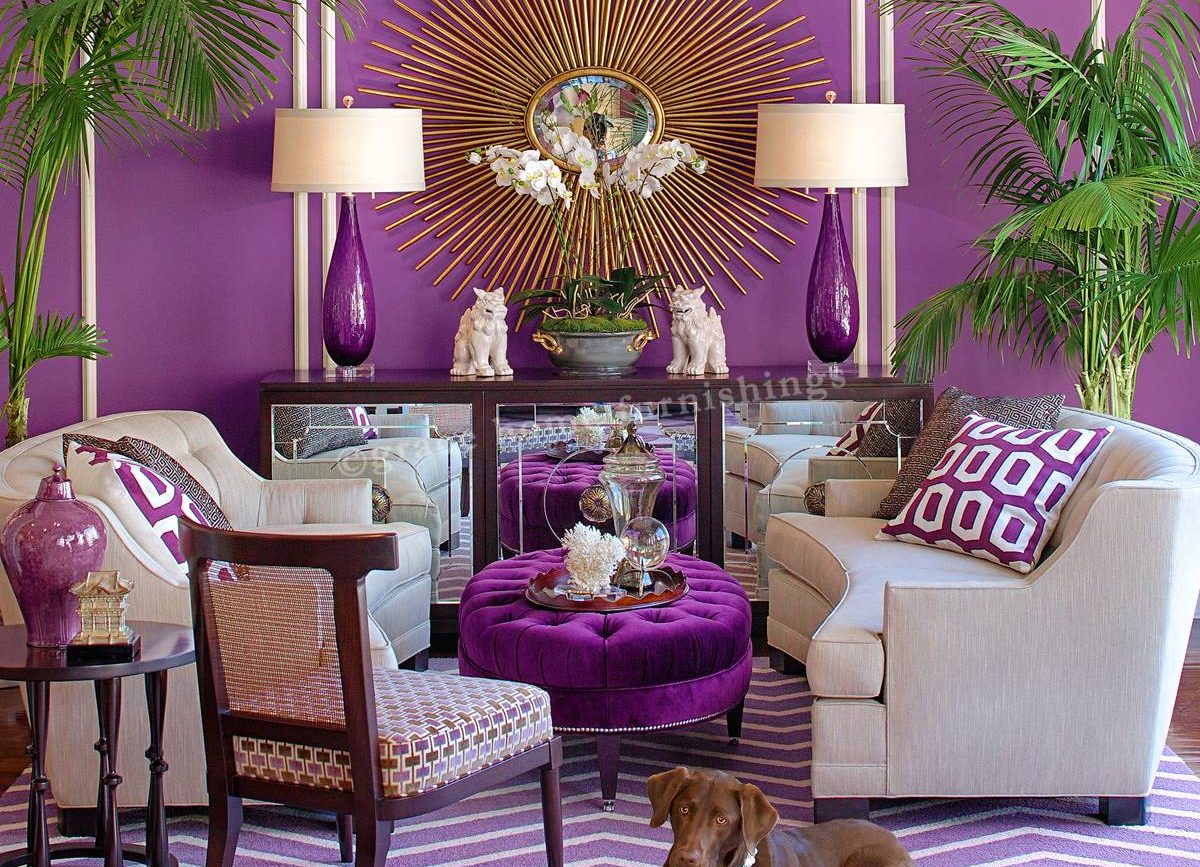 14. Endearing Grey
Like purple paint, grey also possesses various warmer and cooler undertones.
A warm grey has brown, yellow, red, and beige undertones, while a cool grey paint has green, purple, and blue undertones.
Additionally, grey melange and charcoal grey shades have also been doing the rounds these days. Experts infuse this color to make the other parts of the room appear phenomenal.
For instance, if you have a fire area and you paint the sides grey, it will look amazing. Also, the grey living room paint color with golden borders or artifacts makes your space look dreamy.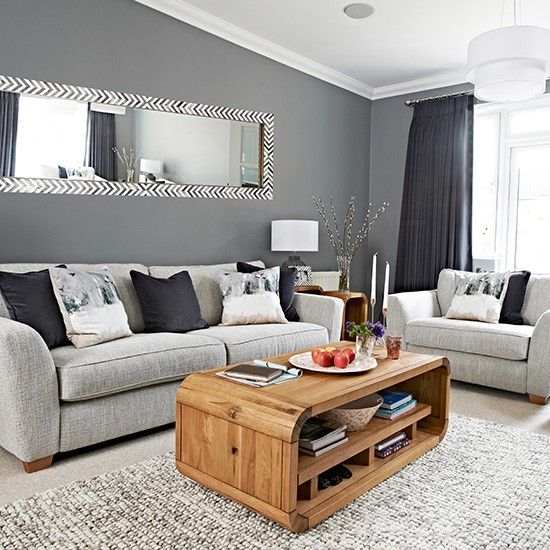 15. Crude Limestone
Oftentimes, people build their walls with limestone, and it gives a beautiful, sophisticated look to your space. Farmhouses and countryside apartments prefer having limestone walls.
But what if you want the limestone shade on the walls in your city home? The living room paint colors in limestone and other crude shades will bewitch you.
Limestone paint has a stormy grey and ebony undertone that looks rough on your walls and gives a beautiful vintage appeal.
You can adorn your space with vintage artifacts to complement the limestone shade on your wall.
16. Lemon Twist Yellow
Check out the Sherwin Williams Lemon Twist Yellow shade, and you will be awe-struck.
It has a soothing effect on your walls, and you will be fascinated by its finesse once you decorate your room with warmer lights.
Effective lighting and creative home decor can beautify your space. Any living room paint color cannot enhance the spirit of your home unless you design it artistically.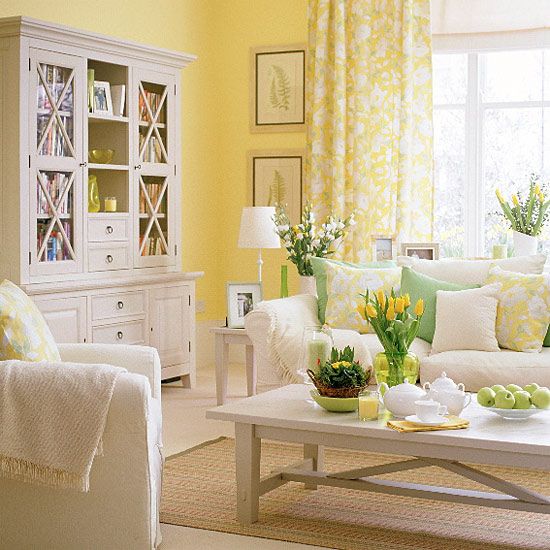 17. Cozy Aubergine
It may have a hint of purple shade, but it is vibrant and darker than violet. Aubergine's name comes from an egg-shaped vegetable that has dark hues of violet.
It has pale and muted red with a brick undertone. It is a perfect shade for apartments with smaller living areas. Aubergine and a bluish blend of paint will give a flattering peacock effect to the walls.
Also, you can get a couch upholstered in royal blue fabric. Your drawing room will look aesthetically pleasing.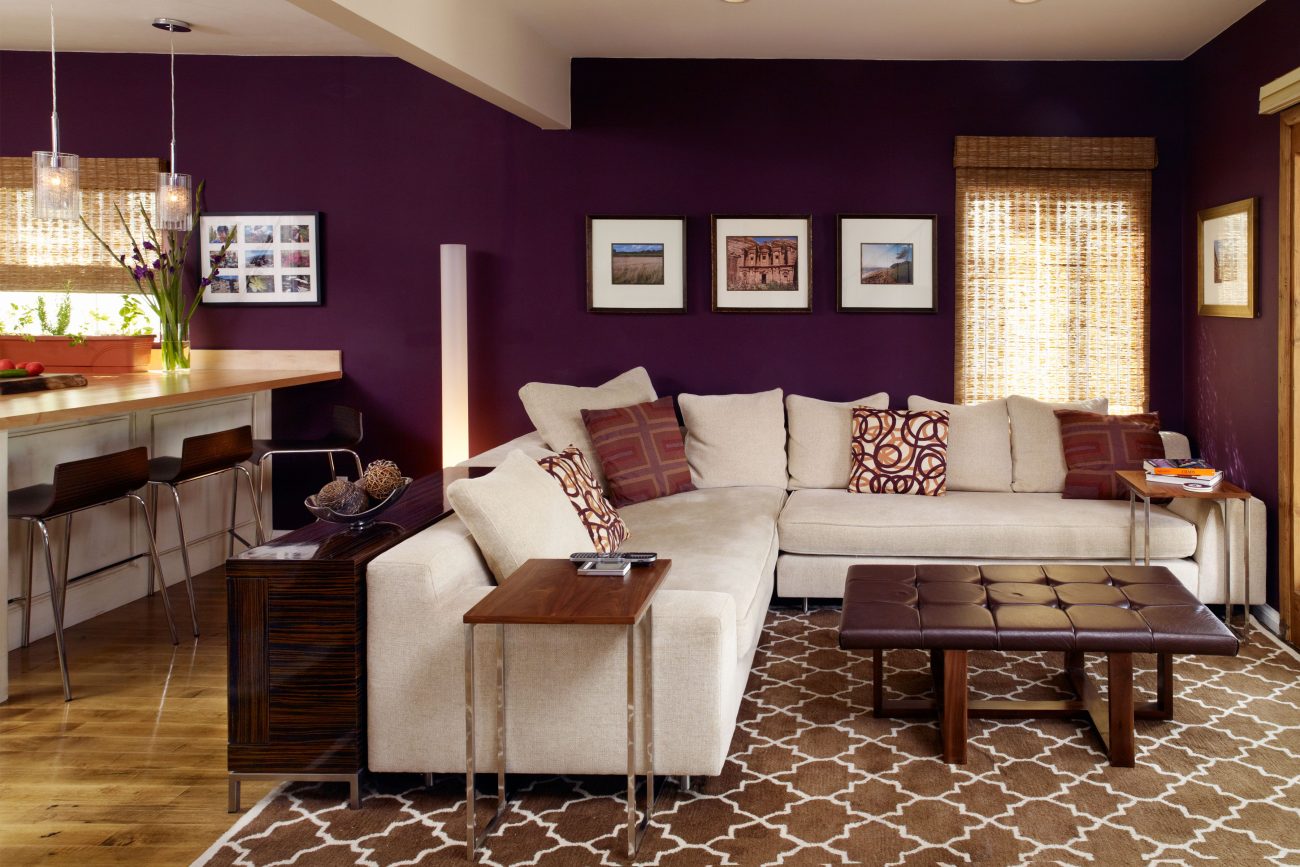 Related: 11 Gray Blue Paint Shades for a Relaxing Room Decor
18. Twinkling Periwinkle
The most pleasing and soothing tone of blue is periwinkle. Derived from the name of a flower, it has subtle hues of white and magnetic violet shade.
It has a satin touch with light and unsaturated shades of blue, while greyish-green and greenish-blue are the undertones.
Play with the living room paint colors, and let your drawing room shine bright. Add a touch of dainty pieces of decor items to the wall and let the light effects do the talking.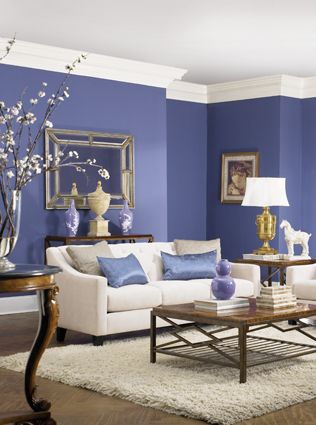 19. Piquant Orange
Nothing illuminates your space brighter than an orange shade. Experts prefer orange color in your living room because orange makes your room come alive.
Just like yellow and lime green, orange has a peculiar touch on your walls. Living room paint colors can be similar and may look pale and dull.
But if you go the unconventional route and pick orange, you can exotically redesign the space.
Marigold orange from Sherwin Williams color palette is the new shade that will boost the space's aura. Also, orange designer wallpapers cannot be overlooked if you need a glossy touch to your walls.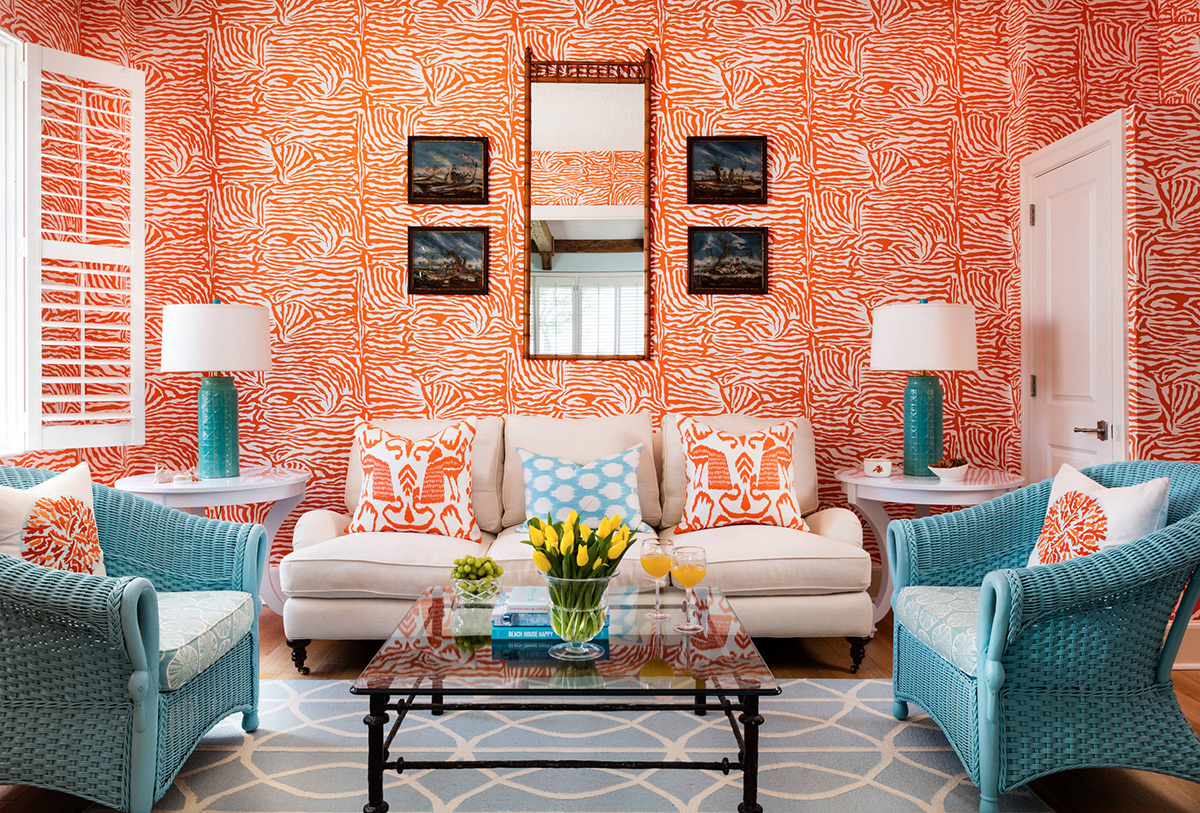 20. Coral Peach
Coral shades are more vibrant pinkish-orange, yet they look pleasing. The coral peach living room paint colors are soothing because they have pink and red undertones.
The orangish touch gives a subtle look to the space with some hand-made paintings on the wall. Even decals in white or yellow shades look pretty on coral-peach walls.
The hotels in Madrid and Greece have their inner walls painted in coral peach with beautiful wall hangings and candle sconces.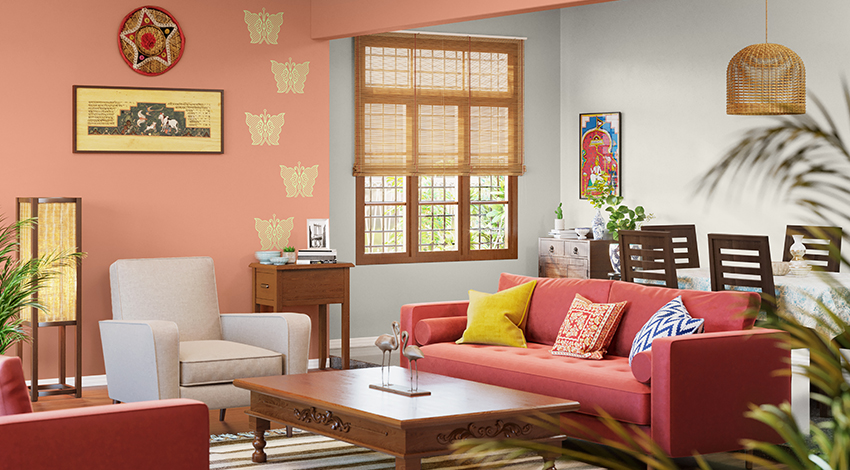 21. Boho Peacock
A home looks pretty with multi-colored walls and engaging art pieces. Peacock colors on the wall and the complementing furniture will make your room look scintillating.
A blend of royal blue, bright yellow, a dash of red, and lime green on the walls will give the perfect peacock-feather finish to your decor.
In addition, you can decorate the space with bohemian artifacts. Old and vintage artworks have a unique charm, and they go very well with the bluish paints on the wall.
Not all living room paint colors exude this charm, so try boho peacock shade and change the interior of your living room.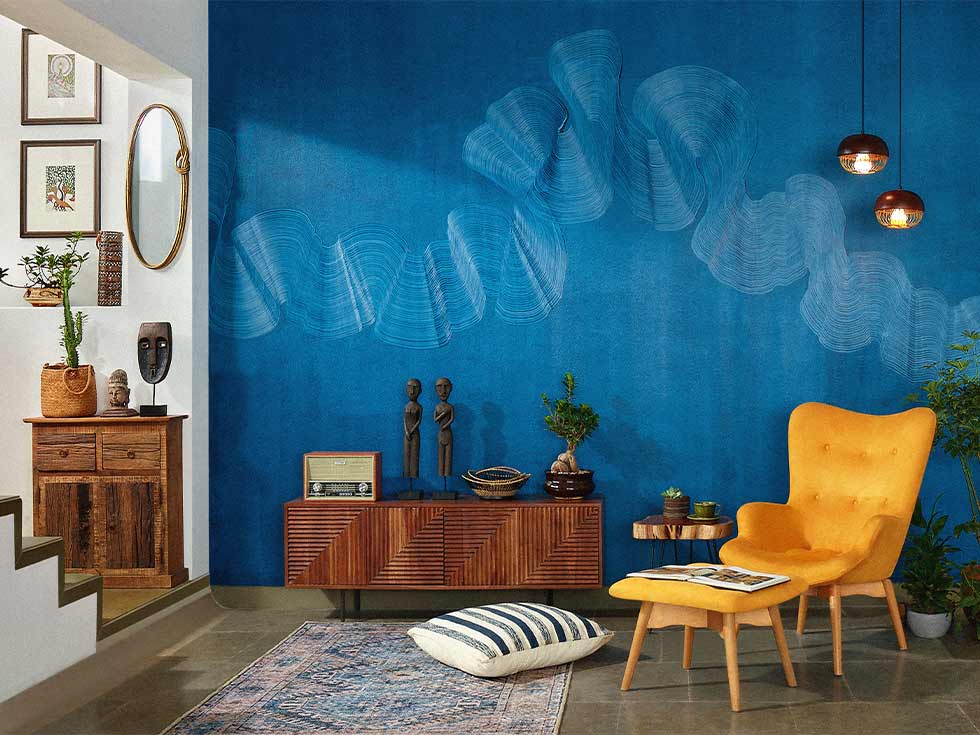 Conclusion
All in all, you have many paint brands in the market. The most popular ones are Sherwin-Williams, Behr, Farrow &Ball, and Benjamin Moore. They have plenty of shades of different colors.
Check their color palette and choose the one that you think will complement your decor. Try the sample shades on your wall; the effect is visible once it dries up.
Visit the websites of popular interior designers and learn from their ideas. Experimentation is the key to achieving the desired results.
You should be decisive enough to conclude on the final paints. Be sure of how you wish to design your space.
It will minimize confusion, and you will be able to make firm decisions on shades.
Check This Next: Choosing Perfect Dining Room Paint Colors – A Complete Guide