You have multiple ideas and DIY styles by which you can enhance your college dorm spaces. Girls! You get DIY ideas by using glitters, sparkles, and ear studs to adorn your beds or dorm spaces through a wide range of dorm room ideas.
Simple wall decals can also be used to make the wall area look posh and sophisticated. Fancy fonts can be used to personalize your names or initials out there.
From Freshman College year until the final year, there are designs or styles that you keep sprucing up into your dorm areas. The spaces then become fun and exciting against looking monotonous or dull.
Cool ideas or themes can help revive freshness in each of your dorm room spaces. Indoor-planted pots or lovely-looking succulents can be added to a dorm or college room to keep the spaces better ventilated. Plants can keep your rooms fresh, airy, and, above all, odor-free.
Come on, let's unveil some of the cool and exotic dorm room ideas for you to choose from.
1. Let Us Get Started with Simple Wall Decals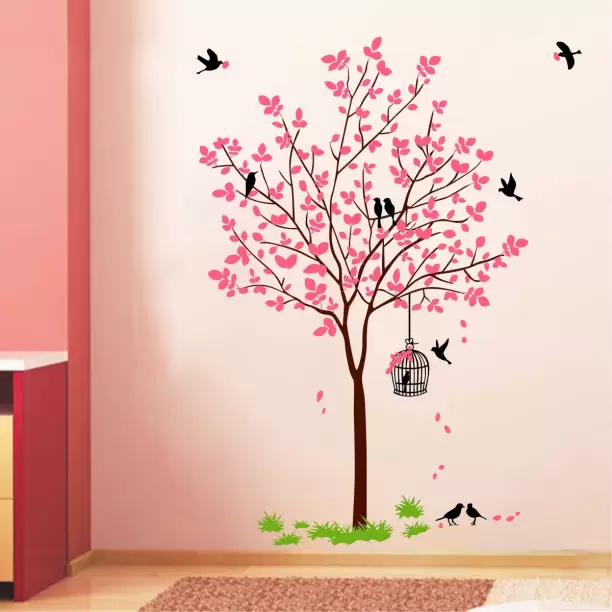 Simple wall decals of this kind help revamp spaces across the dorm rooms, thereby reviving the freshness of the decor. The tree with the nest of flowers can provide a theme-based style to your dorm areas.
The birds surrounding the tree with their nests are also portrayed here on this wall decal. Therefore, the spaces get natural vibes. Such themes are pinned up on wall areas of the dorm room. A variety of DIY styles can also be utilized, wherein you recreate wall decals using materials present at home.
2. Signature Bedspreads Do the Talking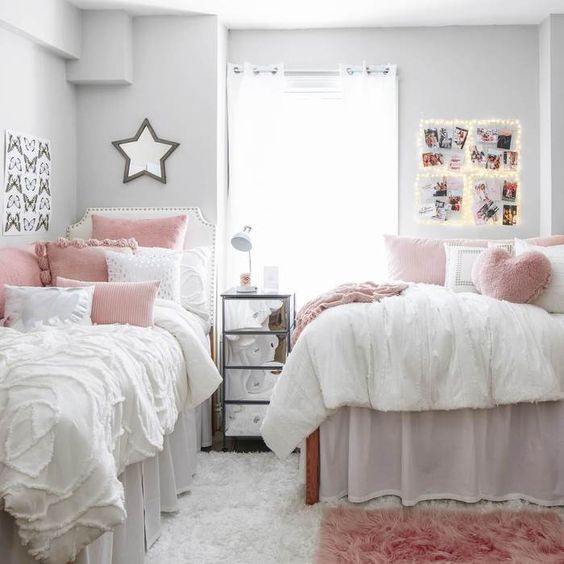 Lavish bedspreads that are signature-styled can add elegance and style to your dorm rooms. White bedspreads, camouflaged with pastel pink cushion rugs, look warm and inviting.
The photo collage pinned up on the wall decor looks stunning. The butterfly portrait and the designer star put up on the wall display looks eye-catching too. The heart-shaped cushion rug and the table lamp mind are super cool. This is one of the most pleasing dorm room ideas you can go for!
3. Bunker Beds in Vogue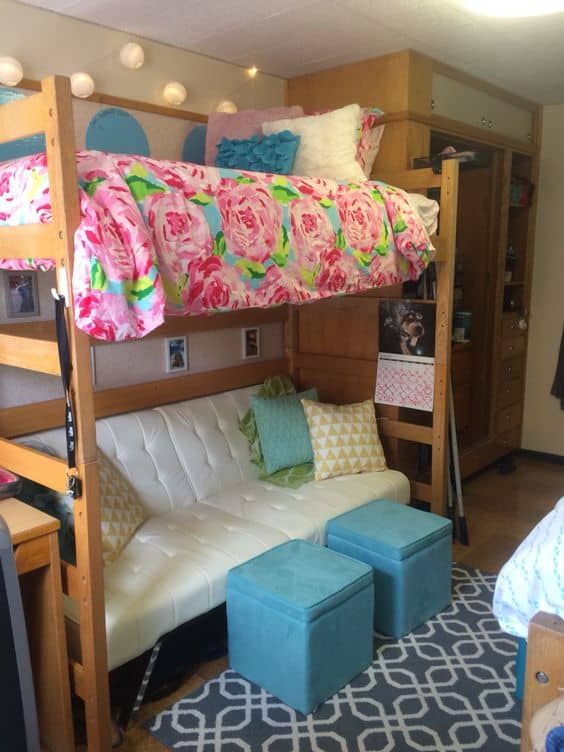 Do you stay with your roommate? Having two beds may not fit into your dorm room, as a matter of fact. Club together using a bunker bed. Two of you can eat, sleep or even study together in the same room.
At the same time, using a bunker bed can be a space saver. It neatly slugs through the cupboards or shelves kept across the dorm room. Cute-looking bunker beds can add aesthetic vibes to your living spaces too. The furniture sets, and other accessories are also neatly tucked into the room as such.
Similar Post: 19 Aesthetic Bedroom Ideas You Will Fall in Love With
4. Wall Fabrics Can Look Stylish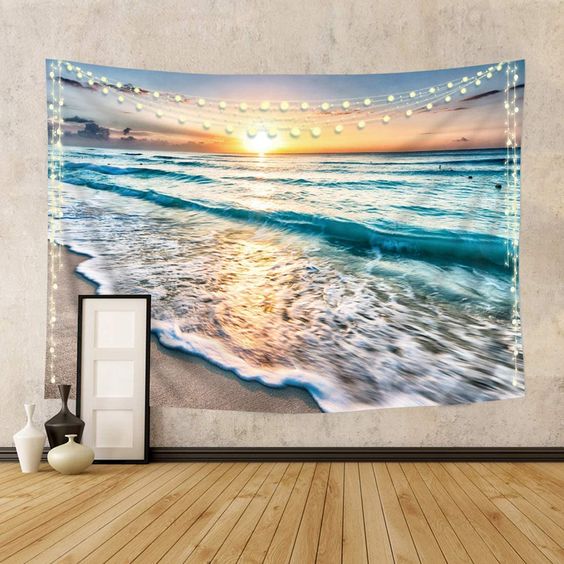 Beach wall tapestry can be the easiest way by which dorm rooms can be brightened up instantly. There are two ways you work around getting the wall tapestry done. The wall decor accessory can be bought via an online establishment.
Or, you can paint a beach or a mountain theme using an array of fabric or acrylic paint tubs. By doing it DIY style, you bring your creativity to an all-new high indeed. This is one of the best and most cost-effective dorm room ideas you can go for.
5. Just Have a Rug in Between Beds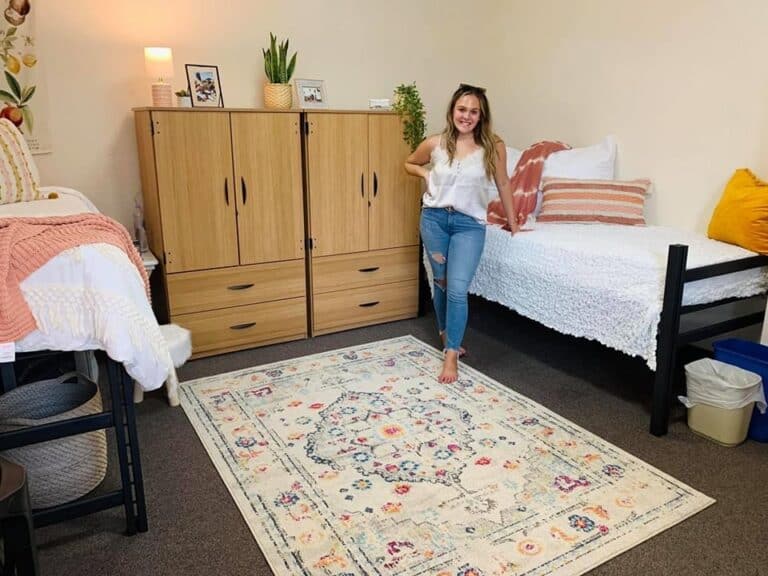 By adding a pretty-looking rug in between two beds, the dorm room decor can look pleasing indeed. The beds that are spaced in between the rug look spacious enough for collegegoers to sleep on them. The designer rug sports a contemporary design indeed.
The cupboards placed inside the dorm look spacious indeed. Other accessories comprising indoor plants, wall hangers, painting portraits, and storage baskets find their respective spots within the dorm area.
6. Attractive Lighting Inside the Dorm Room Decor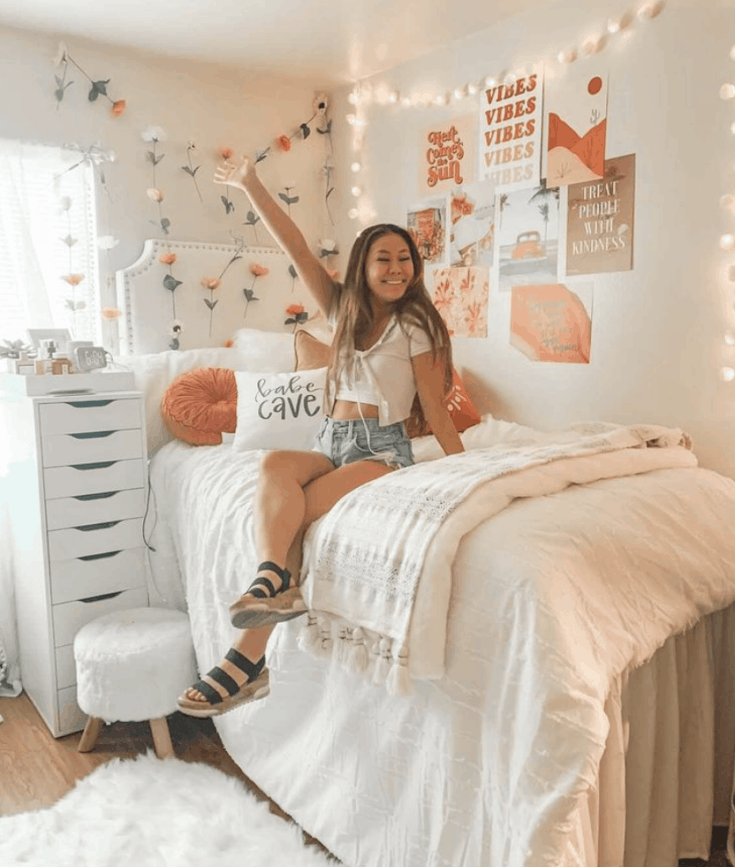 Hanging lights form the highlighting tint and are one of the best dorm room ideas you can possibly go in for. The lights glow up the dorm spaces in an incredible manner indeed. The glow lights can be bought online and can be set up using DIY styles at ease.
A spacious bedspread has attractive white bedspreads. The cushion rugs have tones of warm brown. A tall cupboard with a number of drawers finds its place inside the room. Stickers and portraits are stuck throughout the painted wall decor.
Related: 24 Fascinating Accent Wall Ideas for Your Home
7. A Photo Accent Wall Can Really Look Pretty, Indeed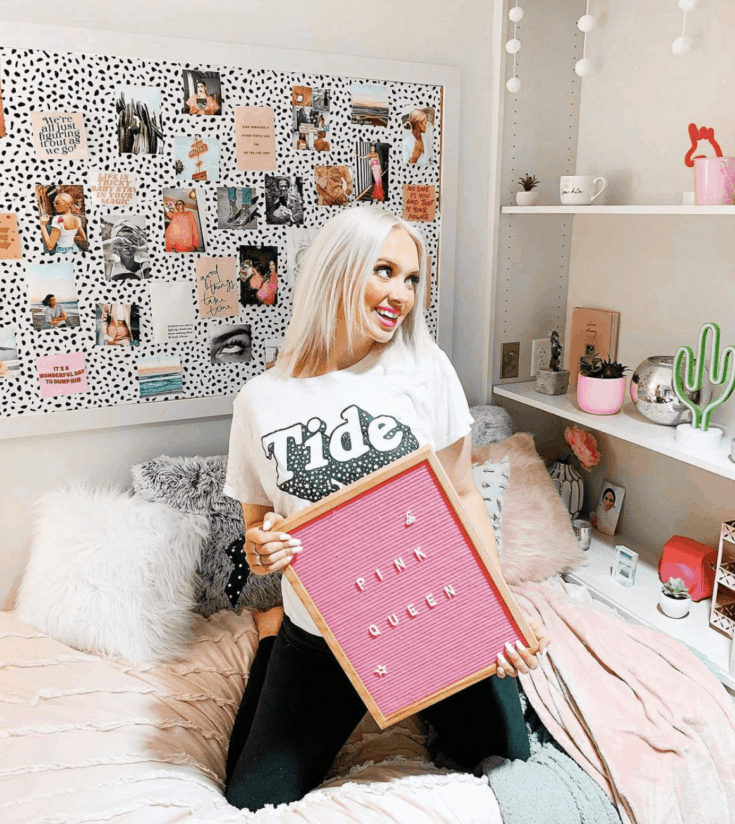 Girls would love the idea of adding a photo accent wall that can pin up all their photos on the wall decor. The photos can be customized and add great vibes to the dorm room indeed. All your photos can be pinned up on the accent wall, helping you walk down nostalgic memory lane.
The soft bedspreads and comfy cushions have been placed in an even-spaced manner. The cupboard that is set up at the other end of the room decor has mugs, artifacts, and other essentials decked up in a neat fashion.
8. Recreating a Coffee Station Unveils the Magic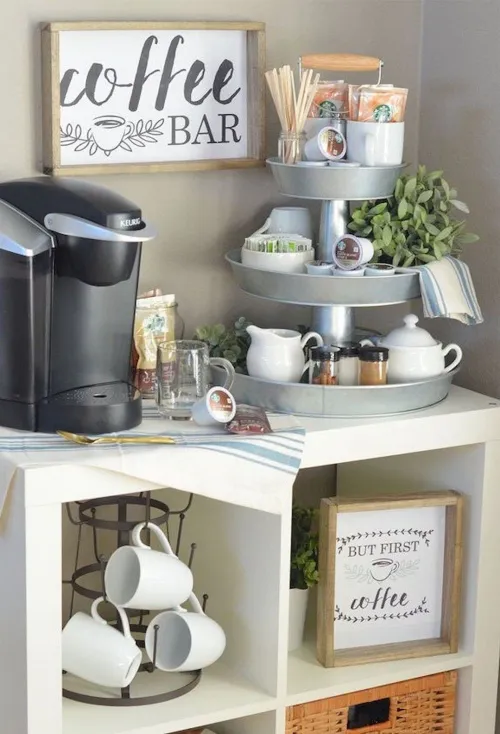 Adding a coffee station can be an aesthetically pleasing idea for freshman students of college indeed. Tell us, who doesn't love a cup of cafe early in the morning? All of us do, right? Henceforth, adding a compact coffee station inside your dorm room can be an enticing idea.
You can spruce up coffee sachets, mugs, coffee makers, and tea bags, and photo portraits have been added to the shelf as such. This is one of the most wonderful dorm room ideas you can go in for.
9. Black Print Curtains Look Enigmatic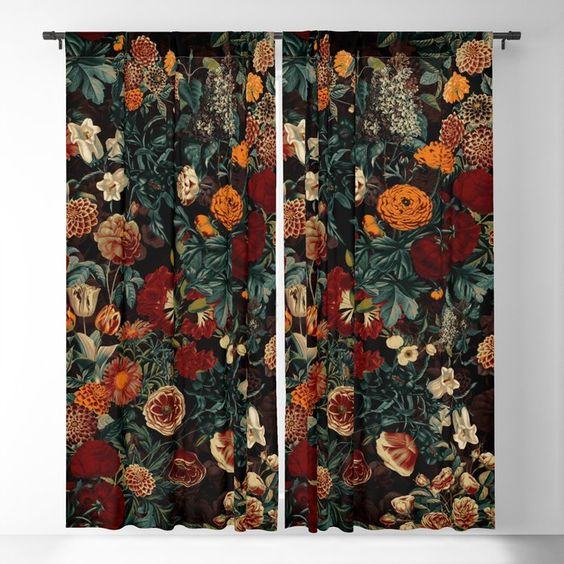 This black print curtain decor looks enigmatic indeed. The bedspreads comprise multicolored hues, including that of black. The cushion rugs also have stripes of black and white.
To add to contrasting vibes, retro pink has been added to curtain drapes. You can place stuffed dolls or mural artifacts to add an earthy touch to your dorm rooms. The wonderfully skewed idea is something you cannot miss out on.
Also Read: 9 Amazing Trundle Bed Ideas and Designs to Save Space
10. Put Lofted Beds Beneath Your Cupboards or Shelves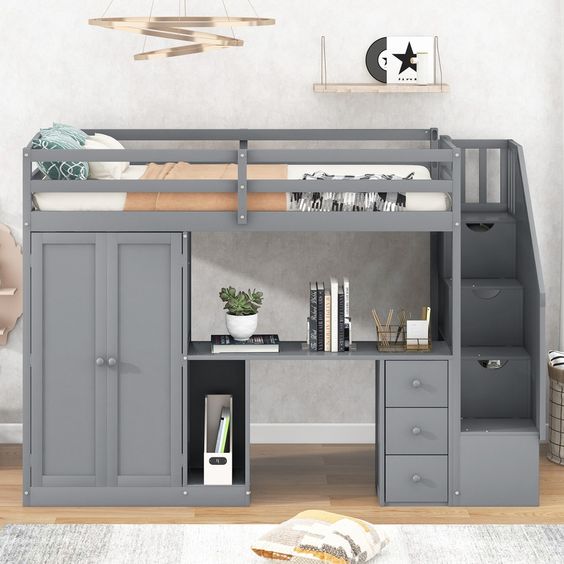 Keeping your dorm spaces well organized is a pivotal element of your college life, starting from the freshman year until the final year of your college completion. This way, you study at your desk and keep your supplies inside the cupboards that are meant for the purpose.
And, as the lofted beds are placed just above the storage spaces, you finish your studies or your homework assignments and head straight away into your beds. This is a lovely dorm room idea you can try incorporating.
11. Mix and Match Accessories Between Your Roommates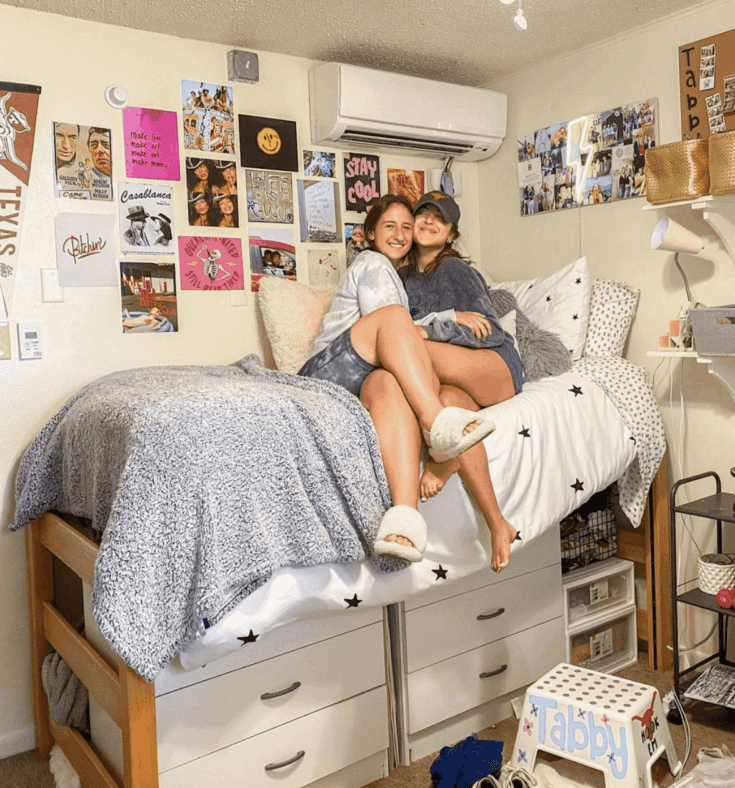 To make things really exciting for your dorm rooms, this is a great styling theme. Mixing and matching accessories that belong to both of you can be utilized in room spaces in an effective manner indeed.
The artifacts, photo portraits, books, nail polishes, or even makeup items can be curated in a cute manner indeed. The air conditioner has been put up at the top edge of the wall decor, and you will find spacious cupboards and drawers underneath.
12. Soft Pastel Pinks Can Add Girly Vibes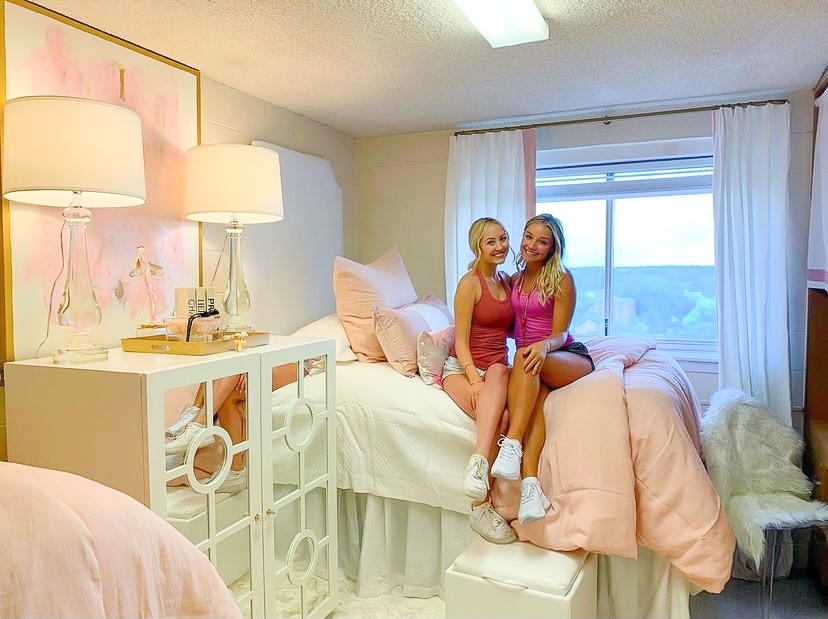 See More: Choosing Perfect Dining Room Paint Colors – A Complete Guide
As you are pretty much aware, pink is one of the most desired shades for recreating girly vibes. Why not add soft pastel pinks throughout your room decor? Pink bedspreads are added with matching pillows.
Baby pink lamp shades form a highlighting effect for this dorm room. There is a big French window cabinet that keeps the room naturally lighted and well-ventilated. A perfectly designed pink accent wall also complements the theme perfectly.
13. Tye and Dye Rugs Add Fantastic Vibes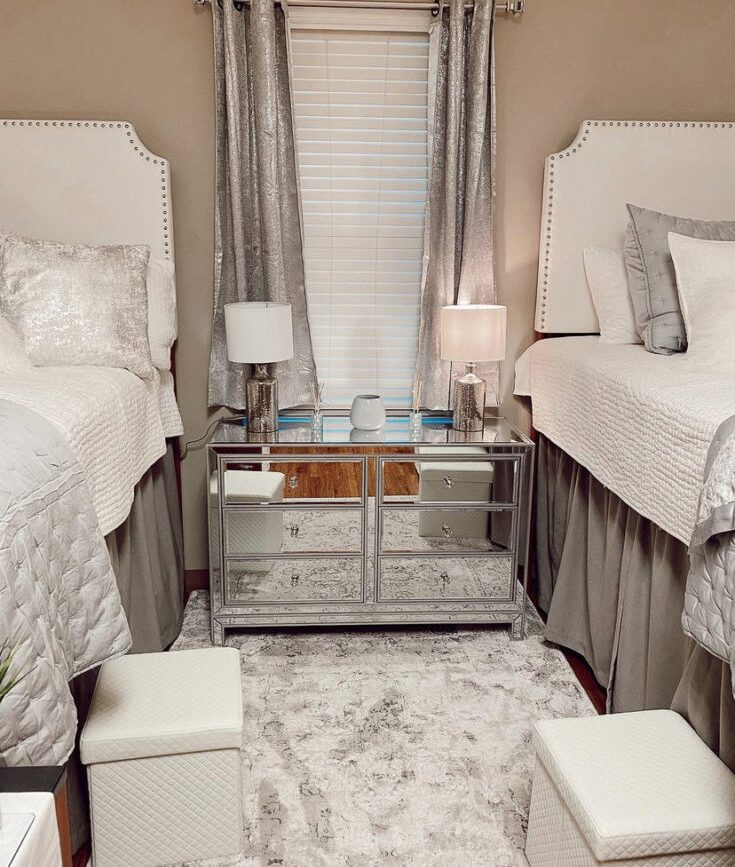 This is a type and dye print rug that adds pretty-looking vibes to the dorm room decor. You have pure-white bedspreads and bed sheets lending classic vibes to the dorm. There is a study area and cupboard drawers that are placed in the corner of the living spaces.
The curtain blinds have ash-grey curtain drapes that look shimmery indeed. You have spacious storage boxes where you can keep your essentials. In total, the neatly spaced dorm is a thoroughly cool idea that you must get hands-on too.
14. Futon Sofa Beds Look Invigorating Indeed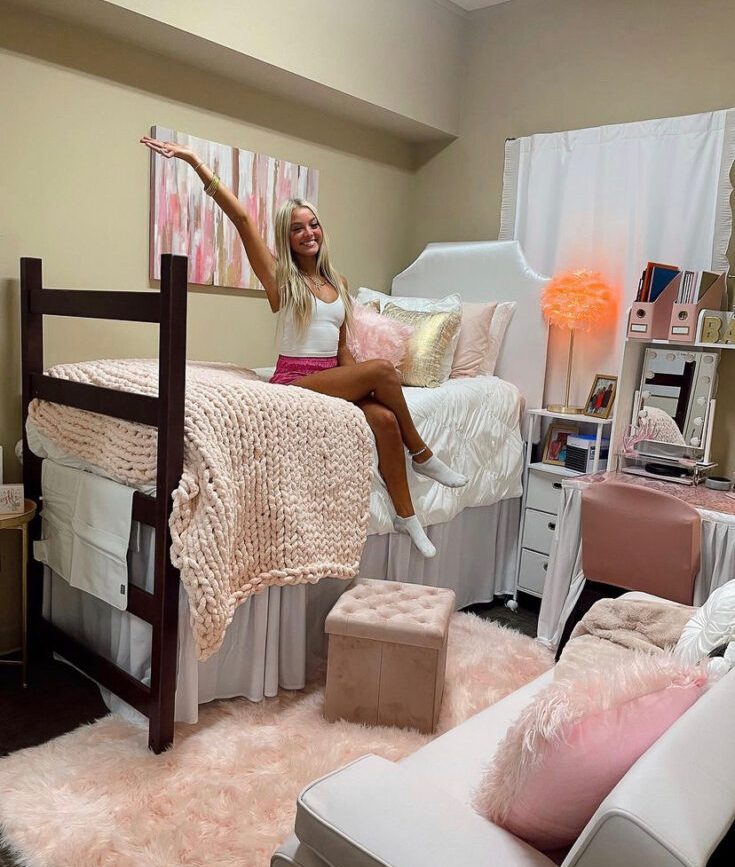 Adding a futon sofa bed can lend comfy spaces to the room decor. There is a futon sofa bed wherein you can allow your friends or roommates to visit you while you stay inside the dorm. A smaller sofa that is upholstered allows you to sit on it comfortably.
Knitted bedsheets that belong to a creme color are put up on the bedspreads. Pillows comprise hues like shimmery golden, pink, and white, adding to girly vibes inside the dorm room decor. The fur rug that is hot pink is also splashy indeed.
15. Butterfly Portraits and Mirrors Look Magical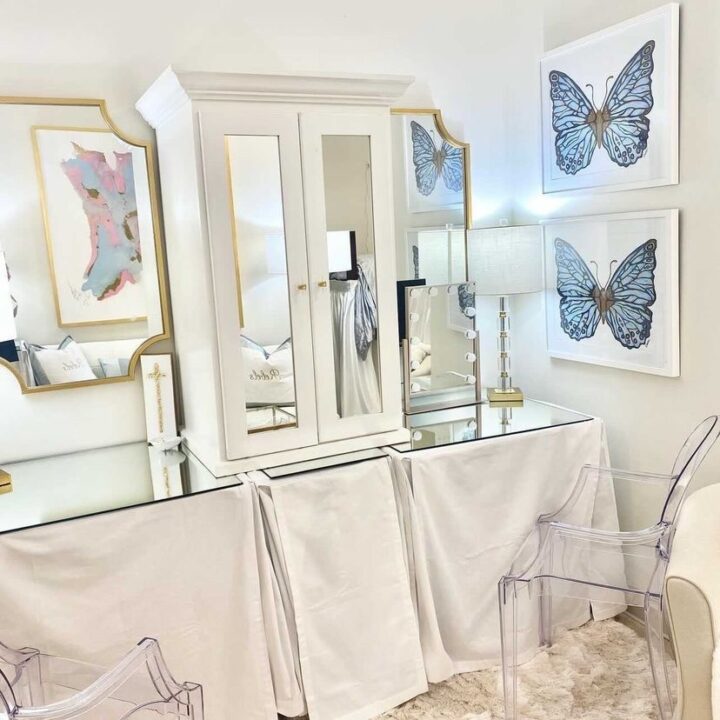 Transparent accessories can create a spellbound effect on your dorm rooms. Here, for this dorm room styling, butterfly photo portraits are hung on the side wall. The magical vibes are again recreated for the room decor using a beautiful fleet of mirrors that have spaced on a cupboard wall unit.
Even the chairs look transparent indeed. The kind of accessories that have been placed here lend flirting cloud vibes to the overall decor of the dorm area. Hence this is a worthy styling idea you can possibly go in for.
Wrapping Up
All in all, these are the top 15 dorm room ideas that look adorable and fun-loving indeed. Style guides, DIY techniques, and posh themes have been elaborated for you to have a look at. Small rooms require careful planning to get the areas decorated.
Mural dolls or even stuffed dolls can add to girly vibes inside dorm room spaces. Fushia pink and purple paints can be added to the wall decor to lend the dorms with super-feminine vibes you aim to recreate.
A generously laid out bedding and a neat study area are components that make vital elements of the dorm comprises off. Other accessories you plan spacing out must therefore complement the bedding and study cabinets indeed.
Which is your favorite styling technique you are going to go with for adorning your dorm spaces?
Check This Next: 20 Beautiful Room Decor Ideas for Your Little Girl's Room