Want a functional yet stylish sleeping solution for your guest? Or running out of space to install another bed in your house? Then trundle bed is ideal for you.
They are multi-functional, space-saving options that can fit in various spaces and give you flexibility in accommodating more people and giving them a proper place to sleep.
If you often host guests or have a big family, a trundle bed will be invaluable. It is a small bed that looks daybed but hides a twin bed underneath.
Also, trundle beds come in various unconventional styles and designs, and you can place them anywhere in your home.
You can keep them in your living room, guest room, or bedroom, and they will not look out of place.
So, keep reading if you are interested in trundle beds. Here we will discuss the top 9 Trundle Beds that are space-saving and stylish.
What are Trundle Beds?
A Trundle Bed is a bed type that bundles two beds together as a daybed. With trundle beds, you can store or roll in one bed underneath the higher bed frame.
Also, trundle beds are multi-functional and come with wheels or casters for easy and hassle-free moving.
The trundle beds are designed for compact bedding and can fit in different types of spaces without trouble.
Also, they are easy to move, and almost any age group can move them from one place to another.
The trundle beds are an excellent fit for living, bedroom, and guest rooms for their unique looks. Also, the basic Trundle beds are often used in kids' bedrooms and nurseries.
Also, several styles are available for trundle beds that do not look conventional and blend with various modern interior designs.
Best Trundle Beds to Save Space and Look Stylish
Trundle beds are pretty trendy these days, and most people prefer to use them instead of installing another bed.
Also, when you opt for a trundle bed, you can save space and keep it stylish and amaze your guests. You can get various styles of trundle beds that are cost-effective, beautiful, and space-saving.
Below we will list the best 9 trundle beds that are compact and trendy.
Similar Post: 9 Most Popular and Comfortable Pull-Out Sofa Beds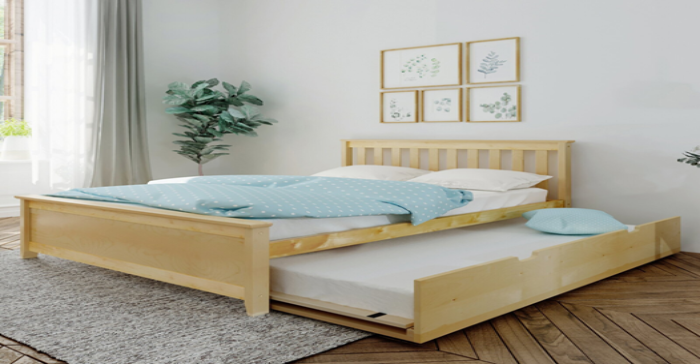 The Full Trundle Beds are very popular among people who want to create an extra sleeping spot without adding another room.
Also, full trundle beds give enough space to fit two to three people without buying multiple beds.
You can place full trundle beds in your bedroom or guest room and pull out the underneath hidden bed when you need an extra spot for your guest.
Also, full trundle beds look similar to your ordinary beds and often have conventional designs for bed frames and headboards.
In addition, you can find full trundle beds in various materials such as wood or metal. Both types are durable and have an easy mechanism that anyone can handle.
A daybed with a trundle bed is one of the most popular and effective options many people love incorporating into their houses.
Daybeds with trundles are great for small spaces and can fit in any corner of your home.
Also, they look like daybeds and can be valuable furniture to install in your bedroom or living and get an additional spot to accommodate guests when you need an extra bed.
They are excellent for hiding the trundle bed underneath the daybed and pulling out when you need an extra bed.
Another interesting and useful option you can try if you want a heavy-duty yet stylish trundle bed for your home, you must try the metal daybed with a trundle.
The metal daybed with trundles is highly durable and stylish. They also look chic and elegant and can fit modern interior setups.
The metal daybed with trundle can come in various sizes and styles. Try simple minimalist frames or traditional or oriental designs for the trundle daybed.
Also, this style is suitable for children and adults, so you can use the same for your teenage child and guest without worrying about the style.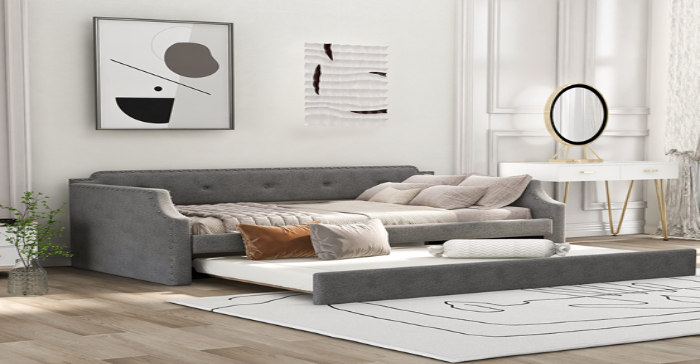 Upholstered daybed with trundle is an excellent option for both daybed and trundle bed.
So, if you want to increase your daybed's capacity, you can replace your existing daybed with a tufted upholstered daybed with a trundle.
It is a unique compilation of daybeds with trundle beds that add extra space for sleeping without increasing the number of furniture in your room.
If you have too much furniture and no space to install new furniture, try this trundle bed.
Upholstered daybed trundles are stylish and elegant and can be excellent furniture for your living and bedroom. DG Casa Traditional Upholstered Daybed with Trundle can be a great addition to your home interior.
Also Read: 9 Floor Couches to Elevate Your Living Room Decor in 2023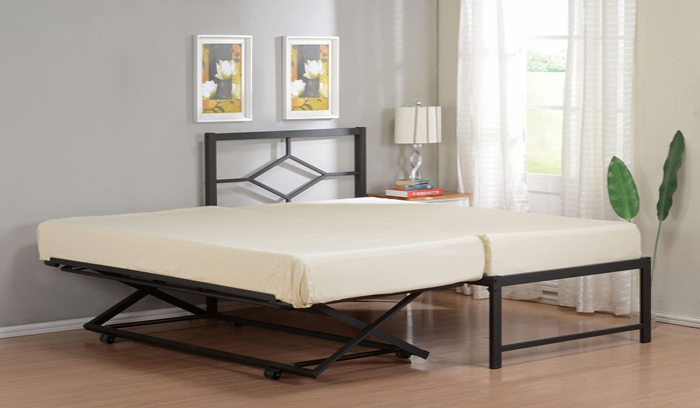 Adjustable trundle beds are an excellent option for those who want the benefits of a trundle without the awkward low bedding setup.
Adjustable trundle beds are similar to basic trundle beds; the only difference is that adjustable trundle beds can be lifted or reversed according to the need.
So, unlike standard trundle beds, you can adjust the height of the underneath bed and stack them together or place them separately for additional sleeping spots without taking up much space.
Also, when you do not need the additional bed, press the bed down and store it under the higher bed. Try Merax Modern Adjustable Trundle Bed, which is both stylish and functional.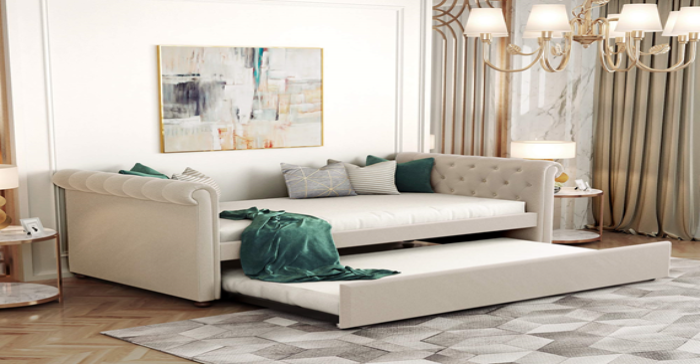 Want a compact urban apartment or house setup with a modern multifunctional daybed? Try a multifunctional daybed trundle that can fit well with your interior and serve the purpose.
If you are searching for modern, minimalist daybed furniture for your apartment, try the urban daybed with trundle. Urban daybed trundles often come with wooden frames and headboards.
Also, the headboards are cushioned or padded with soft and comfortable deep seats.
The beautiful and eye-catching design of the daybed makes it suitable furniture for any corner of your house; living bedroom, guest room, etc.
Try Urban Trundle Bed by DG Casa Hesdin for a beautiful urban-style trundle bed.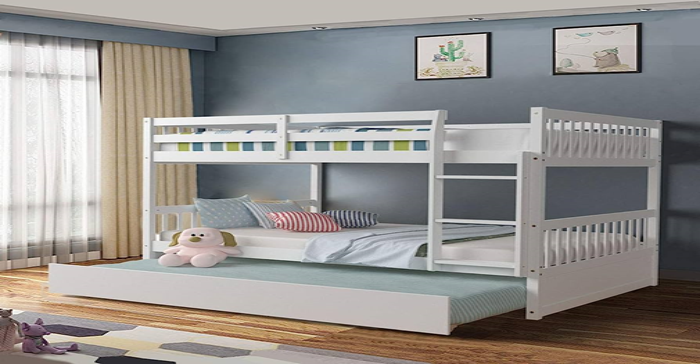 Bunk beds with trundles are a popular choice, especially for children. If you have kids, a bunk bed with a trundle can be a great choice to transform your kid's bedroom and make it more spacious and functional.
Adding a bunk bed with a trundle can help you maximize the capacity of ordinary bunk beds. The trundle bunk bed provides an additional spot for sleeping without taking up extra space.
They are excellent options for your children who love to spend time with their friends and want to invite friends for sleepovers.
With a trundle bunk bed, you can pull out the hidden bed and place it again under it according to your needs. Baysitone Bunk Bed With Trundle are durable and elegant in look.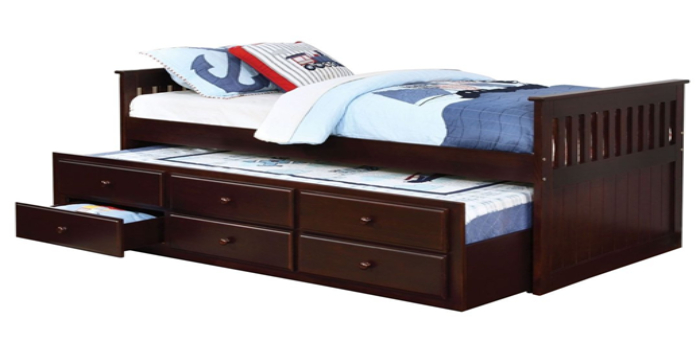 A trundle bed with storage is more of an icing on the cake. Trundle beds are naturally multifunctional, and adding a storage facility makes it more practical and helpful.
You can use this piece of furniture as a daybed, storage, and an additional sleeping spot. If you have a compact apartment with minimal space, you can make the most of this trundle bed.
Also, trundle beds with storage are durable and stylish and go well with various types of room decor. You can get trundle beds with storage in different attractive shades.
DORTALA Trundle Bed With Storage is a great option to incorporate into your home.
See More: 10 Stylish and Functional Couch with Storage in 2023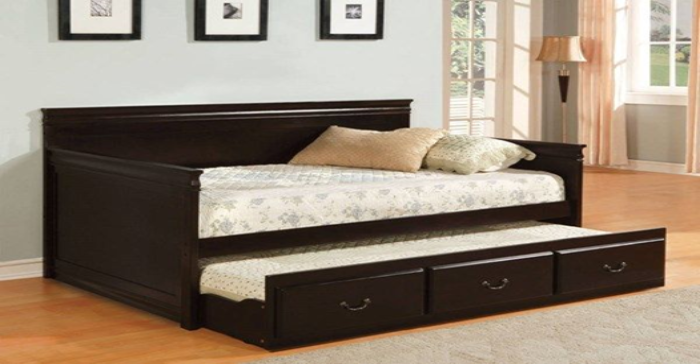 Last but not least, twin trundle beds are also popular among people who want a cost-effective and functional trundle bed for home.
The twin trundle beds can make a good pair for children and adults. They come in various styles and base materials.
Also, twin trundle beds display a theme, and both beds look the same in style and design. You can get a twin trundle bed made with wood or metal according to your needs.
Also, remember to check the material is safe for kids if you are using them for your kids. Try AOCOROE's Twin Trundle Bed for a classy and minimalist twin trundle style bed.
Things to Keep in Mind While Choosing A Trundle Bed
Buying a good trundle bed is necessary to make it last longer. Here are a few things you must remember while choosing a trundle bed.
1. Material
The material of a trundle bed is crucial as it decides the bed's durability. Trundle beds are available in materials like solid wood, metal, and MDF.
You must choose a durable material for your bed to use for a long time. Solid wood is the most durable material for trundle beds.
Other than solid wood, metal, and MDF frames are also good options if you want your bed to be durable.
You can go with low-durable bed frames if you want the bed for your kid's sleepovers at home.
But if you want to buy a daybed with a trundle for adults, it would be wise to invest in a durable bed frame.
2. Style
You must choose a style of bed that best suits your interior design and aesthetics.
You will easily find trundle beds of different types in the market that can suit traditional, mid-century, farmhouse, cottage, modern, contemporary, eclectic, and boho.
For example, upholstered daybeds (with trundle) with nail head accents or tufts are perfect for traditional interior setups.
On the other hand, metal bed frames, especially white ones, are excellent for modern, minimalist, and boho interiors.
3. Size
The size of a trundle bed is also essential. And you keep this aspect in mind while choosing your daybed with a trundle.
For example, if you want to use a bed for your kids, you can choose a simple metal daybed with a trundle. Metal beds also resist stains which is a primary reason behind their use in nurseries.
But if you want a bed for adults, a king-size bed with a trundle can be excellent. You must also remember how much space you have for the bed.
Daybeds are suitable for smaller areas.
4. Function
You must be aware of the function of a bed with a trundle before you buy one. Trundle Beds are usually stacked under a daybed or a regular bed and serve the function when rolled out.
Ask yourself if you would roll out the trundle every day or occasionally, and if occasionally, how would you use it during other times?
You can choose a daybed or tufted daybed if you want your trundle bed occasionally so that you can use it as a sofa daily.
Related: 15 Fascinating Dorm Room Ideas You Will Love Incorporating
Conclusion
All in all, a trundle bed is a versatile piece of furniture that can add a spot for sleeping and fit with your interior without consuming much space.
The Trundle beds are becoming increasingly popular in creating quality living in small spaces.
Also, people who love multifunctional furniture prefer daybeds with trundle or full trundle beds for their homes.
The best part of using trundle beds is they help you save space and create additional temporary sleeping spots.
Whether you have a modern, rustic, minimalist, or quirky interior, you can find a suitable pair of trundles to improve your home interior and add furniture that can bring additional spots for sleeping.
So, like any of these above trundle beds?
Try for your home and surprise your guest with a comfortable and stylish trundle bed.
Frequently Asked Questions
Are Trundle Beds Comfortable?
Yes, of course! Trundle beds are designed by experts who measure the factors affecting a comfortable sleep and create the bed accordingly.
But you must always choose a reputed seller for quality products and ensure the trundle bed is cozy.
Many supplies also offer a guarantee for comfort and durability to make your purchase reliable and accurate.
What Is the Difference Between a Daybed and a Trundle Bed?
Many people are confused between daybeds and trundle beds because of their similar looks. But they are not the same.
A daybed is used as a compact sleeping bed solution that can also work as a sofa or couch.
On the other hand, trundle beds are the type of bed that bundles two beds together; the higher bed hides the underneath bed that has wheels or casters. How much weight can a trundle bed take?
Are Trundle Beds Space-Saving?
Yes, indeed! Trundle beds are known for their space-saving nature. They are designed to function for multiple reasons and come in a compact and adjustable size.
Trundle beds are widely used in modern households for their ability to transform from a daybed or single bed into a double space for sleeping without taking up additional space.
Where Can I Buy Trundle Beds?
Trundle beds are trendy, and many people use them for additional sleeping spots. This type of bed cum furniture is also widely available in online and offline stores.
So, you can get trundle beds from your nearest furniture store or visit an online shopping site to buy your trundle bed.
Check This Next: Best Alaskan King Bed Mattresses (2023)