Are you a young lady looking for modern teenage girl bedroom ideas? Or a parent that wants to gift his/her teenage daughter the room of her dreams?
Then you have come to the right place. With this article, your desire for a chic and unique room will not be a dream anymore.
You can turn it into reality by following the ideas that we have mentioned below. You will find various interesting ideas that will help you create a bedroom that truly reflects who you are.
Be it vibrant colors, minimalistic designs, or a mixture of both, you will find a theme that caters to every type of taste.
Let's dive into the modern teenage girl bedroom ideas that will help you express and reflect your personality.
Girl Bedroom Ideas to Try Now
1. Focus on the Lights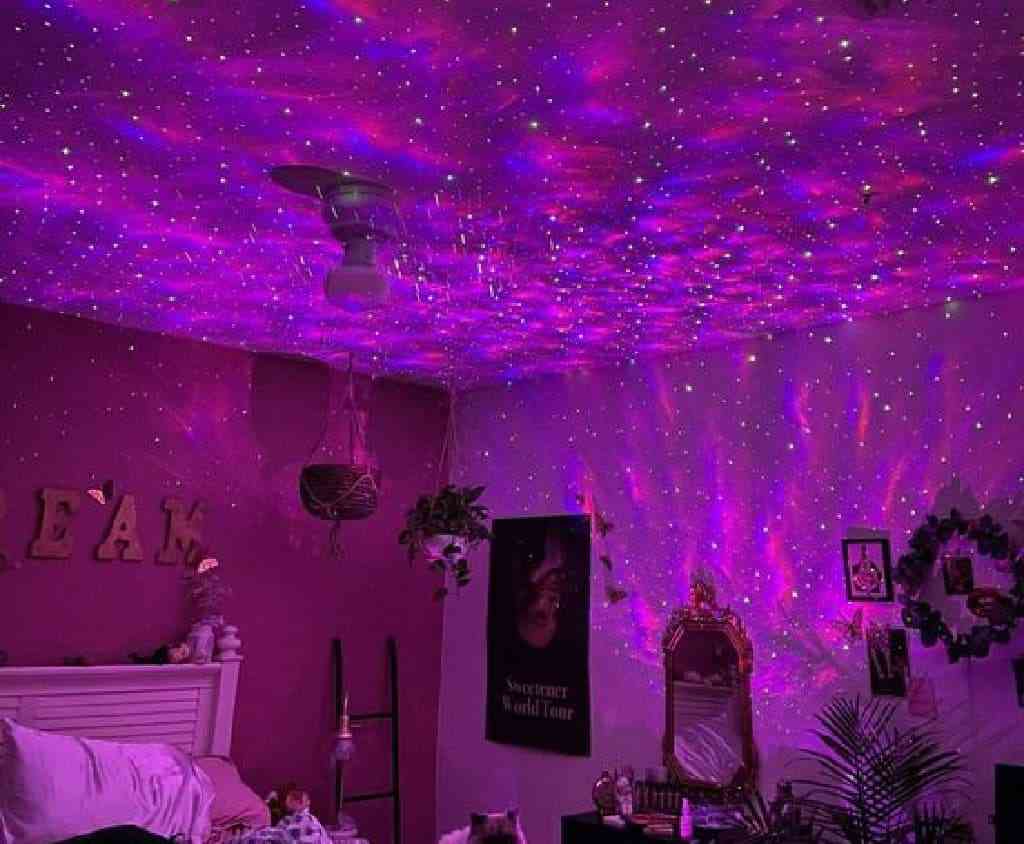 A lot of funky lighting is available in the market nowadays. These lights can serve as a distinctive room décor in place of a bulky floor lamp that doesn't add to the space's aesthetics.
One such unique lighting decor is BlissRadia. The BlissRadia can emit light in all the hues of the rainbow and change colors with a variety of ambiances.
This can add just the right amount of whimsy to your daughter's room. She can also adjust the BlissRadia according to her choice.
Through the BlissHome mobile app, Google Home, or Alexa, she may choose between all these immersive activities without any hassle.
The best part about this lighting is that it can be the center of attention in the room. It will make the room look unique and trendy without worrying about minute decor pieces.
Similar Post: 12 Enchanting Cottagecore Bedroom Ideas for Your Dreamy Oasis
2. Choose the Colour Palette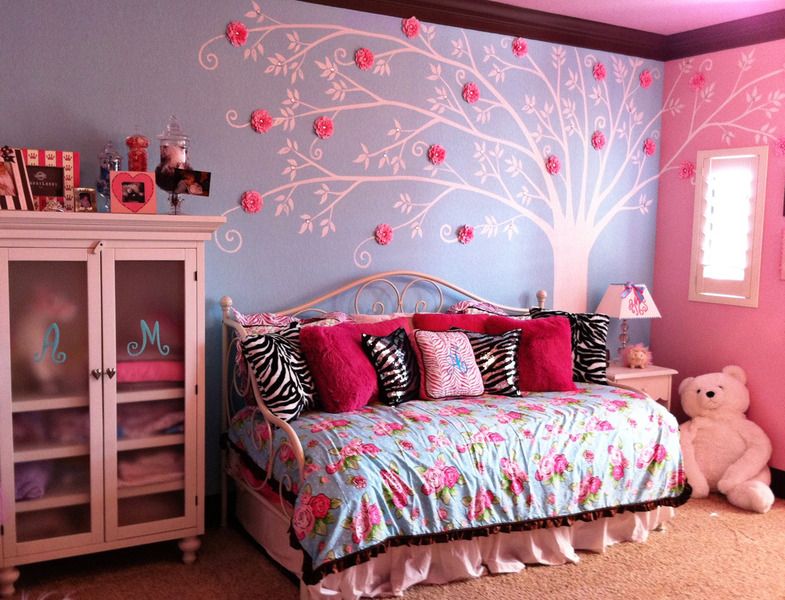 The colors on the walls are extremely crucial as they decide the theme of the bedroom. Your daughter has to like the color of her room to be happy all the time.
This modern teenage girl's bedroom idea is all about the color palette. While brighter colors can still keep a vibrant and lively atmosphere, neutral tones reflect a more mature and light environment.
We love how these pink decorations contrast well with the light blue walls. It looks so unique and playful. Pink and white color schemes don't necessarily have to be feminine or garish.
Your adolescent girl needs a favorite hue that is delicate and beautiful as she enters her twenties. So let her choose the color she wants in her room.
To create this teen's bedroom, use white sheets, a soft down duvet in pink, and lots of toss pillows.
3. Embrace Boho Vibes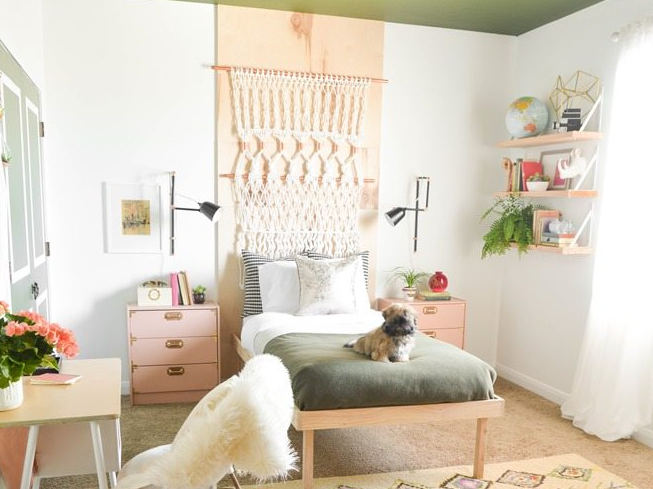 Teenage girls' bedrooms are the perfect place to implement a bohemian decor design. It is dreamy, feminine, free-spirited, and artistic. It incorporates a variety of nude colors and patterns.
While there's so much going on, it still maintains a curated look. The bohemian look is all about muted colors and textures.
You can achieve these textures by providing layers, using ethnic or odd designs. A great example of this is the furry vanity chair seen here.
You can also go for wooden furniture that appears to be one of a kind. Organic materials like rattan, burlap, and wood add to the boho aesthetics.
If you want to achieve this look, macrame is a must. Natural fabrics and houseplants coordinate the muted colors of the walls of a boho room.
Warm wood tones, a braided rug, and painted wooden closets in white with vibrant throw pillows and cushions can be the perfect finishing touches.
4. Dont Forget the Floral Prints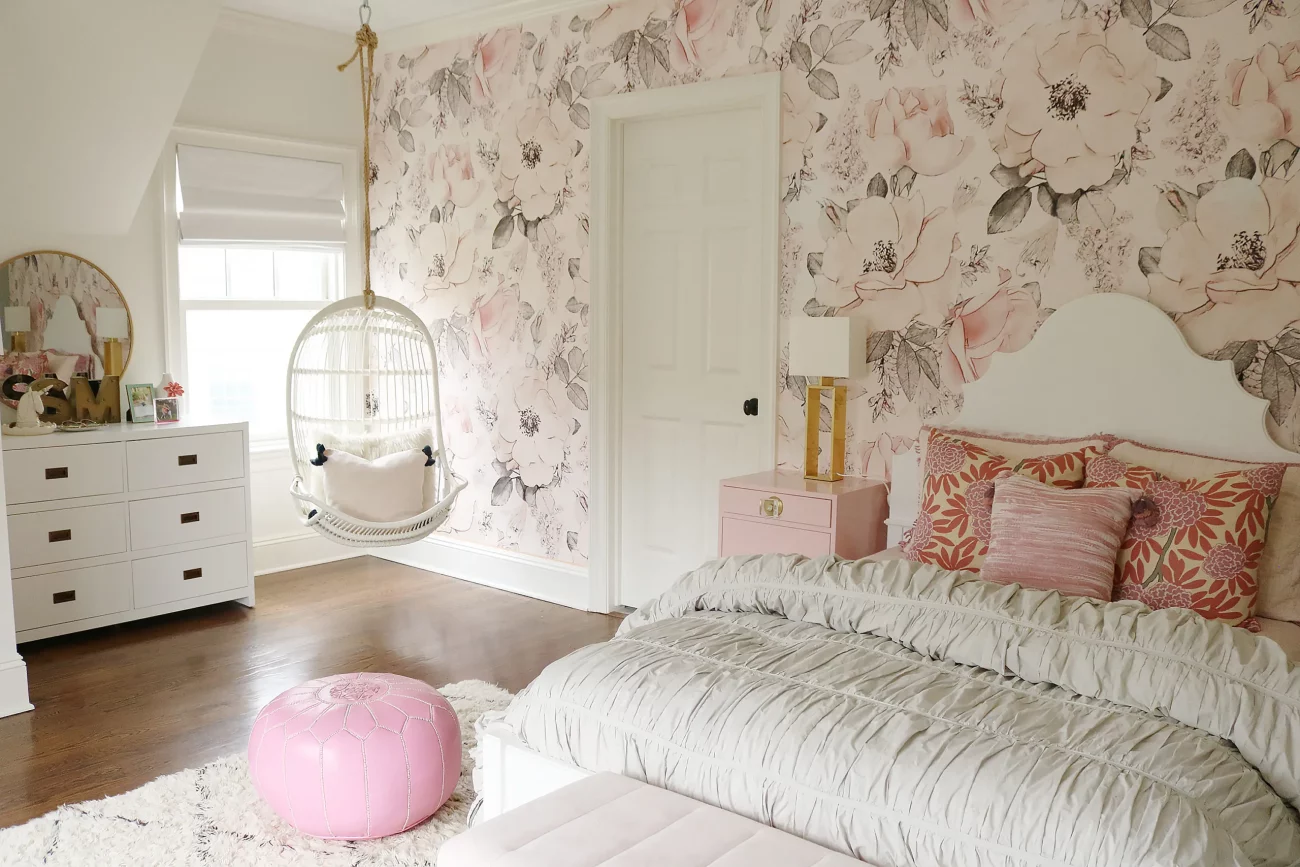 Floral Prints are perfect for creating a lovely girl's bedroom. However, try not to overdo the prints. Otherwise, the area can appear too childish.
The room in the image above looks sophisticated because of the large and bold floral wallpaper design.
A few more accents, such as a wicker egg chair, cushions with an Aztec theme, and a furry rug, can help in creating a welcoming and fun atmosphere.
This decor idea delivers more with less effort. Try to match any of the furniture, like a pink rug sack, to the wallpaper design. This will make the room look more stylish and edgy.
5. Add the Perfect Makeup Station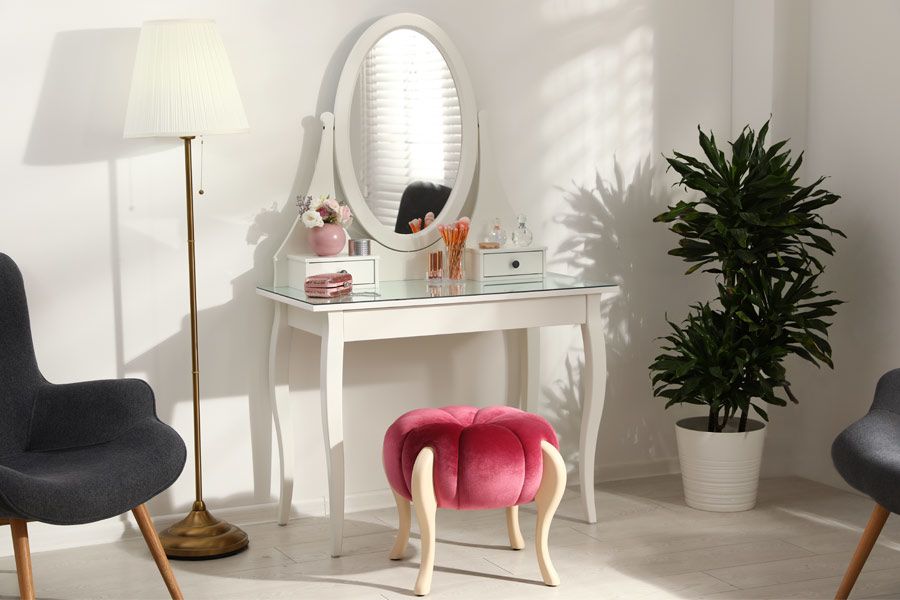 Surprise your daughter with a brand-new cosmetics station in her room. Whether she enjoys playing with makeup or is a makeup whiz, having a small makeup vanity corner will make her very happy.
All you need for this is a chair, a desk or table, and sufficient lighting. You may choose any table or desk, then apply a fresh coat of paint to fit the surroundings, depending on the design of her bedroom.
This will save you money and also help you personalize the room. Then include a mirror, some lights, and a comfortable chair. Place a jewelry rack or tray for fragrances.
The room will give a "get ready with me" TikTok feel in no time.
6. Make Room for Sleepovers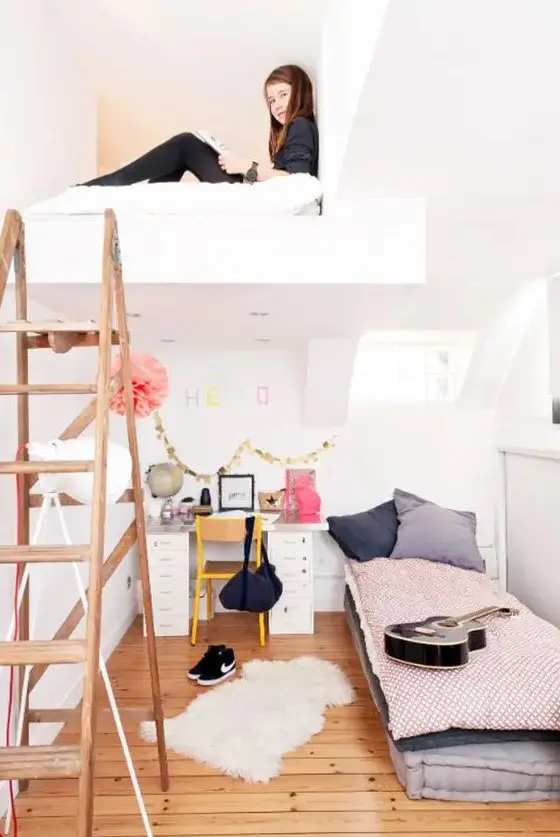 Even if you have a limited area, you may still add things you enjoy to make it uniquely yours! This room is a perfect example of utilizing space to the fullest.
It has managed to accommodate a sleeping area, a studying area, and also a special place that can be used for sleepovers or as a secret corner.
This room is comparatively modest. What makes it stand out is that the architect has made the most out of the available space by building a loft.
Even a plain white walled room with a few colorful accents and effective use of space can elevate any room.
Also Read: 19 Aesthetic Bedroom Ideas You Will Fall in Love With
7. Floating Shelves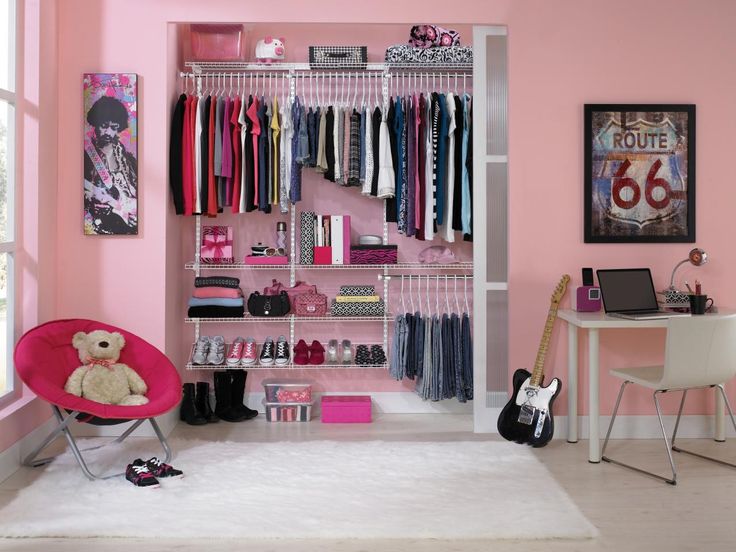 If you enter any teenage girl's room, you will find one thing in common. The toys are scattered on the floor, and a chair is only dedicated to holding a pile of clothes.
This decor idea is a clever way to make your kid organize her belongings. In this modern teenage girl bedroom idea, you can make storage the focal point of the room.
It offers a great way to use your already-owned belongings in the form of decor. Huge wall-sized closet organizers and floating shelves can make cleaning up more fun and enjoyable.
Since the look of the room is dependent on how organized the open closet is, it will promote cleanliness. Besides, it will also make things more accessible.
This idea is especially helpful in the case of smaller rooms where every square inch of storage matters. An empty wall isn't very useful.
With open shelves, you can utilize those areas and create large storage spaces.
8. Get a Little Vanity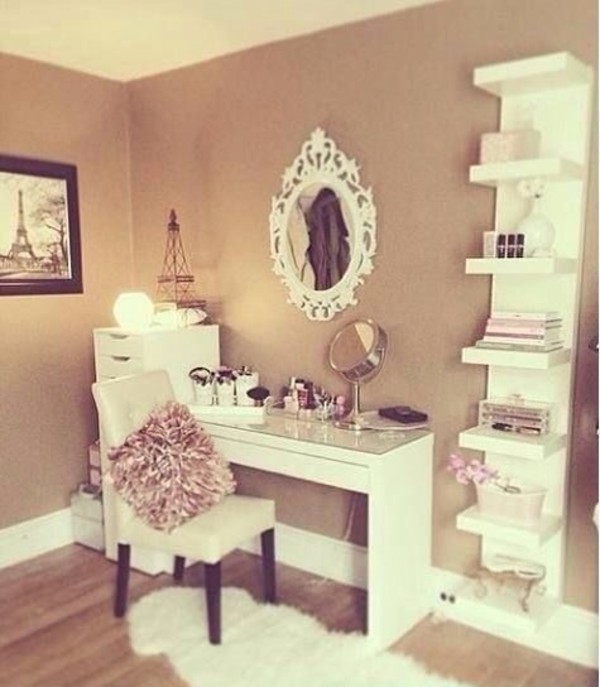 Who said vintage isn't for adolescents? This design has a vintage feel to it while yet being beautiful and stunning. It is pink with white accents, a perfect combination that emits a feminine vibe.
The delicately crafted Victorian-style mirror provides the foundation for the Parisian style. It is further developed with the sculpture and artwork of the Eiffel Tower.
It blends nicely with the modern vanity's clean lines and drawers. A chic floating bookshelf increases storage capacity without dominating the area.
It offers the perfect place to display delicate décor touches like flower sprigs to give the room a more feminine feel. You can pair this up with lacy curtains to make the room look more.
9. Try This Dreamy Lucite and Brass Space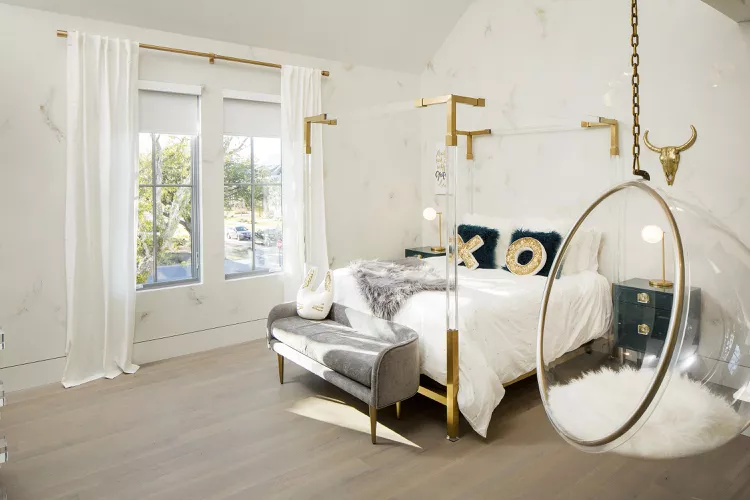 This room emits a 'miss popular' at-school feel! It is a room that other girls will be envious of. The room is glossy and classy, with whites, golds, and blacks running throughout.
It is a unique modern teenage girl bedroom idea with contemporary accents that even grownups will lust over, like the Lucite four-poster bed and transparent semi-spherical hanging chair with stylish brass trim.
The black Mongolian fur pillows and the corresponding color-coordinating nightstands that flank the bed look great together.
Without a doubt, the gray sofa at the foot of the bed just makes the room look more elite.
10. Art Deco Style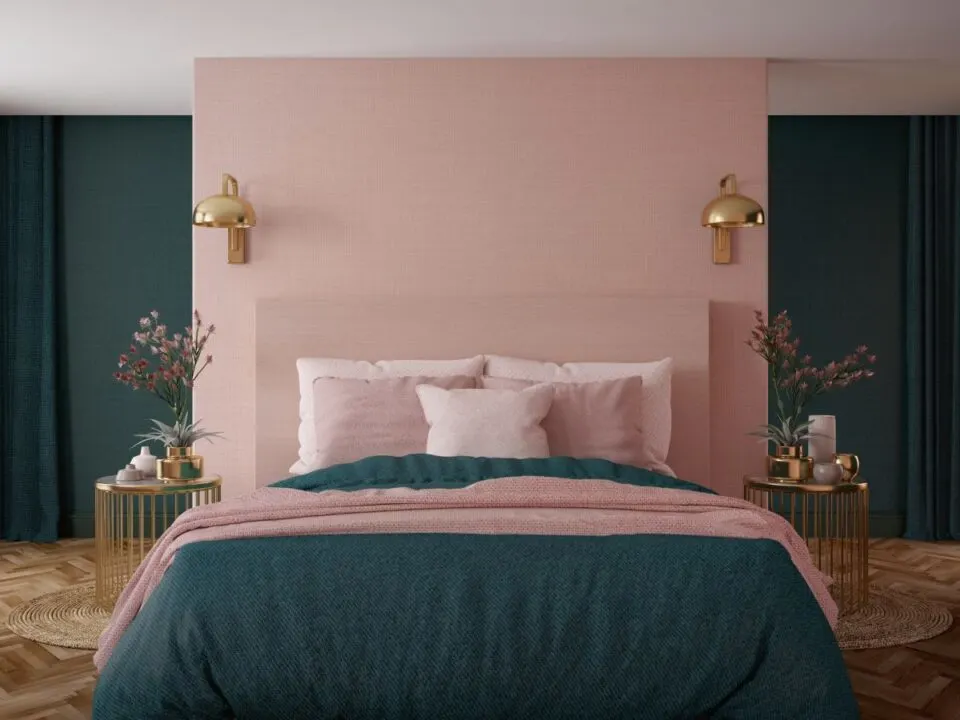 This concept for a teenage girl's bedroom seems like it belongs in a home décor publication. It's modern and stylish, and we are sure the adolescent who chooses to own it has excellent taste.
Blush pinks from the cushions and accent wall contrast the dark green coverings and walls. It is an underrated combination that provides an edgy look.
Additionally, the gold bedside tables and lamps have a beautiful metallic sheen. This teen's room improved and made it much more playful with the addition of some hip wall art.
11. Add that Green Element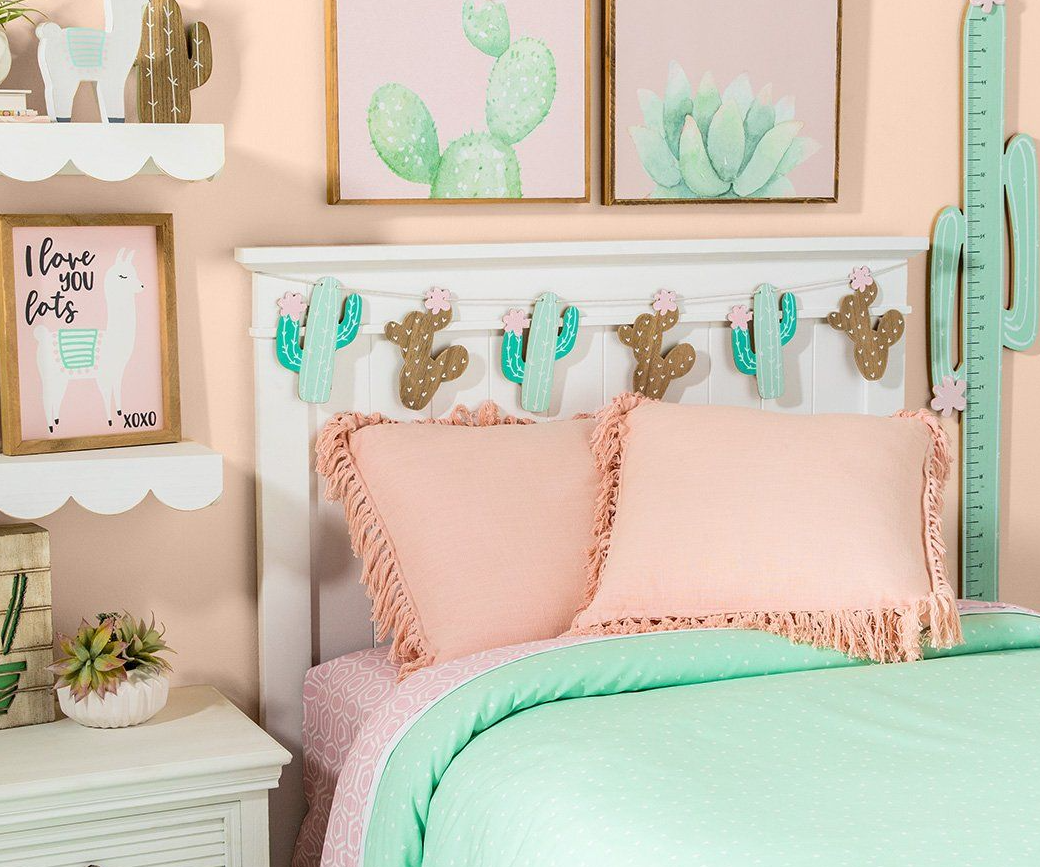 Even if we enjoy having a few leafy plants in my room, having too many of them would not be a good idea because they release carbon dioxide at night.
In order to make up for that, you may hang a few wonderful prints—floral or leafy—like cactus prints. Just allow the colorful pops from them to contribute to the room's decoration.
Just before, we saw an example of a pink and green combination. This is a more bright and unsophisticated version of the combo. This room is bright, airy, and young.
This bedroom's color palette is upbeat and soothing since it has lovely mint greens, bright whites, and gorgeous pinks. It is perfect for a girl who appreciates cacti's untamed beauty and spiky form.
See More: 31 Unique and Fascinating Bathroom Door Ideas
12. Add a Statement Headboard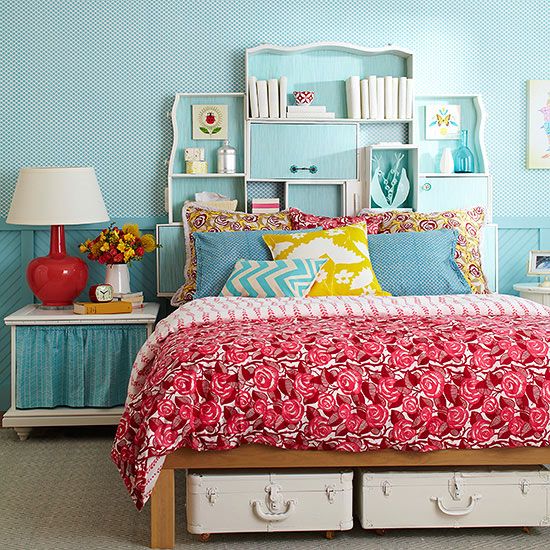 A fashionable bedroom is not complete without the ideal headboard. It is a crucial piece of furniture that can quickly add personality to a straightforward bedside table.
A wooden headboard can act as a display for playful posters and also store small items. This area illuminates the entire plain room and can be highly customizable according to your preference.
A simple table lamp on the side table can further add to the room's appeal. There are numerous ways to achieve a fancy statement headboard.
It is important to reflect your personality through headboards as they catch a lot of attention.
13. Design a Chic Study Space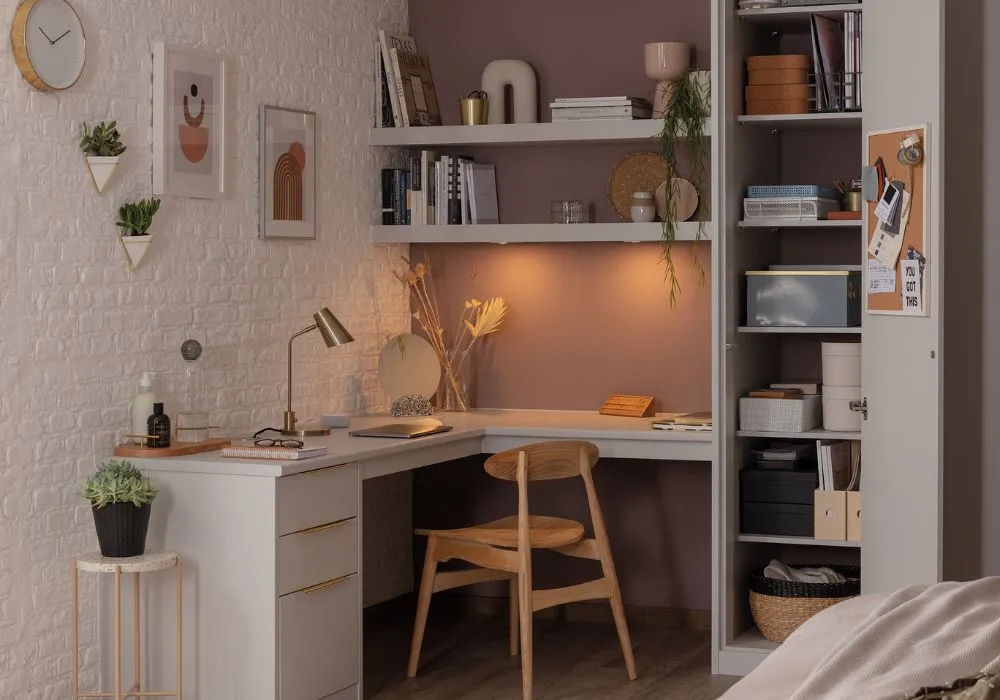 Have a workstation large enough to accommodate a laptop as well as creative tools like a sewing machine or art supplies.
Use the height for additional storage of books, paperwork, and accessories if your space is tiny. Utilize shelves and drawers whenever you can since storage is essential.
Encourage them to identify their storage since they have so much stuff that it might be difficult to find things.
Find a study room that also serves as a vanity area. Put fairy lights or string lights all over the space, but use a decent desk lamp to prevent eye fatigue.
14. Add a Cool Canopy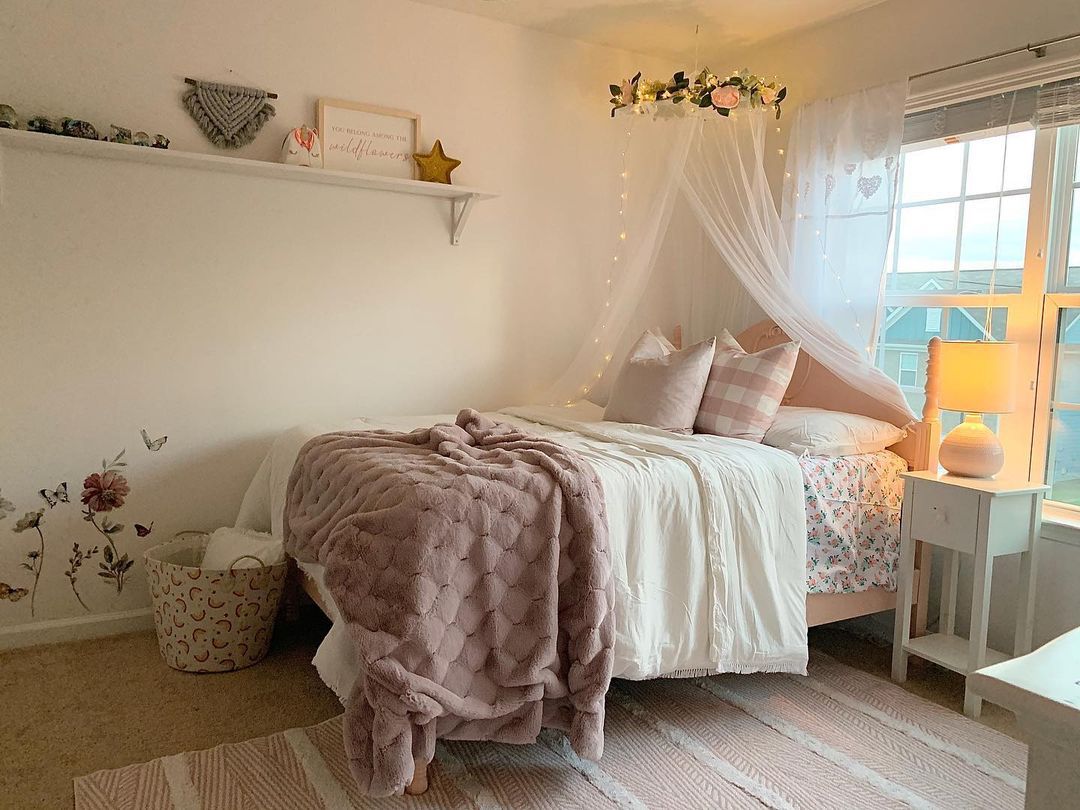 Does your daughter like everything extra? You can incorporate that in her room with this canopy bed idea. The highlight of this room is the canopy over the bed, of course.
This canopy is made out of off-white sheer curtains tie-backs. This elegant yet cozy, feminine bedroom impressively combines boldness with calmness.
This teenage girl's bedroom has a vivid, energizing feel thanks to the minimal and chic posters and showpieces.
The space has a strong but nevertheless unifying aesthetic that looks like it has come straight out of a fairytale.
15. Create a Special Corner for Her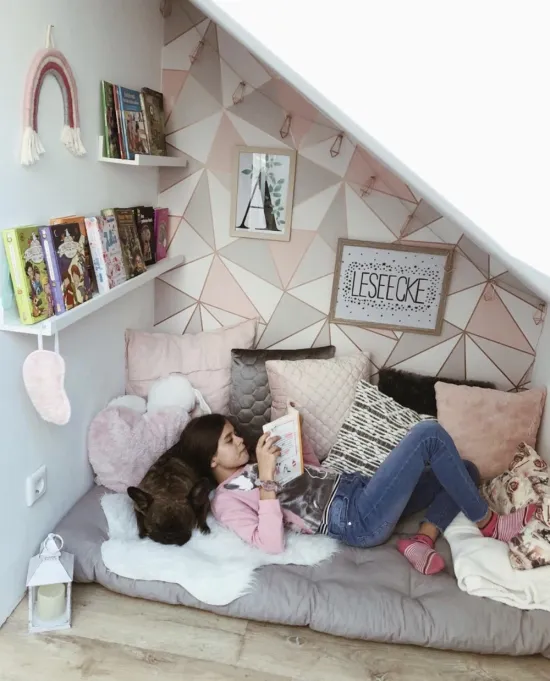 You can use the irregular unused corner or nook of the room for a special reading corner. Your daughter would be more comfortable while spending her personal time in this cozy area.
This can be her 'spot' for reading, writing her journal, or doing something creative.
Decorate the area with lots of natural light and add some pillows so she can sit up. Also, you can add some storage to keep all her books in it.
16. How About an Elevated Contemporary Bed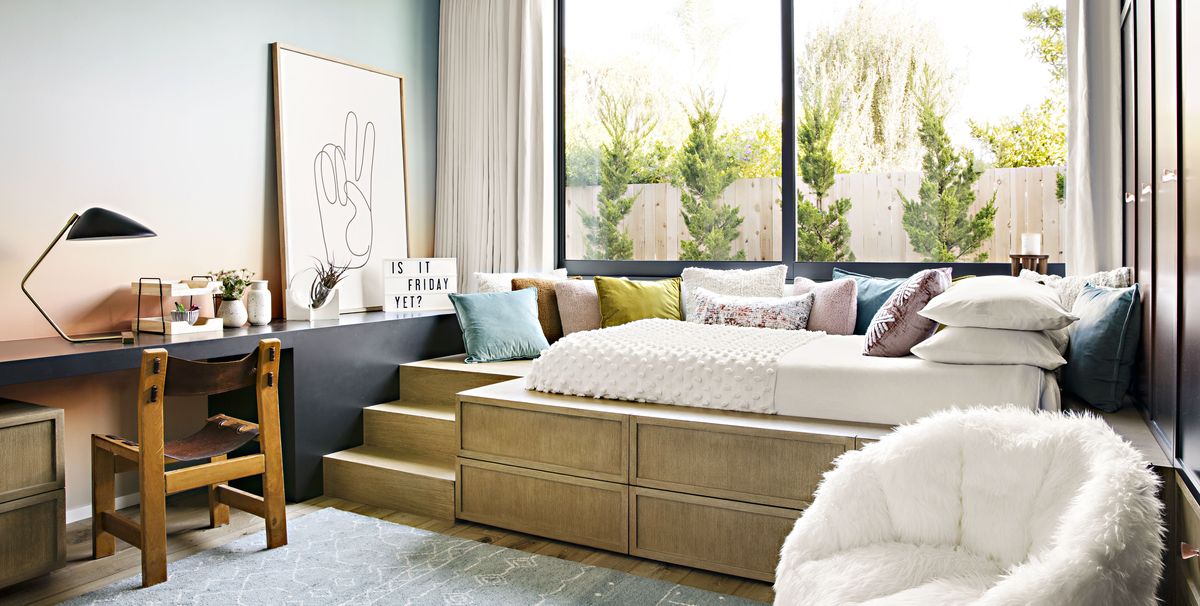 Older teenagers with sophisticated tastes can be very particular. The difficulty is in this bedroom with decorative accents that feel very grown-up, like abstract minimal painting.
However, the elevated bed fitted with a couple of steps is the highlight of this bedroom.
The rug and drapes can both be plain and simple in this case. You can also have curtains with a distinctive and modern geometric trellis design.
This entire bedroom idea raises the degree of elegance.
Related: 8 Ways to Get Low-Cost Farmhouse Living Room Ideas
17. Give It a Quirky Twist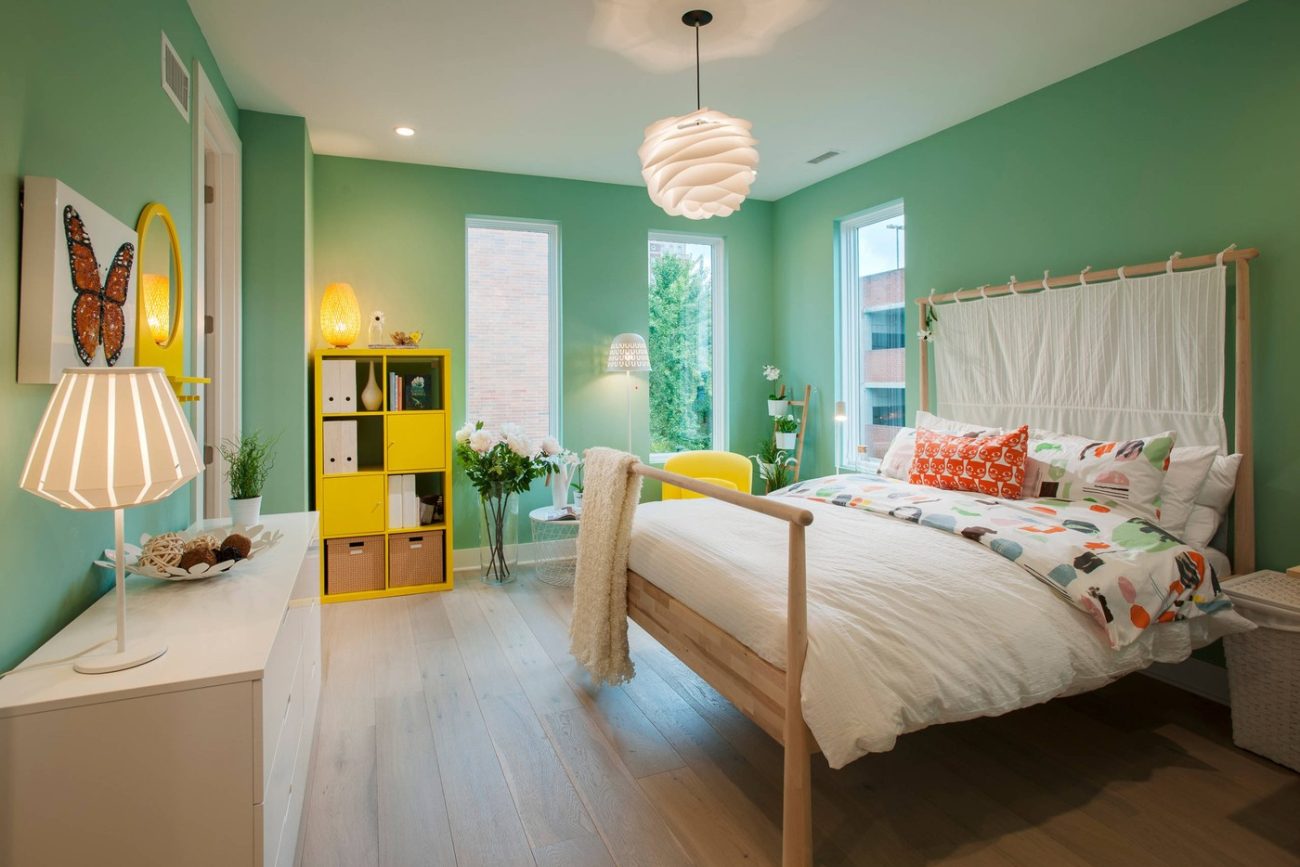 If you want to keep your daughters bedroom extremely personalized to her taste, you can create your own decor style. You don't necessarily have to stick to the existing decor designs.
Find a ton of unique goods that reflect her tastes and personality together. For instance, this room is filled with ideas, from the Scandinavian overhead light to the boho lamp and the cat-patterned pillow!
Just try to stick to a single or coordinating hue and design to make the entire space unique.
18. Go for the Gothic Vibe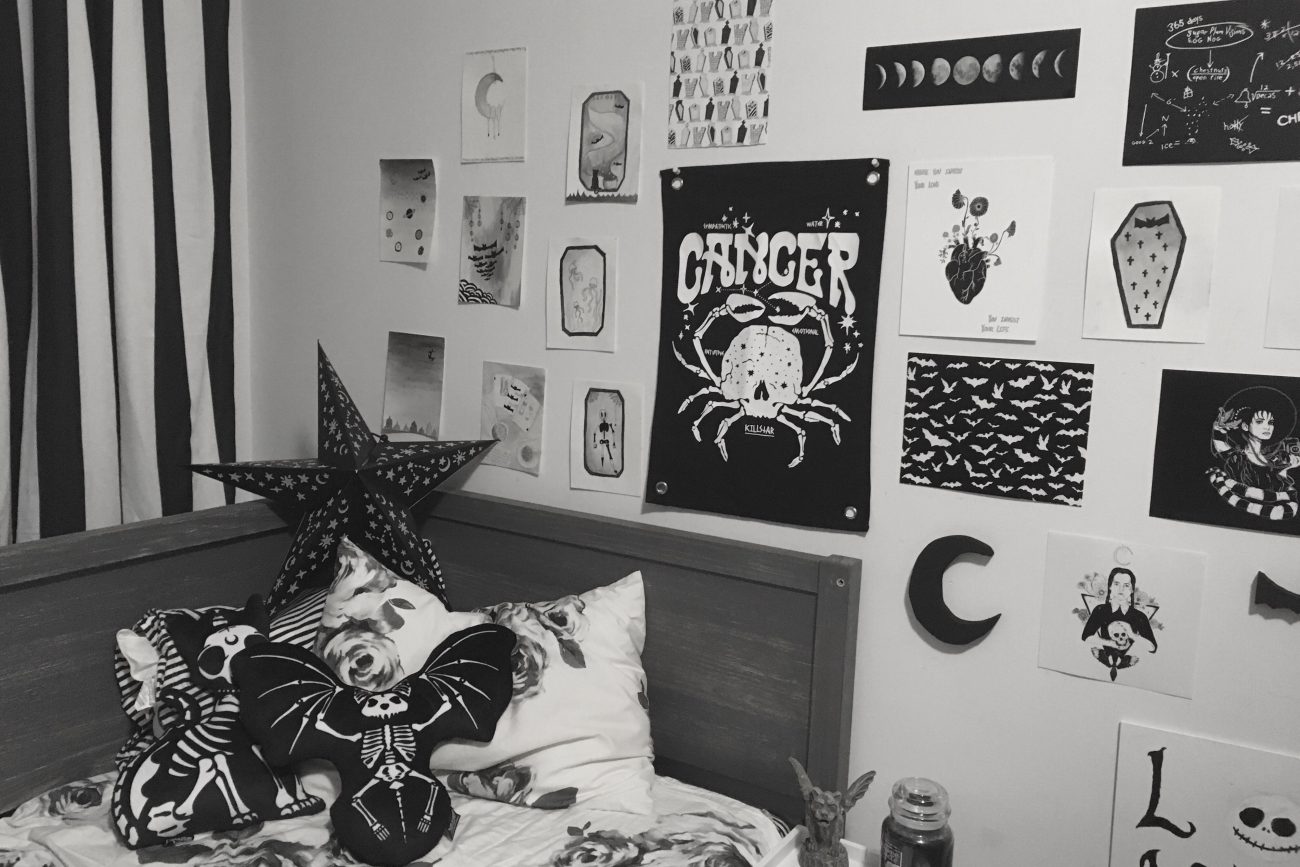 Your daughter might have a gothic taste! So why not implement it in her room? Goth doesn't have to be completely dark; it can be made fun too.
With the correct furniture and decorations, you can create the perfect gothic ambiance. The easiest way to achieve this look is by using a black and white printed wallpaper.
Or you can keep it subtle with white walls and black-colored accents like rugs, drapes, and cushions. The black elements will act as the focal points.
You can also add some fun gothic elements inspired by Hotel Transylvania and Dracula if your daughter is a fan of the franchise.
You can also give an edge to the room by adding some decor pieces like moon star dream catchers.
19. Lastly, Dont Forget to Get Creative with Your Walls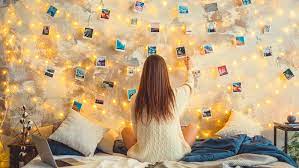 It is better to use a wall as a canvas than keep it empty. Hanging paintings, posters, and Polaroids can make the room look funky.
Besides, if your kid loves photography or painting, putting up her favorite pictures will add a lot of character to the room. This wall can act as the focal point of the room.
It can be a standalone corner or can act as a headboard. Adding a few yellow fairy lights can further elevate this area.
You can get more creative and go beyond random photographs and paintings. You can help your daughter create a memory lane by letting her hang memories from her childhood and school.
Summing It Up
All in all, the possibilities for creating a chic and unique space are endless. We've discovered a wealth of inspiration to transform any ordinary room into a captivating space.
Remember, this is your chance to express your style and personality. Let your daughter's imagination run wild and infuse her space with elements that truly resonate with who she is.
So, gather your favorite colors, textures, and decorative accents, and embark on this exciting journey of self-expression.
From cozy sleepovers to study sessions that inspire creativity, a bedroom can become a place where you can relax, recharge, and showcase your individuality.
Whether you choose to follow the trends or carve your own unique path, the key is to have fun and make your bedroom a reflection of your dreams and aspirations.
So, go forth and turn your vision into a reality.
Check This Next: 21 Stunning Black Couch Living Room Inspirations