How about the cozy realm of farmhouse living room ideas? A world filled with rustic charm and timeless elegance.
Adopting a farmhouse style means ditching everything that is flashy and over the top. It is about having a simple and practical mindset that is seen in the country's lifestyle.
Maybe its simplicity is what makes country aesthetics so desirable.
The attractiveness of a farmhouse living room is undeniable. Considering its popularity, achieving farmhouse aesthetics on a budget might seem like a daunting task.
But you don't have to worry anymore! By the end of this article, you will get some brilliant ideas to breathe life into your farmhouse-inspired living room without breaking the bank.
Transforming your living room into a budget-friendly farmhouse haven doesn't have to be a distant dream.
You just need to open your mind and push your creativity if you're willing to give extra effort by engaging in hands-on activities. Then nothing like it.
This will add a personal touch and allow you to tailor your living room to your unique style.
So, let your imagination roam free, scour thrift stores for hidden treasures, and enjoy the process of creating your very own farmhouse haven on a budget with these 8 Ways to Get Farmhouse living room ideas.
Similar Post: 16 Best Joanna Gaines Modern Farmhouse Kitchen Ideas
1. Use Old Furniture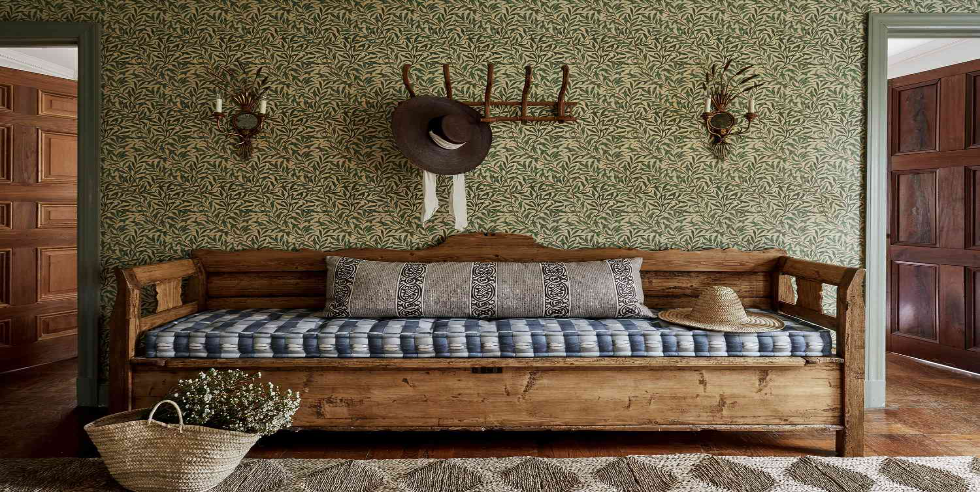 The best way to get farmhouse aesthetics cheaply is by reusing old furniture. If you look closely, you will realize how many items in your home you can stain or repaint.
Any piece of furniture may be transformed, and you can recreate it in any style since you have complete control over how it comes out.
You might always choose to reupholster your current couch or chairs to give them a more rustic appearance.
Your room may be completely transformed by the addition of a bench or an accent chair, which will also help you achieve the desired aesthetic.
A great method to improve the appearance of your modern farmhouse living room ideas is using multifunctional furniture.
Your house's guests will undoubtedly be impressed by the interior design. By merging several features into a single piece, they not only help you save money but also give your area a fresh look.
Throw cushions and blankets are a great way to play up texture in a modern farmhouse setting. Don't forget to add rugs and drapes as well to give the room a warm, contemporary feel overall.
2. Avoid Bright Colours and Incorporate Wood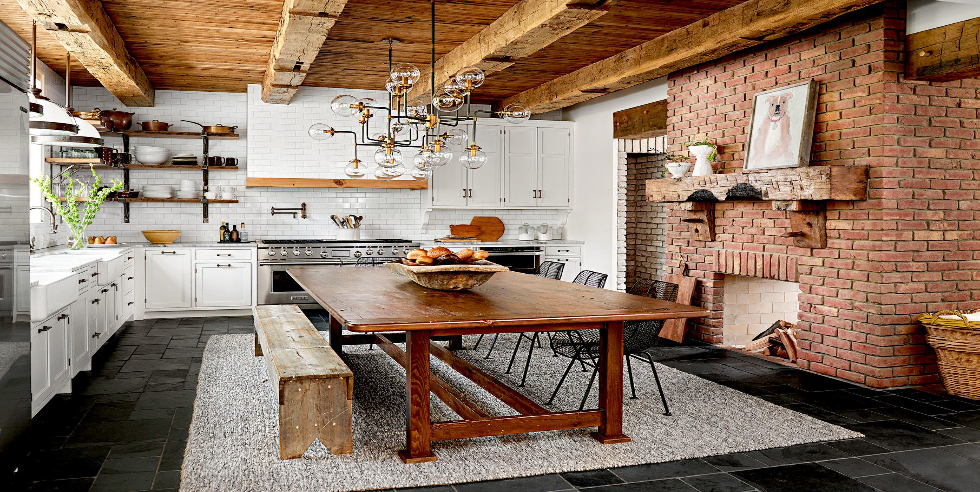 If you're going for a farmhouse vibe, light-colored walls are a must. You can also use some wild or vivid colored décor pieces so that they can pop out against light-colored walls.
Avoid using colors like red, orange, or purple in your house; neutral hues will help make it feel more relaxing and inviting. However, this need not be a hard-and-fast rule.
Of course, you are free to add as many colorful accents as you like!
Additionally, for a more rustic, farmhouse vibe, try incorporating wood in a variety of shapes into your decor. Especially choose vintage wooden spindles.
Or you might construct a farmhouse-style sign out of old barn wood, like a bakery sign that can be fashioned out of wood saved from your childhood home.
3. Spray Paints Metals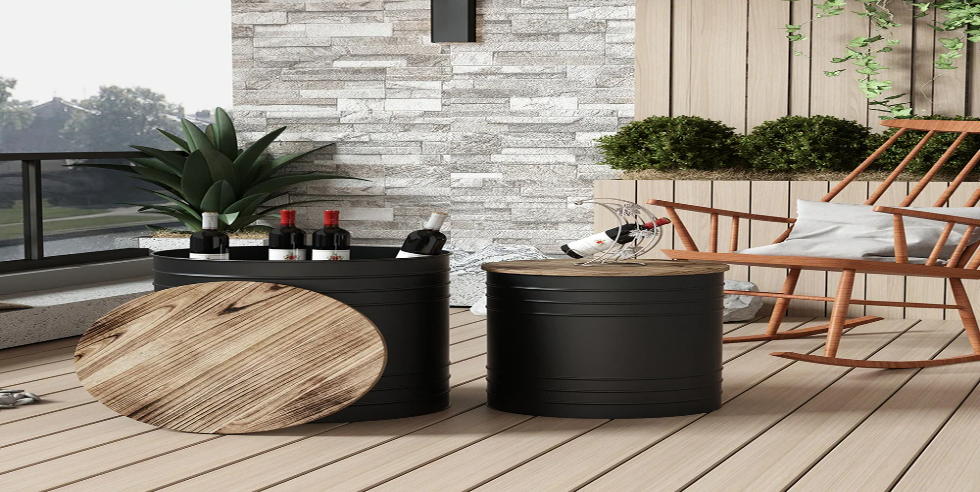 You may give your living area a barn-like appearance by painting the metals using spray paints. Prefer spray-painting every metal in your collection to be of the same color.
Any coffee table legs or drawer hardware can need a fresh coat of paint! Spray paints make it extremely easy to cover any surface without the need for painting skills.
However, to ensure that you do it correctly and it lasts, you prefer to follow a decent DIY. Additionally, be sure to securely complete it outside to prevent spills into your living area.
You can also utilize metal accessories to add the functional element of farmhouse aesthetics. You can upcycle a galvanized barrel to a side table or ottoman stool.
All you need to do is cover the opening of the barrel using a wooden plank. You can also paint it of your choice.
Also Read: 12 Stunning Modern Farmhouse Exterior Designs
4. Employ a Recycled Wooden Palette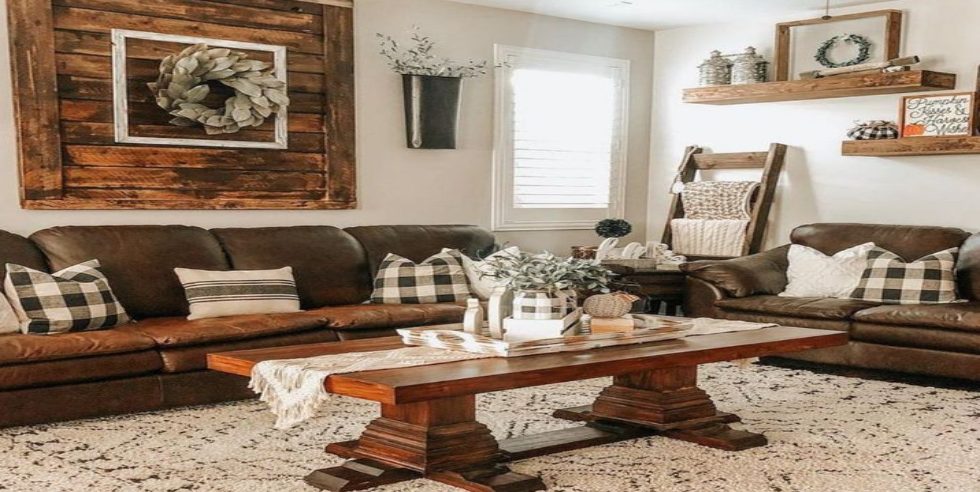 Save your old wooden pallets by spray painting them and using them to create a gorgeous set of tables and chairs.
For instance, you might have an old wooden ladder collecting dust in the corner. It can be repurposed into a one-of-a-kind bookshelf that adds a touch of rustic charm.
Vintage crates can find new purposes as stylish storage units, creating both functionality and aesthetic appeal.
If you don't have wooden pallets at your home, you may simply get them from websites that buy and sell them at low prices.
You can also choose to DIY rustic chairs and tables that are simple to create. This is a great way to save money.
Besides, it also adds a differentiating factor which is bound to get appreciated by the guests.
By creating your furniture, you get the power to customize the dimensions according to the space available. This makes DIY furniture extremely ideal for small living spaces.
5. Farmhouse Lights to Create The Vibe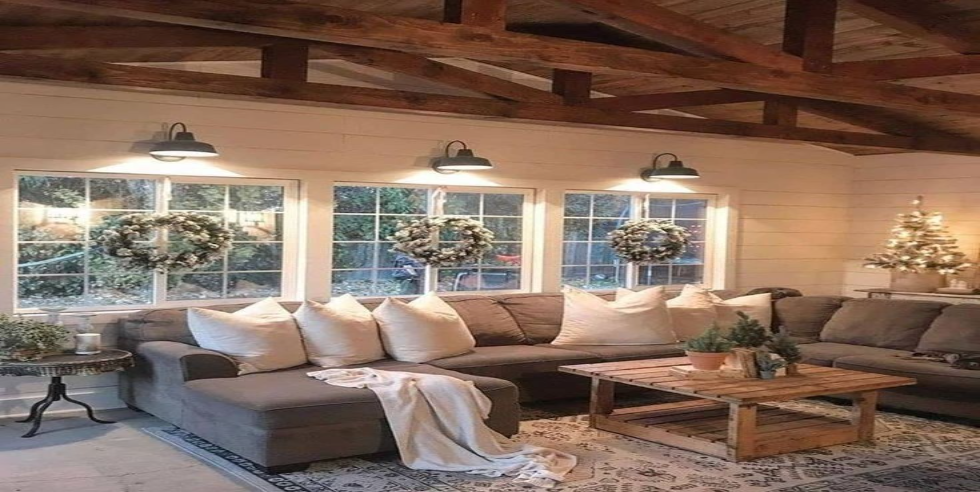 A light fixture is among the quickest and simplest methods to alter the atmosphere of any area. It's a certain method to alter the mood in any space without spending a lot of money or effort.
Your living room's overall atmosphere can be greatly improved by updating your outdated lighting! If you keep an eye out for deals, you can accomplish this quite inexpensively.
Lighting fixtures in your living room and kitchen can often be installed for less than $300. Put your alerts on for sales so you can take advantage of the fantastic discounts as they appear!
However, it takes time to update your living room on a budget.
Some things might just need a little polishing or a fresh coat of paint, but for a few bucks, they can look like a million dollars.
Make sure your home has a range of light sources, such as table lamps and floor lights, to enhance the opulent atmosphere.
6. Add Distressed Elements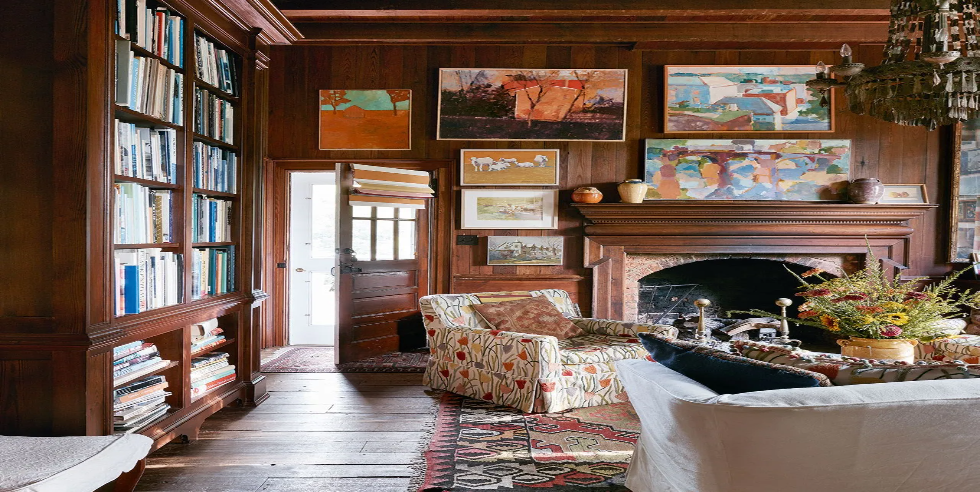 Incorporating distressed elements into your farmhouse living room ideas adds a touch of authenticity and vintage charm. Old furniture pieces have weathered finishes and subtle blemishes.
These imperfections help them to tell their own unique stories and evoke a sense of nostalgia.
Whether it's a beautifully aged coffee table with peeling paint or a vintage sideboard showcasing the marks of time, these pieces become the focal points of your living room.
But distressed elements go beyond furniture. Vintage doors and windows, with their chipped paint and worn edges, add a unique architectural element to your space.
They can be repurposed as decorative wall hangings, serving as a reminder of the simplicity and character of farmhouses past.
The addition of these salvaged pieces creates a sense of history as if you've brought a piece of the countryside inside your own home.
To enhance the distressed look, consider incorporating other elements, such as reclaimed wood accents or vintage signage.
Incorporating distressed elements into your farmhouse living room not only adds visual interest but also creates a warm and welcoming ambiance.
See More: 12 Stunning Farmhouse Fall Porch Decor Ideas
7. Add the Green Element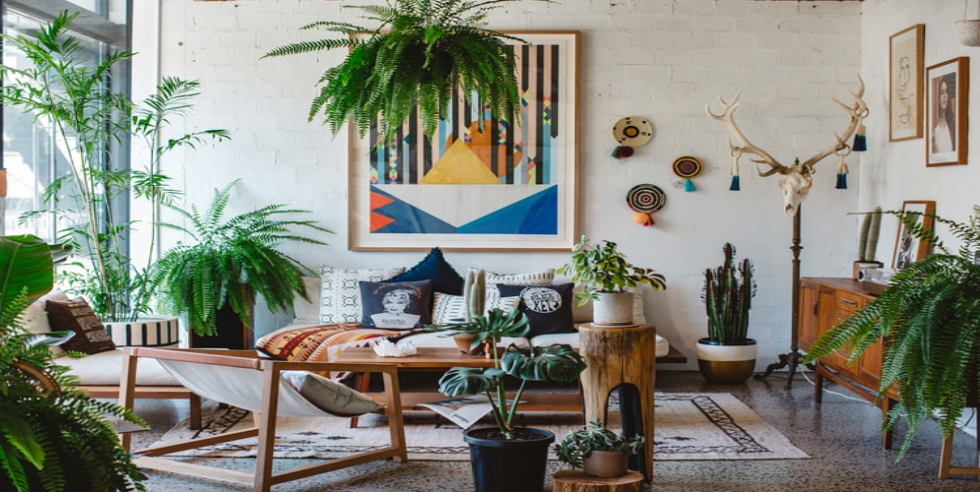 Adding plants and other greenery is a terrific way to create an outside, rural atmosphere. Having plants in your home is good for your health.
According to legend, plants purify the air! Researchers say spaces containing plants have lower levels of dust and mold than spaces devoid of any vegetation.
For a modern farmhouse look, set your plants on shelves, a fireplace, a console, or a sidebar in attractive vases or baskets.
The plants will give the design a lot of vitality, which also adds to the overall farmhouse living room style. Can we also agree that a stunning white accent wall with a shiplap looks fantastic?
Farmhouse décor must include plant-based decorative items that are a nod to nature. All you need to bring spring into your home are cute flower baskets and tiny flower pots.
Without spending a lot of money, you may create a piece of art using the flowers in your yard.
8. Farmhouse Artwork and Other Things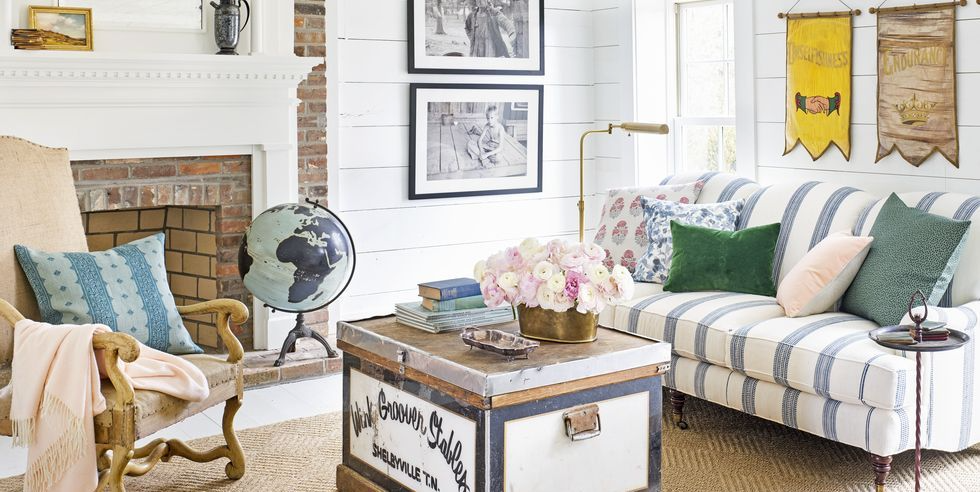 A farmhouse-style home would be lacking without works of art with rural farm themes. This will be the piece that most accurately captures the style of your house as well as the owner's unique style.
If you don't have much time or aren't a skilled painter, pre-printed canvas paintings are an excellent alternative.
You may engrave your name on any of the many shapes and sizes of custom canvas prints to make them uniquely yours.
The next step is to swap out your plain carpets for rugs with striking patterns to draw attention to your house. When choosing a carpet, you need to adhere to a few rules, the first of which is the size rule.
You must first determine the size of the couch set to choose the proper carpet since the carpet in the guest room is typically placed beneath the sofa.
This will help the space sound more harmonious. The next step after painting and rearranging your furniture is to update all of the soft furnishings.
Any fabric or material that you have on hand can be used. You don't need to see a designer and get custom drapes for a nice space.
Related: 30 Farmhouse Porch Columns to Create an Impressive Entryway
Quick Tips to Get Farmhouse Aesthetics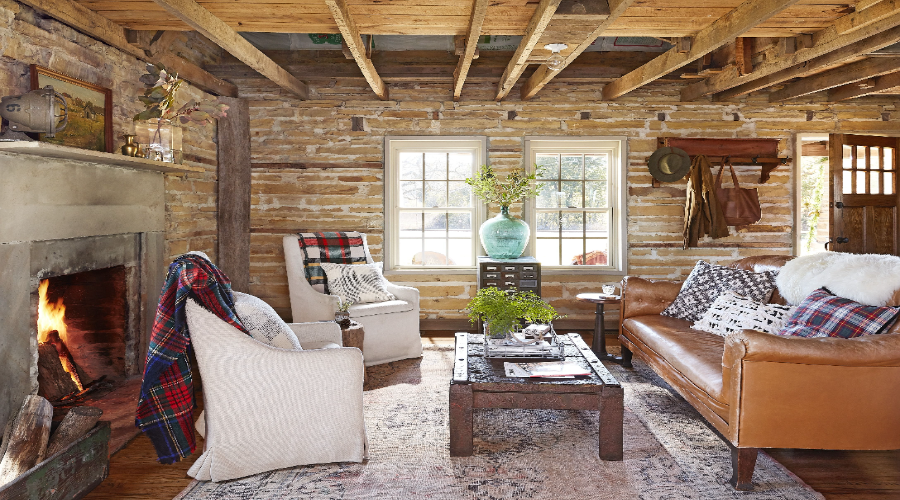 Embrace the art of upcycling and turn discarded items into charming farmhouse decor. Use thrift stores and flea markets to get vintage furniture pieces and antique accessories at low prices.
Wake up your inner craftsman with DIY projects that can help you infuse farmhouse charm into your living room. Engaging your creative side through DIY projects will allow you to tailor your space to your personality. Besides, the satisfaction of seeing your creations come to life is priceless.
Make use of obvious decor pieces like vintage signs and galvanized metal accessories. You can also use textiles like soft blankets and vintage-inspired patterns to add coziness.
Decorate your space with fresh flowers, potted plants, and natural elements. It will help you create a vibrant and refreshing atmosphere. It will also help you to connect your living room to the beauty of nature.
Choose neutral, earthy tones for a serene backdrop. You can never go wrong with farmhouse aesthetics with pastel and rustic walls and decorations.
Repurpose old furniture with distressed finishes. Incorporating distressed elements, such as worn-in furniture and vintage doors, adds a sense of authenticity and character to your space, evoking the simplicity of farmhouses' past.
Utilize the sentimental value of family heirlooms. These cherished items carry stories and memories that can infuse your living room with a sense of history.
Summing It Up
Creating a farmhouse living room on a budget is an attainable goal that can allow you to embrace rustic charm and timeless appeal.
By implementing the eight strategies shared throughout this guide, you can transform your place into a space that exudes warmth and character.
Besides, don't underestimate the power of thrift stores. They will help you discover vintage furniture pieces and antique accessories that are one of a kind.
Ultimately, the key to achieving a budget-friendly farmhouse living room lies in creativity, resourcefulness, and a passion for curating a space that reflects your style.
Remember, it's not about how much money you spend. It is about the love and attention you invest in curating a space that reflects your style and allows you to indulge in the rustic allure of farmhouse living.
So, embrace the beauty of simplicity, infuse your space with character, and enjoy the fulfillment of creating a farmhouse living room that welcomes you with open arms.
Check This Next: About Us