When you are tight on space, you want to use every corner of your space optimally, so why overlook your sofa? A couch with storage is an incredible choice for small spaces and living rooms.
They look like everyday contemporary couches, but they come with much more than just that to up your organizing game. The Extra storage space will help you keep your home organized and clutter-free.
There are countless ways to use the storage spaces on the sofa. You can use this space to store your blankets, pillows, or items that do not need to be in sight every time of the day. This multi-purpose furniture piece is functional and accessible at the same time. But if you think these pieces are boring and not stylish and attractive, we can prove you wrong.
Here are our top 10 couches with storage for you that do not just function well but also come with modern and chic designs to fit perfectly in your urban-styled home.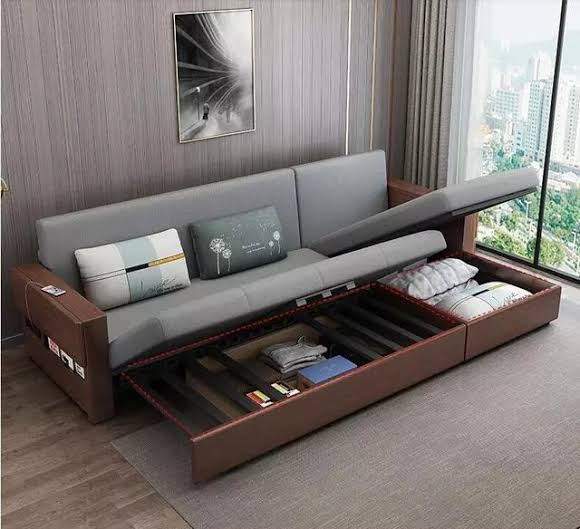 This convertible sofa with storage is equipped with modern and useful features like side pockets and USB charging ports along with pull-out storage under seats and chaise storage space.
It can also be converted into a bed and can also contain all necessary bedding materials like sheets and pillows, making it a complete bedding solution. You can access the side chaise storage by just lifting the top. The bottom storage needs to be pulled out.
This is the best sofa for a small space apartment house because it provides you with an extra bed for guests, extra storage space, and a modern look that goes perfectly with an urban-themed home. The USB portal and the side pockets add a little more convenience.
Similar Post: 10 Versatile Modular Sofas You Need in 2023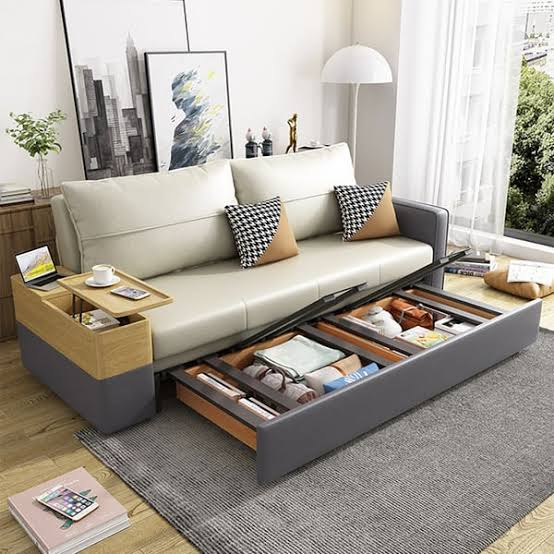 This versatile storage sofa can take your style and storage game to the next level. The modern, sleek design of this multifunctional couch with storage and extendable bed is exceptional.
This sofa is an example of how multi-purpose furniture can also be stylish. It comes with a large pull-out drawer and a lift top side arm with additional storage under it. The size of the bottom drawer is quite large and can accommodate much of your mess, and the side arm storage can be used to keep your magazines, remotes, and chargers.
This sofa is a complete storage solution and is ideal for a small-spaced living area. It has a sturdy iron frame and deep, high-density foam seats.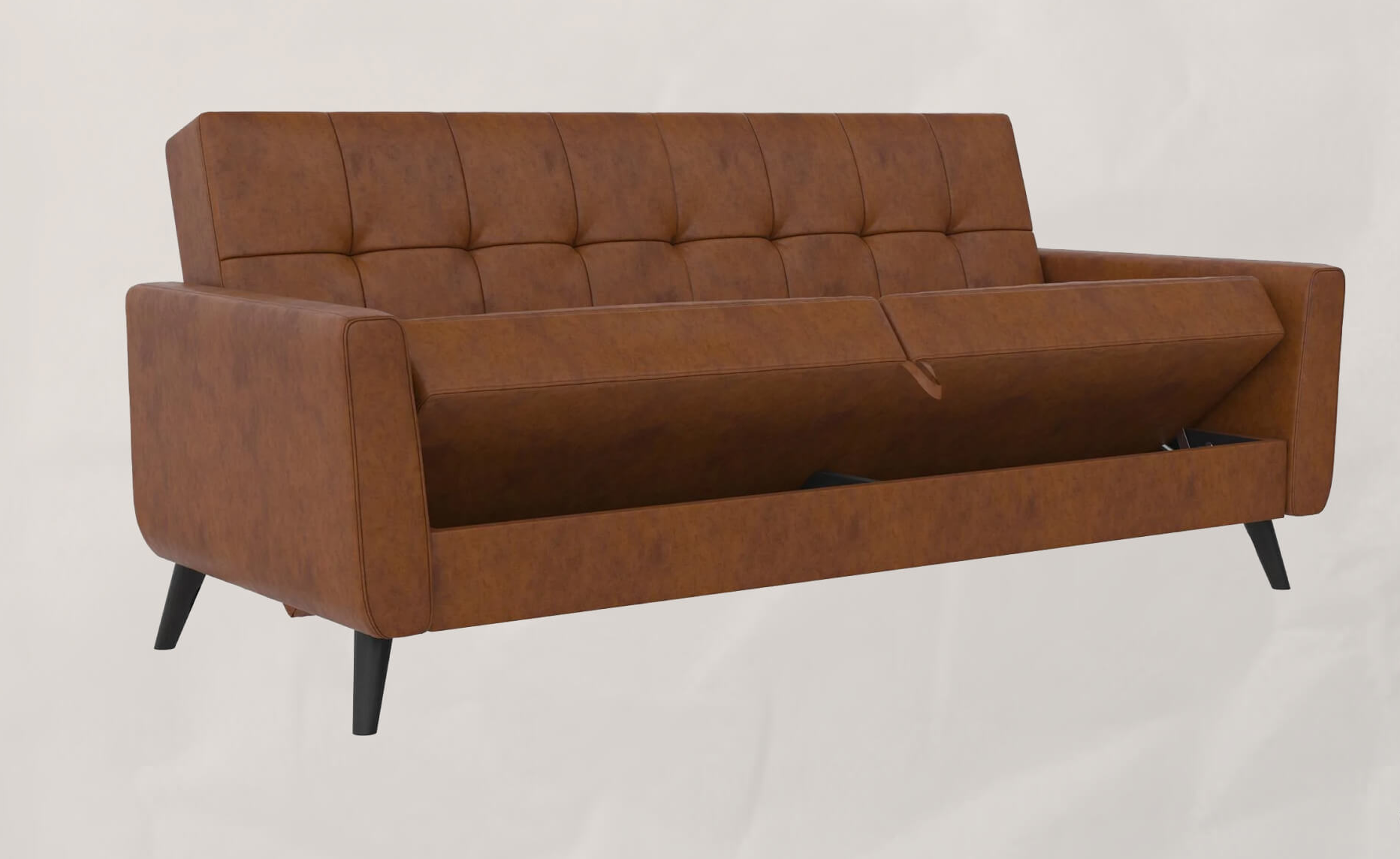 This futon is designed for people who do not want to compromise on style and looks for the sake of getting some extra storage.
This piece looks extremely stylish with its sleek look and comes with a surprise of full-size hidden storage under its seat. Additionally, this futon can easily switch between a sofa, a recliner, and a bed.
The tufted buttoned seats, the leather finish, and the leg frame give a very sophisticated look, and no one can guess there is a storage compartment beneath it by the looks of it.
This futon couch with storage proves to be extremely useful in your small spaces, living room, or home office where there is too much stuff, and extra storage is always welcome.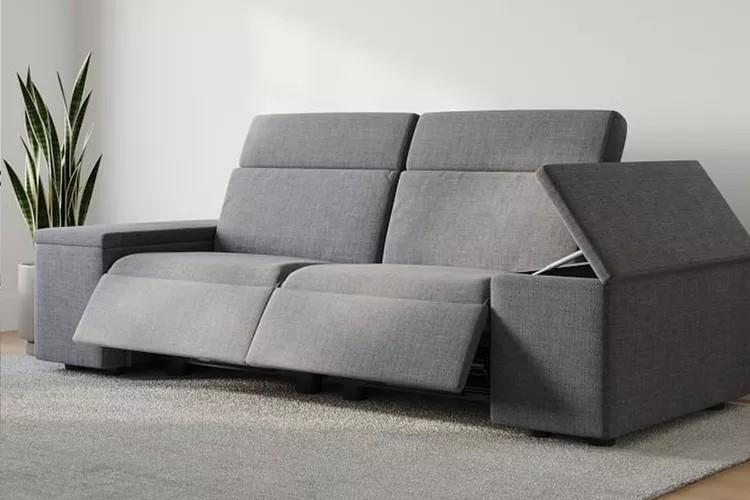 You badly want a reclining sofa on which you can spend some good time watching television but do not want to miss the storage space with a traditional sofa?
We have got you sorted. This reclining sofa with storage has two huge compartments under its arm to keep all your stuff like remotes, magazines, extra pillows, and whatnot.
This sofa is stylish, simple, and gives maximum comfort. It is designed for convenience; you just need to push a button to convert it into a recliner, and the best thing is you do not even need to get up to grab your remotes and cable because it can all be stored under the armrest. It also comes with a USB port for charging your phone.
Also Read: 8 Best Futons to Utilize Small Spaces that Look Great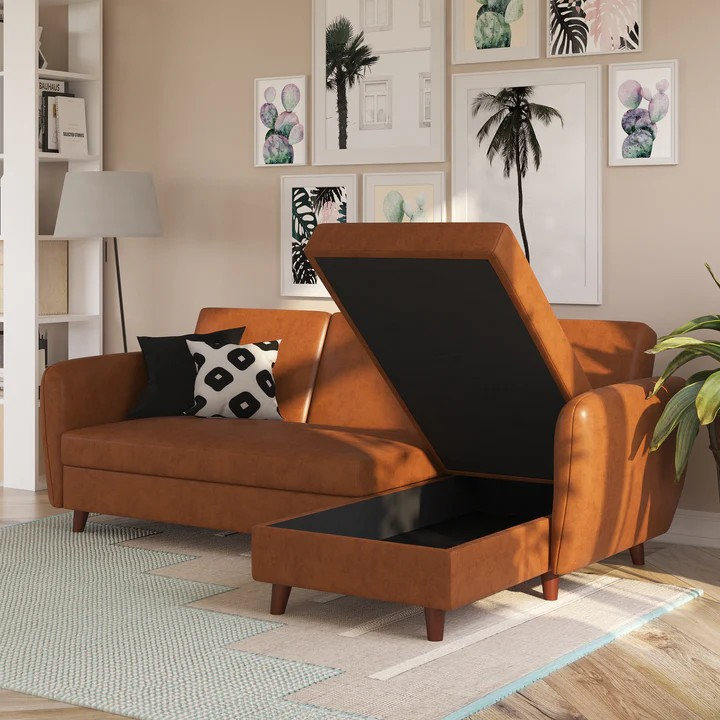 This L-shaped sofa features a hidden storage compartment in its chaise. You can lift the seat to access a full-size storage compartment that can be used to stuff your blankets, pillow, or sheets. This sofa also turns into a bed when the backseat is pushed back, making this piece of furniture super versatile.
This sectional sofa with storage is specially designed for small living rooms, small offices, or any compact space. This storage chaise can be configured on any side of the sofa according to the space and setting of your room. It has a durable and solid wooden frame and a sleek modern look that easily matches the theme of your home.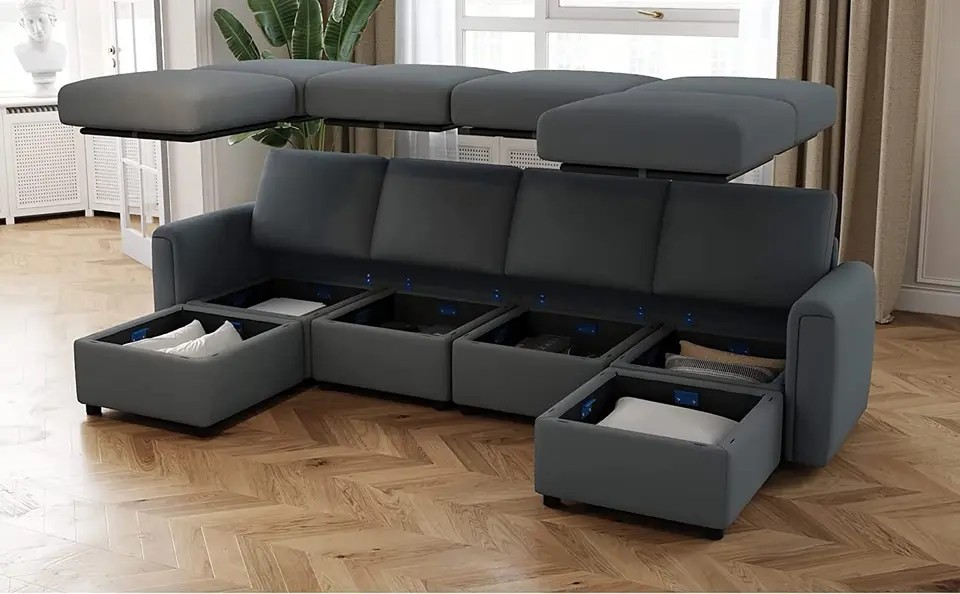 This modular sectional couch with storage is a complete package for your living room. You can get these customized in an L or U shape in the color of your choice.
You can easily set this sofa at your convenience and change the direction of each seat freely, as each seat can be easily separated from the other.
Each seat has an individual storage box that opens up when you take the seat off. The separated box allows you to organize your items in assortments, and they are very easy to pull out from the box. They are big enough to store your board games, pillows, sheets, blankets, and more.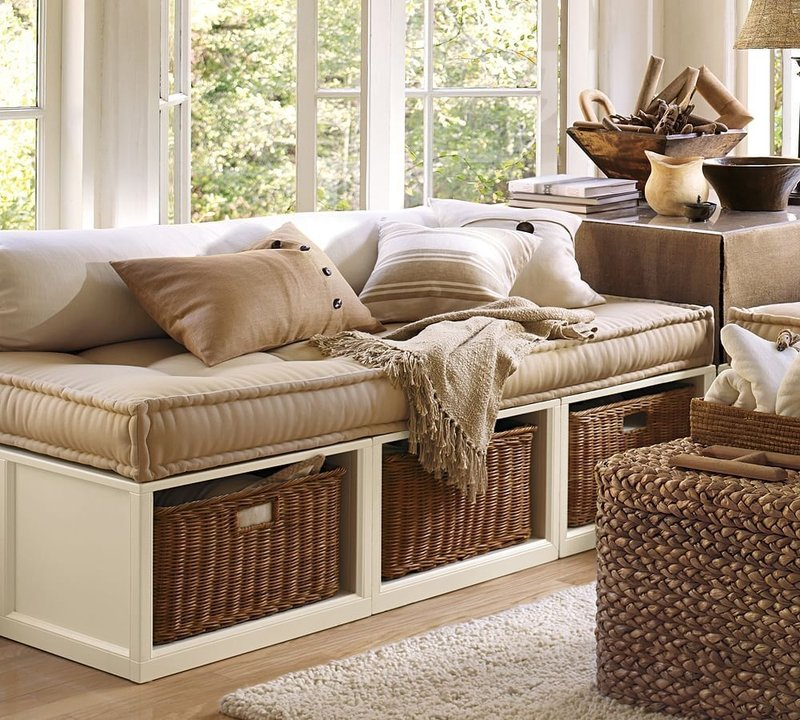 This single piece of furniture plays the role of a sofa, a bed, and a storage element all at once. This is the most versatile piece you can accommodate in your living room.
It is simple, solid, and super functional. The complete frame is made of hardwood, and it also comes with a cushioned backrest—three huge compartments on the bottom help you keep your home organized.
You can use the storage space that comes with this daybed as per convenience in so many ways; here, wicker baskets are used as they are quite easy to access, but you can get it done as per your choice with shelves or drawers. This daybed sofa with storage comes in a neutral color to blend in easily with your living room theme.
See More: 12 Modular Shelving Designs to Maximize Your Home Storage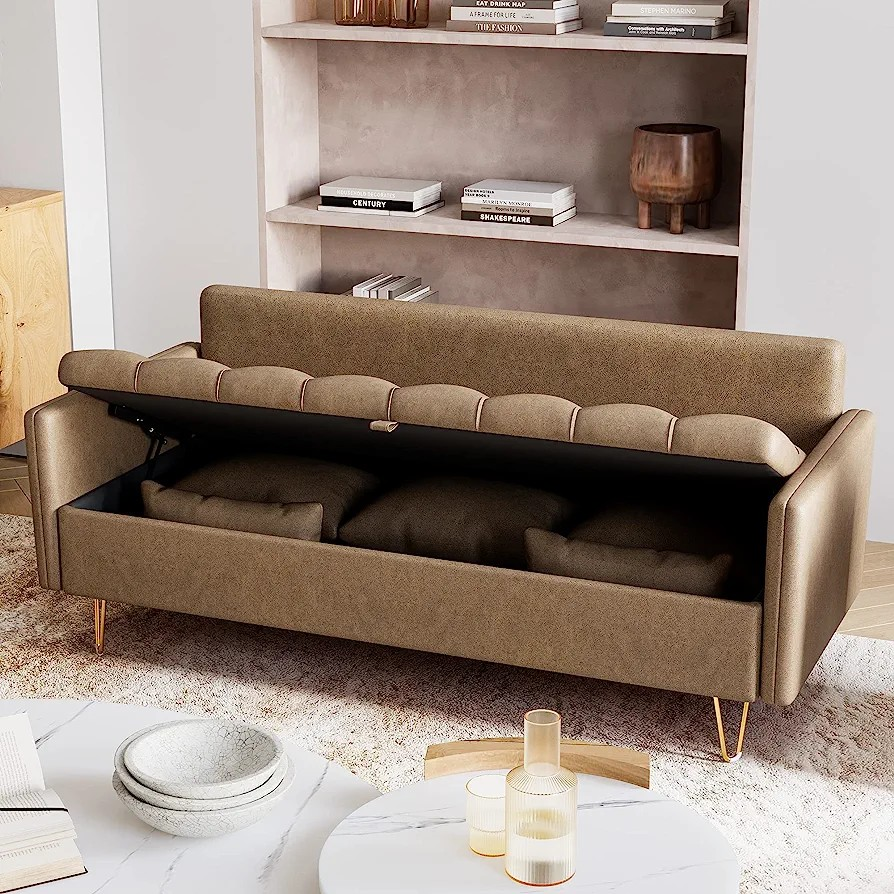 This three-seater couch with storage has a very contemporary design to go with every style of living room or lounge area; it is stylish as well as equally functional.
There is a lift-up storage compartment under the seat, which is spacious and provides ample space to keep your living room essentials. There is one single long compartment which is very easy to access.
The best thing about this couch is it doesn't look like a traditional sofa with storage because of its sleek build. It is made with faux leather and a wooden frame, which ensures durability and sturdiness. The elegant tufting with buttons and gold metal legs adds a touch of elegance and classiness to your living room.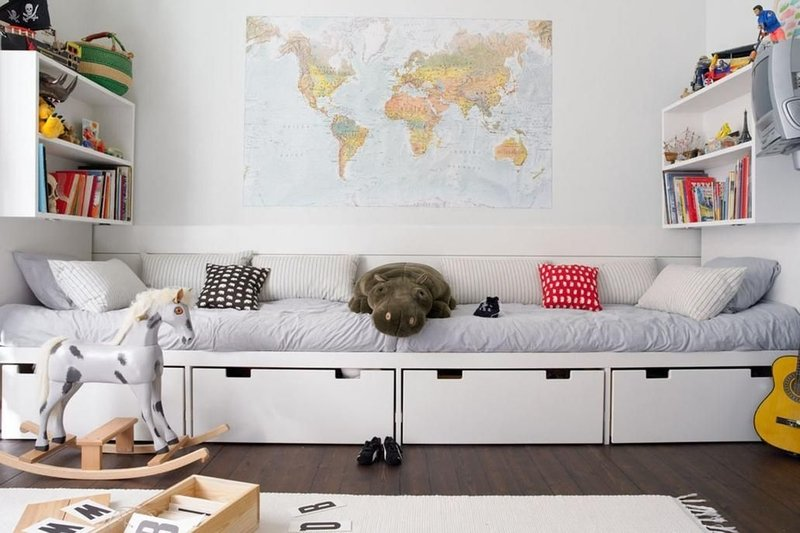 A longitudinal sofa with storage drawers is a perfect fit for a compact living room or even for a kid's room. This longitudinal sofa bed is usually set from wall to wall, which makes the place feel very cozy.
A mattress seat and headboard make this extra comfy, and you can add as many pillows as you wish because this sofa is slightly bigger than usual. The storage drawers are deep and wide and can fit extra bedding, toys, winter clothes, and so much more.
It has a very functional design and charming details, which gives your space character. If your living room is like a small rectangular box, consider getting things set on the smaller end.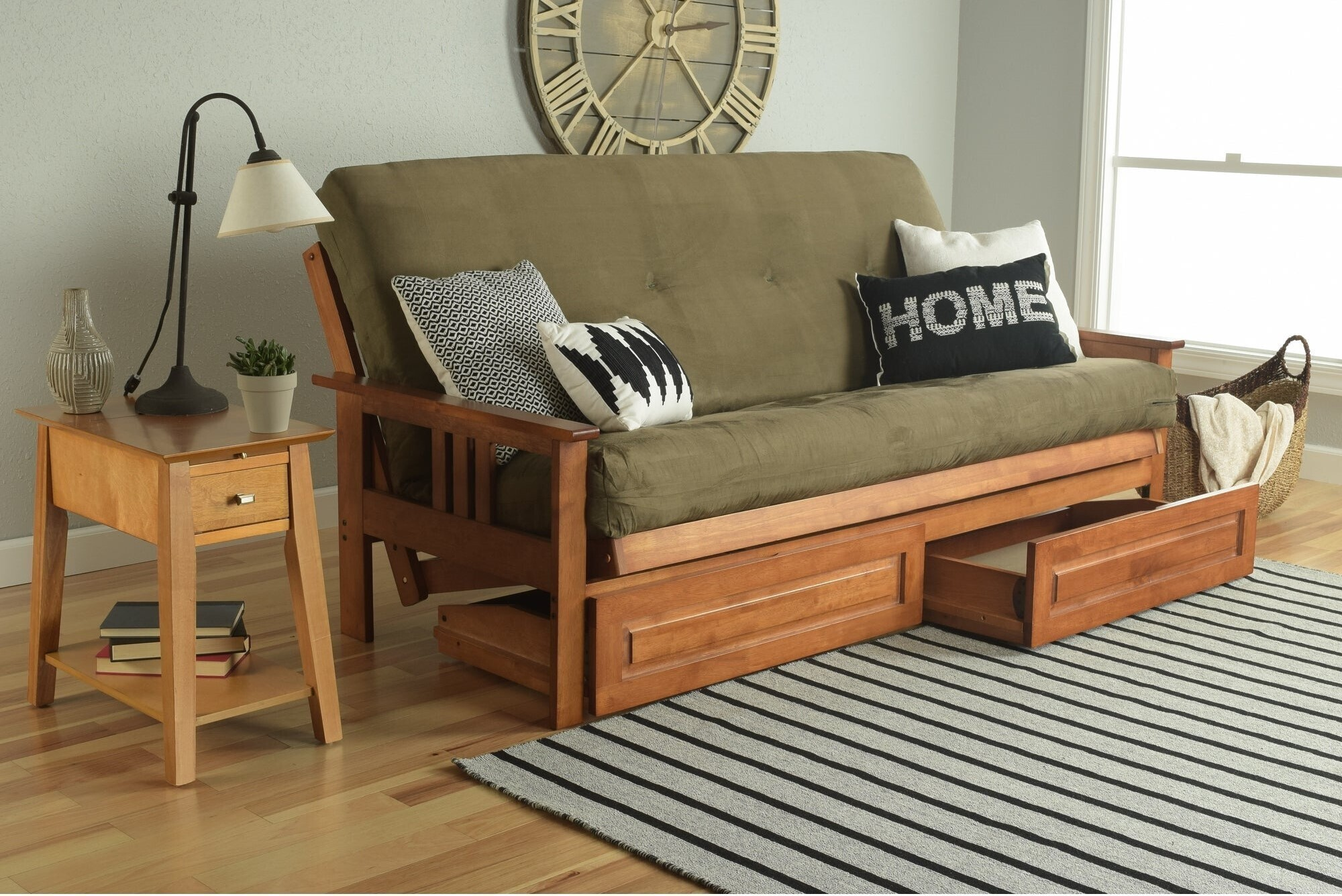 This wooden sofa with storage doesn't make an overwhelming presence in your already small living room; it is simple, functional, and compact.
From backrests and arms to storage drawers, everything is made from solid wood, which ensures sturdiness and durability. Two storage drawers at the bottom are easily accessible and have enough space to store everything, like pillows and sheets or your kid's toys.
The honey oak finish and clean craftsmanship make this furniture very versatile, as it matches almost any kind of home decor and theme easily.
The full-size frame gives you excellent support to sit and lie, and the mattress is also comfortable and can be customized in any kind and color of fabric you want.
Related: 18 Best Modern Couch Designs to Try in 2023
Conclusion
All in all, the designers understand the importance of extra storage in urban-style homes, which are usually tight on space. Multifunctional pieces not only serve the basic purpose but also enable you to keep your space organized and clutter-free.
So, if you are looking for some extra space to stuff your lung room clutter, a couch with storage is what you need. These stylish couches with storage will help you achieve a perfect balance of style and functionality in your living room.
Remember the space of your living room and its theme before investing in a storage couch. Most of these couches have easy accessibility and simple mechanisms to reach for the items in the storage.
We hope our collection of top 10 couch with storage gives you an insight into the options you can get and help you pick one for your space, too!
Frequently Asked Questions
What to Consider Before Buying a Couch with Storage?
A couch is an investment in your home that is probably going to be there for quite a time, so before you buy a new sofa with storage, it is necessary to keep three things in mind,: comfort, space access, and durability.
Which is the Most Popular Storage Sofa Shape?
There are different types of sofa sets that come in all sorts of shapes. It highly depends on the space of your living room and which shape suits you best. But, a rectangular sofa and an L-shaped sofa are the most popular buys among homeowners.
Can Storage Sofas Also Be Stylish?
Some brands may prioritize function over style regarding sofas with storage, but many design them with modern cuts and style. So, you just need to look in the right direction. The sofas mentioned above are all stylish and functional at the same time. Just pick whichever suits your taste and the theme of your living room.
Check This Next: Top 16 Most Comfortable Couch to Relax on In 2023