Looking for a space-saving furniture solution for your home? Futons can be the ideal option for your home. Futons are becoming popular in modern lifestyles and interior designs for their compact and space-saving characteristics. Nowadays, many people prefer to install space-optimized Futons.
Also, their sleek design and compact structure make them look stunning and ideal for modern house architecture. Plus, installing Futons has multiple benefits. Futons help you save space and maximize the use of one piece of furniture.
They also look stylish and reduce spending on numerous pieces of furniture by incorporating different furniture. Space-saving Futons can work simultaneously as a sofa, lounge, bed, and even additional storage. Today we will discuss the best futons for 2023 that are space-saving and stylish.
What is a Futon?
Futon is traditionally a compact sleeper. A futon sofa can be transformed into a bed. They are often associated with college dorms for their space-saving nature. Japanese bed setups inspire this space-optimized piece of furniture.
Traditional furious are thin mattresses that used to be placed on the floor or over a floor mat for sleeping. Also, one can fold and keep them away when not in use.
When Futons are introduced to the Western world, they appear more flexible and spine-aligned than typical American mattresses. With time the Futons become thicker, cozier, and more versatile. Today most Futons come in sofa cum bed style that you can install in any corner of your house.
Best Space-Saving Futons
Futons are space-saving and versatile. They reduce the need to install multiple pieces of furniture and help to maximize the use of one piece of furniture. Modern Futons are versatile and easily blend with different interiors.
Below we will list the 8 best futons for 2023 that save space and look fantastic.
Similar Post: 10 Stylish and Functional Couch with Storage in 2023
A Foldable Futon bed is one of your home's most space-saving and stylish options. The foldable Futon beds are ideal for a modern home setup. Their sleek and modern design helps them fit any room corner.
Also, when you install a foldable Futon bed, you can use it as both a sofa and bed without needing to install two pieces of furniture for your room. They are readily convertible from sofa to bed, and you can change them into a couch or bed according to your needs.
Furthermore, the foldable Futon bed's metal frame and stretchable material create a durable and comfortable seating and sleeping solution. And if you want to make it more comfortable, you can add cushions and an extra mattress.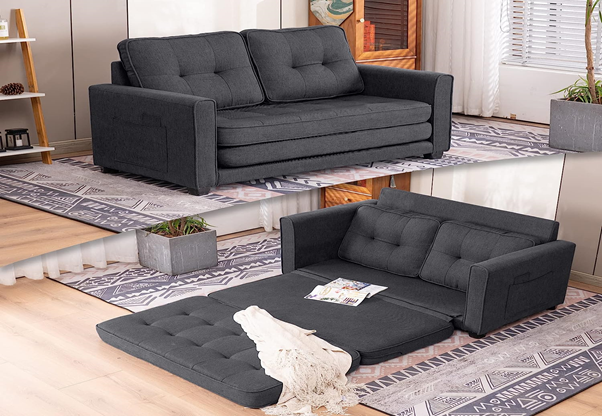 Loveseat Futons are one of the best futons and are ideal for studio apartments or any compact area. They are also famous and widely used in house and office environments.
They can be paired well with studio apartments, small apartments, and any modern house setup. You can place them anywhere in your house, living, bedroom, or guest room as an ordinary loveseat sofa and convert them into a twin mattress when you need an extra spot for sleeping.
They are easy to use and do not require much hard work to transform into a sleeper from a cozy loveseat.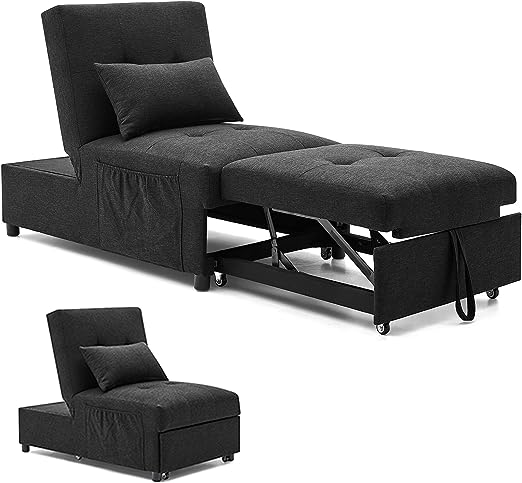 If you are looking for the best futons for your home, you can get various space-saving and stylish options to incorporate. However, if your motto is to maximize the use of one piece of furniture, a convertible futon with Ottomans is the best option.
Convertible futon with Ottomans takes the basic concept of futon to another level by adding storage facilities. They come in the form of a sofa set with two Ottoman tools. You can fold the sofa and attach two Ottomans to create a bed. Also, you can use the Ottomans to store small things that scatter around your room.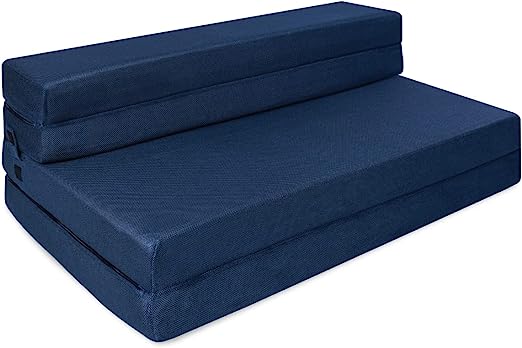 Looking for the best futons for modern home decor? Armless Futon can be an amazing option for you. The armless Futon has a sleek appearance that goes well with a modern and minimalist room setup.
Also, the armrest less futon provides a good sleeping spot, especially for tall people. Armless Futon offers more space than any ordinary sofa when you use them as a sofa. These futons provide more space and comfort; you can get them in various colors.
It makes it easy to coordinate with your room interior and make the most of your investment. Armless Futons do not have a traditional look, and you can install them in offices, studio apartments, or your living room.
Also Read: 9 Most Popular and Comfortable Pull-Out Sofa Beds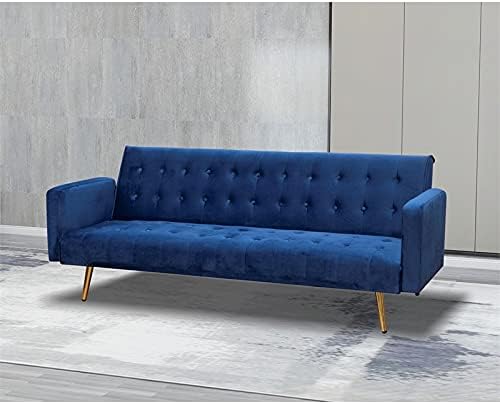 If you are a fan of mid-century interiors and want to reflect your aesthetics in your room furniture, you can try the mid-century Inspired Futons. The main feature of this futon is its sleek design and well-defined legs of the furniture.
The mid-century-inspired futons look stunning and functional. They can provide you with enough space to roll up and have a relaxing sleep. The mid-century design offers your futon a great blend of design and workability. A mid-century futon can work both a sofa and a double bed (when unfolded).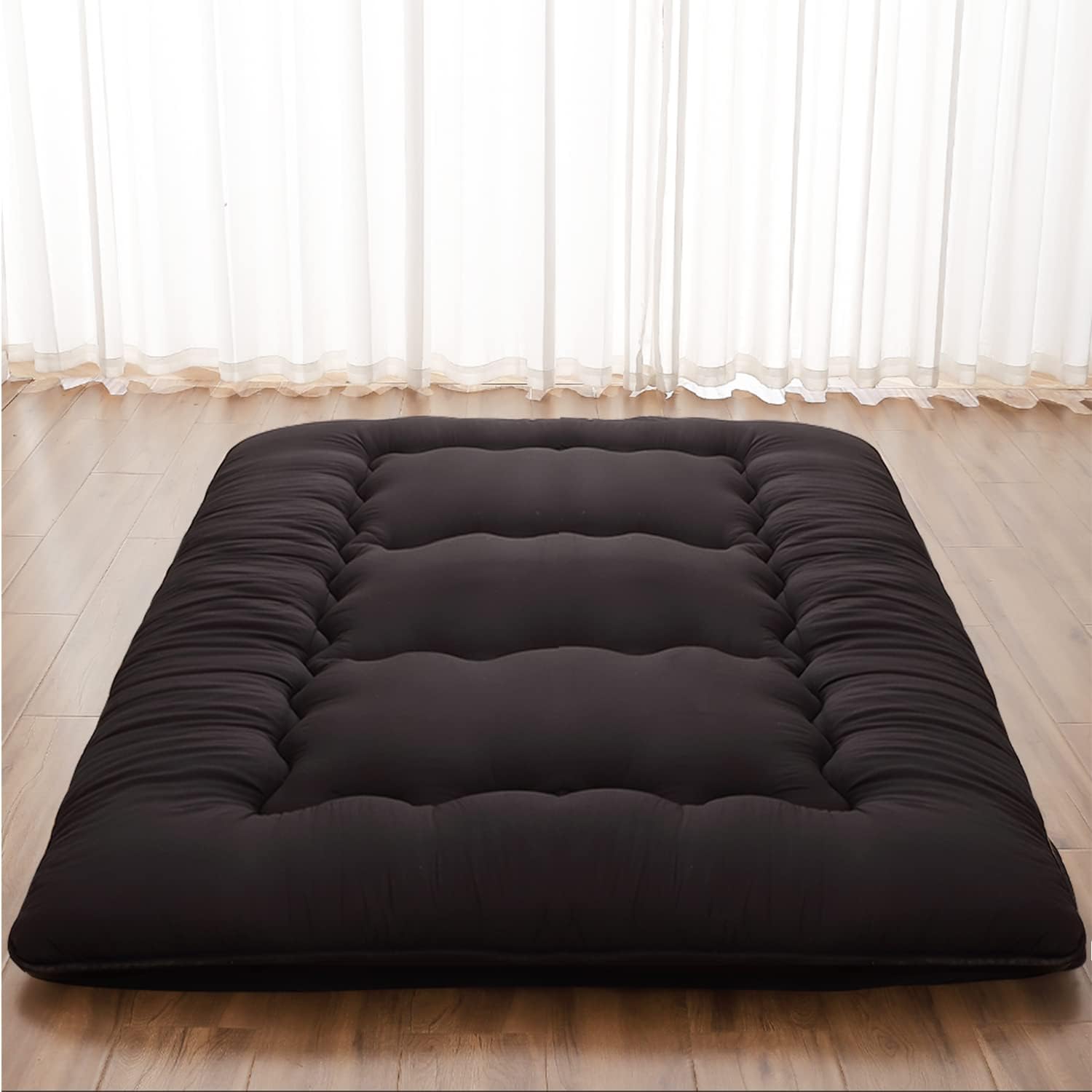 Another item we love the most is the traditional Futon Mattress. It is the most basic form of futon. A traditional Futon Mattress is a flexible and comfortable mattress placed on the floor or bed/sofa frame.
Unlike traditional mattresses, futon mattresses are adjustable, and you can fold them for seating or sleeping mattress use. Also, when you need space, you can roll up the mattress and store it in your wardrobe or store room.
They make an excellent option for homes where adding new furniture is difficult. The traditional Futon mattress is versatile, and you can use it differently.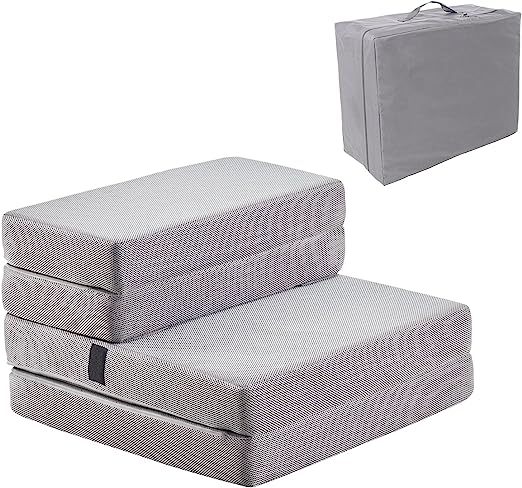 The trifold convertible futon is also one of the best futons that give you a cozy, comfortable seating solution. It looks more like a recliner sofa and follows the exact mechanism of a bifold futon.
The fold count is the only difference between a bifold and a trifold convertible futon. Trifold convertible futons have three folding sections, and the third fold often goes behind the back or underneath the futon.
It saves the space of a sofa, lounge, and bed by providing a three-in-one solution. You can find wood and metal trifold futon frames that look stylish and durable.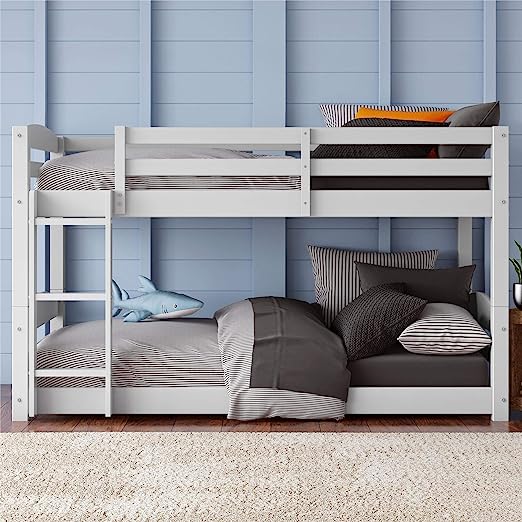 Futons with bunk beds are ideal for college hostels or dormitories as they offer compact sleeping space and can work both bunker beds and seating zones.
Also, if you have a large family or children at home, you can try Futon with a bunk bed. Most people who have kids find futon bunk beds functional and valuable piece of furniture as it creates two sleeping spot without taking up additional space on the floor.
Also, you can use the lower bunk as a sofa to sit on. The futon bunk beds are also available in metal and wood frames. You can place them in your bedroom or guest rooms.
See More: Best Alaskan King Bed Mattresses (2023)
How to Choose the Best Space-Saving Futon?
Futons are an invaluable piece of furniture that reduces the need for multiple pieces and saves space. But you can make the most of it when you choose the best futons for your home.
Below are the tips to get the best space-saving futons.
1. Material
The first and foremost crucial thing while choosing the best futons is to check the material. Futons come in various materials. Nowadays, Futons can have wood or metal frames. While wood frames give a traditional sofa-style look, metal frames provide a contemporary touch to the furniture.
2. Space
Space is another vital factor when choosing the best futons for your home. You should accurately measure the space in which you want to install your Futon and select a suitable item for your measurement. Also, consider the folded and unfolded measures of the futon to get a perfect pair.
3. Size
Futon comes in various sizes, just like the standard mattress. They are available in single bed, twin, twin XL, king, and queen sizes. So, know which size of futon mattress or sofa you need for your room. You can take the measure of your space to identify the right size of futon for your house.
4. Flexibility
Futons are all about flexibility and the ability to convert easily. The best futons will offer a highly flexible and easy-to-transform frame or mattress. So, always ensure the futon you choose is flexible enough and can provide easy convertibility.
5. Features
The features of a futon can vary from one to another depending on the style and type. For example, some futons come with a bifold, and others with a trifold. Also, some provide storage solutions, while some can have a bunk bed. So, pick a futon that combines all the features you need in a futon.
6. Durability
Another vital factor you must not forget while selecting a futon is its durability. Like any other furniture, such as a sofa or bed, your futon must be durable enough to last longer and resist damage due to scratches, moisture, and wear and tear.
7. Cost
Considering the price is also essential to get a quality product at affordable prices. The best futons will offer the best features, high durability, and stylish look at a reasonable price. Choose a quality futon that fits your budget and looks great.
8. Use
Last, consider the usage before selecting a futon for your home. For example, suppose you want a futon mainly for seating and occasional bedding. In that case, you can opt for a wood frame that is harder to convert than a contemporary-looking metal frame futon.
Related: 6 Short Queen Mattresses for a Blissful Sleep in 2023
Conclusion
All in all, futons are useful, versatile, and pretty-looking furniture with multiple uses. They can work as a bed, sofa, and storage all in one without investing in separate furniture. Also, they come in various styles and designs.
They reduce the need to install multiple pieces of furniture and help to maximize the use of one piece of furniture. Modern Futons are versatile and easily blend with different interiors.
For instance, modern Futons come in various materials and unique features. Some come with wooden frames and armrests, and some with metal frames without armrests. The best part of Futons is that they are space-saving and versatile.
So, are you ready to give them a try? Pick any of the above futons to upgrade your space.
Frequently Asked Questions
What Kind of Futon is Best for a Tiny Space?
Futons are the best space-saving furniture option, and you can get various types of futons that can fit in small spaces without much difficulty. For instance, you can try bifolds, loveseats, or armless Futons that take less space yet offer comfortable seating and bedding solutions.
Is Sleeping Every Day on The Futon Good?
Yes, of course! Even traditional Futon Mattress has many health benefits to use daily. Sleeping on a traditional Futon mattress helps to reduce back pain, align your spine, and prevent the wrong posture during sleep. Also, a traditional Futon mattress can improve your sleeping pattern and promote deep sleep.
Do I Need a Futon Cover?
It is not compulsory to get a cover for your futon. However, adding a cover can help to add an extra layer of protection to the furniture, like it can prevent your mattress from getting stained or damaged. Also, it will help to change the appearance of your futon and match the changing interior, such as curtains or paints, to create a balanced look.
What Kind of Futon is Most Durable?
Various types of Futons are available, but you must choose the most durable one for long-lasting use. Typically, Futons with metal frames and solid and flexible mattresses are more durable than wood frames or non-stretchable mattress Futons.
What Upholstery Options Are Available for Futons?
Various unique and interesting upholstery options are available for futons. You can have wool, cotton, industrial leather, faux leather, tufted upholstery, etc. It makes the futon more versatile and provides a vast option to match various interiors.
Check This Next: 9 Amazing Trundle Bed Ideas and Designs to Save Space