Do you want to have a dining table in your home, but space is a major constraint? Then you need to look for an extendable dining table.
As the name suggests, these tables can increase in size when required, such as when you have a few guests coming over.
A good dining table allows you to consume your meal in utmost comfort and sparks good conversations, which is essential to strengthening relationships between homes.
On the decor side, the dining table gives your room a more sophisticated and elegant look.
In this blog, we will cover the 22 best extendable dining tables for every style, which will give you enough ideas to proceed ahead and get yourself an extendable dining table.
From white Glossy dining tables to Campania dining tables, this article is your one-stop solution to all your needs.
Let's get started!
Extending Dining Tables Styles and Ideas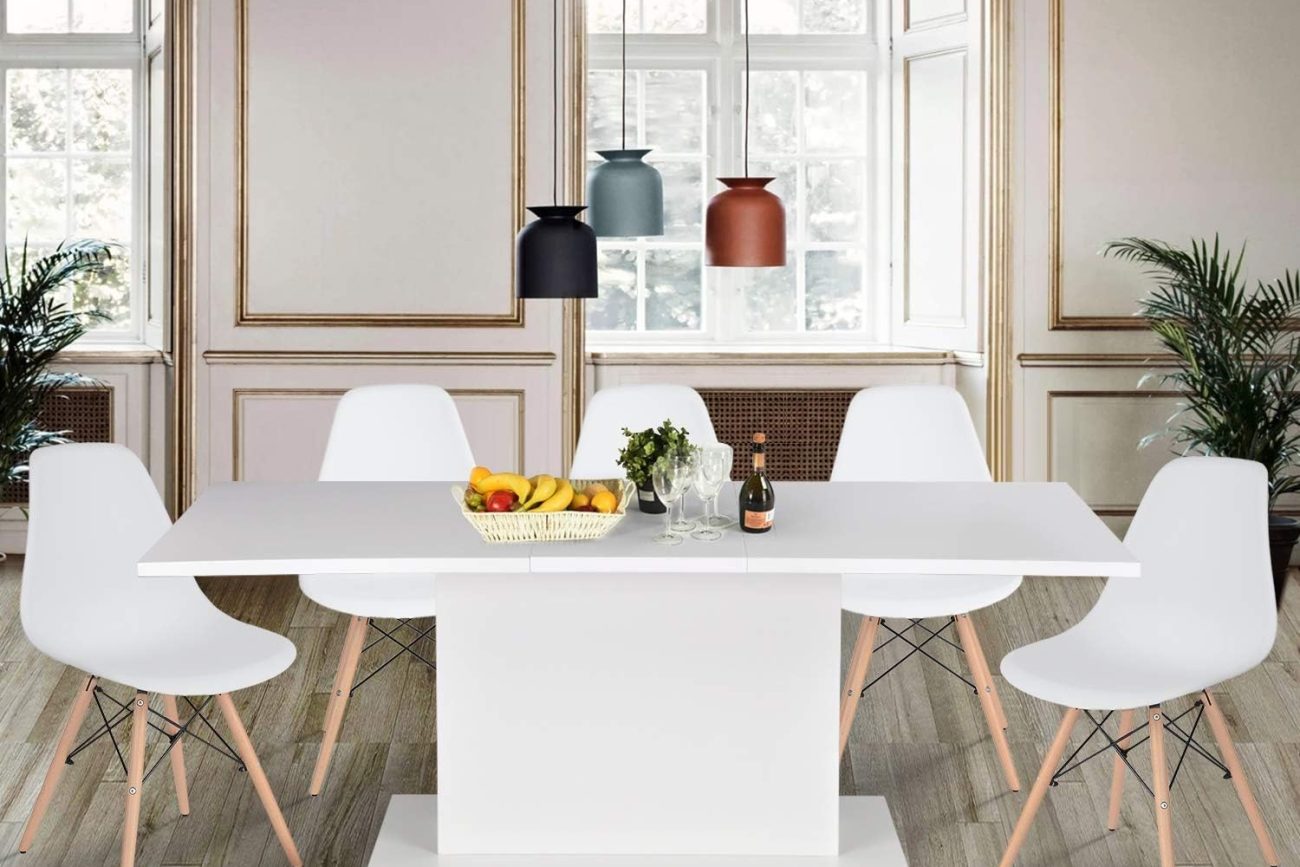 A classy white extendable dining table is sure to give your home a makeover. White, being a versatile color, complements various types of home decor aesthetics.
This table can comfortably accommodate six to eight members when fully extended. The white glossy countertop makes it easier to clean.
So if you have children or people in your family who are messy eaters, then buying this table will save you time.
Moreover, its finish comes in white and many more colors. But a white dining table will work well with other furniture and different colors of walls.
To extend the table, you simply need to extend the top shelf on either side.
Similar Post: 18 Timeless Mid Century Modern Dining Tables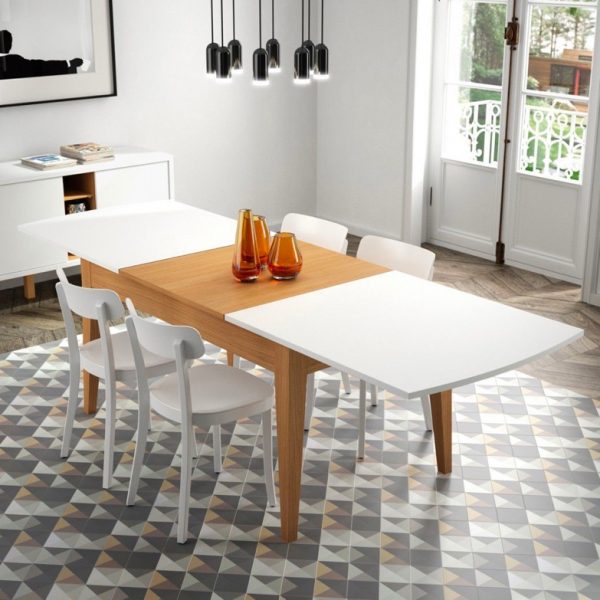 Dual-tone color combinations like white and light brown give a table a more cohesive look.
This dual-tone table, coming in white and brown, can easily accommodate four to eight people when its leaves are extended.
To have a more well-put-together look, consider pairing this extendable dining table with white-colored chairs as shown in the picture.
To turn this dining table into an extendable dining table, you simply need to pull the leaves on either side. When not in use, these leaves remain under the table.
This table is perfect for small spaces and small families who have guests coming over quite frequently.
When extended, it can double up its seating capacity with ease, i.e., four to eight, with minimal effort.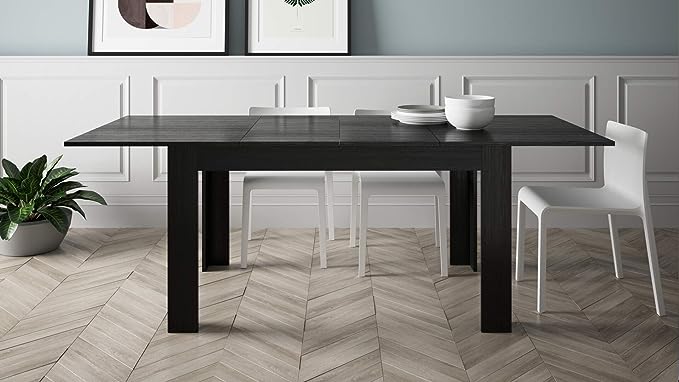 This extendable dining table has some features that will surely push you to have it in your room today.
Starting with its color, the black color with a glossy finish not only makes it look luxurious but also makes it easier to clean and wipe the dirt off.
Moreover, this table has five different options to extend this dining table. This is because it has four leaves rather than the conventional two extra leaves provided in most extendable dining tables.
Pair it with black chairs and give your dining room a complete makeover. This table can accommodate up to 10 people quite comfortably, so you need not worry about not having enough space when guests come over.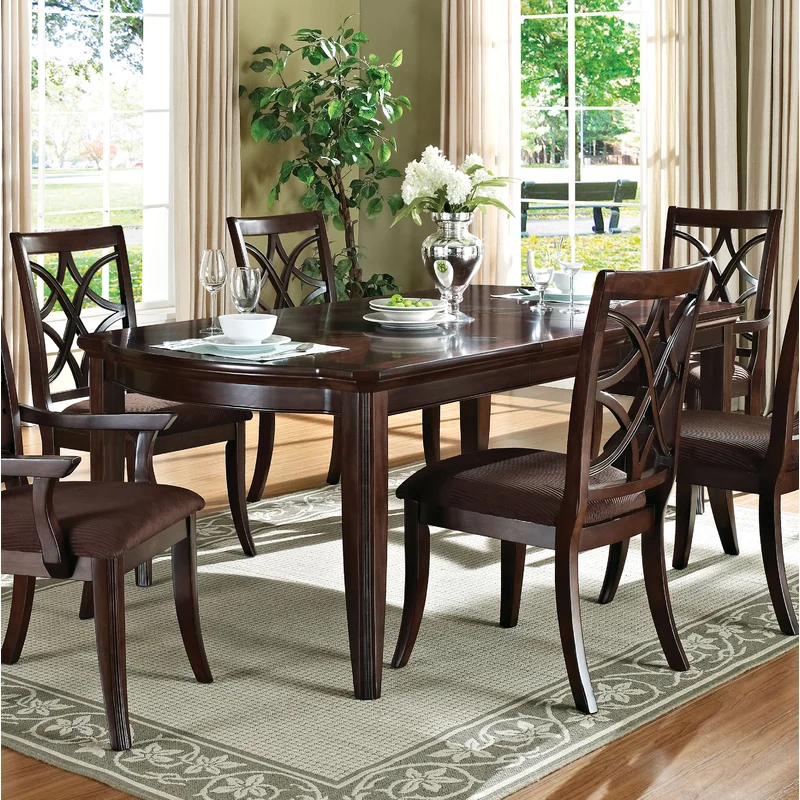 Are you a fan of farmhouse-style aesthetics and want to bring that appeal to your home? Then this farmhouse extendable dining table is for you.
With its captivating rustic look and clean lines, this table makes for a complete set. This table accommodates four people in its default setting but can seat eight people when extended.
Moreover, you can also go for the complete set, which includes matching chairs and benches to go with your extendable dining table.
The chair and bench provide the utmost comfort with their soft cushioning. Do remember that farmhouse aesthetic tends to stick out, i.e., not easily blend in with other home decor.
Go for this if you have another farmhouse decor in your home or are planning to have one.
5. Solid Wood Extendable Dining Table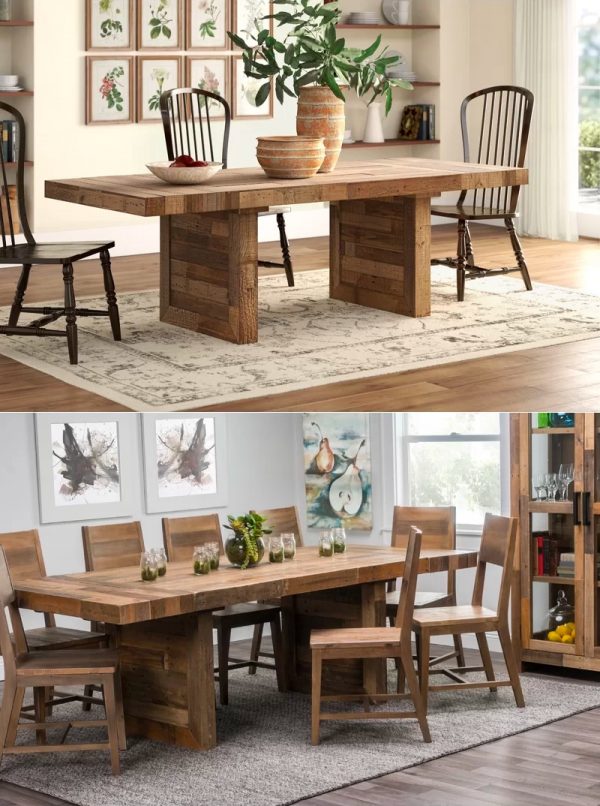 Just combine style and functionality, and look into one piece of furniture, and you will be left with this extendable dining table at the end. This table offers tons of versatility and style.
Having a naturally distressed look gives this table a rustic look. Made from solid wood, the finish of this table highlights the intricacies of the grainy solid wood giving it a premium look.
Coming to its seating, it can accommodate ten people quite easily when extended. This makes it a perfect table for various small parties and family meetings.
If you have enough space in your dining room, you can keep this table in the extended form.
This will allow you to use the gigantic countertop, on which you can put artificial potted plants or store plates and other dinner essentials right there on the table, saving you crucial time and effort.
6. Industrial Style Extendable Dining Table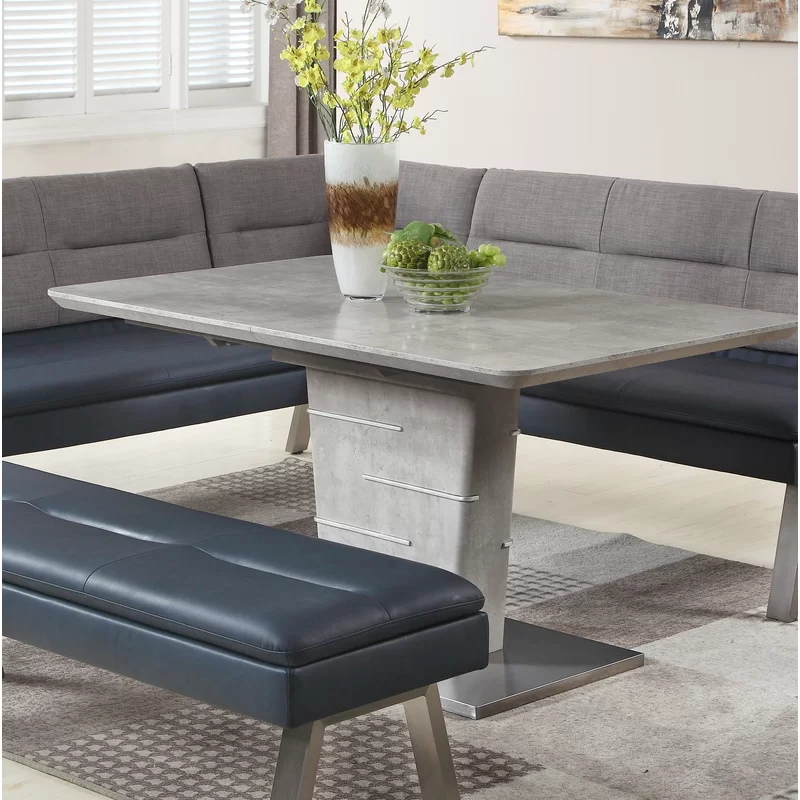 With industrial-style accents flowing throughout the table, this table equips itself with undeniable strength with the help of stainless steel framing.
This industrial-style extendable dining table is minimalist and, with its gray-colored tones, looks exquisite and timeless.
With its butterfly leaves, it can comfortably accommodate six to eight people. Moreover, your guests will feel the utmost leg space since this table has only a single broad stand in the middle.
This concrete finish table with steel furnishings looks unique and will surely delight your guests. Combine this with gray-colored long-leg chairs, and you will have a bar-like feeling at your home.
Also Read: Choosing Perfect Dining Room Paint Colors – A Complete Guide
7. Glass Top Extendable Dining Table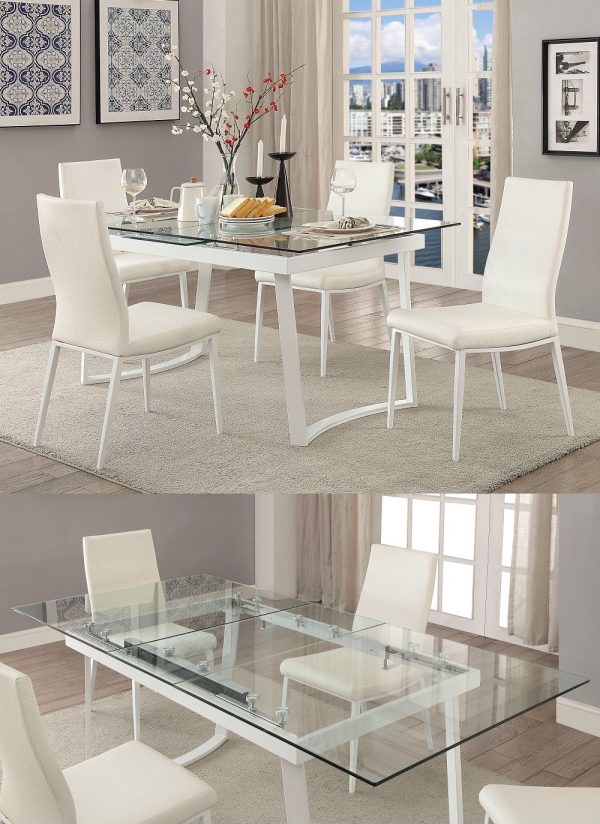 This table sports a very sleek, rich, and minimalist look. It doesn't need to try hard at all to impress your guests with its unquestionable class and premium feel.
This extendable dining table showcases the perfect blend of glass, stainless steel, and wood. It can easily accommodate eight people when extended.
It stands out because of its contemporary look and modern touch.
Remember that even though the glass top gives it a premium finish, the glass top is not scratch-resistant and requires much more care than the wood countertops.
So be aware of putting any sharp objects directly on the table. Use coasters if need be for the longevity of your table.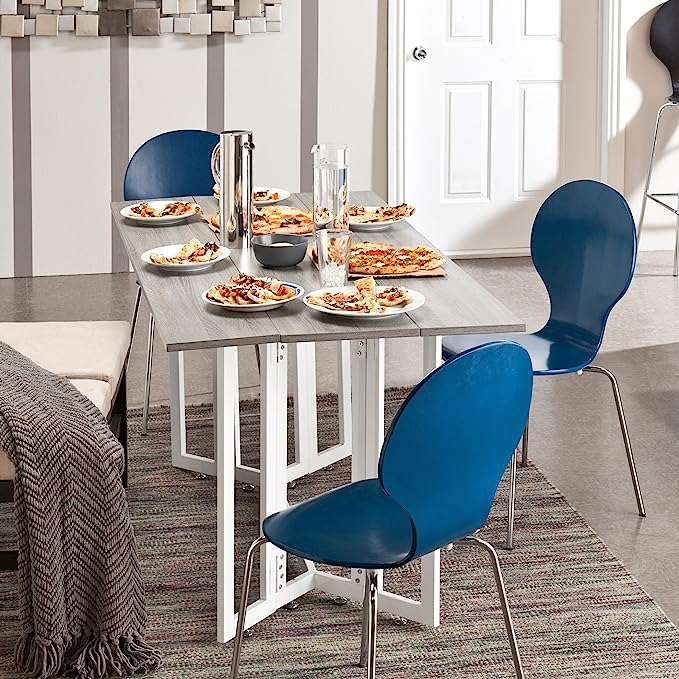 This extendable dining table is extremely versatile in its usage. It can perform dual roles, i.e., a console table as well as a dining table. Its design is unique and innovative.
With highly adjustable leaves and legs, you can make this a console table as well. But when it comes to dining, it can seat around six people comfortably.
To have a perfect cohesive dining table set, simply pair this unique table with deep blue colored chairs.
Having a beige aesthetic on the table will elevate the appeal of your dining room without any effort.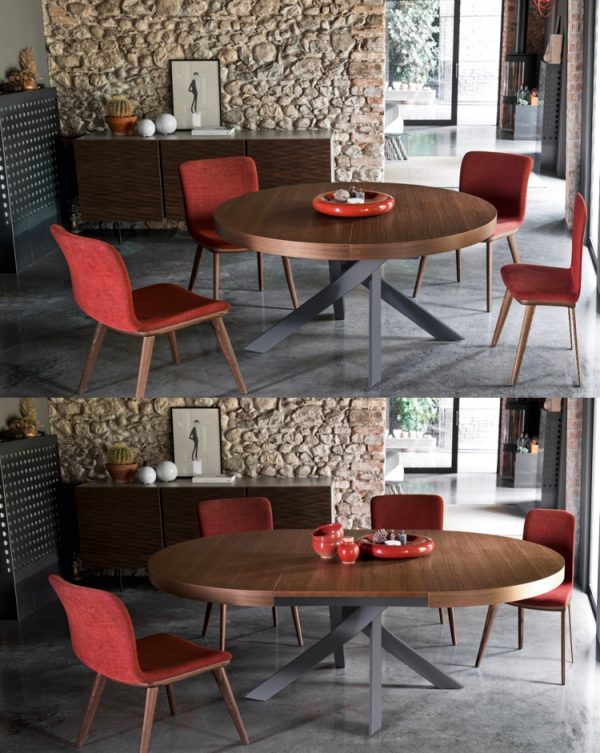 This is the first round of extendable dining tables in this list. The highlight of this extendable dining table is its sculptural base which is sure to turn the heads of your guests.
With the gray-colored base and rich brown wood countertop, this table has a perfect blend of style and functionality.
It has a huge round countertop which helps accommodate up to six people with ease.
You can pair this unique dining table with red color chairs to have a stand-out look in your dining room.
Make sure the finish of the chair and the table match to give your setup a refreshing look.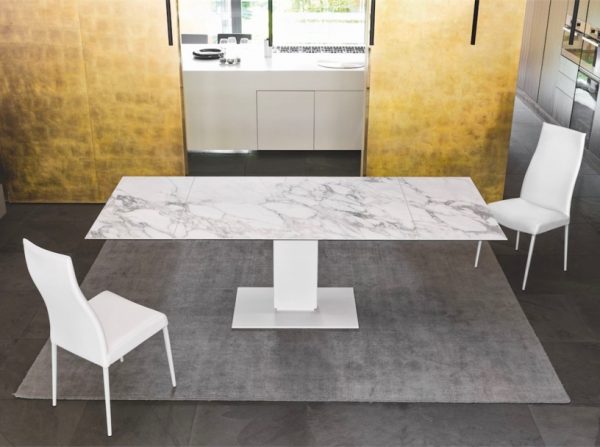 Who doesn't want to experience luxury and elegance in every meal? And that is why we brought you this exquisite piece of an extendable dining table.
This table sports a marble top finished look, made from high-quality ceramic. It looks so much like marble that it's not easy to tell the difference.
It has a huge seating space when extended, i.e., ten people. This makes it the perfect table for very small occasions and meetings.
Combining a marble top finish with other home decor is easy since it is highly versatile in style as well.
See More: 13 Best and Unique Drop Leaf Tables for The Year 2023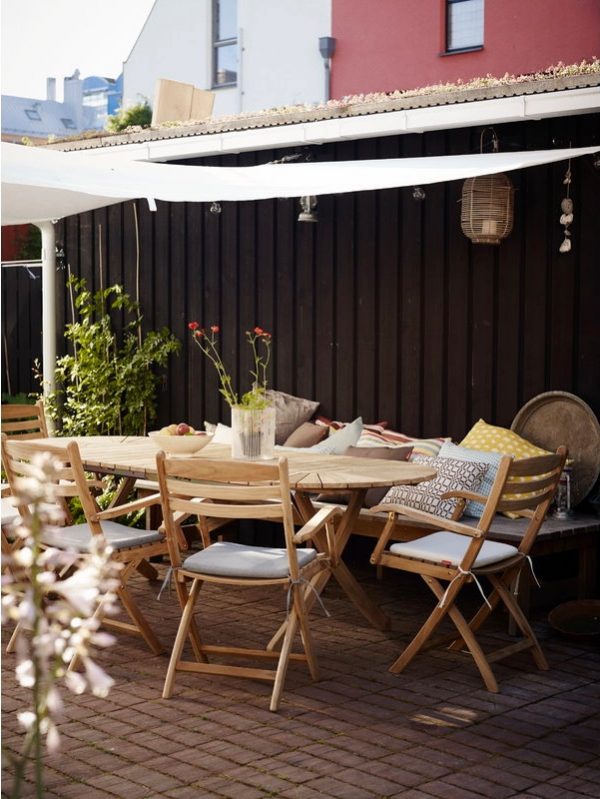 Not all extendable dining tables are made for keeping in the house. Some are made while keeping your beautiful patio in mind.
This table will help you turn your unutilized backyard into a more aesthetic and organized space. To speak for its build quality, it's made up of teak wood.
Moreover, all items in the package are easily affordable and head-turning.
It can comfortably accommodate around eight people thanks to its curved edges. Make sure your patio ceiling is covered when the rain starts to pour.
Please be prepared with all the tools in such circumstances.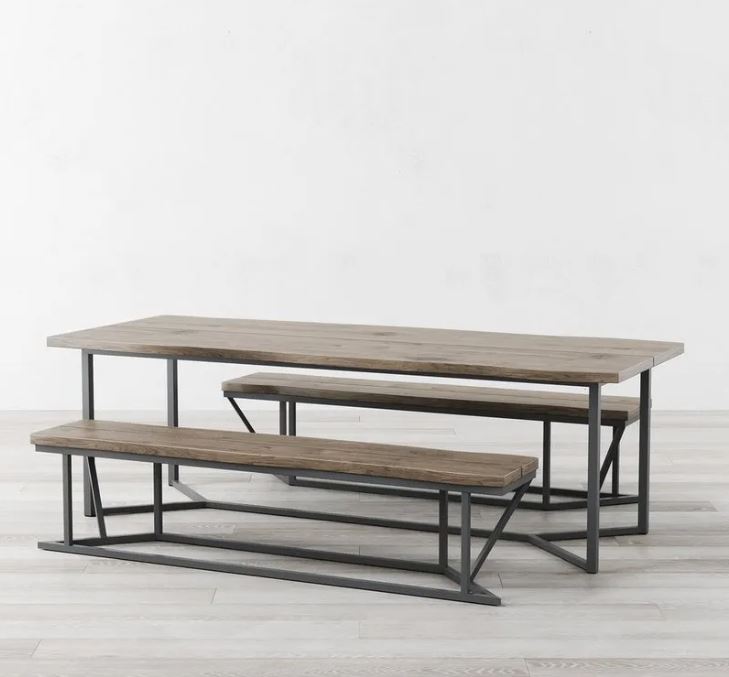 It is constructed from Eastern European natural ash, which is handcrafted. The beautiful grain pattern and the natural feel of the wood give it a very cozy feeling.
This table gets extended with the help of two leaves attached to either side of the table. Each leaf measures 30 centimeters and allows four people to sit comfortably.
Not only this, this extendable dining table is highly customizable. You can get the countertop, finishing color, and metal legs customized as per your preference.
You can pair it with matching benches which are also available to have a complete set in your dining room.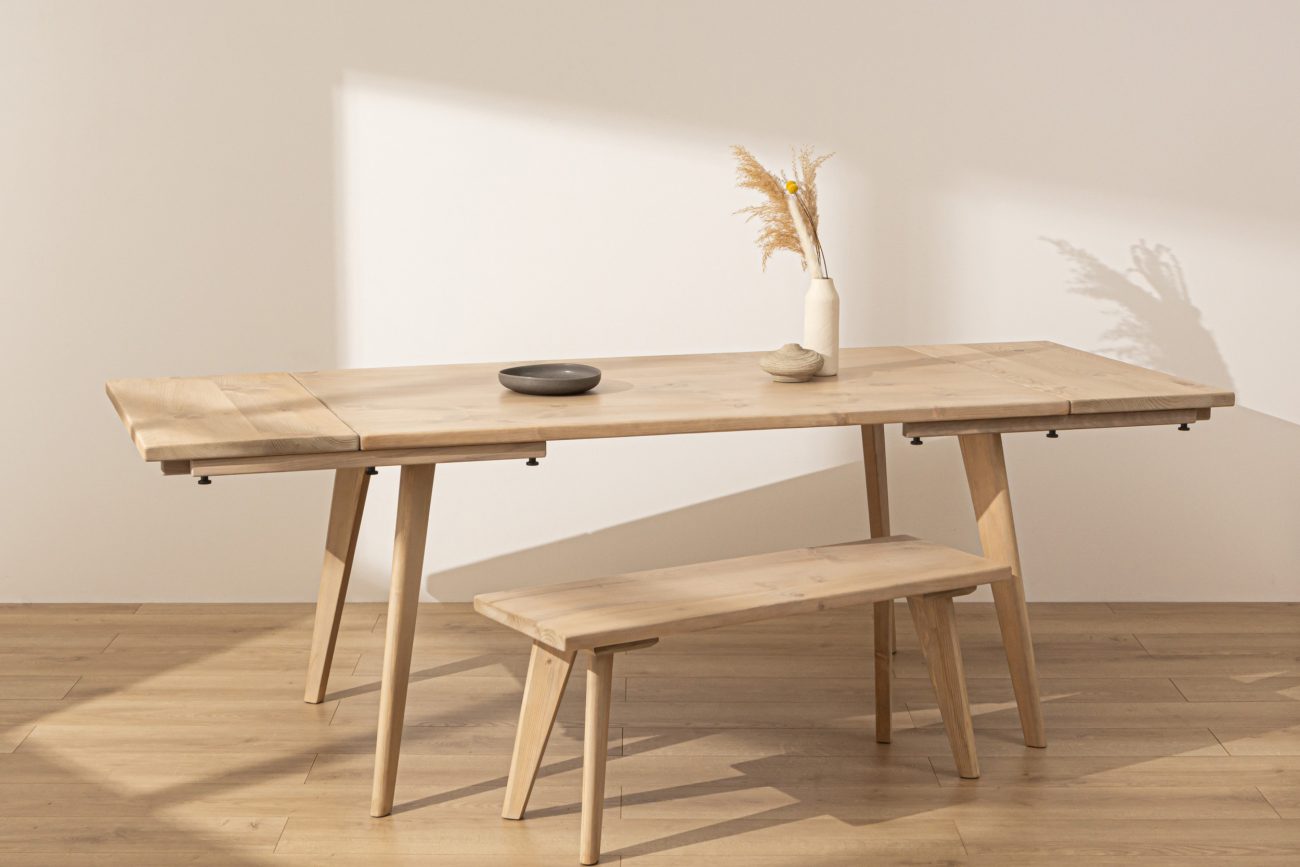 If you want an extendable dining table with modern interiors that will make you stand out from the crowd, this will be a perfect option for you.
With its naturally finished wooden frame and ultra-smooth countertop, this table brings a Scandinavian aesthetic into your room.
Moreover, the table is easier to clean because of its additional spill and stain-resistant cost.
Two leaves on either side of the table can be easily pulled open to extend the table. It can accommodate eight people with ease.
Consider pairing it with matching benches with legs tapered at the bottom to have a complete makeover.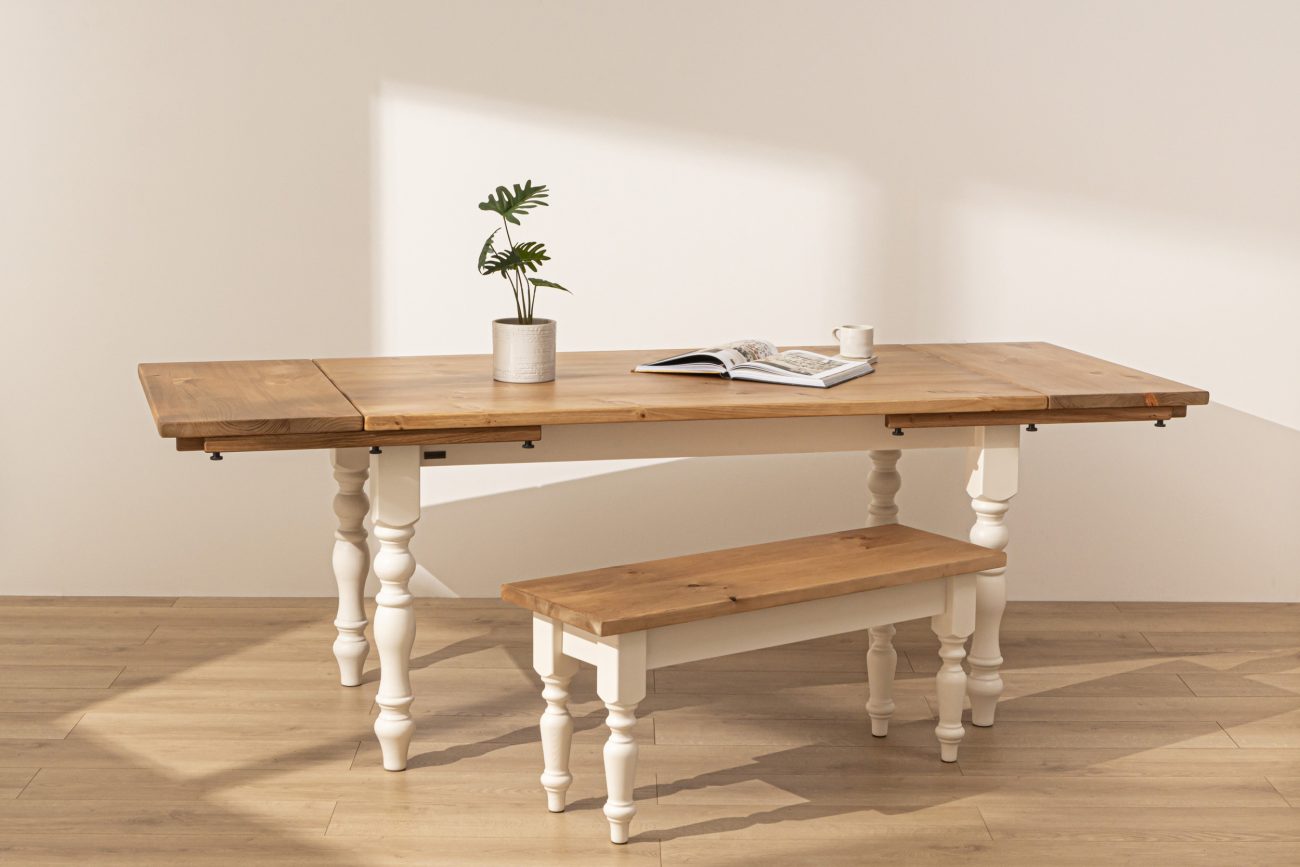 Who doesn't want a farmhouse-style table with highly ornate and detailed spindle legs in their dining space?
The legs are made up of solid wood and are 32 millimeters thick, giving this table extra stability and unmatchable looks.
This table has four variants of sizes, and you can even have a custom size made for you upon ordering. There are two leaves on either side, and it has a size of 400 millimeters which is big enough.
Moreover, this table proves its trust by offering a 10-year long guarantee. The table is handmade, providing adequate detailing and adding a farmhouse aesthetic to your home.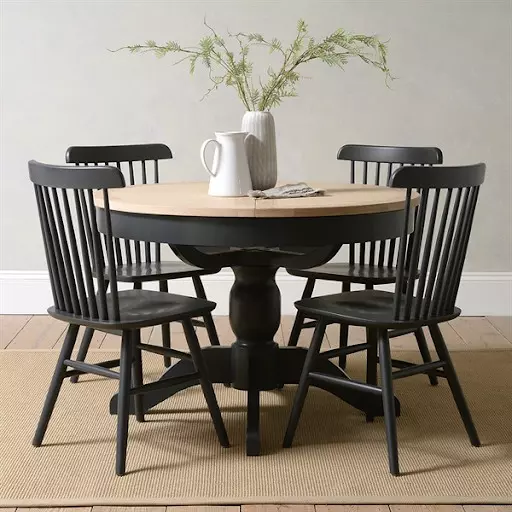 A perfect table for family get-togethers and entertainment. It has a seating capacity of up to six people and can be further extended for any last-minute guests.
This extendable dining table portrays a classic, elegant, and timeless look with its charcoal finish, also ensuring that it goes well with a variety of home decor.
This round table will go well with matching chairs which are easily available. The charcoal finish makes the table look new even after years of usage, giving it a timeless appeal.
Related: 13 Stylish Ottoman Coffee Tables to Upgrade Your Living Room
16. County Oak Extendable Table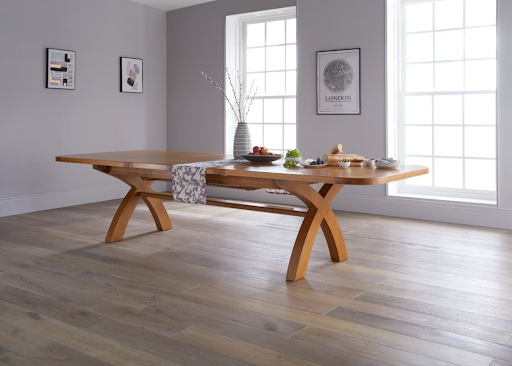 One of the most unique-looking tables in this list constructed with country oak is a kind of extendable dining table.
It is made up of premium-grade oak and features an elegant cross-leg design with adequate detailing on the countertop.
It extends simply with the help of the leaves on either side, which rests comfortably below the countertop when not needed.
This table is huge and can easily accommodate fourteen guests at once. Even when folded away, it can seat eight people.
The size of this table makes it perfect for hosting feasts, birthday parties, Christmas, etc. Moreover, it is made up of sustainable wood, which will bring you peace of mind of not harming nature.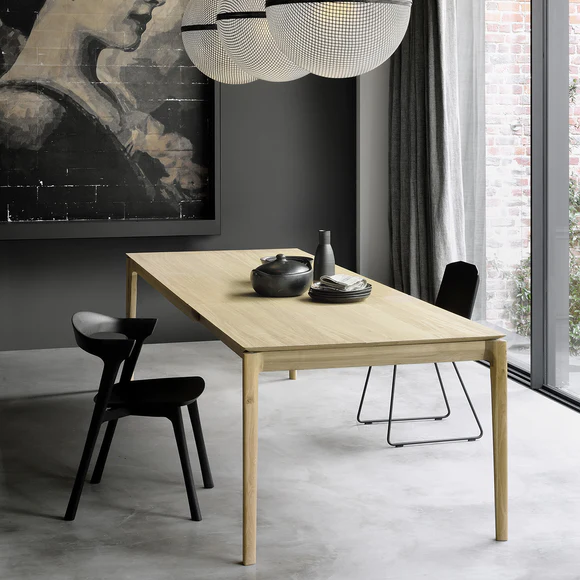 A very sophisticated yet minimalist design crafted from solid oak wood, making it super sturdy as well as stylish.
It is available in multiple sizes and can comfortably seat up to ten people, making it comfortable for large family gatherings and impromptu hanging-out sessions.
The finishing of this table is done in neutral oil, which allows the natural wood grain to redeem and shine.
Moreover, it is sustainably crafted and, when paired with minimalist matching chairs, can elevate your dining experience and make your place look exquisite.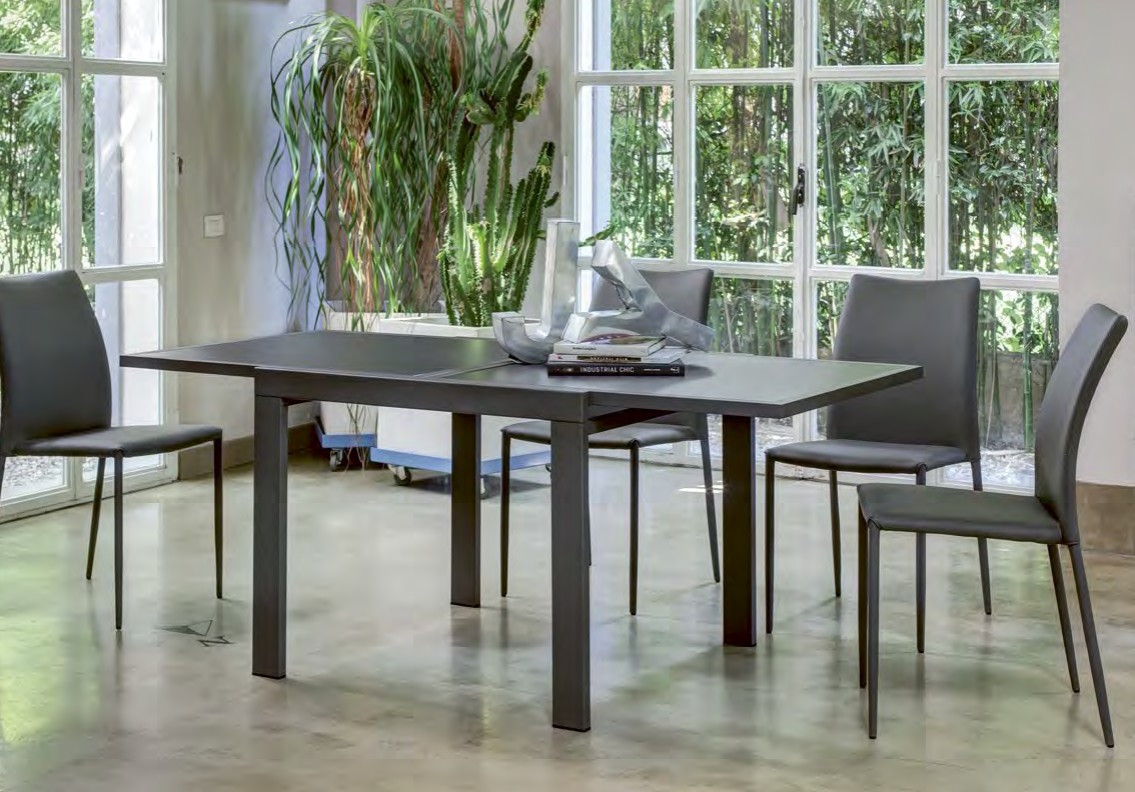 This extendable dining table is carefully crafted and made in Italy, and hence it carries that foreign charm and eliteness in its look.
This table comes in three different lengths, so you can choose as per your requirements.
Moreover, you can also choose among various metal and wood combinations, depending on your preference and existing home decor in your living space.
It can comfortably adjust up to eight people when its extension is pulled out.
With the grayish color countertop, this table works well with most home decor and looks sophisticated as well.
Try pairing it with small minimal white chairs, as shown in the image, to have a similar aesthetic.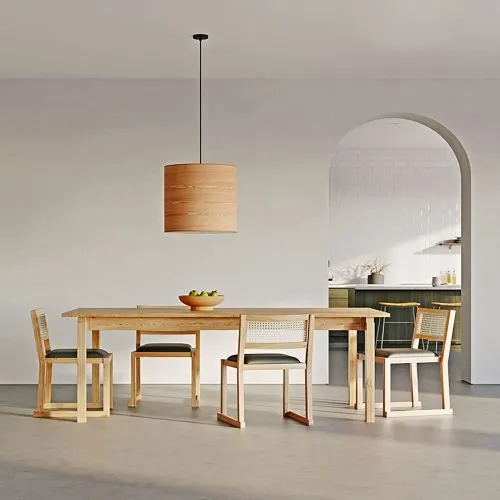 A very clean-looking extendable dining table with sharp lines, this table has notch detailing on the legs. This detailing gives a floating effect to the table's countertop.
Moreover, the natural matte finish of this table is hand-applied, leaving out no room for imperfections.
This table is crafted from solid oak or walnut wood and is sustainably crafted. It is easy to assemble, ensuring that you enjoy your first meal with your family in no time at all.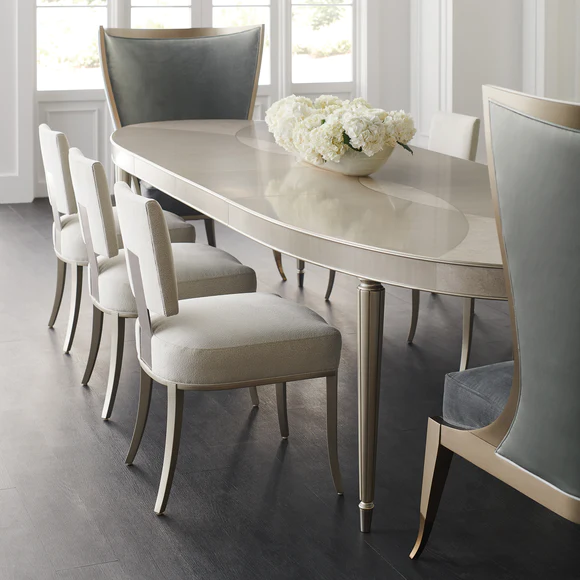 One of the most elegant-looking tables on this list, with a silver-coated finish.
One thing that will attract the consumers to this masterpiece of a table is its silky silver finished countertop which gives this table an aesthetic visual appeal.
This dining table is big enough to comfortably accommodate up to twelve people on its edges at once.
Its additional leaves on the side ensure ample space for guests and the crafted birthwood offers style and functionality at the same time.
One of the reasons why we love this table is its easy assembly, allowing you to enjoy it in no time.
With a convenient 24-inch leaf, it provides comfortable seating for six to eight people, making it ideal for gatherings and entertaining guests.
The metal ferrule accents table further elevates its appeal, lending an upscale and luxurious feel.
Embrace the charm and versatility of this dining table, as it effortlessly blends classic style with modern accents.
This table exudes simplicity, chicness, and sophistication, making it a perfect addition to any space.
Its traditional design is enhanced by the sleek straight legs, which are beautifully adorned with metal ferrules, adding a touch of unexpected glamor.
Check This Next: Home
22. Campania Dining Table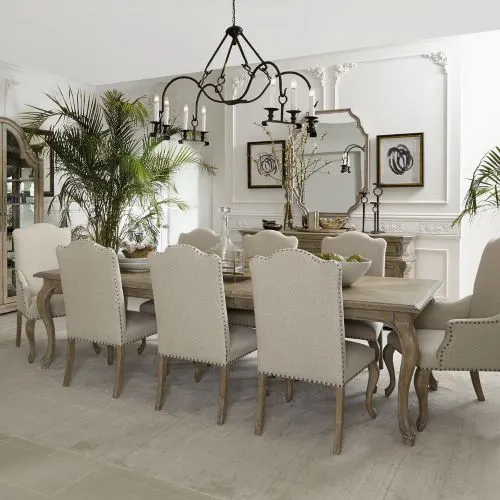 Inspired by the picturesque Italian countryside, the Campania Dining Table by Bernhardt shows a newer side of rustic home decor.
Crafted with solid, weathered hardwood, this table combines traditional design elements with a touch of sophistication.
The fancy face surface showcases its timeless charm, while the silhouetted curved legs add a distinct flair to this extendable dining table.
Accommodating up to 8 guests, this table is perfect for hosting large gatherings and creating memorable dining experiences.
Its easy assembly ensures a hassle-free setup, allowing you to enjoy its beauty in no time. Additionally, the 24-inch leaves provide flexibility and versatility, adapting to your seating needs.
Final Thoughts
All in all, choosing a dining table is not a decision to make in an instant.
There should be some deliberations as to what kind of wood, which color would work well with the existing home decor, how many people we can accommodate if we buy an extendable dining table, and so many more questions that need answering.
This will surely give you a glimpse of what is in the trend these days.
Always make sure that the table you choose should blend well with your existing home decor, and it should be durable enough to last a longer period as it requires a considerable amount of financial year investment.
So keeping all these things in mind, choose a dining table that elevates your dining experience with friends and family and makes you have a memorable time!