Are you looking for a space-saving versatile table for your home? If yes, then drop-leaf tables are a perfect match for you. Drop-leaf tables are best at saving your space with their wooden dropped side leaves and are unique in versatility. If you have a small home or a small area at your home that you feel like transforming, then drop-leaf tables are a great choice.
You can have one side or both sides raised or dropped; that's up to your choice in these tables. The best part about these drop leaf tables is that you can configure them any way you want, depending upon the work. Well, In this blog, we have listed the top 13 Drop Leaf Tables that are totally distinct and beautiful in their own way!
By the end of this blog, you are surely going to get all your queries solved.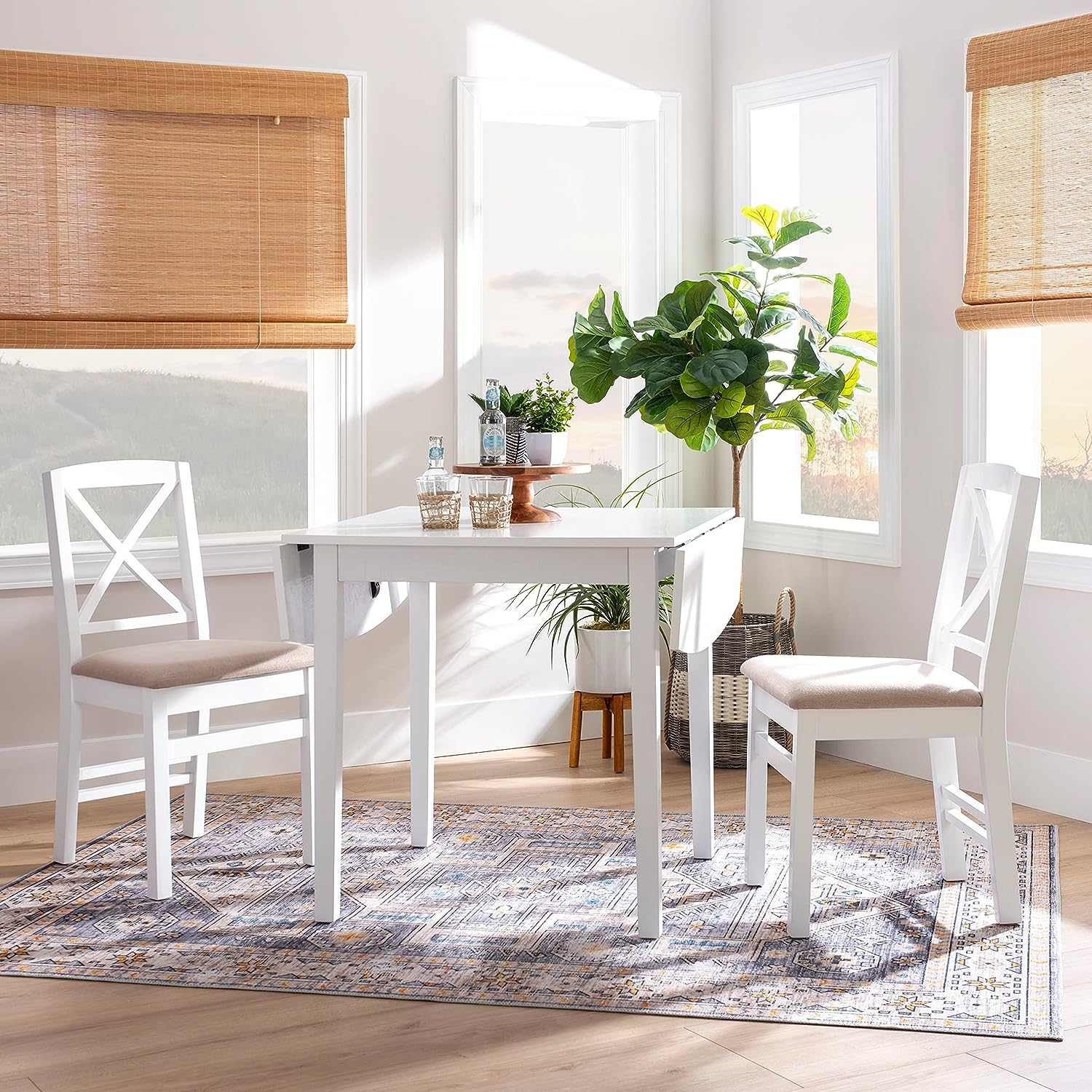 One of the top picks for the square drop leaf table is Linon White 30" Square 30" X 48" Fully Extended Torino Drop Leaf Table. This Linen white-colored square drop leaf table is going to save you space.
With that, it is also going to upgrade the aesthetics of your space. You can keep this drop-leaf table in the corner of your living room, dining area, kitchen, or anywhere else. Necessarily, this product is meant to be used as a dining table.
It has many amazing features that make it a smart drop-leaf table. You can easily change its size with dual 9" drop leaves. It has been constructed with solid wood, hence ensuring years of longevity.
This piece can withstand up to 100 lbs and has an expandable table extending from 30 to 48 inches, depending on the place and work. This product looks beautiful because of its linen white finished color.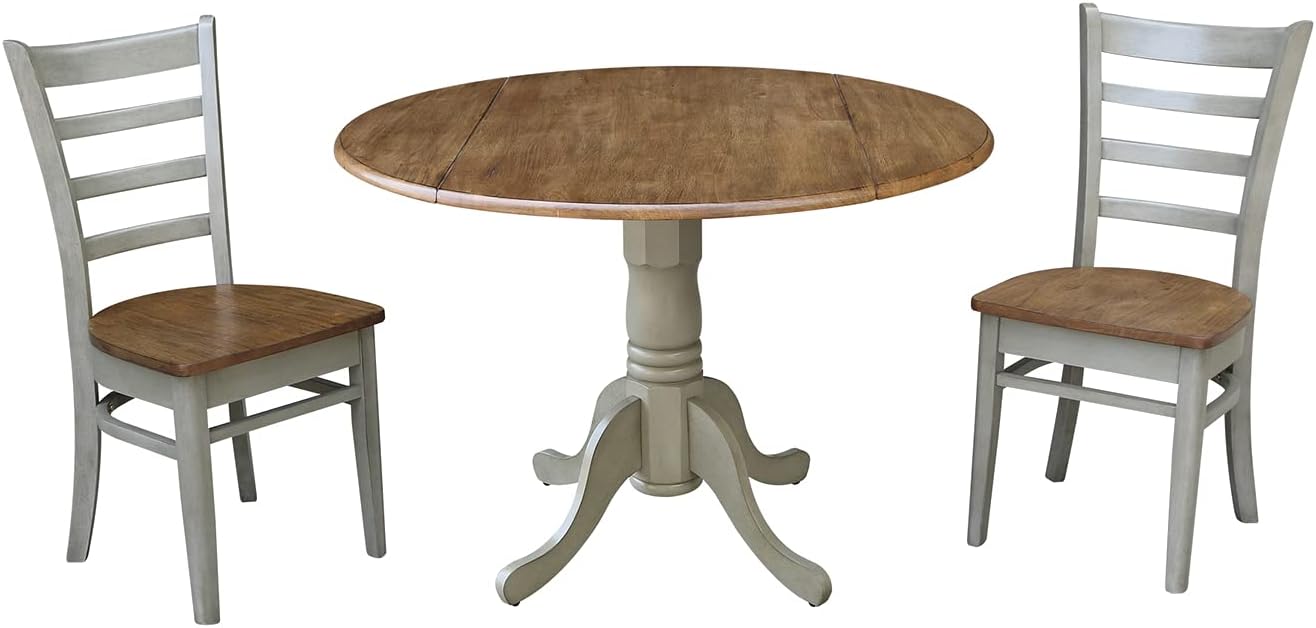 Traditional furniture designs never get old; their value increases with time. If you are also looking for such a traditional drop-leaf dining table, then here we have a top pick for you.
The IC International Concepts 42" Dual Drop Leaf Table with 2 Emily Side Chairs is a perfect match for your dining area. Its distressed hockey/stone color is a perfect fit for those who like old-school aesthetics.
This item weighs 94.5 Pounds. Its style is wholly traditional and can do wonders for your house's aesthetics. It is made from solid wood that ensures its longevity and its capacity to withstand weight.
You can use this dining table set in your living room as well. Hence, make some different space at your house for it. It has a 24" X 42" center section with a 9" Drop leaf on each side.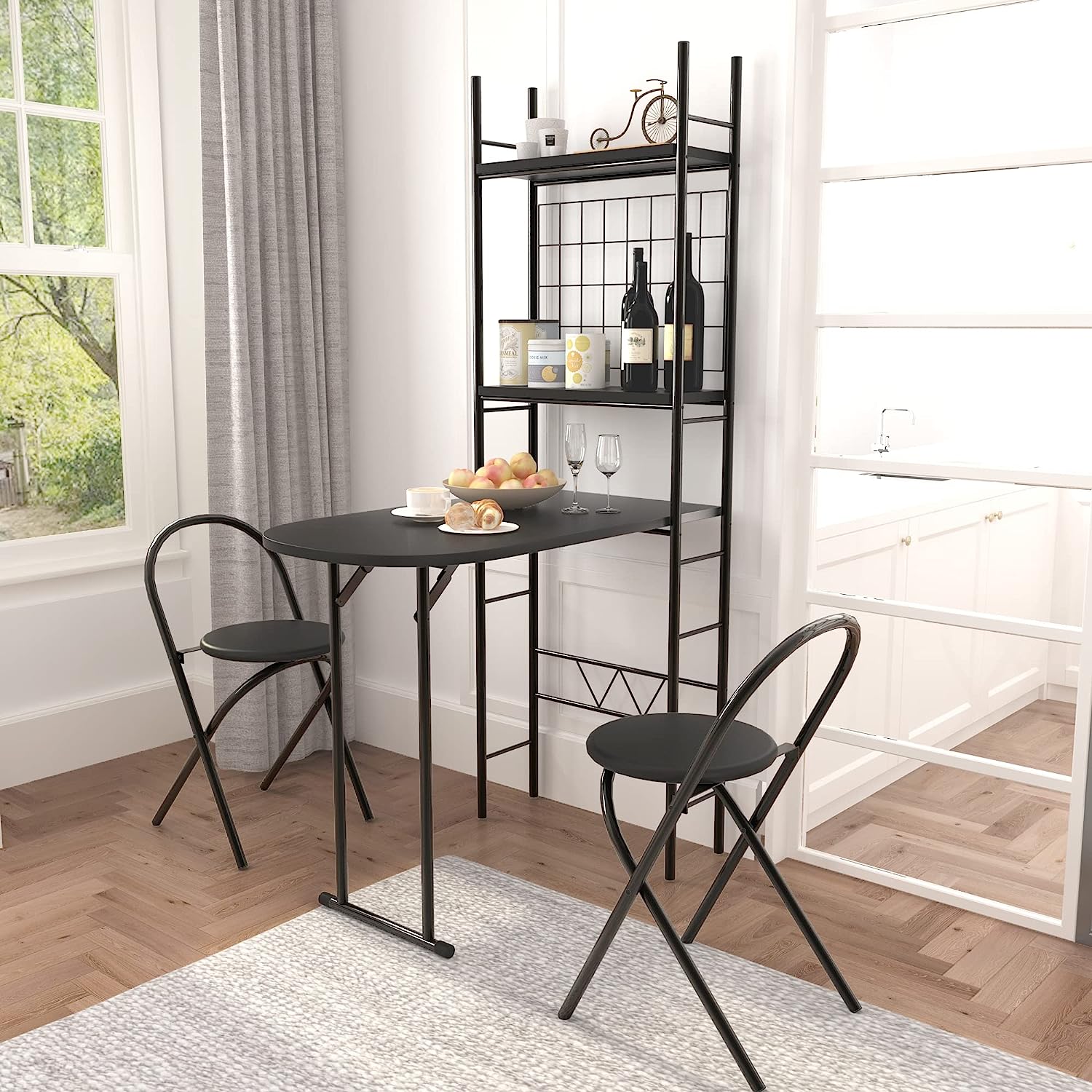 In this modern world, we all have seen so many new products that have fascinated us with their performance. These modern things are even helpful in making our tasks easier.
If you are also looking for a portable modern drop leaf table, we have a top pick for you. The FUSLITE 3 PCS Small Folding Table and Chairs is a modern portable drop-leaf table with a set of 2 chairs.
You can get this drop-leaf table for your home. This drop-leaf table can be used for dining, study, work, kitchen, or any table you want it to be!
This table and chair set is of black color. You can fold the table into the shelf when not in use and can take it out with the same process when in use. Talking about its durability, it is made up of high-quality MDF and metal.
It has a strong weight-bearing capacity; it can surely meet your daily needs. This table chair set comes with shelf storage to which this table is attached, and you can keep essentials in that stand. Hence, it is a total multipurpose modern drop leaf table.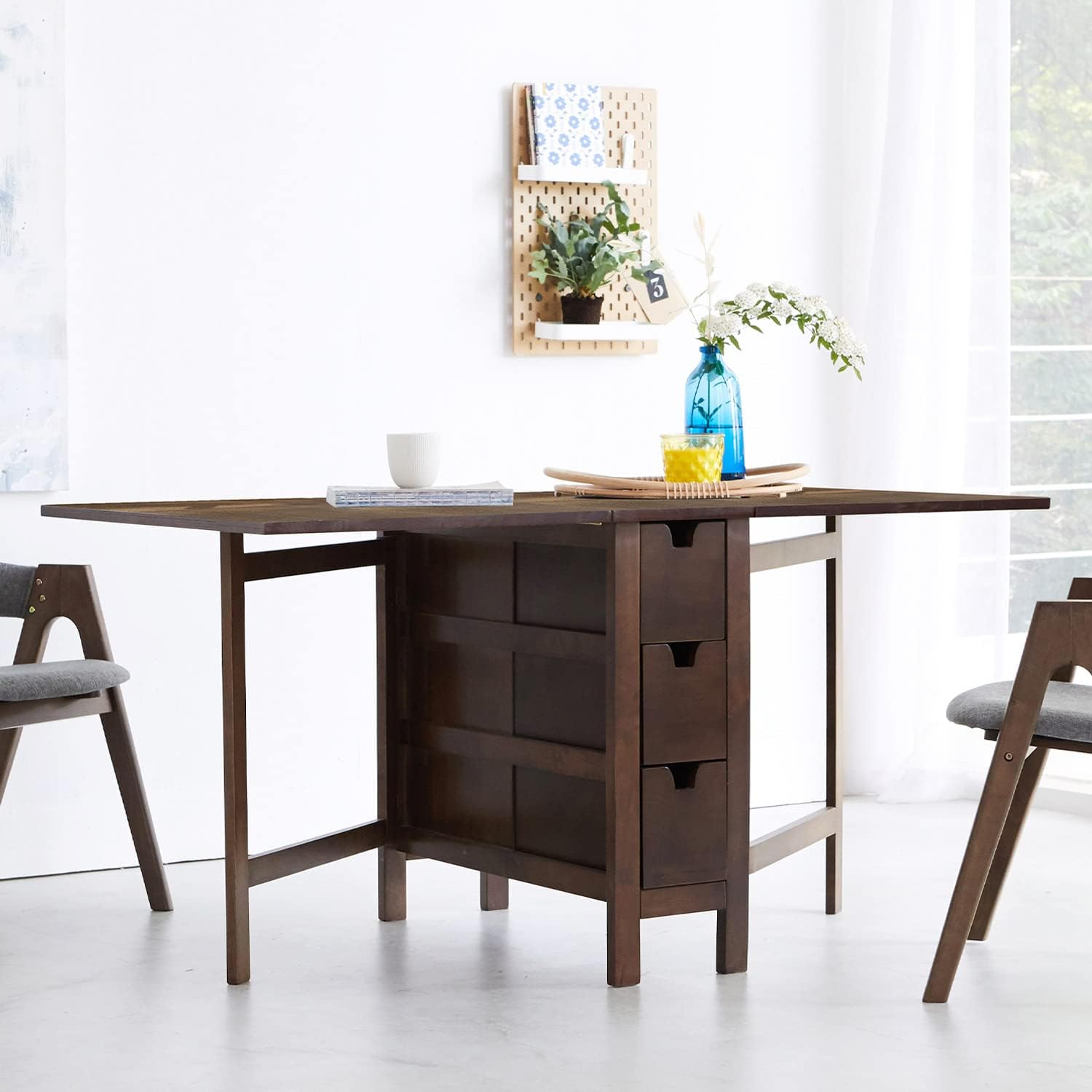 Wooden furniture is never going to get old since they are the originals, and the originals never go outdated. Get an amazing wooden drop leaf table for your home and see how it does wonders with the aesthetics of your home.
Here we have picked one of the best wooden drop-leaf tables for you. The Livinia Wings Gate-Leg Wooden Drop Leaf Dining Table is going to make the best space in your room for sure.
This space-saving kitchen table comes with 6 drawers, which makes it super awesome for keeping essentials. This fully assembled drop leaf table comes in Walnut color. It is rectangular in shape.
Coming to its design, it allows seating from 2 to 4 people even when space is limited. When it comes to the material, it is made of 100% solid Malaysian Oak construction with an MDF top. This table is pre-assembled, so it is unnecessary to assemble it while setting up.
Similar Post: 18 Timeless Mid Century Modern Dining Tables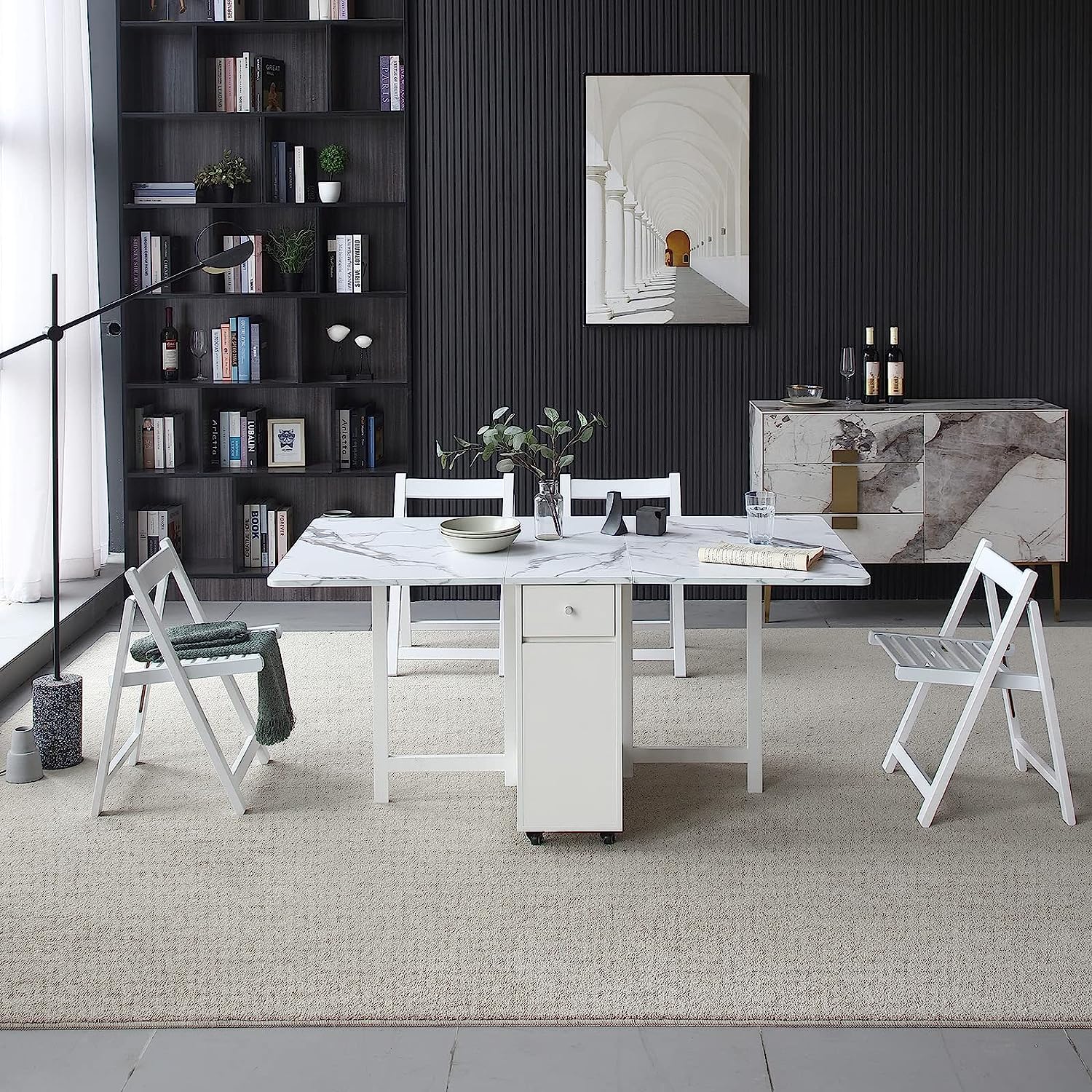 Dining table with multipurpose benefits, who doesn't want that? Well, if you are also looking for such a multipurpose dining table, we have one of the best drop-leaf dining tables for you.
Have a look at the FUNROLUX Folding Dining Table that comes with a storage rack and 2 storage drawers. This drop-leaf dining table is movable and can easily be moved from one place to another. It is an extendable drop-leaf dining table that can be one of the best pieces of furniture in your house.
It comes in white color that is surely going to upgrade the aesthetics of your space. This multifunctional extendable folding table can be folded into a console table of different sizes or expanded into a 4-7 seats kitchen table.
It is made of very high-quality plywood, which has excellent stability and durability. It has a Marble texture table top that really looks beautiful over the top.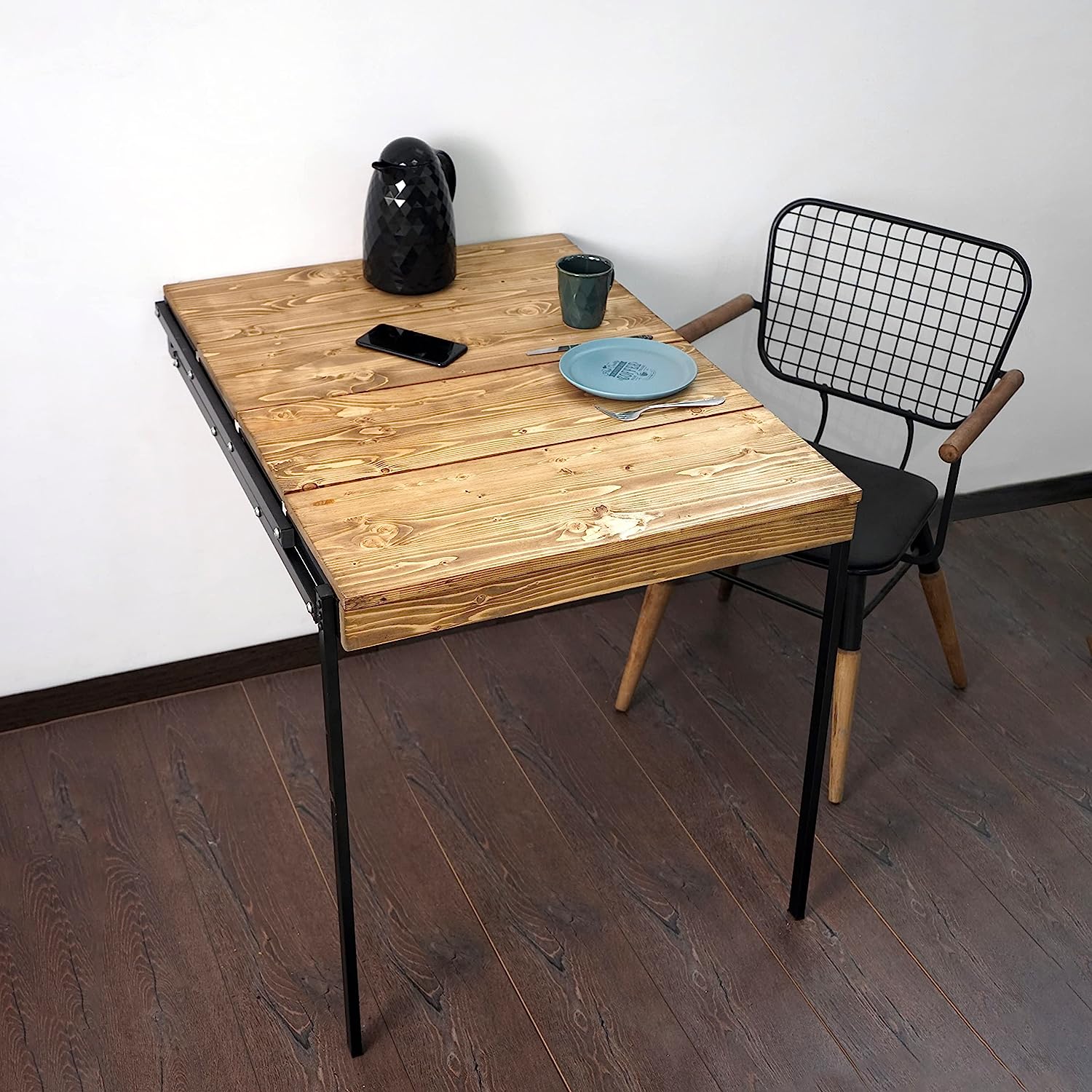 Tables that can't be seen at first but then can be taken out of nowhere when in use. How interesting! Well, if you are looking for such a table that can be there when in use but can be stuck to the wall when not in use.
Generally, when we don't have enough space, we tend to ignore such pieces of furniture as tables. But you can get one for you since it will be a space saver yet useful.
The Ultimate Premium Products Murphy Folding Table is one of the best wall-mounted drop-leaf tables. It is surely going to be one of the best pieces of furniture in your house.
This drop leaf table comes in walnut color and has two other options. This multifunctional wall-mounted table is easy to fold and open and works smoothly. It is made up of an environment-friendly solid wood particle board.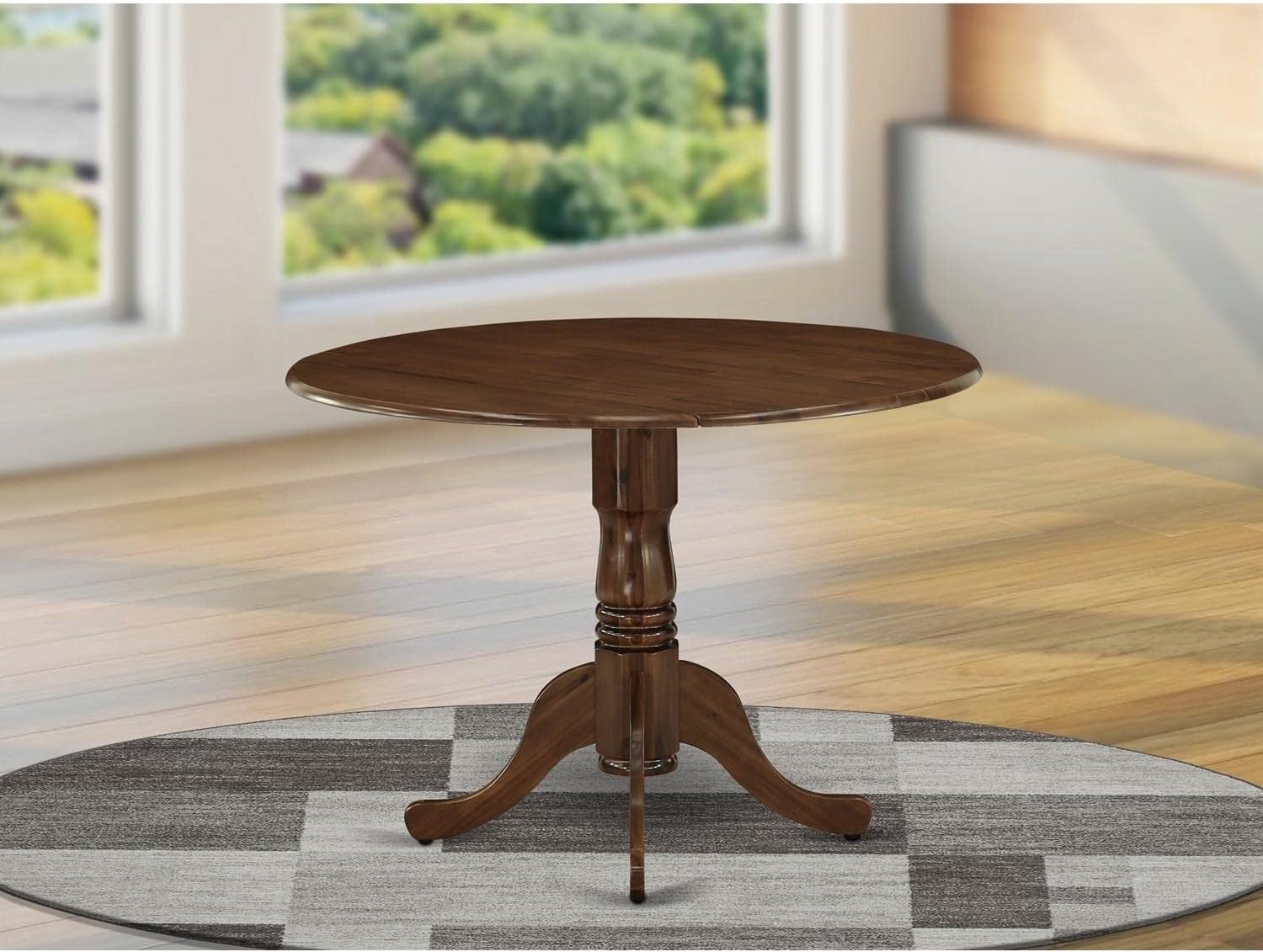 We all love to transform our home spaces from boring to super cool and aesthetic. If you want to have an aesthetic table for your home, then this is your sign to get a Round Aesthetic drop leaf table.
The East West Furniture DLT-AWA-TP Dublin Dining Room Table, will look awesome in your house and will surely upgrade the aesthetics. It is a round solid wood table top with a dropleaf and pedestal base and comes with a ravishing walnut color and has over 25 color options.
A beautiful round table can change the whole look of your space; it can be a cozy addition to your kitchen. Walnut-colored overtop with walnut finish real wood pedestal legs provide this drop-leaf dining table with an innovative look.
This pedestal dining table is created for the modern old-money aesthetics that ensures sturdy fashion with amazing uses.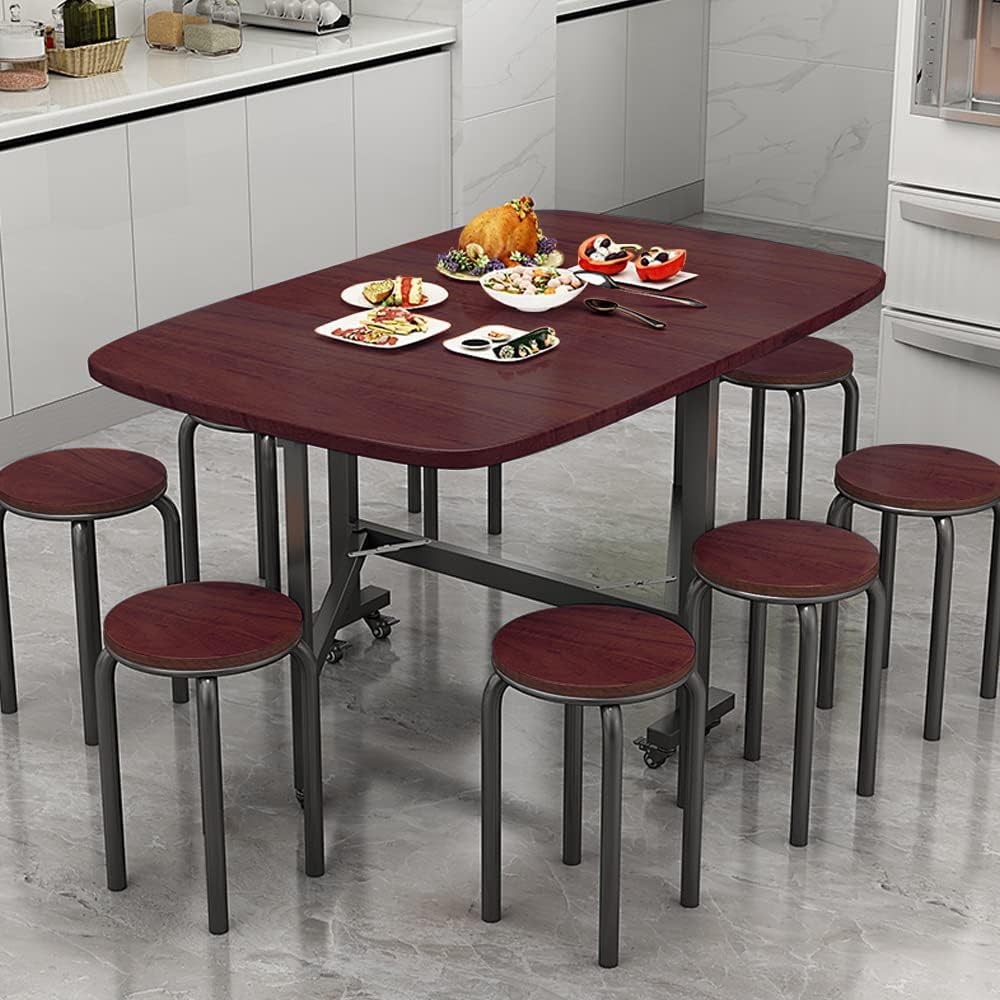 Every kitchen needs a multifunctional table that can be used in multiple ways in terms of wants. The Rukulin Foldable Versatile Drop Leaf table is going to be a game-changer for your kitchen.
You can get this drop-leaf dining table for your home. It can be kept in the dining area and kitchen space; it comes with 6 wheels, which makes it easy to move. It can be folded into three forms table.
Apart from that, it has an amazing Mahogany color, has a rectangular shape, and comes with three folding modes. This dining table has a foldable modern design that can be used for many purposes.
You can convert it into a full-sized 6-seater dining table, and in less space, you can convert it into a 2-3-seater dining table. It has 6 Lockable wheels. A great Space Saver with multifunctional capabilities.
Also Read: How to Make No Sew DIY Drop Cloth Curtains [Complete Guide]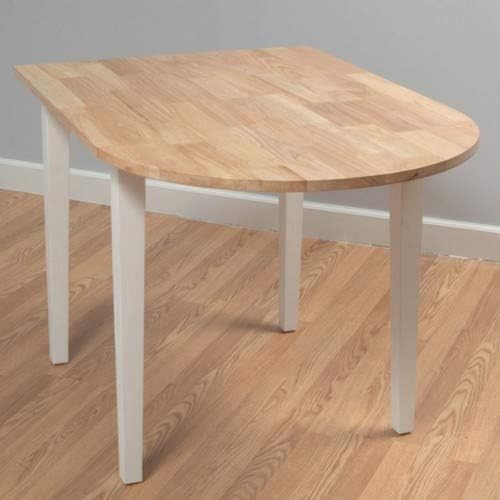 Different shapes of tables can make different changes in your space that you haven't even imagined. Have a look at the Tiffany Two-Toned Single Drop Leaf Dining Table, which is surely going to become your next favorite.
This dining table is a perfect match for small spaces and apartments that comes with an amazing drop leaf table is made of solid rubberwood and expands from 30" to 43", depending on your space. The table comes in Pure white/ natural color. It weighs 42 lbs and arrives with only minimal assembly required.
This table is cozy and perfect for roomies and can even entertain an added guest. It is made up of high-quality rubber wood, which makes this table sturdy and durable.
It is best for every category, be it innovation, quality, and affordability, since it has been the main concern while constructing this drop leaf table.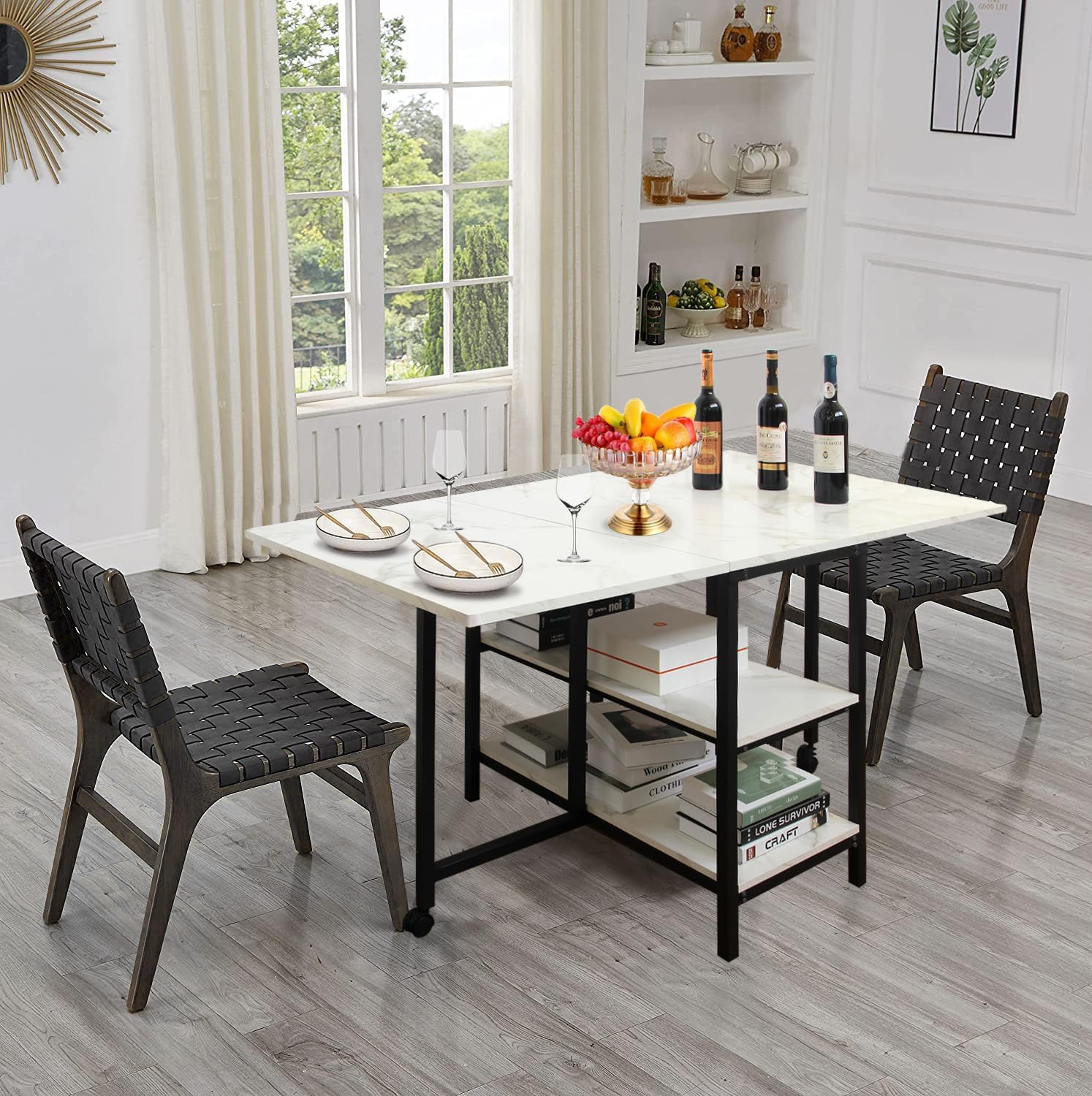 Folding dining tables are amazing space savers. How amazing it is that you can fold the table when you have smaller space, and you can extend it when needed. One of the best drop-leaf folding dining tables is here for you.
Have a look at this amazing AT-VALY Folding Dining Table with 2 Storage Open Shelf, which is perfect for small and big spaces.
This Top folding table folds from 15.7" to 55.1". This table comes in a ravishing black color that will look super hot in your home.
It has under-table shelves that can be used to keep essentials for an elegant dining space. What are you thinking? Is it the build quality you want to know about? So, get one for you now and upgrade your kitchen or dining space beautifully.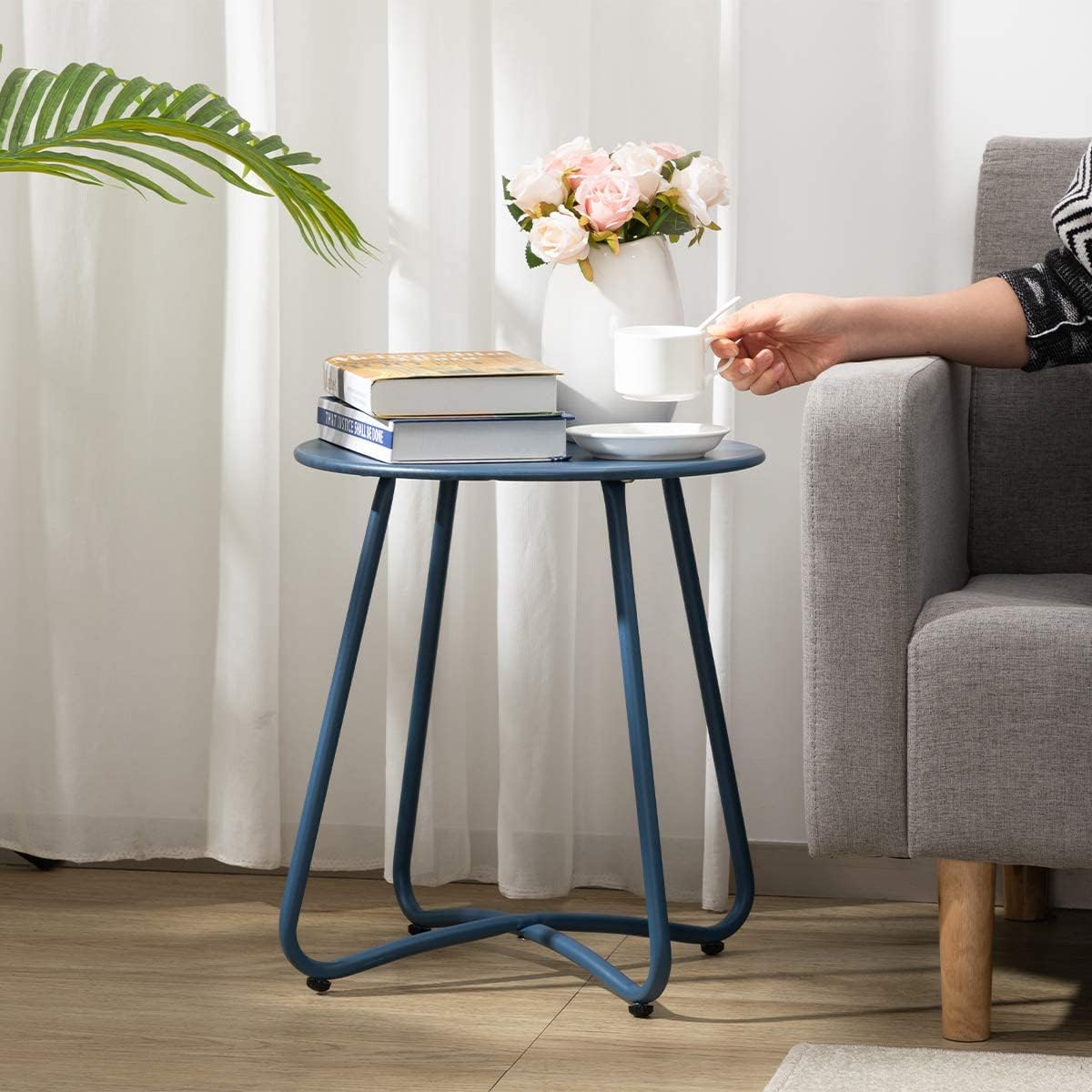 This HollyHome Small Round Patio Metal Side Snack Table is surely going to beautify the corners of your house. This accent anti-rust steel coffee table for the garden is surely going to make you feel wholesome. This table is totally weatherproof and is perfect for outdoors.
It comes in a Navy Blue Color and has 7 different color options. This accent patio is ideal for indoor and outdoor use; you can put snacks and use this beautiful coffee table to its fullest.
Talking about its stability and durability, its high-quality construction is what ensures it all. The circle side table has a powder-coated steel structure. This drop-leaf table can hold up to 50 lbs. It is a lightweight, simple-designed, easy-to-assemble table that will enhance your space's aesthetics.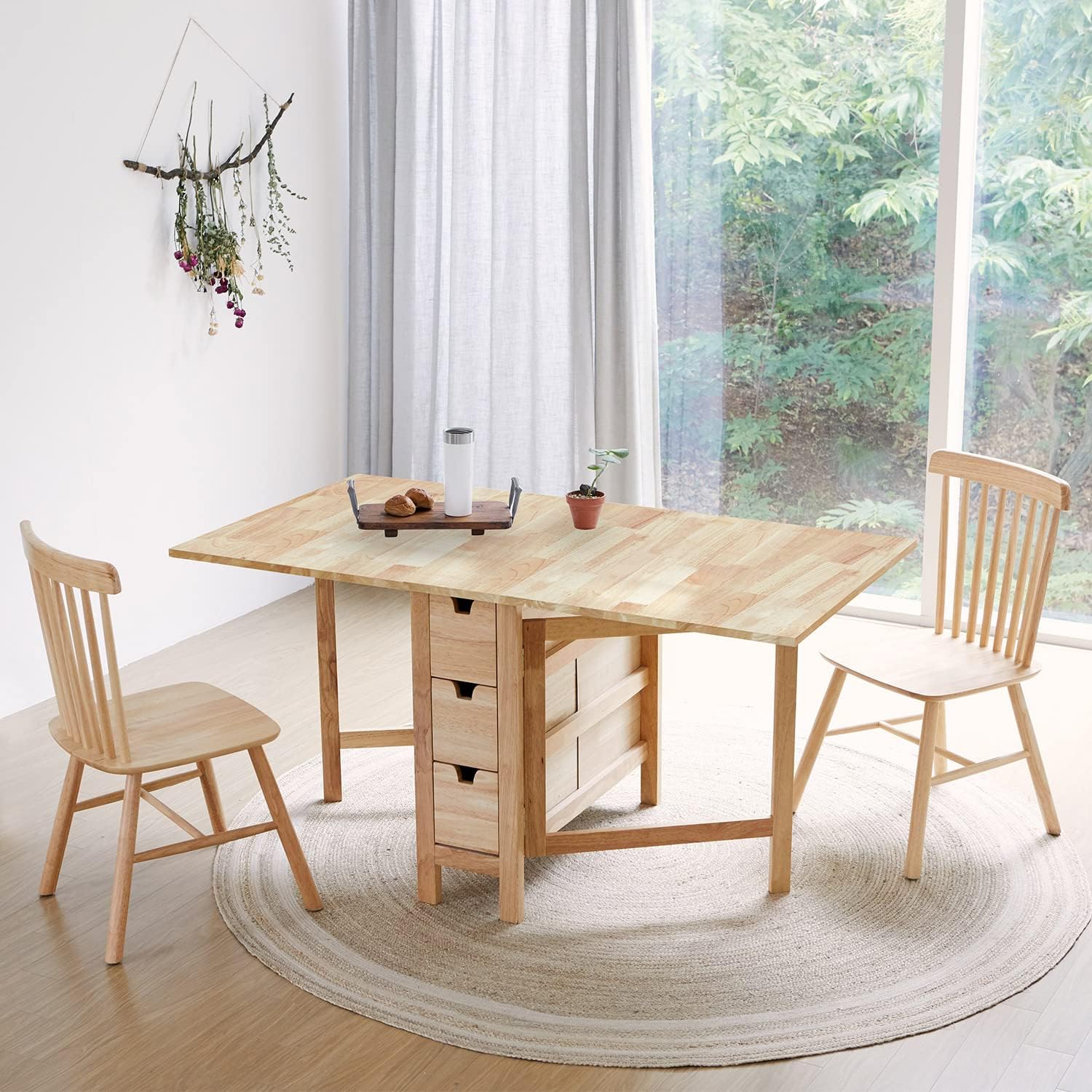 The Natural Oak colored Livinia Wings Gate-leg wooden dining table has the potential to make you fall in love with it and get a space in your home.
This solid hardwood expandable drop leaf space-saving kitchen table has a modest design. It comes with 6 drawers and is fully assembled, so there is no need for you to struggle with assembling it; besides it is also rectangular.
It can entertain the seating of 2 to 4 people even when space is limited. Each drop leaves is super adjustable, hence becoming the ultra space saver in the limited space. It is made of 100% Malaysian Oak with an MDF top. It has a Scandinavian look with 6 drawers.
Related: 22 Stunning Extendable Dining Table Designs for Every Home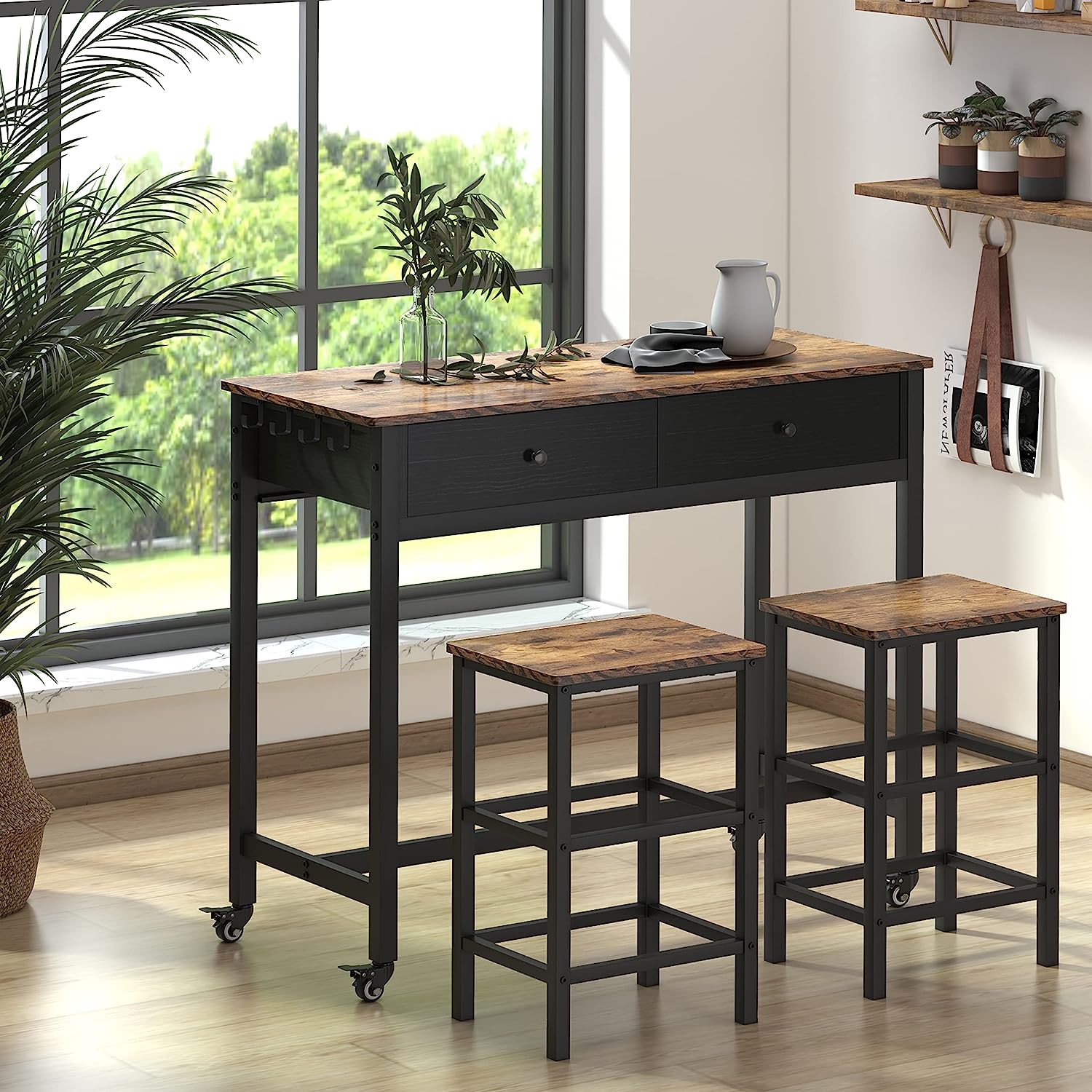 The modular setting is all you need for your home if you love modest aesthetics. This NSdirest Bar Table Dining Set is an amazing 3-piece counter-height dining table set.
This drop-leaf table can be used as a kitchen table, dining table, and even a study table if you want to. It comes in a mesmerizing color of rustic brown and black. It comes with four lockable wheels, which makes it easy to move from one place to another.
This product needs to be assembled and hence comes with the proper instruction module. It is made of durable MDF and a heavy-duty steel frame. The rustic wood grain brings a touch of industrial chic and vintage charm to your kitchen.
How to Select the Best Drop-Leaf Dining Tables?
Well, we get our top picks listed through these 5-keys of selections that include:
1. Build Quality
The build quality of the pieces of furniture is what matters the most. Because the build quality ensures the durability and, most importantly, the stability of the table, especially when it comes to the drop-leaf table, it becomes important to check the stability and durability. The wood used, the plywood used, and even the material used for the wheels of the table. It all matters when it comes to the quality of the table.
2. Design
Well, if we are choosing a drop leaf table, then the design is surely going to be the second important concern. The finishing in shape, the carved design, and the uniqueness all matter because it affects the aesthetics of the space where it is going to be kept.
3. Color
Well, believe it or not, the color palettes of the furniture you keep in your house are what matters a lot. Having some iconic colors in your house furniture, like black, brown, walnut, white, ivory, navy blue, natural oak, and many more, can really make that space look beautiful.
4. Smooth Adjustments
When you are looking for a drop-leaf table, the best thing about it is the adjustments that it can make according to the space. For small spaces, it can be folded, and for larger spaces, it can open and be used potentially. How beautiful any furniture can look, even in small spaces, and how quickly it can be transformed is what makes it the best drop-leaf table.
5. Storage
Who doesn't love multifunctional stuff? Well, we all do love things that can help us have more than we expected we could get. We have included the drop-leaf tables with insane multifunctional properties that will surely make your work easier than ever.
Wrapping Up
All in all, by keeping all these selective measures, we have listed the top 13 best and unique drop-leaf tables for your perfect homes. You can get any one of them for your kitchen area, dining area, study area, or even outdoors, depending upon the material they are made of!
With the elegant design, awesome build quality, beautiful color, amazing adjustment techniques, and multifunctional storage features, this all-in-one table will leave you in awe.
So, if you are also looking forward to adding or replacing any table from your house, if you also want to transform your house from boring to super cool and aesthetic, then this is a sign for you to buy these awesome drop-leaf tables.
What are you waiting for? Get these modest drop-leaf tables for your home, and get ready for the aesthetically gorgeous transformation of your house.
Check This Next: Choosing Perfect Dining Room Paint Colors – A Complete Guide