Farmhouse design is one of the most welcoming and attractive spaces that blend the warmth and natural beauty of the season with its timeless rustic beauty and cozy ambiance. These ideas will help you create a farmhouse porch that perfectly reflects the essence of the fall, from hay bales to cozy blankets, ancient accents, and traditional pumpkins.
These fantastic 12 fall porch decor ideas execute charm and timeless appeal with beautiful autumn colors. So get ready to welcome your friends and family to a porch that oozes rustic beauty and creates a memorable setting for a get-together, chill time, and relaxation.
Here is a list we've put together of ideas for farmhouse fall porch decor that can inspire you to create your outer space into a magical retreat and seasonal delight, whether you have a large or small front space.
Best Farmhouse Fall Porch Decor Ideas
1. Hay Bales Lounge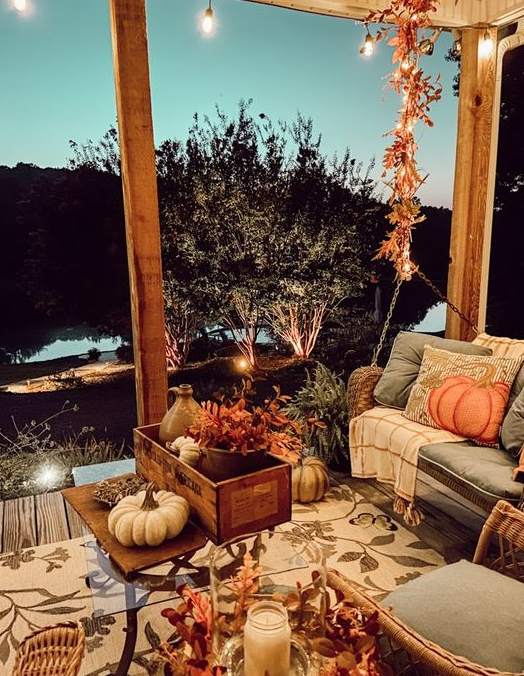 Try and create a comfortable and rustic lounge area covered with hay bales. Please place them in a position against a wall or a particular corner. You can also cover them with pillows and blankets in the shade of autumn. You can serve the savory hot cider on a chilly evening at this place, as it is ideal for it.
2. Pumpkin Display in Variety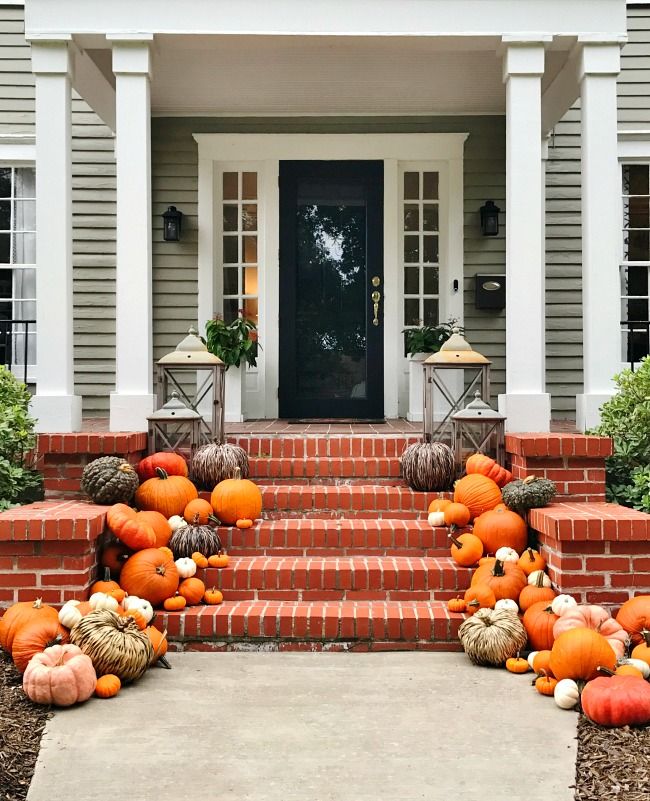 No fall season is complete without a variety of pumpkins. You can showcase pumpkins in various hues, sizes, and shapes to embrace the farmhouse look. Try and include both uncommon types of pumpkins that are white or the other orange in your arrangement. You can also place them around your entryway in a close cluster or on your porch steps.
3. Fall Themed Wreaths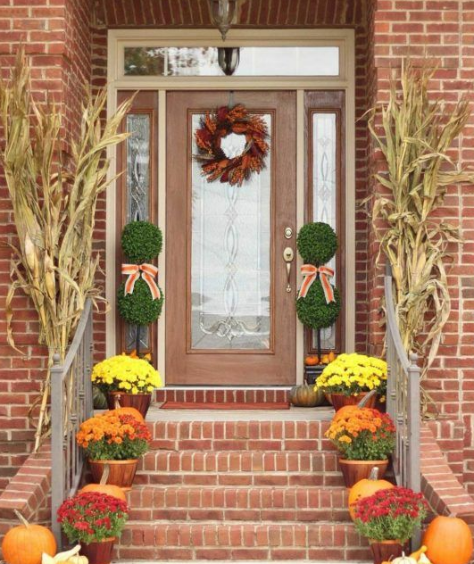 With a fall theme at your front gate, you can hang a lovely wreath to greet your friends and guests. It adds a natural touch to your porch, try and select the ones made of wheat, dry leaves, cotton branches, or berries. Choose warm hues like rust, golden yellow, or deep crimson in wreaths to add the essence of holidays.
4. Add Warm Blankets and Pillows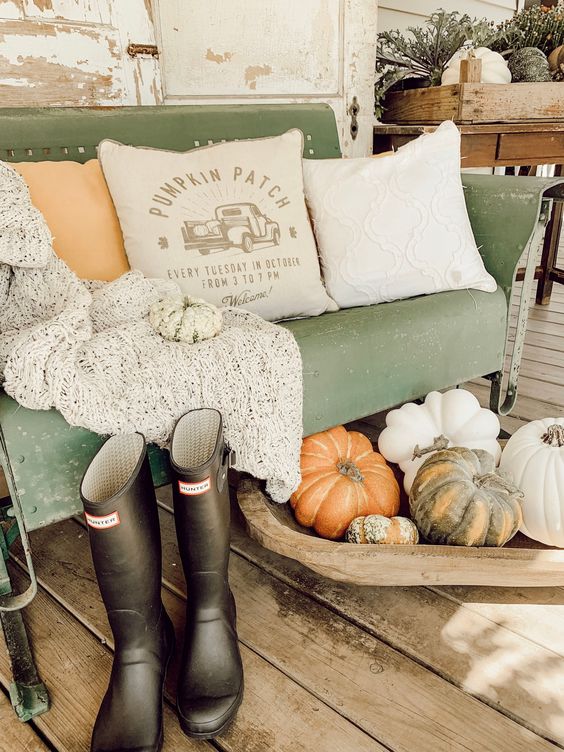 Add warm blankets and fluffy pillows to the bench on your farmhouse porch or rocking chair to make your space more welcoming and cozy. Try and select patterns like buffalo check or plaid to go well with warm hues like deep brown, mustard yellow, etc.
Similar Post: 30 Farmhouse Porch Columns to Create an Impressive Entryway
5. Ancient Farmhouse Elements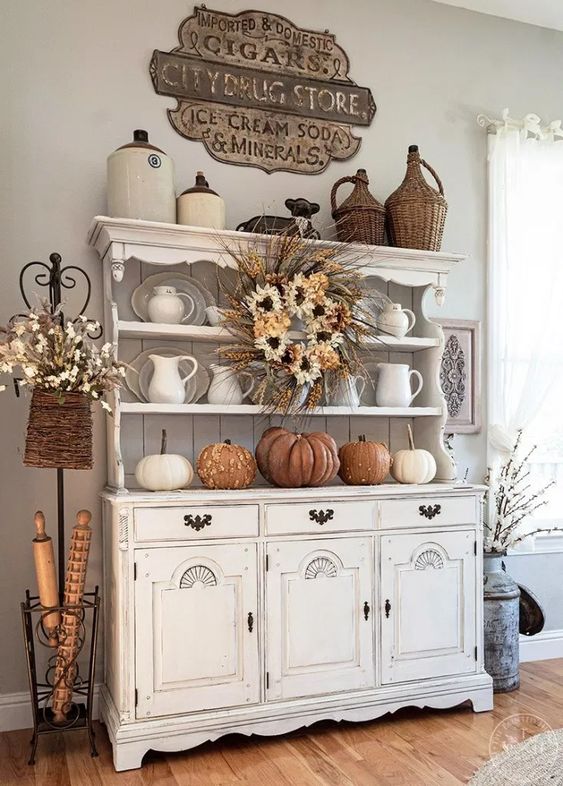 Incorporate vintage farmhouse elements to give a touch of nostalgia and personality to your porch decor. Old signs with fall statements, vintage milk cans, wooden crates, etc., go perfectly with the aesthetics. With these classic furnishings, your porch will have a genuine farmhouse feel.
6. Harvest Themed Decor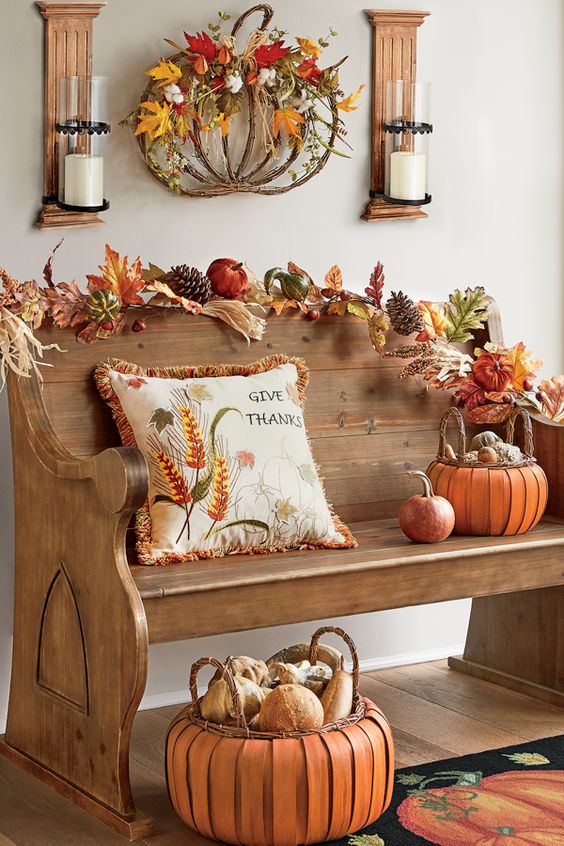 You can choose harvest-themed decor to celebrate the abundance of the fall season on the porch. Dried corn husks, cornstalks, wheat bundles, and bundles of dried flowers are significant decoration elements for your porch as they give your porch the country feel with full charm.
7. Light up Some Lanterns or Candles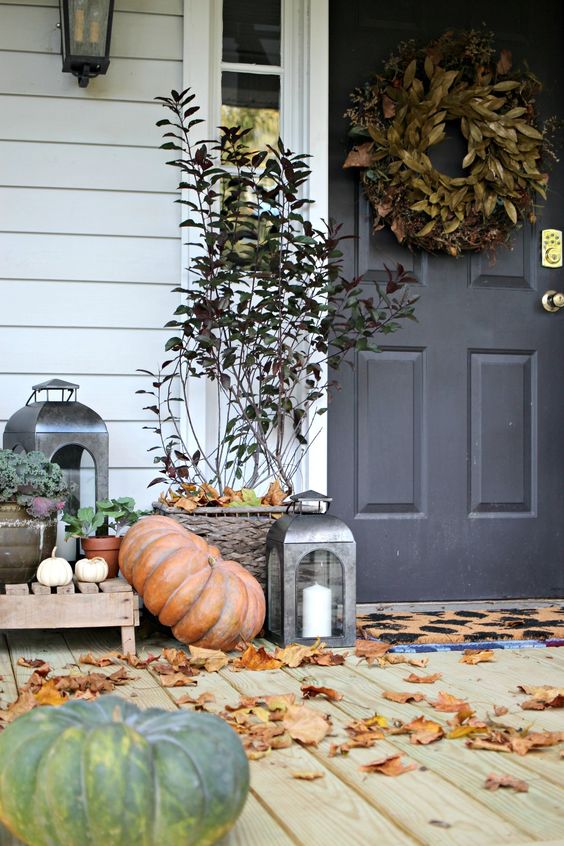 Use the soothing glow of the candles and lanterns to create a relaxing atmosphere on your farmhouse porch. You can place or hook the various sizes of lanterns on the steps of your porch. Along with that, you can also put some pumpkin spice or any other autumnal fragrance-scented candles inside of them.
8. Splash of Seasonal Flowers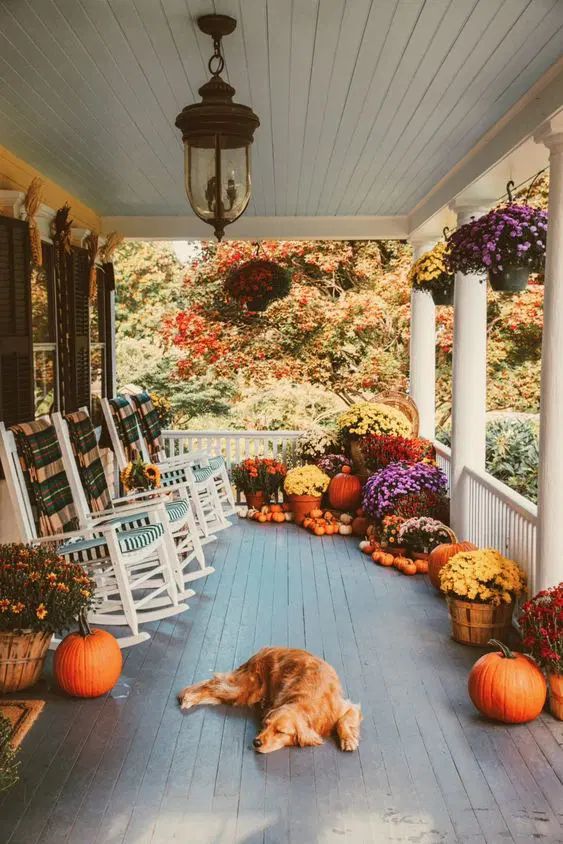 You can use seasonal leaves and flowers to add a splash of fall shades to your porch. Add flowers in a metal bucket or rustic pot, such as marigolds, mums, and sunflowers. You can also create a systematic arrangement by incorporating elements like wheat stalks, corn husks, and dried flowers like eucalyptus and hydrangeas.
Also Read: 8 Ways to Get Low-Cost Farmhouse Living Room Ideas
9. Rustic Welcoming Placard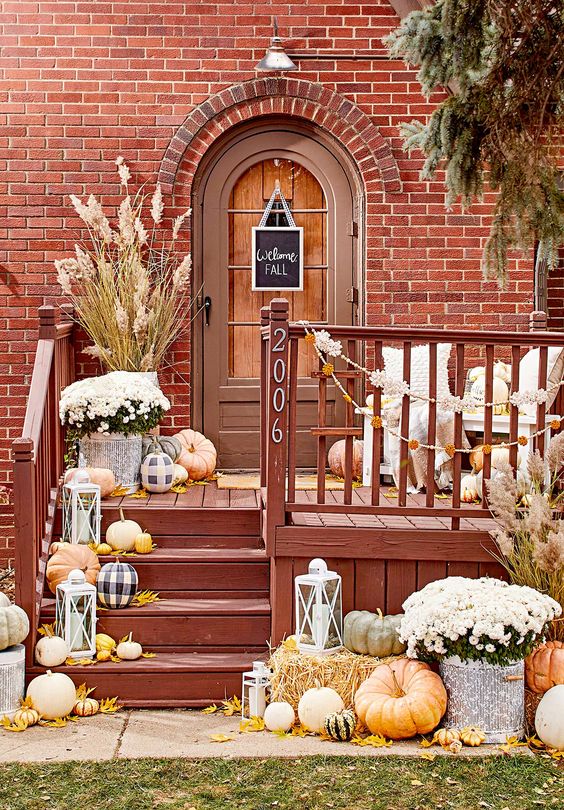 To create a cozy and welcoming ambiance, put a welcoming sign with a farmhouse feel on the display of your porch. Try and pick placards with messages like welcome fall or harvest blessing engraved on them; they should be of metal or weathered wood. You can hang the sign close to your front entrance for a nice finished touch or lean it against a wall.
10. Add Rustic Farmhouse Bench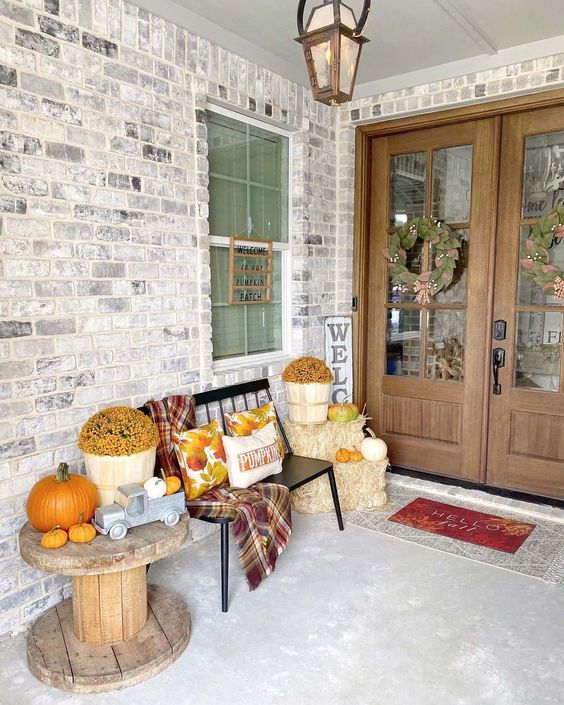 Add a rustic farmhouse bench to your porch area if you have enough space in your room. It will give the room a more farmhouse feel, make it look more elegant, and offer seating at the same time. Add some pillows, warm blankets, and cushions to make it more comfortable and cozy.
11. Fall Themed Door Mat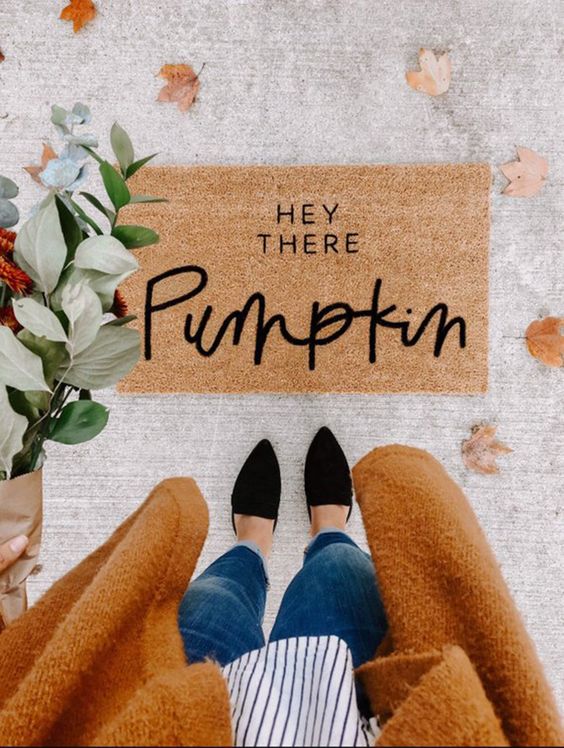 To add a statement at the entrance of your farmhouse porch, you can add a doormat with a fall theme. It will help you in two ways: firstly, it prevents dirt and gives an aesthetic touch to the guests leaving your home. Choosing a doormat with autumn themes like pumpkins, harvest greetings, and leaves will be a good choice.
12. Use Planters with Wooden Barrels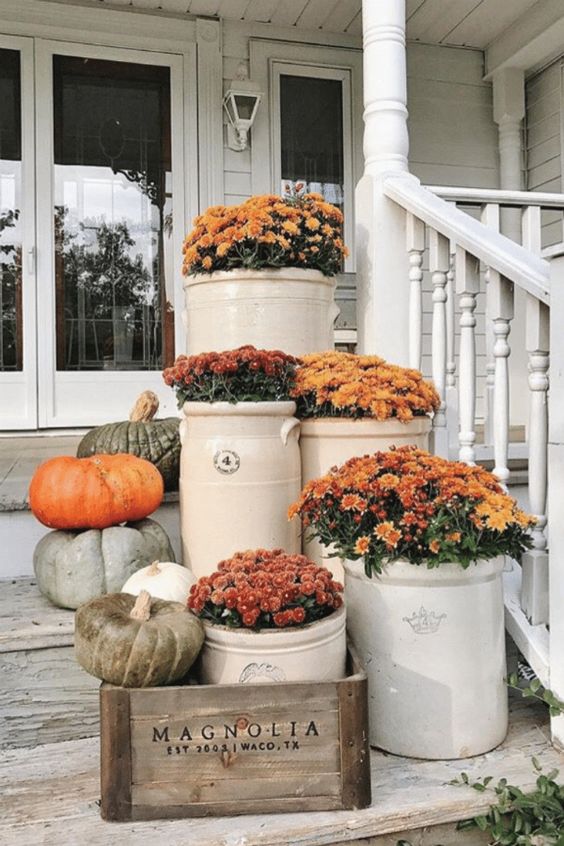 You can use wooden barrel planters to add height to your porch and make it look more attractive. There is also the option to place vibrant leaves or seasonal flowers in each barrel as per your style. Apart from that, you can also give rustic charm to the porch by placing kale, ornamental grasses, pansies, or chrysanthemums in the containers.
These were the 12 best ideas you take inspiration from to decorate your porch for this coming fall season. To complement these 12 ideas, here's why you need them, stating the importance of farmhouse fall porch decor.
See More: 12 Prepossessing Shades of Haint Blue Paint for Porch Ceiling
Importance of Farmhouse Fall Porch Decor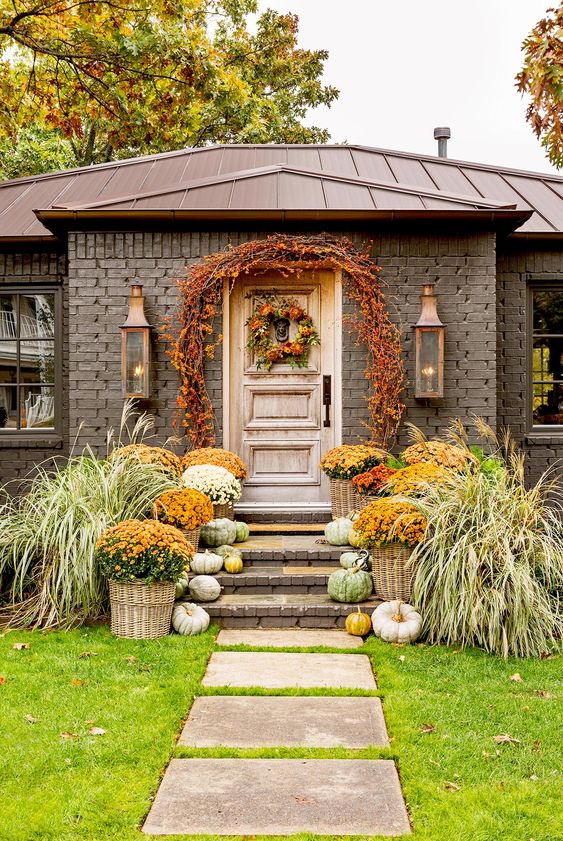 When the hot summer heat gives way to the cold kiss of autumn, it's the ideal time to decorate your porch with cozy farmhouse fall accents. Farmhouse design which goes well with the season's natural beauty and warmth, can create a gorgeous and inviting environment with a relaxed mood and rustic elegance.
Your farmhouse fall porch decor should enhance the aesthetic appeal and outdoor space to establish a cozy and welcoming ambiance for you and your guests. Now let's move ahead and discuss the importance of farmhouse fall porch decor and how it can improve your overall experience and autumnal aesthetics.
1. Embraced Atmosphere
The atmosphere on your porch should serve as the entrance and set the tone for your friends and family. Your guests should always feel safe and welcomed by the cozy and friendly environment produced by your farmhouse fall decor. It should also create the ideal atmosphere for special meetups and family get together and can sink in with the season's beauty.
2. Occasional Transitions
Fall is one of the major seasons of transitions, both in people's lives and in nature. To appreciate and welcome this transformation, decorate your porch with a theme of farmhouse fall. You can also harmonize the flow between outdoor and indoor areas and connect it with a seasonal cycle.
3. Environmental Connection
Enjoy the changing seasons by immersing yourself in grounding and tranquillity. Usually, all your farmhouse fall porch decorations include organic elements like hay, flowers, leaves, and pumpkins. These help you to connect more with mother nature. Create a space where you can refuel, relax and chill.
4. Personal Touch
Your porch is the expression of your style and preferences. Farmhouse fall decor provides many ways to show off your uniqueness and originality. So try and construct a porch that expresses your feelings and individuality. Opt for color schemes, unique vintage art pieces, and textures as per your style, and use them.
Related: 16 Best Joanna Gaines Modern Farmhouse Kitchen Ideas
5. Warm Atmosphere
A warm atmosphere can make your space even more attractive if the weather begins to cool. Farmhouse fall porch decor highly embraces materials like blankets and pillows to create a welcoming and warm ambiance to sink in the cool autumn air. It also promotes comfortable seating and relaxation space for family chit-chats and reading.
6. Celebrating Spirit
Autumn is a season full of occasions, from Halloween to harvest festivals and Thanksgiving. Farmhouse fall decor ideas help you in creating a lively and festive environment. You can set up a backdrop for these special occasions, as it improves the overall celebration experience by bringing a hint of nostalgia and fun.
You can quickly improve the visual appeal of your outdoor space with the help of farmhouse fall porch decor. It creates a warm, pleasant atmosphere and adds a festive feeling. You can also embrace the love for mother earth, express your creative style, and connect with seasonal beauty. Spend quality time with your loved ones while collecting your beautiful farmhouse porch decor to take in the season's charm.
Conclusion
All in all, the coziness and beauty of autumn can be celebrated while adding a touch of rustic appeal to your porch of the farmhouse fall decor. You can easily design a magical and warm setting that can capture the season's essence by adding soft blankets, pumpkins, and hay bales.
Make sure you let your inner self and individual style come out and shine regardless of what you want to decide for the complete farmhouse look. Try and add your touches with the help of fall-inspired accessories.
You can also make endless memories as you gather with your loved ones on your porch, surrounded by the farmhouse fall decor, cozy atmosphere, and rustic charm.
So select your favorite items for fall decor and unleash your creative side to take your porch to new heights this season.
Frequently Asked Questions
How Can We Protect the Decorations of The Porch in Changing Weather Conditions?
You can use resistant materials like artificial pumpkins, fade-resistant fabrics, and outdoor cushions to protect your porch decoration elements. You can also bring sensitive or exposed things inside your space during bad weather conditions or cover them with waterproof traps.
Can We Use DIY Projects to Decorate the Porch of The Farmhouse Fall?
Absolutely yes! You can surely use DIY projects in your porch's decor to give it a personal touch. You can also think about painting and fading wooden signs, antique ladders, farmhouse accessories, window frames, or making wreaths.
How Can We Create a Warm Atmosphere by Lighting up The Porch?
For a welcoming and cozy glow, use fairy and string lights around the pillars and trees or along the porch's railing. You can also light some candles, lanterns, and LED lights to create a warm and welcoming ambiance.
What Are Some Budget-Friendly Options for Farmhouse Fall Decor?
If you are running on a low budget, that's fine. You can quickly try some DIY options created from recycled materials and cheap elements like twine and burlap. You can also discover some thrift stores and farmhouse decor shops to see options under your budget and place them at relevant places.
How to Maintain Porch Decorations Throughout the Fall Season?
The shelf life of your porch decoration depends on the way you maintain it or how often they are inspected to prevent dust and damage. You can also keep them under a shield to save them from extra moisture and sunshine. You can also keep a check on fragile elements to keep them inside in bad weather conditions.
Check This Next: 12 Stunning Modern Farmhouse Exterior Designs