The first thing about the house that gets people's attention is its front yard. It provides a glimpse of your fashion sense and your comfort and attention.
A front yard that has been planned nicely and thoughtfully maintained can improve your house's curb appeal and gives a welcoming and inviting atmosphere.
These concepts will allow you to create a front yard that not only enhances the architectural aspects of your house but also expresses your distinct style and taste.
They range from focus points to brilliant textures and colors. We have compiled amazing landscaping ideas that can transform the front of your home into a beautiful and scenic one.
Everyone may transform their front yard into a true masterpiece, whether you have a small or large garden.
So let's start with these 14 brilliant landscaping ideas for the front of your house and realize the full potential that it can become a source of delight for the coming years.
Similar Post: 12 Stunning Modern Farmhouse Exterior Designs
Amazing Landscaping Ideas for Front of House
1. Construct a Warm Entryway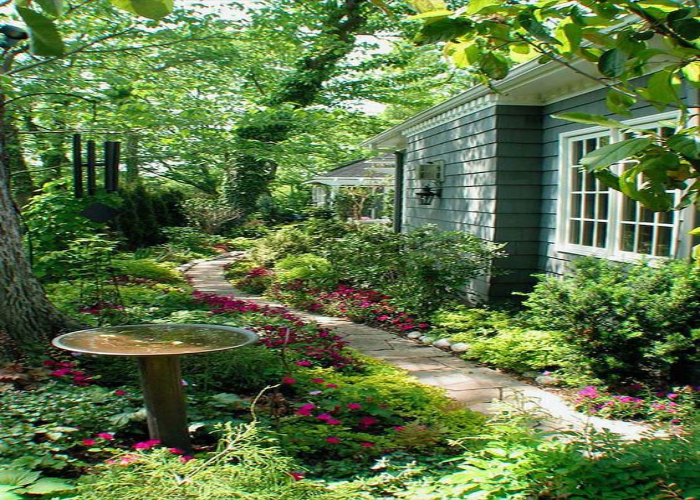 One of the amazing landscaping ideas for the front of the house is that you can create a great entryway as a statement for your property. You can install a great entryway with flower-lined beds to welcome visitors.
Along with that, you can also improve the all-over appeal and aesthetic of the front yard by adding a gate or archway that can easily convey air for arrival.
2. Add Flower Beds or Plantings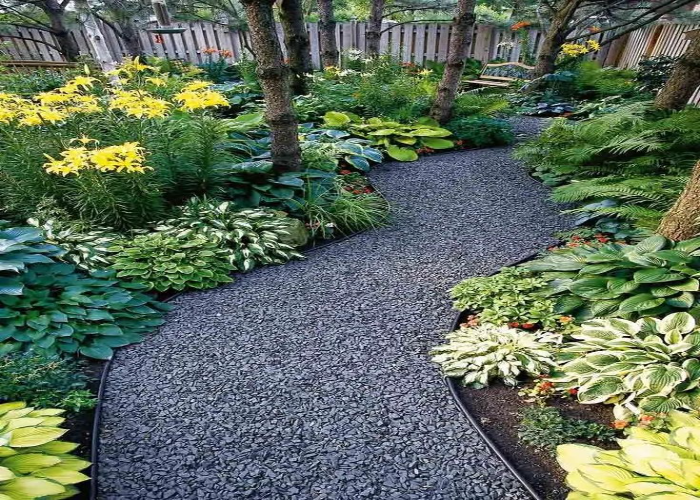 You can use flower beds and plantings to give the front of your home a new look, life, and vibrancy. However, you can preserve color and interest by picking a mix of flowers that bloom in various seasons throughout the year.
And you can even arrange plants with various heights and textures for a more beautiful impact. It will add volume to the front of the house.
3. Try Using Hardscaping Components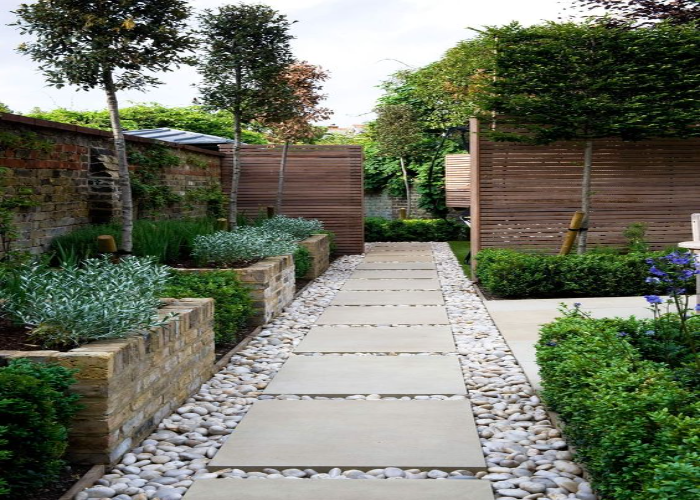 An amazing landscaping idea for the front of the house is to try hardscaping components to give it aesthetic interest and structure, such as pathways, beautiful pavers, retaining walls, etc.
These elements not only give you beautiful surroundings but also give you a natural landscape with texture and depth.
4. Create a Comfortable Seating Area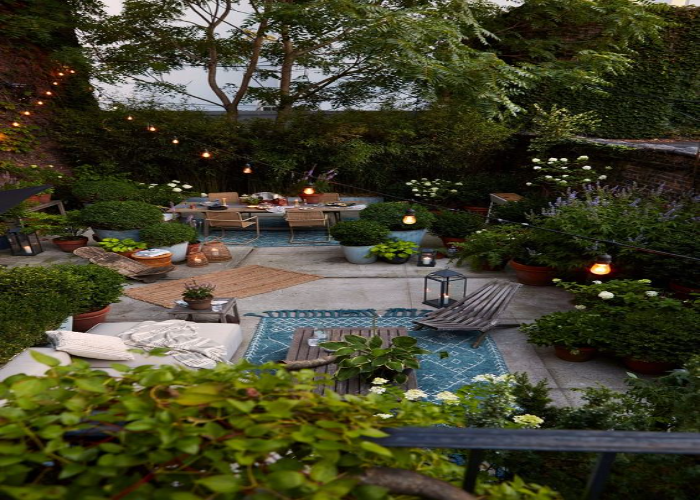 By creating a comfortable seating area at the front of the house, you can relax and enjoy the beauty of your front yard.
For a comfortable outdoor retreat, you can install a bench, swings, and a few sets of tables and chairs surrounded by flowers and vegetation.
You can also add cushions and pillows to the seating area for extra comfort and make it look more relaxing.
5. Add Outdoor Lighting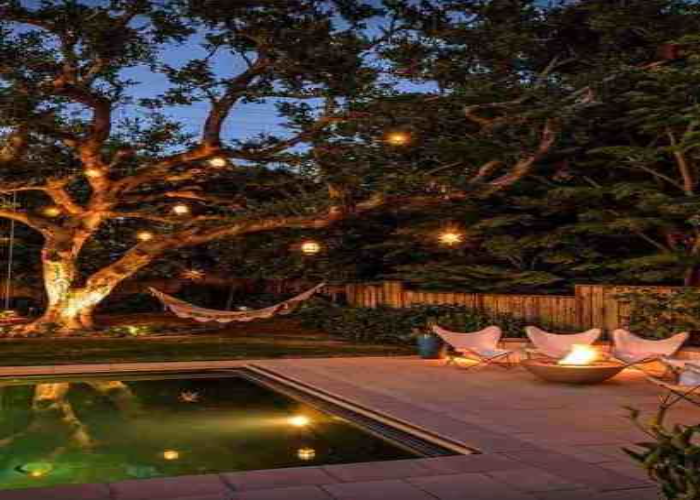 One of the most useful ideas for the front of the house is strategically placing outdoor lighting fixtures to illuminate your front yard landscaping.
In addition, to give more safety and security, you can also add architectural features to your home. You can use lighters, spotlights, and pathway lighting wisely to create a magical atmosphere at night.
6. Add Water Elements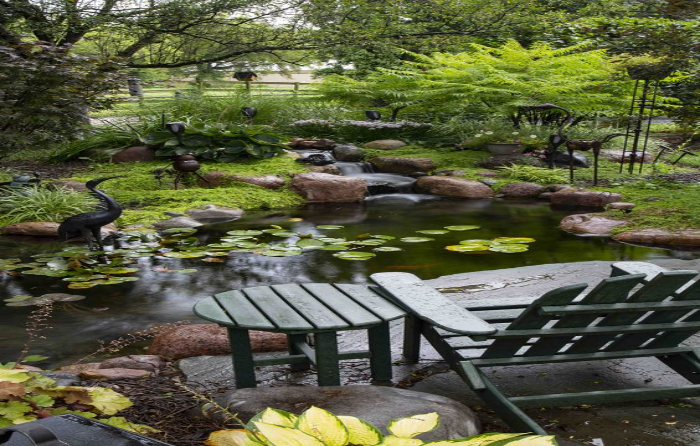 In front of the house, you can easily add water elements such as ponds, waterfalls, and fountains to enhance the beauty of the front yard landscaping.
It will increase the serenity of the front space of the house and also gives a very calming effect. The sound of water creates a focal point that attracts people's attention easily.
Also Read: How to Fix a Bathroom Faucet Leaking at Base
7. Add Native or Indigenous Plants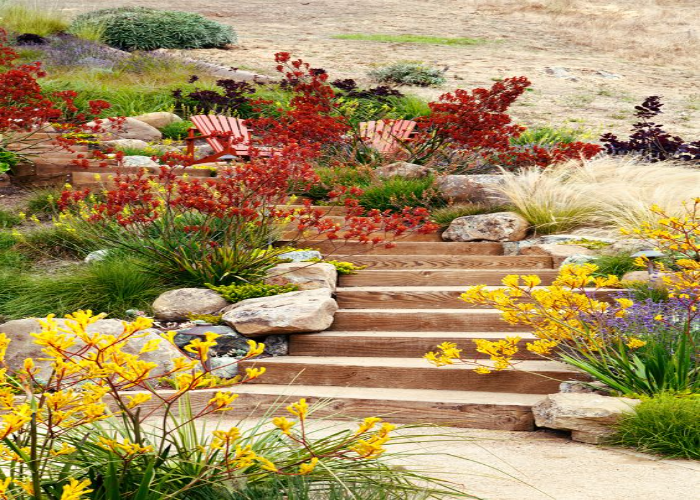 In landscaping ideas for the front yard, you can choose native shrubs and environmentally friendly and sustainable plants.
Plants like these can easily adapt to the local climate and require less care. They also attract local fauna, which helps in maintaining a healthy ecosystem.
8. Try and Create Vertical Gardens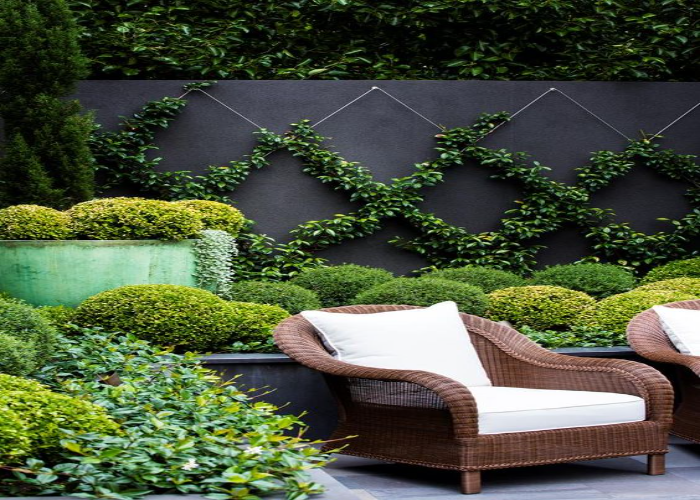 This landscaping idea is perfect for making the most out of the space.
Try and add vertical gardens and install living walls and hanging baskets for adding appeal and make your front of the house look rich with a green backdrop. This idea is extremely useful in smaller yards with less space.
9. Add a Rock Garden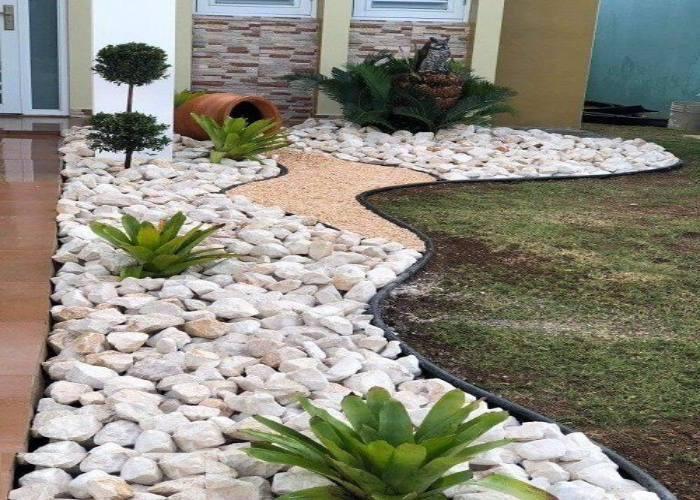 You can create a low-maintenance rock garden in a sunny landscaping area. This landscaping idea is ideal and eye-catching.
You can easily arrange a variety of rocks, drought-tolerant plants, and boulders in the front of the house. Because in dry areas, this idea works exceptionally.
10. Install Cute Mailbox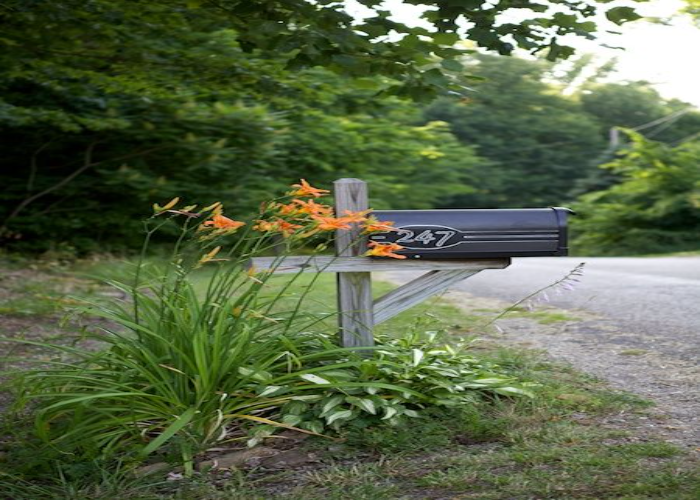 You can create a garden around the mailbox to attract people. It works amazingly well as a center of attention. And you can pick flowers and plant's that go well with the color schemes of your house.
Moreover, you can also add a personal touch by adding beautiful stones, a trellis, or a charming mailbox post.
11. Create a Lawn with Diversity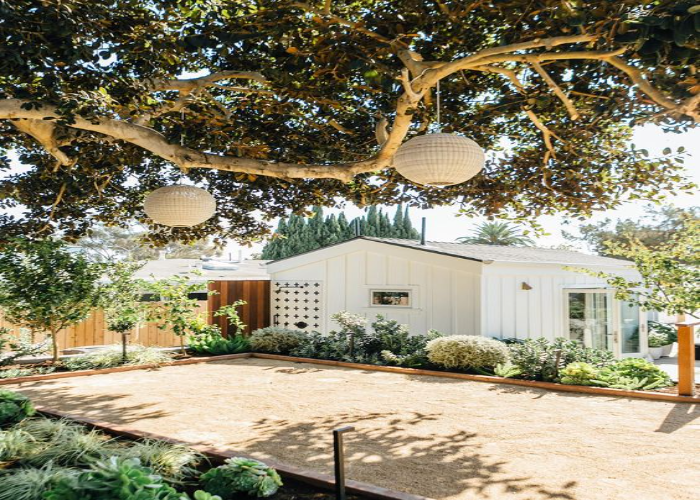 One of the best landscaping ideas for the front of the house is to create an aesthetically beautiful space by adding various types of grass and ground covers.
You can give your front yard dimension and depth by combining several colors of green. Not just this, you can even think about adding artificial turf or grass that can withstand drought.
12. Install Ornamental Trees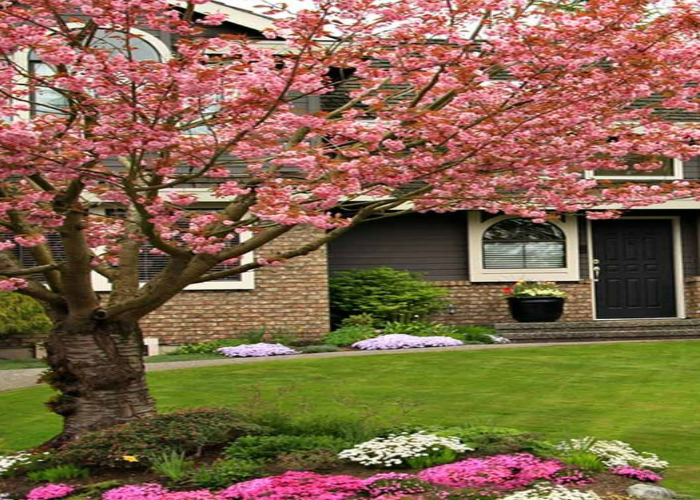 Installing decorative trees in your front yard adds elegance, shade, and peace. Opt for trees with lovely foliage or eye-catching blossoms to match the house's architectural style.
Before selecting ornamental trees, invest time planning and researching different species suitable for your available space and then thrive your ornamental tree in that particular space.
See More: 8 Ways to Get Low-Cost Farmhouse Living Room Ideas
13. Create a Vibrant Border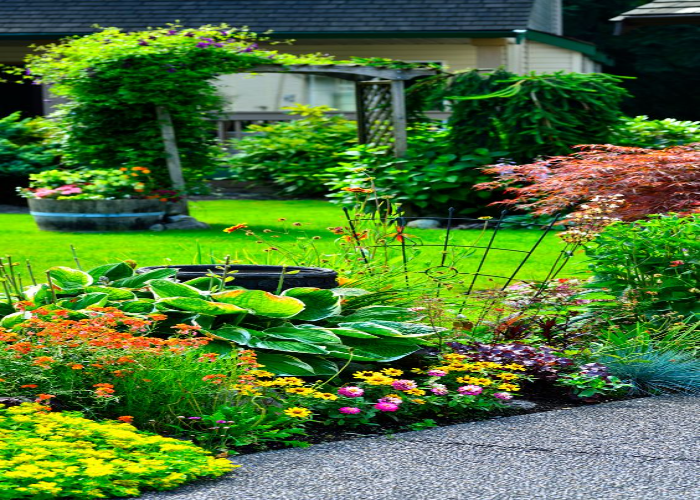 A vibrant border around your front space's perimeter can enhance your house's overall look. You can maintain the color and interest throughout the year by using a variety of flowers at different periods of the year.
This landscaping idea gives your front yard a lot of dynamic features and adds colors.
14. Put Edging In Your Landscape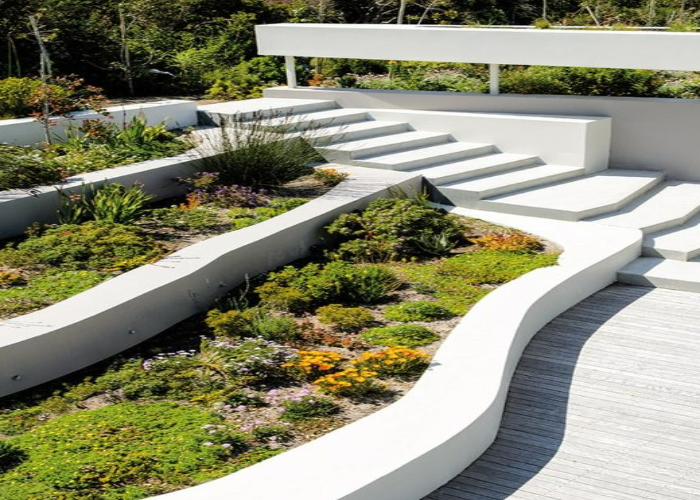 Landscaping edging can help you define and categorize various parts of your front part of the house. You can add walkways, flower beds, and trees with borders made up of rocks, bricks, or metal.
It improves the aesthetics, makes it look more appealing, and gives a more tidy appearance.
Additional Tips to Complement the Landscaping Ideas
1. Decorate Your Outer Space with Seasonal Items
By adding seasonal flowers, ornaments, and wreaths, you can add seasonal accents to your front space of the house.
These decorative items represent the hues and themes of each season. With these additional items in your front yard, you can keep it looking new and welcoming all year round.
2. Try and Do Timely Irrigation
Ensure you use proper irrigation methods so your plants and grass receive enough water without wasting resources.
You can use drip irrigation controllers to maximize wholesome development and water usage.
3. Maintain Regular Care
You need constant maintenance to keep your front yard looking fresh and nice throughout the year.
You must schedule time for pruning plants, mowing grass, pulling weeds, and cleaning pathways to keep your property neat and well-kept.
4. Look for Ideas and Inspiration
For knowledge guidance and ideas, go through gardening magazines, visit local gardens, or speak to experts in this field.
They may offer some insightful information that can help you make knowledgeable selections for your landscaping ideas.
5. Always Pay Attention to Details
Little things can have the most long-lasting impact and influence.
To improve the aesthetic appeal of your outer space, you can add a unique touch by using ornamental pieces like a birdhouse, sculptures, cushions, etc.
By now, you have all the necessary tools by which you can transform the front yard of your house into a captivating and welcoming space, in addition to the 14 brilliant landscaping suggestions we discussed earlier.
So take advantage of the chance by which you can design a front yard that showcases your style and personality, improves the overall appeal of the space, and leaves a long-lasting impression on all who visit your place.
Related: 19 Aesthetic Bedroom Ideas You Will Fall in Love With
Summing It Up
All in all, adding all the necessary touches to your space's front can significantly improve its overall look and general aesthetics.
You can make your front yard into a gorgeous yet welcoming space that oozes your style and enhances the architectural features of your home by using these 14 brilliant landscaping ideas.
Each concept has its unique charm and quality that can bring beauty to your front yard, from adding flower beds and borders to using hardscaping materials and water features.
Each of these holds specific roles that can enhance beauty.
So roll up your sleeves, get ready and creative, and set a mission to design a front yard that will leave a lasting impact on everyone who passes by or visit your home.
So what are you waiting for? Challenge your creativity and transform your front yard with the help of these amazing tips.
Frequently Asked Questions
Can We Try These Landscaping Suggestions Into Practice on a Small Budget?
Absolutely! One can easily try these landscaping ideas for the front of the house as they are ideal to fit a range of budgets.
You can choose economical solutions that are less costly, or you can even try DIY projects, or you can also try different ideas into practice over time.
With careful imagination and planning, you can completely change your front yard on a budget.
Can We Try These Landscaping Ideas in a Small Area?
Yes! Numerous landscaping ideas can be modified in any size and shape of the front yard. Tiny seating areas, vertical gardens, and focus points can have.
A big impact in a small space. By paying attention to all the necessary small details, you can easily make the most of your space and create a wonderful, stunning yard at your convenience.
How to Maintain These Landscaping Ideas?
The maintenance required for these landscaping ideas depends on the particular component you include in your space.
For example, components like flower beds and water gardens require more maintenance than the other native plants and drought-tolerant grasses, as they require less maintenance.
So while you decide what to keep in your front yard, take your time and resources into account and see all the available options, then choose the ones that meet all your needs.
Can We Hire a Professional to Help with These Landscaping Ideas?
Absolutely Yes! You can hire a professional who has vital knowledge and can help you with the greatest outcomes.
These professionals can help you with the landscaping plan, suitable materials, and equipment requirements and offer maintenance advice.
You can surely make better judgments and easily realize your vision of your front yard by seeking the advice of a professional.
Check This Next: 9 Amazing Trundle Bed Ideas and Designs to Save Space