Want to upgrade your house's backyard? Then, nothing can do better than adding a quality couch and creating a beautiful outdoor living space. Outdoor sofas and couches are not essential for your home like indoor sofas or couches.
But choosing the right pair of couches or sofa set can transform your dull outdoors into a beautiful and eye-catching space to spend quality time with family and friends.
Nowadays, most people prefer outdoor sofa sets and couches and decorate their houses outdoors for a cozy and inviting feel. People not fond of spending time outdoors often get enthusiastic about staying and relaxing outdoors if they have a cozy and comfortable space; keep reading if you want to install an outdoor couch or sofa set.
Here, we have listed the best outdoor couches and sofa sets for 2023.
Best Outdoor Couches and Sofa Sets
When you install an outdoor couch or sofa set, you get plenty of options. However, such a wide range of options can make the task more challenging. So, if you are not sure what could be the right fit for your house's backyard, we will help you with it.
Below is the list of the best outdoor couches and sofa sets for 2023.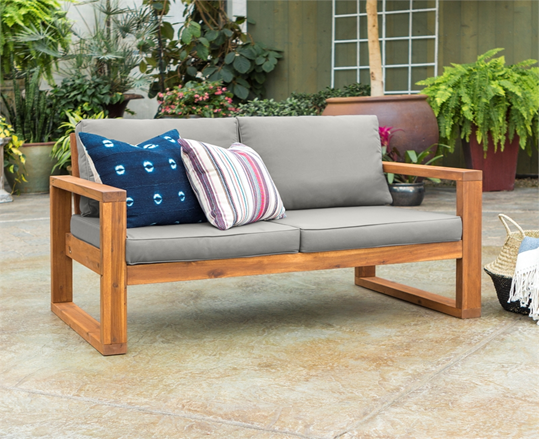 If you have a small backyard or outdoor space and are searching for a compact outdoor couch or sofa set, try cozy outdoor loveseats. The cozy outdoor loveseats do not take up much space and can fit in small and big spaces easily.
Also, loveseats are brilliant for creating a cozy, warm environment to stir conversations and light up your evenings. Plus, you can choose from various materials and colors for your outdoor loveseats to fit the ambiance. Walker Edison's Acacia Wood Cozy Loveseat is the best choice if you do not have much space outdoors.
Similar Post: 5 Stylish Wicker Patio Furniture to Glam Your Outdoor Space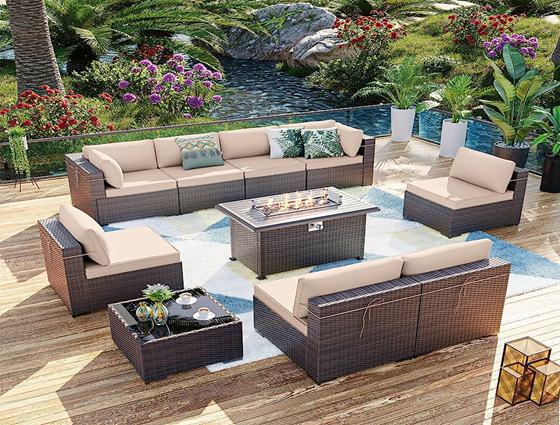 Another attractive outdoor couch or sofa you can try for your backyard or garden is a deep-seat sofa set. Deep-seat sofas are well known for their cozy and comfortable feel.
Deep-seated sofas are versatile and fit well with both indoor and outdoor environments. Another plus point of installing deep-seat sofas or couches is that they are warm and inviting and make your visitors feel at home.
Deep-seat sofas are perfect for long, engaging conversations and create an excellent environment for outdoor tea time. Deep Seat Outdoor Couch with a Coffee Table and Cushions by YITAHOME can set up your garden or patio.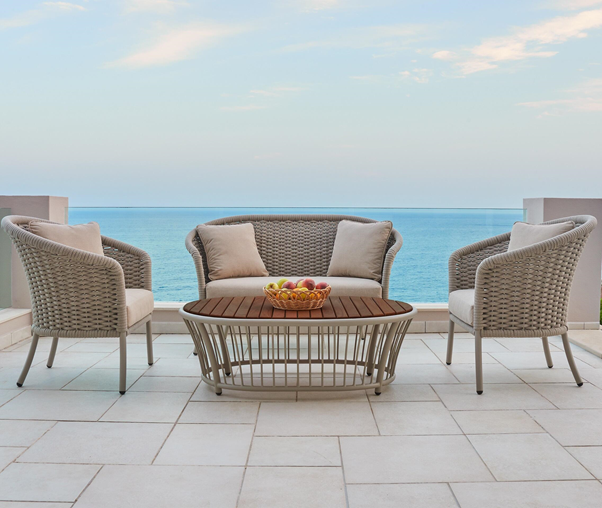 Rattan or wicker sofa sets are also popular for outdoor living and patios. You can also place them in your garden to create a beautiful outdoor space. The wicker or rattan sofas give a natural texture and blend well with various designs and styles.
Also, rattan or wicker sofas and couches are highly durable and can withdraw heat, rain, and moisture. So, they make an excellent option for your outdoor couch that can give you a rustic, natural look and lasts longer than many other outdoor couch or sofa sets.
Modway's Aura Outdoor Patio Wicker Rattan Sofa can be ideal if you love Modern Bohemian, Cottage, or Countryside aesthetics.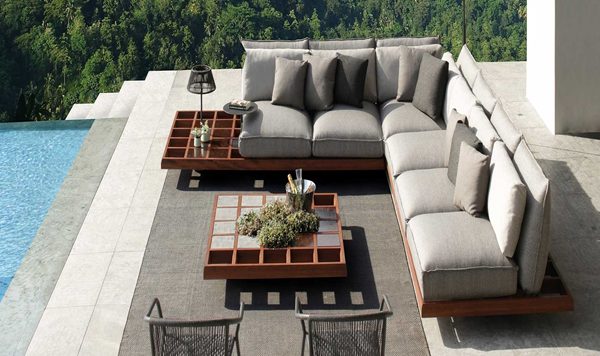 Want a modern, cozy outdoor couch or sofa for your house? Then you can try the sectional sofas. Sectional sofas are stylish elegant, and create a perfect environment to converse and spend quality time with friends and family.
If you have a big family or often host many guests, try this sofa cum couch set. Sectional sofas come in different styles and sizes, and you can pick any style and size according to your needs.
If you can install a 4-seater sectional sofa or opt for 6/8 seaters depending on your garden size and how many people you are attending. Try EROMMY's Outdoor Sectional Sofa, which comes with a metal frame, making it a good piece of furniture for all weather.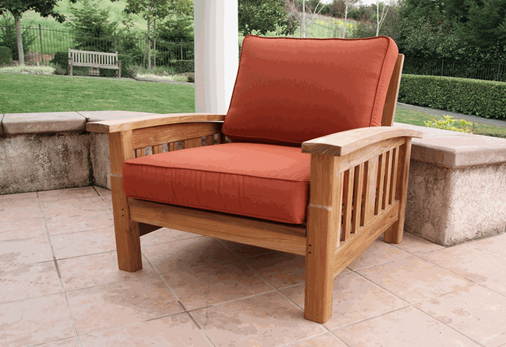 A teak wood sofa is another reliable option for your outdoor living space. If you want a durable, stylish, and sustainable outdoor sofa or couch for your backyard or garden, you must try this.
Teak wood is very durable and does not get harmed easily. It is also an excellent option for outdoor couch or sofa sets as it can resist heat, rain, moisture, and external harm. Also, teak wood sofas look excellent.
You can get them in various finishes that suit different styles: natural wood finish for rustic or farmhouse style and black or brown wood finish for a minimalist, modern outdoor look. You can try Safavieh's CPT1010A Couture Curacao Brazilian Teak Outdoor 3-Seat Patio Sofa for durability.
Also Read: Sofa and Couch Dimensions: All You Need to Know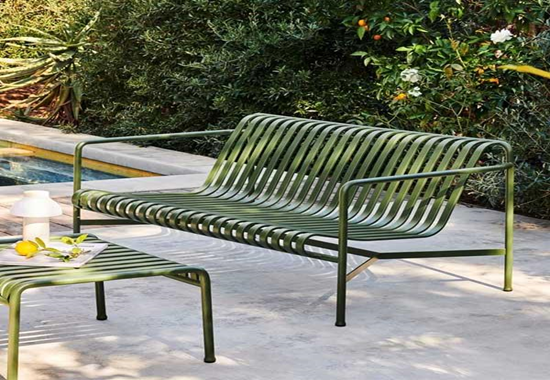 Metal frame sofas and couches are popular for outdoor couches or sofa sets as they are durable and resist heat and rain. Metal frame sofas also look sleek and bring a classy touch to your outdoor patio or living space.
Also, if you choose aluminum or stainless steel frames, you get an incredible combination of high- durability and a chic look.
So, if you want a heavy-duty outdoor sofa that looks stylish and eye-catching, you can go for a metal frame sofa set. PHIKOOVA's Outdoor 3-seat Aluminium Couch for all weather is excellent for the garden, balcony, patio, or porch.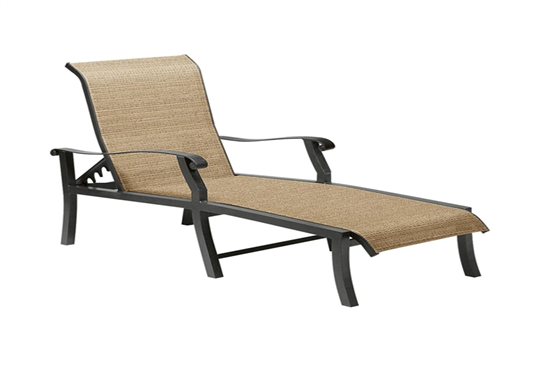 Lounge Sofas are also popular among people who want more than a casual sofa set. Lounge sofas do not look like conventional sofas and can be great outdoors, such as beside the swimming pool or in the backyard.
The slim structure and clean look make them a perfect match for a modern and minimalist house setup. Also, lounge sofa frames are often made from wood or metal to resist heat and rain easily.
The most significant advantage of using lounge sofas is the recliner that allows you to sit back and relax. You can try the Outdoor Aluminum Sofa Set with a Chaise Lounge by Soleil Jardin.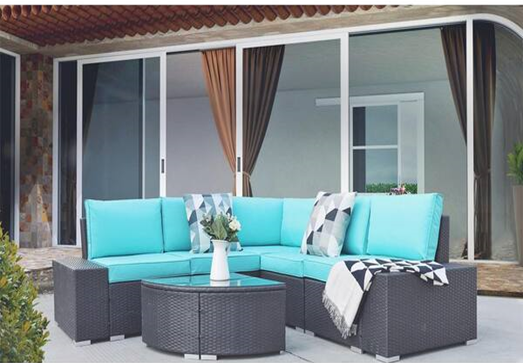 Looking for a modernist sofa set or outdoor couch for your house? Try the armless sofa sets that look stunning with modern architecture and design. The armless sofa sets also provide a fun and cozy seating facility.
You can find vibrant shades for your armless chair, such as black, blue, yellow, orange, green, etc. The vibrant colors of the armless sofas make them eye-catching.
They are versatile, and you can use them for your backyard, outdoor living, and garden spaces. You can place Tangkula's Outdoor Armless Sofa Set with all-weather wicker on the balcony, garden, patio, and poolside.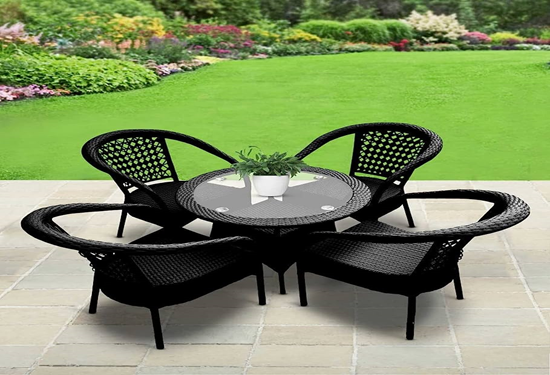 A Wicker Bistro sofa set with a coffee table is an excellent choice for your outdoor living. The wicker Bistro sofa set and coffee table are unique combos that look stunning in a backyard or garden.
If you love the cozy environment of cafes and restaurants, then you must try this fantastic sofa plus coffee table set. The classy Bistro sofa sets with a round coffee table at the center give a warm vibe for evening tea and chit-chat or a classic Sunday outdoor branch.
Outdoor Wicker Bistro Sofa Set with a Coffee Table by FDW is perfect for people who love to go through some book pages while sipping coffee outdoors.
See More: Top 16 Most Comfortable Couch to Relax on In 2023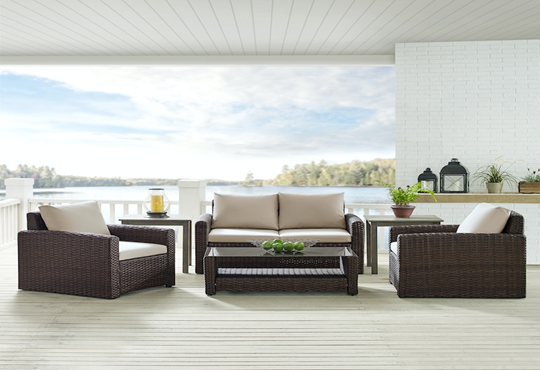 Another excellent option for an outdoor couch or sofa is the conversation sofa set. Many confuse sectional sofas and conversation sofa sets due to their flexible structure and ability to provide a proper setup for a smooth conversation.
However, both are not the same, and if you like to round up and create beautiful moments while talking to your family and friends, you must choose the conversation sofas.
Try Sophia and William's Large Half Moon Outdoor Sofa Set for a luxurious experience. Also, do not worry if you have a small space.
How to Choose the Best Outdoor Couch?
It can be challenging for you to pick the right pair of outdoor couch or sofa set for your home, especially if you are trying something like this for the first time.
Choosing outdoor furniture differs slightly from indoor ones, whether a sofa, table, or dining setup. It would be best if you considered many things like durability, weather, style, etc.
Below, we will provide some essential tips on choosing the best outdoor sofa or couch for your home.
1. Design
The most important factor you must consider while choosing an outdoor sofa or couch is its design. Appearance matters the most, and if you do not select wisely, it will ruin the entire look.
Choose something that goes well with your house structure and garden or backyard theme. For instance, if you have a modern house setup, a minimalist armless sofa or loveseat will be better than a traditional heavy-design sofa.
2. Durability
Another crucial factor you can remember when selecting an outdoor sofa or couch set is its durability. Outdoor furniture, especially sofas and couches, must be more durable than indoor ones.
It is because you will place them outside your home, and they constantly get exposed to the outdoor environment, such as heat, rain, dust, dirt, moisture, etc. So, always check the durability before picking any.
3. Comfort
Comfort should be your other priority when choosing the best outdoor sofa for your house. You must select an outdoor couch or sofa set that provides enough comfort and coziness to encourage people to spend more time outdoors with the ease of indoors.
The ideal outdoor sofa or couch must be warm, cozy, and comfortable and look like a perfect place to spend your leisure and converse with your friends and family in comfortable seating.
4. Budget
Lastly, you must not forget about your budget. It is always wise to set a budget for everything and work accordingly. If you plan to install an outdoor sofa or couch, you must create a budget.
Also, do not go overboard and try to identify the best possible solution within the budget. Other factors you can consider while choosing a sofa set or couch for your house is the space, climate, color scheme of the surrounding, etc.
Related: 18 Best Modern Couch Designs to Try in 2023
Wrapping Up
All in all, outdoor sofas or couches are great tools to style your outdoor space and create a cozy, warm living space.
If you love to spend your autumn afternoons or summer evenings outside, a cozy and comfortable sofa set or couch will be the ideal option to enhance your outdoor experience.
Outdoor couches or sofa sets have more than one advantage, and when you choose the right one, you can make the most of this beautiful piece of furniture.
Also, when you install a beautiful outdoor sofa, it enhances the look of your home and makes it an ideal space to spend evenings with family and friends.
So, are you ready to redesign your outdoor space? You can try any sofa mentioned above and couch ideas for your outdoor living space or backyard.
Frequently Asked Questions
How Important is an Outdoor Sofa?
Outdoor couches and sofa sets are essential for your house. It helps to enhance the beauty of your home and make it more stylish.
Also, when you install the proper sofa set or couch, you can impress your guests and neighbors with your cozy and inviting outdoor environment.
Also, when you install an outdoor sofa set or couch, you can create a perfect outdoor setup to spend quality time with friends and family.
Can I Place a Regular Sofa Outdoors?
Indoor sofas are not designed for use outdoors. Changing seasons, UV rays, moisture, and heat are common outdoors. And these aspects can harm indoor sofas and couches.
For outdoors, you must use UV rays and resistant and all-weather sofas. You can place regular sofas in covered outdoor spaces like patios or porches. Also, make sure that these places are covered with waterproofing.
What is the Best Material for An Outdoor Couch or Sofa Set?
Material is an important aspect of outdoor furniture, and couches are no exception. For outdoor use, materials like metal, hardwood, wicker, and rattan are ideal for couches and sofa sets.
These materials are generally sturdy, and they come with weather-resistant finishes, making them suitable for various weather conditions. Glass and plastic are also good for outdoor use, but they have less durability.
Can I Use a Normal Sofa on a Covered Patio?
It is best not to use a normal or indoor sofa outdoors as it will be exposed to indirect sunlight, heat, moisture, and humidity and begin to break down faster. However, if you still want to use a regular sofa on a covered patio or porch, ensure it is thoroughly waterproofed to prevent damage from rain and mists.
Is Outdoor Sofa Sets Expensive?
Not all outdoor couch or sofa sets are expensive. It primarily depends on the type and size of sofa or couch you choose for your outdoor space.
For instance, if you select a teak wood sofa set, it will cost more than a wicker or rattan sofa set. Also, a four-seat sectional sofa will be less expensive than an eight-seater conversation or sectional sofa set.
Check This Next: 13 Leather Sectional Couches for Your Space