Are you looking forward to upgrading your bathroom aesthetics with a freestanding tub?
Freestanding tubs, other than offering luxury and comfort, are stylish additions to your bathroom.
They come in various shapes and sizes, and it's not easy for a beginner to decide which one to get because of the many factors.
For instance, issues like the weight of the tub that can run up to several hundred pounds alone, blind plumbing connection for freestanding tubs, building extra support for the tub, etc.
Freestanding tub offers a spa-like experience and can elevate the aesthetic of your bathroom from normal to spa-like with its presence.
In this article, we will help you figure out which freestanding tub is good for your home, depending on your home decor, size, and requirements.
Let's get started!
Best Looking Free Standing Tubs for Your Space
Similar Post: 31 Unique and Fascinating Bathroom Door Ideas
1. Freestanding Soaker Tub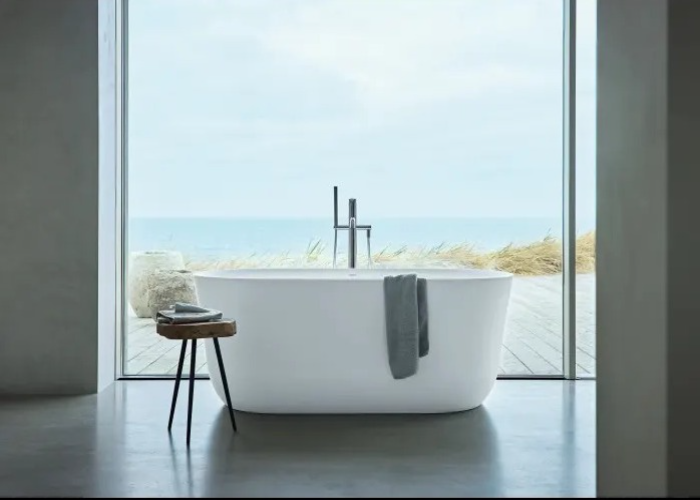 The minimalism and sleekness of this tub speak for themselves, which will instantly bring a feeling of calmness to your bathing space.
Even though it's obviously well suited for minimalist settings, this freestanding tub will be suitable for a variety of home decors because of its sleek profile.
This freestanding tub is constructed by Duravit using their proprietary material called DuraSolid.
It is known to be scratch-free, highly durable, many times stronger than acrylic, and also weighs relatively less.
The weight of a tub is important since lightweight tubs are not only easy to install, rather they need less support at the bottom, ensuring their longevity in your bathroom.
2. Freestanding Acrylic Bathtub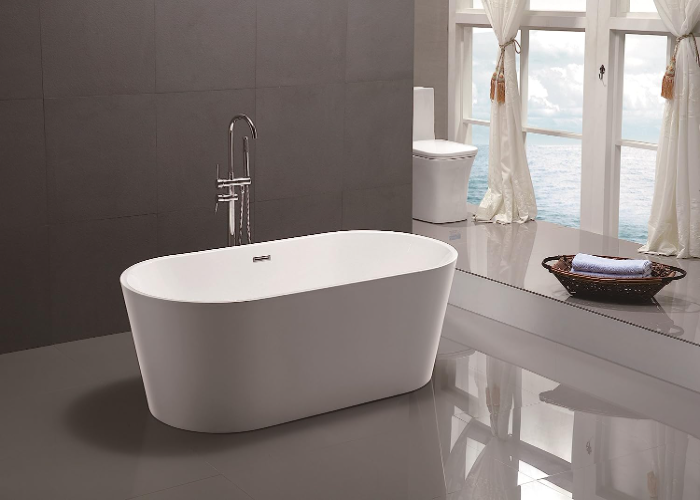 You cannot miss this masterpiece when you are looking to remodel or upgrade your bathtub.
This freestanding tub is made from Acrylic, a highly durable material and more economical than many other options available.
Lightweight helps the installers and creates less pressure on your flooring. This tub has clean, sharp, and minimalist edges, which gives it a very traditional look.
The drainage system is made in the center so that no remnants of water remain on the tub once you drain it.
However, do remember that even though it weighs less than its competitors in the market, it's still a whopping weight of 90 pounds.
So we do recommend hiring a professional to get the job done.
3. Freestanding Acrylic AirTub with Center Drain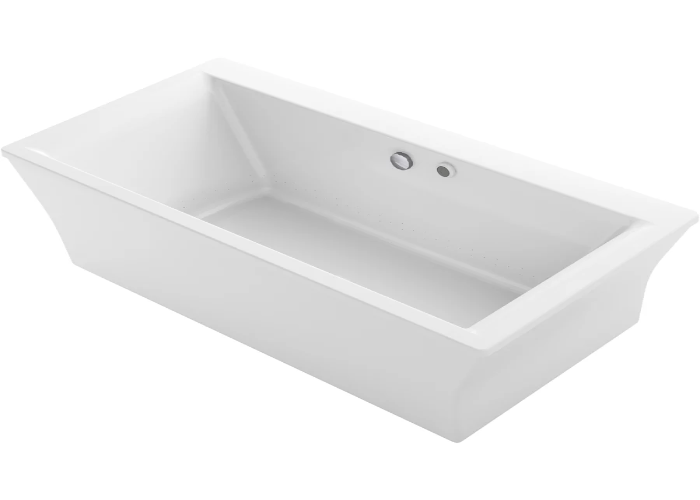 This freestanding offers great comfort and looks because of its ergonomics.
This freestanding tub is rectangular shaped, and the slopes on either side are curved inwards, giving you a very snug fit that will make you relax almost instantly.
The inclined position allows you to sit in this tub and read magazines, have a fragrant candle bath, and so much more.
It also has three heat settings for your back, arms, and shoulders for you to experience the ultimate comfort.
The unique feature of this freestanding tub is the release of thousands of bubbles which helps relax, massage, and rejuvenate your body.
But do remember that to enjoy all the features of this extraordinary freestanding tub, you need to have professionals install it.
Also Read: 30 Budget-Friendly Small Bathroom Ideas to Refresh Your Space
4. Center Drain Whirlpool Air Bathtub
This center drains Whirlpool air bathtub took the internet by storm with its freestanding and contemporary elements.
This bathtub is capable of providing you with a full body massage thanks to its advanced 18 deluxe zero-profile air jets, 12 low-profile water jets, and 22 hydro-therapeutic massage jets.
The bathtub reinforces its richness through its marine-grade acrylic and the usage of fiberglass in its construction.
For all its settings, like massage and aroma bubbles, it has feather soft touch control and pressure control, which also helps in maintaining an optimum water temperature and controlling its heating capabilities.
5. Freestanding Air-Jetted Bathtub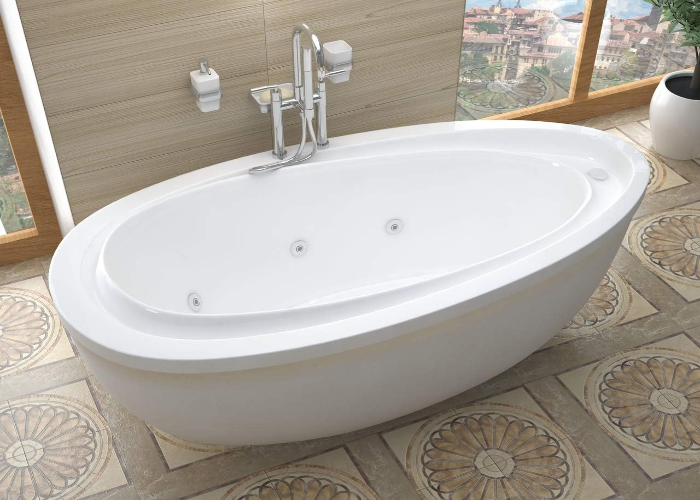 With its water droplet design, this oval-shaped freestanding bathtub is in sync with the advancements in home decor.
It has a second layer at the shoulder length running through the circumference of the tub, which acts as an armrest, and you can also use this place to store your essentials.
This bathtub has a glossy finish not only looks absolutely phenomenal in sufficient lighting but is also easier to clean.
The usage of fiberglass ensures its longevity even when you frequently use aromatic salts, which usually harm the tub. It is compact and can be easily installed even in smaller bathrooms.
6. Iron Pedestal Tub with Rolled Rim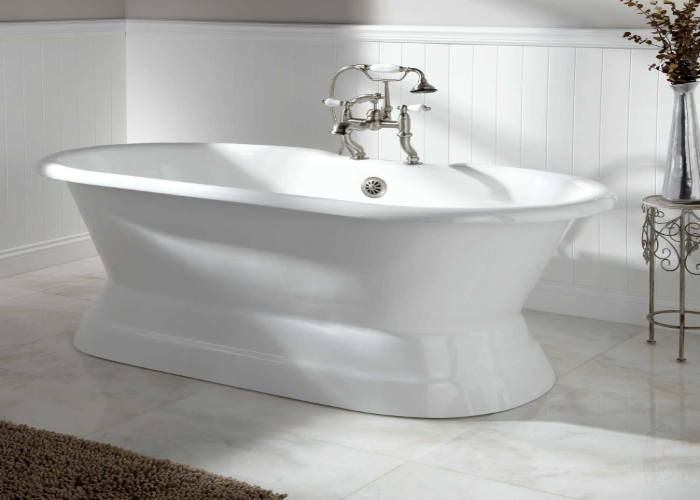 This iconic iron pedestal tub with rolled rim gives a very timeless vibe and suits varieties of home decor thanks to its elegant and highly functional design.
It is made up of iron, which means it is stronger than acrylic with a pearl white finish. Its oval shape makes it compact and suitable for small bathrooms.
Since it's made up of iron, and not the lightweight Acrylic, it weighs 470 pounds which is quite heavy.
So we advise you to install this freestanding tub on the ground floor since the base will not require much support.
However, if you are planning to install this on a higher floor, seek professional help and have a strong foundation built.
See More: What is the Best Time to Buy Furniture, Says Experts?
7. Brass Alcove Bathtub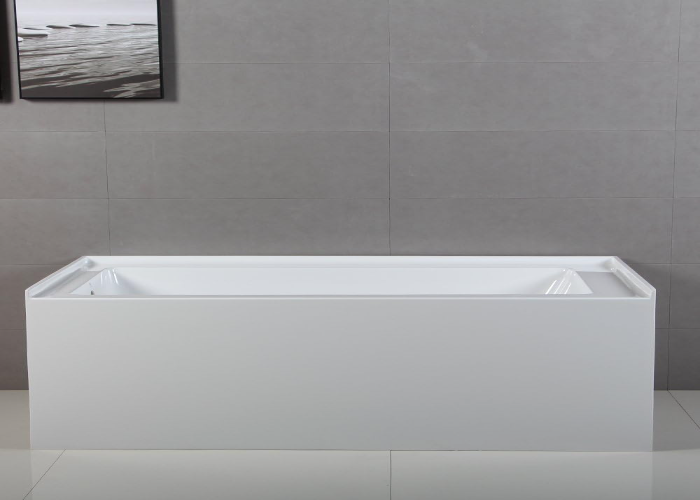 This freestanding tub is made for an alcove. Alcove is the recess or an area between 3 walls. An alcove bathtub will fit between the alcove and make the most out of the unused area in the bathroom.
This rectangular-shaped bathtub is also made up of acrylic, fiberglass, and resin for longevity. It is usually a number-one bestseller on Amazon in its category.
It comes in two drainage options, i.e., right-hand drain and left-hand drain. You can choose either depending upon your requirements.
This tub is large enough and gives a snug fit to the user. This ensures that you get the ultimate comfort and luxury right at your home.
8. American Standard Apron Bathtub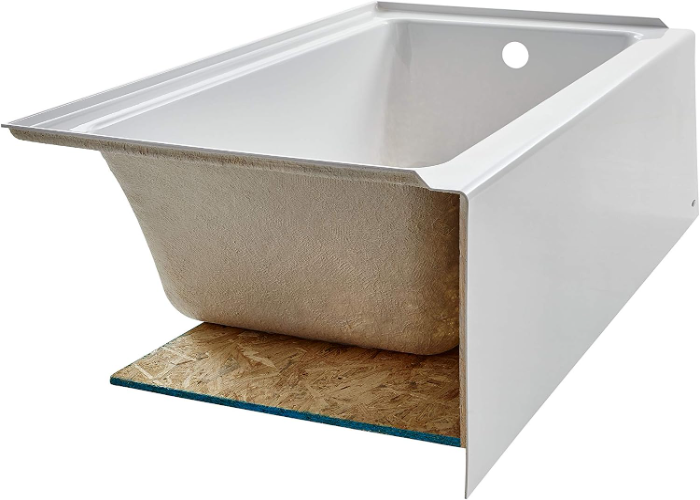 Got a small bathroom but want a bathtub in your home? You might want to pick this one. Slightly lower in height, it's perfect for compact bathrooms, especially lower ceilings.
Even though it's a bit small in height, it doesn't compromise on the features and benefits that it offers. With the much-needed lumbar support, deep soak draining, and easier DIY installation, the list is endless.
However, be mindful that it's not the right choice for soaking since it's only 18 inches deep. Its scratch-resistant finish and durability are definitely worth your money.
9. Freestanding Walk-In Bathtub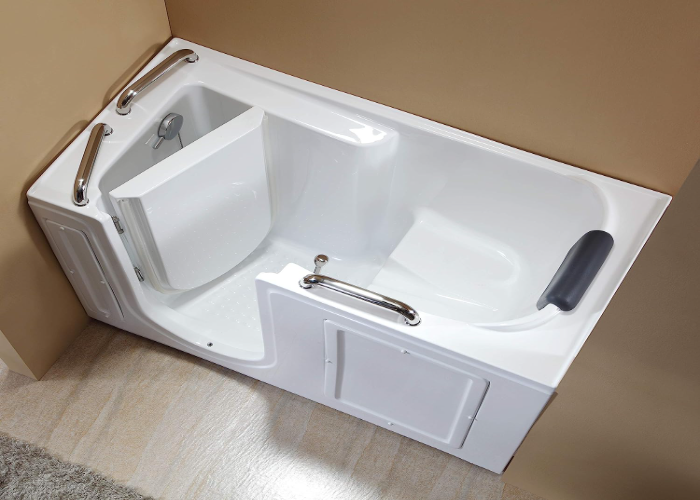 This is one of the most unique products on this list, and that's why we saved it for the last. What's unique about it, except that it's a walk-in bathtub, is its low standing height at just 4 inches.
This minimal height is crucial not to let the water seep out of the shower. Finished with a glossy white finish and made with acrylic, this speaks luxury like nothing else.
It has a tiny door from where you can step in. We agree that it's not the biggest of the freestanding tubs on this list, but it's the most unique, and that's why it deserves to be here.
The chrome-finished grab rails on the sides are much needed for support to get up. And accompanied by the white finish, it looks aesthetic.
If you have this in your bathroom, it's sure that it will turn many heads.
Related: 11 Stunning Powder Room Ideas for a Modern Vibe
Final Thoughts
Freestanding tubs look exotic and luxurious, and highly functional. In order to install a freestanding tub in your bathroom and to make the right choice, be sure to choose an appropriate tub for you.
Choose the freestanding tub that meets your requirements, the size of the bathroom and blends well with your home decor.
In general, freestanding tubs are heavy, even if they're made up of lightweight material like acrylic, so it's crucial to have strong flooring.
Similarly, they also require plumbing which you cannot go wrong with since that leakage and rust can become a problem ruining your whole experience.
But worry not. These things are not deal breakers and can be solved if you just let the professionals deal with the technicalities and you just focus on taking a long mesmerizing shower afterward.
Frequently Asked Questions
Which Bathtub Is Better, Acrylic or Porcelain?
Acrylic and porcelain are the two materials most frequently used in the construction of bathtubs. And they both are very sturdy and durable.
However, if you choose acrylic, you're going to save your money. It weighs a lot less than porcelain and is much easier to install.
On the other hand, porcelain comes with its own benefits, like better durability and easier cleaning, but a little expensive.
How Often Should I Clean My Bathtub?
Even though there is no hard and fast rule as to how often you should clean your bathroom. There are many factors at play. For instance, how frequently is it getting used?
Do you use aromatic salts to take a bath often since it will lead to a dirty tub faster?
However, you should aim to clean your tub once a week for better hygiene and to maintain your tub's pristine condition for a longer period of time.
Why Are Freestanding Tubs So Expensive?
They are usually expensive due to their premium materials, and most importantly, freestanding tubs are not a product of necessity but rather a thing of luxury, so their price always tends to be higher.
One important thing to note is freestanding tubs are not supported by the wall on any side, which means it needs additional support at the bottom, pushing the price further up than normal bathtubs.
Check This Next: 22 Stunning Doorless Walk in Shower Ideas