Are you confused about modern powder room ideas? The powder room is a smaller bathroom, often closer to the living and dining rooms.
It consists of all the facilities like any normal bathroom. It makes it easy for the guests and visitors to freshen up easily due to the close proximity to the main entrance of the home.
Along with being functional, these spaces serve as a blank canvas to incorporate the decor as per your liking.
From minimal to avant-garde modern powder room ideas, the possibilities are endless. Despite their size, powder rooms play a significant role in any home.
They serve as a convenient retreat for guests, providing a private space to freshen up.
If you are looking for some design inspiration to create a contemporary powder room that leaves a lasting impression on your guests, keep reading further for the modern powder room ideas.
1. Minimal Yet Elegant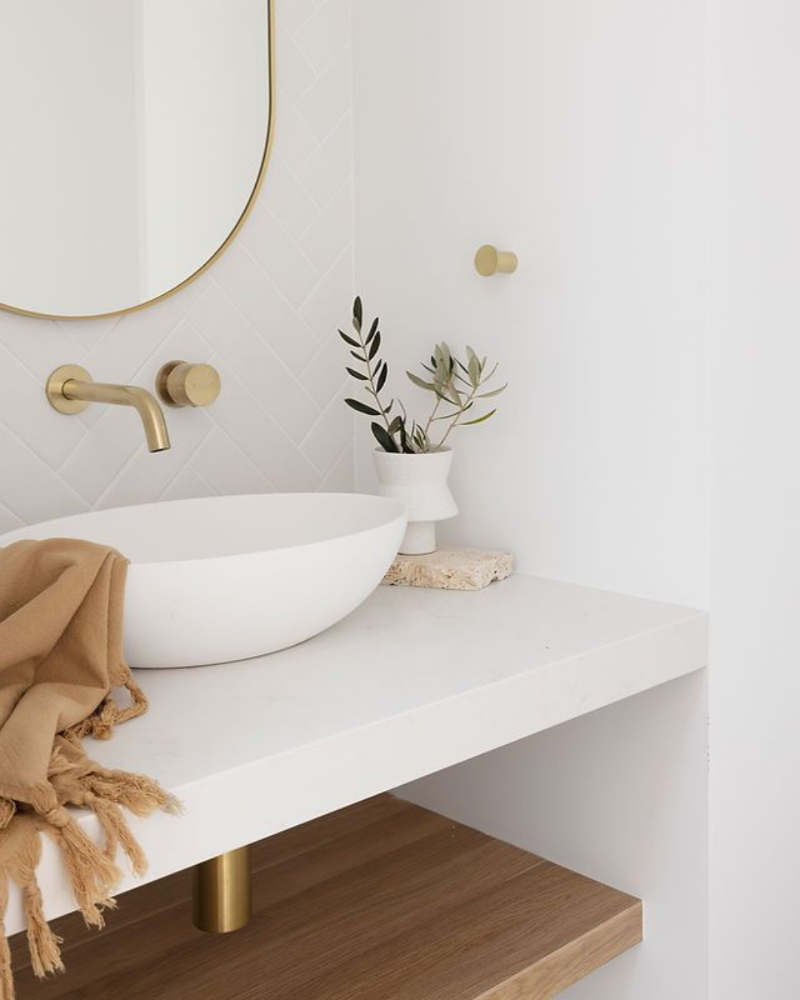 If you are looking for something minimal yet statement-making, these powder rooms will be an excellent choice. A key element in a minimalist powder room is the choice of materials.
Opt for natural materials like marble, concrete, or wood for a sleek and organic aesthetic.
Keep the color palette neutral with shades of white, gray, or beige to create a sense of spaciousness. A floating vanity with minimalist hardware can further enhance the streamlined look.
By decluttering the space and carefully curating the essentials, a minimalist powder room offers a serene and uncluttered atmosphere for guests to freshen up in style.
Similar Post: 30 Budget-Friendly Small Bathroom Ideas to Refresh Your Space
2. Dramatic Wallpapers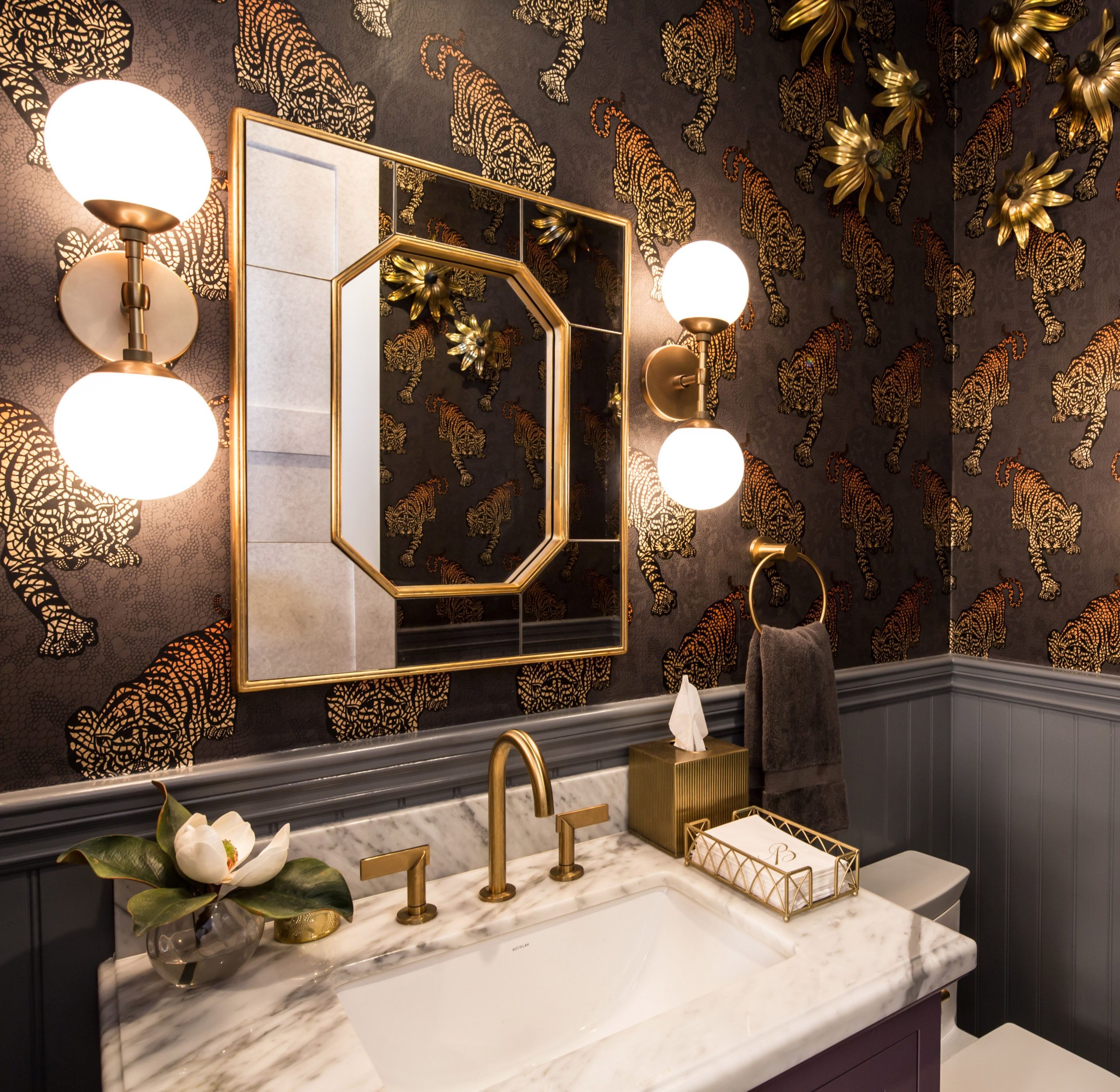 Make a statement by choosing bold, eye-catching wallpaper patterns. Geometric designs, botanical prints, or metallic accents can add a touch of drama to your powder room.
Wallpaper can instantly transform a powder room, adding character and visual interest to the space.
It provides an opportunity to introduce patterns, colors, and textures that can make a statement and create a unique ambiance.
Geometric patterns, floral motifs, or metallic accentswill add a touch of sophistication. Additionally, wallpaper can be used strategically to highlight a specific wall.
Pair the wallpaper with complementary fixtures and accessories that enhance its aesthetic appeal.
3. Industrial Chic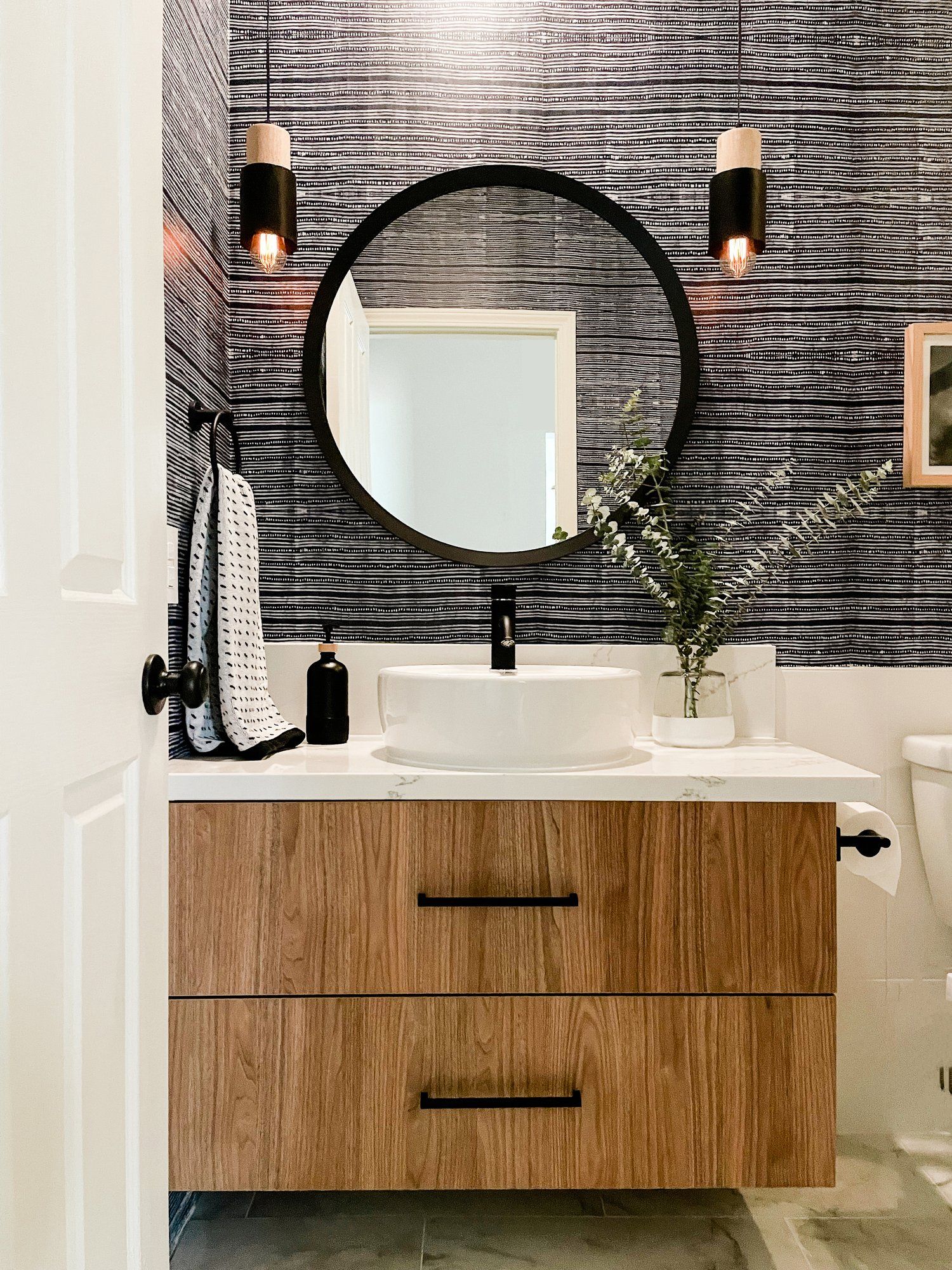 Industrial-style powder rooms feature a raw and edgy aesthetic, combining elements of industrial design with modern sophistication.
Exposed brick walls, concrete countertops, and black metal accents are key features in creating an industrial look. These elements add texture and a sense of authenticity to the space.
To enhance the industrial vibe, incorporate vintage-inspired lighting fixtures, such as exposed filament bulbs or metal pendant lights.
Reclaimed wood elements, like vanity or shelving, can introduce warmth and contrast to the rugged industrial elements.
Industrial chic powder rooms often feature minimalistic and functional fixtures, such as wall-mounted faucets and vessel sinks, which further contribute to the overall aesthetic.
4. Nature-Inspired Theme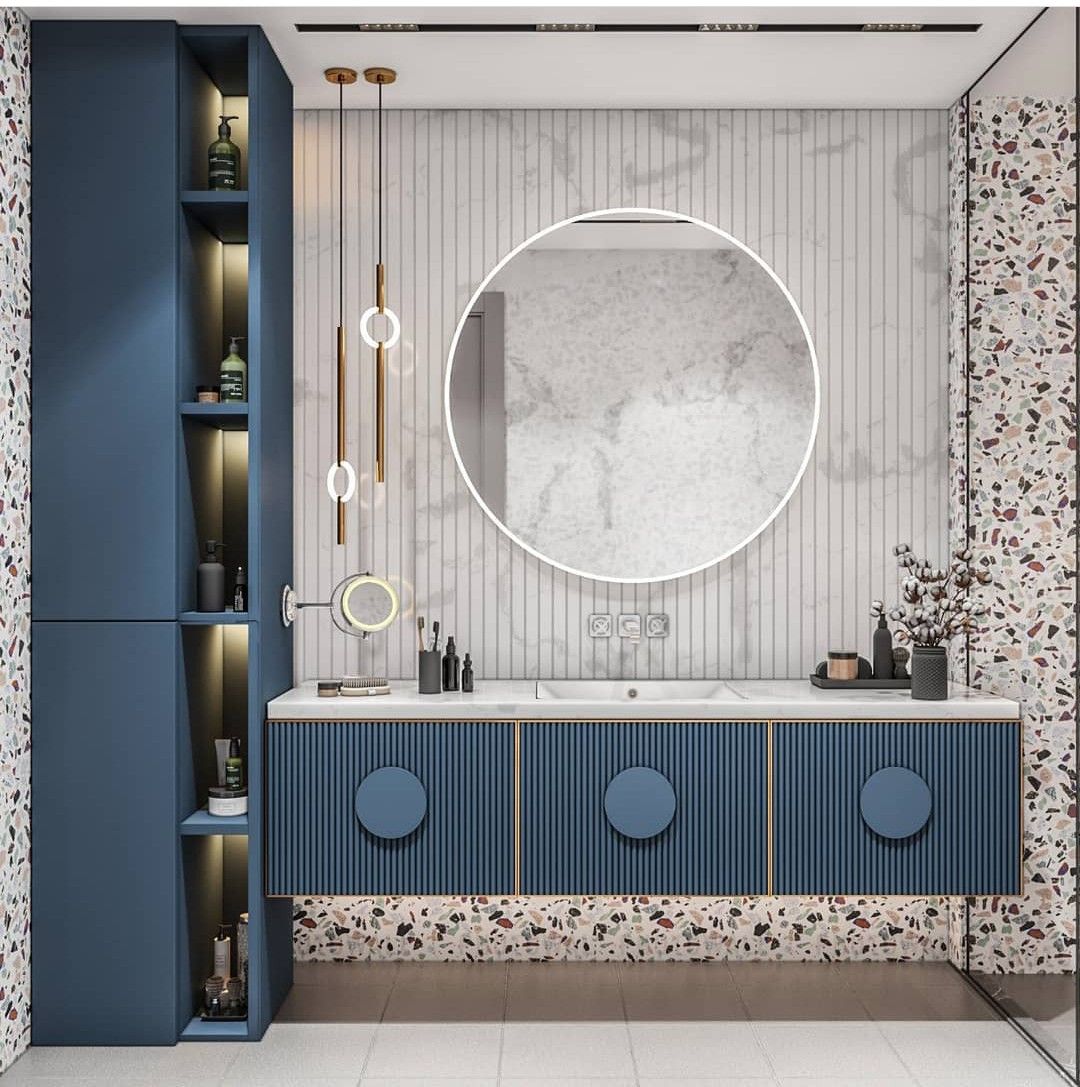 Bring the outdoors inside with a nature-inspired powder room. Incorporating natural elements like stone, wood, and greenery can instantly transform the powder room into a nature-inspired sanctuary.
Consider using natural stone tiles for the flooring or walls, bringing an earthy and organic feel to the space. Incorporate a wooden vanity or floating shelves made from reclaimed wood to add warmth and rustic charm.
Introduce live plants or a living plant wall to infuse the room with fresh air and a touch of greenery. Soft, ambient lighting with warm tones can enhance the natural ambiance.
Overall, a nature-inspired powder room invites a sense of calm and serenity, creating a harmonious connection with the beauty of the natural world.
Also Read: 12 Quick Ideas to Update Oak Kitchen Cabinets without Paint
5. Backlit Mirrors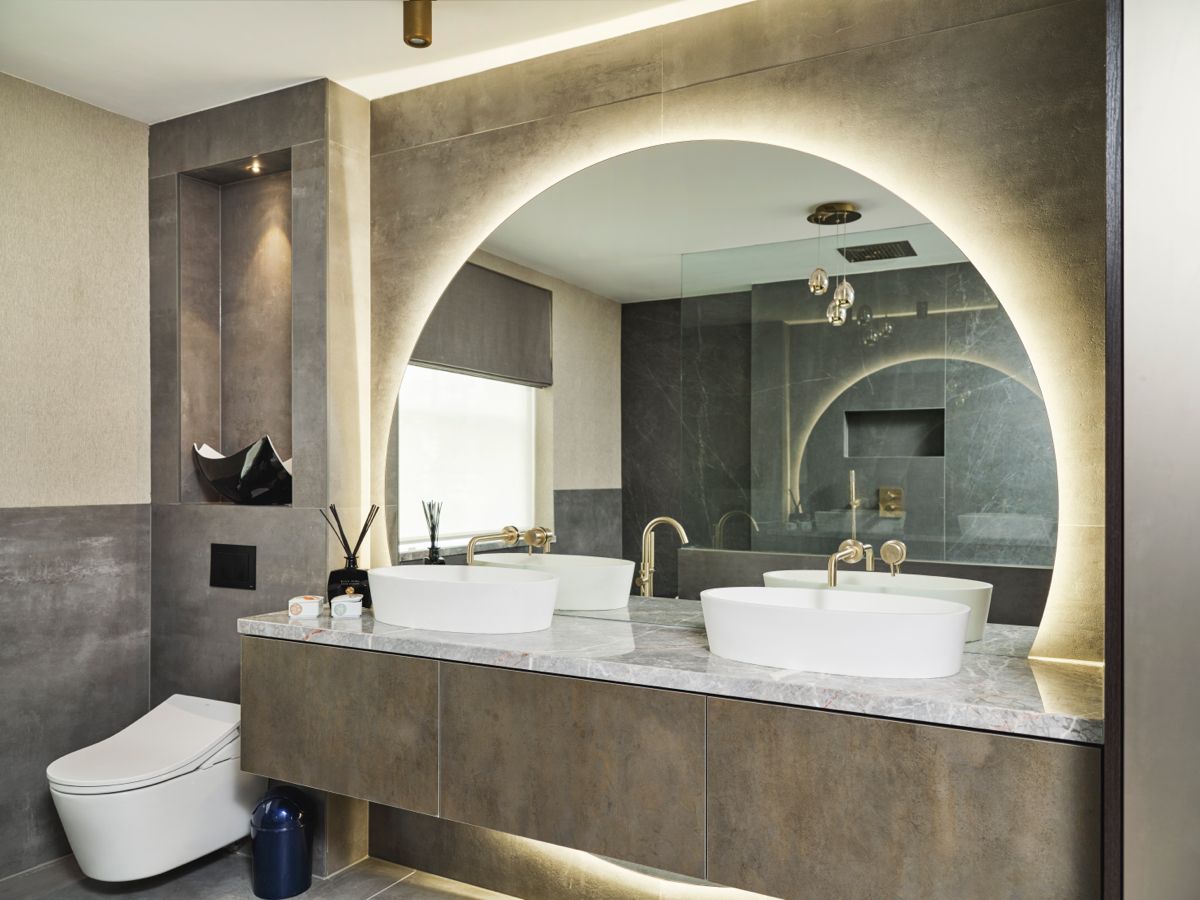 Backlit mirrors are a popular and modern choice for powder rooms, adding both functionality and style to the space.
These mirrors feature built-in LED lights behind the mirror surface, providing soft and diffused illumination that eliminates harsh shadows and enhances visibility.
The backlit effect creates a visually appealing halo of light around the mirror.
In addition to their aesthetic appeal, backlit mirrors offer practical benefits. The gentle lighting they provide is ideal for tasks like applying makeup or shaving, ensuring that you have a well-lit reflection.
They also serve as ambient lighting, contributing to the overall mood and atmosphere of the powder room. Backlit mirrors come in various shapes and sizes, allowing for versatility in design.
Rectangular, round, or even custom-shaped mirrors can be backlit to suit your style preferences and the overall theme of the powder room.
6. Magic of Mixed Metals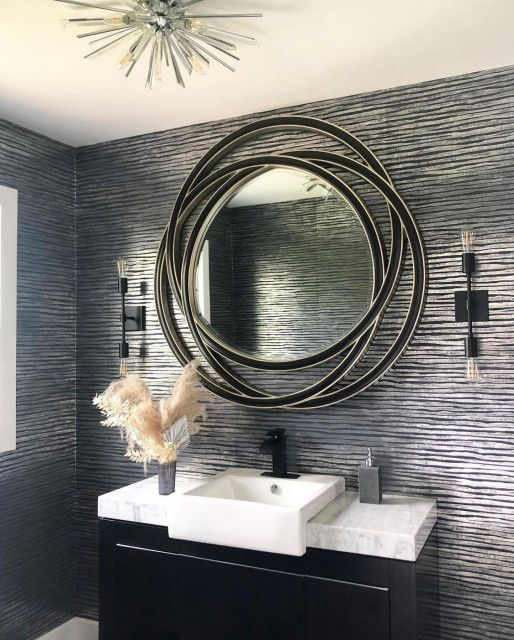 Mixed metals are a trendy and captivating choice for powder rooms, allowing you to create a visually intriguing space.
By combining different metal finishes, such as brushed nickel, brass, and matte black, you can add depth, contrast, and a touch of glamour to your powder room.
One way to incorporate mixed metals is through fixtures and hardware. Consider using faucets, towel bars, drawer pulls, and lighting fixtures in various metal finishes.
To achieve a cohesive look, balance the mixed metals throughout the space.
Distribute the different finishes evenly, ensuring that they are spread across various elements in the powder room. This can include mirrors, frames, shelving, or even decorative accents like trays or vases.
See More: Choosing Perfect Dining Room Paint Colors – A Complete Guide
7. Vibrant Hues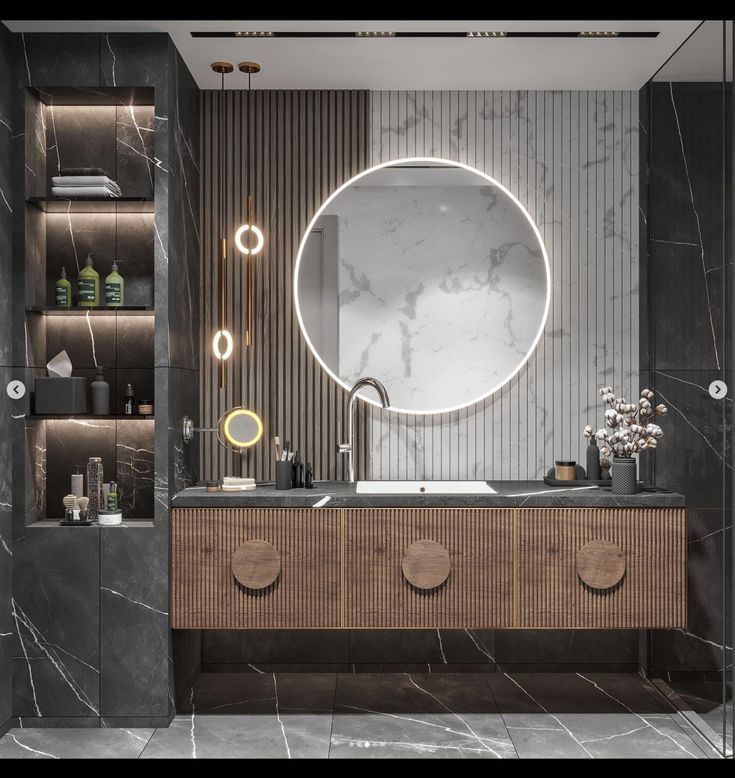 By choosing bold hues for your walls, cabinets, or even ceiling, you can make a striking statement and transform the room into a visually captivating environment.
Consider colors like cobalt blue, emerald green, rich coral, or fiery red to make a bold impact. These intense shades instantly energize the space and create a sense of drama.
If you prefer a more sophisticated look, deep jewel tones like amethyst purple or sapphire blue can add a luxurious and glamorous touch.
To balance the boldness of the color, you can choose neutral or complementary accents. When working with bold colors, consider the size of your powder room.
If it's a small space, you might want to limit the bold color to an accent wall or specific focal point to avoid overwhelming the room. In larger powder rooms, you have more freedom to use bold colors on multiple surfaces.
8. Floating Vanities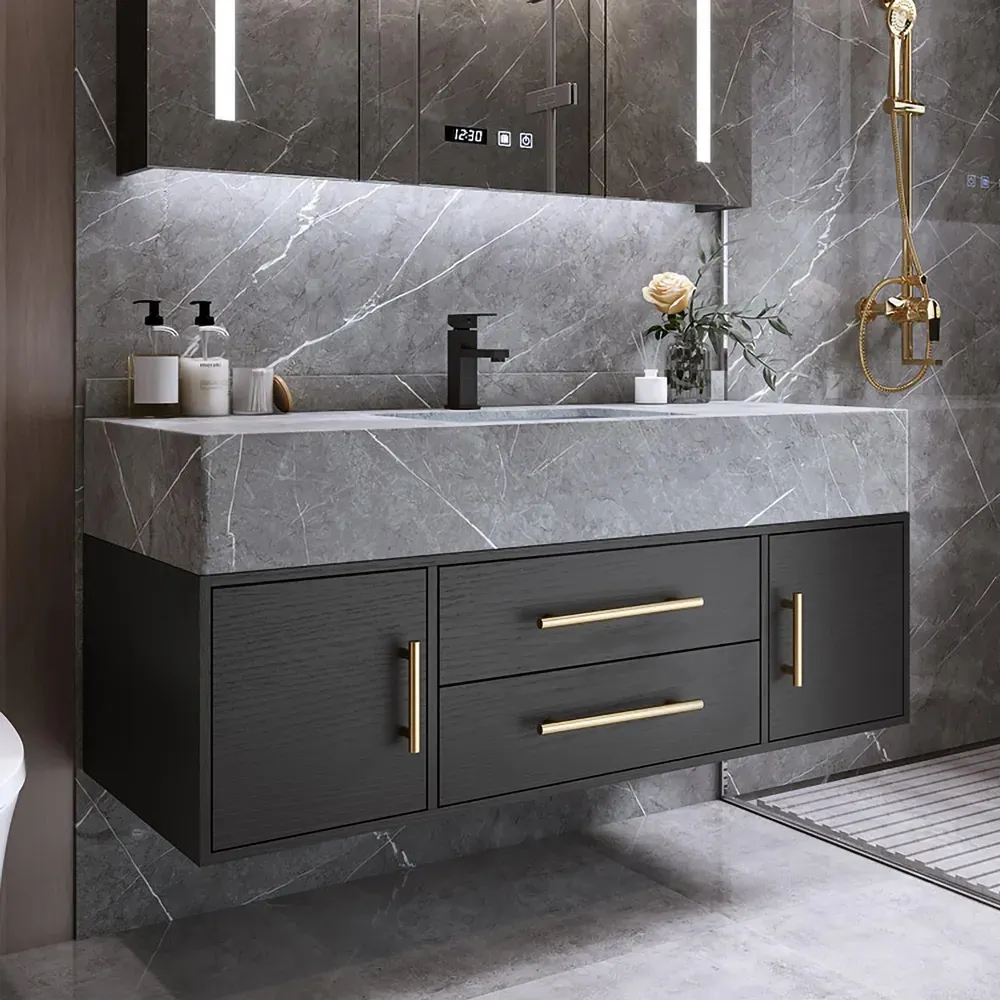 Floating vanities are a popular choice for modern powder rooms, offering both style and functionality while maximizing space.
These vanities are mounted on the wall, creating the illusion of a floating effect and providing an open and airy look.
One of the main advantages of floating vanities is their ability to make a small powder room appear more spacious.
Floating vanities come in various designs, materials, and finishes, allowing you to find the perfect match for your desired aesthetic.
In addition to their visual appeal, floating vanities offer practical advantages. They provide additional storage space underneath, allowing you to keep the powder room organized and clutter-free.
9. Artistic Tiles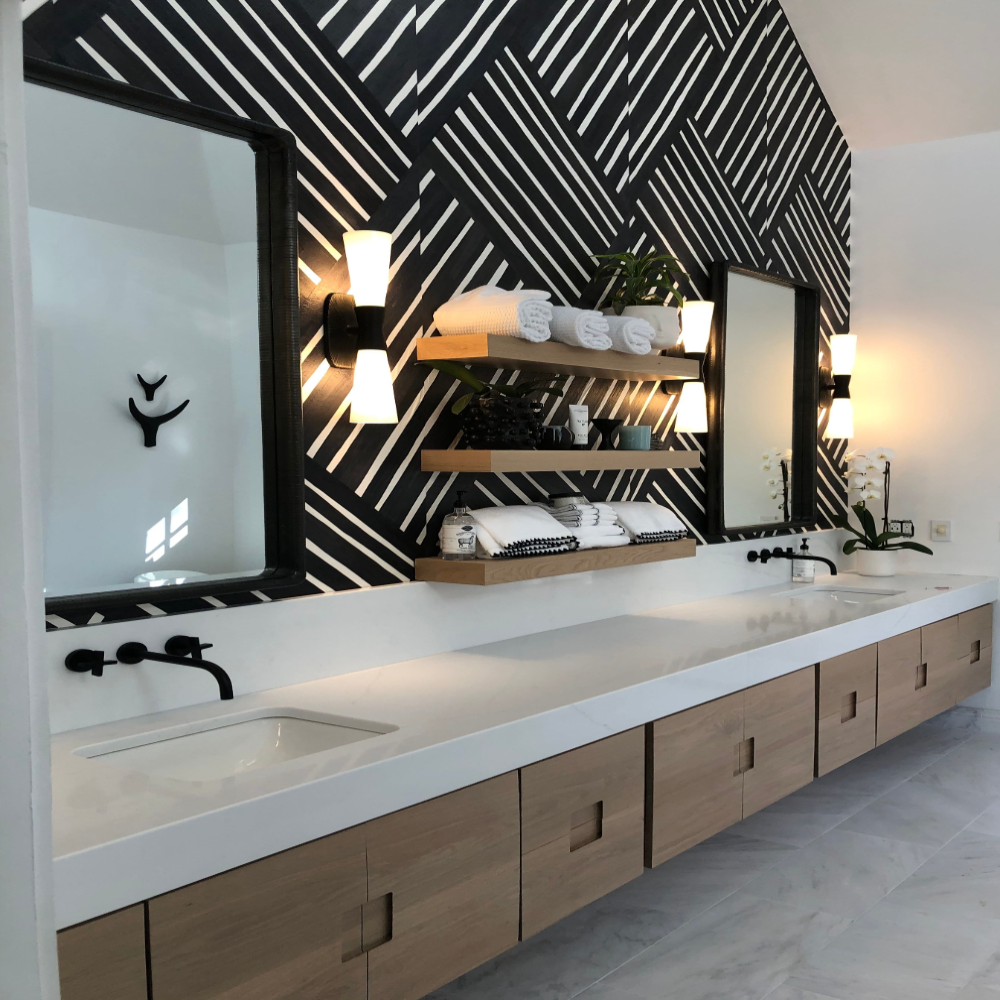 Transform your powder room into a work of art as you go for some art-inspired tiles.These tiles offer endless possibilities for design, allowing you to create a unique and visually stunning powder room.
Consider mosaic patterns, geometric designs, or hand-painted tiles to infuse the space with artistic flair.
Mosaic tiles, with their intricate patterns and rich color combinations, can create a mesmerizing focal point on a feature wall or as a backsplash behind the vanity.
Geometric tiles, such as hexagonal or Moroccan-inspired designs, add a contemporary and eye-pleasing element to the floor or walls.
To create a cohesive design, balance the use of artistic tiles with more subdued elements.
10. Techno-Savvy Powder Rooms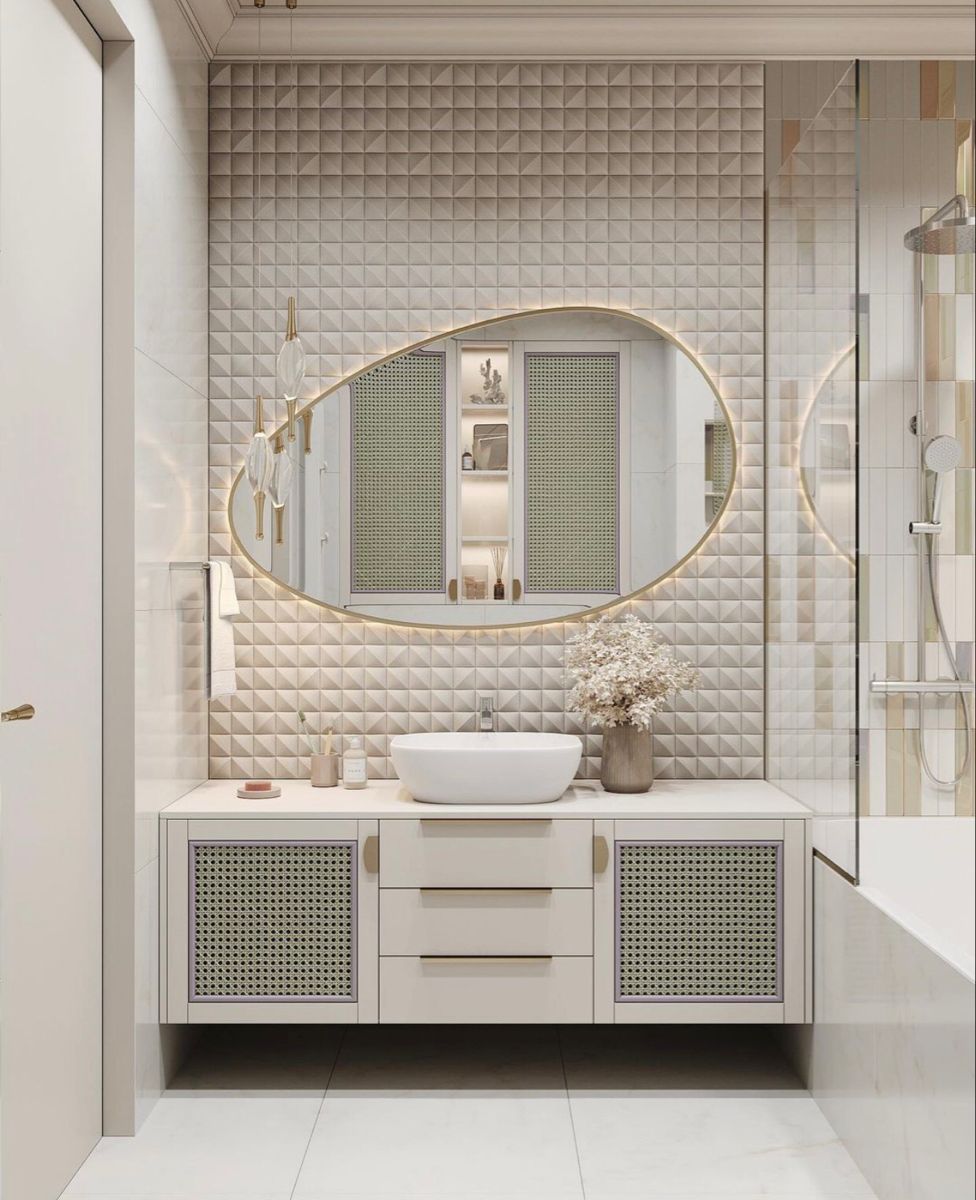 Incorporating smart technology into your powder room can enhance convenience, efficiency, and luxury, creating a modern and futuristic space.
One popular smart technology feature for powder rooms is motion-sensor faucets. These faucets automatically detect the presence of hands and dispense water, promoting hygiene and water conservation.
Touchless soap dispensers are another convenient addition, ensuring a hands-free experience.
Voice-activated lighting systems provide a convenient and hands-free way to control the lighting in your powder room.
With a simple voice command, you can adjust the brightness or even change the color temperature of the lights to create different moods.
Related: Sherwin Williams Rainwashed SW 6211: A Thorough Review
11. Accent Lighting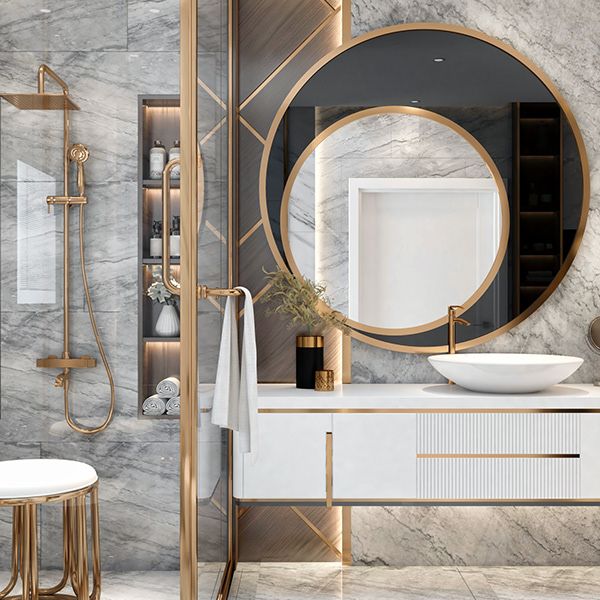 Statement lighting can make a bold and impactful statement in your powder room. By choosing unique light fixtures, you can create a dramatic ambiance and elevate the overall design of your powder room.
Chandeliers are a popular choice for statement lighting in powder rooms. Whether you opt for a crystal chandelier for a classic look or a modern, sculptural chandelier for a contemporary twist, these fixtures create a sense of grandeur and luxury.
Pendant lights are another fantastic option for statement lighting. They come in a wide range of styles, from minimalist and sleek designs to bold and artistic shapes.
Choose fixtures that complement the existing style, whether it's modern, industrial, or traditional. The lighting should seamlessly integrate into the overall theme and enhance the desired ambiance.
Points to Consider While Designing Modern Powder Rooms
Space Optimization: Make the most of the available space by choosing compact fixtures, such as floating vanities and wall-mounted toilets, to create an open and spacious feel.
Color Scheme: Select a modern color palette that complements the overall design aesthetic. Consider neutral tones for a minimalist look or bold colors for a vibrant and dramatic statement.
Lighting: Incorporate ample lighting to ensure a well-lit and inviting space. Consider a combination of ambient, task, and accent lighting to create the desired atmosphere.
Materials and Finishes: Choose sleek and modern materials such as natural stone, concrete, or glass to create a contemporary look. Pay attention to the finishes of fixtures and hardware to maintain a cohesive style.
Storage Solutions: Optimize storage space by utilizing built-in shelving, floating vanities with storage compartments, or wall-mounted cabinets to keep the powder room organized and clutter-free.
Use Of Mirrors: Use mirrors strategically to enhance the sense of space and light. Consider large mirrors or backlit mirrors to create a visually stunning focal point.
Texture and Patterns: Incorporate texture and patterns through artistic tiles, wallpaper, or textured surfaces to add visual interest and depth to the powder room design.
Smart Technology: Integrate smart technology elements, such as motion-sensor faucets or voice-controlled lighting, to enhance convenience, efficiency, and luxury.
Accessories and Decor: Select modern and minimalist accessories that complement the overall design theme, such as sleek soap dispensers, decorative trays, or artwork.
Personal Style: Infuse your own personal style and personality into the powder room design to make it a reflection of your taste and preferences.
Summing It Up
All in all, modern powder rooms play a crucial role in creating a lasting impression on guests and visitors. Despite their small size, these spaces feature the perfect blend of functionality and style.
A well-designed modern powder room can leave a lasting impact and set the tone for the overall aesthetic of your home. By making the optimum utilization of space in your powder room, you could maximize its practicality.
When guests visit your powder room, they have a chance to appreciate the thought and effort put into creating a visually appealing and stylish space.
A modern powder room that is meticulously designed with contemporary fixtures, trendy color schemes, innovative lighting, and luxurious finishes can create a sense of sophistication and elegance.
It can elevate the overall impression of your home and leave a positive and memorable experience for your guests.
Thus, these Top 11 ideas will help you create a powder room that aligns with your design aesthetics and personal preferences.
Frequently Asked Questions
How Can I Maximize the Functionality of My Powder Room?
Maximizing space in a small modern powder room is crucial. Utilize vertical space with wall-mounted storage or shelving options. Consider a large mirror or a mirrored wall to expand the room visually. You can maximize the practicality of the powder room through effective space utilization and avoiding any sort of cluttering.
Which Lighting Fixtures Work Best for Powder Rooms?
You can set the tone of your powder room through the efficient use of the right light fixtures. Incorporate ambient lighting through backlit mirrors and abundant illumination through ceiling lights. You could also consider adding a chandelier for a luxe vibe. Go for smart lighting fixtures that allow you to choose the light colors. Warm white and cool white lights are the most popular ones.
Check This Next: 21 Stunning Black Couch Living Room Inspirations