The porch ceiling is often overlooked when redesigning the decor. The focus is primarily on the porch columns, walls, and flooring. Who cares about the ceiling? But decorating the ceiling is of utmost importance to bring out the essence of the porch decor.
Haint blue paint is the most commonly used shade for the ceiling these days as it completes the decorlook. The white ceiling isn't trending anymore; haint blue paint with some recessed lights makes your ceiling appear elegant and classy. Well, it is one of the finest paint colors, but it also has a dark history.
The word 'haint' has a southern variation to its meaning, 'haunt' or 'evil.'
Similar Post: 30 Farmhouse Porch Columns to Create an Impressive Entryway
Best Haint Blue Paint Colors for Your Porch Ceiling
Let's check out which shades of haint blue are the best for your porch ceiling.
1. Farrow and Balls Skylight
Despite the fact that it started as a fanatic tradition, the paint has an aesthetic appeal. Let your porch ceiling look serene and pristine with this haint blue paint.
The calmness of this color can blend with the teak wood furniture and illuminate the space. Mostly all the porch paints are pale and dull, but you can infuse some decor pieces either in blue or green to give a picturesque look to your porch decor.
Some classic wall hanging on the column or flower plantations on the railing will complete the porch look. Also, the ceiling can have a rustic chandelier to emphasize the haint blue color.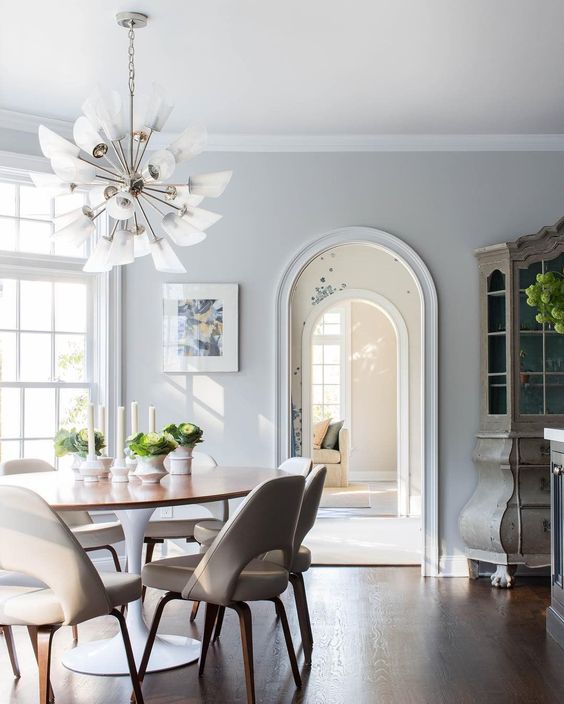 2. Sherwin Williams Rain
This shade exudes an organic vibe in the porch decor. The lighter shade of haint blue paint can bring magic to your porch's appearance. The ceiling can be redesigned with some refined touch. You can get a beadboard paneling done for your ceiling and paint it in a haint blue shade.
The stylish paneling will give an exotic touch to your decor while throwing the focus on the blue shade. It will mimic the sky on the porch ceiling, and you will be delighted to enjoy your evening as if seated under the azure heavens.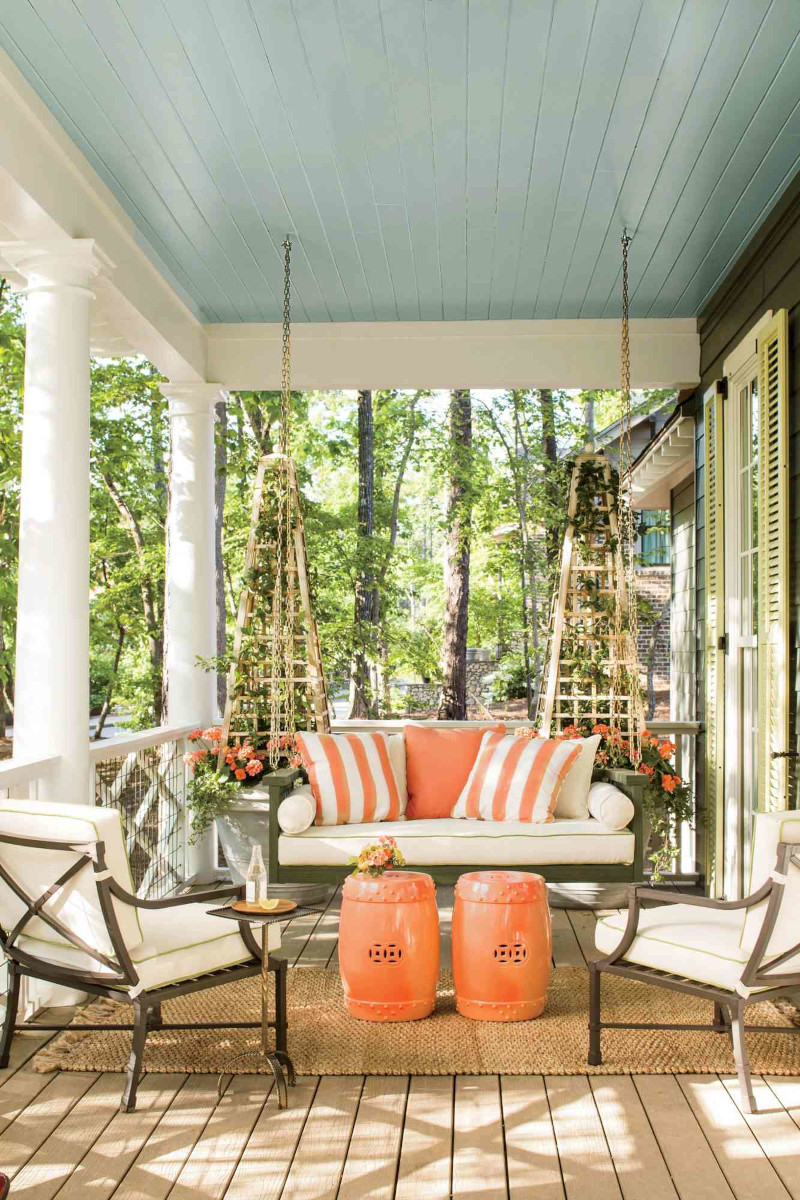 3. Benjamin Moore Smoke
You may want your porch to have a coastal touch to the interiors. And you can manage to have that if you get a haint blue paint called Benjamin Moore Smoke. Yes, it will have a minute smoky appearance on the ceiling, but the basic undertones are blue and green. This paint can be enhanced with some additional porch decor like blue ceiling lights or purple lights.
If you do not want to redo the ceiling with too many changes, stick to the paint and the lights. Get a fine light-shaded wallpaper for the porch wall and add some portraits or wall artifacts to get the finesse. The ceiling should be the primary focus to uplift your entryway.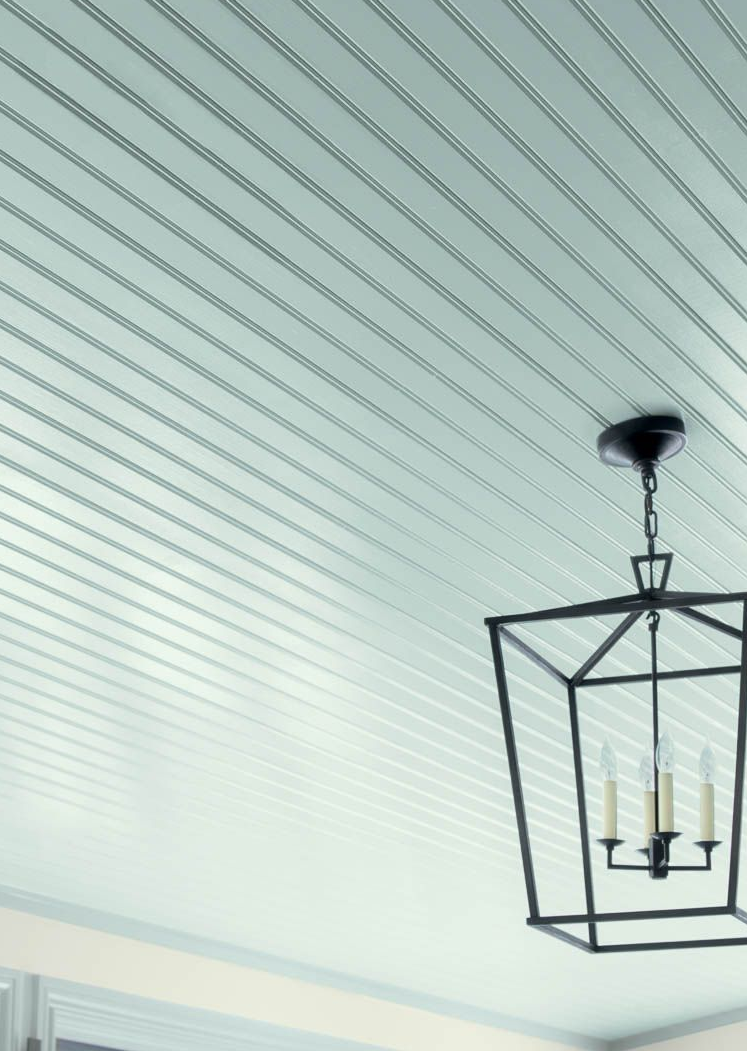 Also Read: 12 Stunning Farmhouse Fall Porch Decor Ideas
4. Sherwin Williams Atmospheric
Your porch can look dreamy and heavenly if you paint your ceiling with this haint blue paint. Gone are the days when white, light, and pastel colors ruled the ceiling.
Some preferred bold and dark colors to make their porch look unique. But a porch has to be the attractive part of the house as it is the first sight on entry.
Deep and bold colors can be a bit off and won't match the porch decor. Also, a haint blue paint on the ceiling with an exquisite chandelier can make your home feel inviting. You will love to spend your time on the porch pondering how graceful your house looks.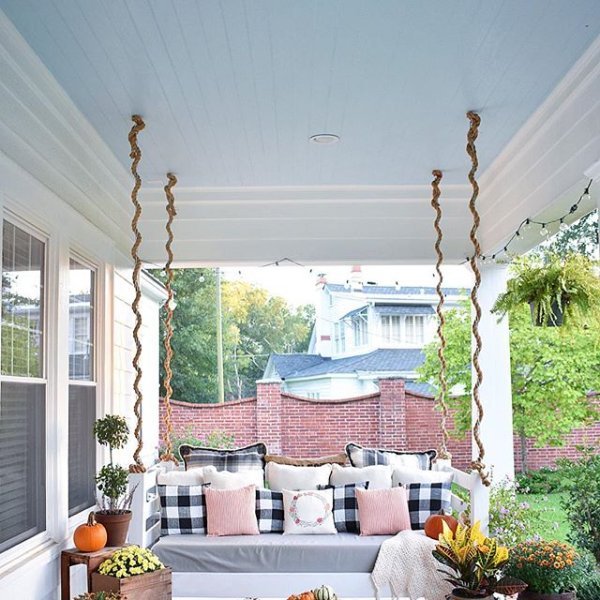 5. Sherwin Williams Waterscape
How about having a laidback and stress-free vibe at your farmhouse? Well, this haint blue paint is for you. You can get the feel of having the ocean around, and you are enjoying the oceanic shade at your home. Get some lounge chaise chairs or a rocking chair and enjoy the blissful paint taking over your thoughts.
Also, you can get some complementary furniture for your porch decor that aligns with the haint blue paint. A bright blue-colored couch with white ottomans will look at a seraphic space. Who doesn't want to spend time in such a beautiful atmosphere?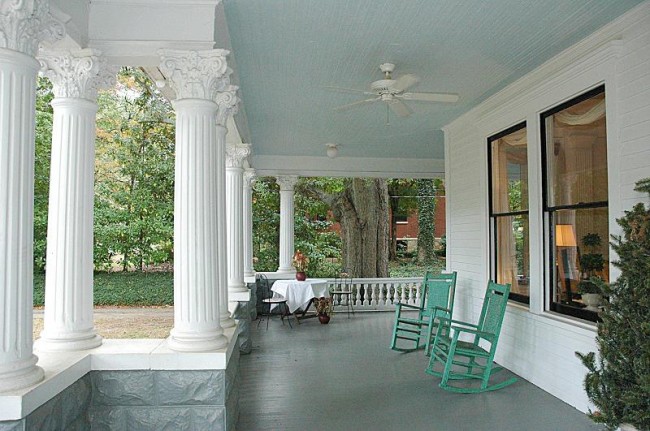 6. Sherwin Williams Lauren's Surprise
A rough ceiling look is trending now as most interior designers want to stand out in the design market. Plain and simple ceiling designs do not look attractive; you may want to work on the aspect of your porch.
So, get a popcorn ceiling patch and work on redecorating your porch. If you like it painted in white, do it. However, haint blue paint will bring wonders to your porch decor.
Of course, you can adorn the beams and columns with wall decor, but you need to infuse them with ceiling paint. So, research before you jump into painting the ceiling blue and getting contemporary artifacts.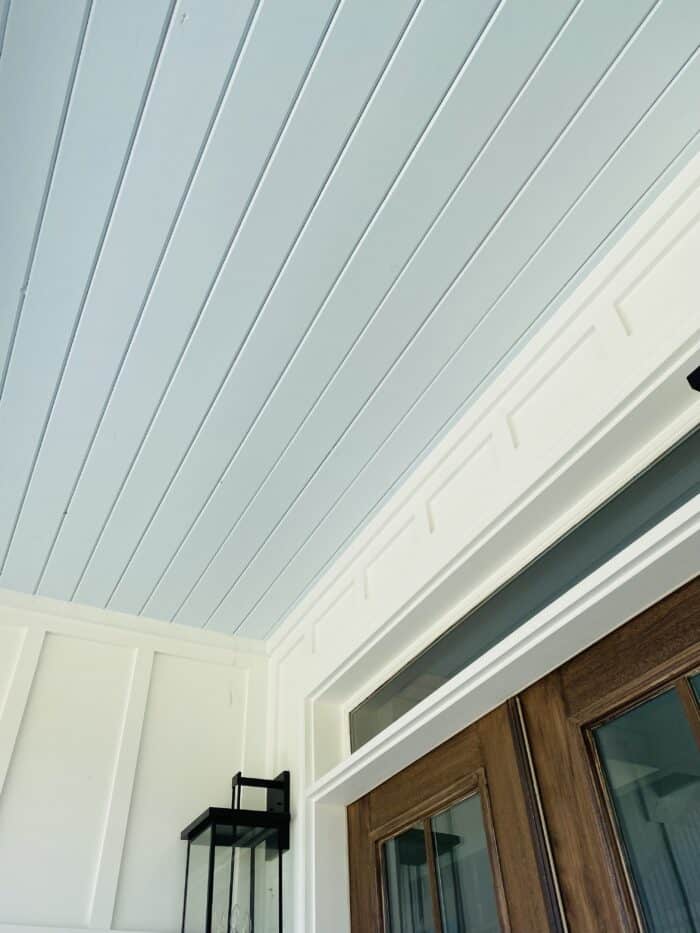 See More: 12 Easy Blue Couch Living Room Ideas to Transform Your Space
7. Benjamin Moore Harbor Haze
Hazy look cozy and makes your porch look serenely pleasing. All pastel shade lovers must be grateful to the Gullah for introducing the tradition of painting the house blue.
Though it started as a superstition, people have admired the haint blue paint on the ceiling for years. It still goes on the walls, and it is still alluring.
This foggy color will imitate the rainy day at your place. How peaceful it will be to have a natural color on your ceiling teamed with natural greenery. The bluish-hazy look will be uplifted only if you have real leaves and flowers around. So, get pots and vases to adorn your porch for a landscape touch.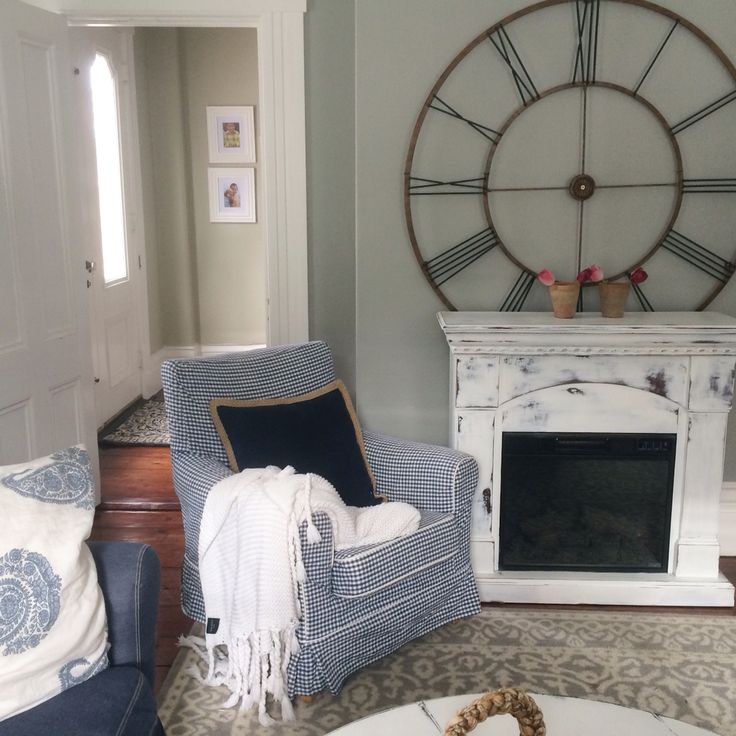 8. Behr Skylight View
It is the most adored shade among the designers. People prefer getting this shade for the ceiling because it mimics the sky. Also, this haint blue paint has a velvet touch that gives a feeling of looking at the real sky. The name itself indicates how gentle and soft shade it would be. Why won't it go with the other shades of the porch decor?
Try having this paint on the ceiling. Set the recessed lights and LED lights to dim mode and enjoy the pleasing feeling on your porch. The other artifacts should also blend with the ceiling paint, so get some cool and natural wall hangings.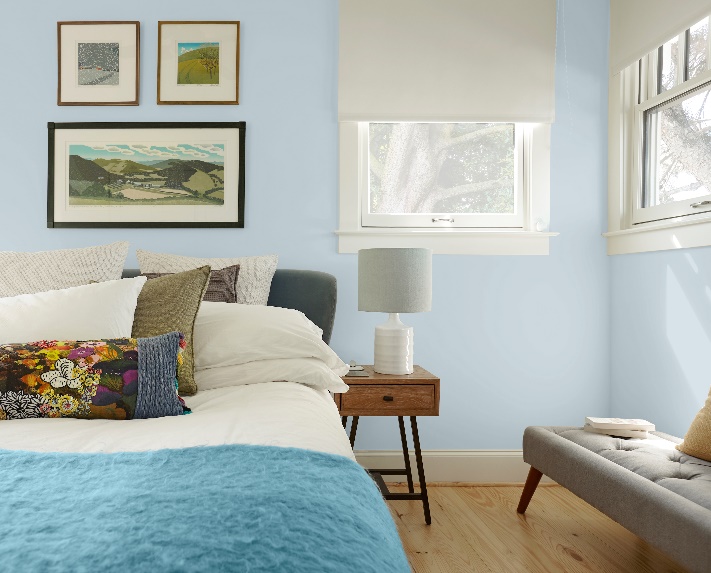 9. Behr Light Drizzle
Haint blue paints come in different tones and undertones. It ideally gets difficult to decide which shade will suit your demands. However, this light drizzle tone will complete your decor look if you want a drizzly night-like appearance to your porch decor. This paint blends toad green, mid-tone gray, and ivy undertone.
It will perfectly give the gimmicky appearance of being seated under a waterfall on a cloudy day. Choose the decor products wisely, as this mild shade will not complement dark products. White abstract structures on the wall and a light blue couch will look smooth under a drizzly shade ceiling.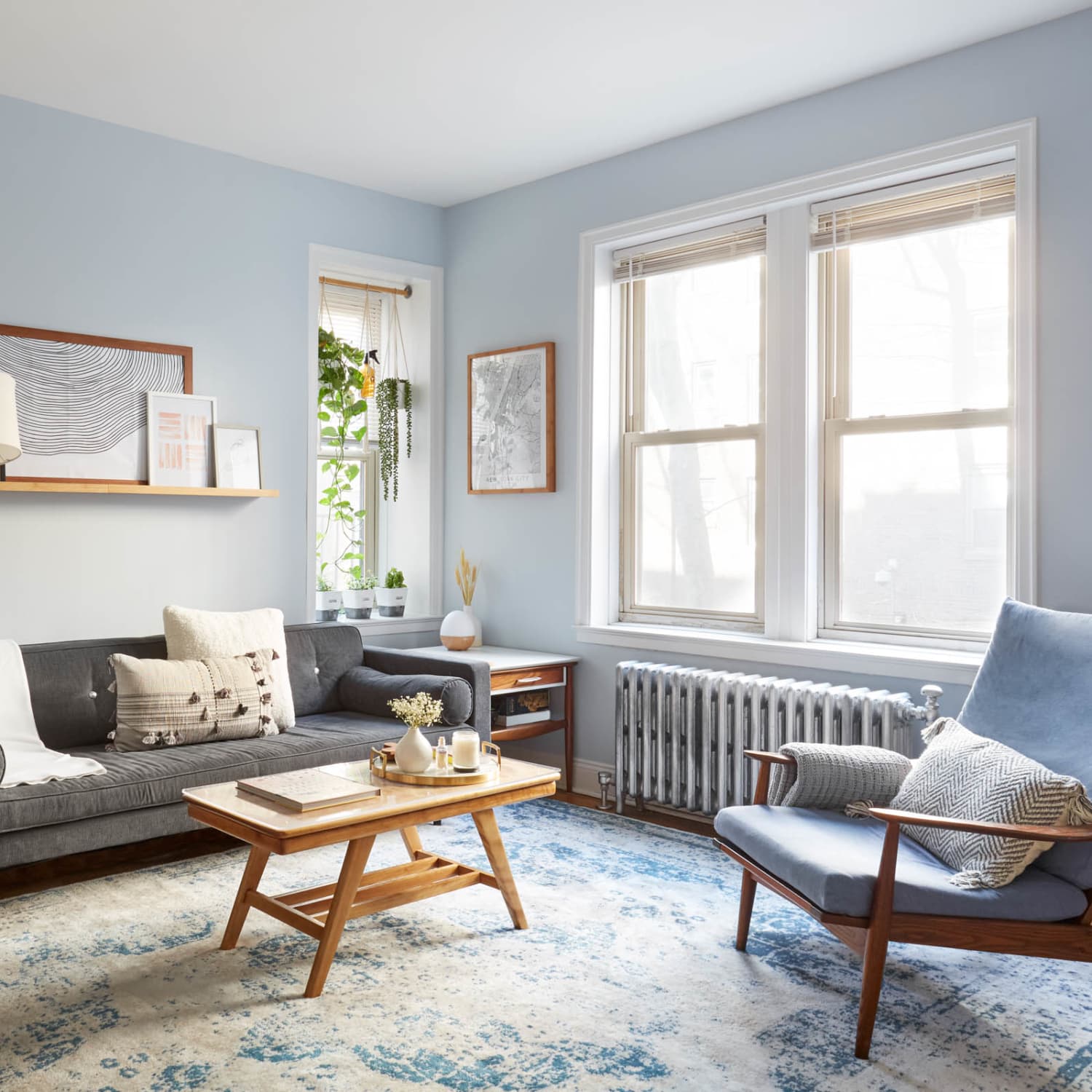 Related: 32 Stunning Kitchen Layout Ideas to Elevate Your Cooking Space
10. Benjamin Moore Palladian Blue
Color combinations and effective lighting become necessary for a creative decor look. This haint blue paint has two major undertones: grey and green. The beautiful aspect of this shade is that some dim and dark lights will bring out the grey tone of this paint, and some bright and white lights will amplify the green tone.
Either of the undertones will exude happy vibes, as the base touch will be light blue. A beautiful pool table or a glass cabinet on the porch will look great under the haint blue ceiling. Try some yellow shades on the porch walls to infuse the happy spirit into your decor.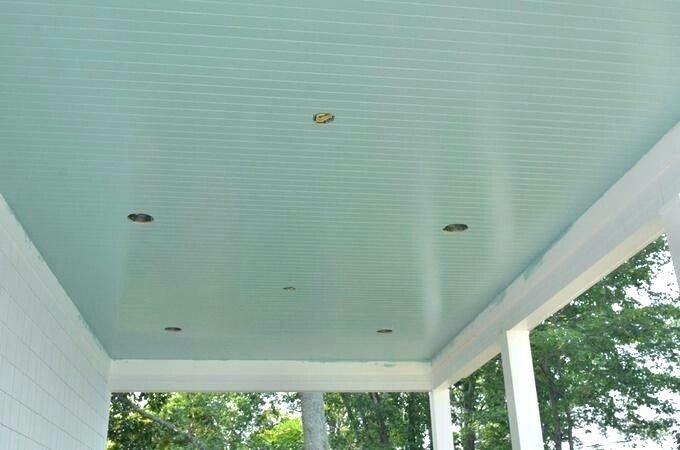 11. Olympic Aqua Fiesta
As the name suggests, this haint blue paint will have aquatic hues to give your ceiling a colorful twist of sky and greens.
If you have visited southern countries like Maldives and Thailand, you will notice their waters are pristine and have a magnificent bluish-green shade. The same tone will be set on your ceiling if you opt for it.
Get a fish pond for your porch or fix some mood lighting on the ceiling to give you a serene oceanic view of your porch decor. Also, some lounge benches and a bookshelf will complete your farmhouse's decor.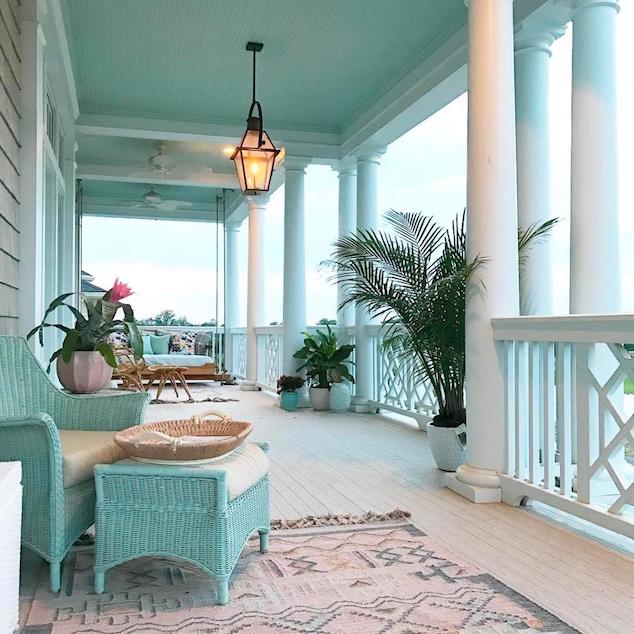 12. Sherwin Williams Tame Teal
Some of the shades of Sherwin Williams have a minty effect, and this haint blue paint has it. But it has a very refreshing effect on the walls. Kids' rooms are often painted in this shade as it is calming and soothing to your eyes. Teal will be the base tone, and the minty effect comes from the undertones of pastel blue and green.
Some greyish and whitish tones also surface due to the lighting effect. But this shade on the porch ceiling will look elegant and quaint. Some striking outdoor wall lights in a blue shade will augment your decor. Keep limited lighting on the ceiling and redo the porch walls. You will keep rejoicing to have remodeled your porch.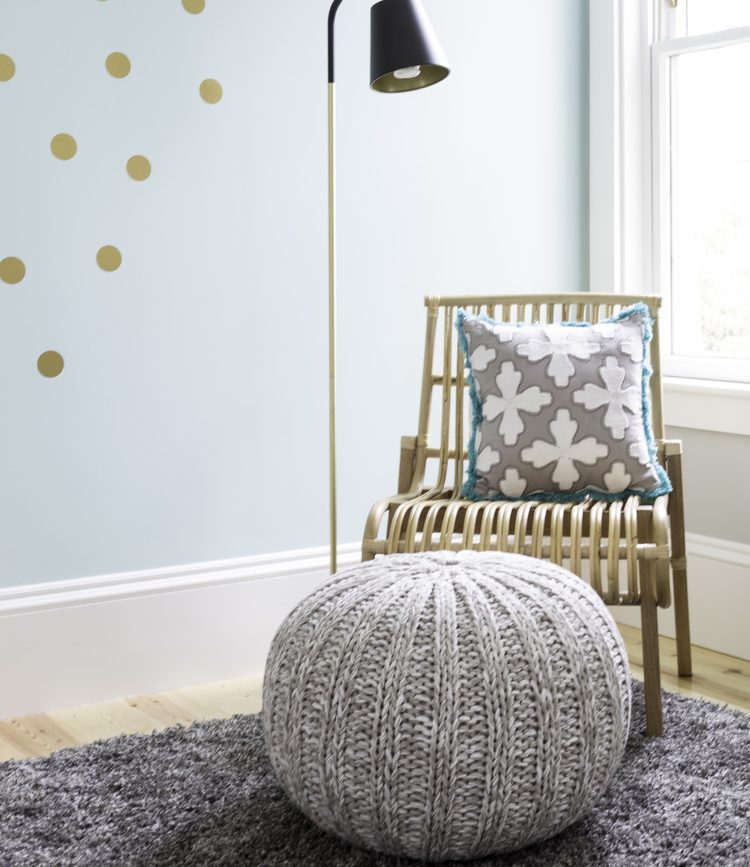 Wrapping Up
All in all, porch ceilings have limited space, so too many lights and heavy work on the ceiling will make it look not lovely. Stick to your creative sense, use color palettes of haint blue paints, and think which suits your taste.
If you wish to have an aquatic tone to your ceiling, then choose the paint that has an oceanic color base. Small round lights and patched LED lights will also redefine the porch look.
Keep minimalism the key to your decor remodeling, but add a different touch to the decor products. Include some variety of tones and try to add some fusion as well. Porch decor relies on greenery, pastel shades, wall decor, and rustic flooring.
Maintain that balance while you embellish the ceiling with a beautiful hue of haint blue paint.
Check This Next: 30 Budget-Friendly Small Bathroom Ideas to Refresh Your Space