Do your pants or skirts need a quick fix because they're too long? A no-sew hem technique you need. If you're a DIY professional, this technique will save you time and money.
Hemming might sound difficult, but we'll show you how to do it without any sewing.
All you need is some basic materials and some time. No sewing machine or fancy skills are required. We'll explain the basics of no-sew hemming.
We'll talk about what materials you'll need and help you through the steps. You'll be surprised at how quickly you can make your pants or skirts the perfect length.
No more dealing with sewing, pins, or needles. With our easy no-sew hemming technique, you can customize your clothes quickly.
So, let's check the no-sew hem method and alter your favorite clothes.
Similar Post: The Ultimate Guide to How to Organize Closets
Tools Needed for No Sew Hemming
1. Fabric Marker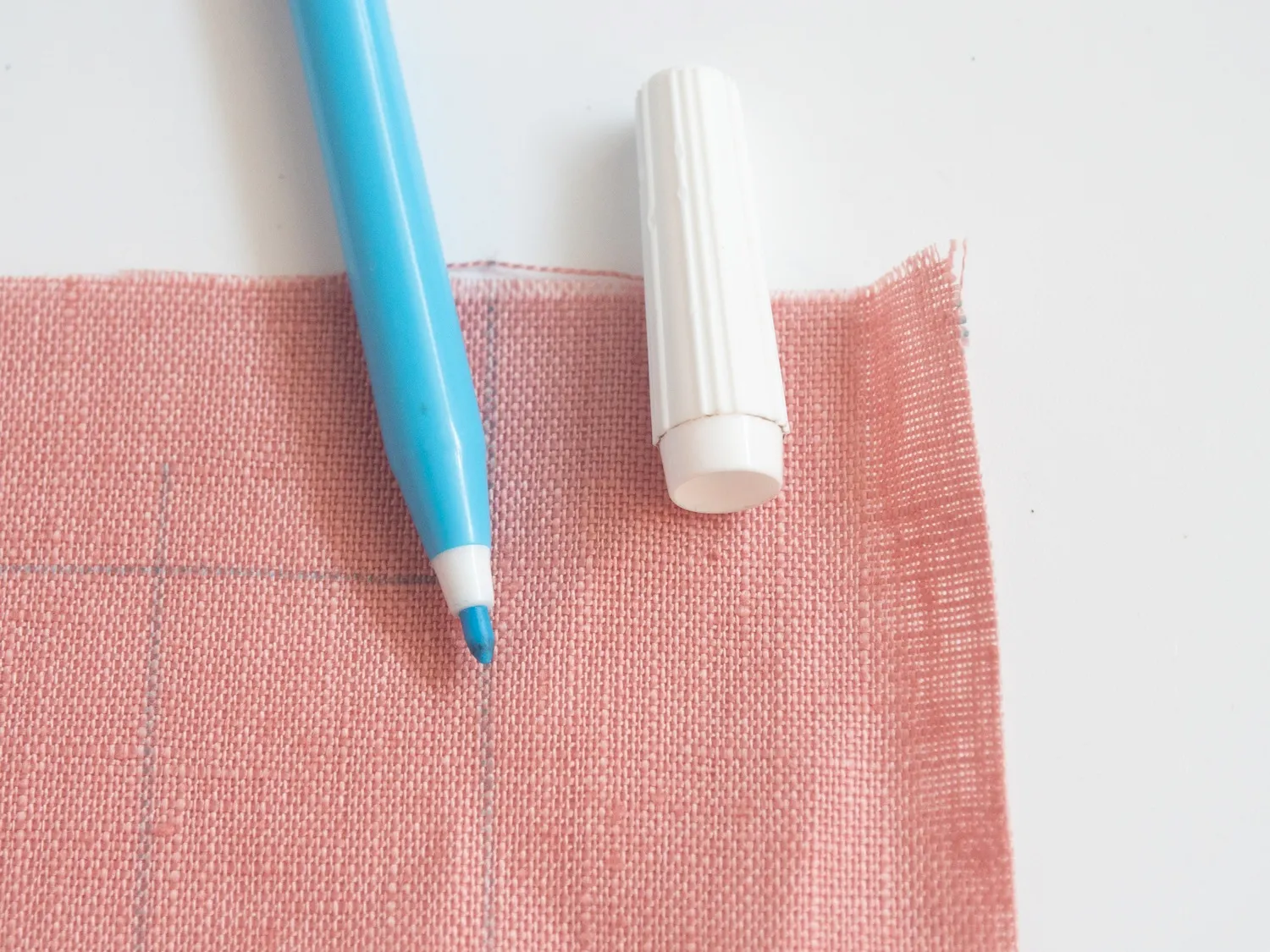 A fabric marker is a special pen made for marking on fabrics. It's really useful for drawing clear lines on your clothes to show where you want to sew a hem.
2. Ruler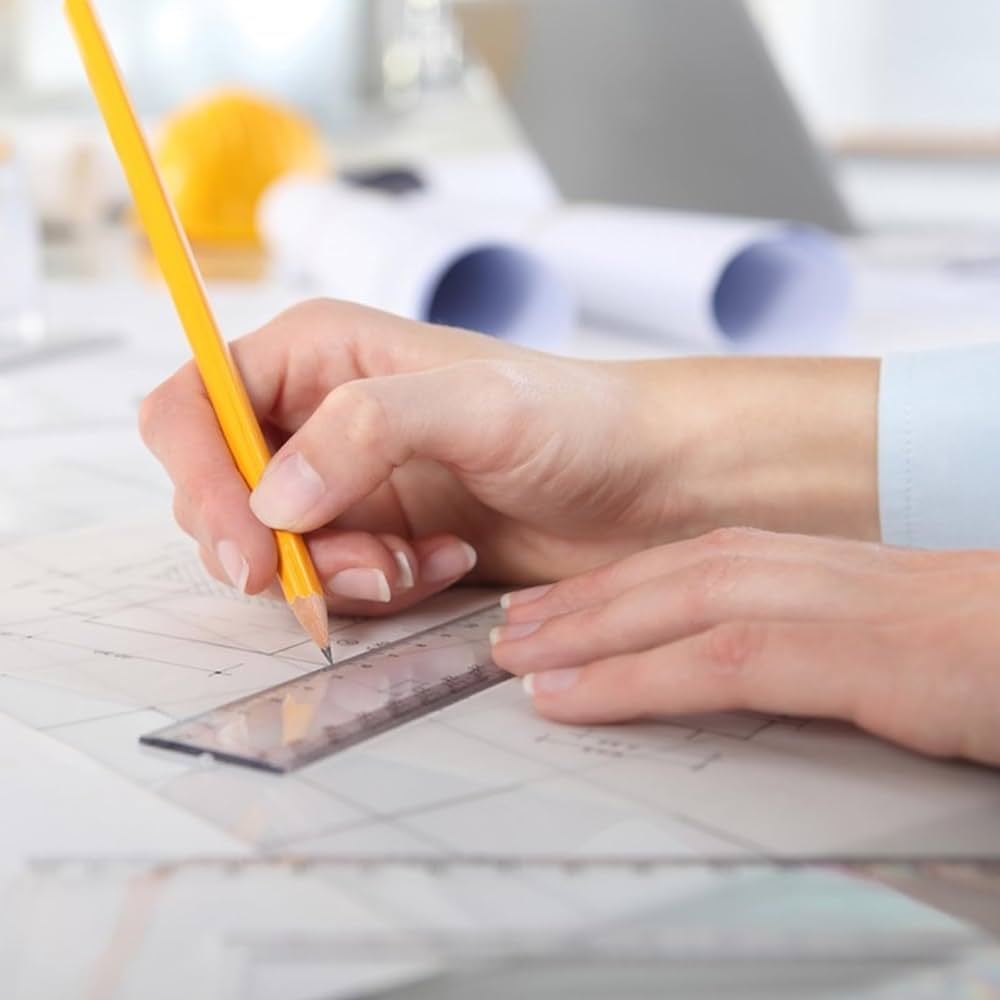 A ruler is a handy tool that helps you measure and mark the perfect length for your clothing's hem. It ensures that your clothes have a nice, even, and tidy hem.
3. Straight Pins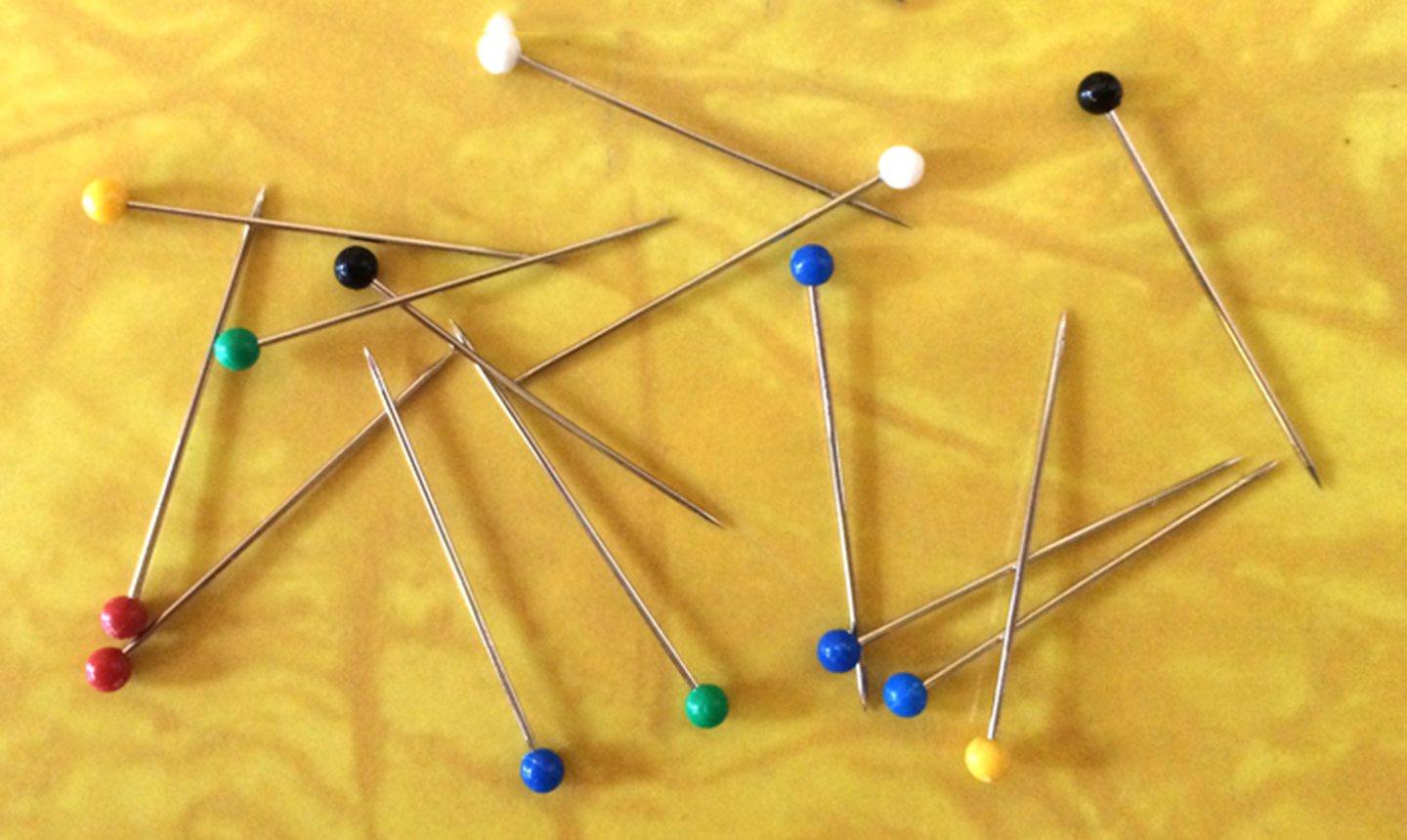 Straight pins are temporary anchors for the folded fabric. They stop it from moving around while you work, ensuring your no-sew hem stays straight and even.
4. Hemming Tape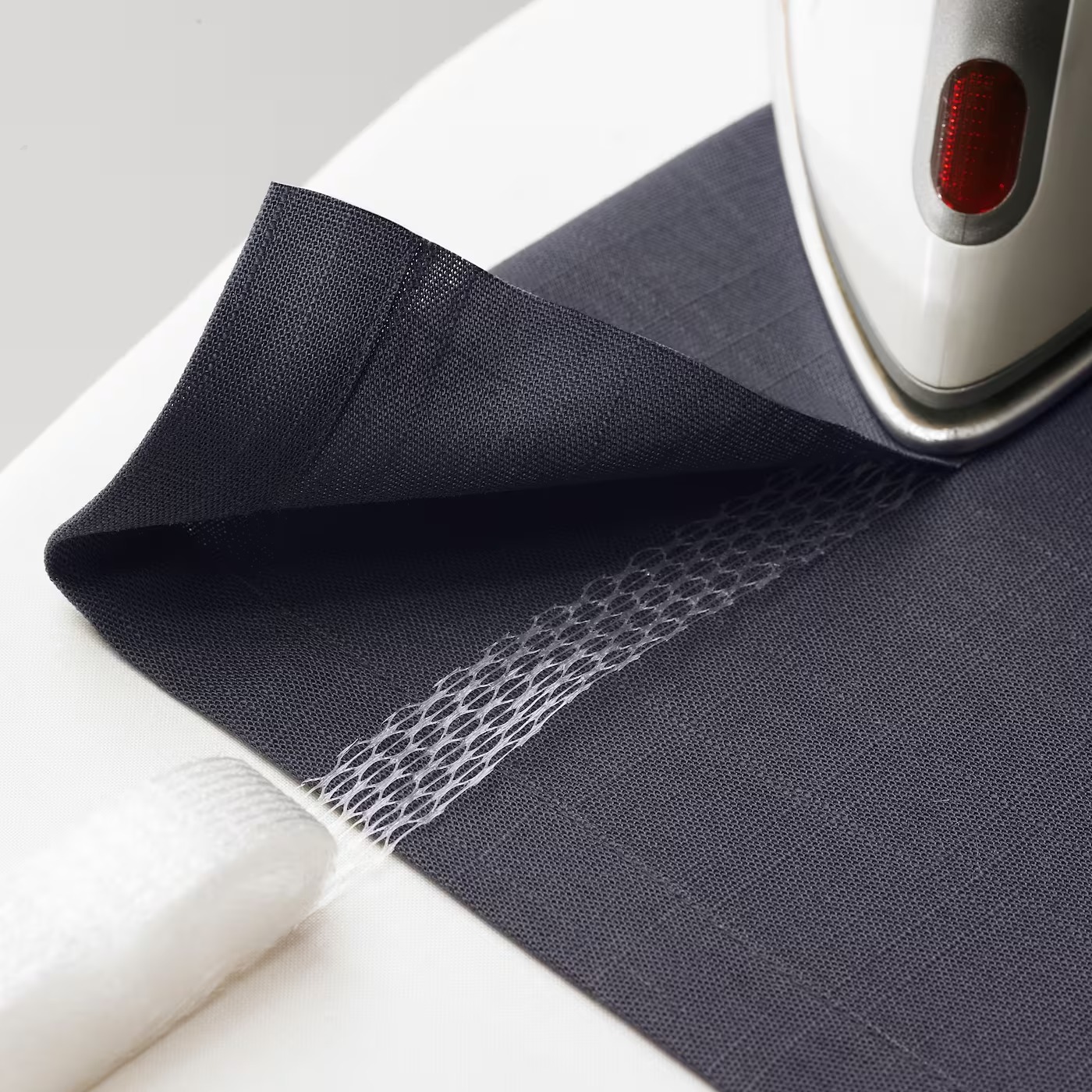 Hemming tape is a special kind of sticky thing that gets activated when it's heated up. It's a type of glue that helps keep your hem in place, and you don't even need to sew it.
This tape is super important for when you want to hem something without using a needle and thread.
Also Read: How to Make No Sew DIY Drop Cloth Curtains [Complete Guide]
5. Thread Nippers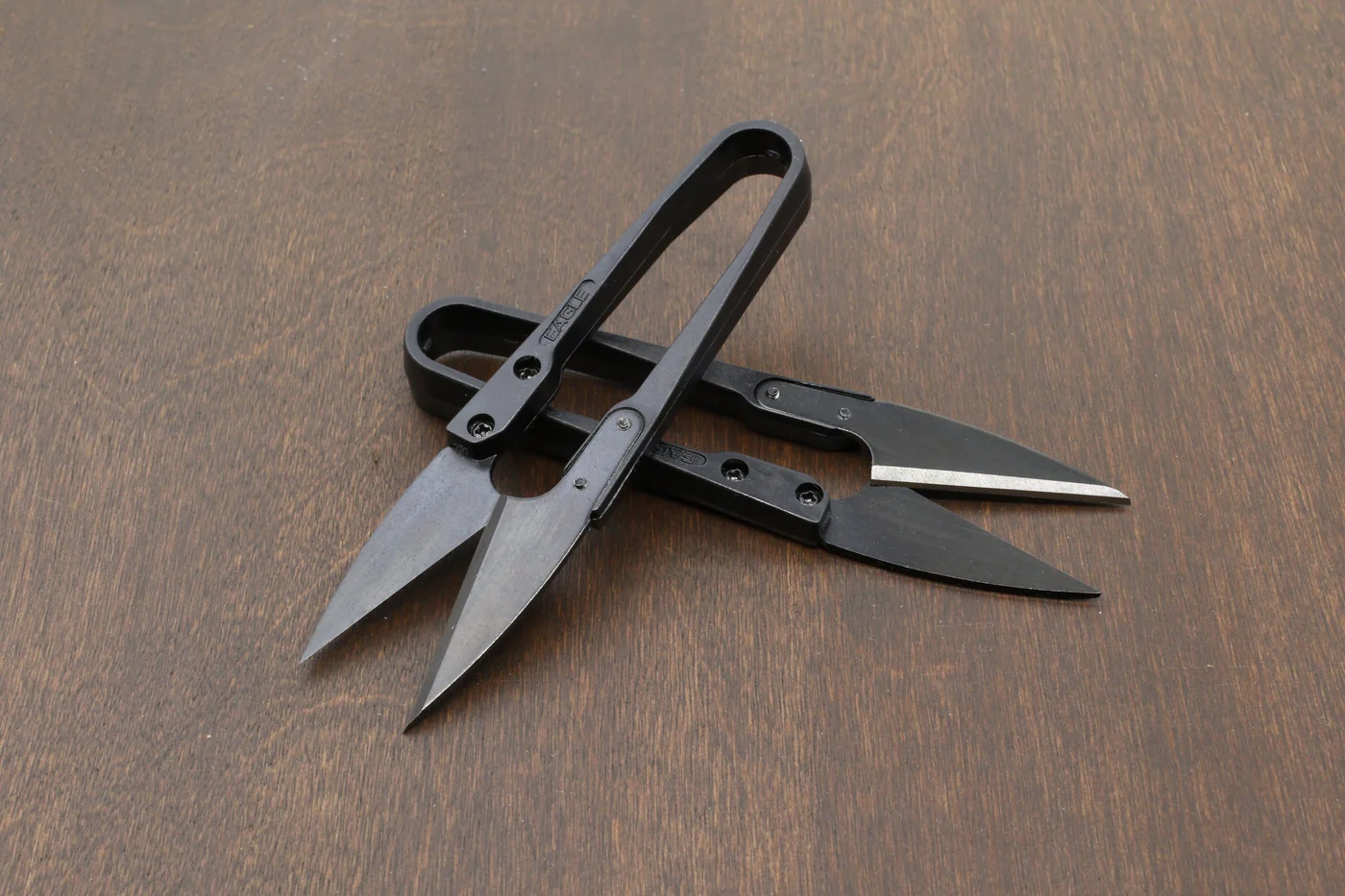 Thread nippers are made for snipping away extra thread. They come in handy to give your work a neat appearance.
6. Mirror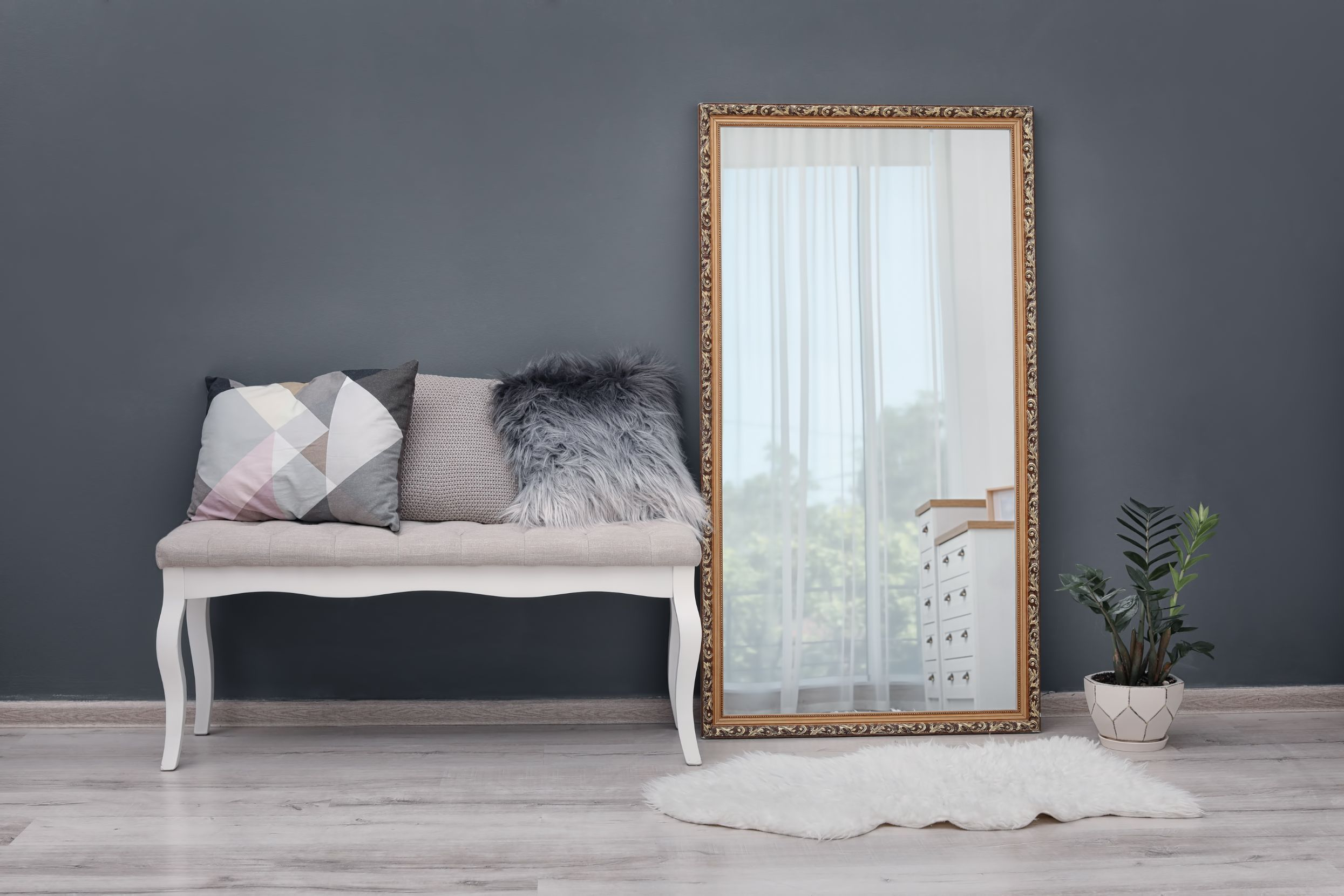 A mirror is really useful when you're changing clothes and making them fit better. It helps you see if your clothes are the right length to make you look just the way you want.
7. Iron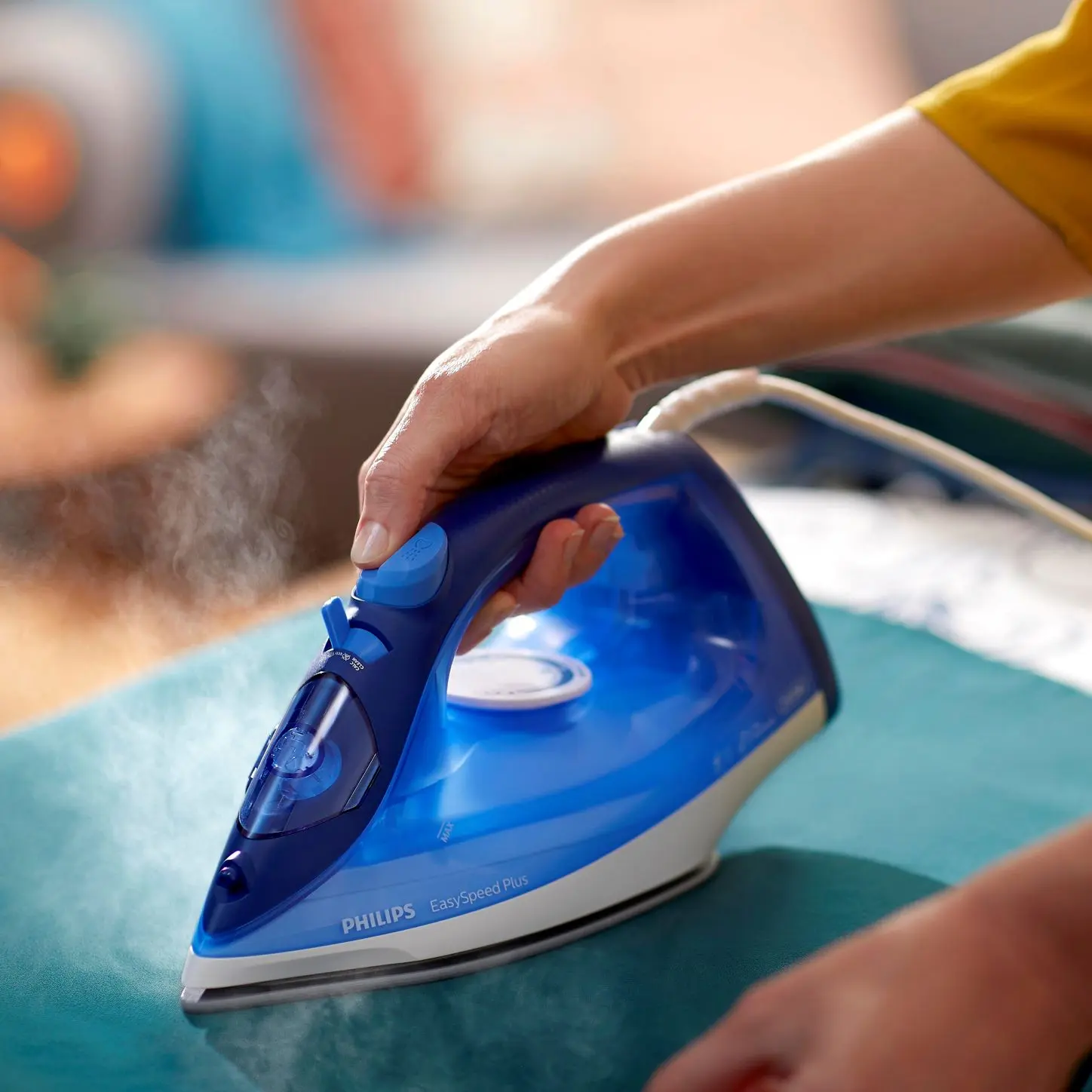 Iron is an important tool for ensuring the bonding tape sticks well and secures the no-sew hem in position, resulting in a strong and smooth final look.
8. Scissors
Scissors are used to cut excess fabric and ensure a clean and tidy hemline.
How to Use Hemming Tape Step-By-Step for No-Sew Hem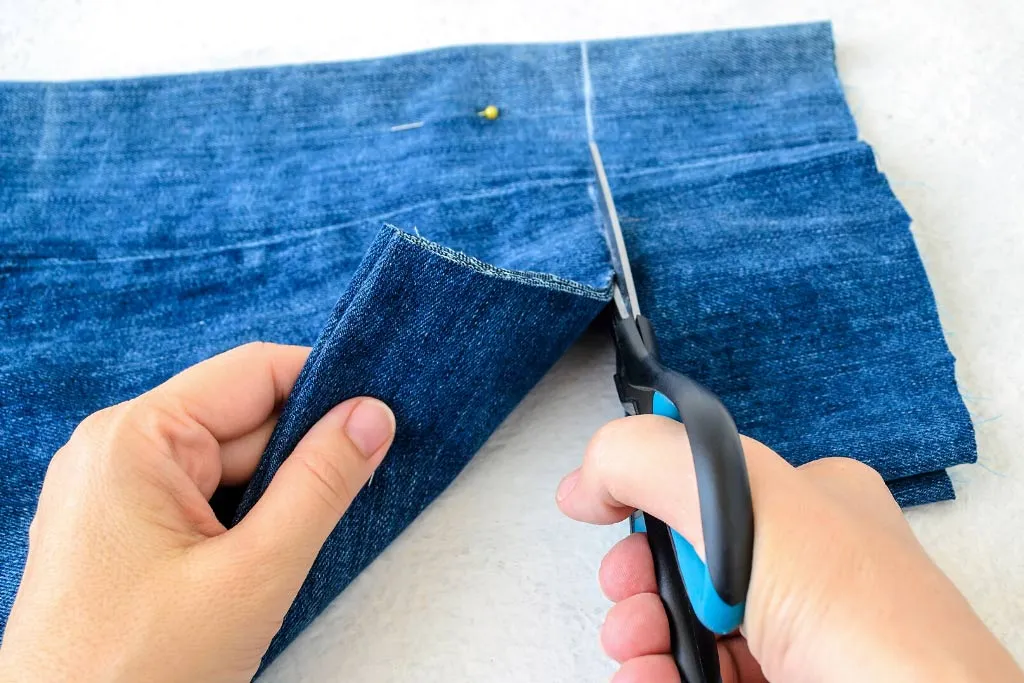 1. Mark Your Desired Hem Length
To start using hemming tape, first, figure out how long you want your clothes to be. This step is super important because it ensures that your clothes fit well and feel comfortable.
Here's what you do: put on a piece of clothing and stand in front of a mirror. Then, use a washable fabric marker or chalk to mark where you want the bottom of your clothes to reach.
Make sure you're accurate with this marking. So take your time to get it exactly how you want it.
2. Measure and Cut Your Fabric
After marking the spot where you want to shorten your clothing, remove it and place it on a clean, flat surface.
Then, use a ruler or measuring tape to measure from the bottom edge of your clothing up to the mark you made earlier.
This measurement will tell you how much fabric you need to cut off. Once you've measured it, use sharp fabric scissors to make a straight cut along the marked line.
3. Fold the Fabric Up
Once your fabric is the right length, it's time to use the hemming tape. Place your clothing on an ironing board or any flat surface that can handle heat.
Fold the fabric up along the edge you just cut to meet the mark you made earlier. Make sure the fold is even and goes smoothly across the whole width of the clothing.
This fold is where you'll apply the hemming tape, so take a moment to make it clean and straight, and with the no sew-hem method, you can alter your clothes.
See More: 9 Freestanding Tubs to Enhance Your Bathroom Aesthetics
4. Adjust the Width if Needed
Before you use the hemming tape, take a moment to look at how wide the fabric is at the bottom after you've folded it.
Make sure it's the right width that you like and that it fits the way you want it to. If it's not perfect, you can adjust it by folding or unfolding the fabric a bit.
This way, you can make sure your clothing fits just the way you want it to before you finish the hem.
5. Cut the Hem Tape to Match Your Hem
Once you've folded your fabric to create the hem you want, it's time to get the hemming tape ready. Use scissors to cut a piece of hem tape that's the same length as your folded hem.
Doing this ensures the tape covers the whole width of the no-sew hem, making it stick securely.
6. Activate the Hem Tape with Water
Hem tape usually has a sticky thing on one side and a paper or plastic covering on the other.
To make it sticky, you need to put it in water. Get a small bowl or container and fill it with warm water. Put the hem tape, sticky side down, into the water gently.
Leave it there for a little while, following the instructions on the package. The warm water will make the sticky part soft and ready to use.
7. Apply the Wet Hem Tape to Your Folded Hem
After soaking the hem tape and activating the sticky part. Take it out of the water without letting it fold or stick together.
Then, place the wet hem tape onto the folded hem of your clothing. The sticky side should touch the fabric directly.
Be sure to align it perfectly along the edge of the folded hem to get a neat look with no-sew hem.
8. Press Firmly to Secure the Instant Hem
To make sure the hem stays in place. Put some pressure on the spot where you applied the wet hem tape. Use an iron that's not too hot or too cold for your fabric.
Cover the wet hem tape with a cloth or parchment paper to keep your iron clean. Carefully press the iron onto the fabric, holding it there for the time recommended on the hem tape's packaging.
The heat from the iron makes the adhesive stick to the fabric, creating a strong and long-lasting hem.
Is Hemming Tape Permanent?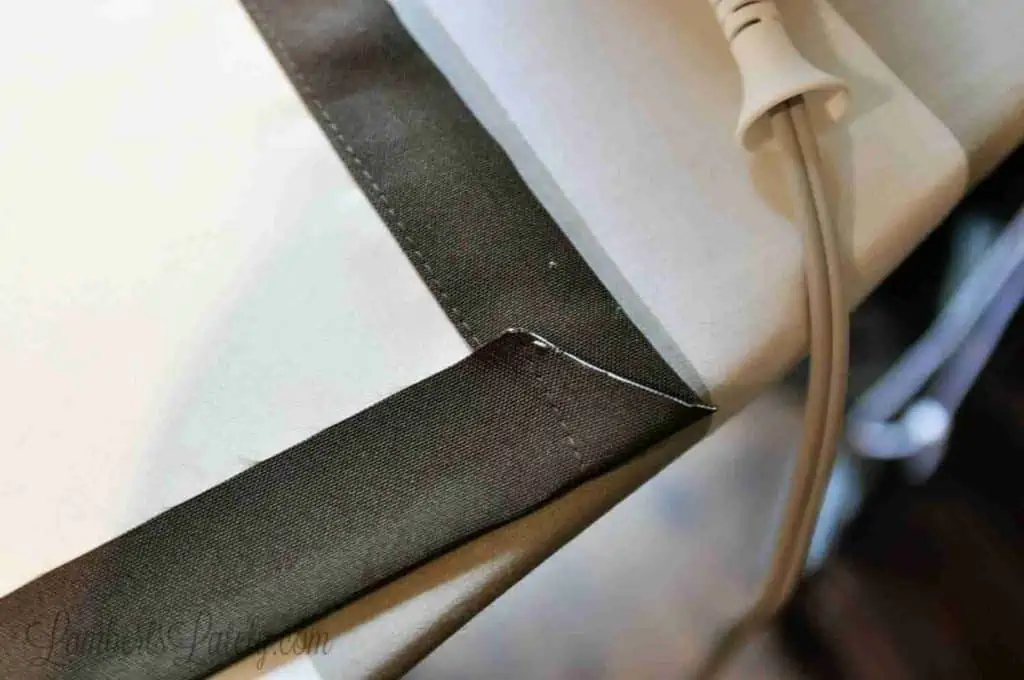 No, hemming tape isn't a permanent fix. It's a quick way to temporarily adjust the length of your clothes with the no-sew hem method.
The tape holds the fabric together temporarily and can be easily taken off when you want. It's a good choice for quick changes to your clothing.
But if you want a lasting hem, sewing is the way to do it. Hemming tape is just a short-term solution.
Where to Buy Hemming Tape?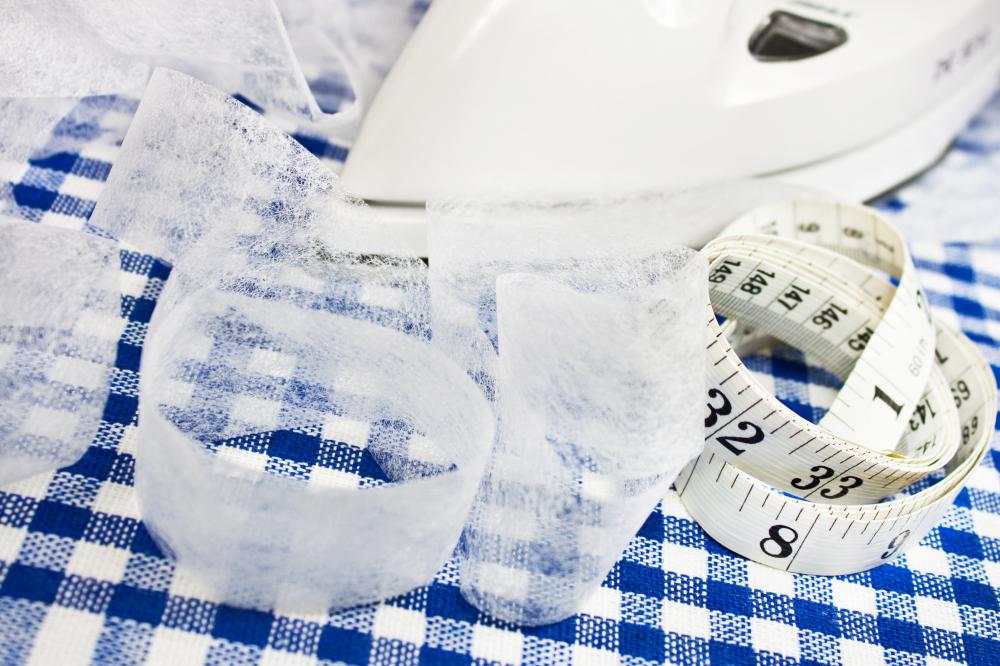 Hemming tape is simple to get because you can find it in many different places. You can buy it at fabric stores, craft stores, sewing supply shops, and even some regular stores.
If you prefer shopping online, you can also find hemming tape on websites such as Amazon, eBay, or specialized no sew hem supply sites.
So, you have many options to find the perfect type and brand that works for you.
Related: How to Fix a Bathroom Faucet Leaking at Base
Benefits of the No Sew Hem method
1. Accessibility: No sew-hem techniques are accessible to everyone. They provide a simple and effective solution for those who may not have sewing machines or the knowledge to use them.
2. Time-Saving: Traditional sewing can be time-consuming, especially for beginners. No sew-hem methods are faster, allowing you to complete hemming projects quickly, making them ideal for last-minute alterations.
3. Ease of Use: no sew hem methods typically involve easy steps that are simple to understand and execute. They often require basic tools such as scissors and an iron, which are readily available in most households.
4. Flexibility: These methods can be used on various fabrics, including fine materials such as chiffon and silk, as well as heavier fabrics like denim. They are flexible enough to provide various types of clothing items, from pants and skirts to dresses and curtains.
5. Clean Finish: No sew-hem methods often result in a clean and professional-looking finish with no visible stitching lines. This is especially valuable for formal attire or garments where a polished appearance is essential.
6. Cost-Effective: Investing in no-sew-hem products is typically more cost-effective than purchasing a sewing machine and sewing supplies. It can save you money on alterations and repairs in the long run.
Conclusion
No-sew hem offers a fantastic solution for those who want to adjust their clothes without the need for sewing.
We've learned that using easy techniques such as fabric glue, iron-on tape, or adhesive strips can give us a clean hem quickly.
One of the best things about this method is that it doesn't demand special sewing skills or costly equipment. It's accessible to anyone.
Moreover, it's a speedy and budget-friendly way to upgrade our wardrobe and extend the life of our favorite clothes.
Practice improves your skills, so don't get discouraged if your first attempt isn't perfect. With a little patience, you'll become a pro in no time.
So, if you're shortening pants, fixing a frayed edge, or adding a new style to your outfit, the no-sew hem is a valuable technique to have in your toolkit.
Give it a try, and you'll be surprised at how easy and effective it can be.
Check This Next: How to Get Rid of a Couch – Discard it Economically
Frequently Asked Questions
What Are the Benefits of No-Sew Hemming?
No-sew hemming is quick, easy, and requires no sewing skills. It's a great option for people who don't have access to a sewing machine or want a temporary hemming solution.
What Materials Do I Need for No-Sew Hemming?
The materials you'll need for no-sew hemming can vary depending on your chosen method, but common supplies include fabric adhesive, fabric tape, fabric glue, and an iron.
How Do I Use Fabric Adhesive for No-Sew Hemming?
To use fabric adhesive, fold the fabric edge to create a hem, apply a thin, even layer of fabric adhesive, and press the fabric together. Use an iron to set the adhesive if required.
Can I Use No-Sew Hemming for Any Fabric?
No-sew hemming methods are suitable for various fabrics, but the results may vary depending on the fabric type and the specific product used. It's essential to choose the right method for your fabric.
Is No-Sew Hemming Reversible?
Many no-sew hemming methods are not easily reversible. Once the adhesive or tape is applied and set, it can be challenging to undo without damaging the fabric.
How Do I Choose the Right No-Sew Hemming Method for My Project?
Think about factors like the type of fabric, the intended use of the garment or item, and the desired durability when choosing a no-sew hemming method.