Are you looking forward to having some neutral shade tone for your interior space? If yes, then Repose gray is all that you are looking forward to. This shade is remarkably known for its all-time high demand and for the perfect amount of finesse, it brings to the space.
Additionally, Repose Gray had also been known as the best seller of Sherwin Williams.
Out of all the paint shades sold at the world-famous Sherwin-Williams, Repose Gray has won the hearts of interior designers and architects the most and continues to do so.
This evergreen shade of repose gray marks a timeless neutral tone that pairs seamlessly well with most of the design and associated requirements.
Let's have a quick understanding of Sherwin-Williams and its products.
Similar Post: A Complete Review of Sherwin Williams Modern Gray Paint Color
What is Sherwin Williams?
The American Company Sherwin Williams, based in Cleveland, Ohio, is majorly focused on the manufacture and distribution of paints and floor coverings for both the industrial and commercial sectors.
Sherwin Williams is synonymous with your one-stop shop for all your painting requirements.
Be it for the quality of the product, durability, and cost-efficiency, Sherwin-William outshines every other paint and service provider.
Why Do People Prefer Sherwin Williams Over Any Other?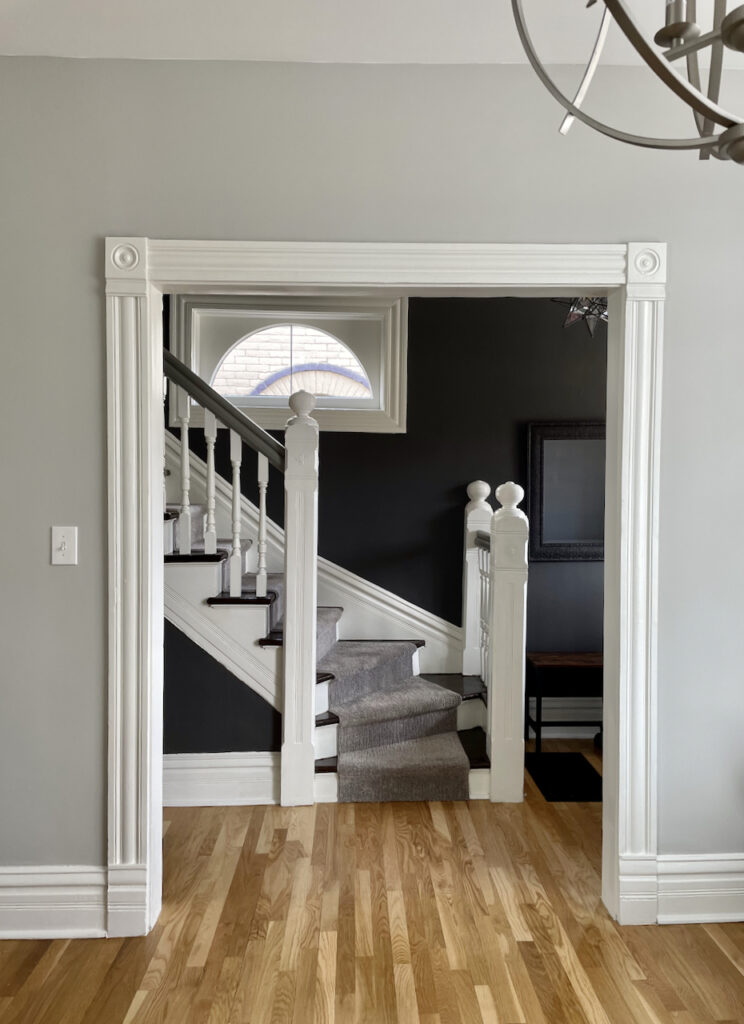 Well, the quality and longevity of the Sherwin Williams products are unquestionable!
Still, Repose Gray had always been tagged along with the name of Sherwin Williams, and here is why they had always been a crazy yet beautiful combo.
To add on, Sherwin Williams also helps you with the facility to visualize your designed space in 3D, thereby giving you a clear analysis as to how the shade is the right choice for your project.
Why Repose Gray?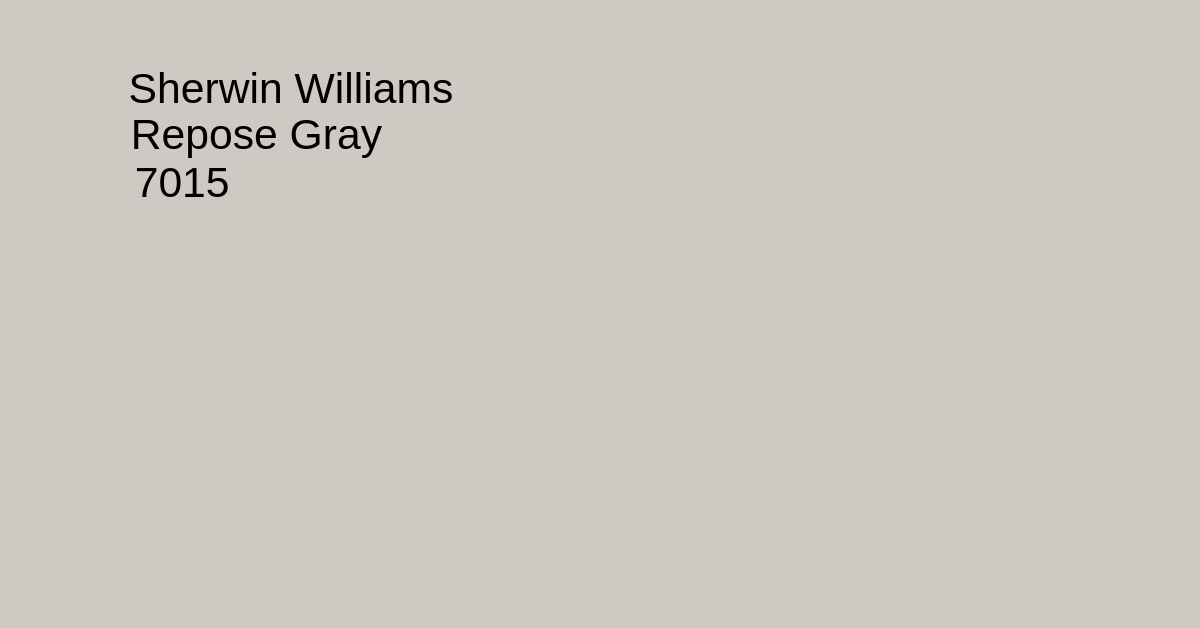 The Repose Gray is a crossover between gray and off-white, and this versatile color has the potential to change the tone with the undertone and pattern of light falling on the space.
Concerning the different lighting and atmospheric conditions, gray blues and gray greens can also be made possible with the right amount of mixing and planning.
The Magic of Repose Gray
Here is the magic of Repose Gray being unveiled. Yes, Repose Gray is not too cool nor too warm.
It's all about the perfect balance the repose gray shade had always managed to bring out in any space that was adorned with the shade.
Repose gray is not just a color that is perfect for the interior; it works great with interiors too.
The hack and ultimate key over here is to understand the purpose and theme the area wishes to portray and use repose gray paint with supportive accessories for decor, which is promising of splendid results on any occasion.
The flexibility or the elasticity of the shade to go with any predefined mood of the design is a major plus that people consider while purchasing the same.
Some Fascinating Details About Repose Gray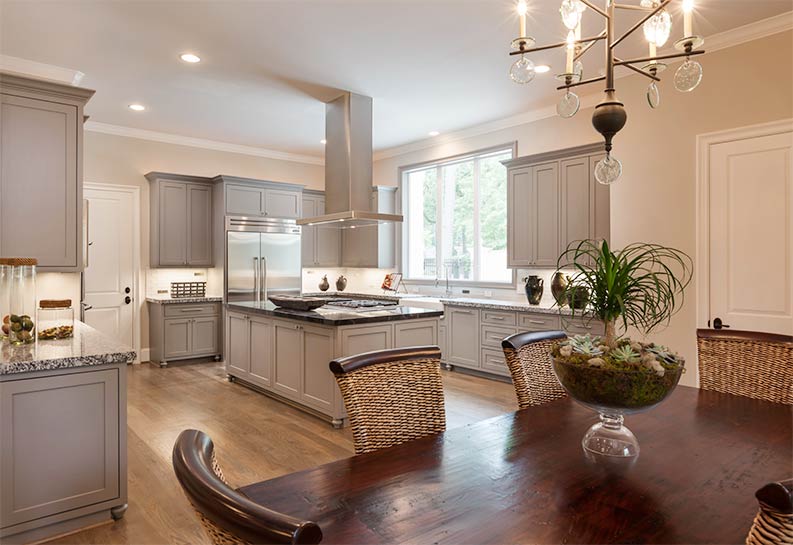 The versatile and sensational paint color Repose Gray from Sherwin Williams has some amazing properties that can make you go aww.
The three most important things that need to be appreciated, and known and make Repose Gray a blockbuster color are its undertones, Light Reflectance value, and complementary nature.
We shall look at these factors in detail.
Also Read: Best Neutral Paint Colors (15+ Colors to Choose from)
1. Undertones
Before going into the details, we need to understand the actual meaning of the undertone and how it has an influential nature in the overall output.
Undertones are nothing but minute tints of color shade seen in paints that cannot be recognized at the very first glance but become more prominent and visible under different lighting and reflective conditions.
Closely studying the undertones of paint color can help in efficiently curating the interior and bringing out the maximum potential of the space and structure through the color.
The balanced and neutral appeal of Repose Gray is brought by their minimal yet impactful blend of warm and cool tones.
Repose Gray from Sherwin Williams has an undertone of gray, brown, beige, and little tints of purple/blue, and these shades efficiently prevent the paint color from appearing too cool or too warm for the environment.
The balanced nature of the undertones in Repose Gray makes it easier to pair them with a wide variety of interior decor accessories and bring a harmonious appeal to your space.
2. Light Reflectance Value
Light reflectance value or LRV can be defined as the measure or amount of light a specific shade can reflect, which can be expressed in percentages.
With 0% referring to absorbing all light, reflecting black, to 100% Referring to reflecting all light, pure white.
The light reflectance value of Repose Gray is 58% indicating that it reflects a moderate amount of light, making it a go-to choice for multiple occasions.
It is this characteristic of paints that helps them to create a warm cool, or cozy feel/environment. The LRV of Repose Gray is indeed an ideal range to accommodate almost all types of mood at a moderate level.
3. Complementary Nature
As we discussed before, Repose Gray from Sherwin Williams has the potential or ability to complement a wide variety of colors.
This nature of the shade made it all the more celebrated and a favorite choice of many. Be it a color pop or a monochromatic appeal, repose gray as a backdrop has got it covered like the best show stealer ever.
Possible Areas Where Repose Gray Can Be a Blockbuster Hit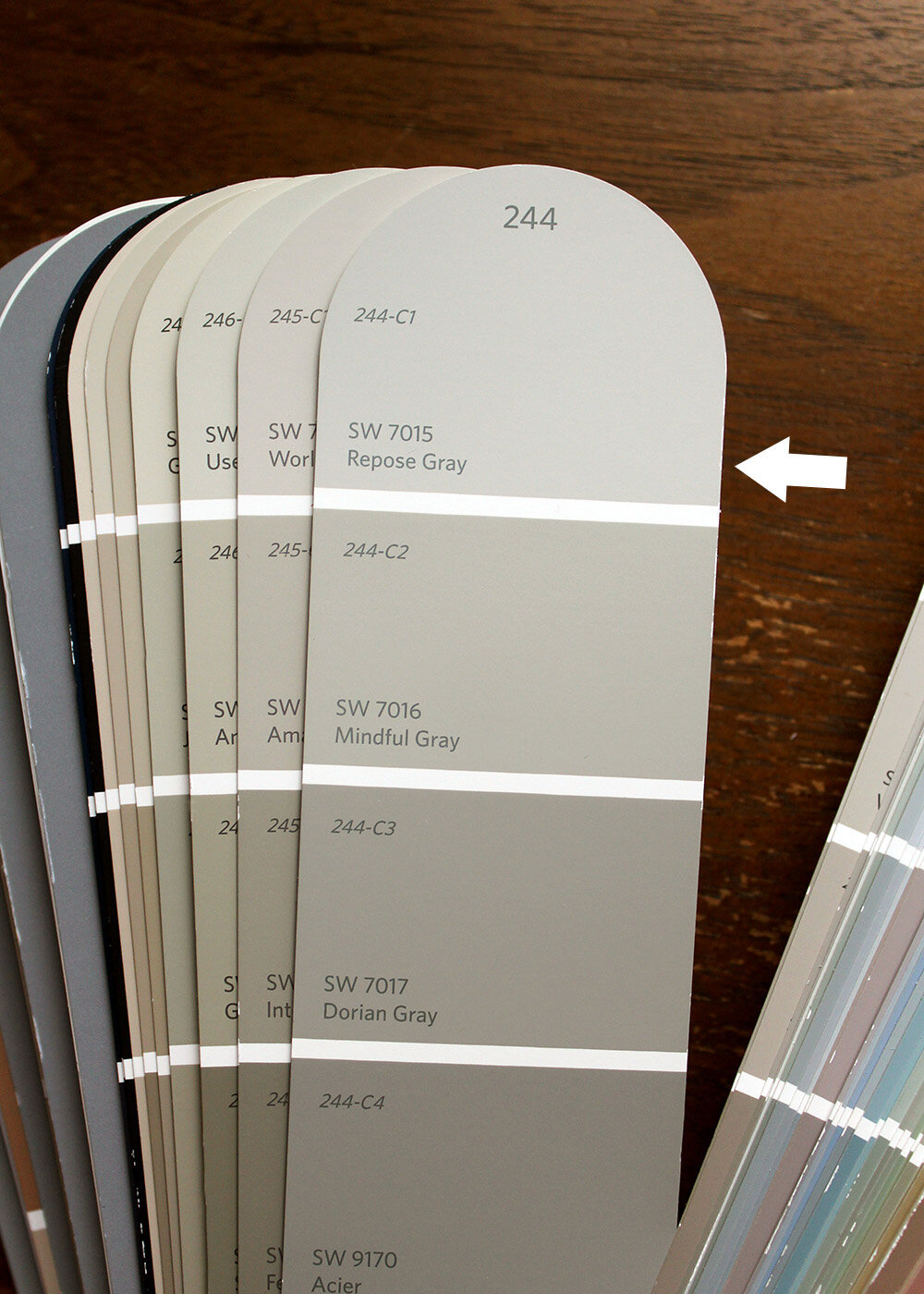 Well, just like how the color theory suggests, each color serves its purpose and fits the best for a particular atmosphere and environment.
The Repose Gray shade is usually associated with a calming and peaceful experience; for the latter reason, usually, this shade is well paired with white undertones and areas where the power of construction is required.
This blockbuster shade goes well with bold statement shades if you are looking forward to creating an eye-catching look.
Further, the color portrays a clean and fresh look, especially when used in a modern kitchen space.
This is nothing less than a neutral dramatic color that can pretty much go in several spaces, making it one of the strongest reasons why they are preferred the most by people.
Related: 11 Gray Blue Paint Shades for a Relaxing Room Decor
What Do You Need to Look for While Choosing Repose Gray?
Just like how the tiniest and huge architectural design and aspects play a big role in deciding the overall beauty and aesthetics of the space, the importance of the paint color chosen is unavoidable.
Though Repose Gray is a trustworthy color, here is your checklist for a safe purchase.
Check the lighting of the space.
Have a clear understanding of the requirements.
Always make use of the 3D visualizing facilities provided by Sherwin Williams.
Mix and match colors with Repose Gray (trying multiple times comes with the best results)
Think about the possible types of furniture and accessories you could pair up with the shade and check for availability.
Summing It Up
All in all, if you are someone trying to bring out a difference from the usual seen and overexposed shades for both your interior and exterior space, then Repose Gray from Sherwin Williams is a great choice to consider.
The claimed and proven market's best paint color, repose gray, can easily be purchased via Sherwin William and can be made the best of it with a creative perspective.
An interior designer's overlook can add even more credibility to your already brilliant design.
The very fact that the shade of Repose gray paint can be transformed to a warm and cool tone simultaneously depending on the need is a major attraction and a plus factor when it comes to deciding on a color theme and fixing on a tone.
Frequently Asked Questions
Does Sherwin Williams Sell Samplize?
Yes, Sherwin Williams does have sake for sample sheets for trial looks. This indeed makes your interior designing and decor process a lot easier and more cost-effective.
Does Sherwin Williams Repose Gray Color Paint Impose a Cool Tone?
Repose Gray by Sherwin Williams is neutral in tone; the rare color mixing of Repose Gray by using gray, brown, greige, and little tints of purple/blue makes it a neutral tone with the provision to alternate the effects by the sunlight falling direction.
Is Repose Gray Darker or Lighter for The Interior?
Repose Gray stays true to its shade. However it is important to note that any shade, be it darker or lighter when used outside, will appear lighter than its actual color for the enormous natural light exposure it is subjected to.
Does Repose Gray Go Well in a Modern Setting or An Ancient Setting?
Repose Gray has the potential to go well with both the setting (modern and ancient), provided the fact that things have to be well curated with a creative eye. However, Repose Gray has been widely used in the modern setting all this while.
Does Repose Gray by Sherwin Williams Have a Light Reflective Value?
The Repose Gray has a light reflective value of 60, which is pretty promising in that it will not appear darker in any room with a sufficient amount of light. Additionally, they naturally try to bring maximum reflective effect to the table.
Check This Next: The Ultimate Review on Sherwin Williams Agreeable Gray Paint