Are you in search of the perfect paint color to breathe new life into your living space? Look no further than Sherwin Williams Modern Gray SW 7632. Any space enclosed with the walls painted in this color is bound to have a serene atmosphere.
This delightful color is famous for its versatility and timeless appeal. Sherwin Williams Modern Gray is a sophisticated shade that is an effortless combination of warmth and neutrality.
These undertones prevent the gray from feeling cold and sterile. They also dilute the darkness of gray. The resulting light color gives the room warmth and makes it feel airy.
This makes Modern Gray ideal for bedrooms and bathrooms, spaces where we prefer to relax. From contemporary to traditional to somewhere in between, this color can adapt to any aesthetics.
So, if you are looking to transform your living space or renovate it, this color should be your top choice. Keep reading this article to understand more about Modern Gray.
Similar Post: A Complete Review of Repose Gray Sherwin Williams
What is SW 7632?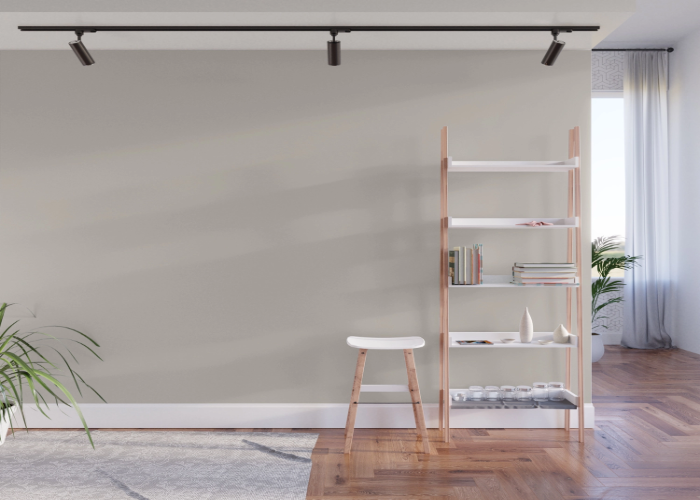 Sherwin Williams Modern gray warm-toned gray is extremely popular in the home design sector. Despite what its name suggests, it is anything but a dull gray.
Contrary to the idea of grays, this color is particularly pleasing, with reds and oranges dominating the undertones. These undertones make Modern Gray lean towards a warm tone.
This hue hits the perfect balance; it is neither too light nor too dark. This balanced composition allows Modern Gray to adapt beautifully to various lighting conditions. It ensures that it remains captivating throughout the day.
One of the standout features of this color is its remarkable ability to complement a wide range of design styles. This SW 7632 can be a perfect backdrop for furniture, artwork, and accessories to take center stage.
You can pair it with crisp white trim and accents for a fresh and clean look. On the other hand, you can also match it with bolder color choices to create striking contrasts.
Furthermore, Sherwin-Williams is renowned for its high-quality paint formulations. Overall, Sherwin Williams Modern Gray SW 7632 is a paint color that reflects sophistication, versatility, and tranquility.
1. Light Reflectance Value
If you aren't familiar with this term, let me introduce you to it briefly. Light Reflectance Valur, or LRV, is a measurement system experts use to detect how light or dark a color can appear.
It denotes how much light a color absorbs or reflects. It is measured on a scale of 0 to 100, where 100 is pure white, and 0 is pure black. Evidently, the higher the LRV of the shade, the lighter it appears, and vice versa.
The LRV of Modern Gray is 62%. This means that this color approaches mid-tones rather than a light gray. Again, while maintaining its hue, it will seem much lighter in spaces with abundant natural light, such as south-facing rooms. It will appear murkier and darker in smaller spaces.
Also Read: The Ultimate Review of Sherwin Williams Repose Gray
1. HEX Code
The HEX code of Modern Gray is #d6cec3. However, making an inquiry or comparison even through the HEX (RGB) code is not the most convenient option. So you can use the designation SW 7632 to refer to this Sherwin-Williams gray color.
2. RGB Values
Red, Green, and Blue (RGB) refers to the proportions of each color that are present in color. Red, green, and blue are taken as primary colors as they form white when mixed together.
When mixed in different ratios, these primary colors result in different shades. It is this ratio that the RGB values of any color denote. The value of each color ranges from 0 to 255.
The RGB value of Modern Gray is (214, 206, 195) indicating the portions of red, green, and blue, respectively.
3. Undertones
Each hue of paint has undertones. It's crucial to understand what they are for the colors you wish to use so that you can cooperate with them. Knowing undertones will greatly help you to choose decor that complements the room in the best way possible.
For Modern Gray, we want you to remember that the undertones are fluctuating. This is because SW 7632 doesn't fully stick to any one undertone. A paint color that doesn't dedicate to one undertone is more prone to flash into multiple undertones based on its surroundings.
Modern Gray is a light greige color with a hint of pink in general. But its appearance is greatly influenced by the environment you live in. Putting it next to anything that is highly taupe (a violet-pink basis) may lead it to flash green undertones. You can try its paint sample on your walls to understand its behavior.
See More: Top 16 Most Comfortable Couch to Relax on In 2023
4. Trim Colors
Trim color is a type of interior paint that is specifically made for trims. These colors have a satin, semi-gloss, gloss, or high gloss finish. Trim colors are important as they can highlight the color on the wall and brighten the room.
It is common knowledge that white is the best and most versatile trim color. White is the go-to trim color as it can complement practically any other paint color.
SW Pure White or SW High Reflectance White paints work well with SW Modern Gray. However, to bring out the real undertones of this color, you can also think beyond typical pure white molding. Some other trim color suggestions to contrast with Modern Gray are:
Benjamin Moore's Decorator's White
Benjamin Moore White Dove
Behr Cameo White
Sherwin Williams Alabaster
5. Where Should You Use It?
This color fits in almost any type of home because of its charming neutrality. Modern Gray can elevate your living rooms, bedrooms, kitchens, bathrooms, laundry rooms, hallways, staircases, and or any other space in your house.
However, as mentioned earlier, it looks exceptional in bedrooms and bathrooms. Because of its neutral tone and calming effect, you can consider putting on the room where you unwind or meditate.
6. How Will Your Space Feel?
As discussed before, Sherwin Williams Modern Gray associates itself with a calm and soothing feel. So you will undoubtedly feel snugger and at ease if you paint your walls with this color. Naturally, because of the warmer undertones, it will seem creamier and also rather warm and unwelcoming.
Comparing Modern Gray with Other Colors
1. Worldly Gray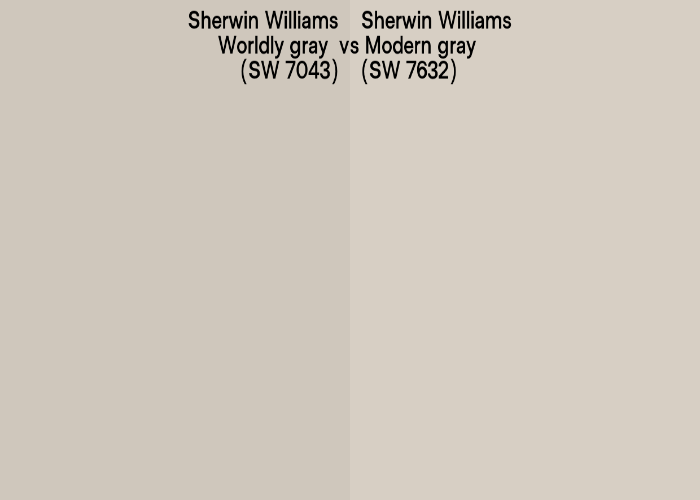 Even though both are warm tones, Worldly Gray reads grayer than Modern Gray. This is because the latter essentially reveals its red-orange overtones. If you want a hue that is darker than Modern Gray, you might want to think about Worldly Gray.
2. Accessible Beige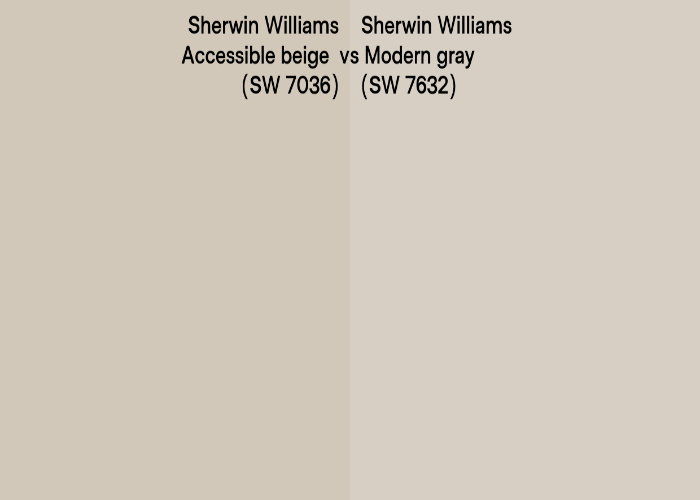 With an LRV of 58, Sherwin Williams Accessible Beige (SW 7036) is substantially darker than Modern Gray. Additionally, this warm greige is more beige in color. Its pink undertones and gray foundation differ from the occasional brown and green undertones of Modern Gray.
Related: 11 Gray Blue Paint Shades for a Relaxing Room Decor
3. Gossamer Veil
Sherwin Williams offers two warm, mid-toned, greige paint colors: Gossamer Veil and Modern Gray. Despite having extremely varied undertones, they share the same LRV.
The tone difference between these hues can only be seen when placed side by side. The major difference between these two is in their undertones. Gossamer Veil has significant green undertones, while Modern Gray has pink.
4. Benjamin Moore Edgecomb Gray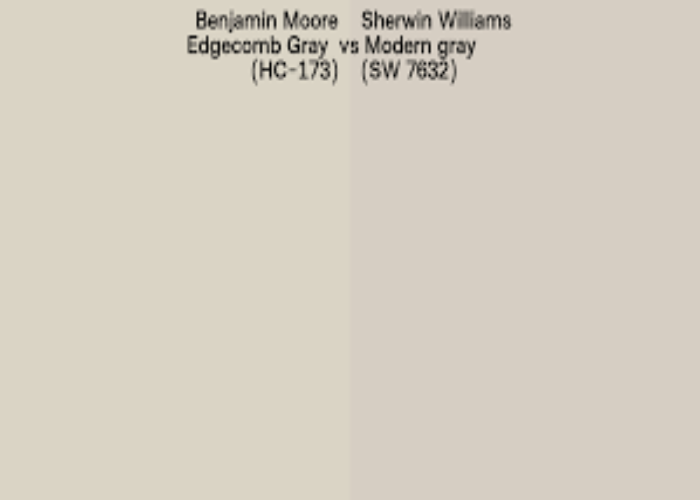 Edgecomb Gray (HC-173) is virtually a lighter shade of Accessible Beige with an LRV of 63.88. Edgecomb Gray, which freely displays its brown undertones, reads lighter and more beige than Modern Gray does. However, Edgecomb Gray does contain some gray as well, which is something that these two hues have in common.
Final Words
All in all, Sherwin Williams Modern Gray SW 7632 is a captivating paint color that brings comfort and tranquility to any space. Its balanced composition and subtle undertones make it adaptable to different lighting conditions, ensuring its beauty throughout the day.
Whether you're looking to create a serene atmosphere in your bedroom or a stylish backdrop for your living room, Modern Gray is an excellent choice.
Its ability to complement various design styles adds to its versatility. It allows you to create a cohesive and visually pleasing environment. With Sherwin Williams' commitment to high-quality paint formulations, you can trust Modern Gray will apply smoothly.
So, if you are willing to transform your home and infuse it with sophistication, Sherwin Williams Modern Gray SW 7632 is the perfect paint color for you.
Check This Next: Best Neutral Paint Colors (15+ Colors to Choose from)