In a world where creams, whites, beige, and greys are considered all together, Benjamin Morre Navajo White is something that stands out of the tribe.
It is not like your regular white color but different than usual. However, you might think, is it right for your house? Neutrals colors in the home decor era are usually preferred more than others due to their versatility and easy-to-go choice.
They are so eye-soothing that one can easily experiment with them with various shades on the color palette. No matter if you want to go with something neutral or something bold, Navajo white paint will look great with all.
Hence, keeping the same in mind, we are here with a guide that clears all your questions about Navajo White Paint.
What Type of Shade Is It?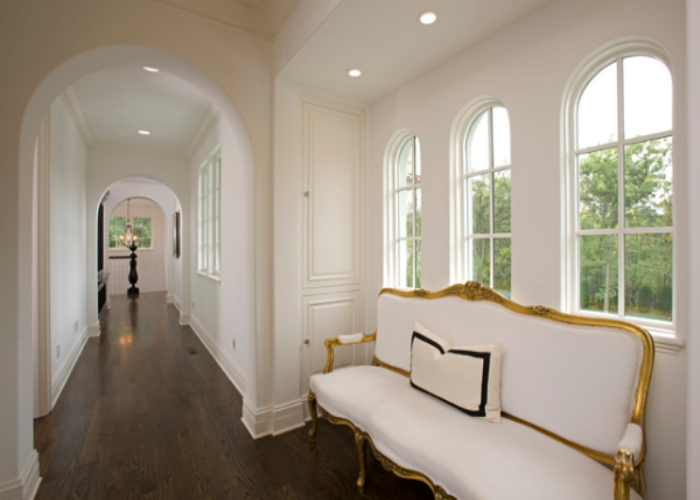 Benjamin Navajo White is a beautiful off-white color that gives your house a comfy and cozy vibe. Using this color will automatically make your house look a little more spacious and bigger. If you are someone who likes to have blue and green tones, then trust us, BM Navajo White will give you the same ease and comfort.
Navajo White is an ideal color for small houses and compact rooms as it has a cool undertone. It will add the right amount of warmth to your room by making it look spacious and open. Additionally, it will give you a positive aroma and cool vibes.
Similar Post: 15 Best Kitchen Cabinet Colours
LRV of Navajo White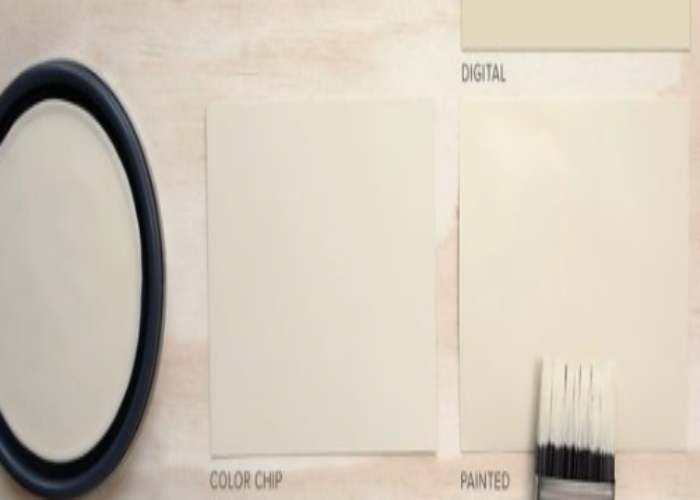 LRV is basically a Light Reflectance Value that ranges between 0-100. 0 is the pure black color, and 100 is the pure white shade. Shades with higher LRV reflect more light, whereas as the LRV lowers down, they reflect less light to rooms.
The LRV of Navajo White ranges somewhere between 78 and 79. It is not so usual color; that's why we don't have an exact figure of LRV for the same.
However, some sources state that the exact LRV for Navajo White is 79.88. It is an off-white color, and due to its high LRV, it is easily washable in natural light. It has soft undertones that make it perfect for dark rooms and offers a good amount of light.
Undertones of Navajo White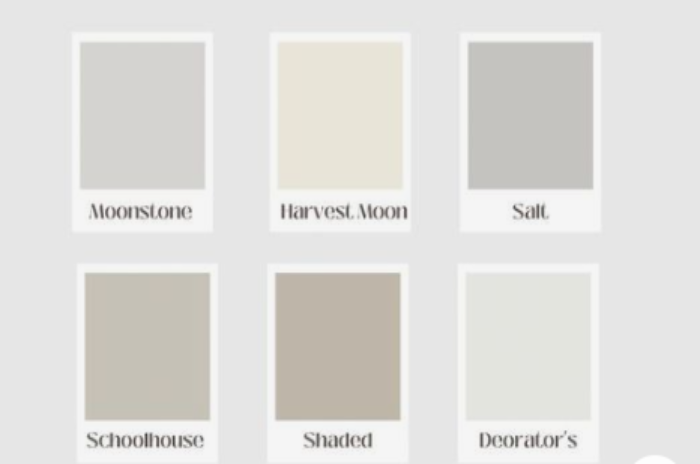 Understanding undertones and mass tones is very important before you choose any color for your house. Mass tones are usually the main colors, like blue, yellow, green, and red.
At the same time, undertones are shades that are caused by them. Every color has its own blend of mass tones and undertones.
Navajo White is an off-white color with yellow undertones, just like any other cream paint. In addition, yellow undertones are further divided into yellow-green or yellow-orange tones, and Navajo White is on the yellow-orange side.
Is It a Good Exterior Paint Color?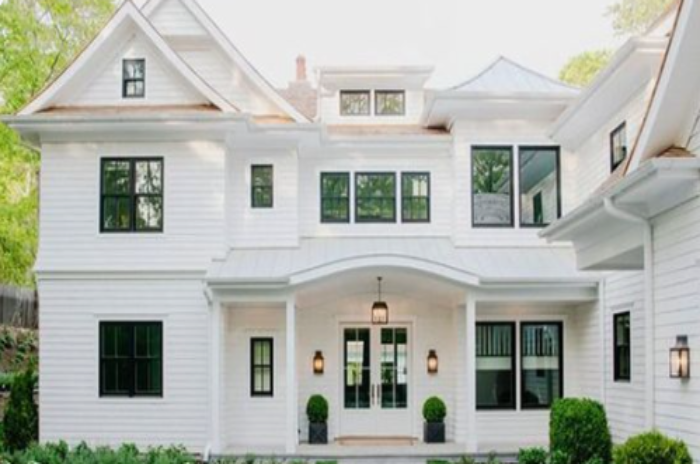 We can't surely say that BM Navajo White is a good exterior color or bad. It solely depends on the preference of the user. Some people like to add darker shades to the exterior so that they are dust resistant and easy to maintain. However, others like to go for it as it makes the house look light and classy.
Also Read: A Complete Review of Sherwin Williams Modern Gray Paint Color
What Other Paint Colours Complement Navajo White?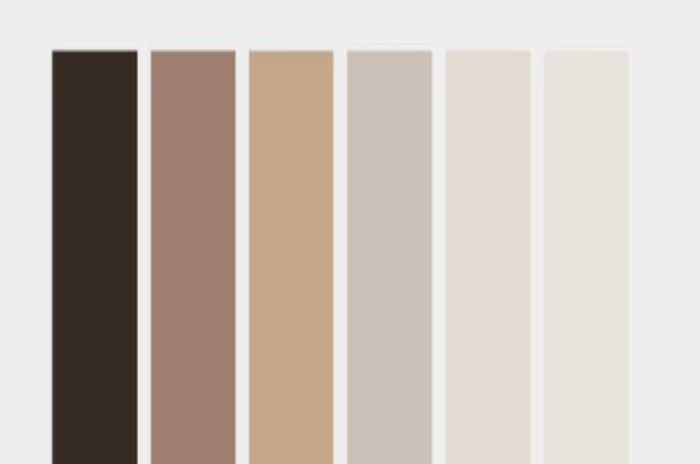 If you are wondering what other colors will look best with Navajo White, then we are here to help you.
The grey color is one of the best when we talk about complementing colors with Benjamin Navajo White. Warm and earth shades of grey look great with this color.
Beige is another complementing color for Navajo White. Dark shades of Beige paint will look stunning when paired with Navajo White paint Colour.
Lastly, tones of blue and green also work perfectly with this color. You can choose earthy tones of blue and green to complement this color in your house.
Is It a Warm-Toned, and How Does It Affect the Space and Lightning?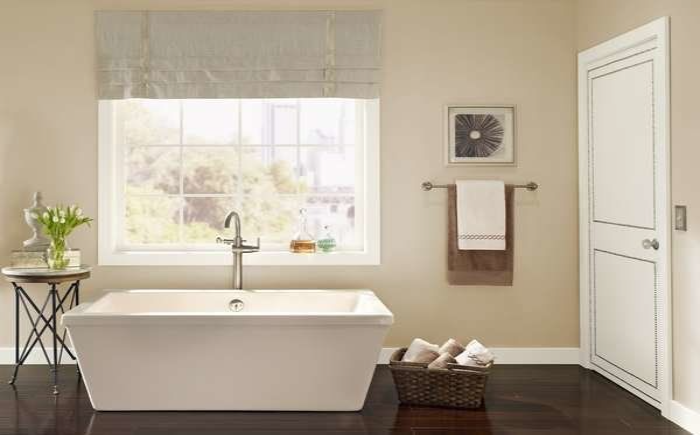 Benjamin Navajo White is an off-white cream shade with warm yellow undertones. It is a mix of warm and cool shades and offers enough light to any room.
Sometimes, Navajo white can appear warmer to your eyes. You can also look for warmer white shades if you are into that, but honestly, this one gives a beautiful eye-catching vibe of the early 90s.
If we talk about lightning, then Navajo White varies its color as per light, direction, and room faces.
We have listed the general way in which lightning can change the aesthetics of Navajo White paint.
North Light– The light north side is usually cool and greyish-toned. It has a light warm shade and makes a perfect warm and cool mixed room.
South Light– South light is more on the warm tone, and it brings out the best yellow undertones. It will appear more in the golden and red-toned white color.
East Light– East light has warm sunlight during the morning time and turns shadowy post-afternoon. BM Navajo White will switch the light according to the time of the day.
West Light– The west lightroom is passive during the morning time and becomes warm during the afternoon. The Benjanim Navajo White will shift its color in the opposite direction of the light.
See More: 11 Gray Blue Paint Shades for a Relaxing Room Decor
Ideal Places to Use Navajo White
To give you an in-depth experience of how Navajo White looks in different areas of the house and how you can make it work for yourself, we have created a list. Make sure not to forget that the right paint finish is equally important because paint color all alone will not do wonders.
1. Navajo White Kitchen Cabinets
If you have beautiful wooden flooring and are not sure what to choose for kitchen cabinets, then go for Navajo White Paint. It is the perfect shade to bring out more warmth to your kitchen. You can also opt for cool-toned shades of Navajo White, as wooden floorings are already in warm tones.
2. Beige and Navajo White Kitchen Contrast
Suppose you have a dark beige colored background in your kitchen and want something that adds light tones to it. Navajo White is a perfect combination to add more light to your kitchen and make it look spacious and bright all day long.
3. Benjamin Morre Navajo White Cabinets
You can go for an all-white and little brown-toned kitchen by including Navajo white in your kitchen. Go for light-toned white shades all around the kitchen and little elements of brown. It will make your kitchen look modern and different from others.
4. Dining Area with Revere Pewter Walls
Vintage dining rooms are loved by all. It adds the traditional texture and uniqueness to your dining area and makes it catch your eyes in a blink. Go ahead and pair Revere Pewter Walls in your dining area with Navajo White color and make it an incredible experience.
5. Vintage Fireplace Mantel in Living Room
Living in cold regions can be a little difficult during winter seasons. However, getting a fireplace with Navajo White Colour boundaries is perfect to get the cozy vibe. Keep your interiors light colors only, and pair it up with a lovely fireplace mantel.
6. Navajo White Bedroom Interiors
Bedrooms are meant to be the most comforting place in our house. No matter how sad or happy life gets, the bedroom has seen it all. Hence, getting the bedroom interiors right is essential. You can play on the neutral color palette for your bedroom and add Navajo White pain init.
7. Kids' Bedroom with Navajo White Paint
Usually, kids' rooms are more into playful colors and bold shades. However, this is the right time for you to make a little change and keep the kids' room more spacious and airy lighted. Go for Navajo white paint color and make your kid's room a little different from usual.
8. Navajo White Bedroom With Little Pop of Colour
BM Navajo White is a beautiful shade that can be paired with various other colors that are on the bold side. It will give a clean neutral palette to your bedroom with little pop of color.
You can paint your bedroom in overall Navajo White color and then add little elements of bright colors like red, green, blue, and yellow.
Related: 21 Paint Colors for Living Room: Expert-Approved Color Picks
9. Boho Styled Bedroom with Navajo White
Boho-styled rooms are quite in trend these days. If you are an emerging adult or someone at your house that loves to keep their rooms chic and stylish in bohemian style, then this one is for you.
10. Navajo White Paint for Bathroom
All love a classic white bathroom. Not only it looks spacious, but it also spreads positivity. Navajo White Paint for the bathroom can be used among walls and sink areas. At the same time, you can complement it with other textures to make it more chic and eye-catching.
How to Choose the Right Interiors to Go with Navajo White Paint?
Once you have decided that you want to go for Benjamin Navajo White Paint, you should also know how to complement your house interiors according to that.
To help you with the same, we have listed a few tips and tricks for you.
Before choosing Navajo White Colour, make sure to know the areas where you want to use this paint color. You can use it for drawers, cabinets, and more.
The next point to consider is how big or small your area is. If your house is small, then Navajo white will make it spacious and positive.
Once you have decided on the area you want to paint with Navajo White color, choose elements that will look good in your room. Be it carpet, flower vases, paintings, and more.
Go for little elements in bold colors too. It will draw attention from a basic monotonous look to a different side.
Wrapping Up
All in all, choosing the right BM Navajo White color can change the whole vibe of your room. It can turn it into aesthetic or classy as per your need and requirement.
Make sure to choose colors as per the side facing, directions, and undertones. Doing this will help you choose the right shades for your room.
Lastly, choosing it as an exterior Navajo Paint color can be tricky, it will not be easy to maintain, and it is going to last you long. Other than that, you should choose this color for interiors and complement it with matching elements.
Try to look at the color wheel and then opt for colors complementing each other.
Check This Next: The Ultimate Sherwin Williams Antique White Paint Color Guide