Oak Kitchen Cabinets have been in trend for a long time, and many homes already have them, as they give your room an inviting feel and warmth. Conversely, you can modernize your oak kitchen cabinets without painting them as fast fashion evolves. The significant part is that giving your kitchen's oak cabinets a modern and upgraded appearance is straightforward.
In this post, we've covered various ideas, suggestions, and methods for updating your oak kitchen cabinets without even using a drop of paint. These ideas will help you update your oak cabinets with more flair and style, whether your goal is to modernize or upgrade your kitchen, create a coherent design, or revamp or refresh the feel and look of your room.
So let's explore and look at these 12 options and see how these can change your kitchen without even using a paintbrush.
Best Ideas for Your Oak Kitchen Cabinets
1. Declutter and Deep Cleaning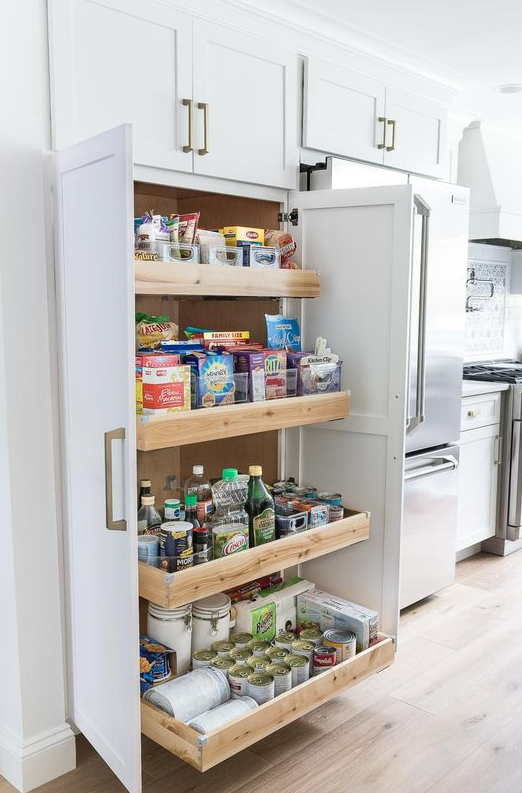 Before starting with any makeover, give your cabinets a thorough decluttering and cleaning. It will allow you to remove and thoroughly clean everything from the cabinets. It will give you a blank state from which you can accurately evaluate the state of your cabinets.
Similar Post: 13 Stunning White Oak Cabinets for Your Dream Home
2. Exchange Hardware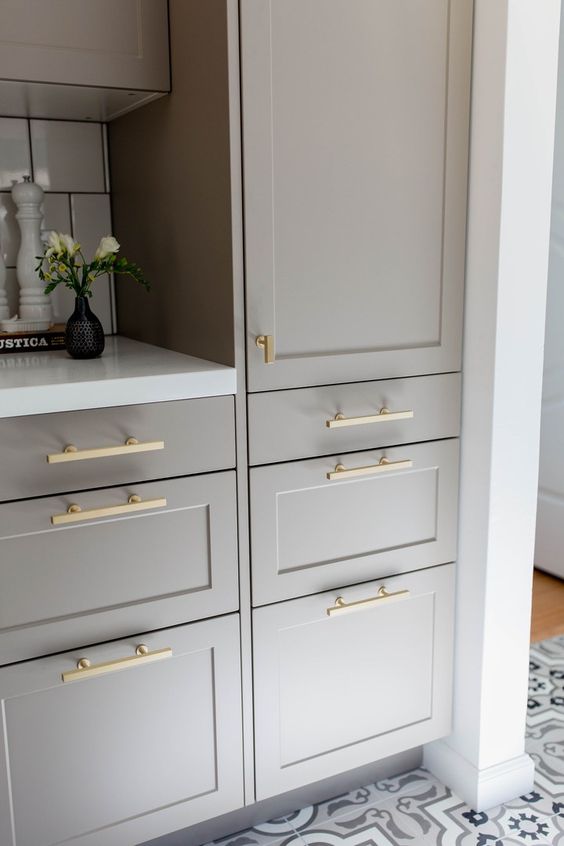 By switching the hardware, you can easily refresh the mood of the cabinets, as it is one of the simplest and most effective methods. You can replace worn-out knobs and handles with modern and ancient-inspired alternatives. Use matte black, antique brass, and brushed nickel for a modern, sleek appearance.
3. Better Lighting Fixtures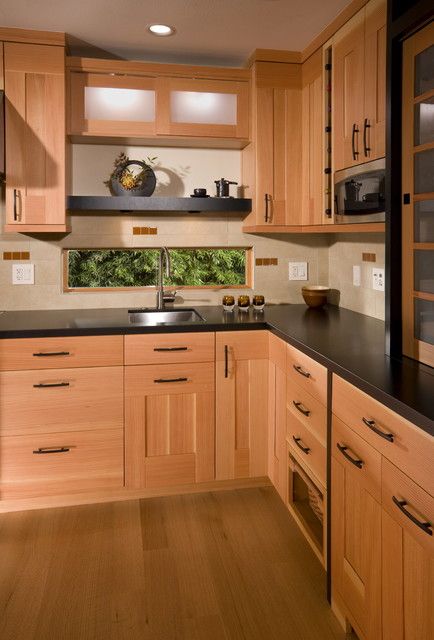 Lighting greatly affects your kitchen's appearance, so you can focus on improving that. You can swap out old fixtures with chic LED lighting and pendant lights to create a warm and welcoming ambiance. You can also illuminate and highlight your oak cabinets by using under-cabinet lighting.
4. Turn Cabinets Into Open Shelves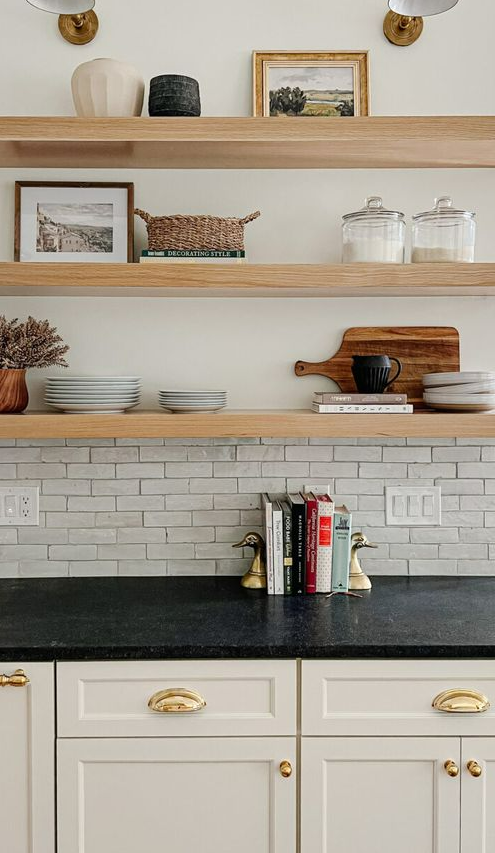 One of the best ideas for revamping the oak kitchen cabinets is to create some of your higher cabinets in the kitchen into open shelves by removing their doors. It will help you to display your kitchenware, decorative items, and cookbooks while giving your kitchen a feeling of airiness and space.
5. Consider Rebuilding the Cabinet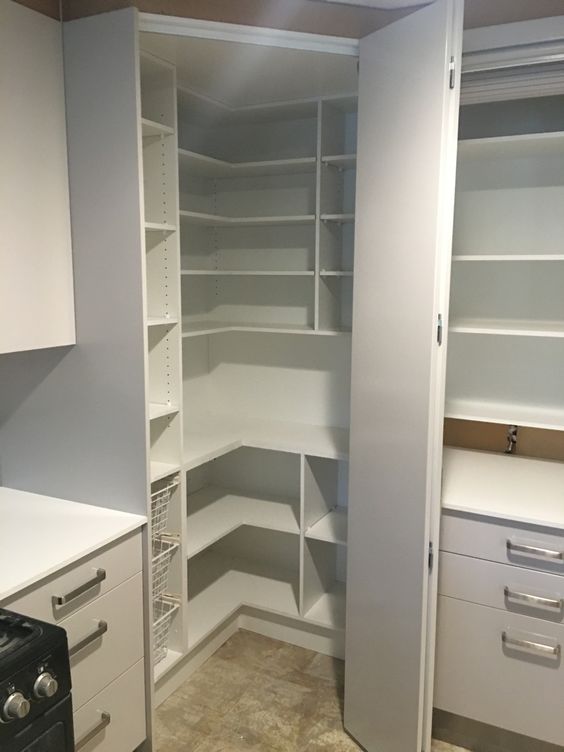 Rebuilding a cabinet is a great alternative if the oak cabinets' construction is still perfectly fine, but you don't like the presence of the color or grain of the wood. By changing the drawers and door fronts, you can still maintain the integrity of the current cabinet boxes. Try and choose wood species like cherry and maple to go with laminate. It will give your space a smooth finish.
6. Add Glass Inserts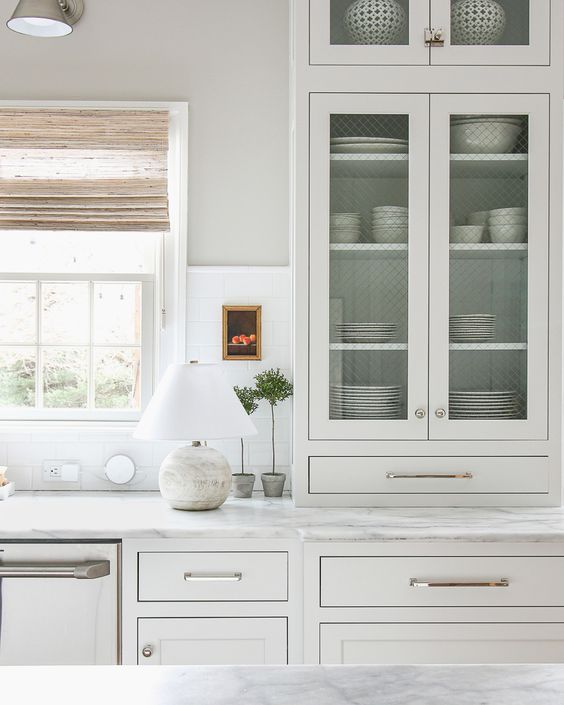 Adding glass inserts to some of your cabinets or doors will give them a touch of refinement and visual intrigue. You can easily achieve this by removing the center panels of doors and replacing them with glass. These decorative items give your favorite glassware a chic display space while giving your oak wood cabinets a contemporary look.
7. Ornamental Molding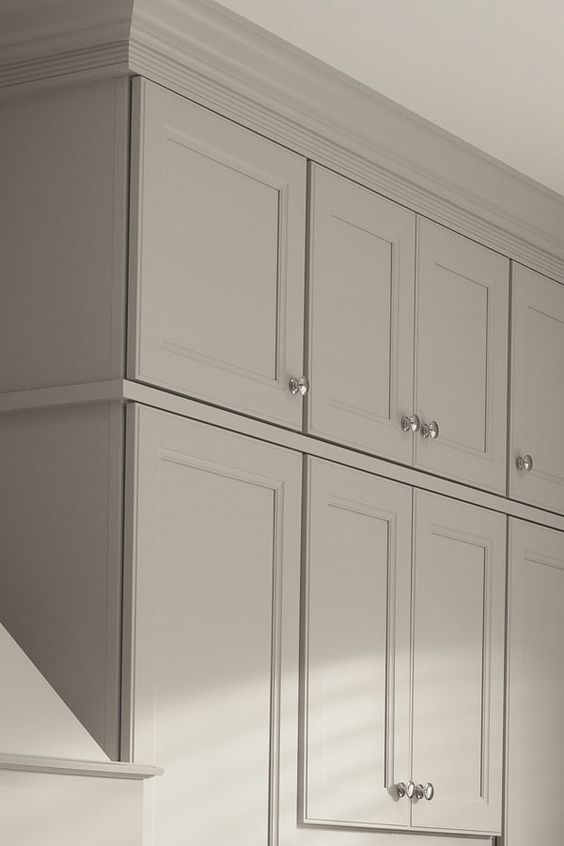 You can use ornamental moldings to give your oak cabinets more visual appeal and sophistication. To give them a more finished and polished appearance, you can give crown molding at the bottom and top of the cabinets. Cabinet ends, or backsplash areas can also have beadboard panel trims and a nice cottage-inspired feel.
Also Read: 15 Best Kitchen Cabinet Colours
8. Improve Backsplash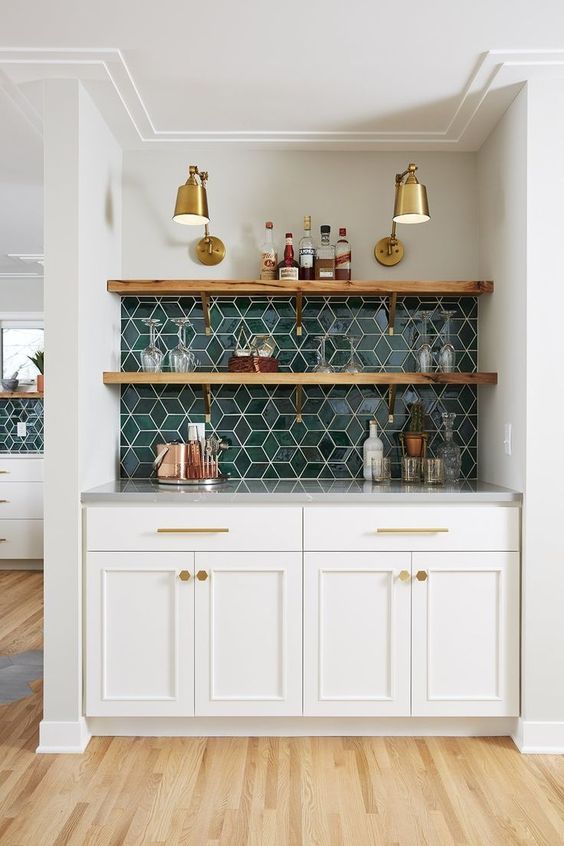 You can significantly improve the overall look of your kitchen with an attractive and fashionable backsplash. And you can choose mosaic patterns, stone, or subway tiles for a more elegant and contemporary appearance. You can make the space more appealing and cohesive to the eye by matching the colors and patterns with the oak cabinets.
9. Modern Countertops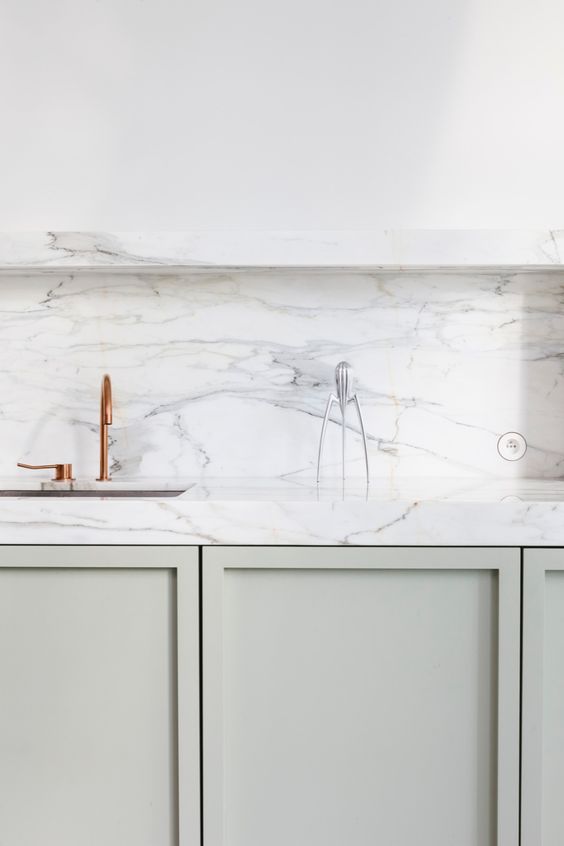 You can significantly change the house's feel and look by renovating your kitchen countertops. You can replace your countertops with granite, quartz, or butcher block. Give your kitchen cabinets a warm and contemporary look; these alternatives are ideal as they match their freshness.
10. Update the Island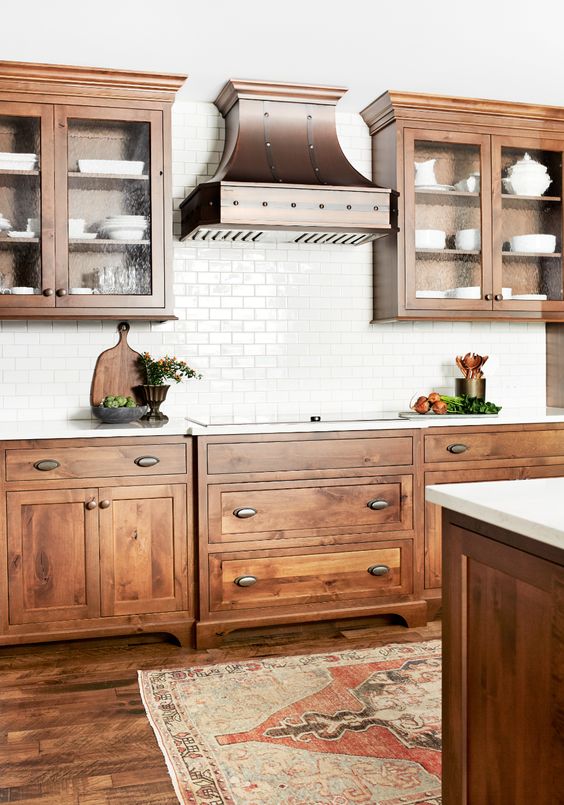 To use the space of your kitchen island, you can add more finish or color. The island should be painted or stained in a contrasting color with the oak cabinets. By doing this, you can give your space more visual attraction and a focal point.
11. Display Art Pieces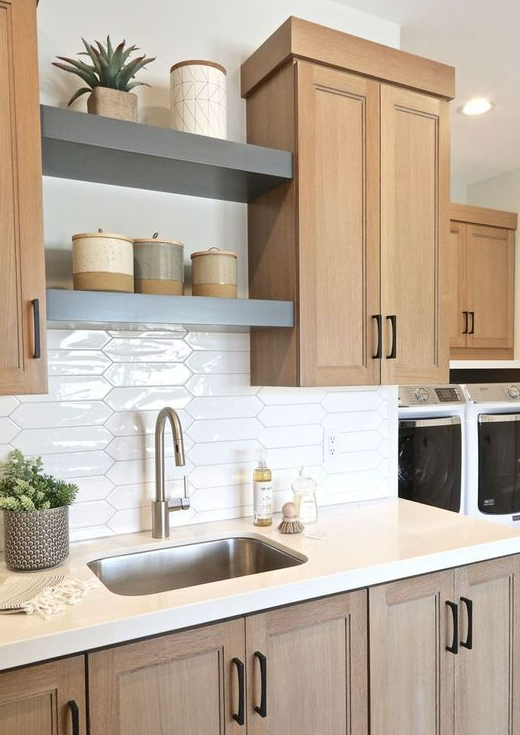 Add decorative pieces and artwork that complement your oak kitchen to make it look more appealing. You can hang a quirky picture or antique plates collection; alternatively, you can arrange objects above cabinets and open shelves. It will enhance your creativity and give it a personal touch.
12. Upgrade Your Flooring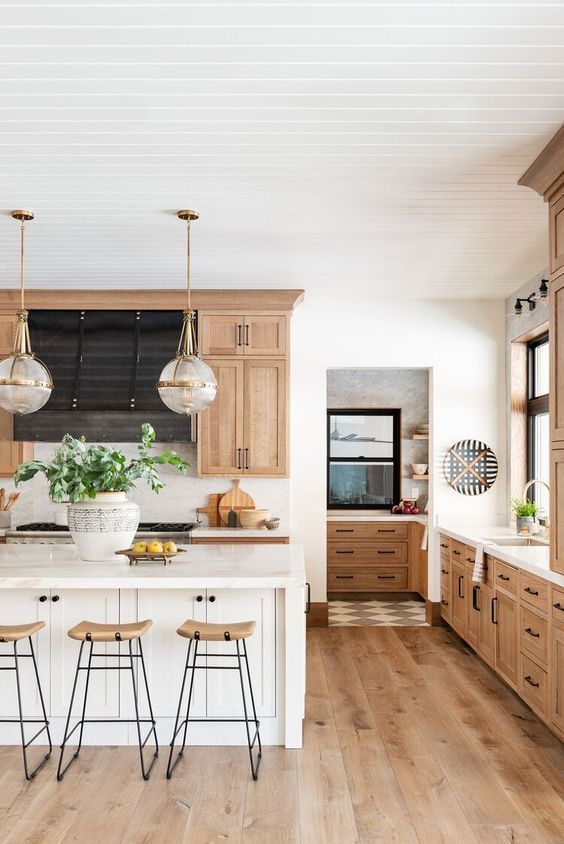 You can try upgrading your kitchen's flooring to match your oak cabinets. You can use materials like tiles, luxury vinyl, and hardwood to match your cabinets' design and color. It will give your entire area a harmonious design and unified appearance.
With the help of these ideas, you can easily refresh your oak kitchen cabinets. You can reflect your personal touch and style to the kitchen by incorporating natural beauty and wood, giving your space a refreshed look. And you can try making small changes like changing hardware, upgrading light fixtures, and much more. Produce a room you'll love for the coming years by following these ideas with ingenuity and thoughtful planning.
What Is the Importance of Oak Cabinets in The Kitchen?
Oak kitchen cabinets are essential for the kitchen's usefulness and overall appeal. Here are some reasons stating why oak cabinets are essential –
1. Adds Natural Beauty and Warmth
Oak Cabinets give your kitchen a natural elegance and warmth, resulting in a welcoming environment. Oak's unusual earthy tones and grainy patterns give the space more charm and personality.
2. Extreme Durability
Oak is a form of robust and long-lasting timber, an excellent option for kitchen cabinets. Oak cabinets have enduring value and functionality since they can survive normal tear and wear.
See More: 17 Best Black Cabinets Ideas for Your Small Kitchen Area
3. Incredibly Versatile
Oak cabinets are incredibly versatile and are adaptable to a variety of designs, whether it's modern farmhouse or traditional. They can be sustained in shades to complement several design preferences and color schemes.
4. Endured Timelessness
Oak cabinets have stood up to the test of time and are still the most preferred option for many homeowners. They act as wise investments because of their timeless appeal, which remains in style for many more coming years.
Additional Tips to Upgrade Your Oak Cabinets in Kitchen
1. Replace Old Hardware
You need to replace your worn-out handles and knobs for a more contemporary or retro-inspired kitchen. By doing this, choose elements with full finishes that will go well with the warmth of oak cabinets, such as antique brass, matte black, and brushed nickel.
2. Modernize Lighting Fixtures
You can modernize your lighting fixtures to create a more comfortable and welcoming ambiance. By doing this, you can brighten up your kitchen and show the elegance of oak cabinets. You can also use pendants and fairy lights to showcase more sophistication.
3. Include Ornate Molding
You can give your oak cabinets a more refined and aesthetic intrigue by including ornate molding. A more finished and polished appearance can be achieved by adding beadboard panels at the end of crown molding or the top of your oak kitchen cabinets.
4. Add Glass Inserts
Consider putting glass inserts in some of your cabinet doors to add aesthetic and style appeal. It gives your oak cabinets a more contemporary feel while showcasing your favorite decorative items and glassware.
5. Backsplash and Flooring
You need to update the backsplash and flooring to go with the wooden cabinets. To give your space a more unified and defined look, choose elements and designs that match your style and the color of the cabinets.
Related: 32 Stunning Kitchen Layout Ideas to Elevate Your Cooking Space
Conclusion
All in all, upgrading your oak kitchen cabinets gives you a wide range of aesthetic and design options for your kitchen. You may assign your cabinets a new look while retaining the beauty of wood and its warmth by using the ideas and methods in this article.
There also exists the option to give your cabinets a new life and upgrades by building a kitchen that represents your style, from lighting fixtures to hardware cabinets, or upgrading the cabinet refacing or the ornamental molding with thoughtful design choices.
You can easily create the kitchen of your dreams that seems inviting, perfectly suitable, and modern to your taste and with the correct decisions and creativity.
With the help of these ideas, you'll be able to design and manifest a kitchen that combines modern design and traditional style and elegance. So what are you waiting for? Embrace your creativity and give your kitchen a new makeover with the help of these 12 ideas for kitchen oak cabinets.
Frequently Asked Questions
Can Oak Kitchen Cabinets Be Upgraded without Even Painting?
Absolutely Yes! Oak Cabinets can be updated in several ways without even painting. You can alter your cabinets while retaining the natural beauty of the wood, or you can also change the appearance of your cabinets while implementing strategies such as lighting fixtures, decorating molding, and hardware swaps.
What Type of Hardware Is Suitable for Oak Wood Kitchen Cabinets?
When choosing the hardware for oak cabinets, choose hardware like matte black, antique brass, or finished like brushed nickel. These choices offer a fresh appearance and modern look that helps in enhancing the beauty of the coziness of the wood.
How Can We Upgrade the Appearance of Oak Kitchen Cabinets?
Add components like open shelves, ornate molding, glass inserts, and sleek hardware for oak kitchen cabinets to give them a modern appearance. These additions and alterations can give your wardrobe a clean and chic look.
Can We Experiment with The Colors of Oak Cabinets in The Kitchen?
Although oak cabinets cannot be painted, you can use cabinet staining or refacing methods to change the color or finish. These methods will allow you to modernize the cabinets while retaining the wood's original texture.
How to Blend the Oak Cabinets in The Kitchen with Other Elements?
To blend the oak kitchen cabinets with other components, you can coordinate them with colors, finishes, and textures that produce a unified perspective and appearance. A suitable design can easily be achieved by carefully choosing the backsplashes, flooring, worktops, and other decor elements that go exceptionally well with the warm tones of wood.
Check This Next: Transform Your Kitchen with Amazing Black Appliances